Vail Ski Poncho Knitting Pattern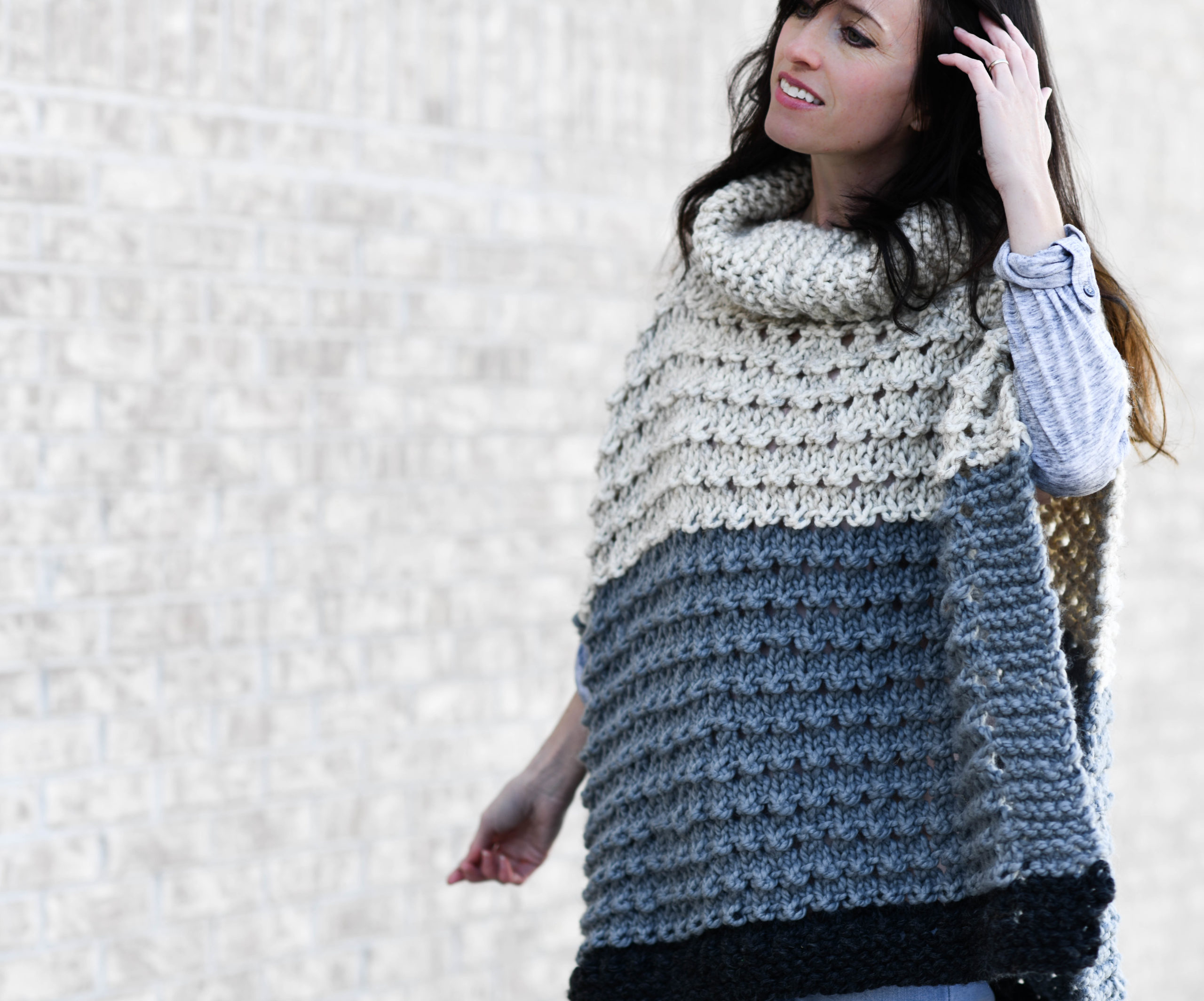 Scroll down for the free pattern, or you may find the kit for purchase on the Lion Brand Website here, or choose to purchase the ad-free, printable PDF version from my Etsy shop HERE.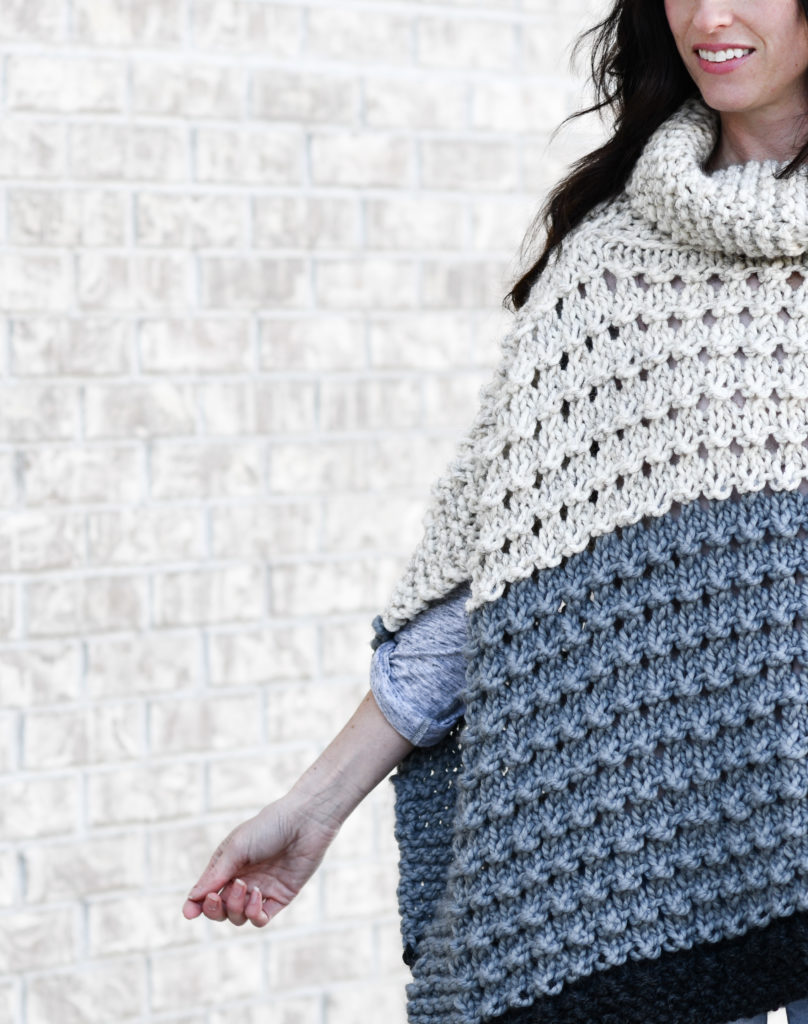 Introducing a cozy, textured, simple poncho knitting pattern which is part of my Hygge Winter Collection! I love this poncho for cozy days by the fire, strolls around town or to throw on after a day of skiing in the high country. It's made with super bulky yarn and big needles so you can make it pretty quickly. The poncho's also surprisingly light to wear even though it's chunky and warm. 🙂 You guys might also remember a couple of other chunky ponchos I've designed like the Driftwood Hooded Poncho and the beginner Aspen Knit Poncho. They are so fun to make!
This project was actually inspired by a poncho that my mother gave me which she got from Italy. The Italian version is entirely cream colored (you know me – love cream) and features a cowl neck with a seed stitch texture and fringe. The Vail Ski Knit Poncho has the same type of cozy cowl neck with texture AND eyelets to add dimension and character. I also added a few colors into the mix so it features a simple color block design with the colors charcoal, slate and wheat.
Knitting, chunky yarn, sweet bobbles and eyelets + winter = Soooooo cozy!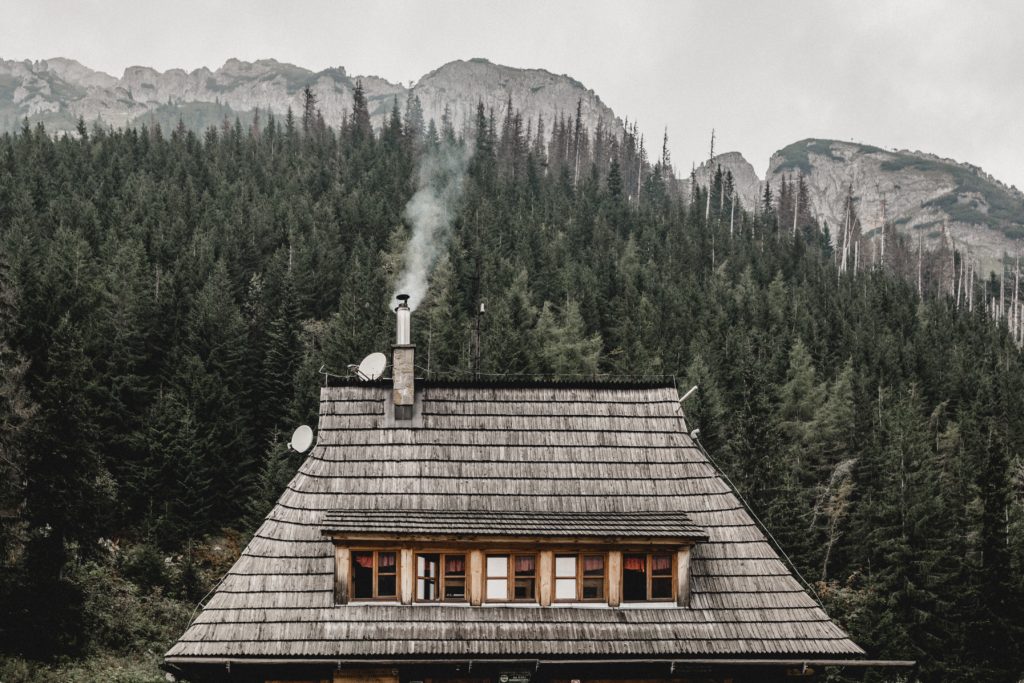 The knit stitch pattern is very easy and also simple to memorize as it's just four rows. You will be working basic knit and purl stitches and knitting two together. There's one special stitch which is a "Make 1", or "m1". For this stitch, you will be increasing by knitting into the front of the strand just worked and the next stitch. This will add a stitch. There are a lot of various instructions online for what "m1" means, but you've got to use this method for the pattern to turn out correctly. 🙂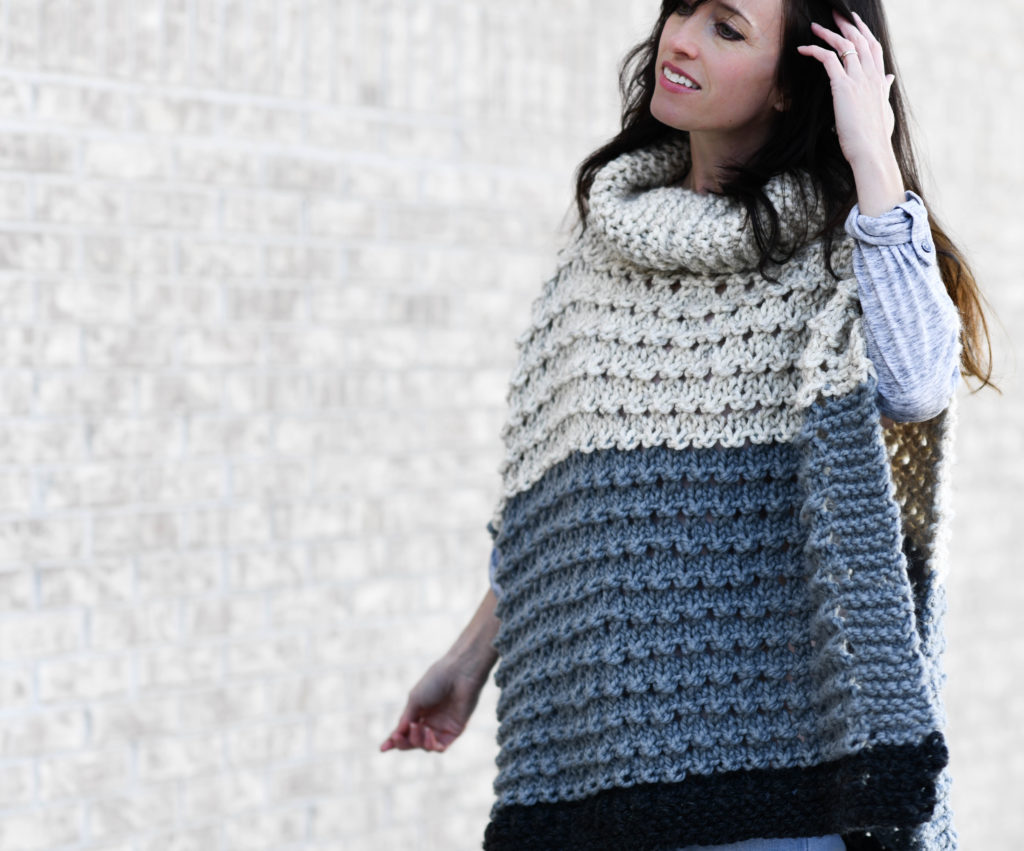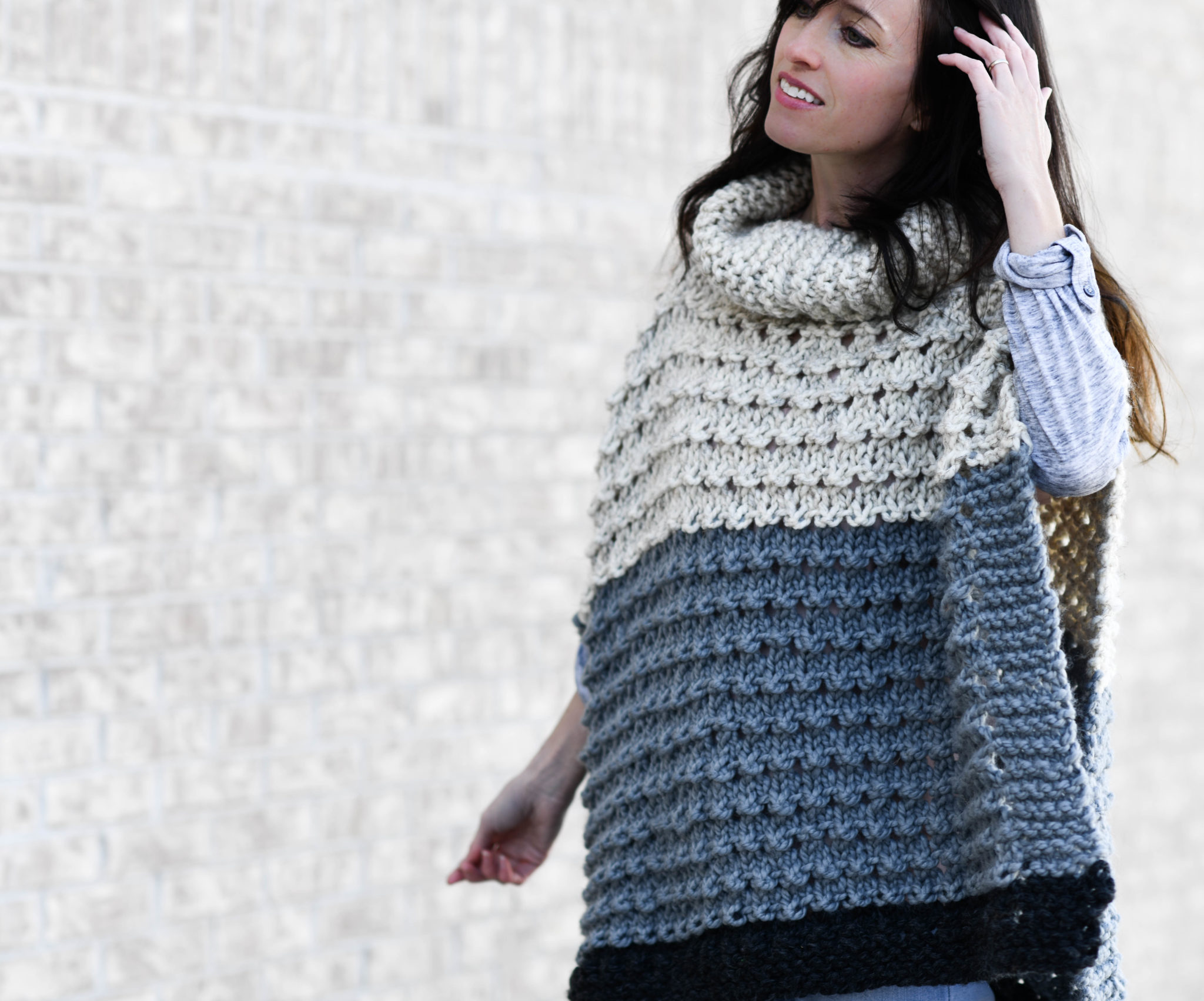 Reading by the fire in a comfy poncho – yes please. 😉 And do you ski? Isn't it the best to pull off your ski boots after the day and get in your comfy clothes to relax. Ahhh…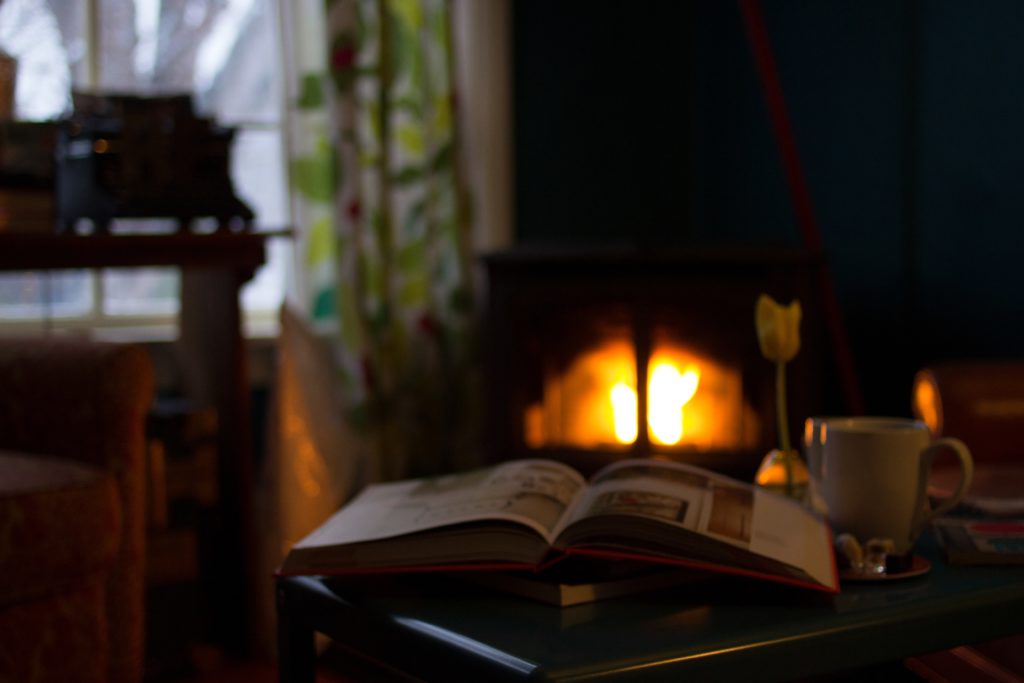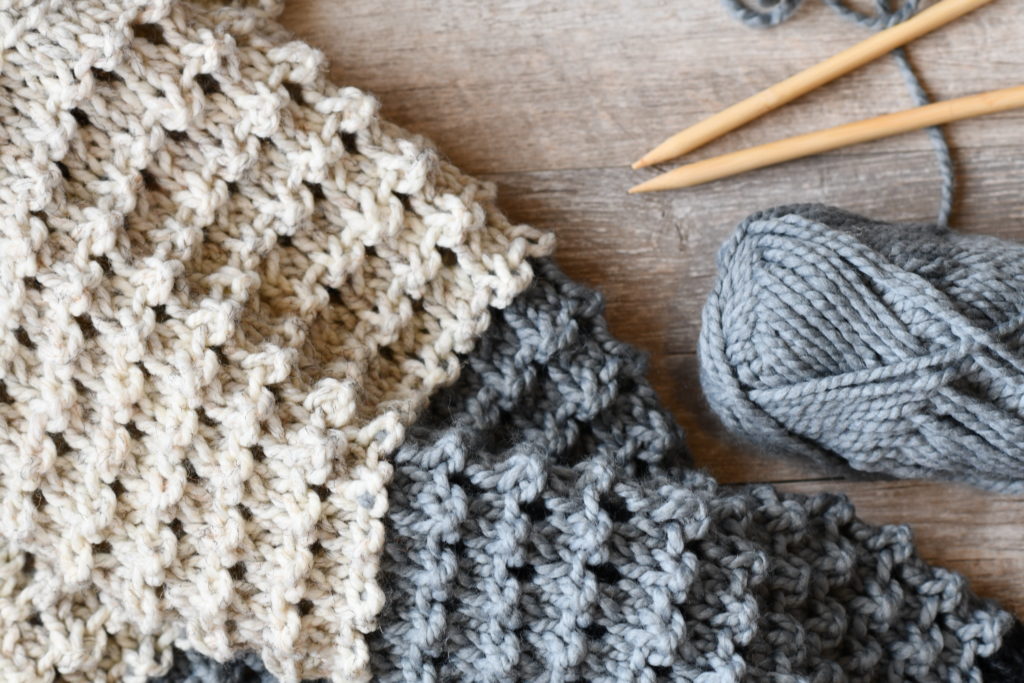 You'll knit this poncho by making two matching rectangular panels and then seam them to finish. So easy! The cowl is also knit flat, so no need to be intimidated if you don't know how to knit in the round.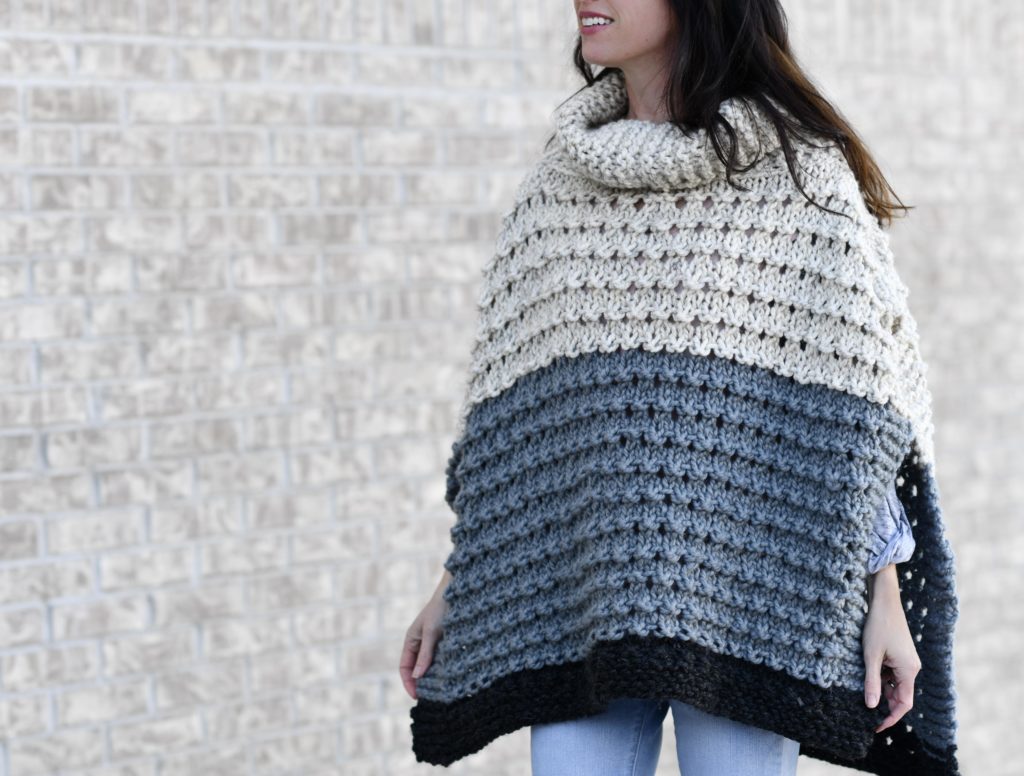 The colors even remind me of winter, cold & ice. Love this time of year.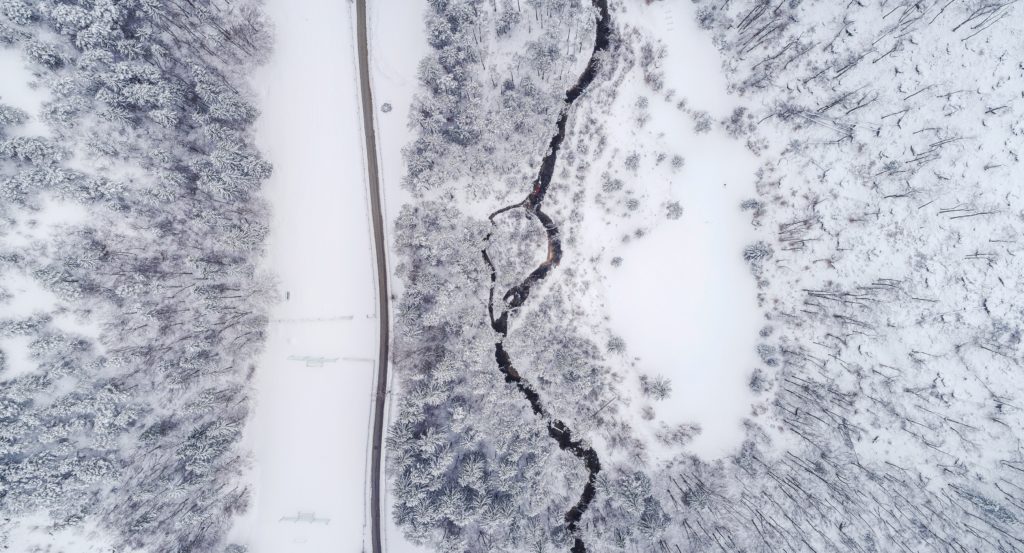 Okay, let's get to this cold weather poncho knitting pattern!
See the free pattern below, or you may also purchase the printable, ad-free version from Etsy HERE
Vail Ski Poncho Knitting Pattern
Pattern Description: Like wearing a warm hug, this comfortable, cowl neck poncho is sure to keep you cozy. Understated bobbles meet beautiful eyelets to give the piece it's unique texture. The simple knit pattern works up easily and the basic shapes make it easy for new knitters. Perfect for whether you just finished a day of skiing or you need a cozy cover up for your evening strolls.
Skill Level: Beginner +
Materials:
US 17 (12.0mm) 24" circular knitting needles
3 Lion Brand Yarn Wool Ease Thick & Quick in Wheat (170 g / skein)
3 Lion Brand Yarn Wool Ease Thick & Quick in Slate (170 g / skein)
1 Lion Brand Yarn Wool Ease Thick & Quick in Charcoal (170 g / skein)
(Pattern uses approximately 915 g of yarn total)
Scissors
Tapestry Needle
Dimensions (approximate):
One size fits most
Bust circumference: 64"
Width: 32"
Length: 22"
Abbreviations & Skills:
k – knit
p – purl
m1 – Make 1 – increase by 1 stitch by knitting into the front of the strand between stitch just worked and next stitch.
RS – right side
WS – wrong side
Gauge:
Not important for this pattern
Notes:.
This poncho is made by knitting two rectangular panels from the bottom up. The panels are then seamed together at the shoulders. The cowl neck is also knit flat and seamed to finish. Note the special directions for the m1 abbreviation within the pattern.
Pattern Instructions
With Charcoal, cast on 60 stitches
Rows 1 – 6 Knit across each row (60 stitches in each row)
Row 7 K5, *k2tog; rep from * to last 5, k5. (35 stitches)
Row 8 K5, * (k1,m1); rep from * to last 5, k5. (60)
Row 9 Knit each st across row (60)
Row 10 K5, purl to last 5, k5 (WS row) (60)
CC to Slate
Row 11 Repeat row 7
Row 12 Repeat row 8
Row 13 Repeat row 9
Row 14 Repeat row 10
Next, repeat this stitch pattern, repeating rows 7 – 10, in that order, until entire piece measures 15" long or this Slate section is approximately 12" long (ending on a WS row)
CC to Wheat
Repeat the stitch pattern from rows 7 – 10 until the entire piece is approximately 22" long (this Wheat section should be approximately 7" long)
Cast off and weave in ends
Repeat above pattern one more time to create second panel.
Cowl Neck Collar Pattern
With Wheat, cast on 16 stitches
Knit across each row until piece measures 24"
Cast off and weave in ends.
Next, with a tapestry needle and length of yarn, fold the piece in half and seam the short ends together to create the cowl neck.
Assembly Instructions:
Place rectangular panels with wrong sides facing one another and the color Charcoal at the bottom. Place cowl in center at the top of the poncho and pin in place if necessary. With a tapestry needle and yarn, whip stitch seam the cowl to the two panels. Next, seam the shoulders to finish the top of the poncho. You might find it easier to first seam the shoulders and then sew the cowl onto the poncho. Either method will work!
Pictured Below:
The panels are placed together and seamed. The cowl neck collar is also sewn to the top of the poncho.
Each panel measures approximately 32" wide and 22" long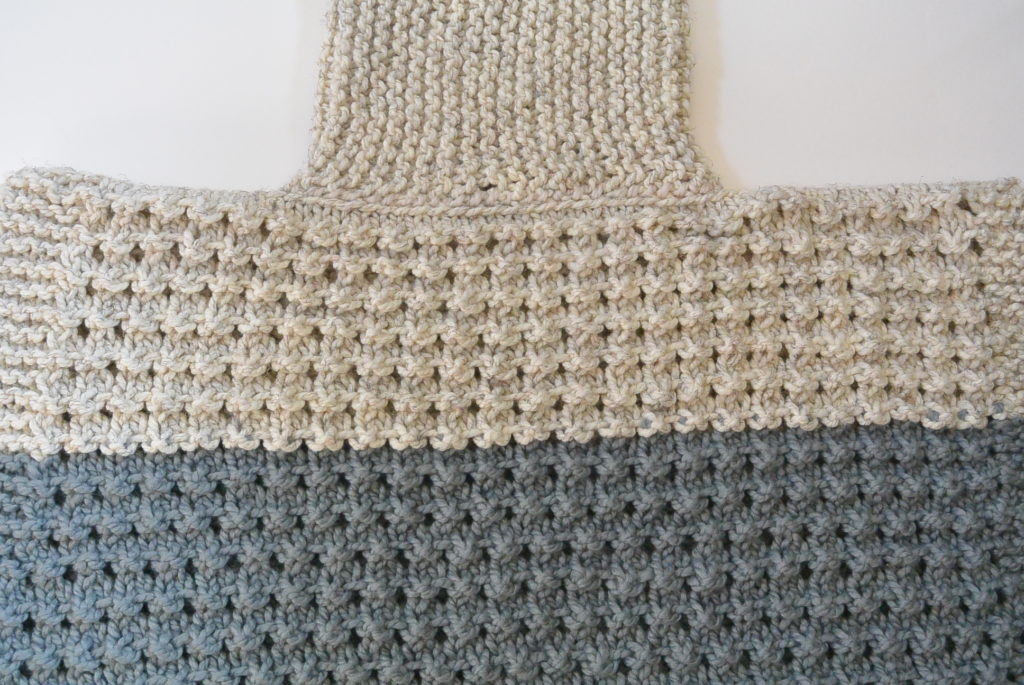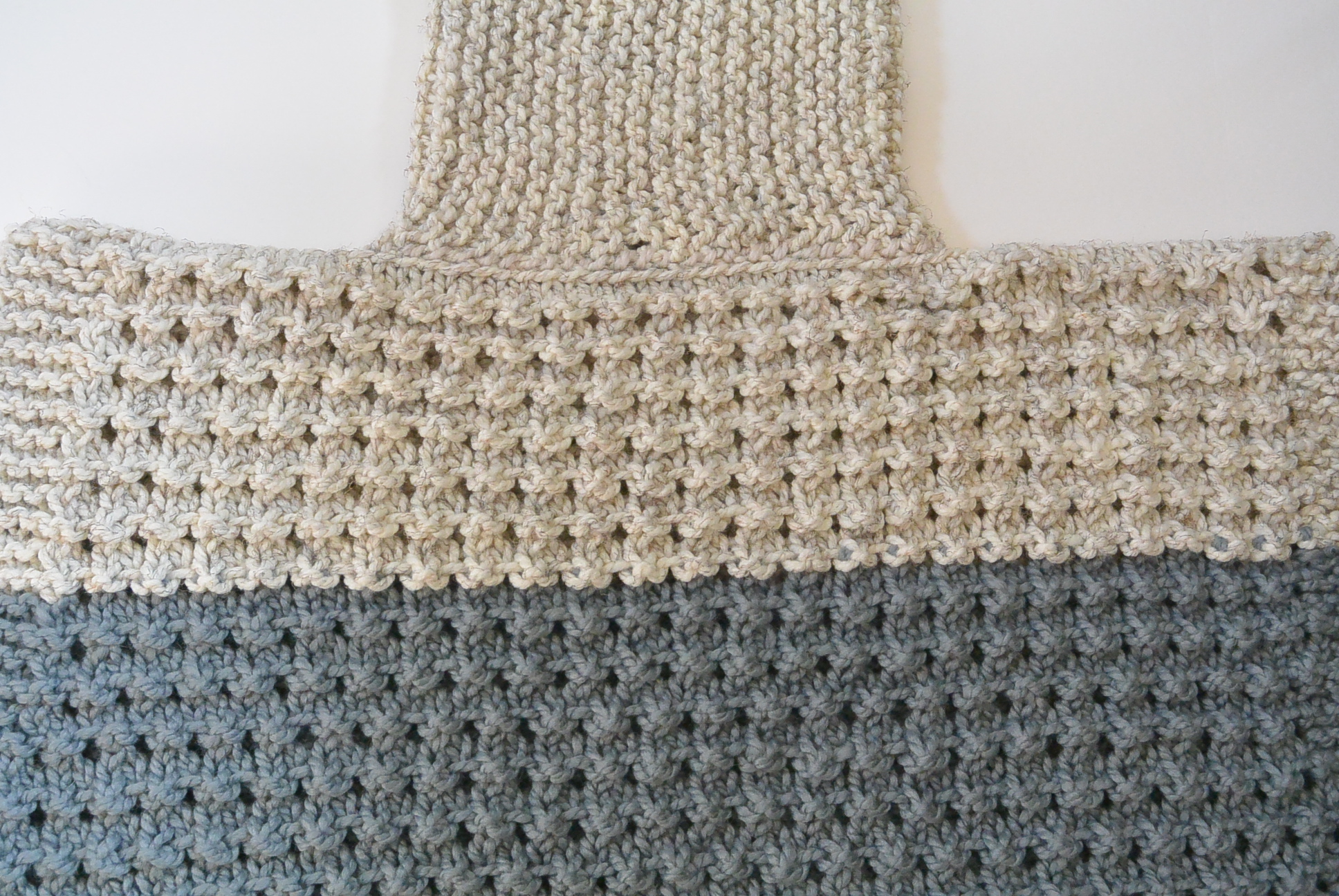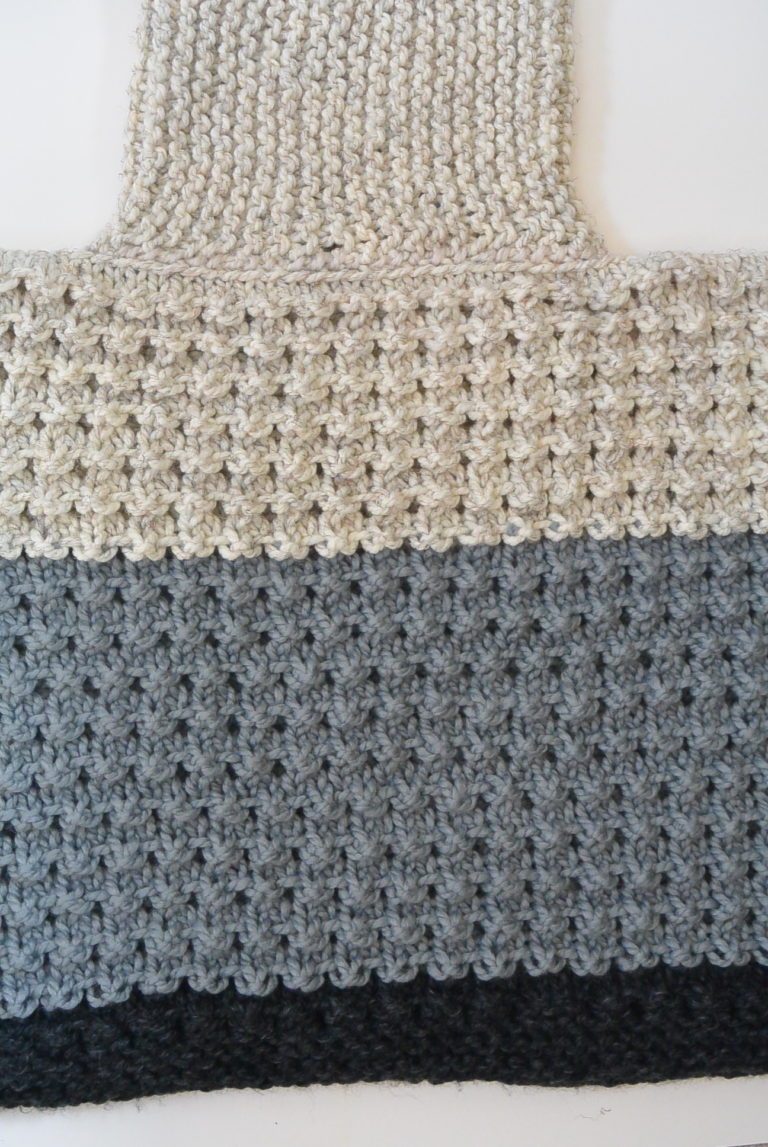 And that's all there is to it!


I hope you guys enjoyed this project – it's been a while since a new knit project has hit the blog. Thanks for your patience my fellow knitters! You know that knitting isn't a speed sport. 😉
XO
Jessica
Oh, and if you like this, you can follow along as I release all of the Winter Hygge Collection knit and crochet patterns over the next several weeks! Sign up for my email (HERE) or follow along on social media. 🙂