Cozy Sherpa Pullover Knitting Pattern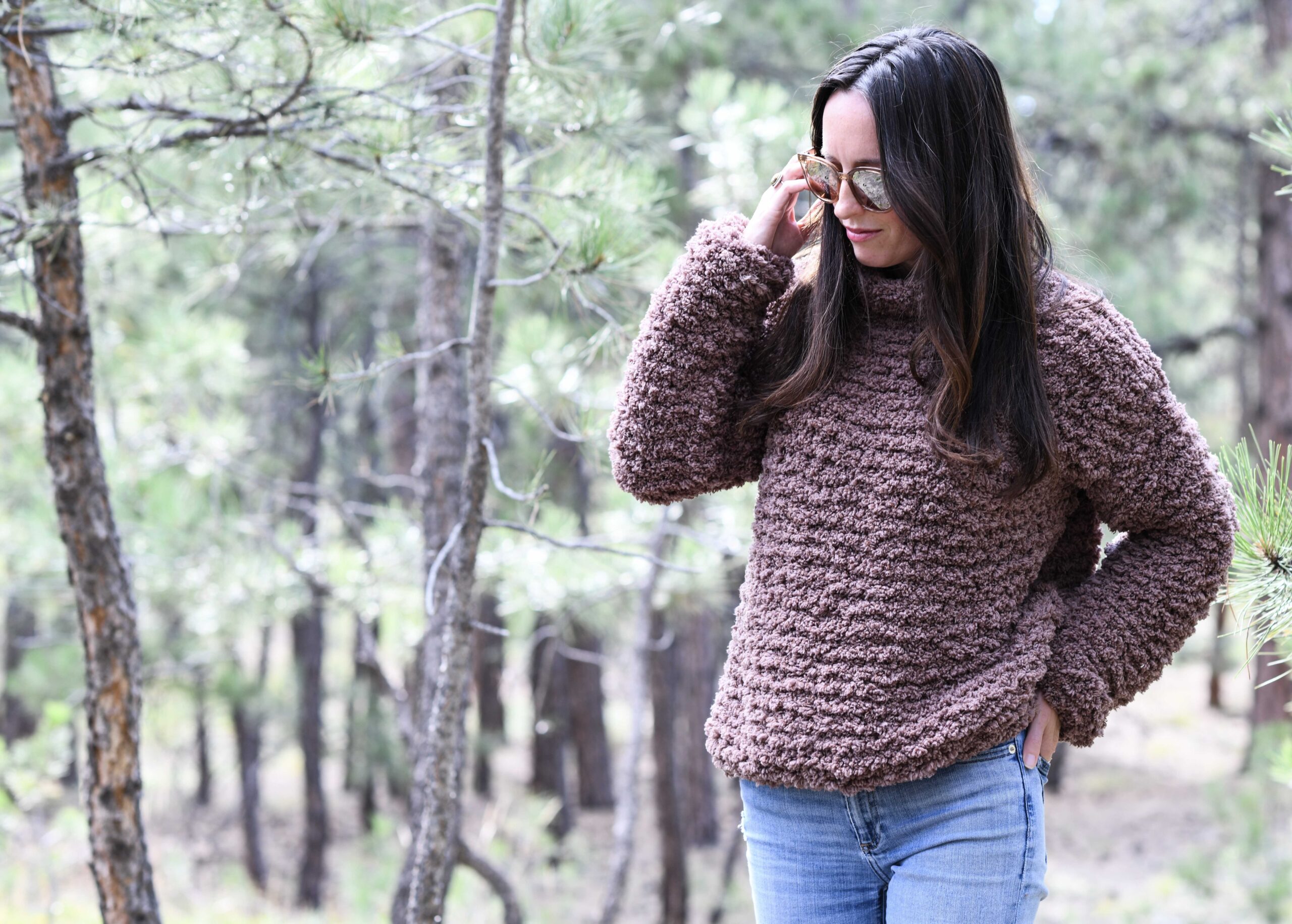 If you like sherpa, fleece, or fuzzy sweaters, this one's for you! This beginner friendly knitting pattern is super simple and it creates the SOFTEST, warmest pullover ever. Yes…. ever. Ha!
You can see the free pattern below, or you may choose to purchase the ad-free printable pattern from Etsy HERE or the kit from Lion Brand HERE (in several color options).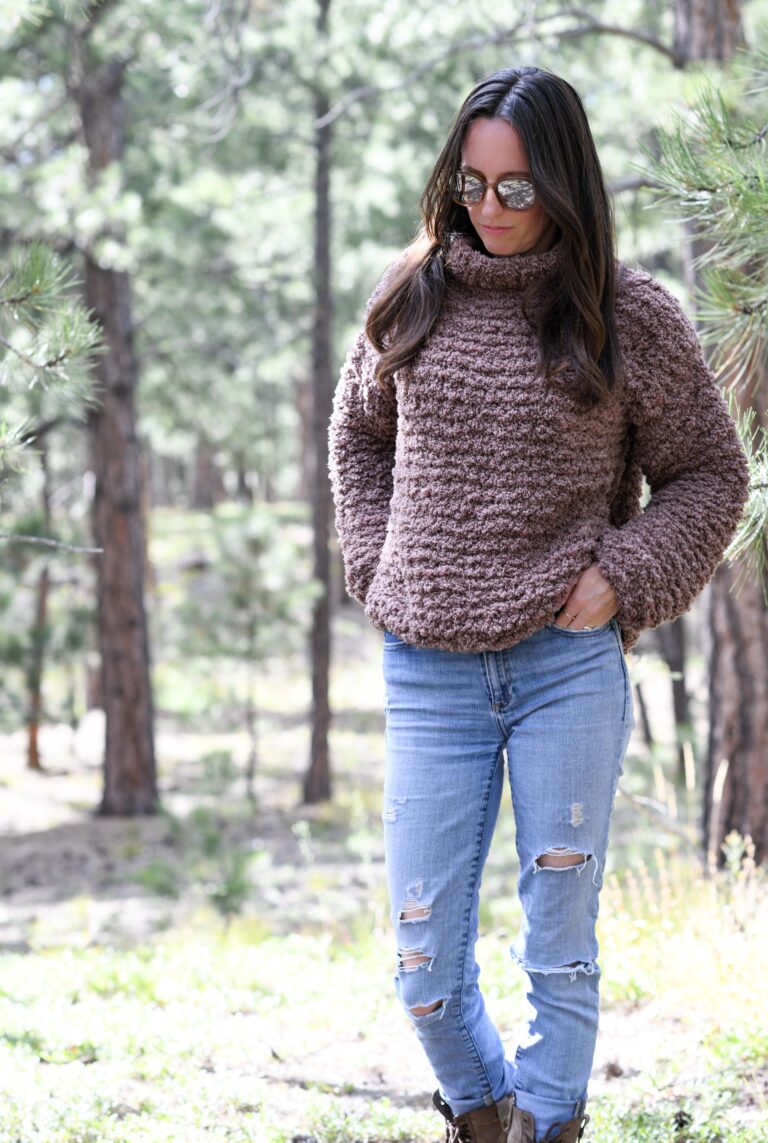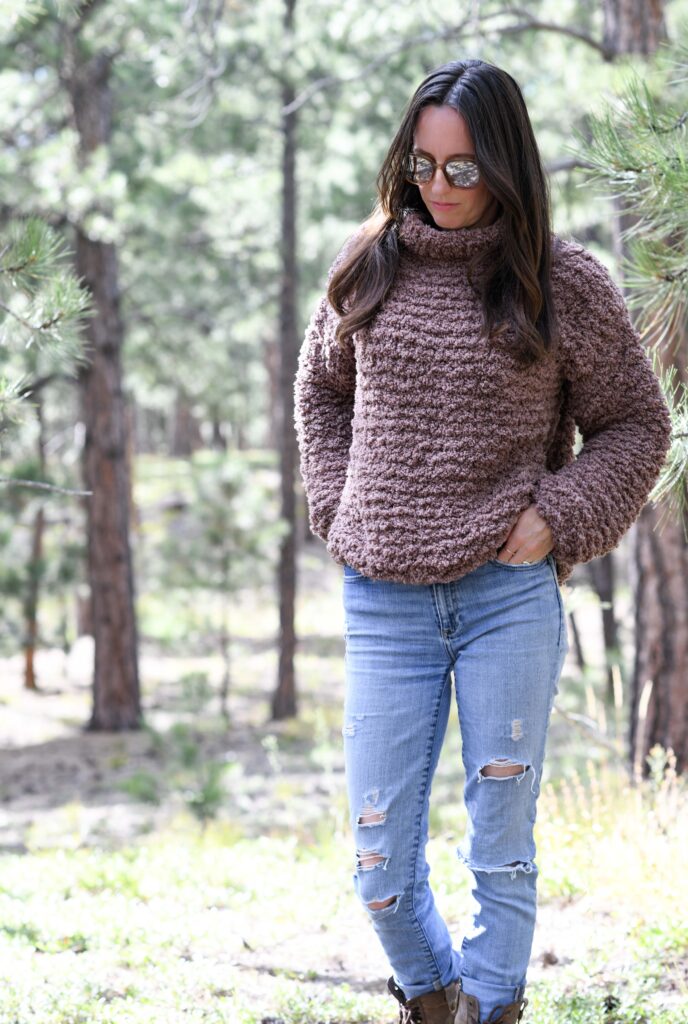 I ordered this sherpa fleece yarn from Lion Brand a while back and made sure to get enough to make a crochet and knit project with it. If you missed my crocheted sherpa coat (complete with a hood), you can see that (here). I love the color of this knit pullover and can imagine it being a beautiful throw blanket as well. Can't you?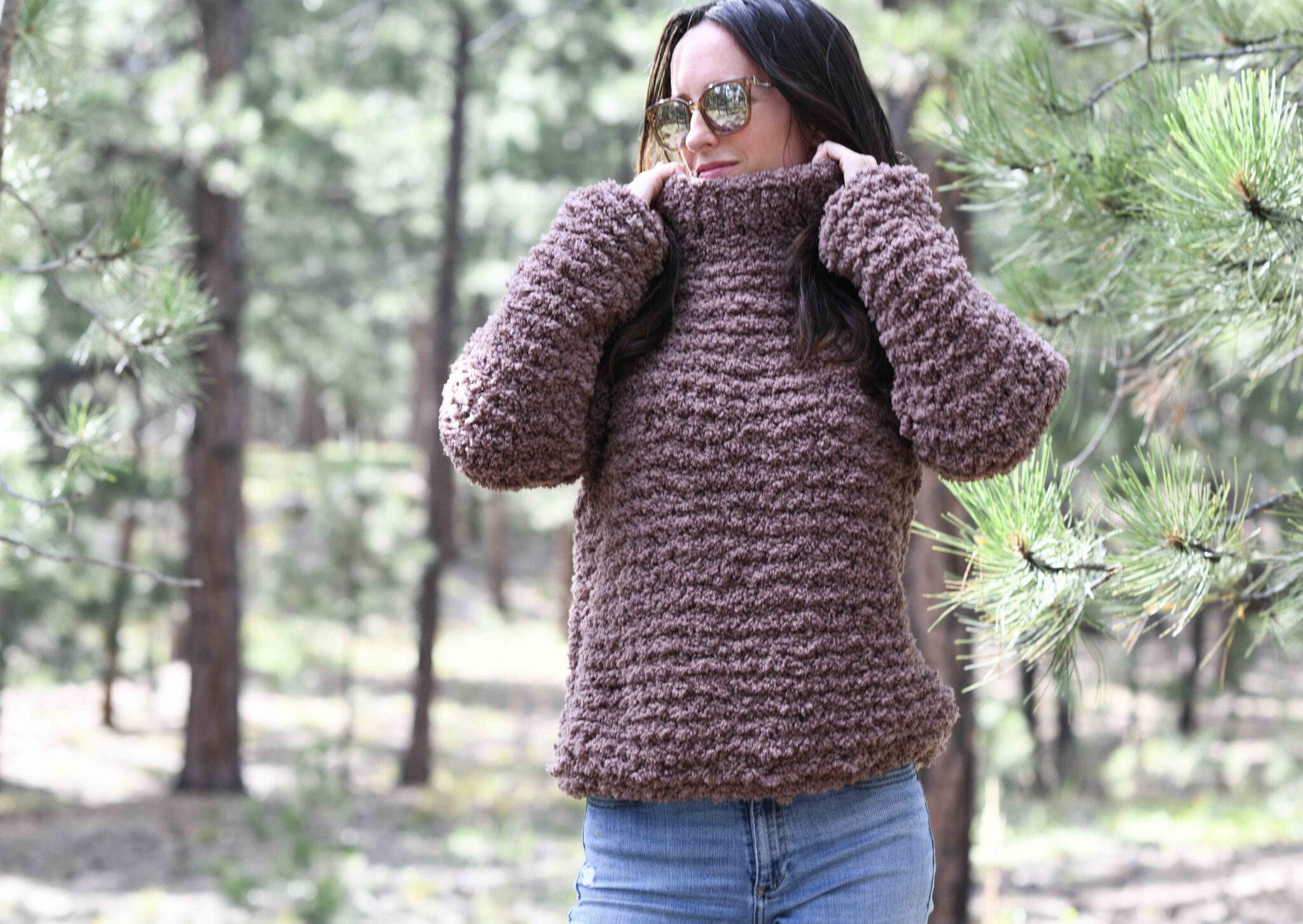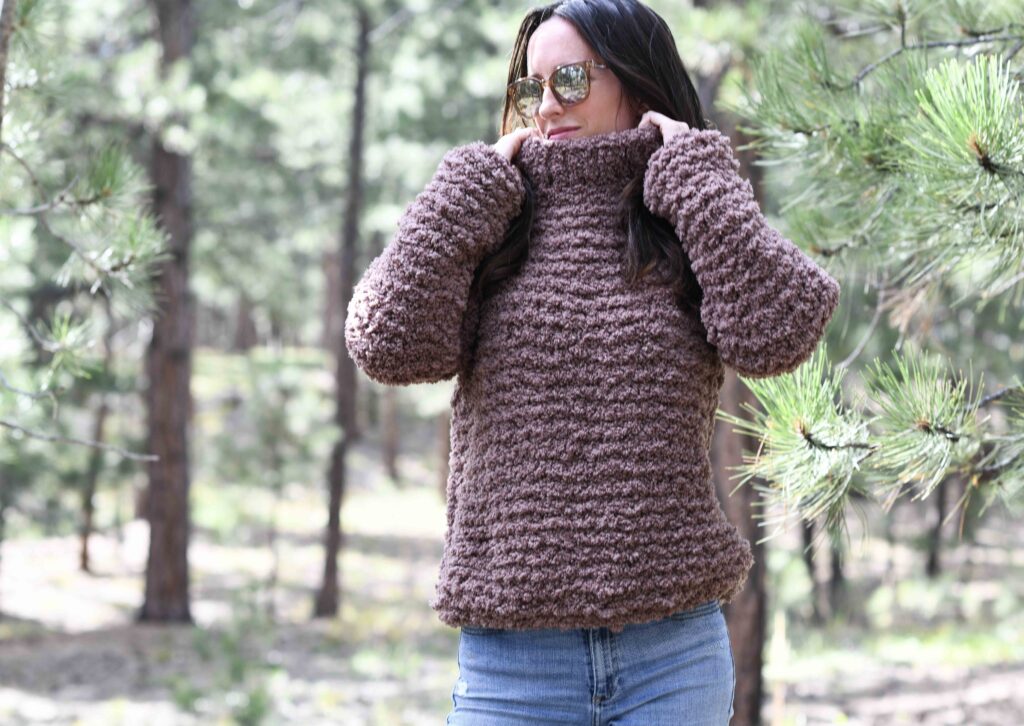 For my knit sherpa pullover, I just wanted a nice, oversized sweater that could be worn with jeans or activewear. So often in the cool fall and winter months, I'm rushing out the door and throwing on whatever is warm and easy. Whether I'm going for a walk to clear my head, or I'm driving my daughter to school, "throw on" type pullovers and jackets are my thing. Pretty sure I'll go for this one first.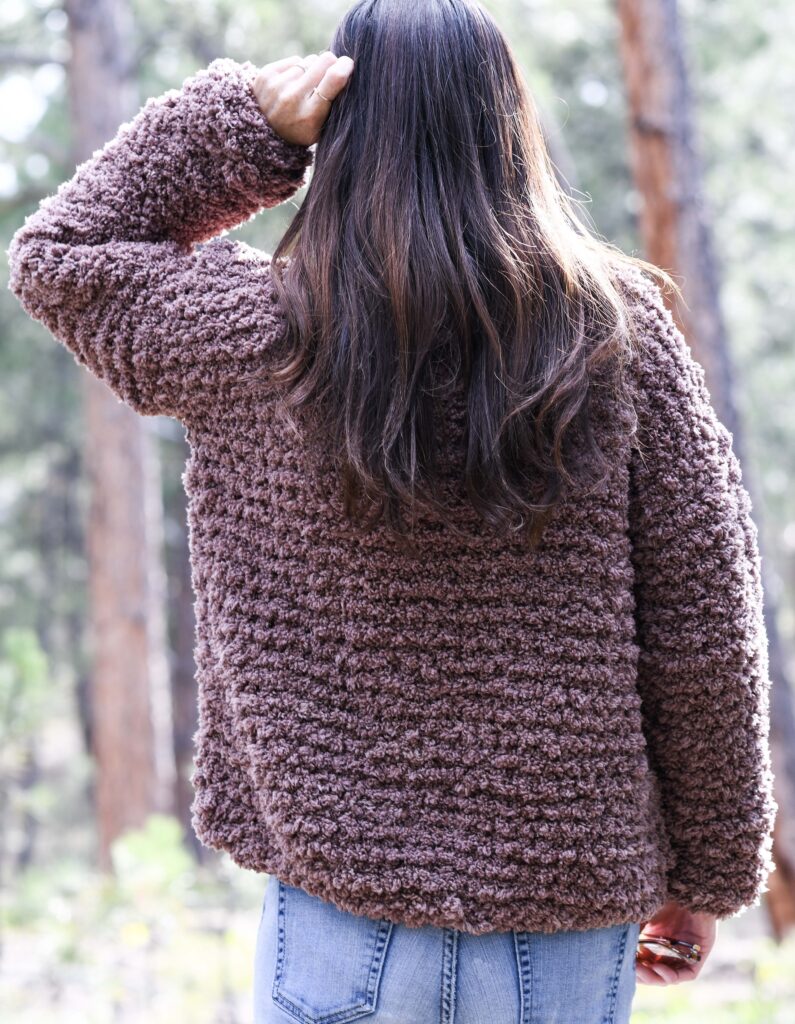 How do we knit a sherpa pullover?
As I mentioned earlier, this truly is a simple pattern, and dare I say, almost beginner friendly! Other than the yarn being a little bit of a challenge if you've not worked with fuzzy yarns, it doesn't get a whole lot easier than this top. Knit two rectangles for the front and the back, then two lightly shaped sleeves (also knit flat). At the end, add a simple turtleneck to turn up the cozy factor.
What stitches are used?
The entire pullover is made with the knit stitch! It is knit flat, in rectangular panels, and seamed to finish. The turtleneck is knit in the round, but is also knit only with the knit stitch. If you're a new knitter, the two skills you might need to try before beginning this are a basic decrease (k2tog) and knitting in the round (for the turtleneck portion).
Can I see my stitches with this fuzzy yarn?
Because this is knit, and your stitches are held on your needles, yes you can see them! However, once you've knit the fabric, it is very difficult to see individual stitches. In my opinion, it is easier to knit with this yarn than crochet because you can indeed see the stitches on your needle and are able to easily work into each stitch. With crochet, you would rely on "feeling" for the stitches. I've had a lot of practice feeling for stitches with not only this yarn, but with faux fur yarn as well (here and here).
Because it is tough to see the stitches in the fabric, I stuck with using only the knit stitch for this pattern. This way, you don't get confused as to which side you are on, or whether you should be knitting or purling. Just knit. Knit away!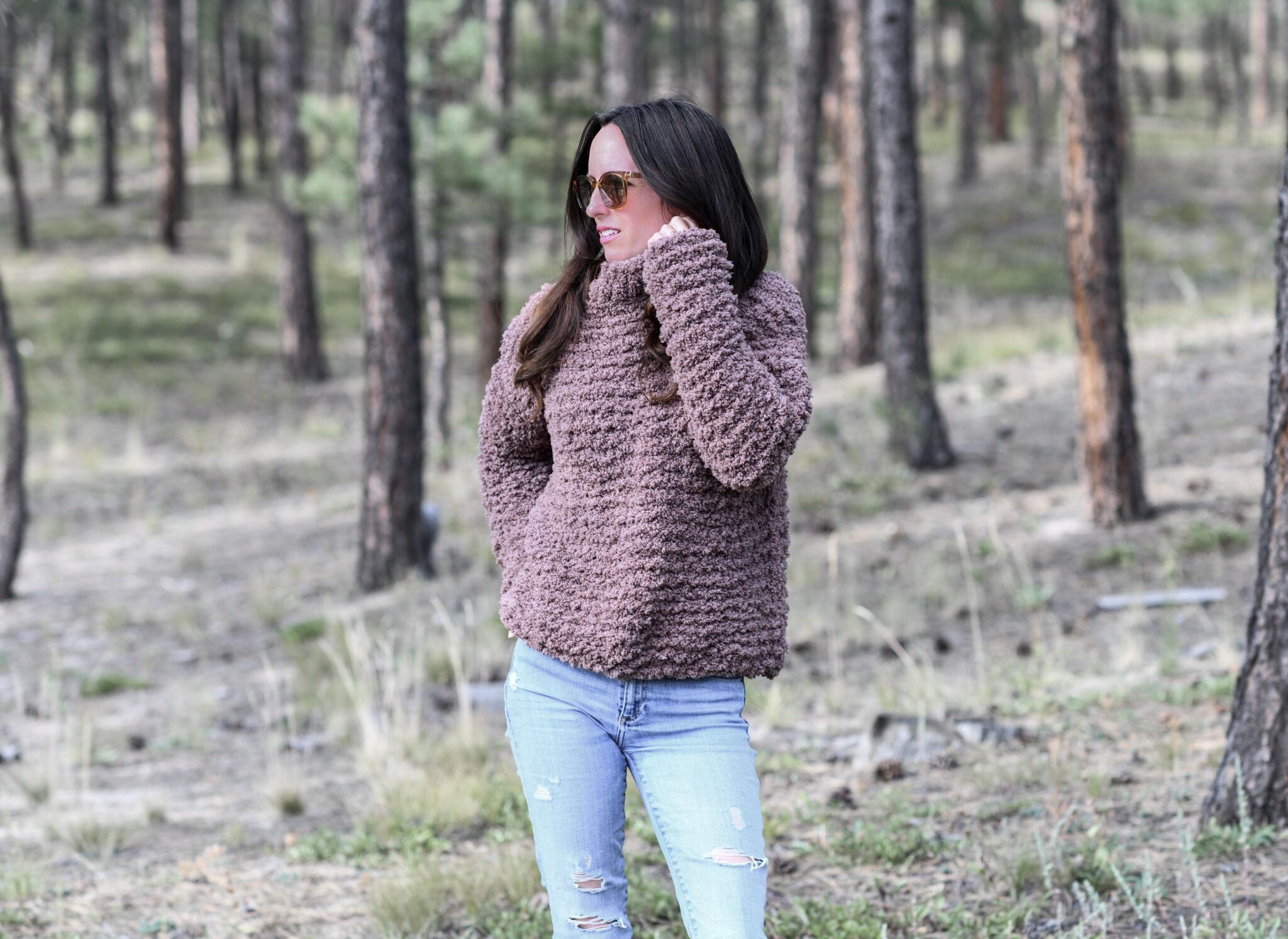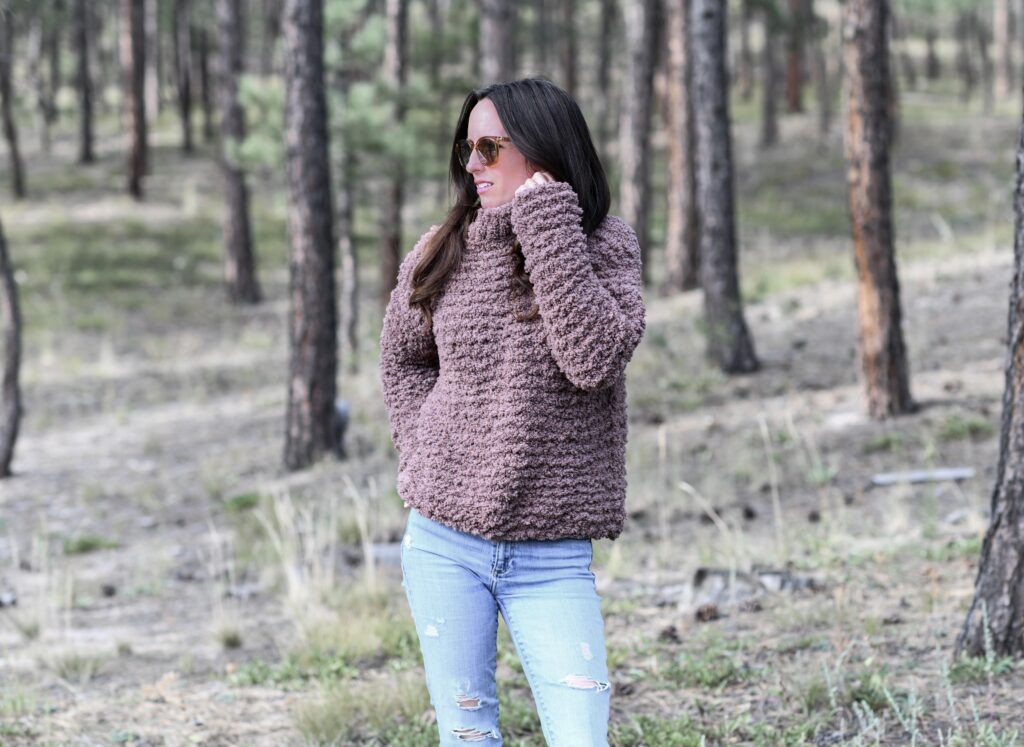 Okay, shall we hop to the pattern?
Remember that you may purchase the ad-free, printable PDF version from my Etsy Shop HERE as well!
Cozy Sherpa Pullover Knitting Pattern
Pattern Description: It doesn't get comfier or cozier than this sherpa knit pullover! Made with large US size 17 knitting needles and jumbo yarn, it works up quickly and easily. This ultra soft pullover can double as a jacket or sweater and looks super cool with your jeans or activewear. Simple enough for adventurous beginners!
Skill Level: Beginner +
Materials:
US Size 17 12 mm 29" or 36" circular knitting needles and
US Size 17 12 mm 16" or 24" circular knitting needles (for turtleneck section)
3 (4, 5, 6, 6) skeins Lion Brand Yarn Go For Fleece Sherpa in Clay 184 grams/skein 89 yards/skein (Kit available HERE)
Pattern uses approximately 500 g (633 g, 781 g, 944 g, 1080 g) grams total
Measuring Tape
Tapestry Needle
Scissors
Sizes:
Small, Medium, Large, XL, XXL
Please follow the key throughout the pattern according to the size you are knitting:
S (M, L, XL, XXL)
Bust Circumference (approximate finished measurements):
(note there is positive ease – model is 5'5" with a 32" bust wearing size S)
S – 44"
M – 48"
L – 52"
XL – 56"
XXL – 58"
Length (approximate):
S – 18.5"
M – 21.5"
L – 24.5"
XL – 27.5"
XXL – 30.5"
Sleeve Width at widest point when seamed (approximate):
S – 8"
M – 8.5"
L – 9"
XL – 9.5"
XXL – 10"
Abbreviations & Skills:
k – knit
st – stitch
sts – stitches
k2tog – knit two together (decrease)
Gauge:
Approximately 5 ½ stitches and 11 rows in 4" x 4" of garter stitch
(Tip: Remember that each "ridge" of garter stitch is two rows of knitting)
Notes:
You will knit a back panel, a front panel and two sleeves. Each front and back panel is knit from the bottom up and all pieces of the pullover are knit flat. These are each seamed together to finish. If you're experienced and would like to knit the sleeves in the round to avoid sewing and seaming, you may do so. This is a very forgiving pattern and you can easily adjust the sizing to make it your own! Feel free to knit for more or fewer rows on the front and back panels to make the pullover longer or shorter (keep yarn needs in mind). The understated turtleneck is knit by picking up stitches and knitting in the round at the neckline. The turtleneck's length is also customizable and can be made as short or long as you'd like. Have fun!
Cozy Sherpa Pullover Pattern Instructions
Panel Pattern (make 2 – one for the front and one for the back)
Cast on 30 (34, 38, 42, 46) stitch count remains the same throughout panel pattern
Row 1 Knit each st across the row.
Repeat row 1 until panel measures approximately 18.5" (21.5", 24.5", 27.5", 30.5")
Cast off and weave in ends.
Sleeve Panel Pattern (make 2)
Cast on 21 (23, 25, 26, 28) sts
Rows 1 – 7 Knit each st across the row.
Row 8 K2tog, knit across to last two sts, k2tog.
Repeat rows 1 – 8, in that order, until sleeve panel measures approximately 11" (11", 12". 13", 14") wide.
Next, knit each row, no longer making decreases, until sleeve panel measures 16" (16.5", 17", 17", 17.5") long.
Cast off and weave in ends.
Assembly & Seaming
Place front panel on top of back panel.
Seam at shoulders with a simple whip stitch, leaving an opening for the head and neck approximately 12" inches wide (all sizes) or desired width.
Seam up sides with a simple whip stitch seam, leaving openings large enough for the sleeves and arms (see schematic for opening measurements).
Fold and sew sleeves with a whip stitch.
Seam sleeves to arms with a whip stitch.
Collar/Turtleneck
With your 16"inch or 24" inch circular knitting needles, pick up stitches evenly around neckline.
Working in the round, knit each stitch around for several rounds until neck is approximately 3 ½ inches or desired length.
Cast off (loosely) and weave in ends.
(Tip: If you've never picked up and knit stitches, it's very easy! You can find many tutorials by conducting a simple online search.)
Enjoy your new, cozy sherpa pullover!!
Schematic: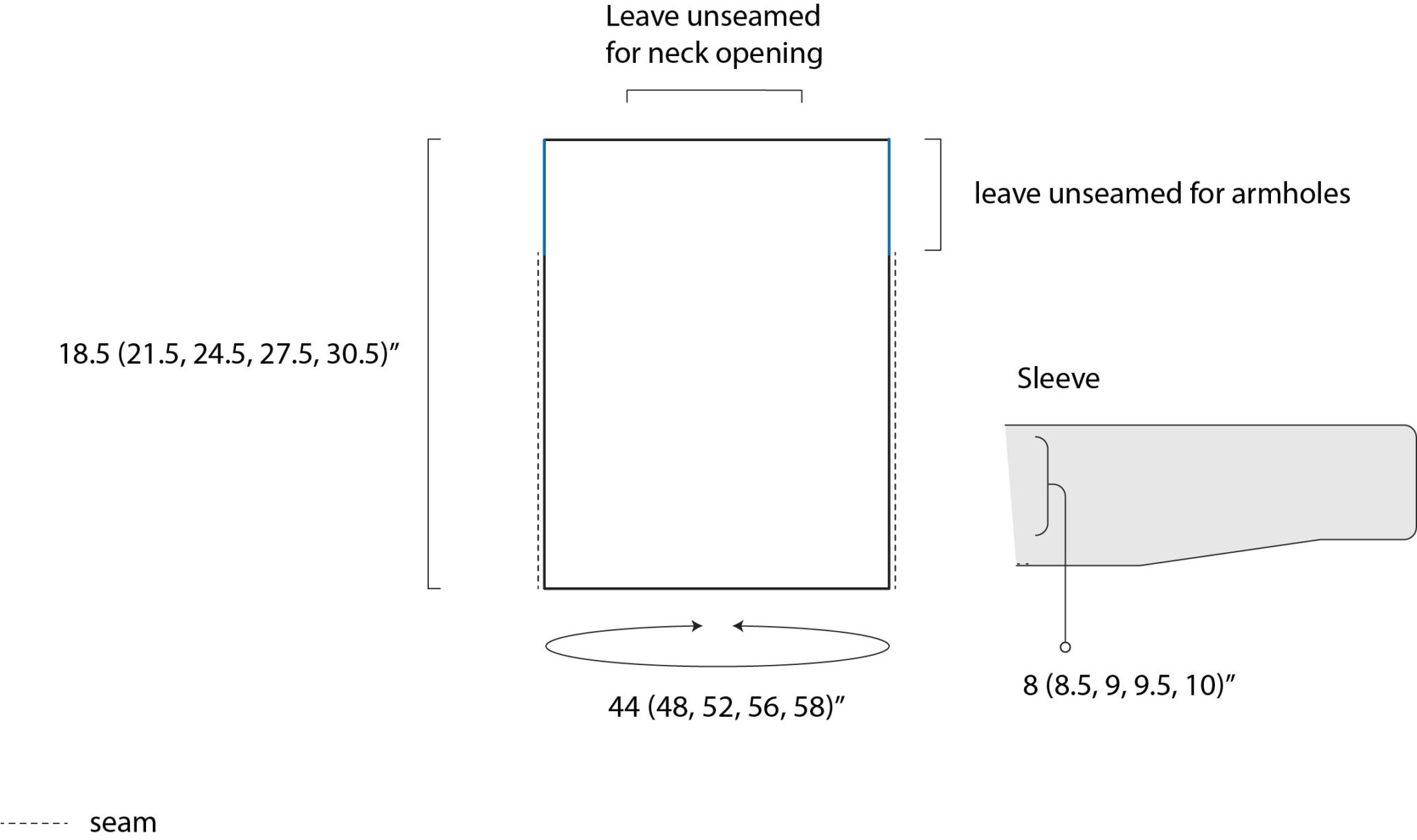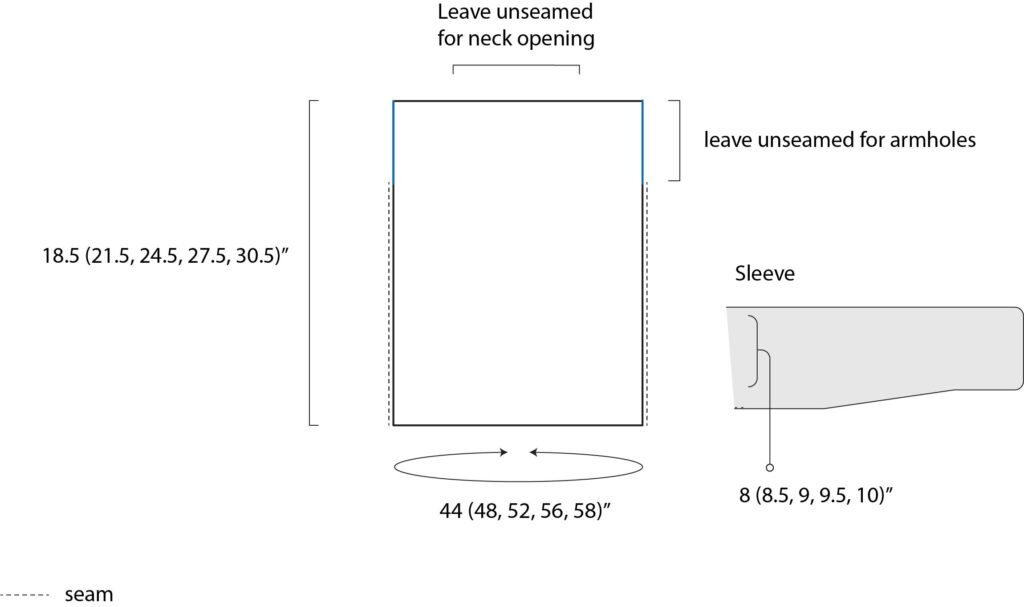 Hope you enjoyed this one my friends. It's such a great time of year to knit and crochet!
XO,
Jessica
If you liked this, you might also like: