So here's the cowl I made from the lovely yarn that I received from Mountain Meadow Wool. I wanted the color to be the star of the show, so I kept a simple pattern without a whole lot of detail. This is a fun project to make because it's very easy, and although the pattern is repetitive, it's neat to see how to the colors work up. The wide rib looks cozy and making the cowl a bit longer than usual adds some extra coverage and warmth. This cowl is going to be for me, myself and I. I love it! There's even enough left from a second hank to make my daughter a matching one (thanks to one of my lovely readers for the idea to make something for my girl). 🙂
This is completely suitable for a beginner wanting to practice knit and purl, or someone wanting to try out knitting in the round. Of course, it's also great if you're an expert and just want a good mindless pattern. You could easily knit this cowl with just one hank of yarn, and it would be about 10.5 inches tall. I wanted a bit more height to it, so I used part of a second hank.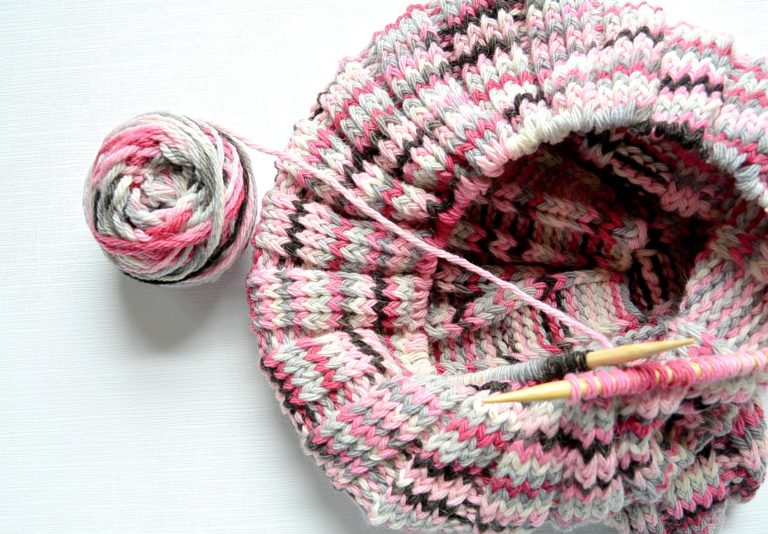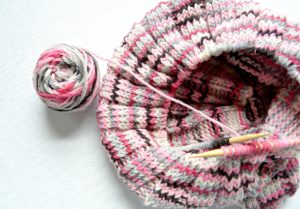 You will need:
2 skeins Mountain Meadow Wool Powell Yarn in Neopolitan or comparable worsted weight yarn (only one skein if you'd like it shorter)
US Size 8 16 inch circular knitting needles
US Size 10 Knitting Needles
Scissors
Tapestry needle to weave in ends
Gauge: About 5 stitches and 6 rows per inch in wide rib pattern
Pattern:
Cast on 120 stitches
Round 1 *Knit 4, purl 2, repeat from * to end of round (Wide uneven rib pattern)
Round 2 until entire piece measures approximately 13 inches in height – Repeat round 1
Once piece measures approximately 13 inches tall, knit cast off with size 10 knitting needles. This will create a more open look to the top of the cowl. Weave in ends.
Hope you enjoyed this project! As always, let me know if you have any questions or if I can improve the pattern instructions in any way.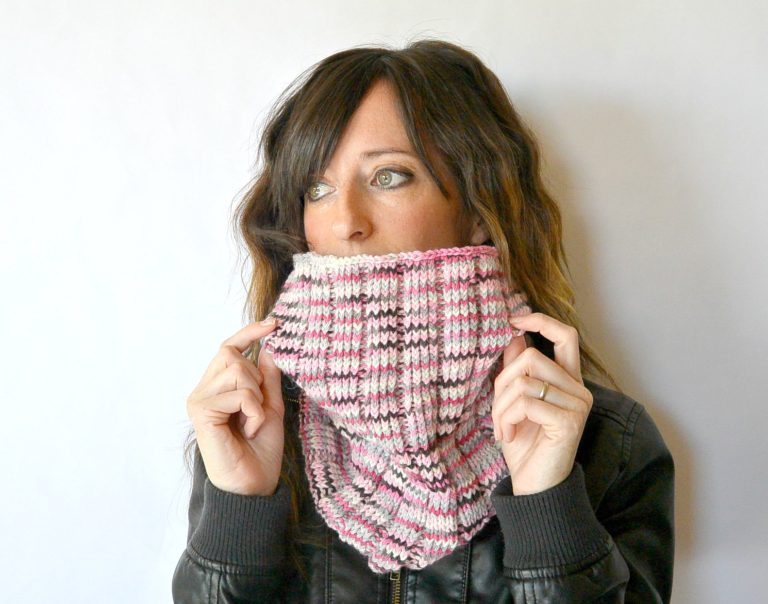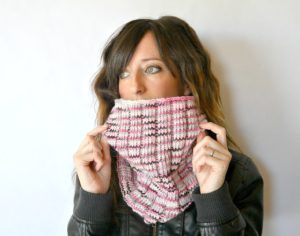 Most of the time I tend to gravitate to neutral colors when I knit things for myself, but I'm really excited about this cowl. 🙂
What about you? Do you like bright color or do you prefer to keep it neutral?
If you like this you may also like: