Aspen Mountain Throw Blanket Knitting Pattern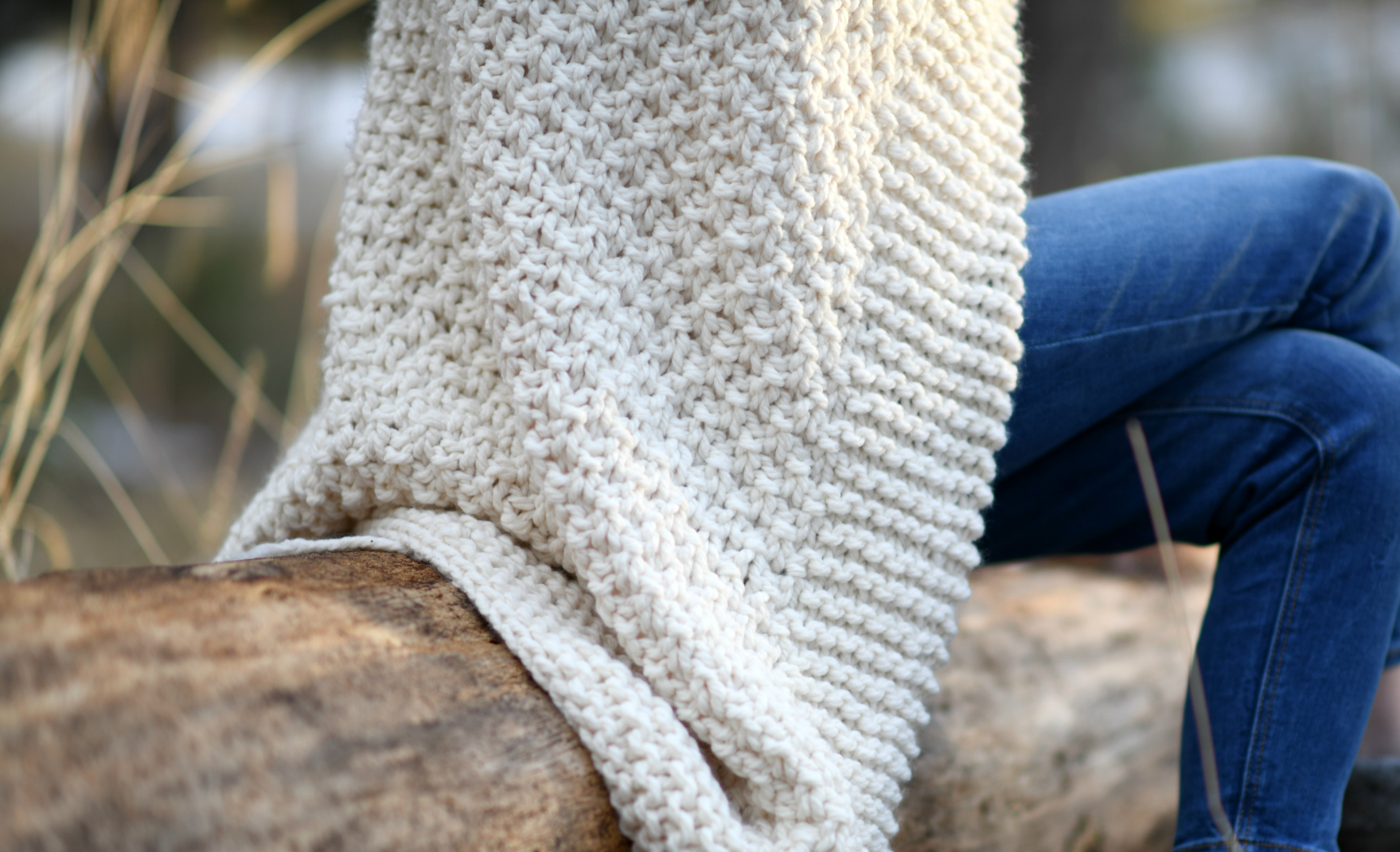 Today's free knitting pattern is a beautiful, timeless throw blanket that can be used in any cozy space.
It's made with beginner knit and purl stitches and features a gorgeous all-over texture that's timeless yet modern. I've been on quite the blanket kick lately (here and here lol) so I hope you enjoy it! (You'll find the free pattern in full below, or you may find the printable for purchase in my Etsy shop HERE)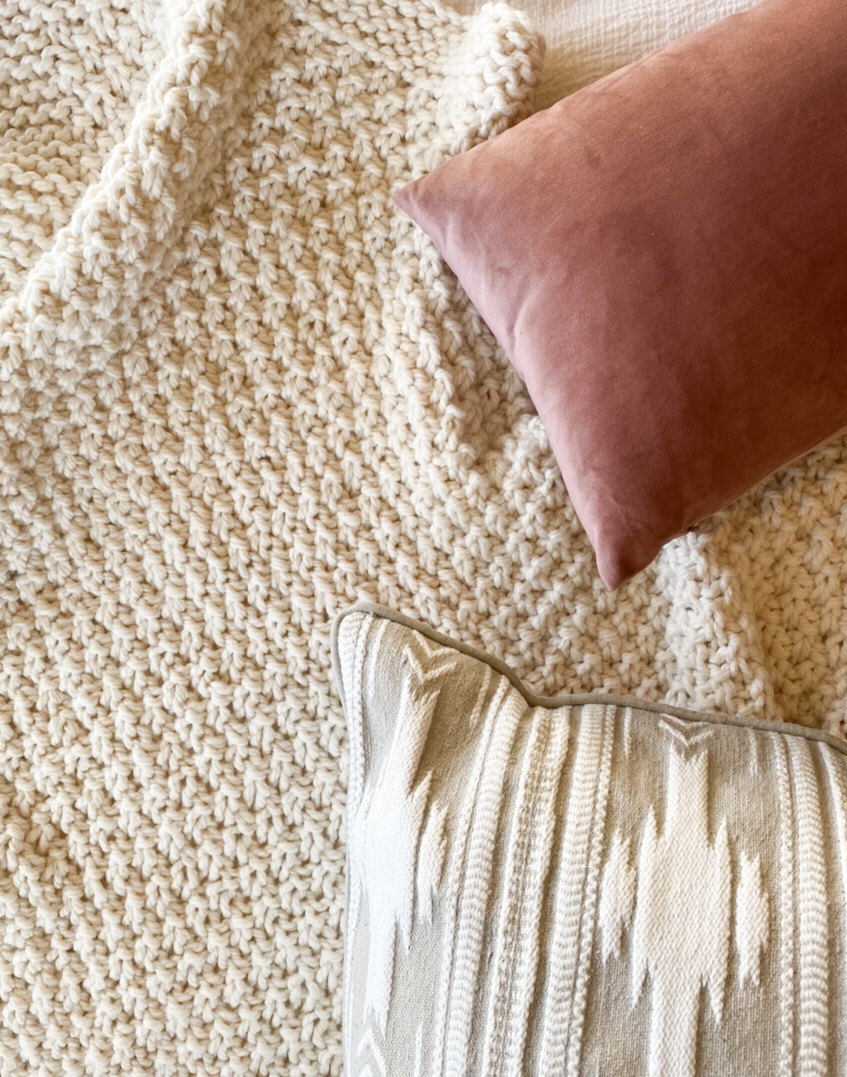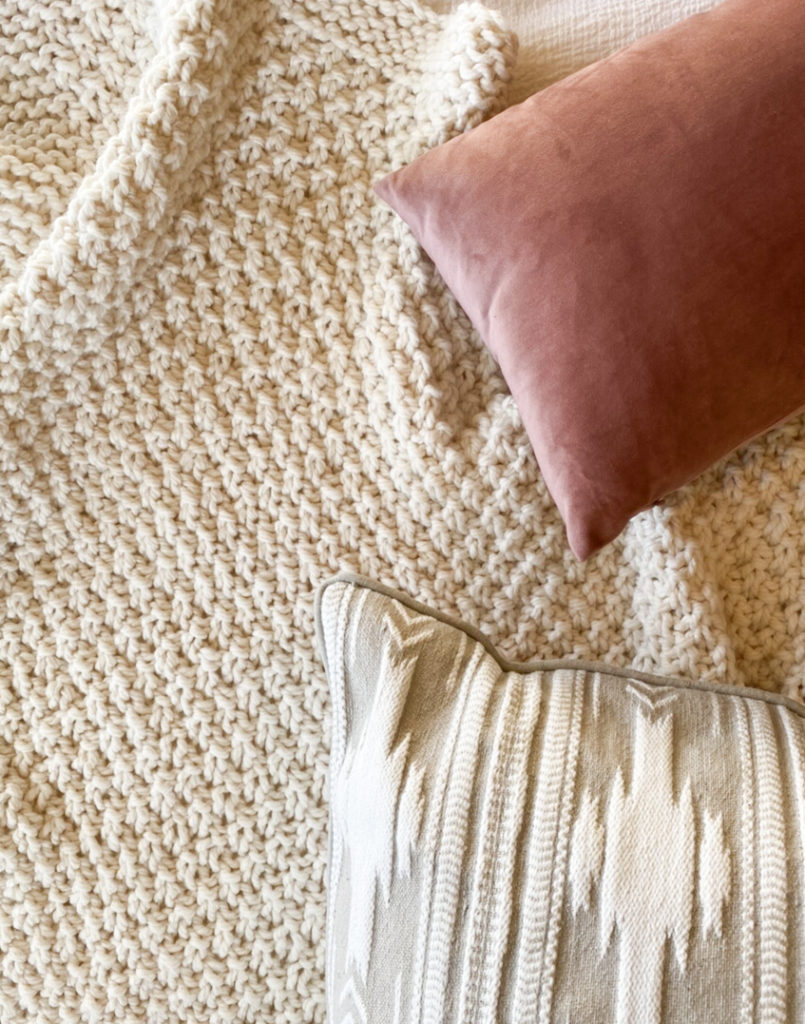 For a little fun, I asked what you thought this stitch might be over on Instagram and Facebook. Many of you guessed the double seed stitch, which is very similar! In the photo of me sitting on the fallen tree, it looks exactly like a double seed stitch. However, it's actually the Irish Moss Stitch which is slightly different. I'm not sure if there's another name for the Irish Moss Stitch, but this is what I've always called it. Let me know if you call it something different!
Those of you who've been with me over the years might remember my Aspen Mountain Knit Bag. It's an old pattern from the blog, but it was also made with this fave stitch of mine. It's definitely a beautiful stitch which is simple yet fun to knit. If you can knit and purl, you won't have any trouble with this pattern. This project is the second pattern I'm releasing from my Into The Wild Collection (read about that here). Each of these patterns are inspired by nature's beauty in hopes we remember and appreciate our open lands.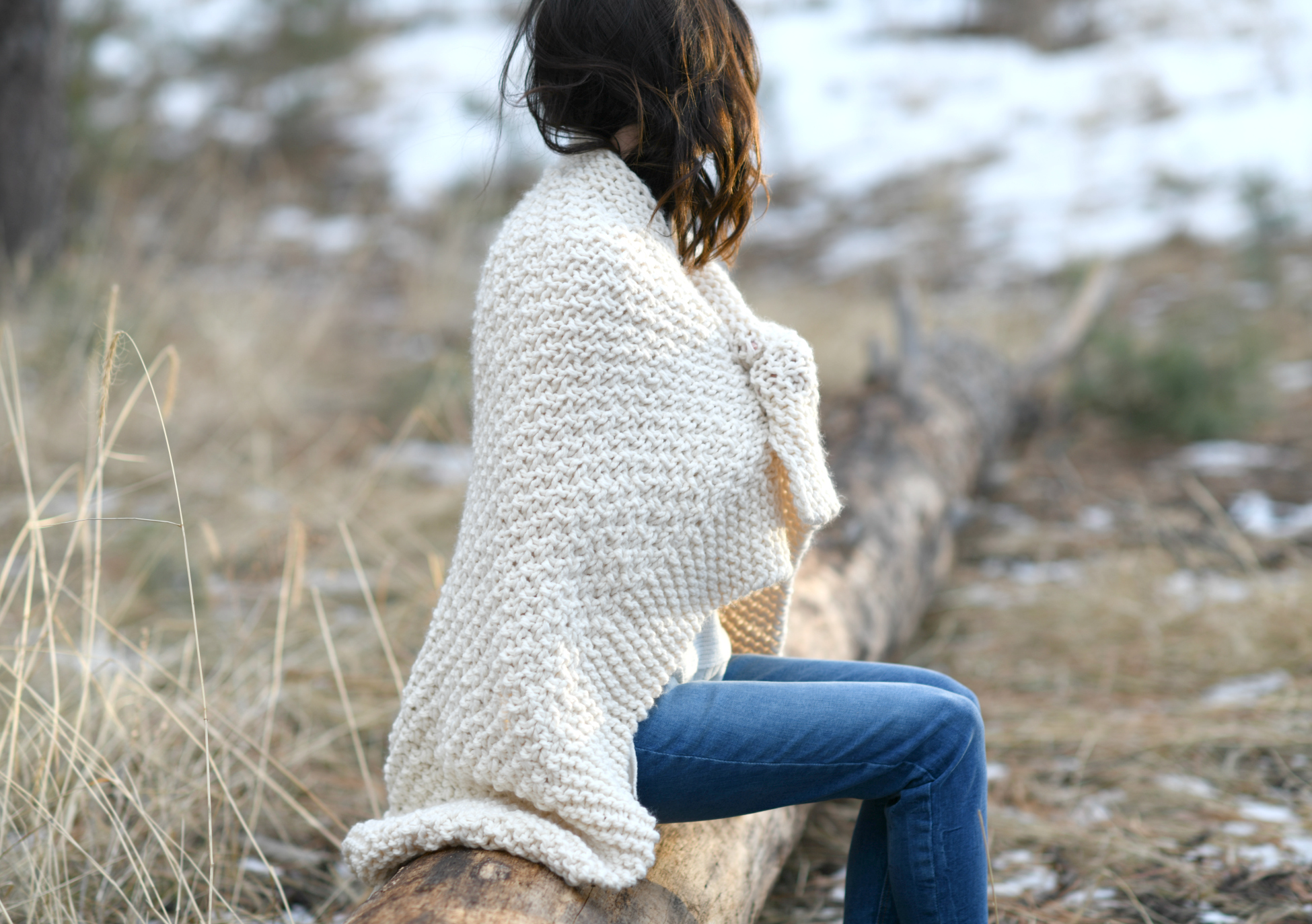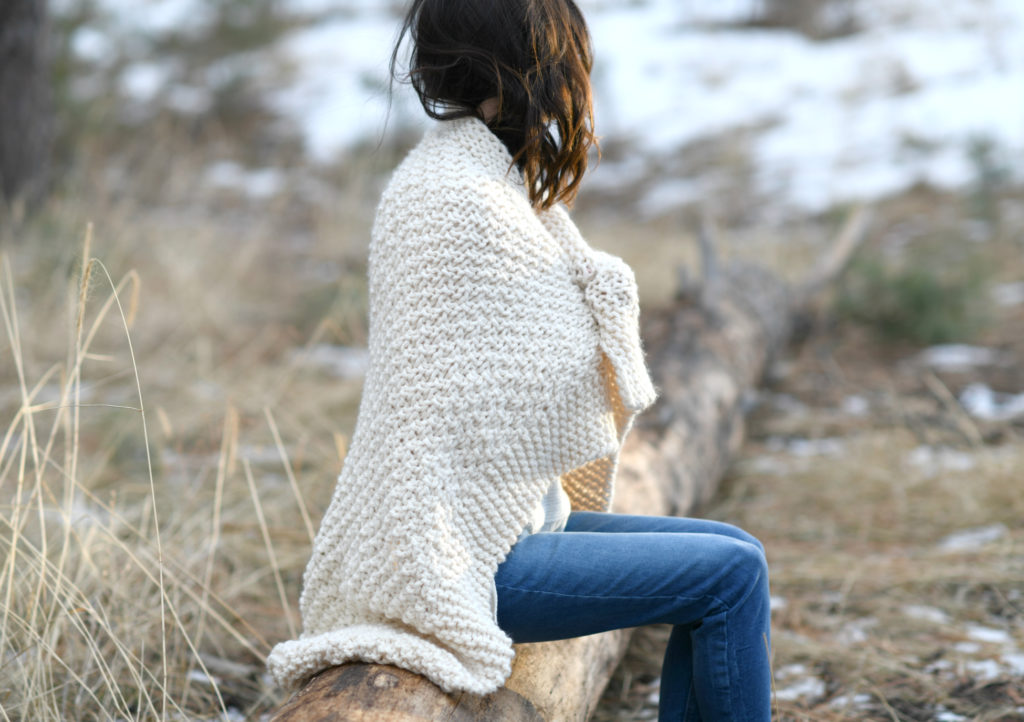 What do like about this blanket? Personally, I love the drapey texture, the timeless style, and all natural look. While I can picture it in an Aspen mountain chalet, I can also see it in any cozy living space.
The blanket is a lapghan size, meaning it's smaller than a full-on throw blanket, but still big enough to cuddle up with. I've written out some basic instructions on how to adjust the pattern to make it any size that you'd like. 🙂 The other cool thing about this blanket is that it works up pretty quickly with the super bulky yarn and large needles. Yay!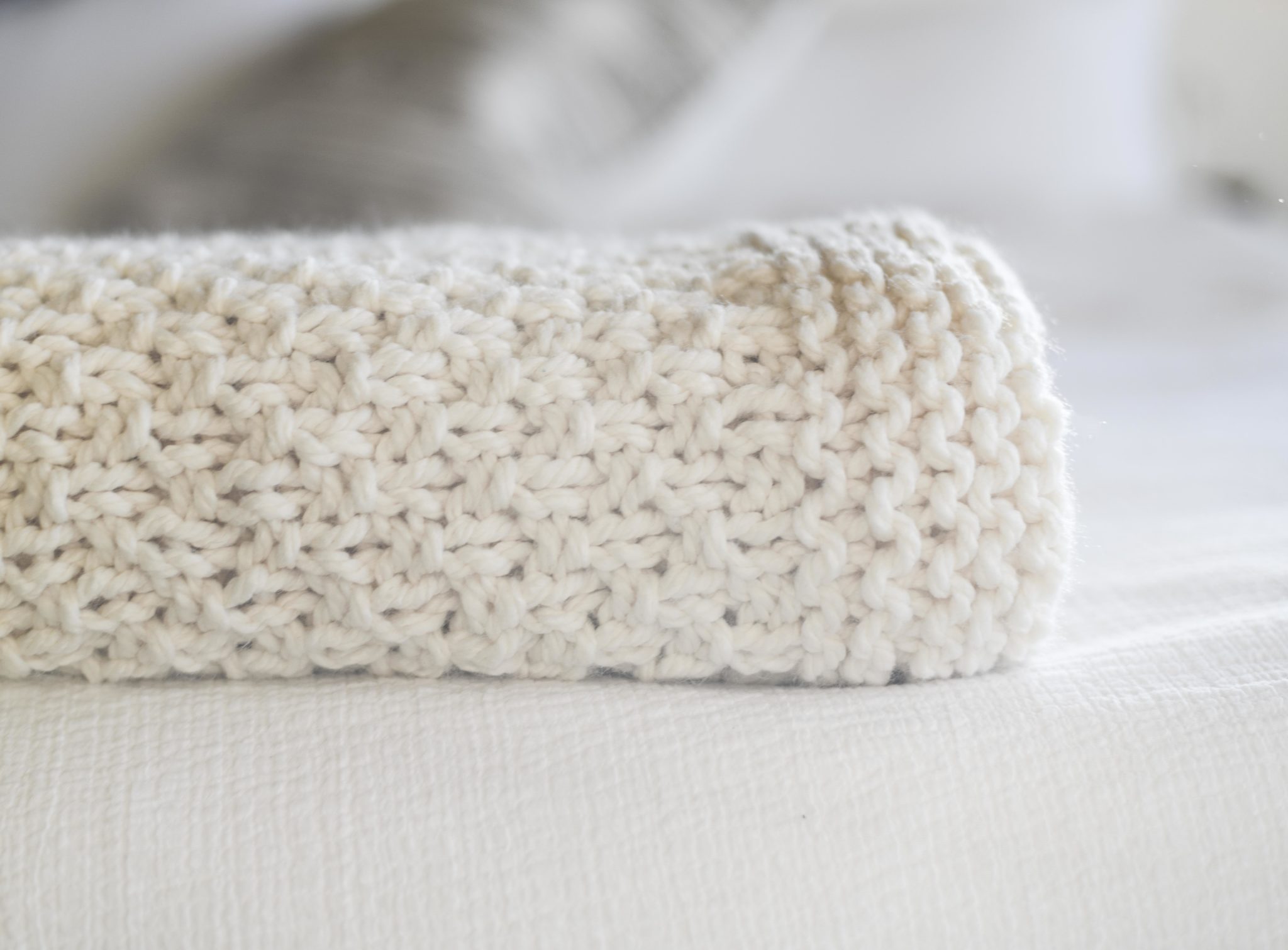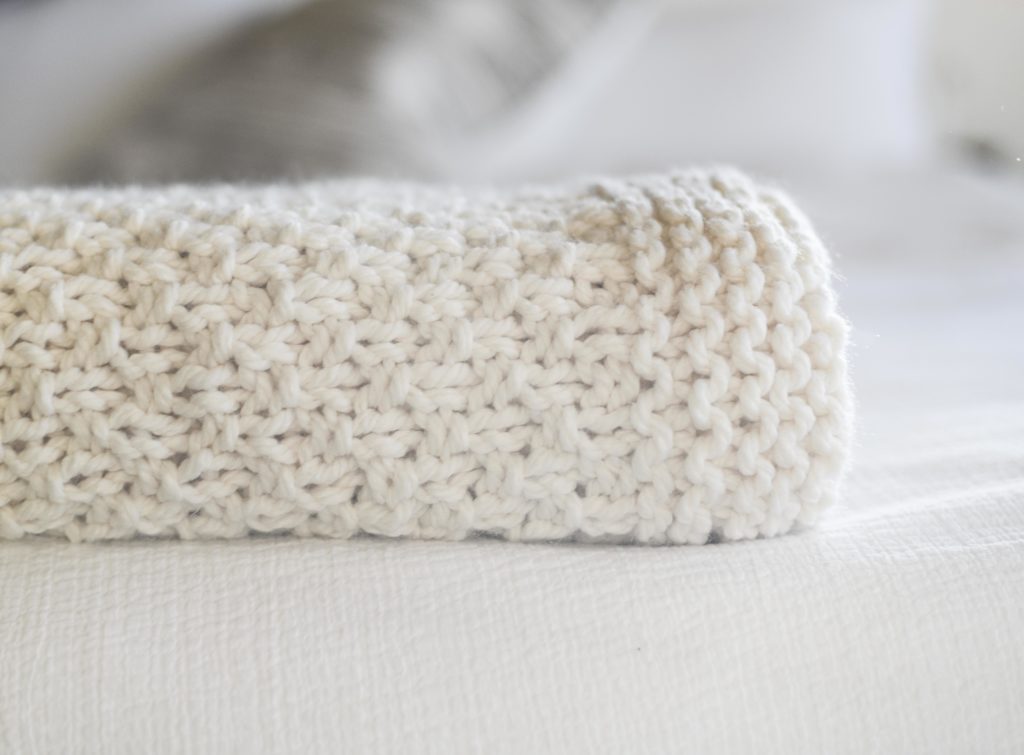 While I love natural color tones like this one, you can make this in any color you'd like! I love hearing about when you make blankets in your team colors, or your child's college colors, or just the perfect color to match your room. 🙂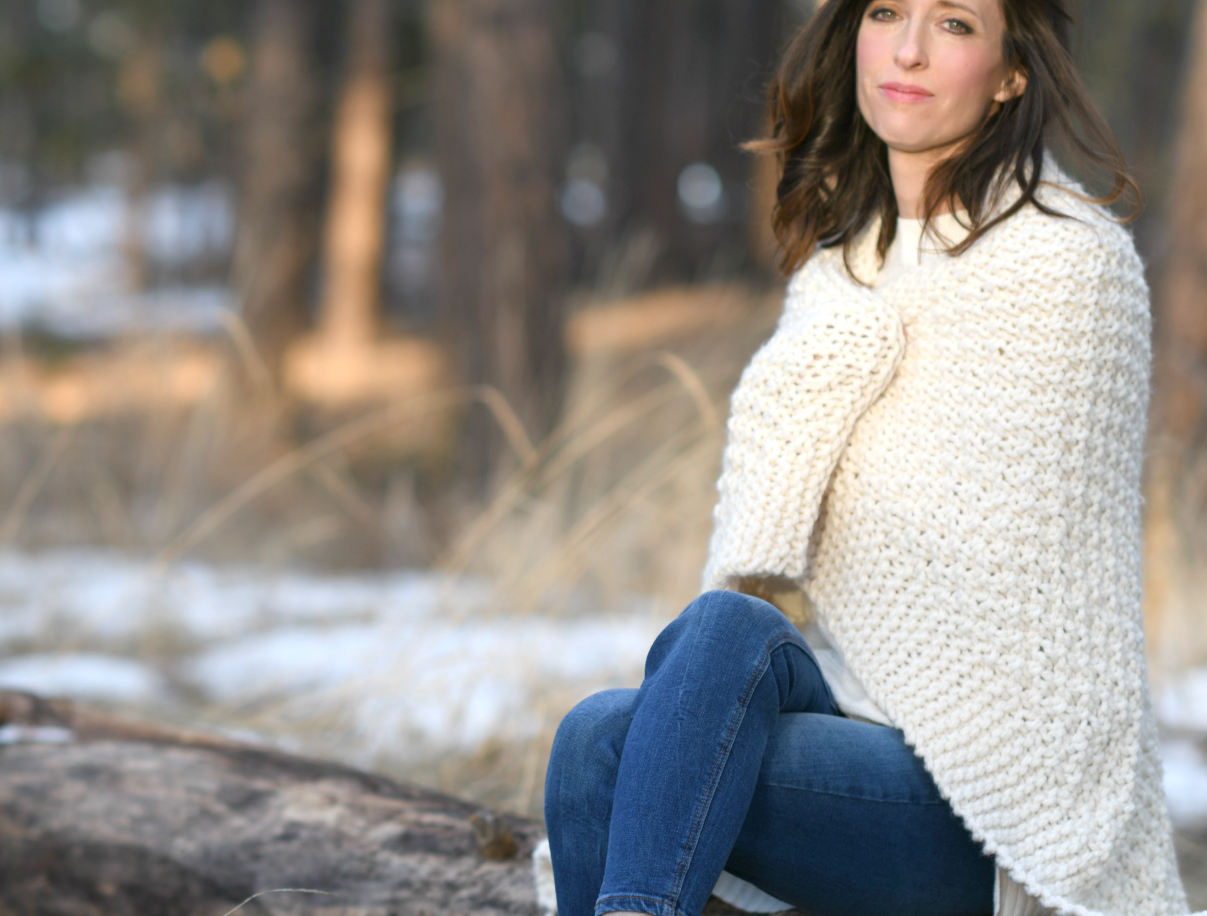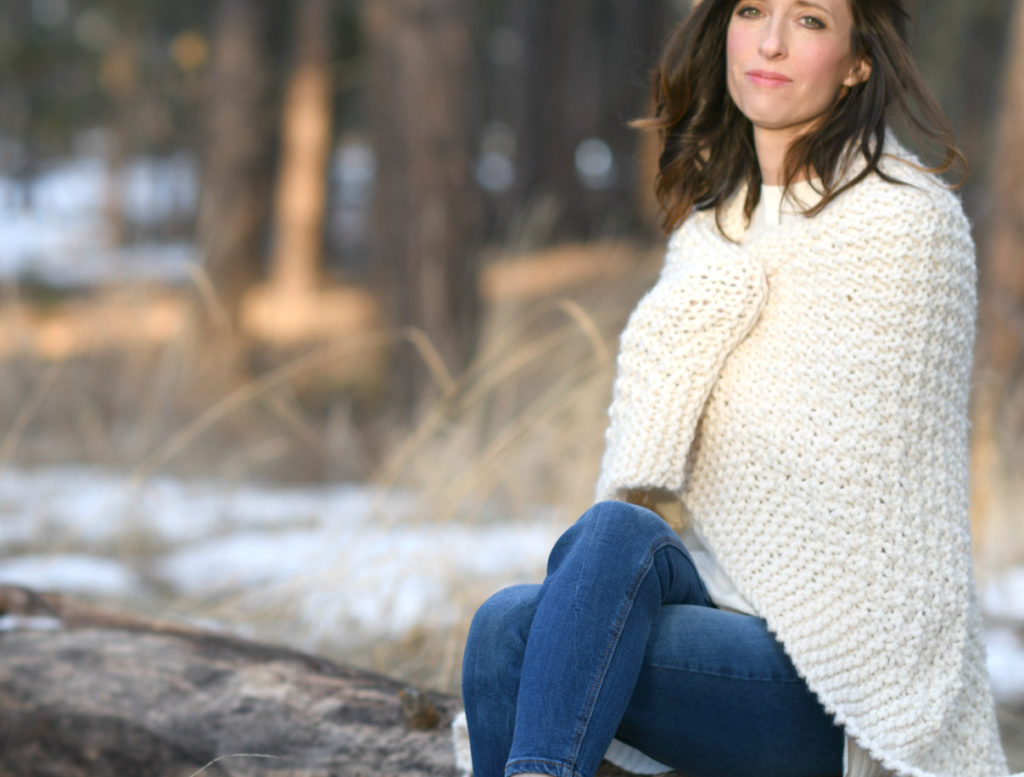 So, let's get to this pattern!
Aspen Mountain Easy Throw Blanket – Free Knitting Pattern
Description:
A timeless throw blanket featuring an all-over, stunning texture and super chunky yarn. Classic and beautiful, this cold weather blanket is perfectly suited for an Aspen chalet or your cozy living space. The stitch pattern will compliment any room in your home and is appreciated by women, men, girls and boys alike. It works up quickly on large needles and is simple enough for new knitters.
Skill Level:
Easy +
Materials:
US Size 15, 10 mm, 36" circular knitting needles
6 Lion Brand Yarn Wool Ease Thick & Quick in Fisherman (170 g/skein) available HERE
Pattern uses approximately 850 (more if adding poms, fringe or tassels)
Tapestry Needle
Scissors
Dimensions (approximate):
Lapghan size 38" x 38"
To make the blanket longer, simply knit for more rows, following the stitch pattern, until you've reached your desired length. Keep in mind that you will also add a border at the end.
To make it wider, simply cast on more stitches. You will work a border of 8 stitches on each side. The center, Irish Moss Stitch portion, needs to be a multiple of 2. (Add 16 stitches for the border to your Irish Moss Stitches which are a multiple of 2)
Abbreviations & Skills:
k – knit
p – purl
st – stitch
st – stitches
Gauge:
Approximately 8 sts and 8 rows in 4" x 4" in Irish Moss Stitch Pattern
Irish Moss Stitch
Cast on multiple of 2
Row 1 k1, p1; repeat across the row
Row 2 k1, p1; repeat across the row
Row 3 p1, k1; repeat across the row
Row 4 p1, k1; repeat across the row
Repeat rows 1 – 4 for as long as desired
Notes:
This blanket is worked from the bottom up. It features a garter stitch edging and border as well as Irish Moss Stitch throughout the center. If you know how to knit and purl, you can make this blanket! It is knit flat, in rows. Use the circular needles as listed above in order to hold all of the stitches, but you won't be knitting in the round. Have fun!
Pattern Instructions
(see "Dimensions" section for instructions on how to adjust size if desired)
Cast on 78 stitches
Edge:
Rows 1 – 10 Knit each st across the row
Body of Blanket:
Row 11 K8, *k1, p1; repeat from * to last 8 sts of row, knit last 8 sts of row
Row 12 K8, * k1, p1; repeat from * to last 8 sts of row, knit last 8 sts of row
Row 13 K8, *p1, k1; repeat from * to last 8 sts of row, knit last 8 sts of row
Row 14 K8, *p1, k1; repeat from * to last 8 sts of row, knit last 8 sts of row
Next, repeat rows 11-14 until blanket measures approximately 35" long
Final Edge:
Next, knit 10 rows to make the final edge.
Cast off and weave in ends.
You may choose to add poms, tassels, or leave it as-is!
Enjoy your cuddly blanket!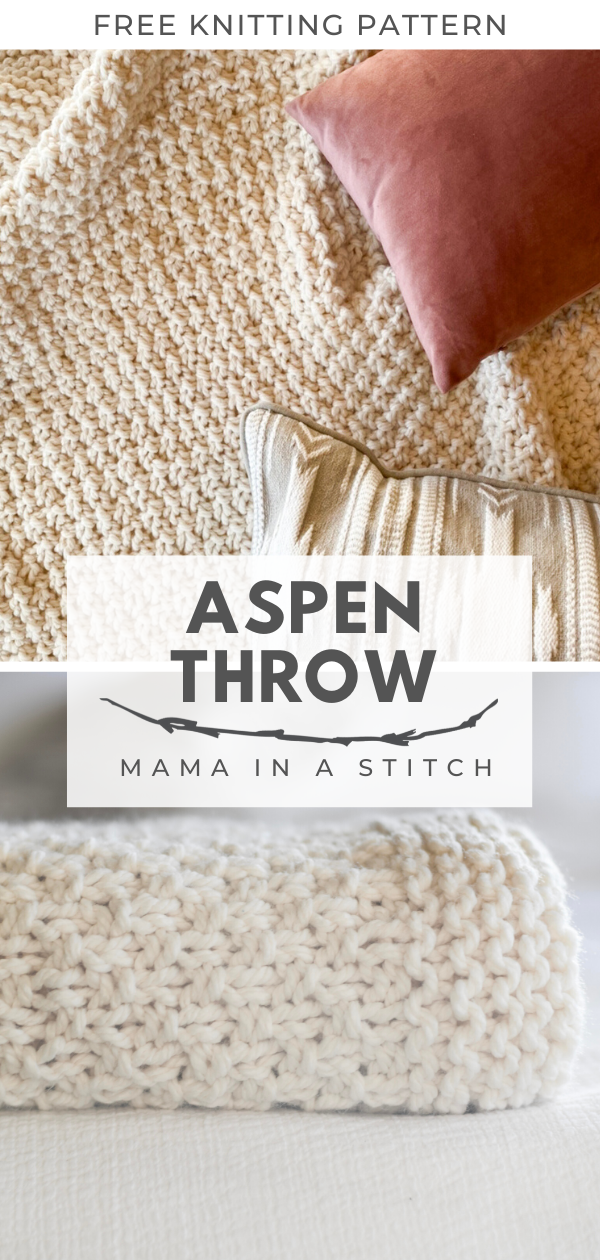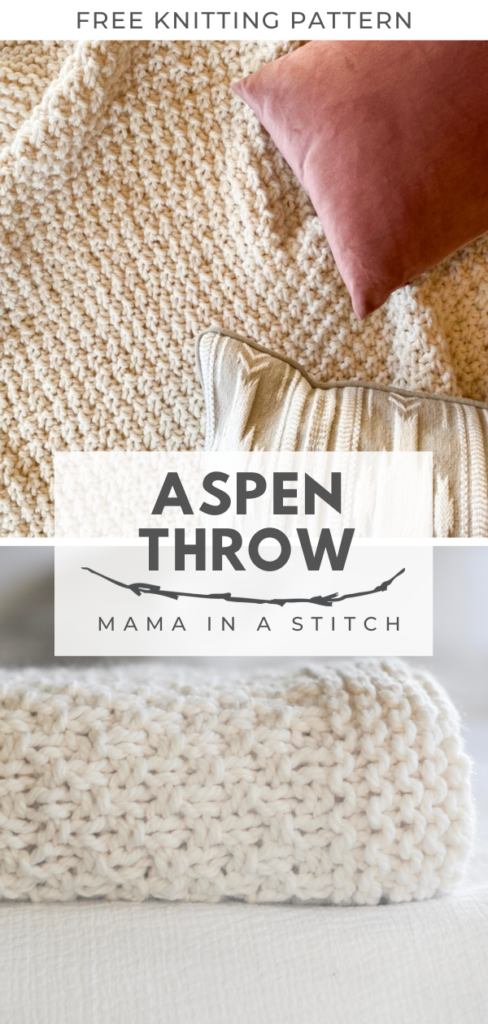 That's all there is to it my friends. I hope you liked this timeless pattern – sometimes the simplest patterns can be the prettiest in my opinion. 😉 I'd love to see if you make one – simply tag me in Instagram @mamainastitch #mamainastitch or shoot me an email!
And feel free to follow along as I share more simple patterns inspired by the outdoors in the Into The Wild Collection over the next few weeks!
XO
Jessica
If you liked this, you might also like:
Winter Cuddler Throw Blanket Free Knitting Pattern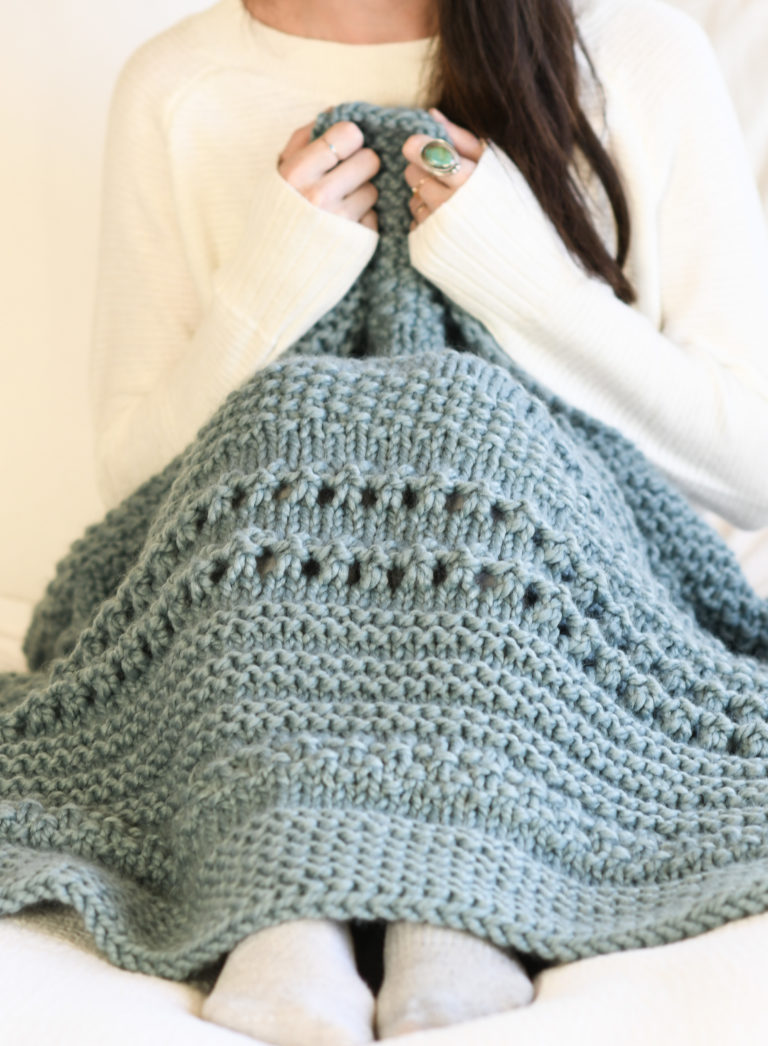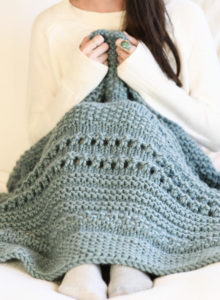 Quick & Cuddly Throw Free Knitting Pattern