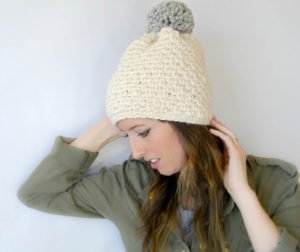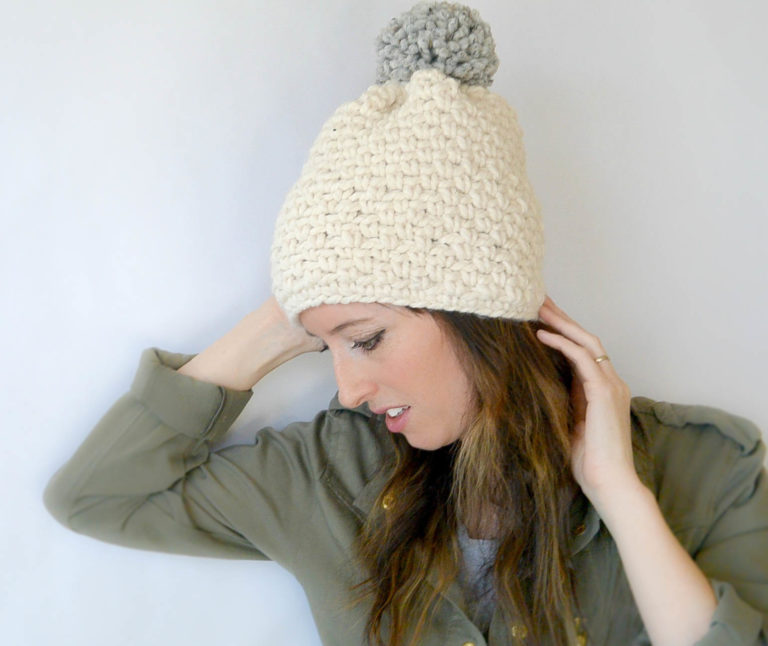 I recently thought that it might be a good idea to use up some of my yarn stash instead of buying new again.  (We all know this idea won't last long!)  I happen to have quite a bit of super bulky yarn because it really is my favorite to work with these days. So here we have a chunky hat made with the same stitch that I used to make the easy

"Favorite Slouch Hat"

pattern (one of my most popular patterns so far!).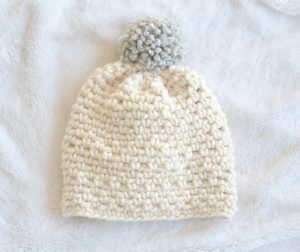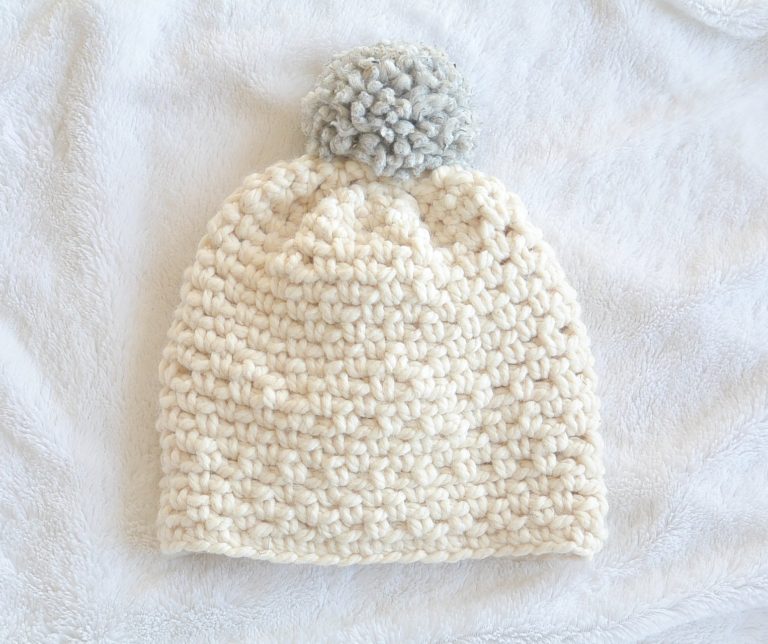 This hat's so simple and works up FAST. You can make it in one night and with one skein of Wool Ease Thick & Quick. I used up a cream color yarn for the hat and some left over grey yarn for the pom. You will have enough with one skein of yarn to make the hat and the pom. Cool, no?
So you need to know how to chain, single crochet, and decrease in order to make this chunky hat.  You might want to practice on a swatch if you've never done this "seed stitch" pattern before. I also suggest watching a little tutorial because while it's really easy, sometimes you just need to see how it's done. Here is a good video that shows you this stitch from

Fiber Flux Tutorial- Click HERE.
Notes:
This pattern is worked in the round. It is worked in continuous rounds, so you do not have to join each round. You also do not need to count rounds.
It is worked from the bottom, up.
You will be making a single crochet, then a chain.  The single crochet stitches will be worked into the chain stitches.
If this is a hat for you, give it a try on your head after a few rows. Because it isn't the STRETCHIEST of hats, and you could crochet tighter or looser than myself, you may want to make sure it's a good fit before you finish the entire thing.
You will need:
US Size K Crochet Hook
One skein Lion Brand Wool Ease Thick & Quick or comparable yarn ( I used Fisherman and Grey Marble for the pom)
Scissors
Tapestry Needle
Pattern:
Chain 46, Slip stitch to join ( You will begin to work in the round), Chain 1
Round 1 Sc around
Round 2 Sc in first sc, *chain 1, sk stitch, sc in next stitch* Repeat from * to * around. Continue until hat is approximately 6.5″ inches tall.
Once hat reaches 6.5″ tall:
Make one round of single crochet around
Decrease:
Next round – *sc, sc, decrease* Repeat from * to * around – In other words *2sc, sc 2 together* around
Next 2 rounds – Decrease all the way around.  ( sc 2 together around )
Thread your tapestry needle and stitch the hole closed at the top of the hat. (You may not even need to use your needle. I was able to weave the yarn in and out of the stitches with my fingers)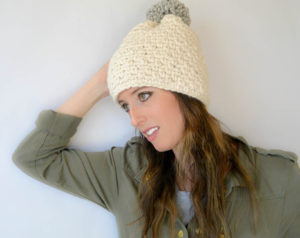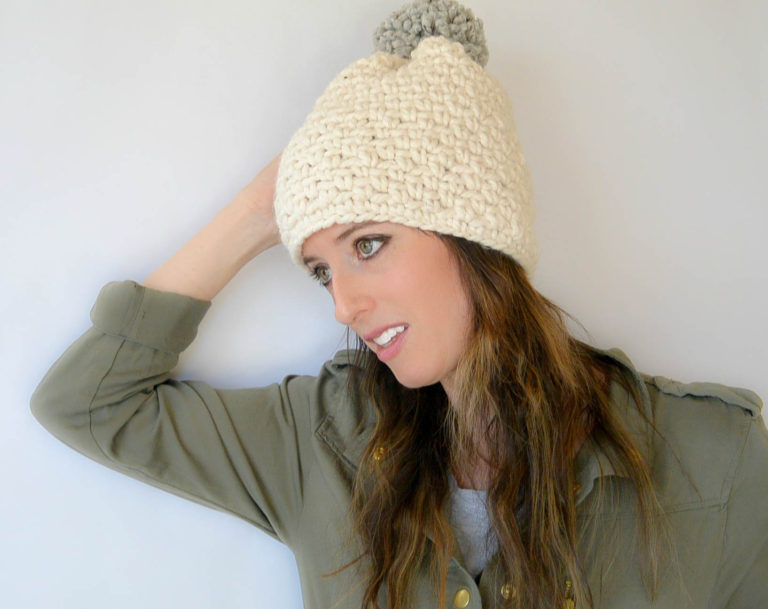 To Make the Pom:
You can see how to make a simple pom pom with my little picture tutorial link HERE.  However, to make a large pom like the grey one for this hat, I didn't use my hand like I did in the tutorial. I used a Glad Food Saver container, you know, like the Tupperware containers that you put left overs in.  It is probably 6 inches wide and two inches high. I wrapped the yarn around it several times, just as I wrap it around my hand normally.  This makes a larger pom.  So look in your cabinets and see if you have any little containers (larger than your hand) that you can wrap the yarn around!
That's all there is to it.  It's a fun little project to finish in one evening, and if you like the chunky look – well this is it. 🙂
If you like to use super bulky yarn, you should check out my other patterns! Go to Free Crochet Patterns or

Free Knitting Patterns

to see more. 🙂
I really can't believe it's already December! I don't know about you, but I've been eating a lot of pumpkin pie in between yarn projects (this is what happens when your hubby and daughter won't eat it!).  I hope this post finds you well, dear friends.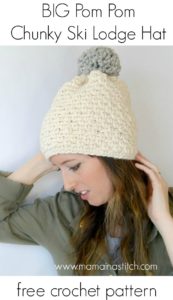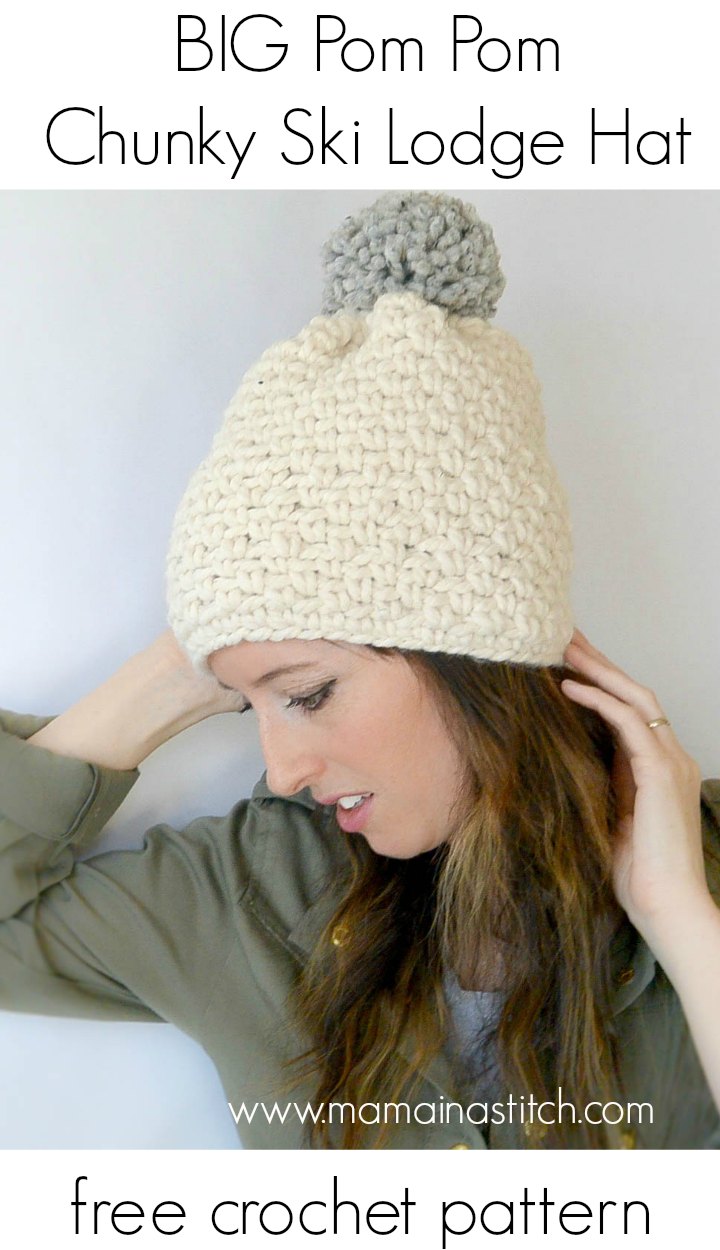 [jetpack_subscription_form]