Manhattan Market Tote – Crochet Pattern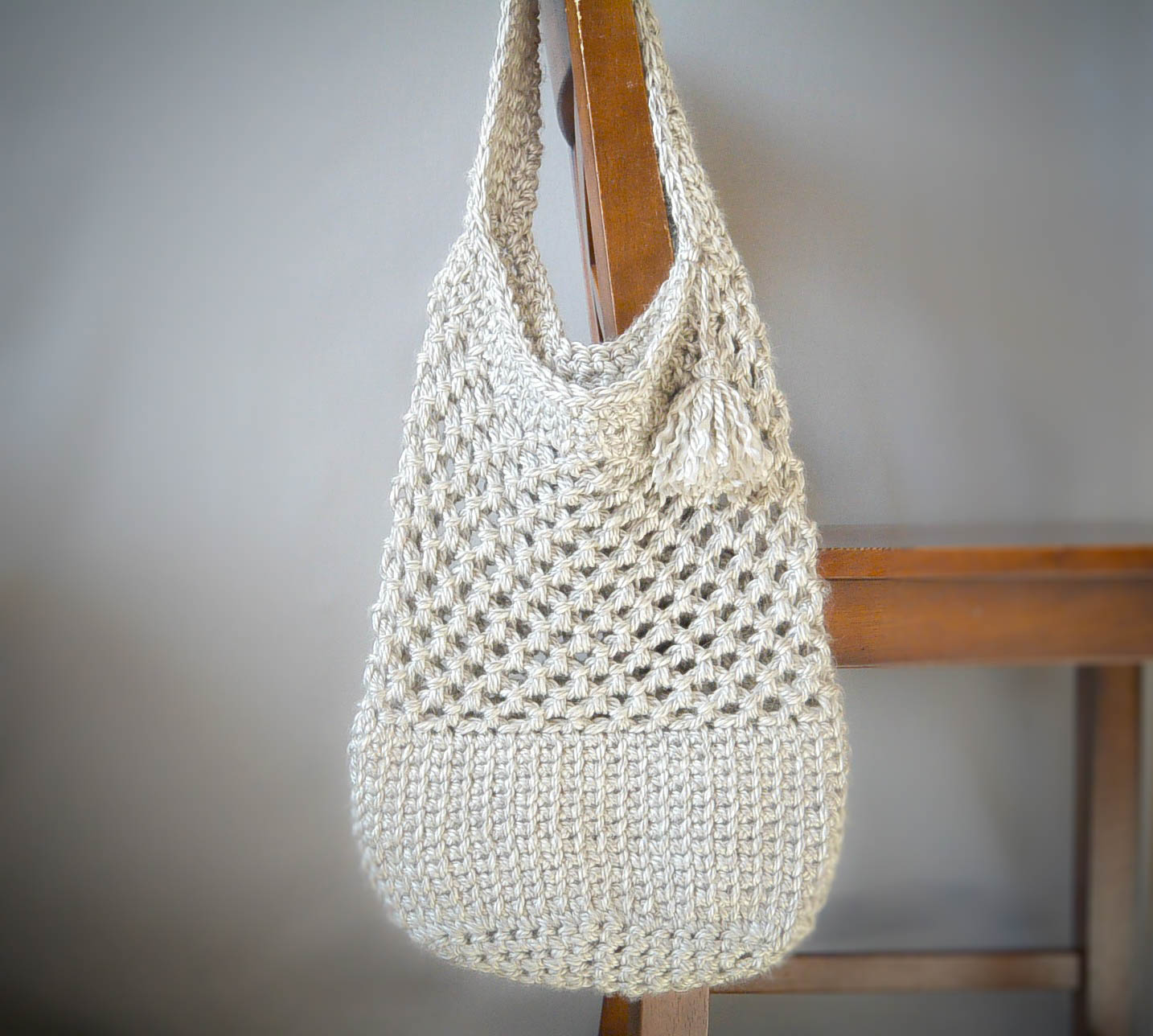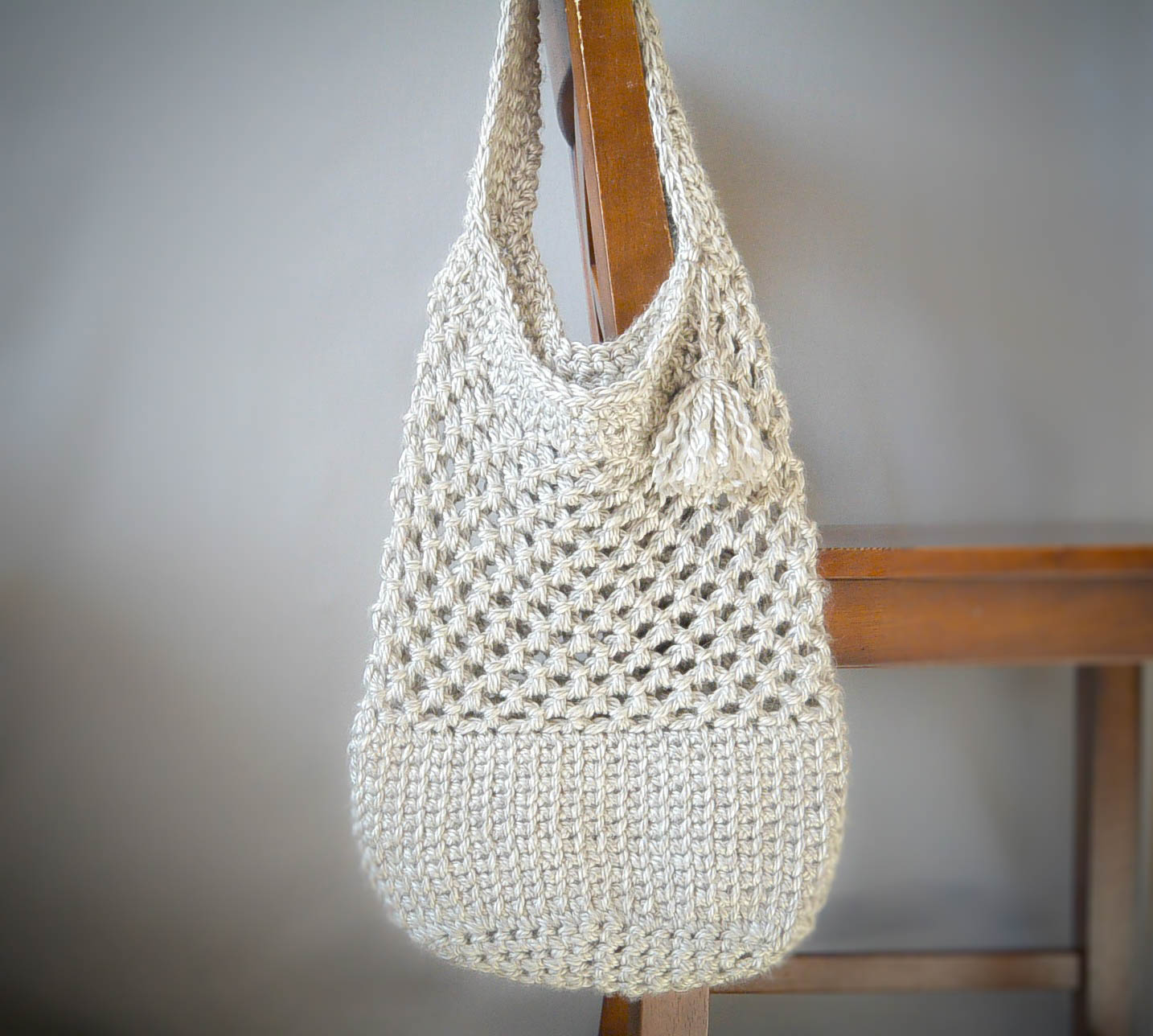 With the arrival of spring, I just can't wait to browse around the farmers' markets and simply be OUTSIDE! This crochet bag is what I've made (while it was snowing) with dreams of toting it around in the warmer months. I wanted to make it fairly sturdy, and didn't want overly large holes for things to fall through. This bag has a strong bottom and a hefty handle. I'm thinking that I can even use it as a book bag, which I desperately needed the last time I took my girl to the library.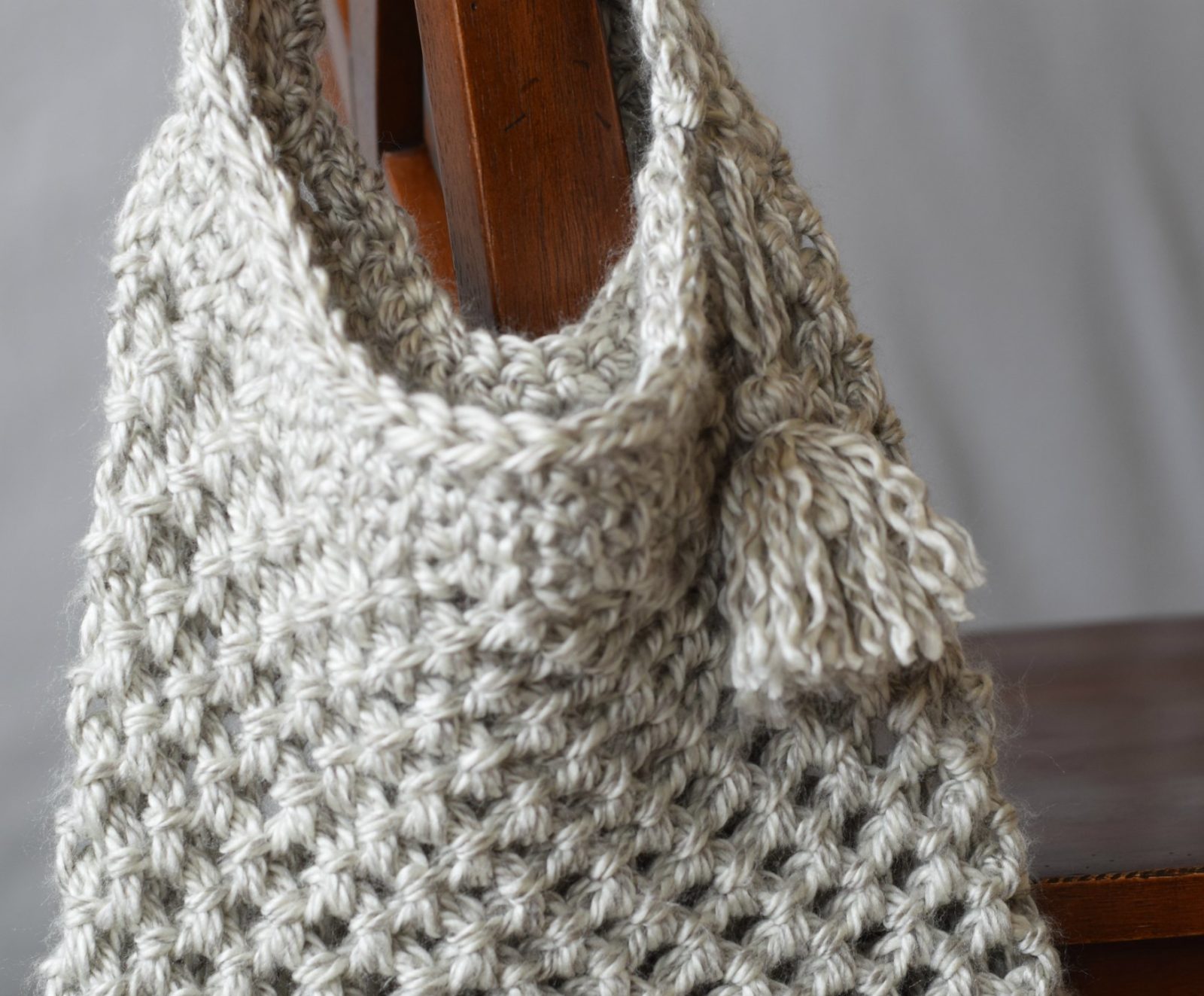 It's made with a larger size P crochet hook and chunky yarn so it works up pretty quickly. The "chunkiness" makes it feel like it can hold up to a lot of wear and tear. It's not a giant tote, but a convenient size that won't get overly heavy. It's all done with basic stitches, but does use "center single crochet". If you've never done it, I posted a picture of how it looks being done below (there's a video tutorial link below as well).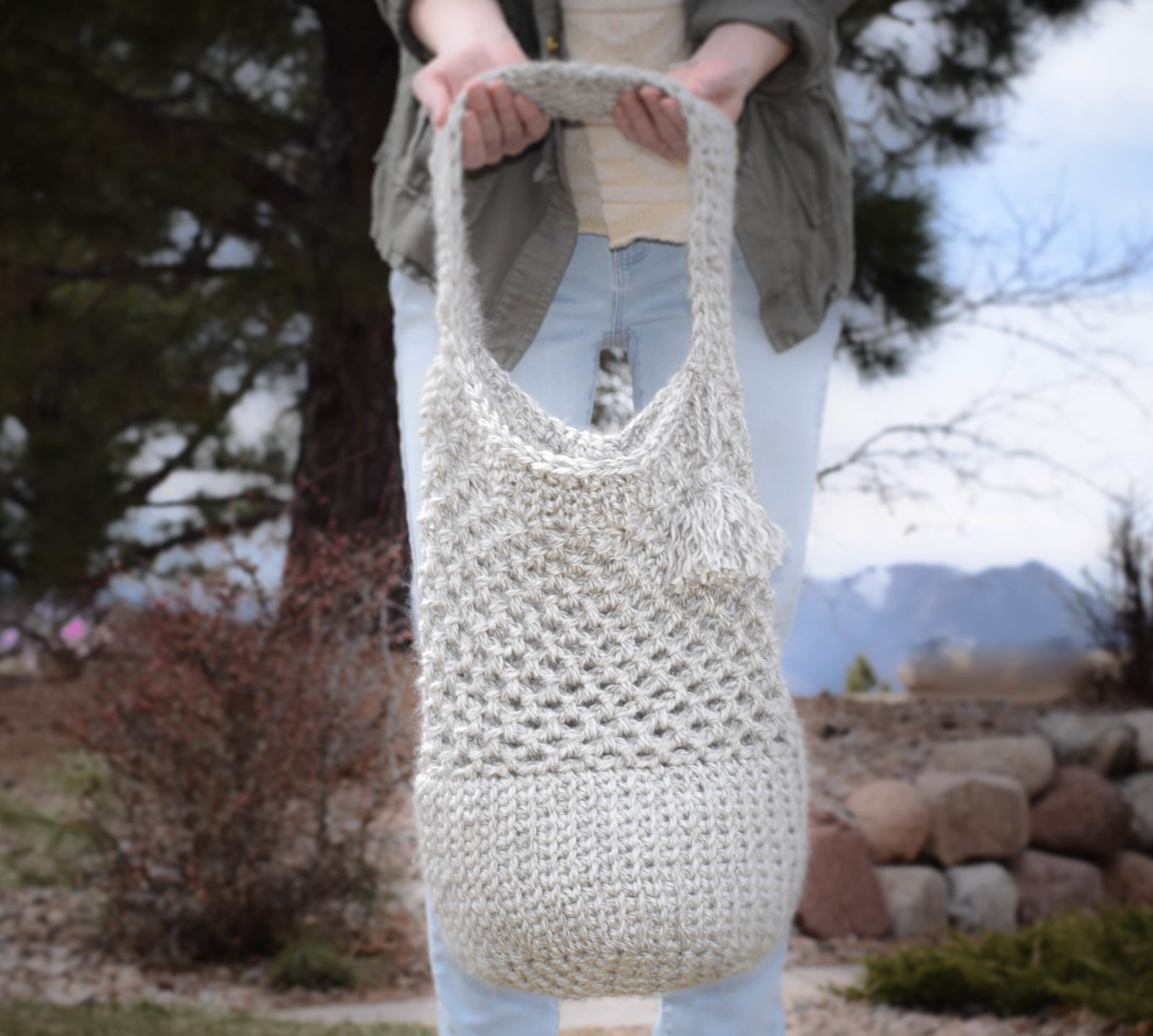 The bag's named the Manhattan Tote because I plan to take it on a trip to Manhattan this summer and hit up several of the outdoor markets! I think it's cute enough to carry around in that stylish, hustling, bustling city, right? This mountain girl can hang in the big city, right? 😉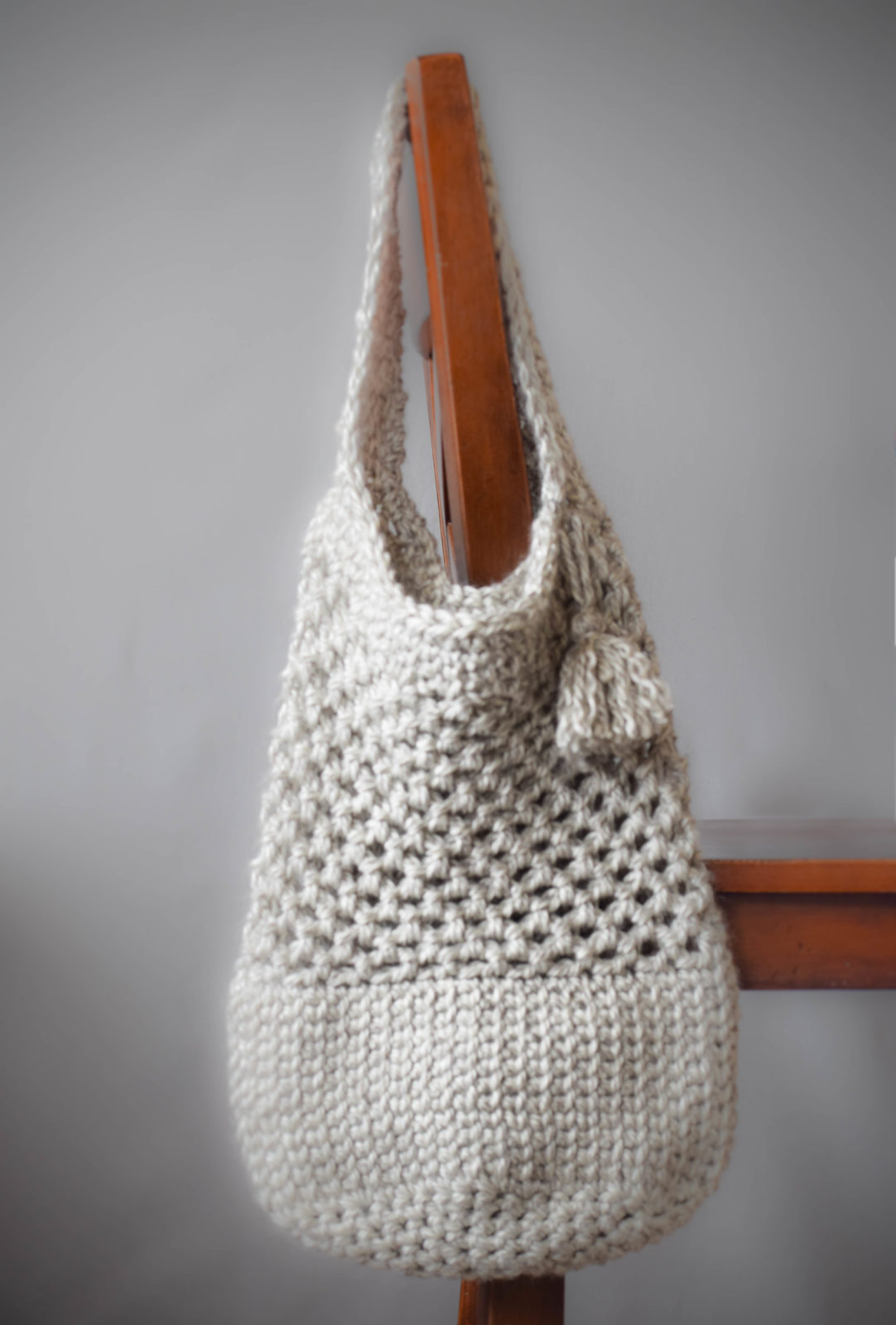 Explanation:
This tote is both sturdy and stylish making it the perfect carryall. The tight, woven-like texture on the base of that bag makes it stand out among other market bag designs. The tight fabric keeps smaller items in the bag and prevents them from slipping out, while the mesh top lends to the market bag feel. This makes for a fun and useful crochet project!
You will need:
Three skeins of Lion Brand Yarn Heartland Thick & Quick (or comparable yarn) (This pattern uses just over 2 skeins and 304 grams of yarn) Size P 11.5 mm crochet hook
Tapestry needle
Scissors
Size:
Approximately 14.5″ tall and 11″ wide **This is a medium sized market bag
Notes:
This bag is worked from the base up in continuous rounds. You will start by creating a flat circle by crocheting in the round with single crochet stitches. From there you will work up with sides using the CSC stitch. This is the "center single crochet" stitch. This stitch is much like single crochet, but you work through the legs of the single crochet below. See my pictures on how to do it, or you can find some YouTube tutorials as well. Here is a good one from Moogly:
https://www.mooglyblog.com/center-single-crochet-aka-waistcoat-stitch/
It definitely takes some "work". Make sure you don't crochet too tightly or it will be more difficult. The CSC stitch doesn't flow as quickly as regular single crochet, but you get the nice tight fabric that you see on this bag. If you're having too much trouble, just single crochet the bottom portion!
Abbreviations / Stitches:
ch – Chain
sc- single crochet
csc- center single crochet
st – stitch
sk – skip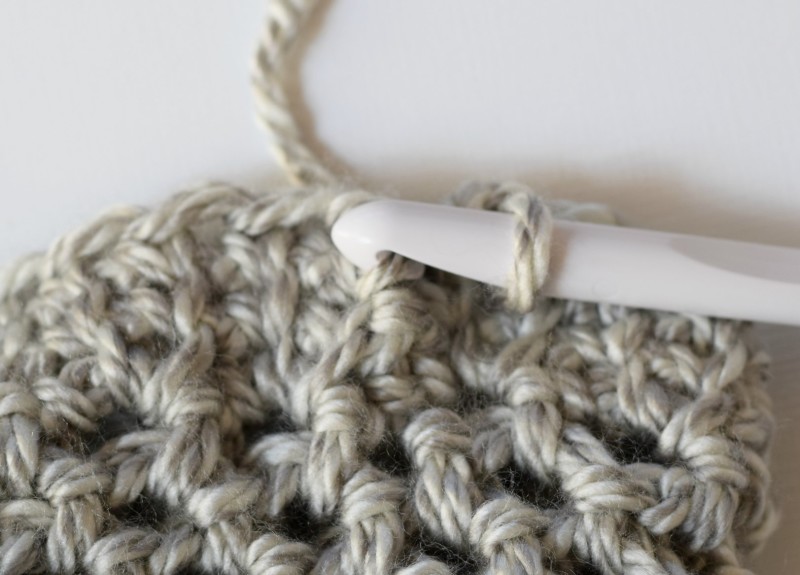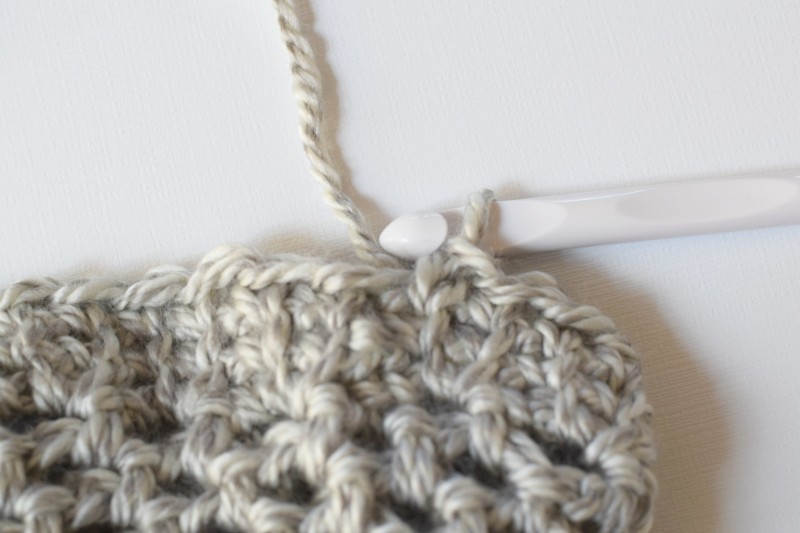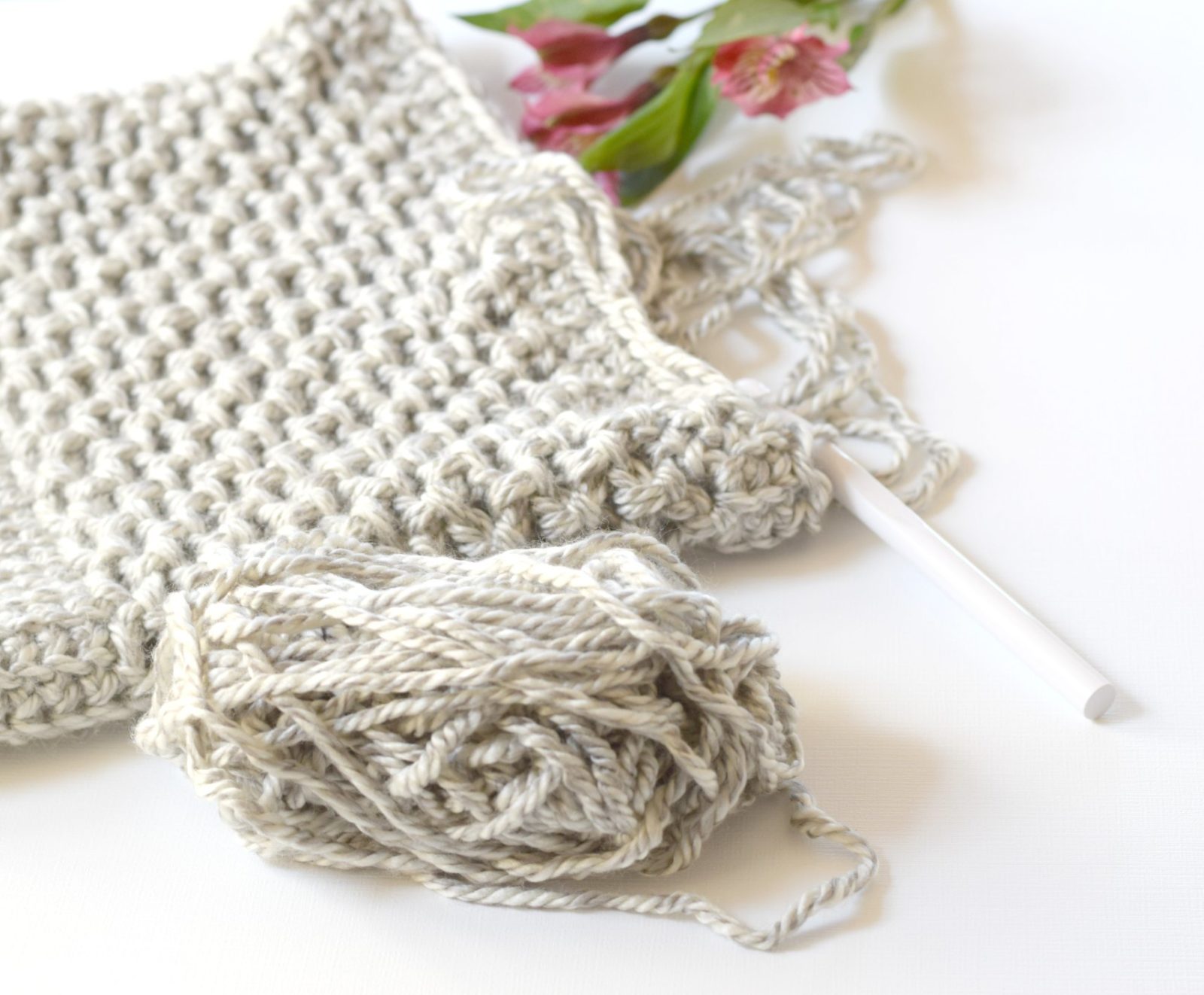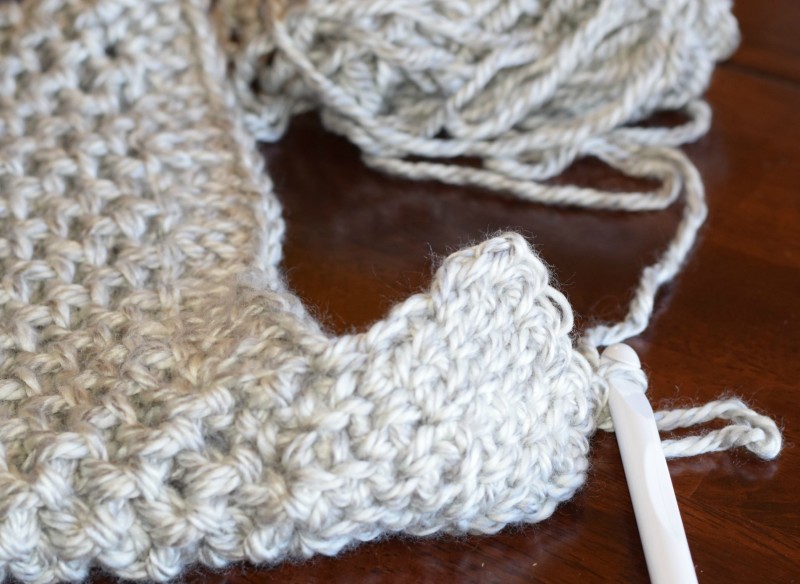 Manhattan Crochet Tote Pattern
Base of Bag : (flat circle done in single crochet)
Ch 2
Round 1 Work 6 sc into 2nd chain from hook (mark the beginning of round with stitch marker each round if needed)
Round 2 2 sc each sc around. (12 stitches)
Round 3 2 sc in first stitch, 1 sc in next. Repeat around. (18 stitches)
Round 4 2 sc in first stitch, 1 sc in next two stitches. Repeat around. (24 stitches)
Round 5 2 sc in first stitch, 1 sc in next three stitches. Repeat around (30 stitches)
Round 6 2 sc in first stitch, 1 sc in next 4 stitches. Repeat around (36 stitches)
Round 7 2 sc in first stitch, 1 sc in next 5 stitches. Repeat around (42 stitches)
Round 8 2 sc in first stitch, 1 sc in next 6 stitches. Repeat around (48 stitches). Skip stitch and slip stitch to join. Now there will be 47 stitches in that round.
Lower half sides:
Round 9 Sc in each stitch around (47 stitches) (Mark your round)
Round 10 Csc in each stitch around.
Continue making csc stitches in continuous rounds for approximately 13 more rounds or 5″. No need to join at the end of each round.
Note: each round will continue to have 47 stitches each
Once you have approximately 5″ inches in height of csc stitches, you are then ready to move onto the upper half sides.
Upper half sides:
(This is where you will work the open looking stitches towards the upper half of the bag)
Next round: *Ch 2, sk stitch, slip stitch into next stitch* Repeat around
Next round and continuing for 14 rounds or about 6.5 inches – Chain 2, slip stitch into ch 2 stitch below. Repeat around.
Once you have 14 rounds of this pattern mesh pattern, you will move onto the top portion below.
Top Portion
Make 1 round of single crochet stitches (in order to be able to csc in the next round)
Make 3 continuous rounds of csc stitches. Tie off.
Handle
Row 1 Attach yarn to upper side of bag and single crochet 5 stitches across, ch 1, turn
Row 2 Csc across (4 stitches)
Repeat row 2 until handle is the length that you would like. Mine is 19" long. Holding bag straight, attach handle to opposite side of bag. Whip stitch to join or used your preferred method.
Now, you will single crochet around each edge of the handle and along the top portion of the bag. This will make your handle look nice and neat. Tie off, weave in all ends.
Attach a tassel if you wish! If you're not sure how, there are a lot of online and YouTube tutorials on how to make a simple tassel.
I hope you enjoy your sturdy little tote!
Be sure to follow along on my Facebook page and subscribe for free to my blog for more free patterns. 🙂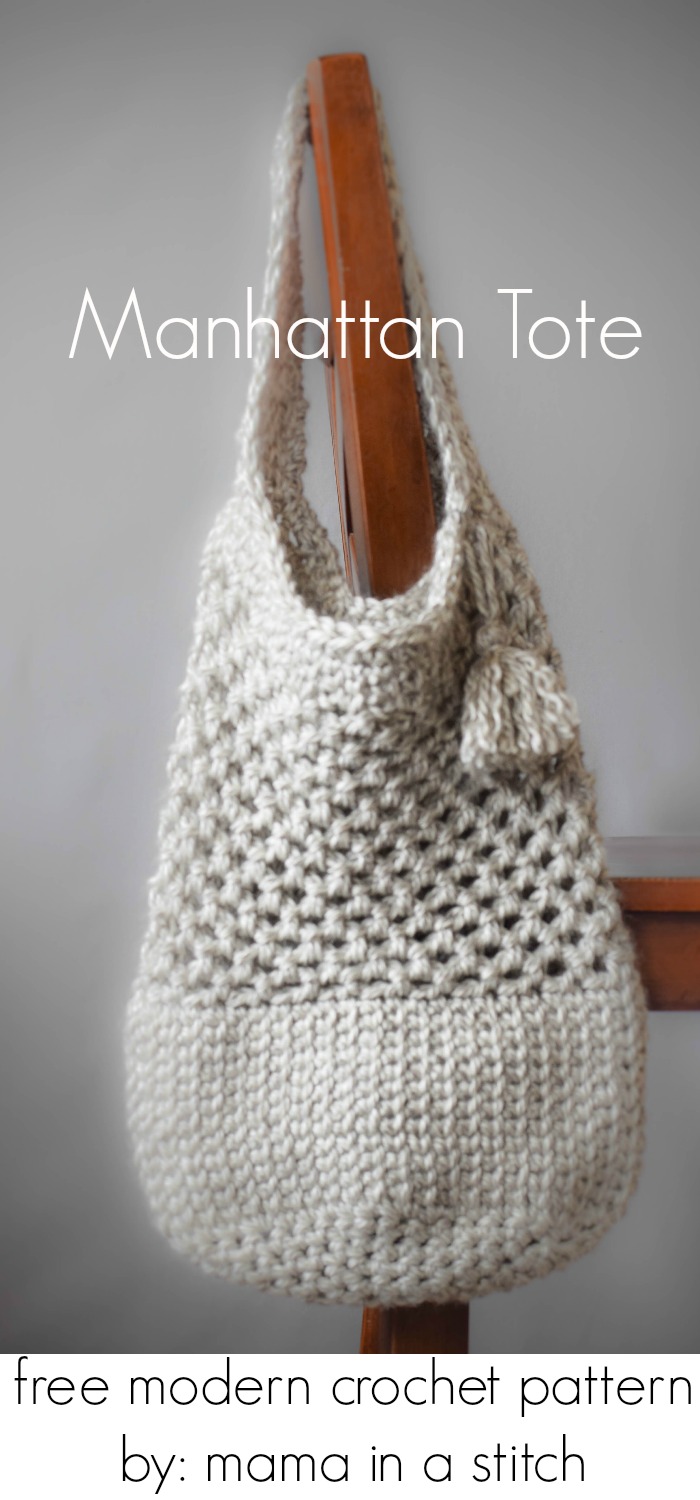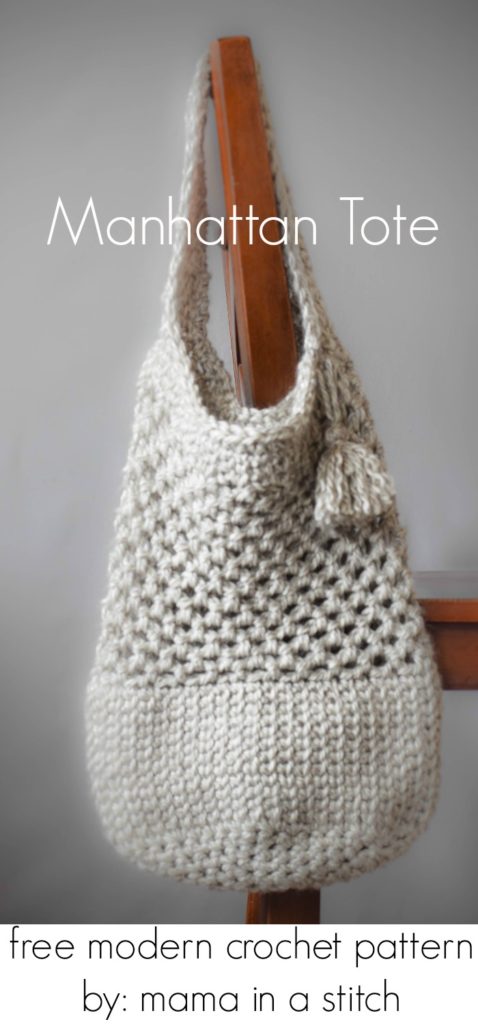 What do you think of this bag? I'd love to hear in the comments below! As always, let me know if you have any thoughts or questions about this pattern!