Bonfire Crocheted Scarf Free Pattern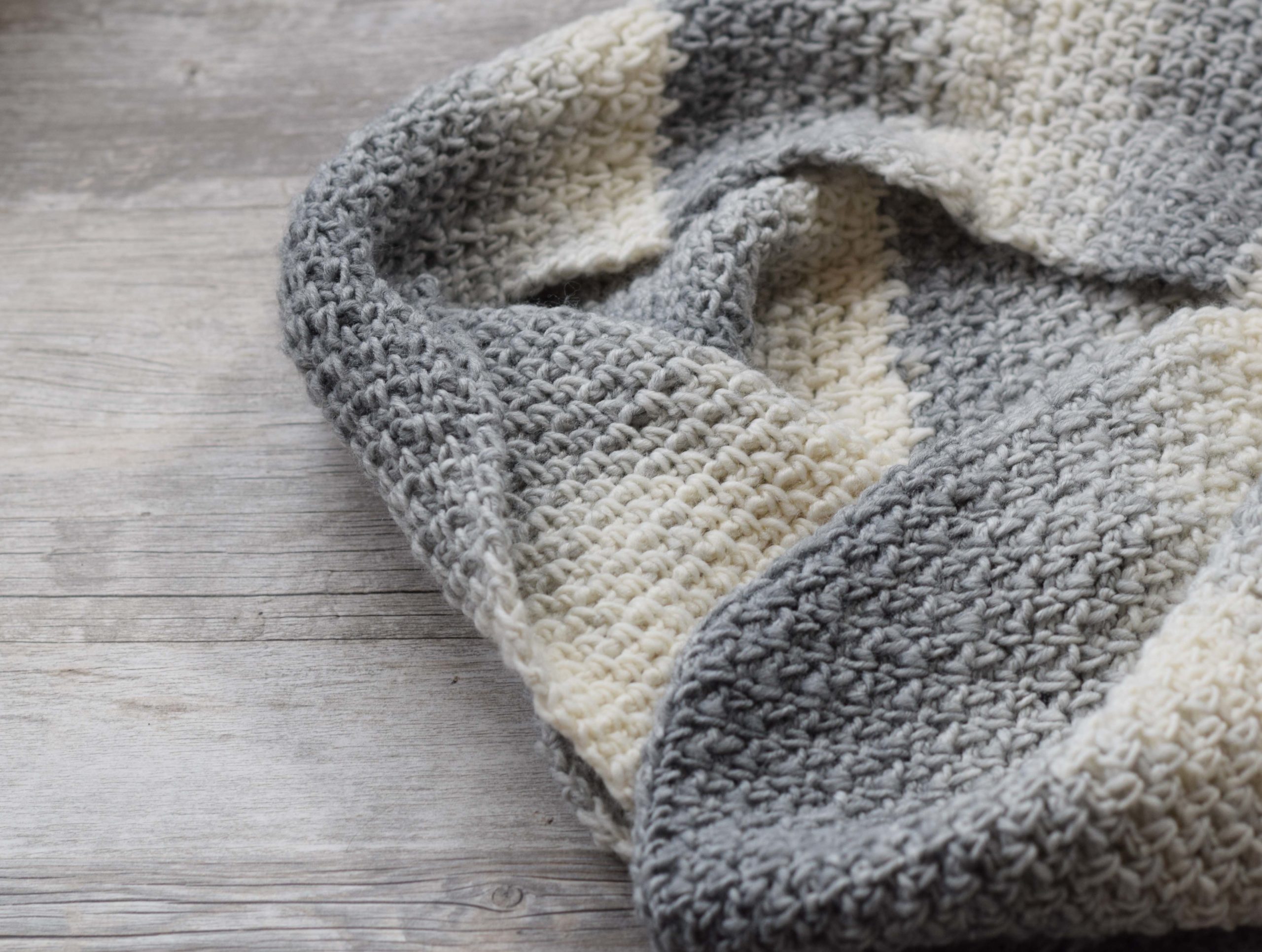 We don't think much about scarves during the summer time, but it's still chilly in the Colorado mountains at night. Summer doesn't only make me dream about warm days by the pool, but also about nights by the campfire. For those nights, a nice wrap or scarf can come in handy! This crocheted scarf is fairly simple and the color changing yarn does all the work for you. The amazing grey self striping Lion Brand Scarfie Yarn works up beautifully. It reminds me a bit of the smoke plumes from a campfire….pretty cool! Scarves also make nice summer projects as they are small and easy to tote around whether you're on a road trip or on a plane. Scroll down to find links to the stitch tutorial as well as to view the full pattern. 🙂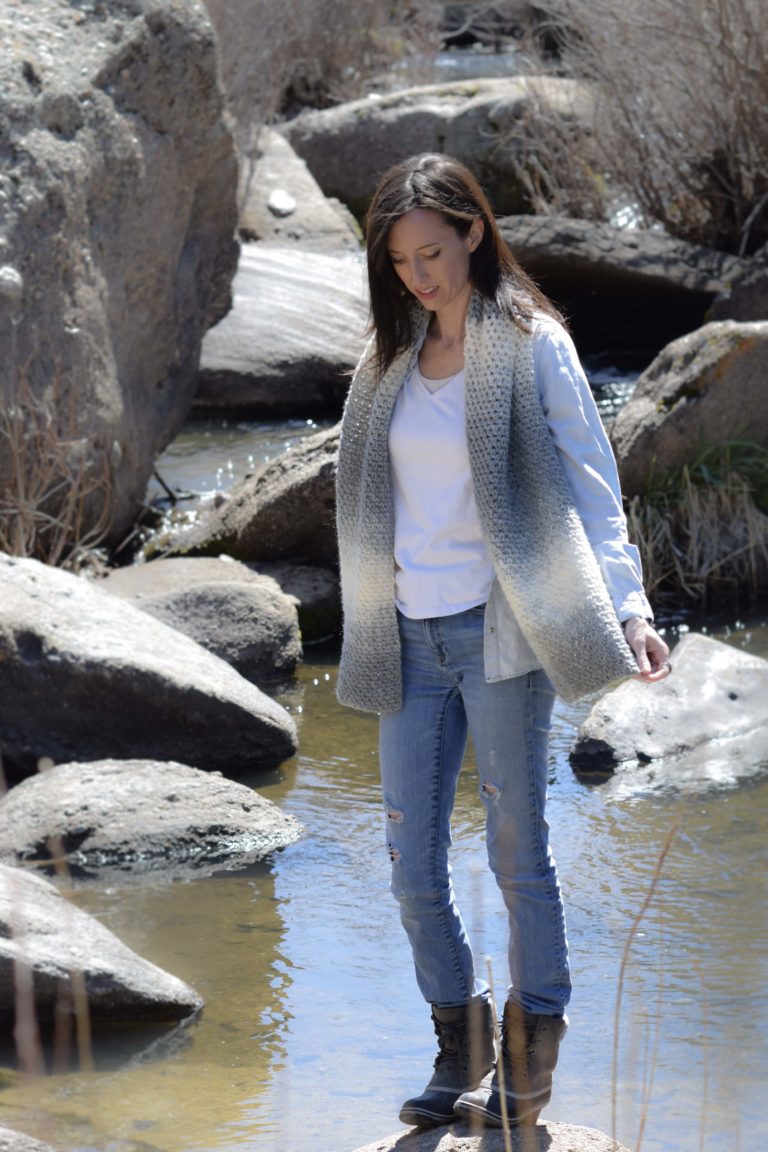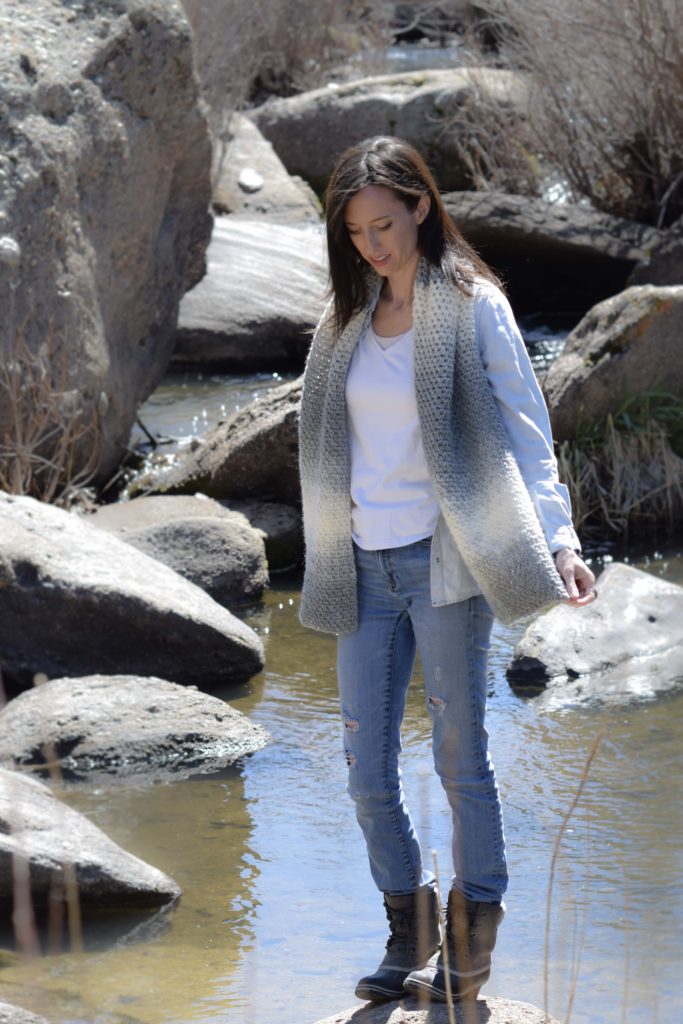 We recently visited Castlewood Canyon State Park and I got to enjoy the scarf (pictured above)! It's so nice that the weather has been warm enough to get outdoors again. Are you able to be outside yet? I've heard from many of you in Canada that the snow was lingering even longer than usual.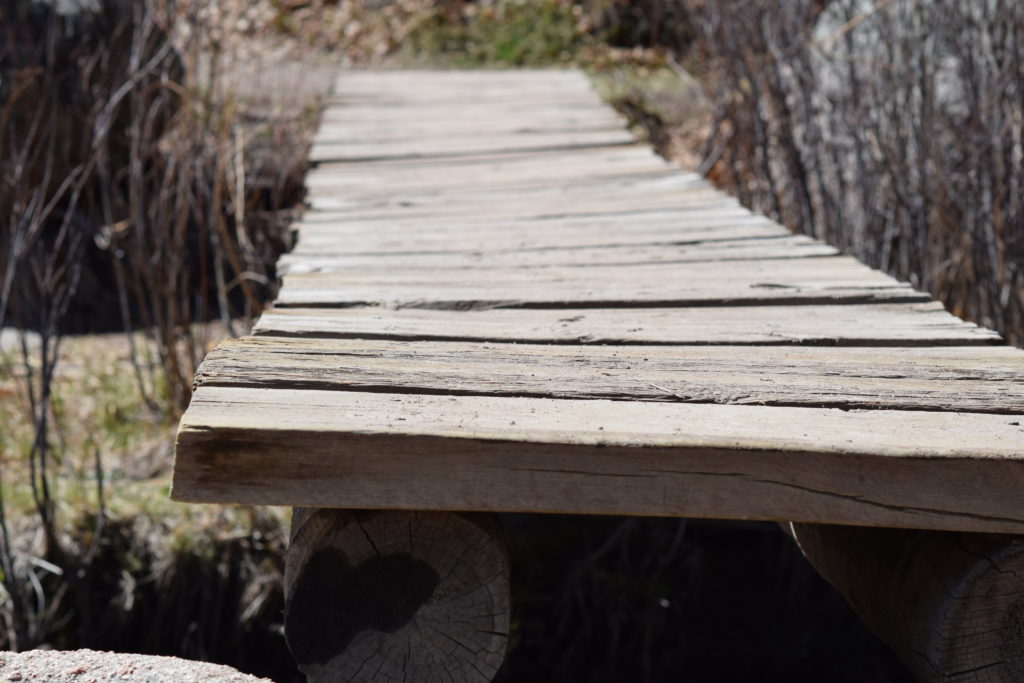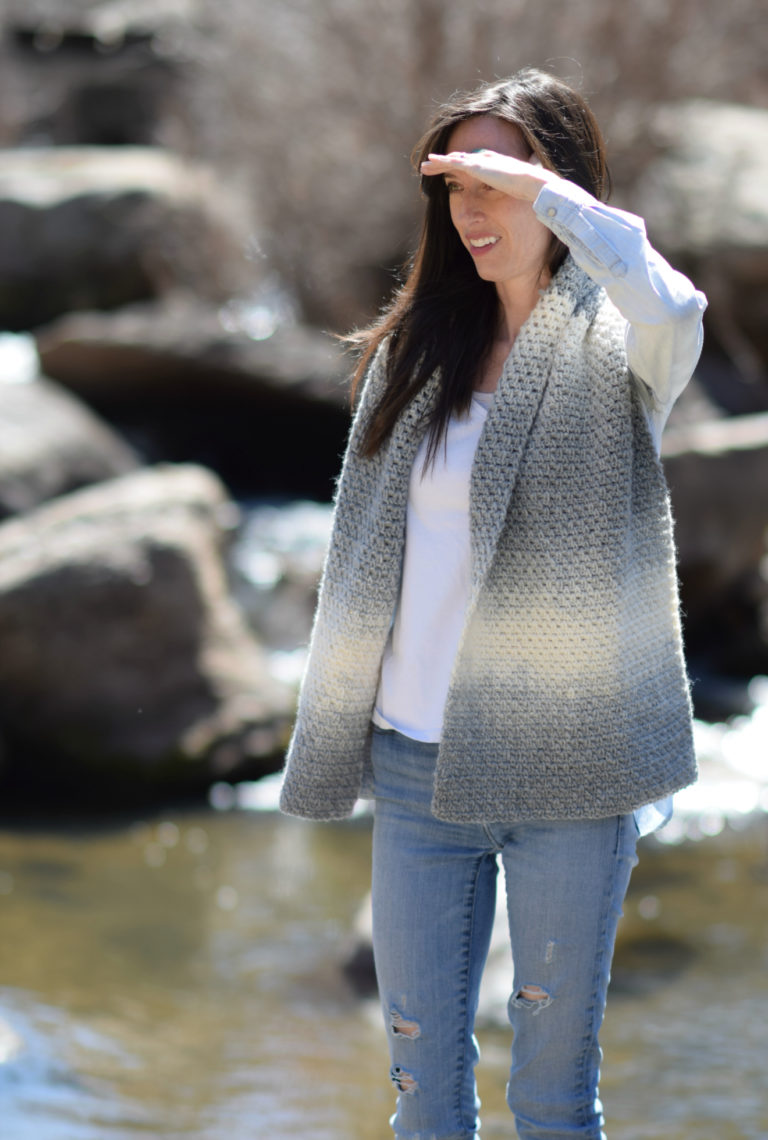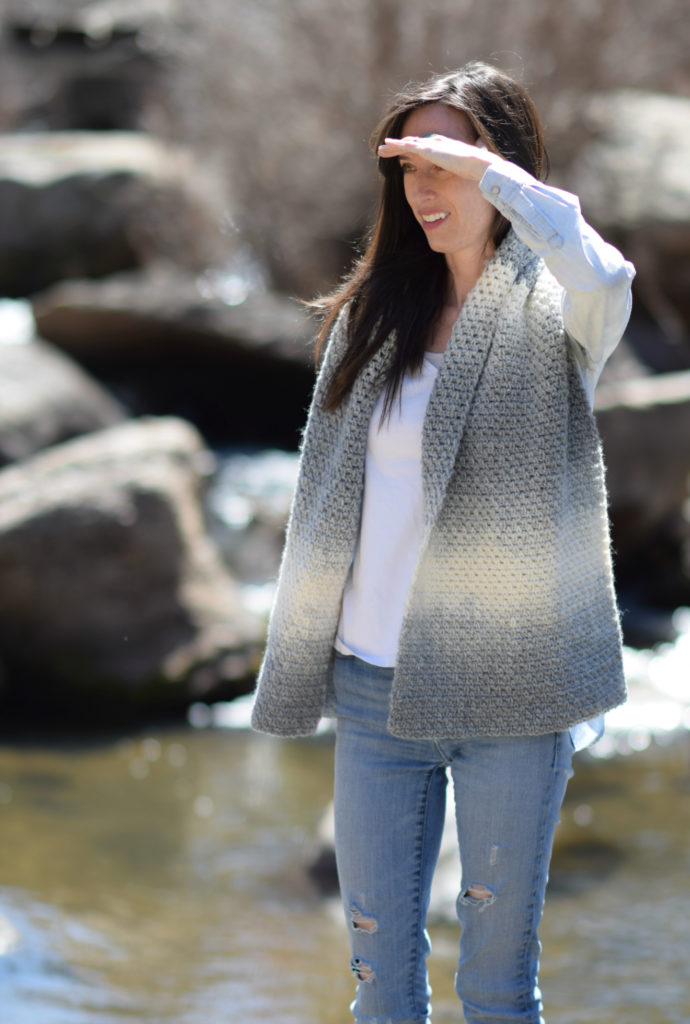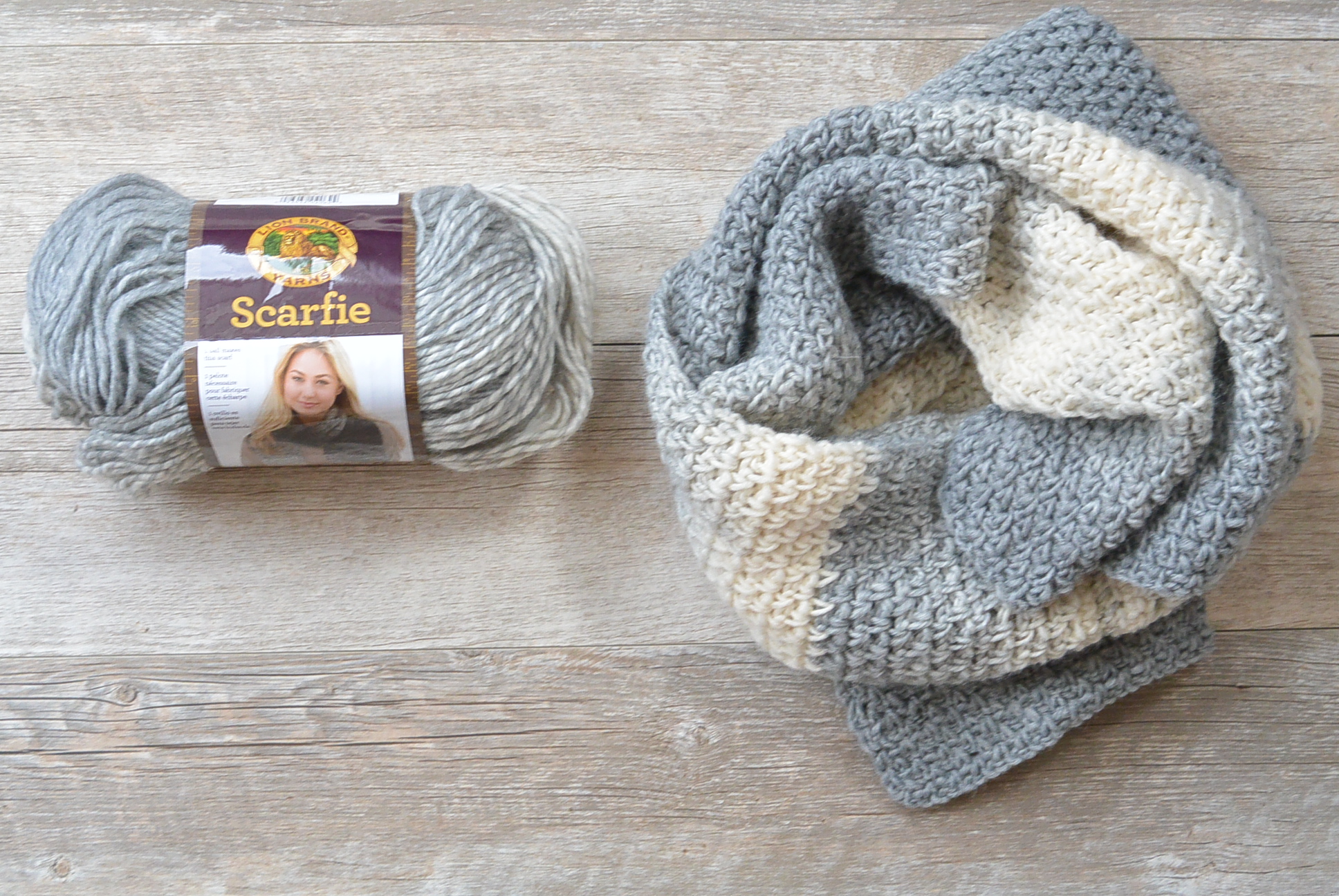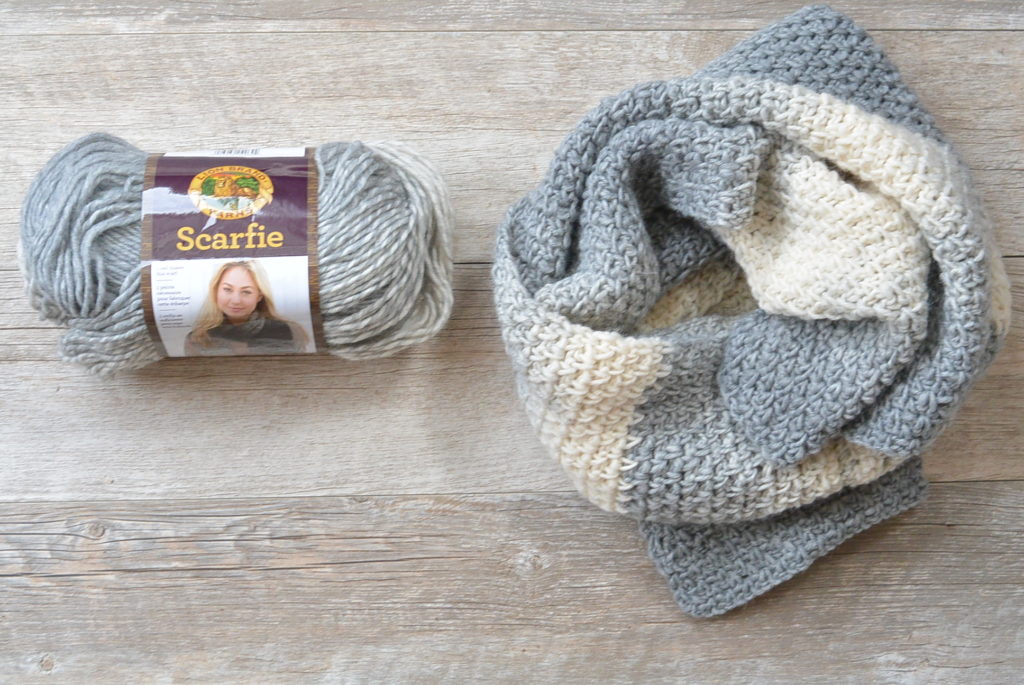 If you think you've seen this yarn before on the blog, you most certainly have. 😉 It was used in my Light Frost Blanket Sweater as well as the Faded Mist Topper that I designed exclusively for Lion Brand. The colors go with just about anything and grey is such a hot color right now. Scarfie was also the star of the show on the Driftwood Oversized Hooded Poncho pattern (here). Can you tell I like this yarn? Lol!
The pattern itself is super easy as it's worked by alternating single crochet stitches with chain stitches. It's easy enough for a new crocheter to do, yet it looks complicated and almost appears to be knit. If you still haven't tried the crocheted Granite Stitch, you can check out my picture tutorial HERE.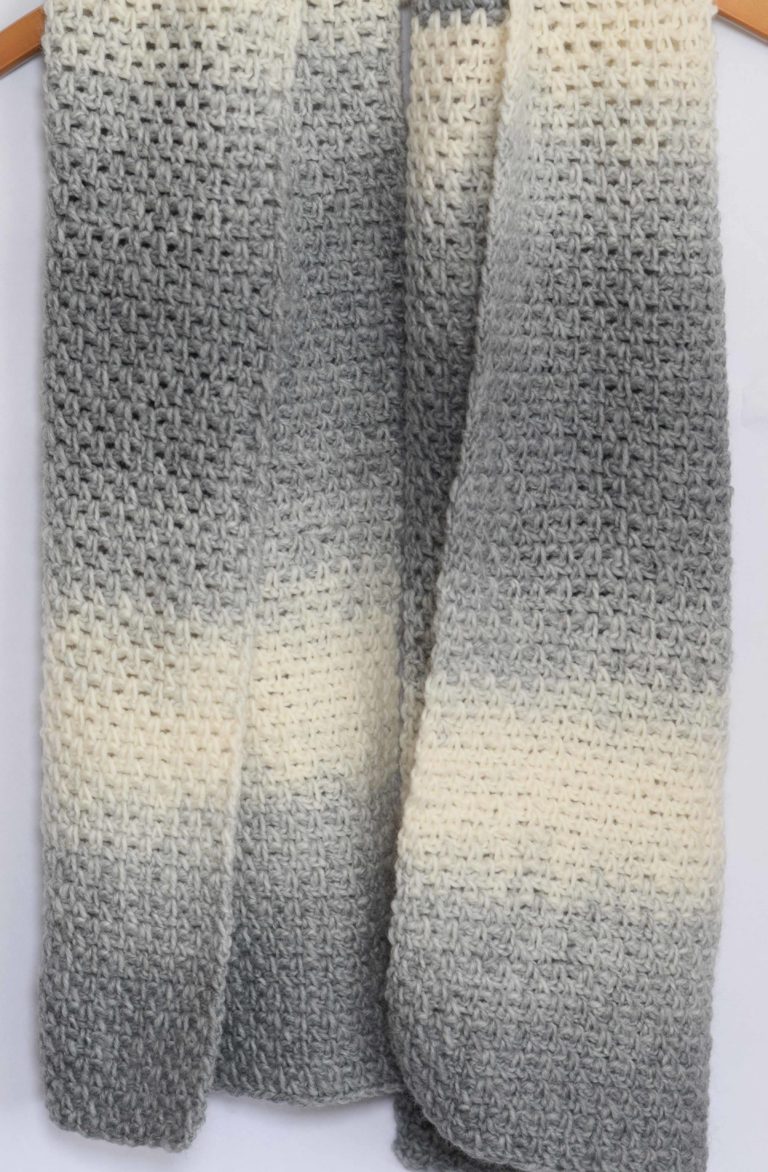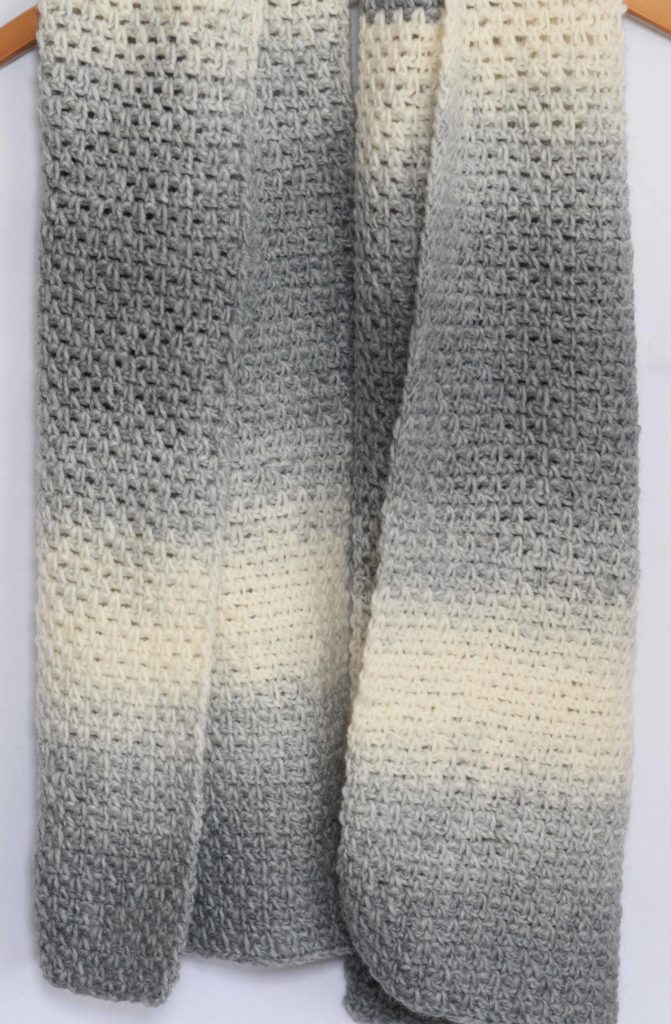 Bon Fire Scarf Free Crochet Pattern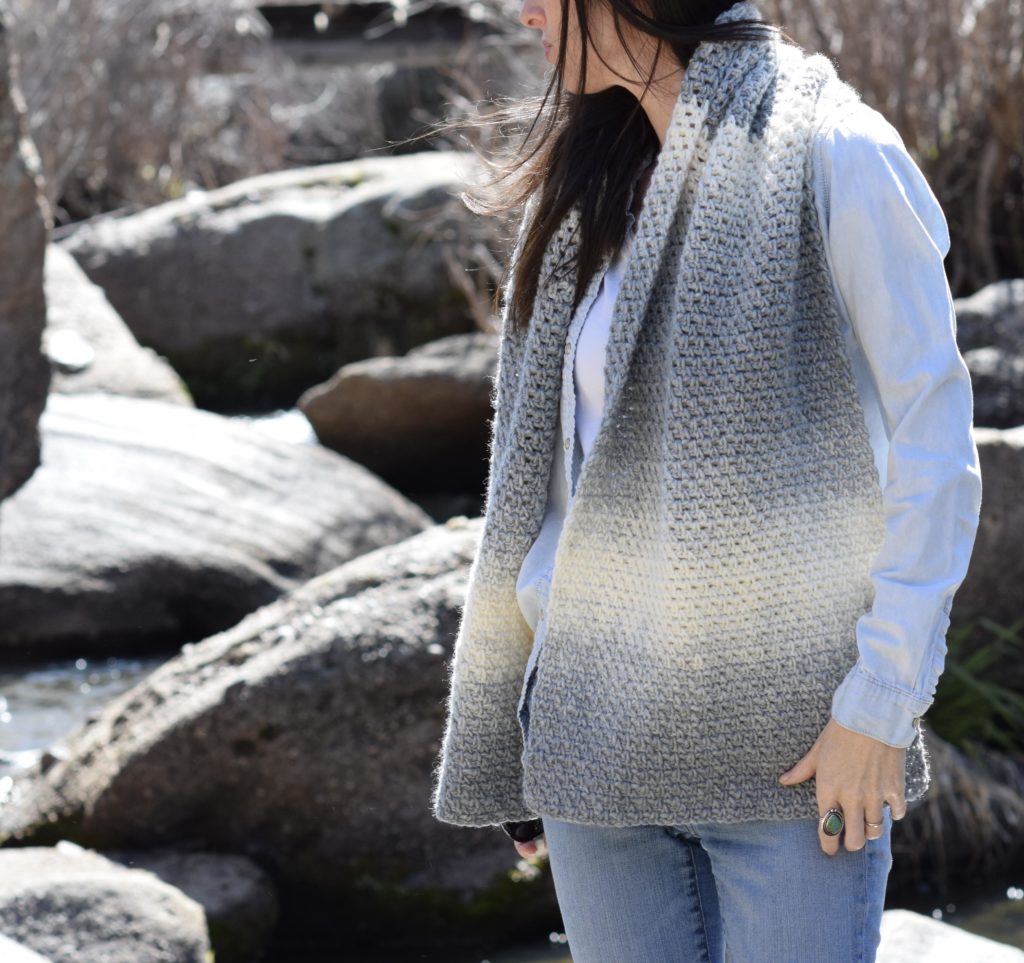 Inspired by the smoky plumes of a bonfire, this scarf is both beautiful and functional. Whether you wear it on cool summer nights or blustery winter days, this piece is sure to keep you warm and on trend. While it may look knit or woven, it's easily made with simple crochet stitch work.
Skill Level:
Easy +
Materials:
US Size K 6.5 mm crochet hook
2 Skeins Lion Brand Scarfie Yarn (HERE) in Cream Silver 150 g/skein (Pattern uses approximately 275 g)
Tapestry Needle
Scissors
Gauge:
Not important for this pattern
Dimensions:
Approximately 14.5" wide X 57" long
Abbreviations & Skills:
ch – chain
st – stitch
sc – single crochet
Notes:
This scarf is crocheted in two pieces and seamed at the center. It uses the basic "granite stitch" which is a series of single crochet and chain stitches. By working it in two pieces, the stitches create a center (see assembly photos below). However, to make this pattern even easier, you can make it in one piece by chaining 51 and working the pattern as written until row 3. Then repeat row 3 until your scarf measures approximately 57" long or until you reach your desired length. Tie off and weave in ends. When starting a new skein, ensure that you begin with the same color that you ended with so the color pattern has continuity.
Bonfire Scarf Crochet Pattern
First Half of the scarf:
With your first skein of yarn:
Ch 51
Row 1 Sc in 2nd ch from hook and in each ch st across the row (50)
Row 2 Ch 1, turn. Sc in second stitch from hook, *ch 1, skip stitch below, sc in next stitch. Repeat from * across row, make an sc in last stitch of row. (50)
Row 3 Ch 1, turn. Sc in second stitch from hook, *ch 1, sk st below, sc in next ch 1 space. Repeat from * across row, make an sc in the last stitch of row. (50)
Repeat row 3 until your entire piece measures approximately 26.5" long. (If you prefer to make the scarf in one piece, simply repeat row 3 until your scarf reaches your desired length)
Tie off and weave in ends
Second Half of the scarf:
With your second skein of yarn, find the color that you started with on your first half. Begin with that same color so that the two halves will match perfectly.
Repeat the entire pattern above for the First Half of the scarf.
Assembly: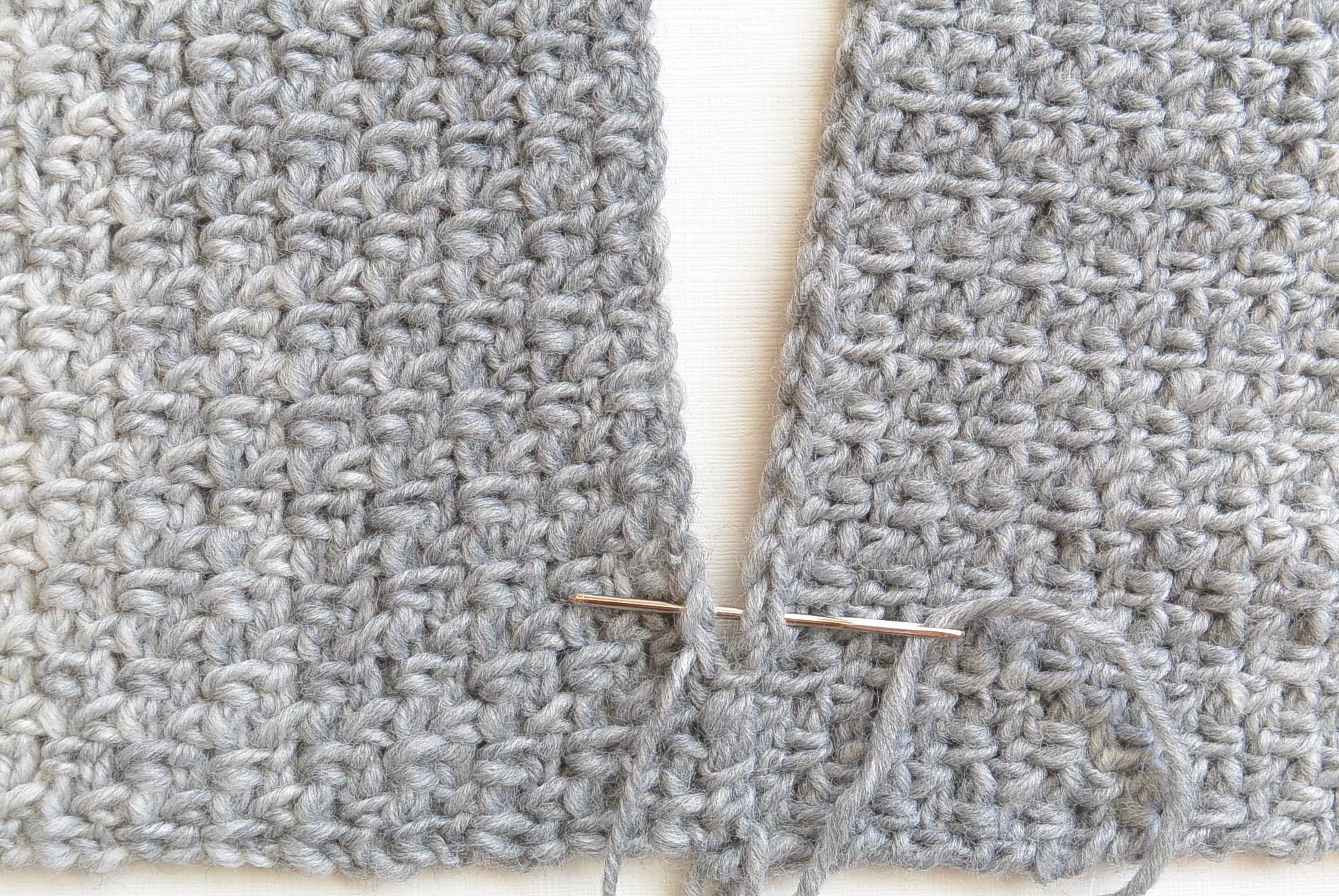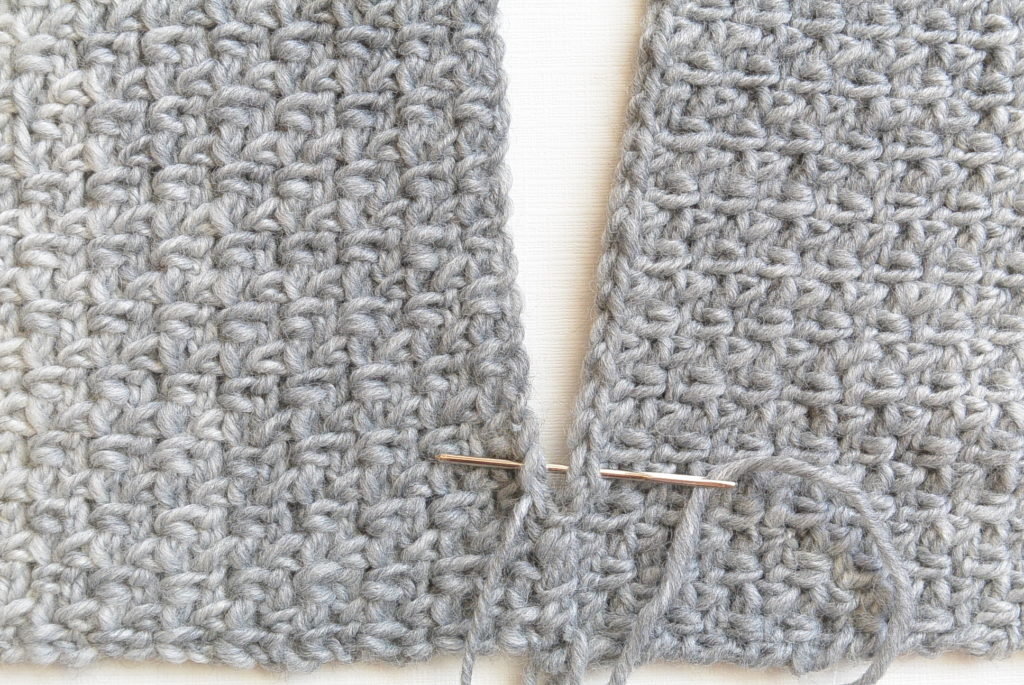 With the two halves complete, place them side by side. Whip stitch to join, tie off and weave in ends.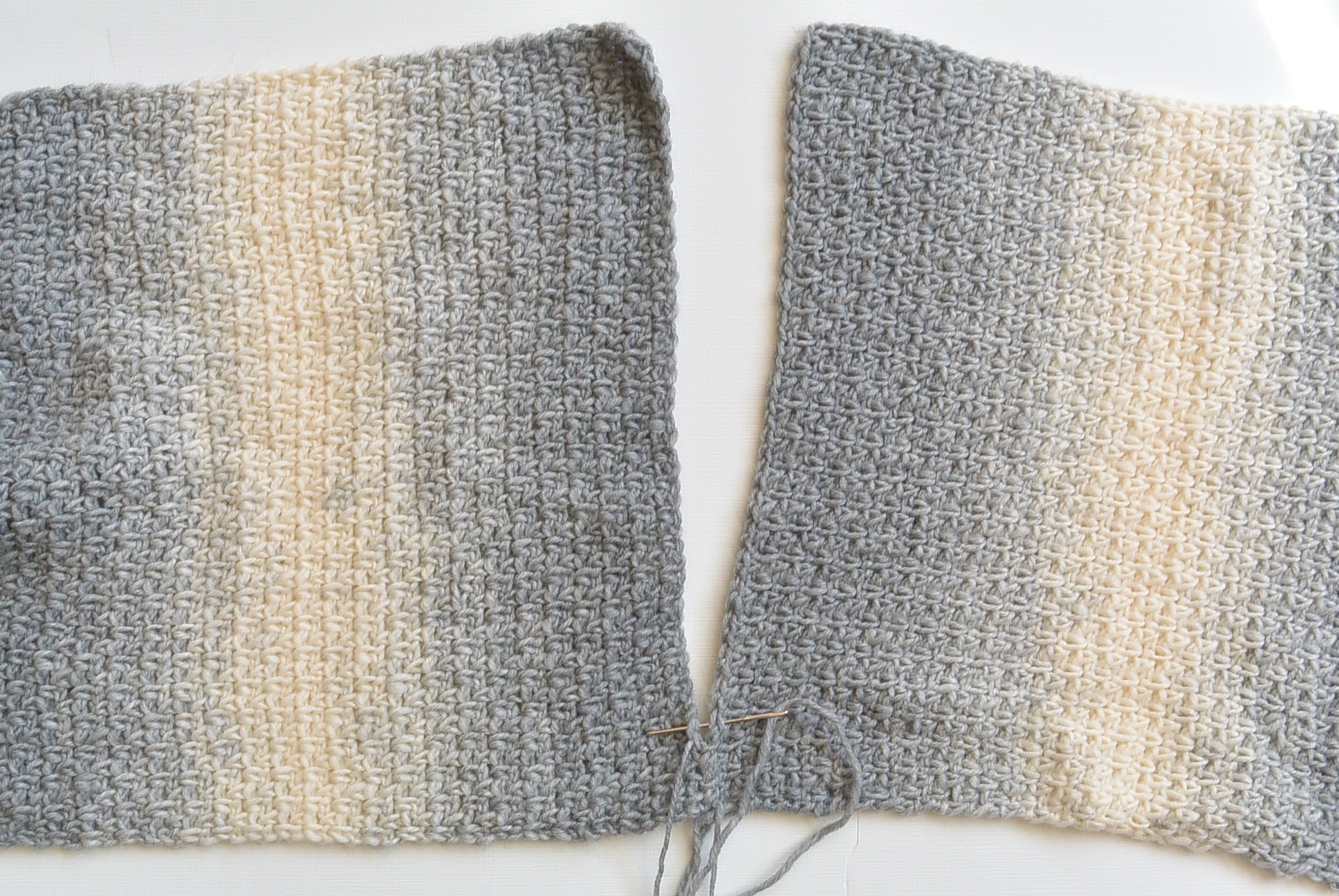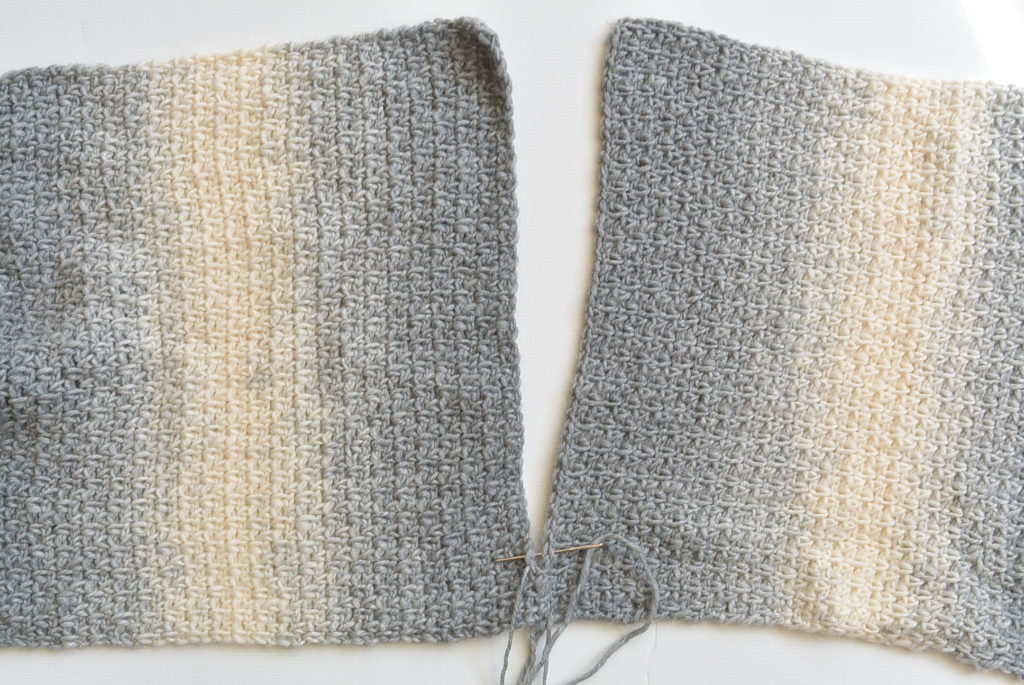 Above: A simple whip stitch works to seam both halves together. Note that by making two halves, the stitches face opposite directions. If you make the scarf in one piece, the stitches face the same direction which is perfectly lovely too.
That's all there is to this pretty, simple scarf pattern! I hope that you enjoy it – here's to lots of happy campfires and bonfires this coming summer!


Happy scarf making my friends. 🙂
XO,
Jessica
If you liked this, you might also like: