Rolling Hills Ripple Crochet Throw Blanket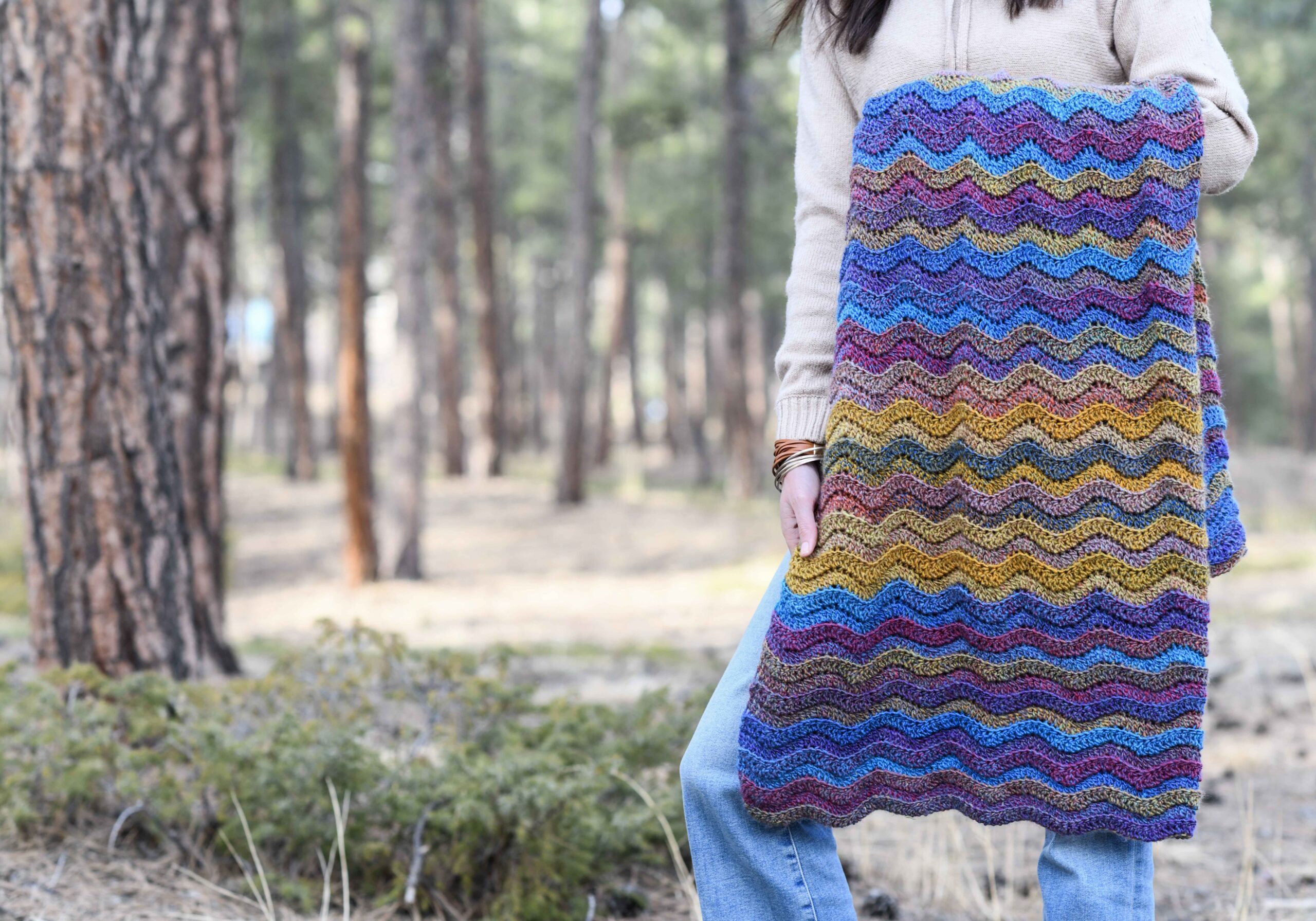 It's all about color on the blog lately, and this beautiful, wavy, striped blanket fits right in! I love how the stripes happen without any color changes, thanks to the self striping yarn. The textured ripple stitch reminds me of rolling hills, and the colors are both rustic and eye catching.
See the full free crochet pattern below, or purchase the ad-free printable from my Etsy shop HERE, or the kit from Lion Brand Yarn HERE. Read on!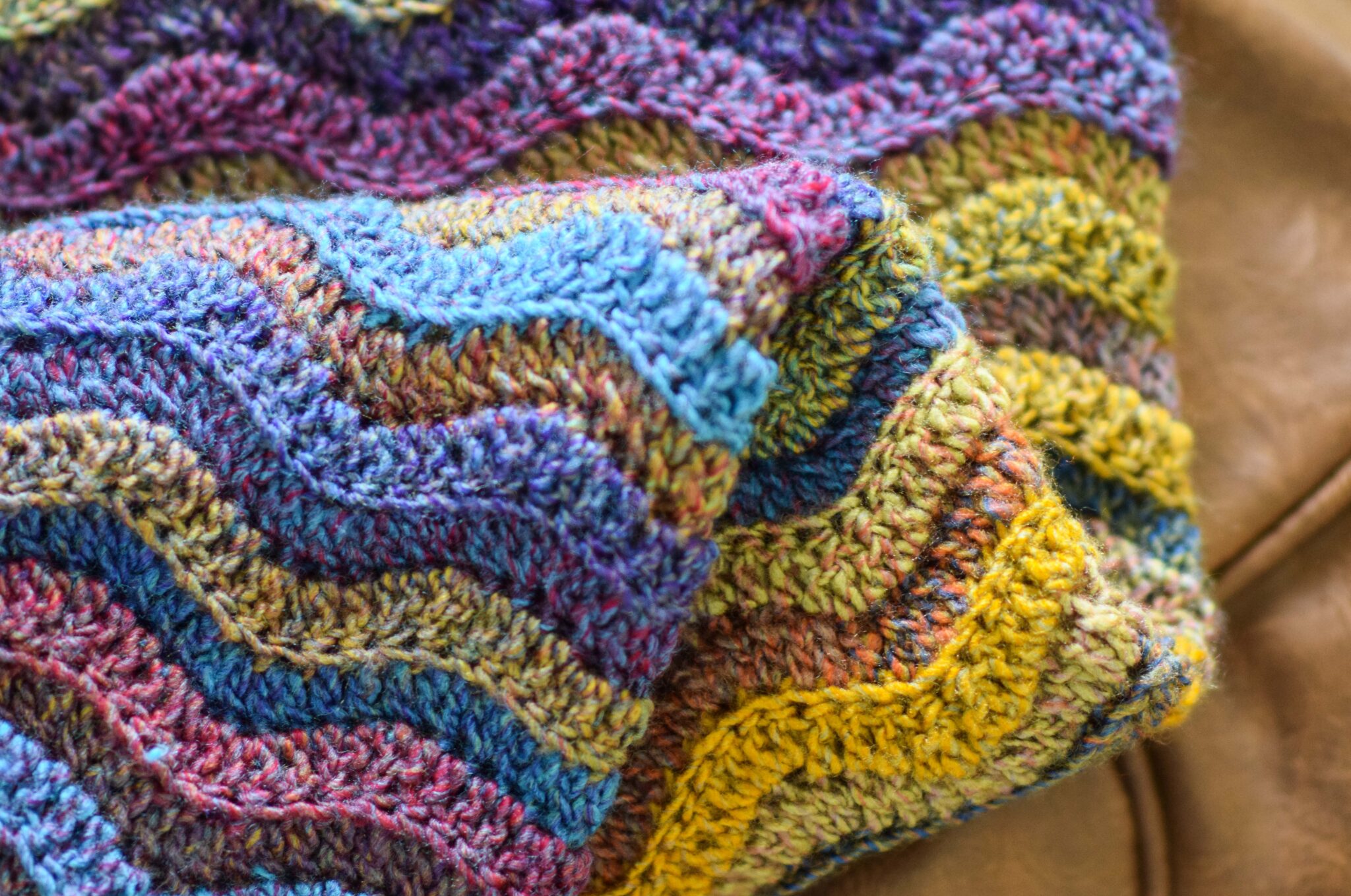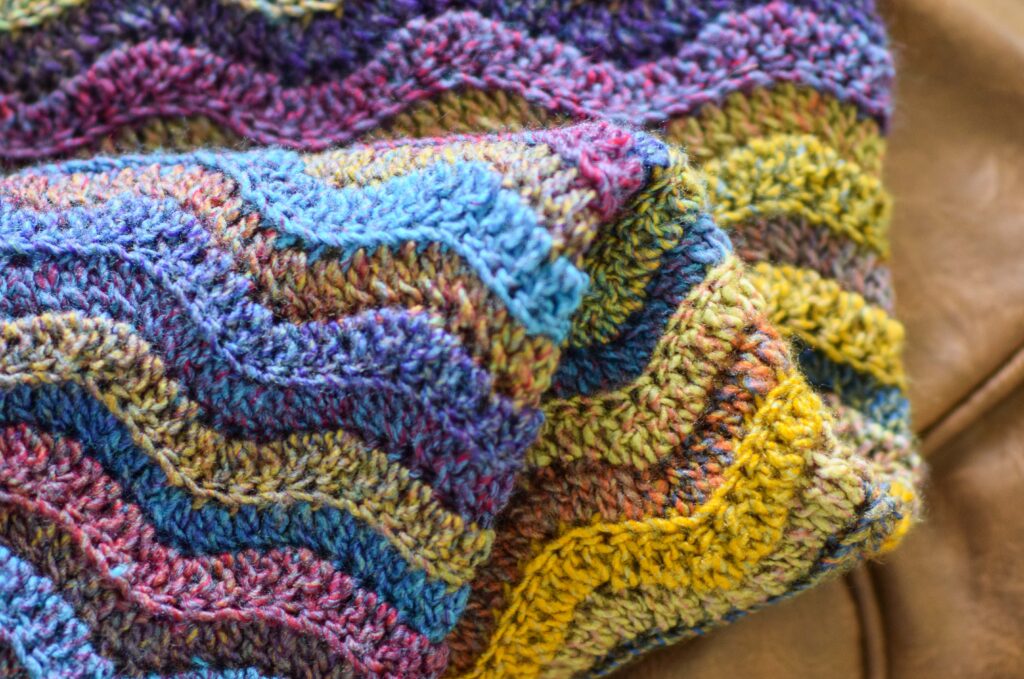 Let me start off by again saying how excited I am that you don't have to do any color changes with this blanket. Back when I made the Isla Crocheted Wrap, I learned that if you made your chain long enough with this particular yarn, you won't have an ombre look but rather fairly bold stripes. Yay!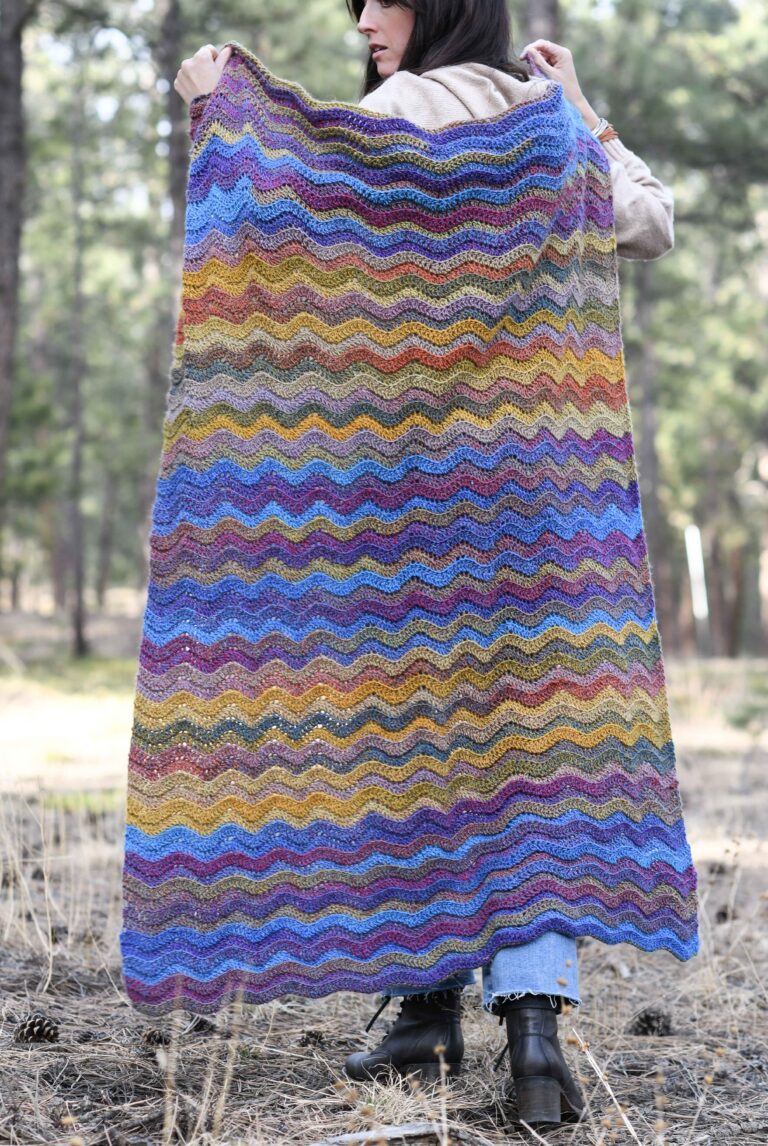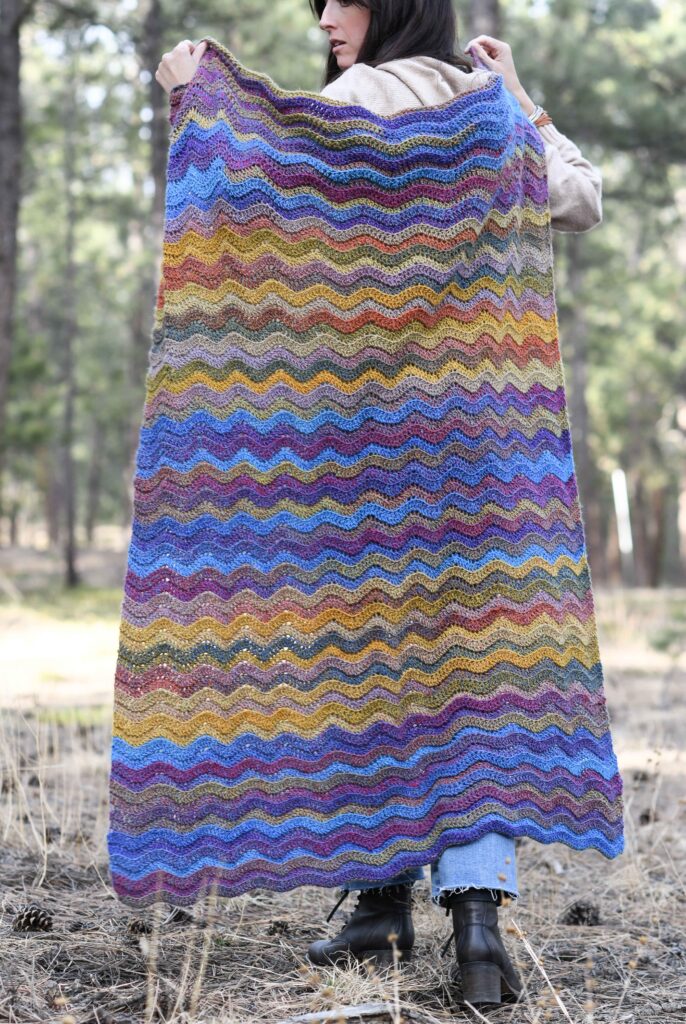 If you were to make a short chain, and crochet with this yarn, the stripes would be far wider and do more blending. Isn't it fun?! This blanket is super versatile as you could also make it in a solid color, or different colors of yarn from your stash (but in that case, you'd have a lot of color changes to achieve this look!) Be creative and make it how YOU would like it.
Do any of you think this looks a little like my Woodland Houndstooth Throw? Well, that blanket definitely inspired the creation of this blanket! They both have their own unique features, but the cool thing with this new version is that you don't have to carry yarn or cut yarn. I love the houndstooth, but it does require color changes. So if you're looking for easy and mindless, the Rolling Hills is your ticket.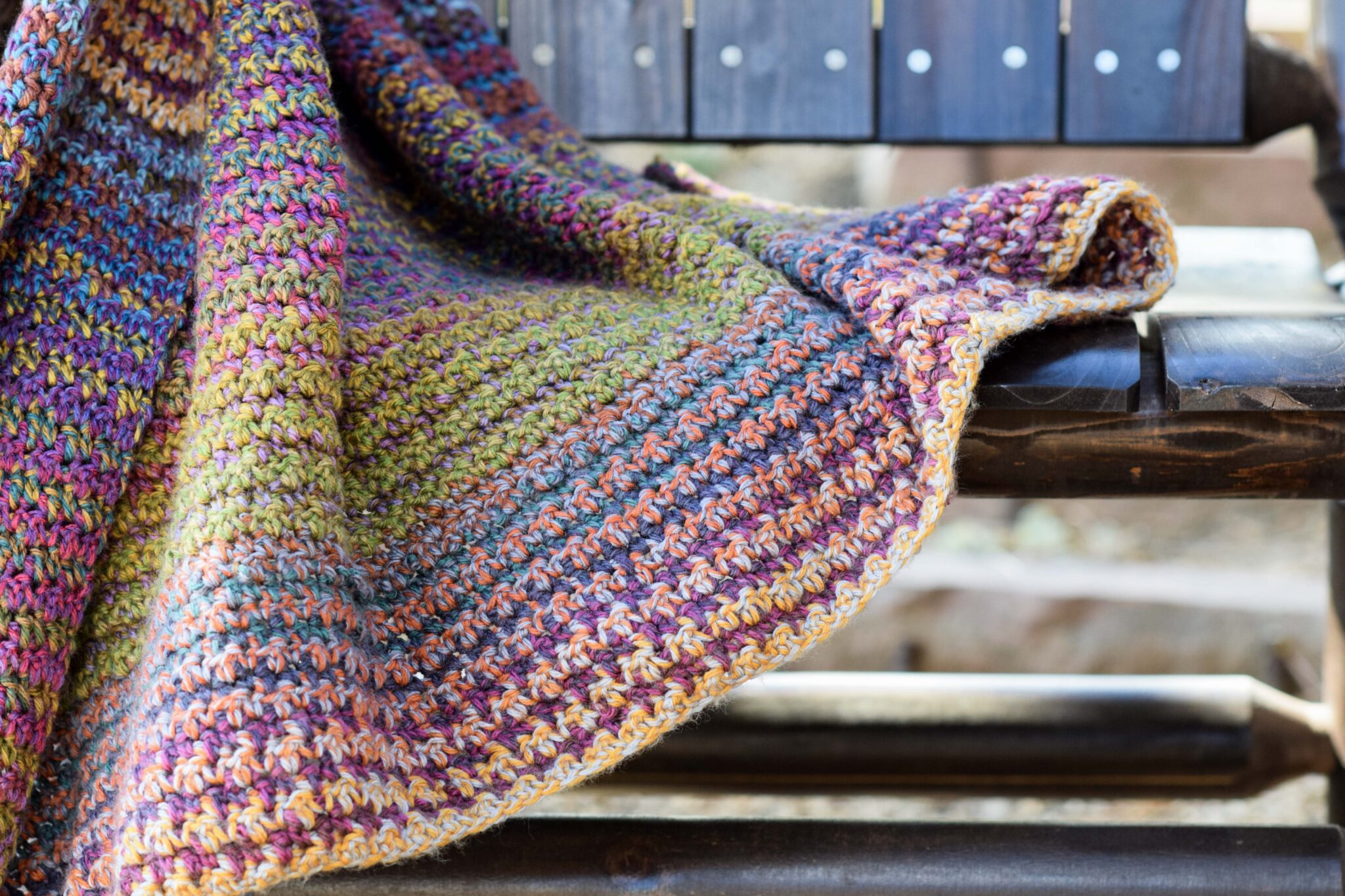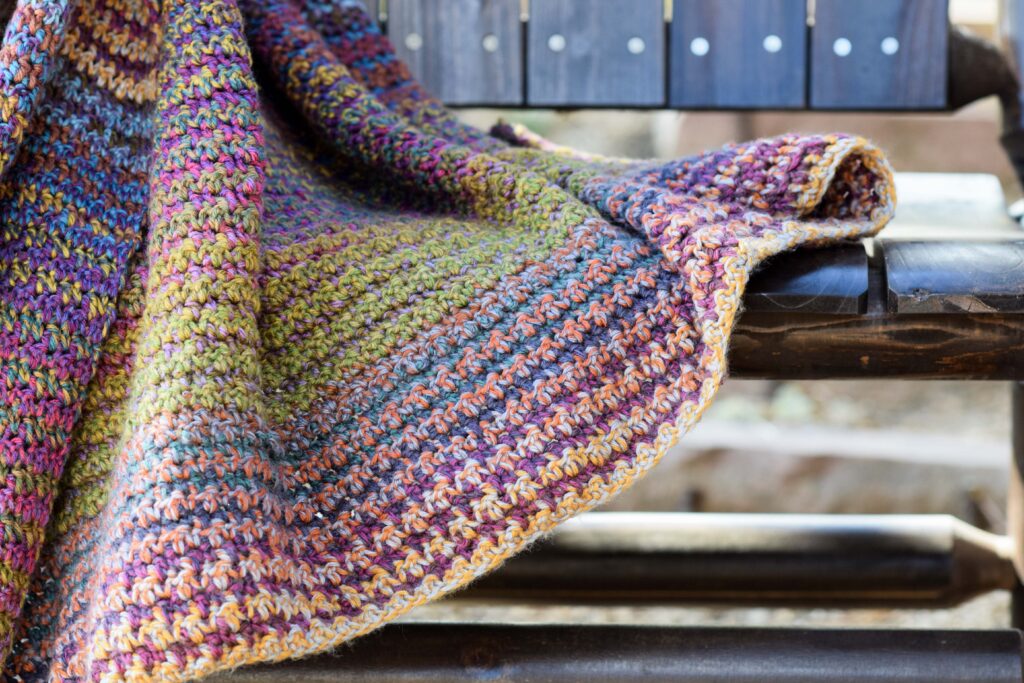 The trick to add all this color is to also choose 2 colorways. Each colorway has many colors, but you'll see that I used two different options that each shared some of the same colors so that they blend. You don't have to do this, and could make the entire blanket in Vintage Carousel (one of the colorways I used), but you wouldn't have the sections of yellow that you see. It will be beautiful either way, and with any yarn to be honest. Either way, you will just work through each skein without color changes. Yes, I said it again – no color changes. I just wanted mine to have A LOT of color. 🙂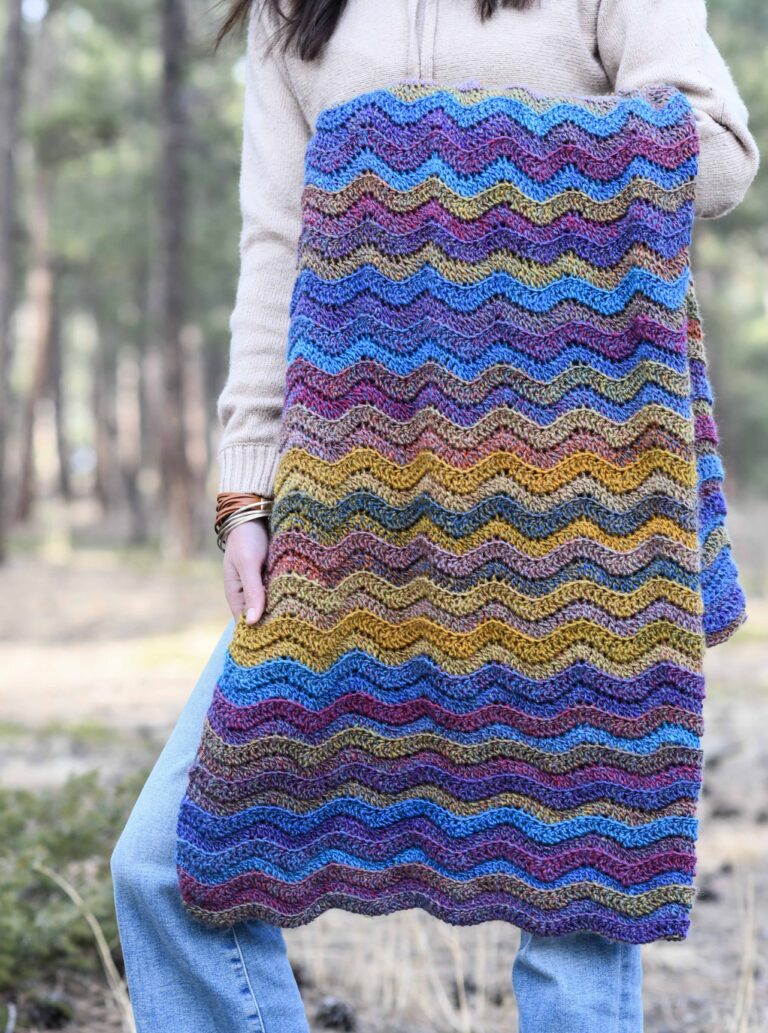 You know how we all tell ourselves, "just one more row" on projects we like? Well, this blanket was SO hard to put down, and I found myself saying that over and over again. With each new row came a beautiful new color, and with the textured wave (thanks to working in the back loops), each individual row really pops. It's just such a fun blanket.
Now – the stitch. It's not a hard stitch, but I hesitate to say it's easy. BUT, after you get through a few rows, you can actually memorize it and move along pretty easily. I wouldn't say it's easy for a beginner, but if you've made a few things with a few different stitches, give this a try! Definitely try it out on a small swatch before you begin so you don't get frustrated with a big long chain and you can see how it comes together.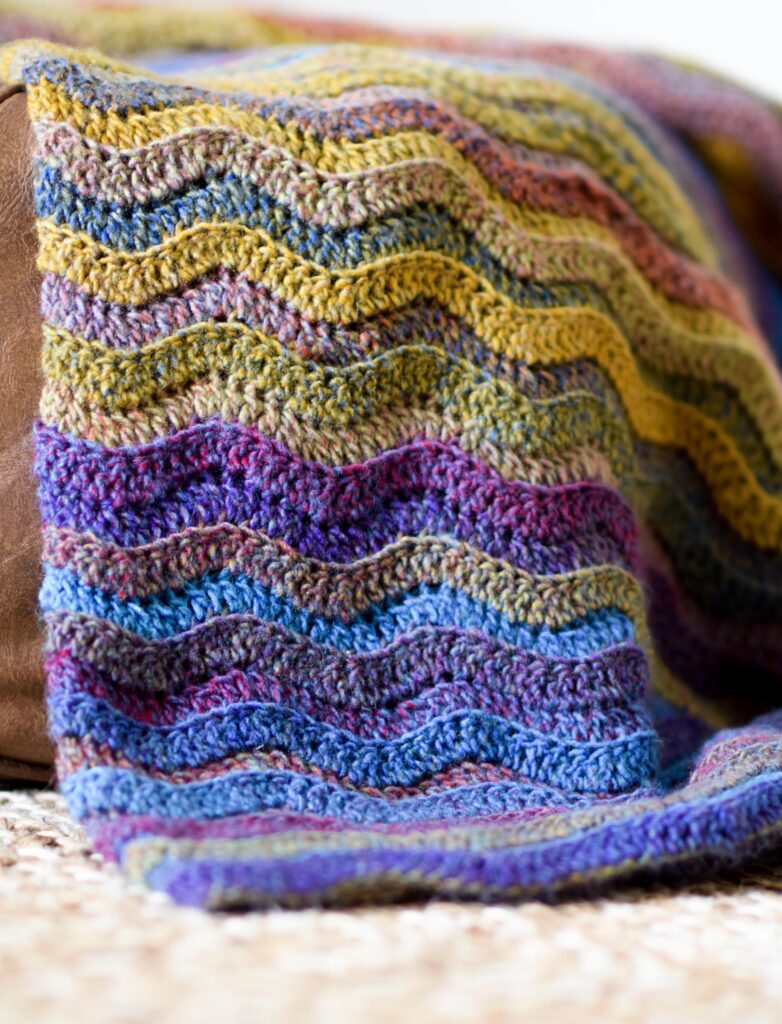 When you work this crocheted ripple stitch, you will find that the first row is the most difficult. Don't give up! Once you see how the two increases become the peaks and the two decreases create the dips, it becomes easier. Just remember, it's a one row repeat, so if you can get that down, you can make the blanket.
The texture and ridging adds a lot to the look, and this is created by working through the back loops only.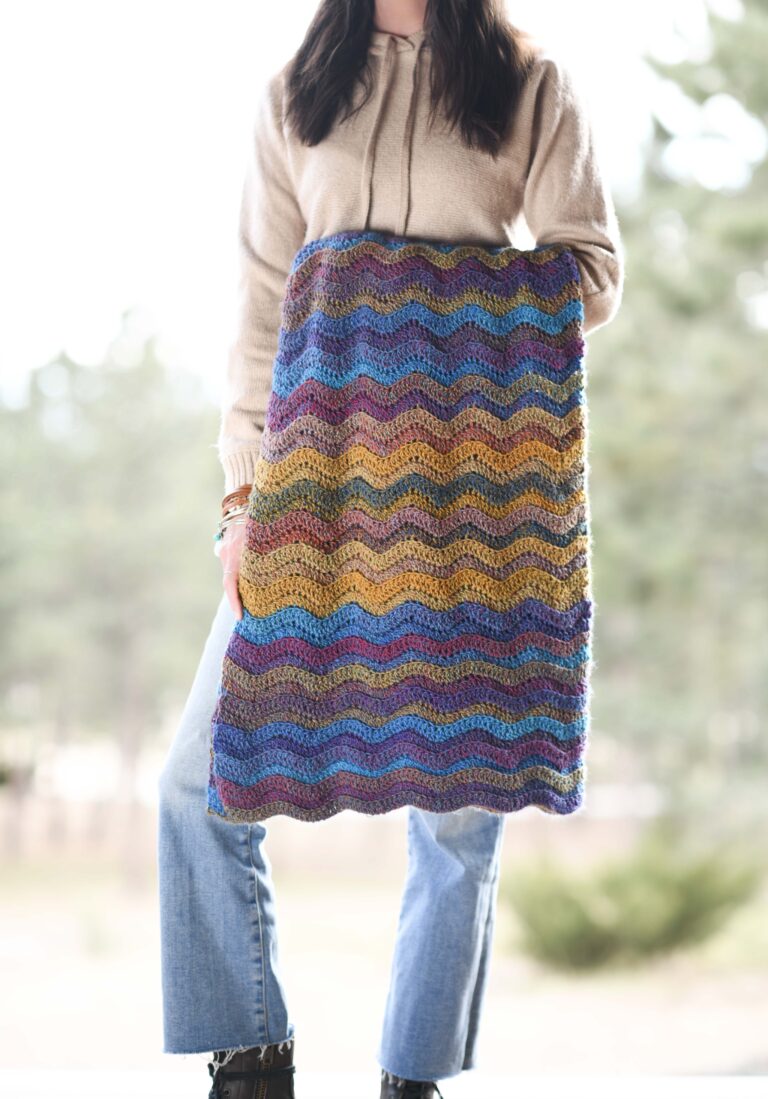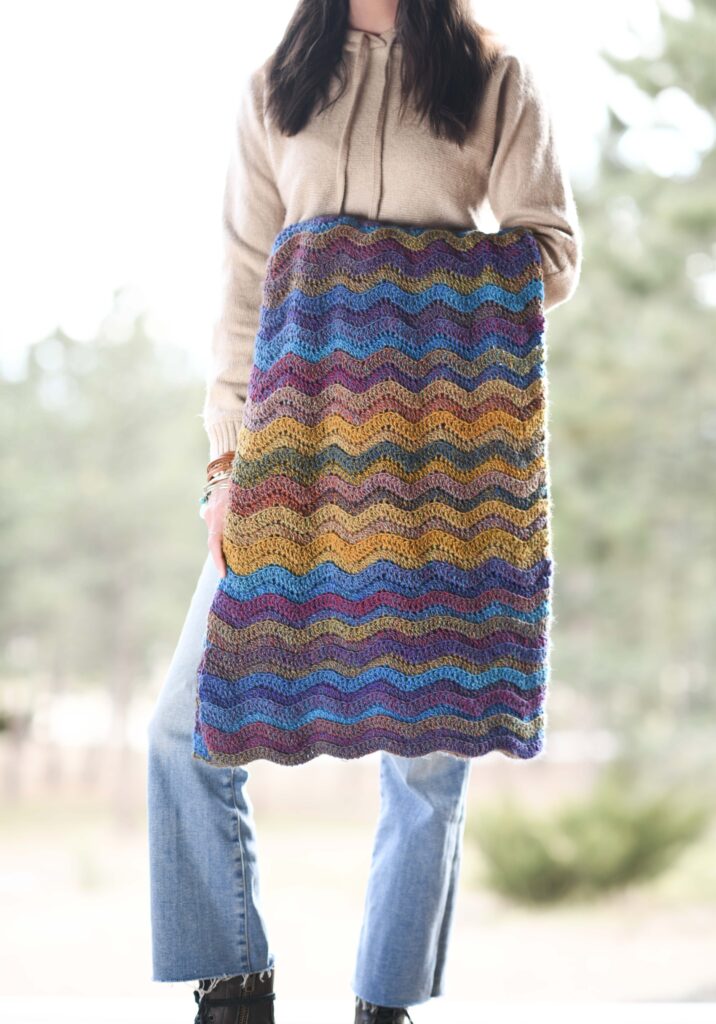 Okay! Pattern time!
And check out my practice swatch below so you can do the same before beginning!
Description:
Tweed colors and gorgeous textured waves come together to create this, rustic, eye
catching throw! The yarn includes two colors in each strand, adding to the depth and
interest of this super soft blanket. And because the yarn's color changing, the stripes
appear on their own so there's no weaving in a bunch of ends. Whether you're in the
mountains or the city, this throw will add a welcome comfort to any space. Light weight for
any time of year, and you can choose your own colors!

Materials:
Convenient Kit from Lion Brand Yarn HERE (several color options)
3 (4) skeins Lion Brand Yarn Ferris Wheel in Vintage Carousel #4 yarn 85 g/270 yd
2 (3) skeins Lion Brand Yarn Ferris Wheel in Buttercup #4 yarn 85 g/ 270 yd
Pattern uses approximately 425 g (595 g)
US size I crochet hook 5.25 mm or size to obtain correct gauge
Scissors
Tapestry needle to weave in ends

Size (approximate):
39" x 45" Small Throw/Lapghan (S)
42" X 54" Larger Throw (L)

Follow directions throughout pattern for the size you are making.
The smaller size is listed first, followed by the larger size. S (L)
Size can be adjusted! See "Notes" for more details.
Gauge:
Approximately 17 stitches and 6 ¾ rows of the textured ripple stitch pattern (pattern used
throughout blanket) in 4" x 4" inches.

Pattern Notes:
Consider practicing this crocheted ripple stitch on a small swatch before beginning the full
blanket to make sure you understand the pattern. It's also a great way to check your gauge
so that the size will turn out as planned! (For example, work a swatch following the stitch
pattern with a starting chain of 27 stitches)

To adjust the width of the blanket, you can make the starting chain longer or shorter. The
chain must be a multiple of 12, plus 3 extra stitches. Keep yarn needs in mind if adjusting
the size!
Notes contd.
This blanket is made from the bottom up. There are no color changes as the yarn is self striping. Simply work through each skein of yarn , alternating colorways at the end of each skein, until your blanket reaches the desired size. The entire blanket is crocheted while
working into the back loop of each stitch. There are many tutorials online that show how to
crochet a chevron or ripple stitch, if needed, in order to better understand how a pattern like
this is worked.

Abbreviations (US) & Skills:
ch – chain
st – stitch
sts – stitches
dc – double crochet
dc blo – double crochet in the back loop
dc2tog – double crochet two stitches together (decrease)

Practice Swatch Example (pictured below):
Consider practicing the pattern on a small swatch before beginning the blanket.
The first row is the most challenging as the ripples are formed, and it becomes easier
as you go. You will see that the increases create the "peaks" or "hills" and the decreases create the "dips". Pictured below is a swatch with a beginning chain of 27 stitches.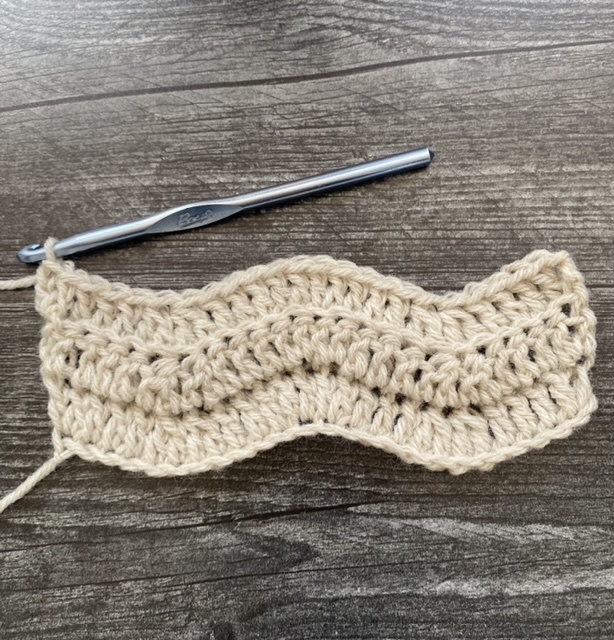 Rolling Hills Throw Blanket Crochet Pattern
*after the initial chain and first row, work all stitches through the back loop only, including
increases and decreases
*alternate colorways at the end of each skein of yarn (start with Vintage Carousel, use entire
skein, then change to Buttercup, use entire skein, and continue to alternate colors this way until finished)
*note that beginning ch3 counts as a stitch – see picture of Practice Swatch for further help
with stitches.

With Vintage Carousel
Ch 171 (183)

Row 1 Dc in fourth ch from hook, *dc in each of next 3 ch sts, [dc2tog over next 2 ch sts] twice, 1dc in each of next 3 ch sts, [2dc in next ch st] twice; repeat from * across to last 4 sts, dc in next 3 sts, 2dc in last ch stitch. 169 (181) sts

Row 2 Ch 3 (counts as st), turn, dc blo in first st *1dc blo in each of next 3 sts, [dc2tog over next 2 sts] twice, 1dc blo in each of next 3 sts, [2dc blo in next st] twice; repeat from * across to last 4 sts, dc blo in next 3 sts, 2 dc blo in last st (last 2 dc stitches should be worked in beg ch3 of previous row). 169 (181) sts

Repeat row 2 until desired length, or until you've used up all yarn.

(The small size will use 5 skeins total, and the larger size will use 7 skeins total if following the
pattern without any adjustments.)
That's it!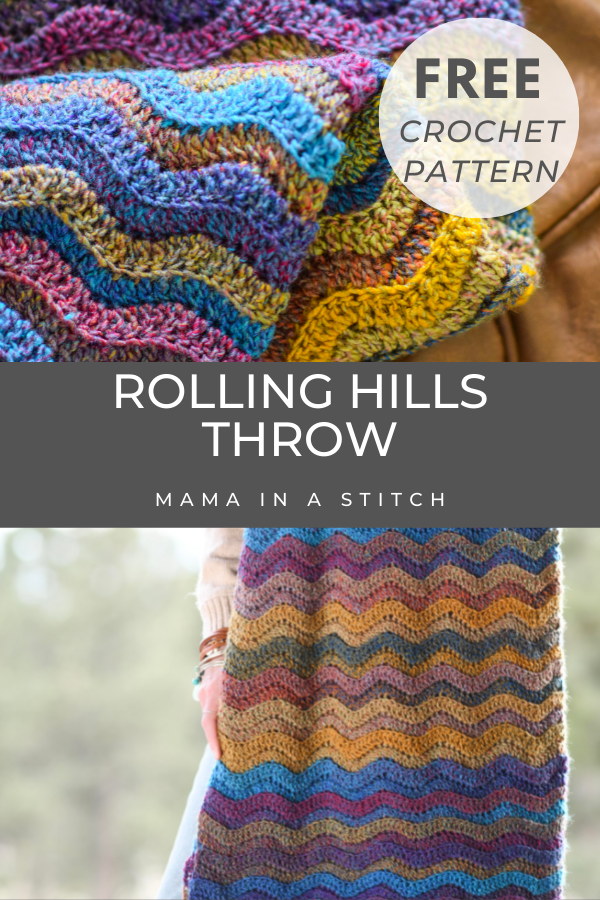 What do you think? Easy, hard?
But it's pretty unique, right? I sure hope you have as much fun making this blanket as I did.
XO,
Jessica
If you liked this, you might also like: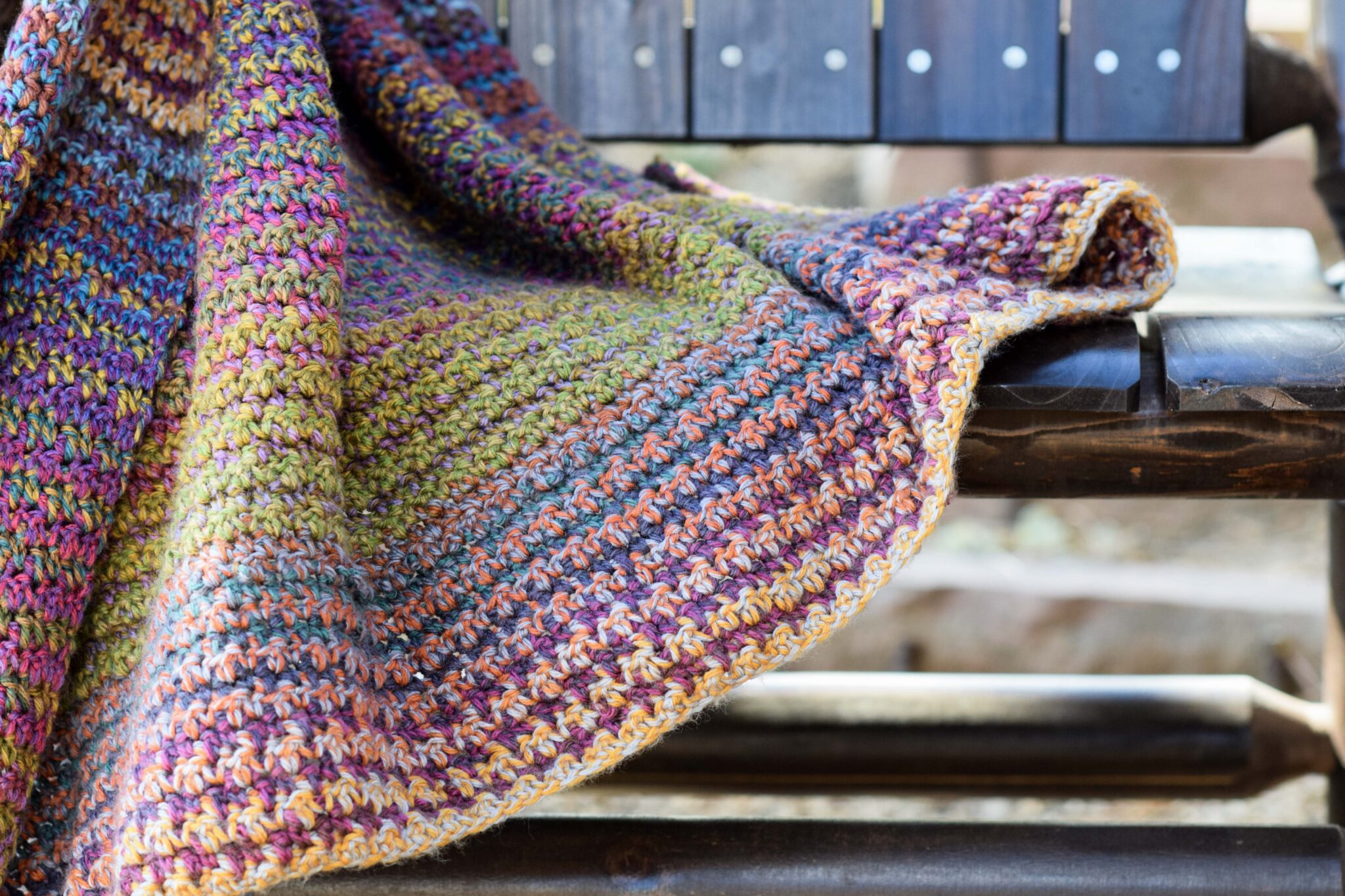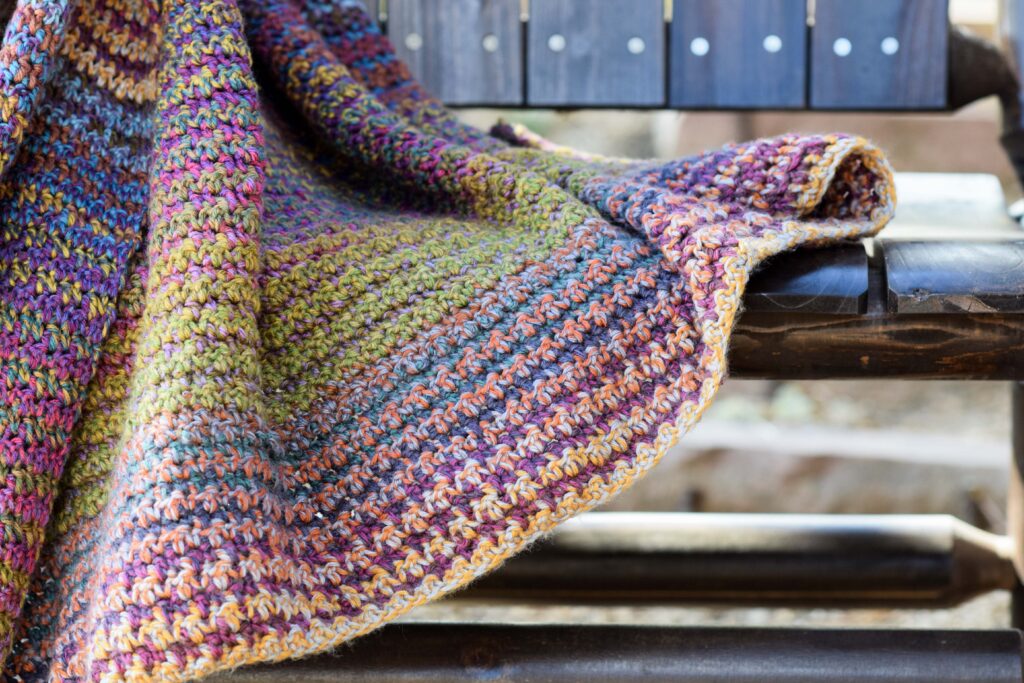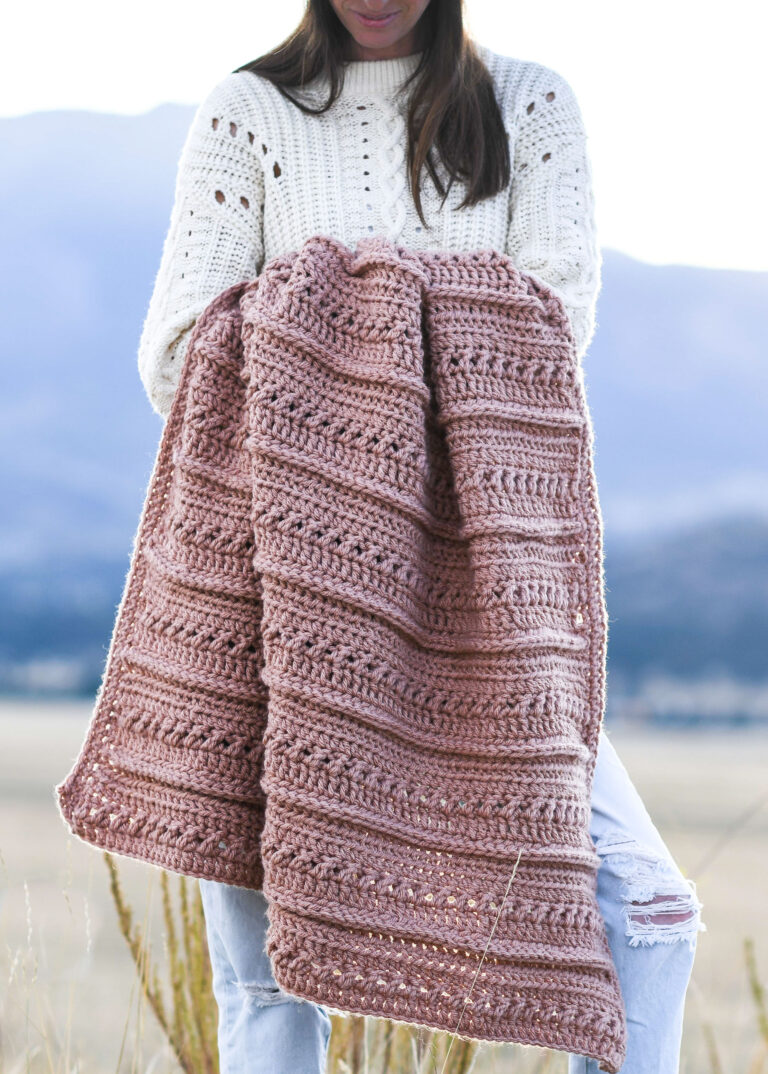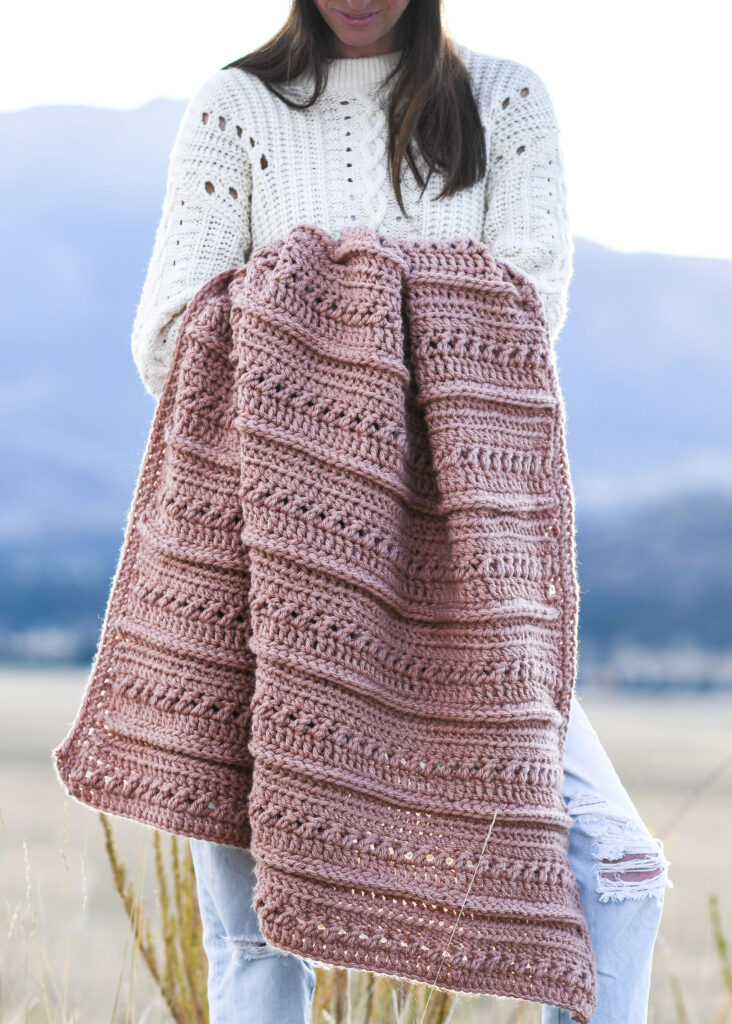 Thank you to Lion Brand Yarn for sponsoring this post. All opinions are 100% my own.