I love the look of boucle and am so thrilled to see it in stores lately! This beginner crochet shawl (or wrap) pattern uses chunky, color changing yarn so you can make it no time. It uses the most basic single crochet stitch and takes zero brain power. I think it would work great as a prayer shawl or charity pattern as well, don't you?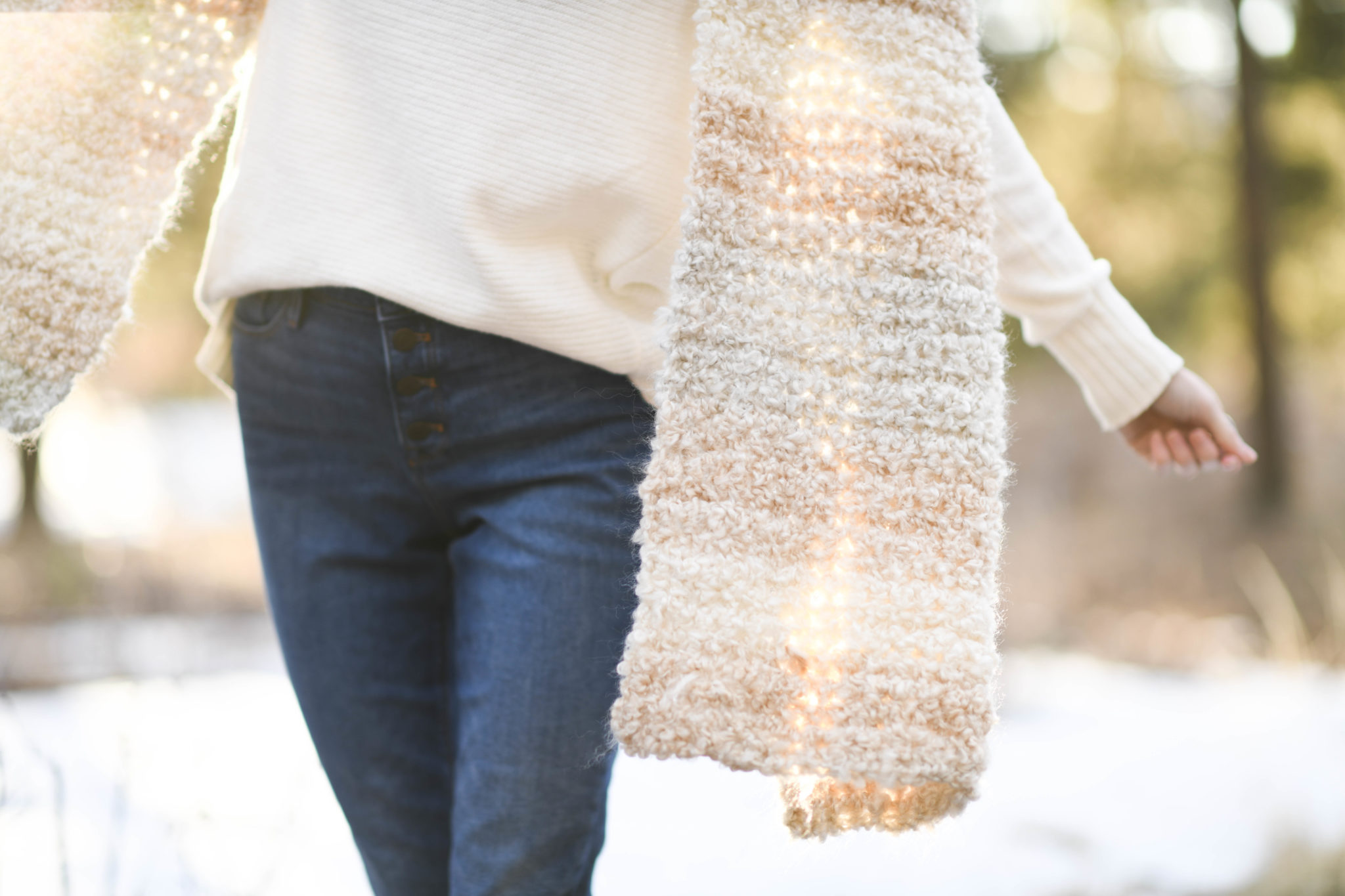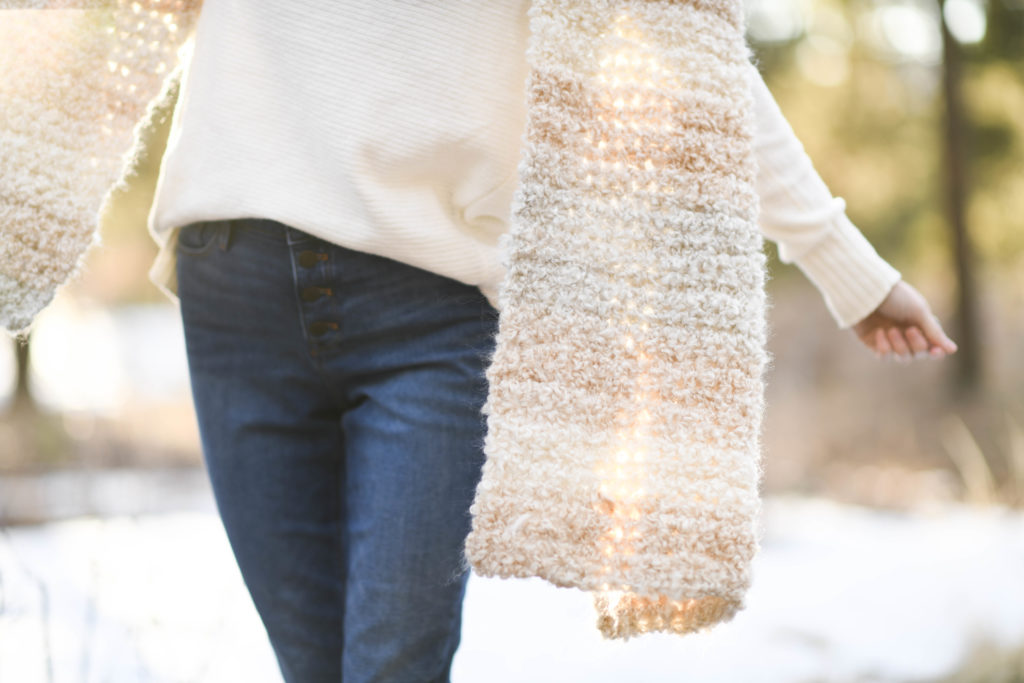 A few years ago I shared a similar pattern, the Sedona Serenity Shawl (here). This knit version has continued to be a popular pattern for beginner knitters, so I thought it would be nice to make a cozy crocheted version.
This is the first pattern in my "Into The Wild Collection" to kick off 2020 (HERE). Each of these patterns will feature colors and styles inspired by nature and perfect for wearing "into the wild". This collection was made with the hope that we can appreciate the beauty of nature, our open spaces and the natural environment.
The understated, neutral striping in this yarn is beautiful and it will go with just about any outfit. You can dress it up, or dress it down if you're taking a stroll through the woods on a chilly day. It's also lovely to leave by your favorite chair or couch to wrap up and read a good book. In fact, I've used a knit version (it's slightly larger) as a blanket for years!
I think this is a great example of a project that proves you don't have to be a master at crochet to make something completely beautiful and practical. You can be a total beginner! Sometimes the simplest of projects are my faves.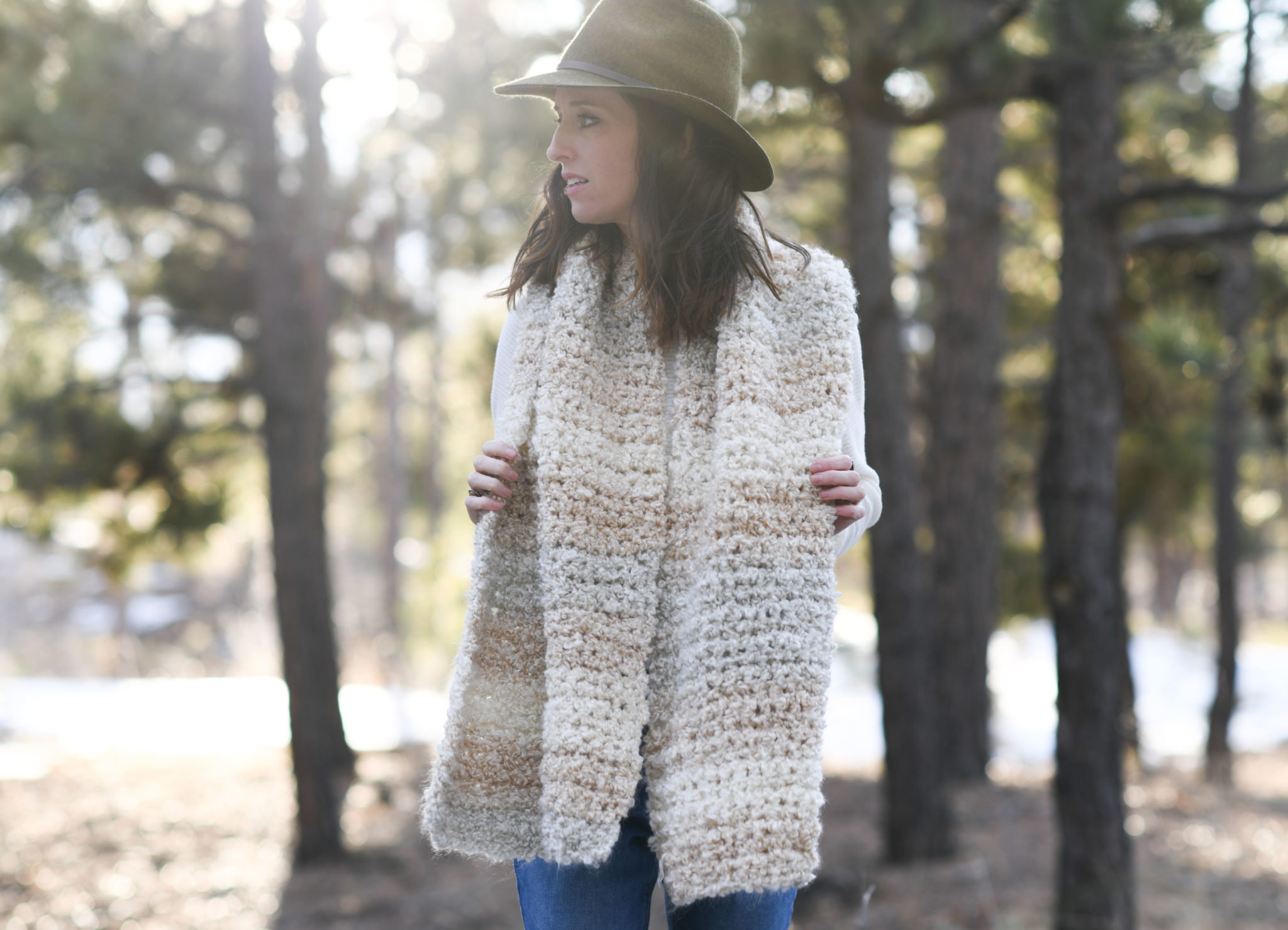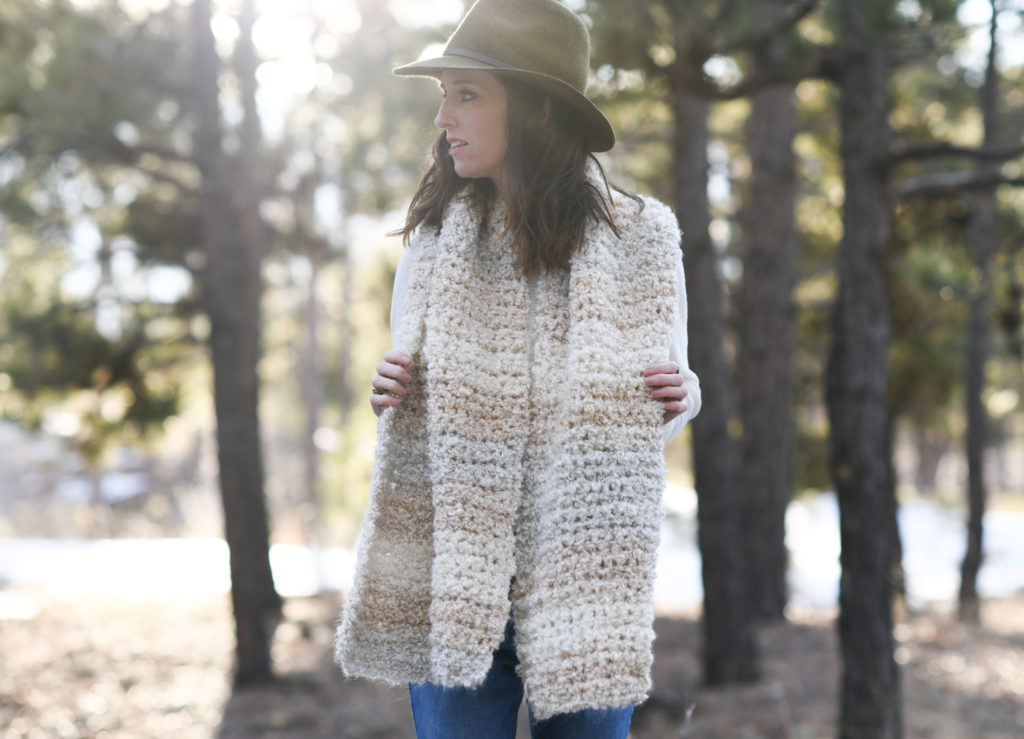 If you're curious about how you might see your stitches, let me do a little explain'n. 😉 I designed this wrap using the easiest, most basic, single crochet stitch which makes things a lot simpler when working with a yarn like this. If you're a total beginner, it is challenging to see the stitches, especially when working into the beginning chain. My suggestion would be to start with a small chain and work a swatch before beginning the entire pattern. I do believe it's slightly easier to knit with this yarn than to crochet with this yarn. With that being said, once you "get it", the wrap is a breeze. If you end up having a lot of difficulty, simply use the same pattern with a different yarn! Any super bulky #6 yarn will do.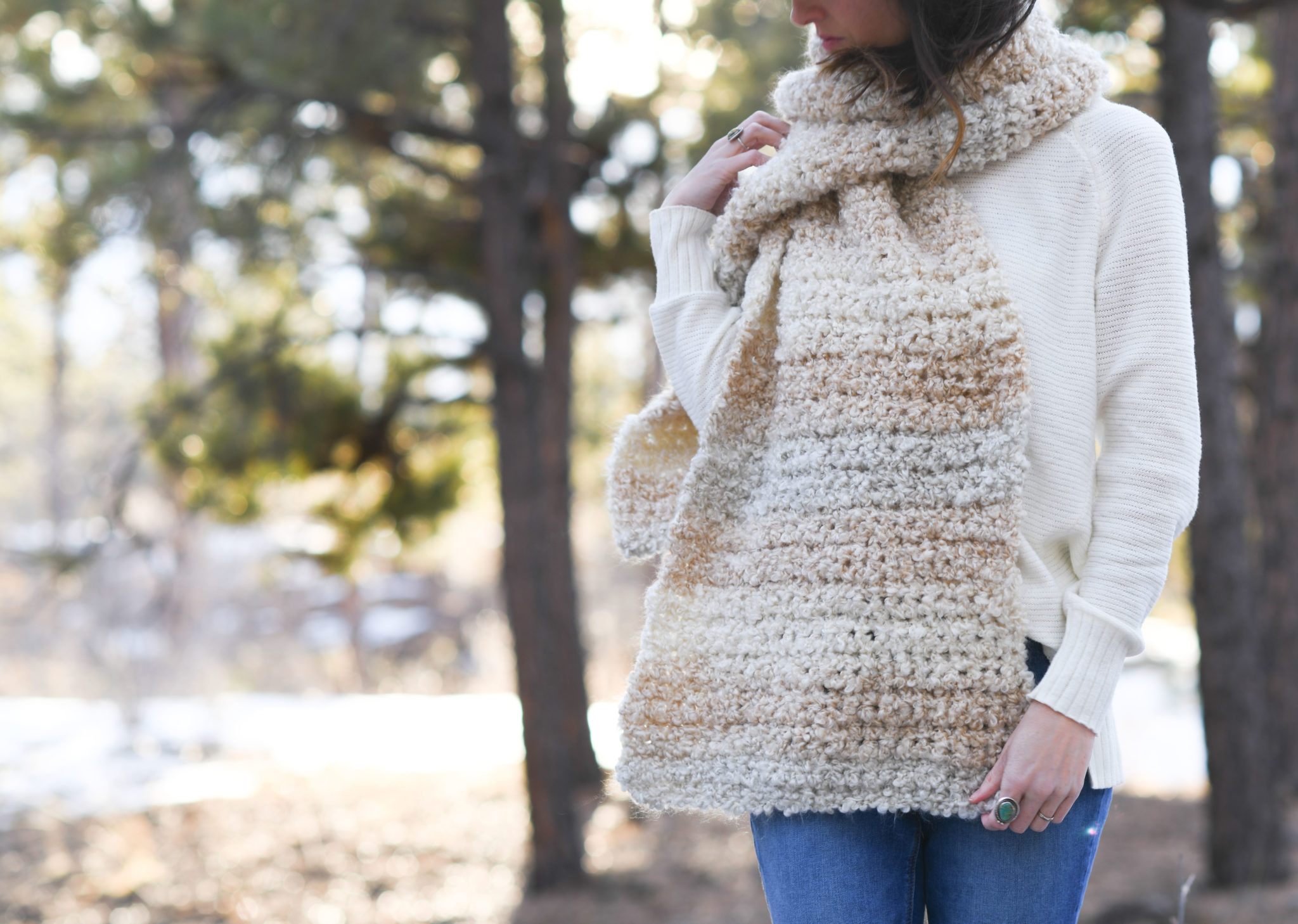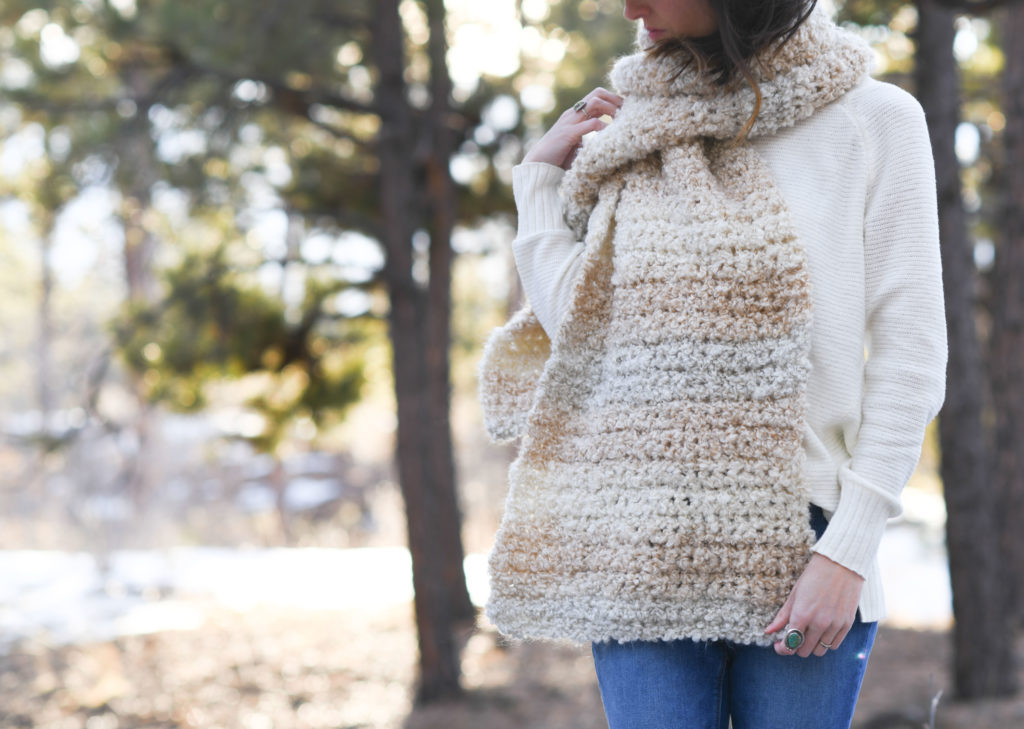 Look at that warm, squishy wrap. When we took photos, it was definitely chilly. The wrap did a great job of keeping me warm even without a jacket.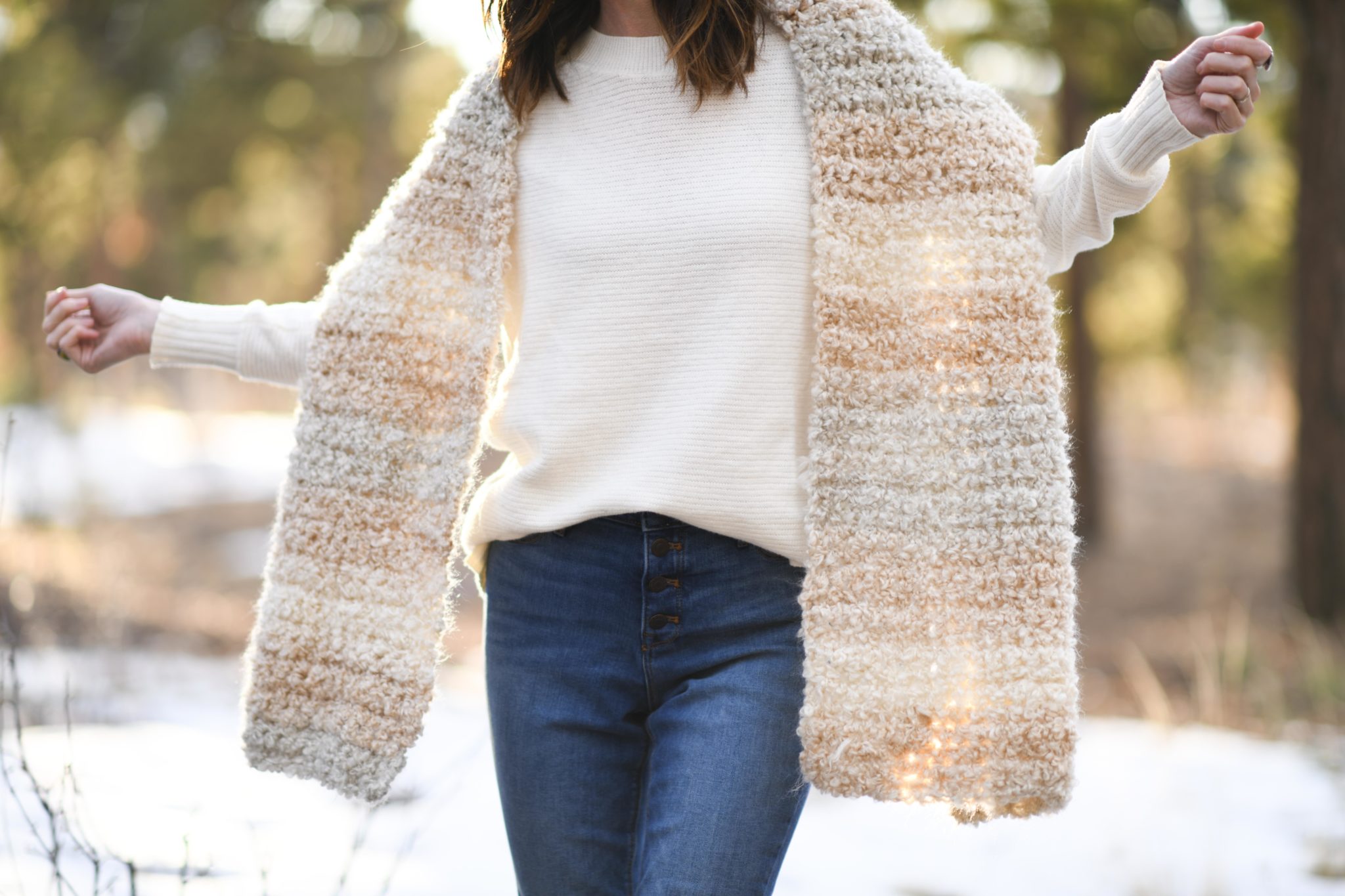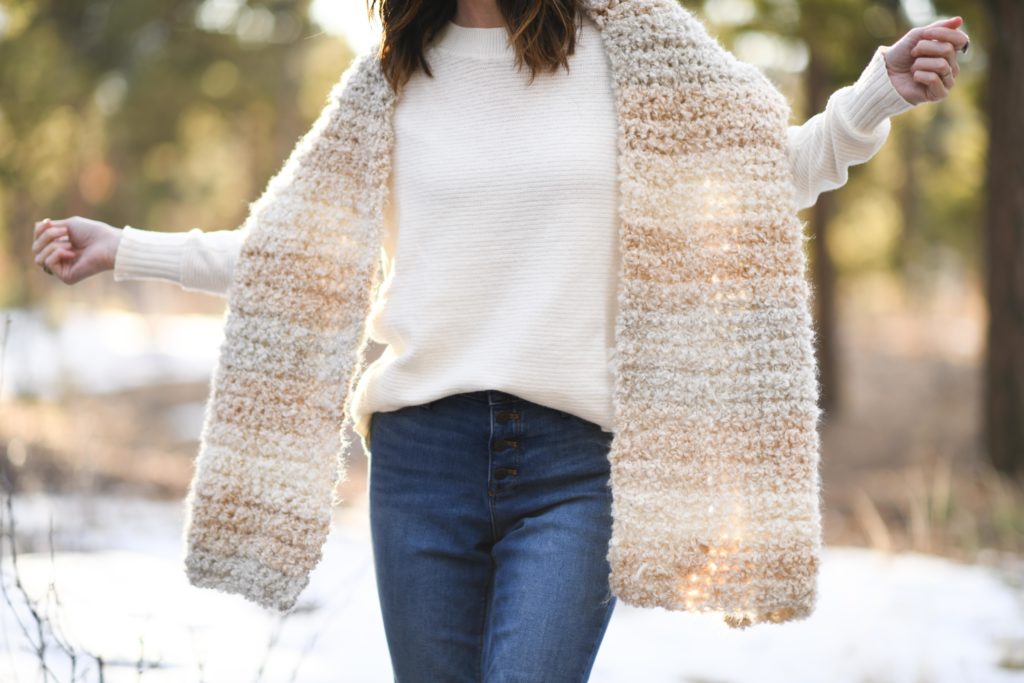 How To Crochet the Wrap (in people terms)
Get your super bulky yarn, your big hook and make a chain that's 26 stitches long. You'll then crochet across each row, using the easy single crochet stitch, until your shawl is as long as you'd like. If you've never crocheted, there are TONS of tutorials and videos on how to make the single crochet stitch. Go check 'em out and then come back here to make this! Tie off and weave in ends to finish. You may choose to add fringe, tassels or poms if you'd like as well.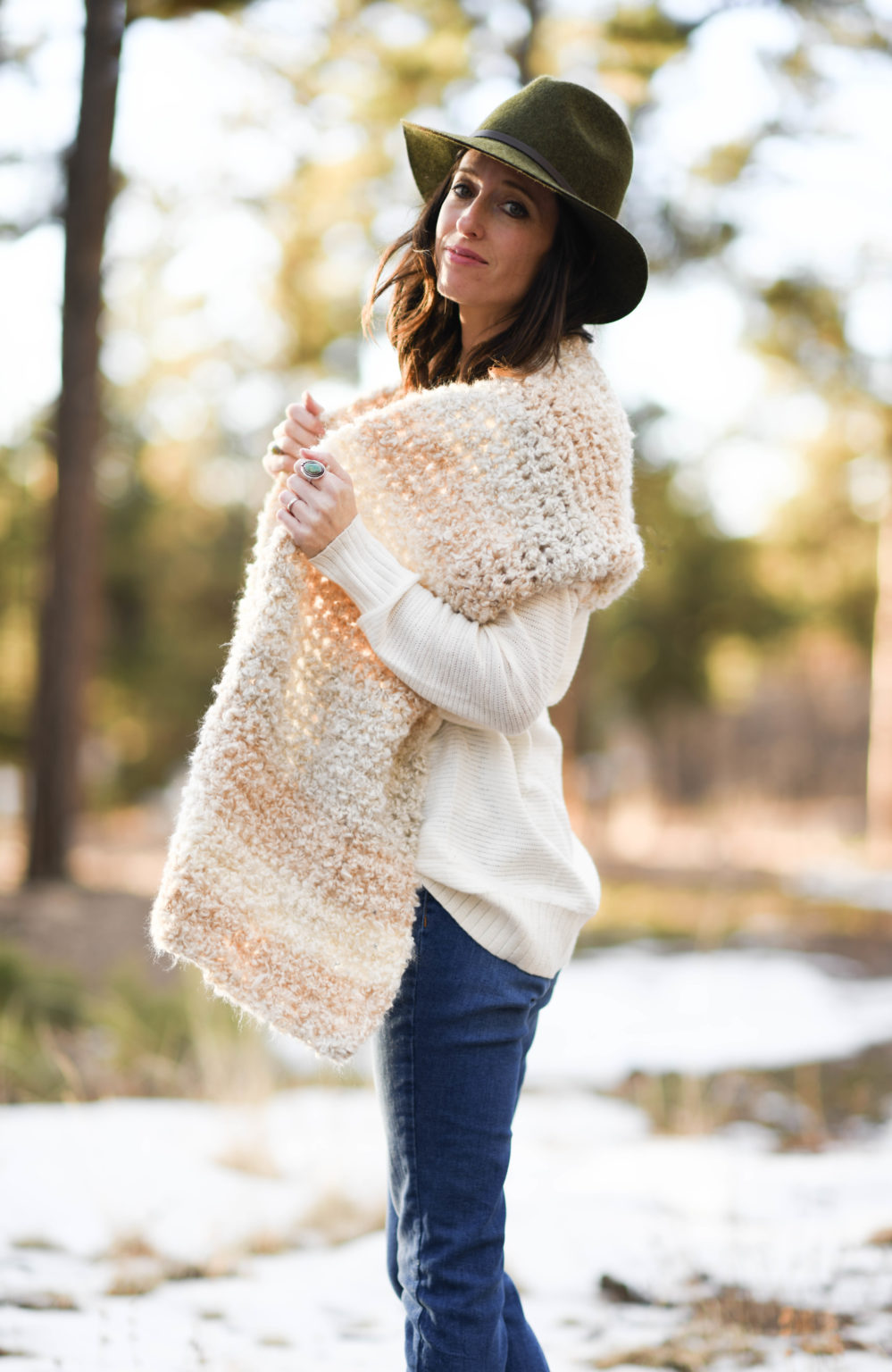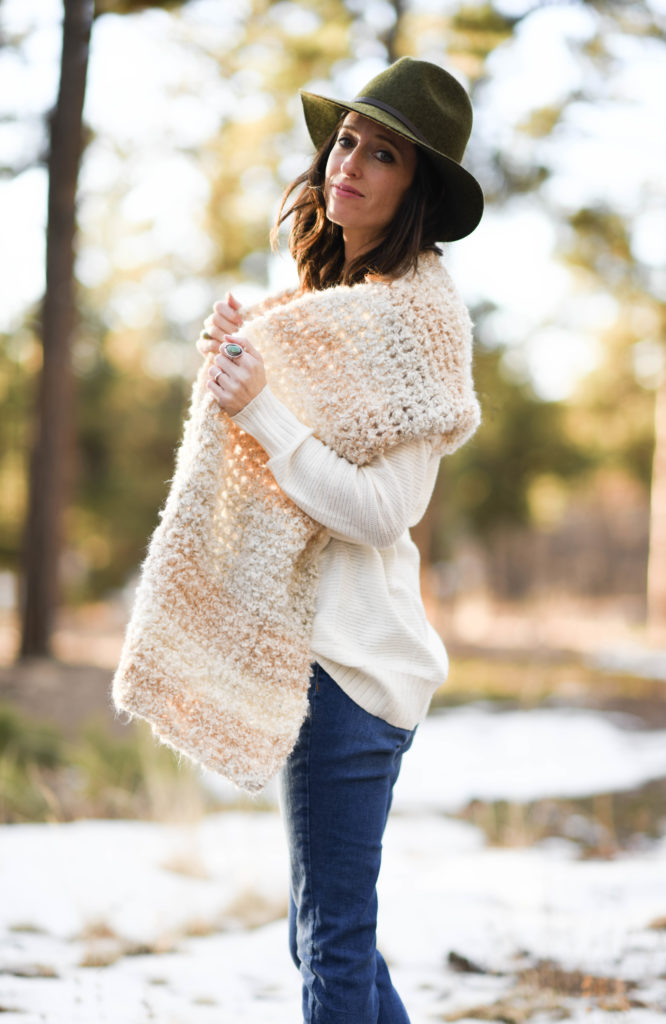 Shall we get to the pattern for this super simple crochet shawl?
Juno Boucle Crochet Wrap Pattern
Description: Boucle is back! This wrap is easy enough for a beginner crochet artist and features a beautiful, chunky boucle, color-changing yarn. Whether you use this as a shawl, scarf or wrap, you're sure to stay warm and comfortable. It's like wearing a light soft blanket wherever you go!
Materials:
US Size P 11.5 crochet hook
2 skeins Lion Brand Homespun Thick & Quick (227 g/skein) in Pearl (HERE)
Pattern uses approximately 454 g
Scissors
Tapestry needle
Skill Level: Beginner
Size: Approximately 15.5" x 63"
Gauge: Approximately 6 stitches and 5 rows in 4" x 4"
Pattern Notes: This rectangular wrap is worked entirely with single crochet stitches. You may choose to count the stitches in each row if you're having difficulty seeing your stitches and achieving straight edges. Working into the initial chain is the most challenging portion of the pattern. Feel free to work on a small swatch first to get used to the yarn before beginning the wrap.
Abbreviations (US) & Skills:
ch – chain
sc – single crochet
Boucle Wrap – Free Shawl Crochet Pattern
Ch 26
Row 1 Sc in 2nd ch from hook and in each ch st across the row (25 sts)
Row 2 Ch 1, turn, sc in each st across the row (25 sts)
Repeat row 2 until wrap is approximately 63" long or you've reached your desired length.
Tie off and weave in ends.
Optional: Add tassels or fringe to the ends if desired!
Enjoy!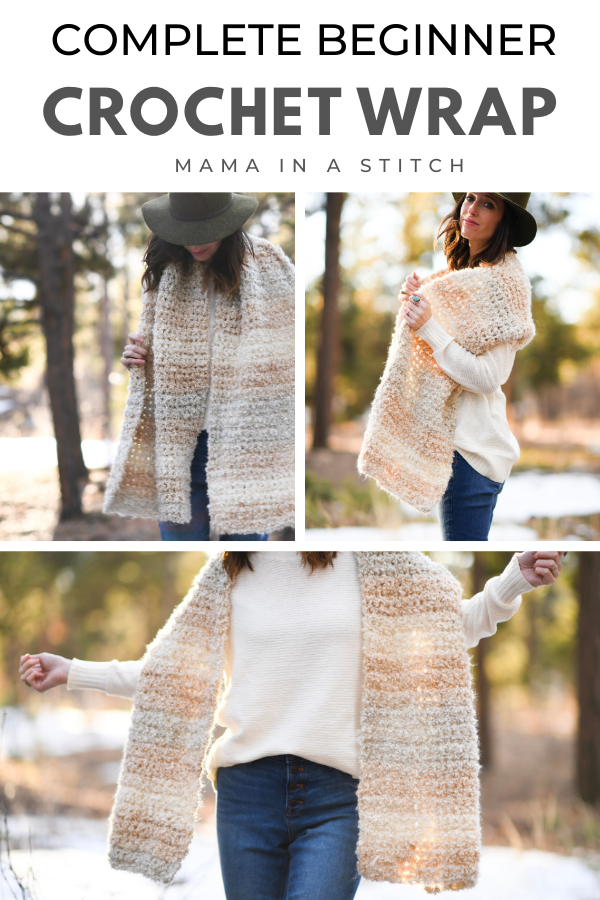 I hope you liked this nature, inspired, simply project. I've got more to come, with various skill levels, so feel free to follow along if you'd like to see more of this collection.
Happy new year my dear friends. I'd love to see if you make one – simply tag me on Instagram @mamainastitch!
XO,
Jessica
If you liked this, you might also like: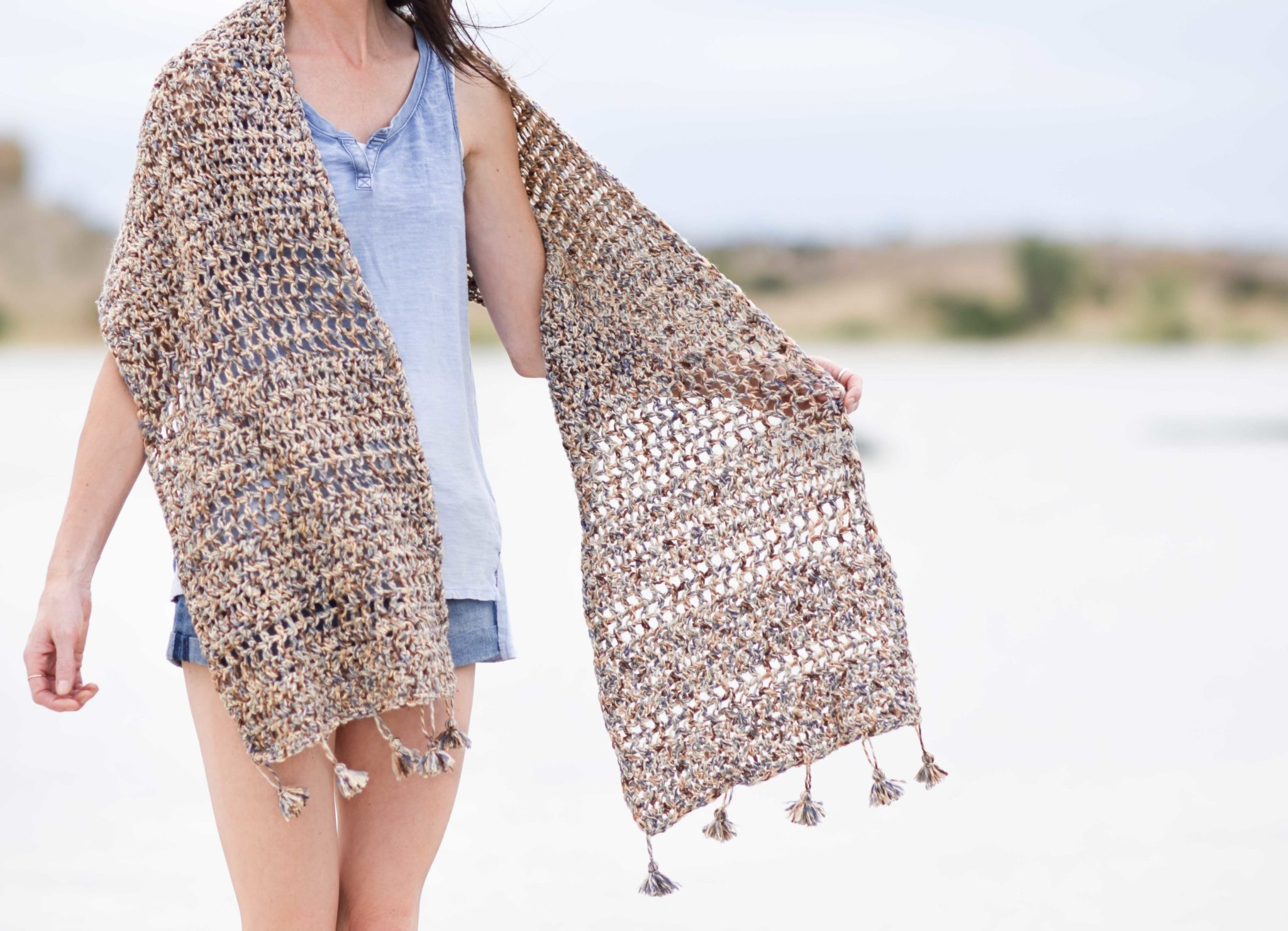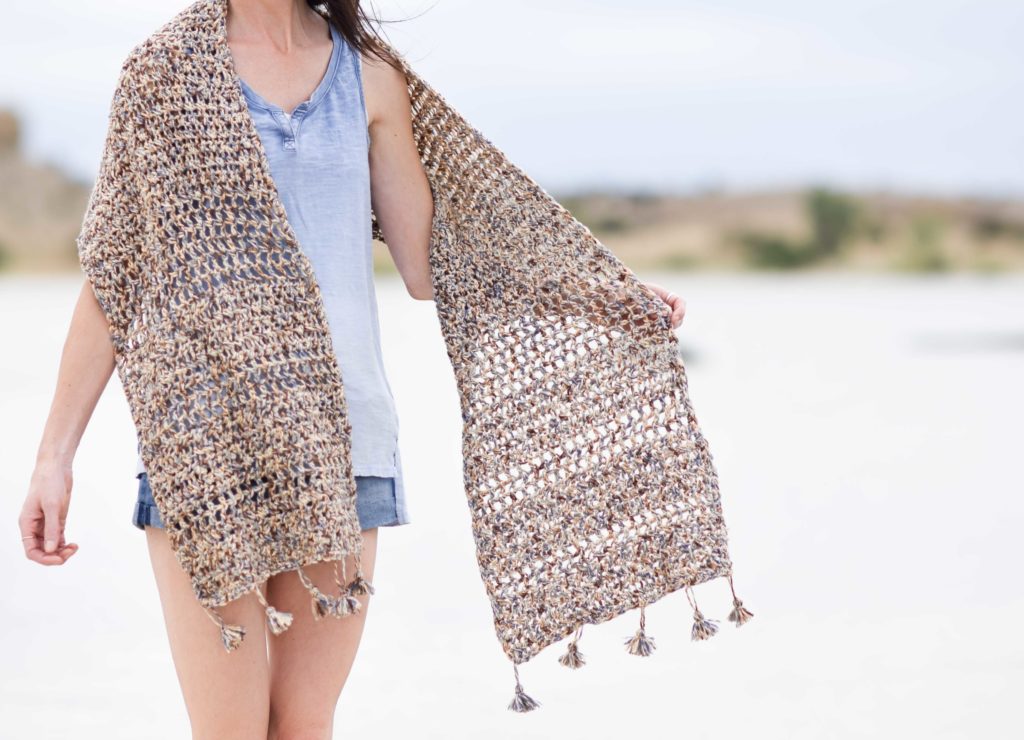 Santa Monica Bias Wrap Crochet Pattern