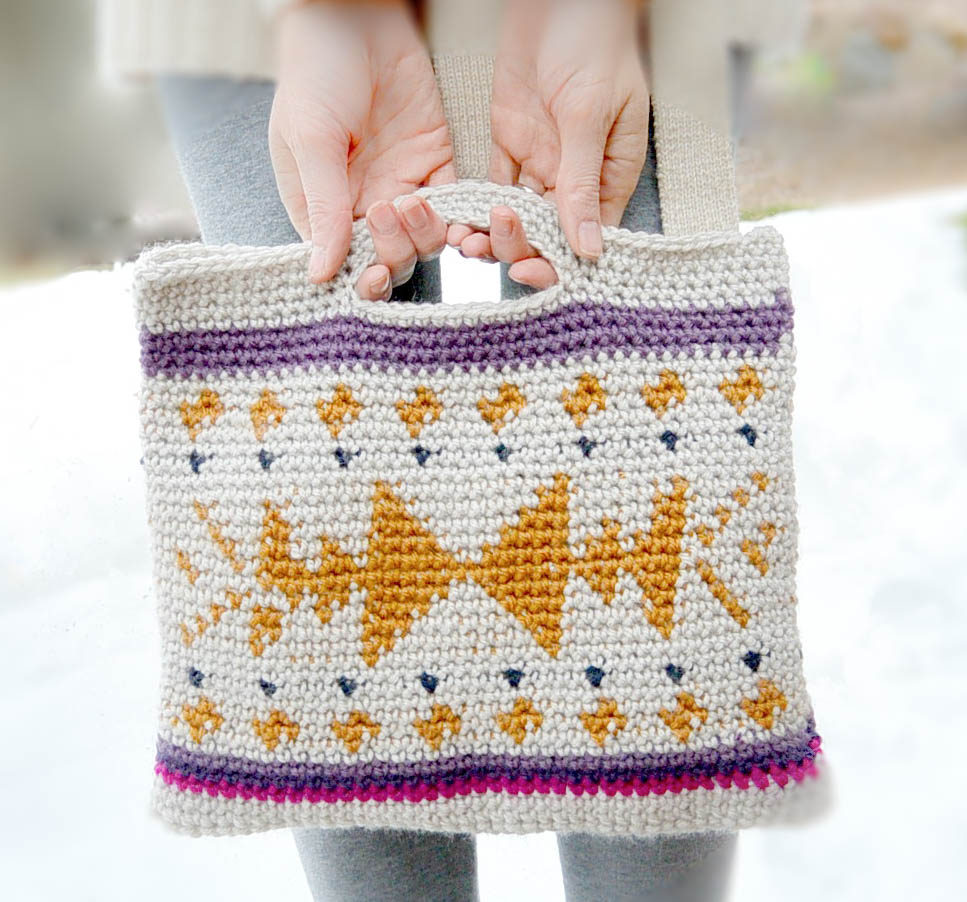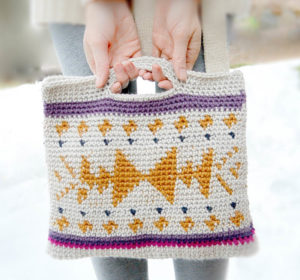 **This post contains affiliate links. I may be compensated for purchases made through links on this page.
Okay friends – I've been busy here coloring and crocheting and simply put – loving it! Not really getting any shopping done yet, but there's still a few days for that isn't there?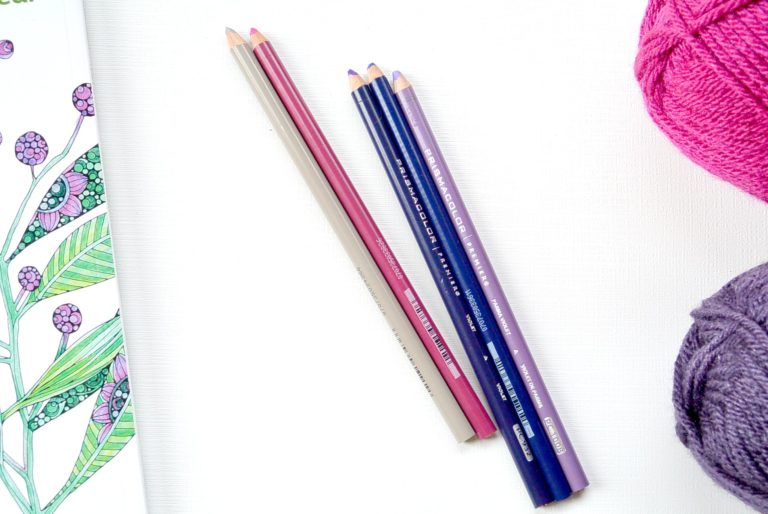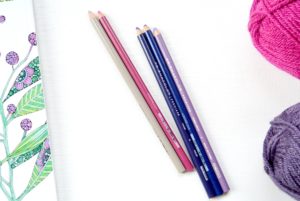 ANYWAY, you know I recently made a tapestry crochet

"Sweater Like" makeup bag (you can see it HERE)

. I knew that I wanted to do something similar again – enter Southwest Bag! What do you think? The only regret that I had when making the last bag was that I hadn't used colored pencils to shade in my design. My snowflakes were made with white yarn, but I had colored them with black pencil. My brain was getting all jumbled and confused as I needed to grab the white yarn, and was going for the black instead I tell ya! Colored pencils to the rescue this time. 🙂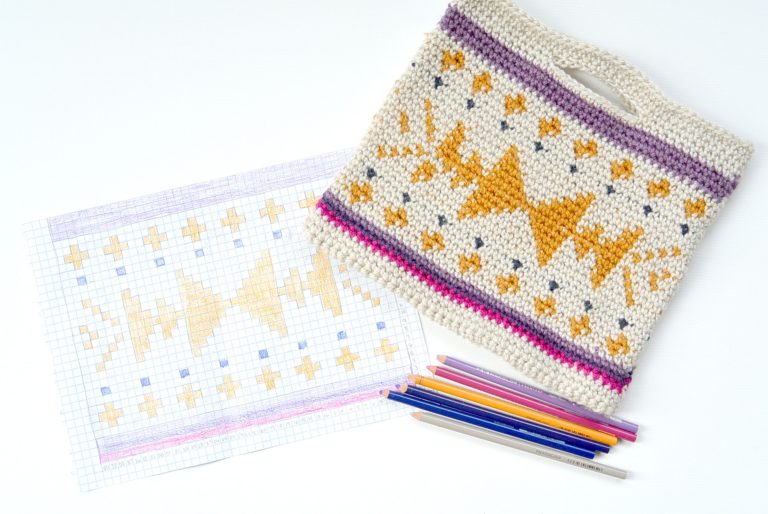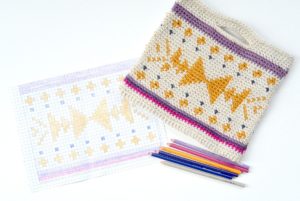 While buying my colored pencils at Michaels, I went a little CRAZY and got yet another adult coloring book. (I've been coloring a Christmas theme one lately!) These might be for adults, but let me tell you, a four year old enjoys them just the same. To the left, the start of my own "Adult" coloring page. Look at the attempts to stay in the lines and do some nice colors. My Daughter is not allowed to touch this page! Below you will see her having great fun as well. She has a very "abstract" style going on. 😉 My mom and aunts have even jumped on the coloring train and take turns coloring in a cat themed book. 🙂
Okay, so I'm still loving the whole southwest thing right now. Remember that

camper makeover

that I did with all kind of southwest, campy type fabric? I wanted to try and crochet something with the same kind of theme. I colored and crumpled up a few pages of graph paper before coming up with something that worked. It was so fun to go pick out the yarn for this and then find that the
Prismacolor pencils

came in like, every single shade of every color you could imagine. I was able to match the yarn perfectly! AWESOME!
So to make this southwest bag, which by the way, fits an IPAD perfectly, you just need a few supplies and your crochet "skillz". Like I said in my last bag project, it's really easy to do tapestry crochet. If you've never done it make sure you go to my

last post

where I wrote out the steps and shared a video tutorial from Moogly. If you know how to single crochet really well, you can watch that tutorial and this will be cake.

Notes:
This bag measures approximately 11″ across by 9.5″ tall
This would make a great project to use up scrap yarn since it really only uses a small amount of each of the color accents. Feel free to make this your own, and pick colors that you like or have around the house!
Have fun and create your own design on graph paper if you'd like. Just be sure to keep it simple at first, and no more than two colors in a row. Unless you're amazing and can work with a million colors.
Make sure to check out my other post with a video tutorial from Moogly on how to do tapestry crochet if you've never done it TUTORIAL HERE
You will need:
1 Skein Lion Brand Yarn, Vanna's Choice in Linen or comparable Worsted Weight Yarn. Other colors I used were Vanna's Choice in Magenta, Purple, Navy, Honey, Dusty Purple
Size I Crochet Hook
Scissors
Tapestry Needle to weave in ends
Optional: Graph paper, Prismacolor colored pencils, graphite pencil (This is if you're doing your own design or copying mine for yourself)
Print the graph below, look at it on your computer, or get some graph paper and re-draw it! Whatever works for you. I crocheted the design on the front of my bag only. You can certainly do it on both sides, which would make it that much cooler. It was just easier for me to do it on the front. Check out the steps below on how to get this done!

Pattern:
With Linen color, Chain 80
Row 1, Sc in second chain from stitch, sc across.
Without twisting join both ends with a slip stitch. Chain one. Don't worry about the little gap. It get's closed when you seam the bottom shut. (You will now begin to work in the round. This method of making one row, then joining simply prevents the chain from twisting on the first round)
Round 1 – 2 Sc around with the Linen Color Yarn
Round 3 – This is where you will NOW follow the chart above. Place a stitchmarker at the 1st stitch and the 40th stitch, which is where you will be doing your color work. You will start by doing one round of magenta, followed by a round of purple, and so on (see the graph above- you are working from the bottom up, make sense?). Each square represents a stitch. You will change colors as seen in the

video that I linked to in this post

.
Continue your rounds, changing up colors as you go.
Round 31 – This is your final round of color work. After this you will work on the handle portion.
Handle Portion
Round 1 With the Linen color, make one round of single crochet (same as the rest of the bag)
Round 2 With the front of your bag facing, work single crochet approximately 1/3 of the way in. In other words from your first stitch marker, sc approximately 13 stitches in. CHAIN 13, join chain to purse by slip stitching, and chaining one 2/3 of the way across the bag. Continue to sc around.
Round 3 – 5 Sc around. This will make a nice, thicker little handle.
Seam the Bottom CLOSED
Turn the bag or "tube" inside out
Attach your linen colored yarn to the outer corner of the opening, by yarning over, pull through and chain one. Single crochet across, working through both fabrics in order to "sew" them together. Tie off, weave in ends.
Go around your bag and weave in any loose ends, or do some chopping if you need to cut some of the color change pieces sticking out.

Make sure to check out Michaels coupons for additional savings, in newspapers and online! I'm always armed with coupons.
Click here and select "free pages" to download your own free Prismacolor coloring pages! Cool, no?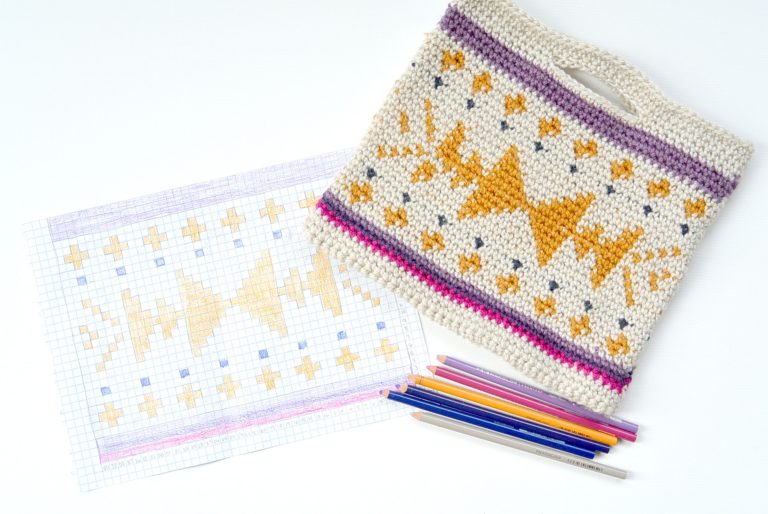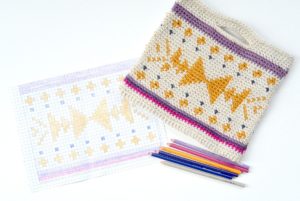 So have a great time coloring and crocheting friends!
This post is part of a social shopper marketing insight campaign with Pollinate Media Group® and Prismacolor, but all my opinions are my own. #pmedia #relaxandcolor https://my-disclosur.es/OBsstV
[jetpack_subscription_form]