Happiest Starbucks Coffee Cup Cozy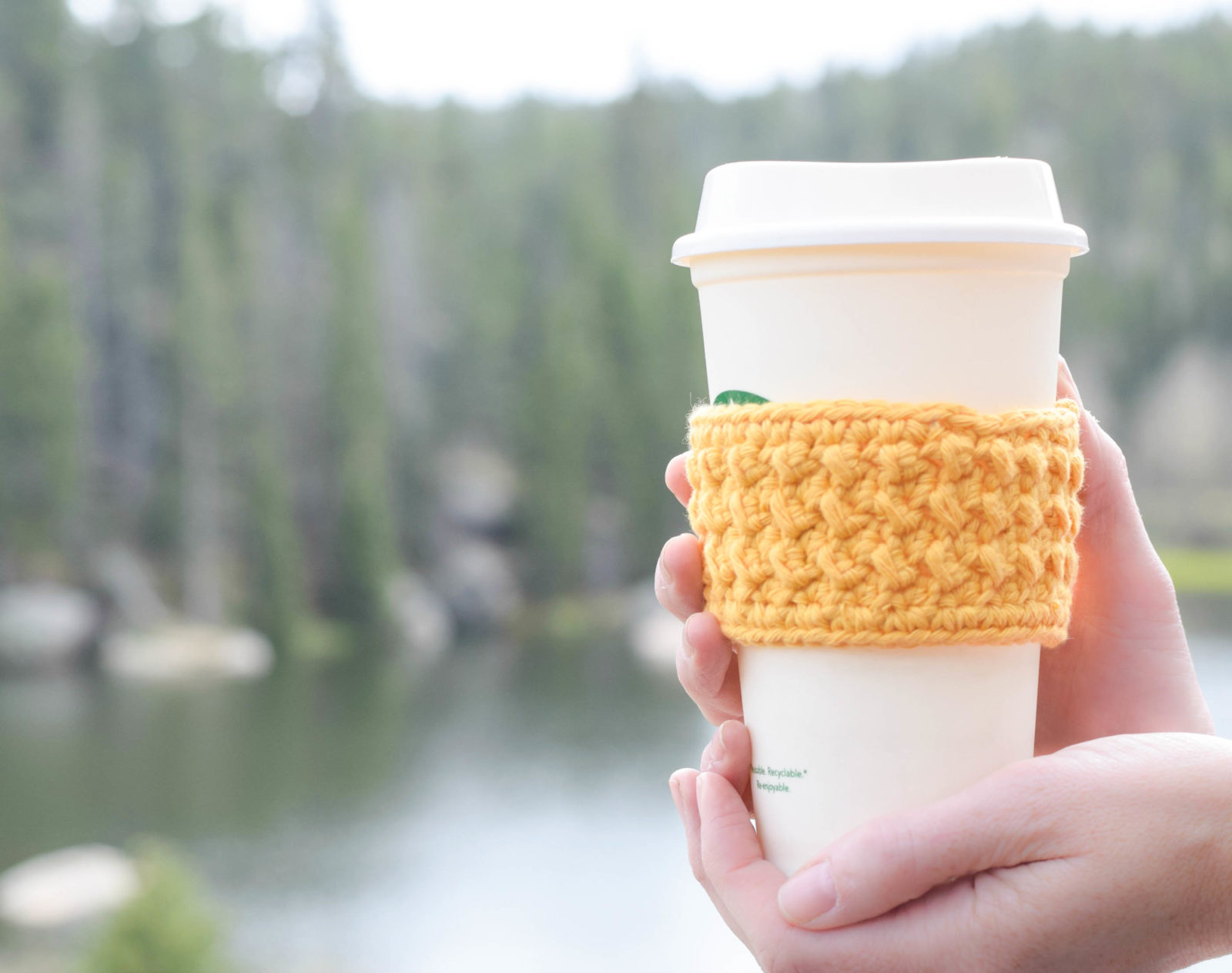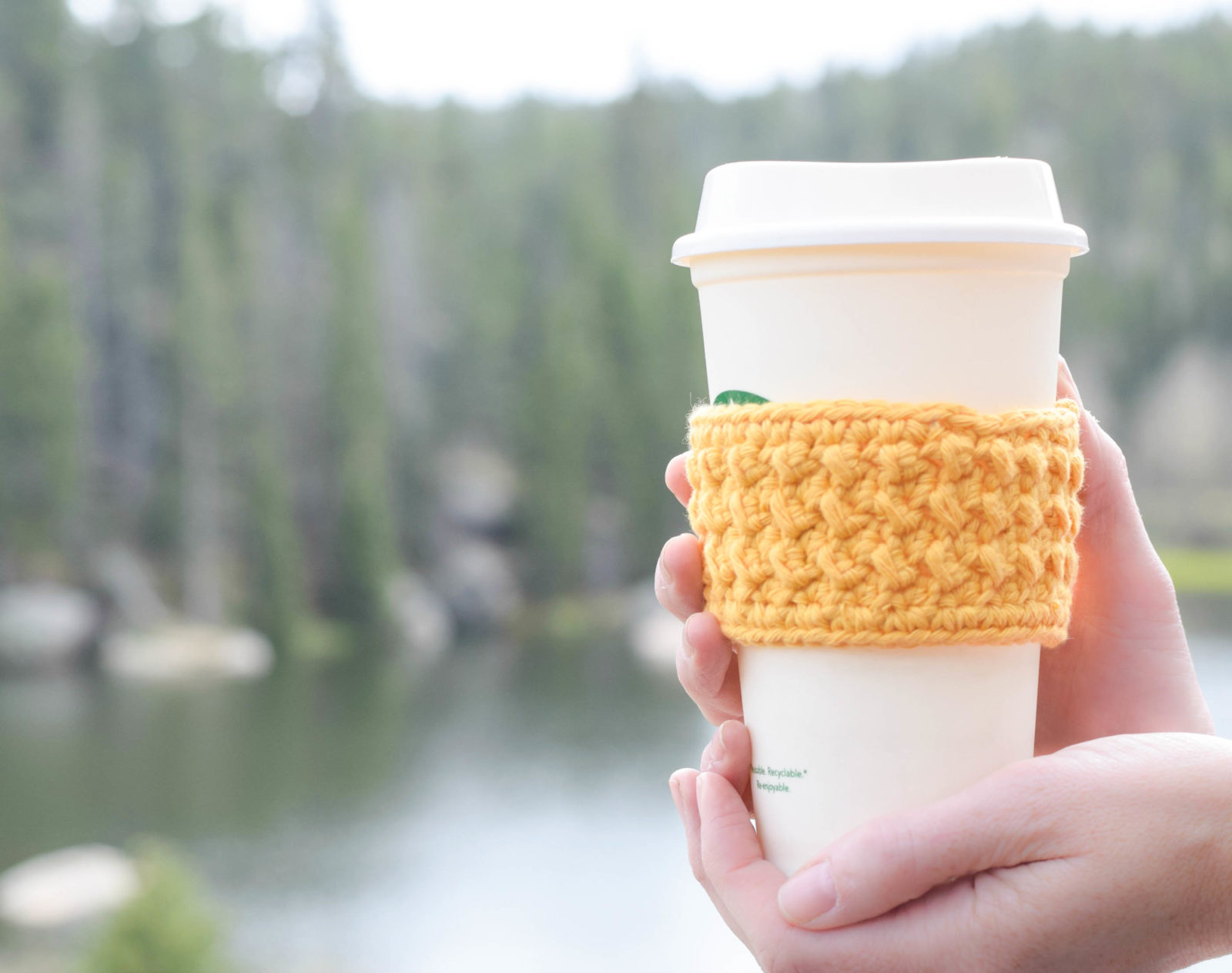 Are you a coffee drinker too? My mother is Italian and that side of the family drinks coffee like it's water I tell ya. Coffee is definitely part of my morning routine and I enjoy a cup once in a while during the day.
This cup that I got from Starbucks looks like one of their disposable cups, but it's actually reusable. It's my go to travel mug, and I ALWAYS use a cup cozy with it (a crocheted one of course). It keeps your hands from getting hot, and maybe it keeps the coffee warmer too?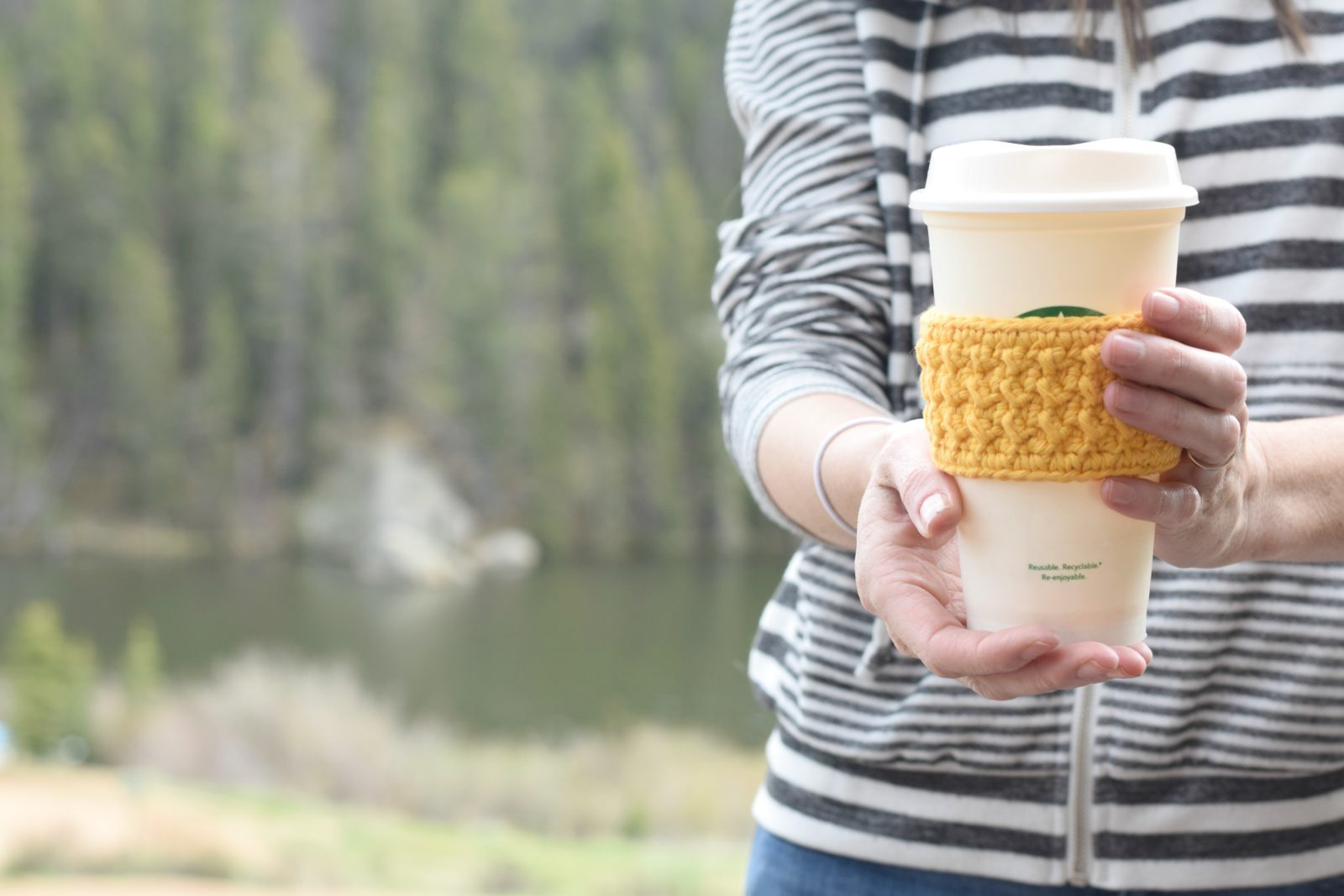 This "Happiest Coffee Cup Cozy" (I know, I sound a little like Bob Ross describing it as a "happy" little thing) is an easy summer time (or anytime) crochet project that is useful, and actually makes a cute gift paired with a coffee gift card, a cup, and a nice little bow to top it off. You can even learn a new stitch here with this mug (the crunch stitch), and it's EASY!
Below, you can see my other favorite mug from my friend Krista over at Rescued Paw Designs. She started a super fun company called "Yarn Mamas" that sells apparel and goods for creatives like you and me! I LOVE this mug because it's large enough to hold a big cup o' joe and it has "Yarn" on it. In fact, I drink water and tea from this mug too. You should check out all of the cute things for that she has for sale!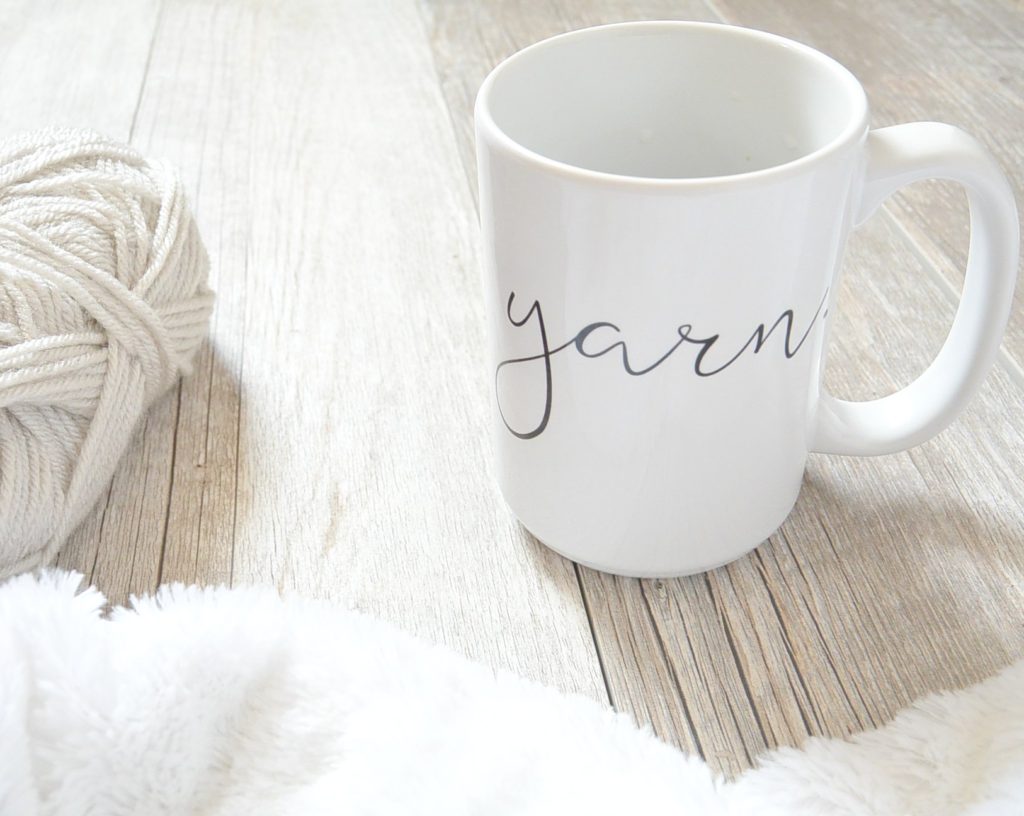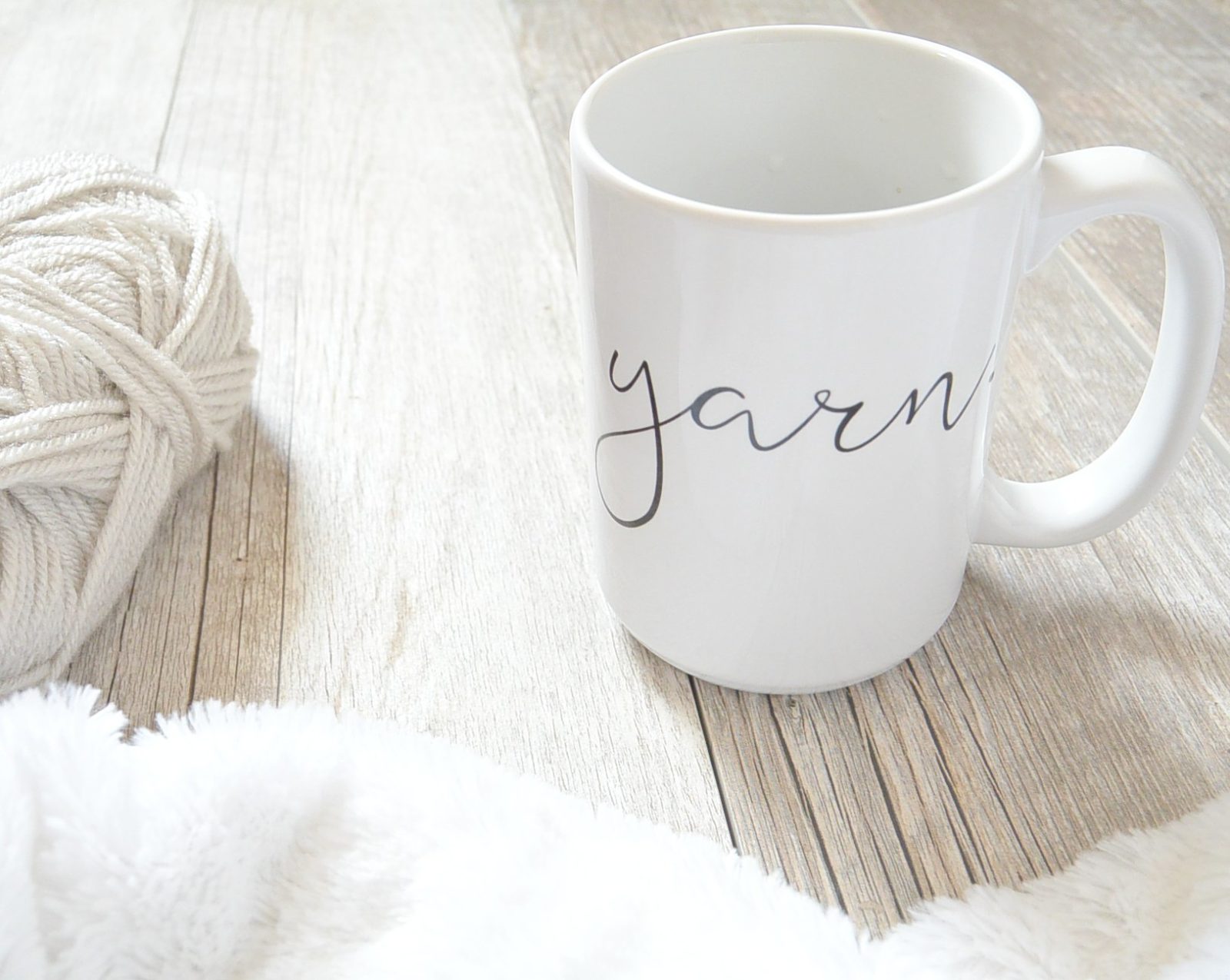 As for the happy little coffee cup cozy, it's a necessity for me and I think you'll enjoy making it. Check out the pattern below!
Happiest Coffee Cozy Crochet Pattern(Crunch Stitch)
You will need:
Size G Crochet Hook (You may also use a Size H hook if you'd like it a little bigger)
Scissors
Tapestry needle to weave in ends
1 skein Drops Paris Cotton in preferred cotton or comparable worsted weight yarn
**Once assembled measures about 4 3/4″ across and 2 1/4 inch wide. You can certainly make it wider by doing more rows of single crochet around the edges once assembled. In addition, you can make it with a larger size H hook.
Stitches to know:
Ch – chain
Hdc – Half Double crochet
Sl – slip stitch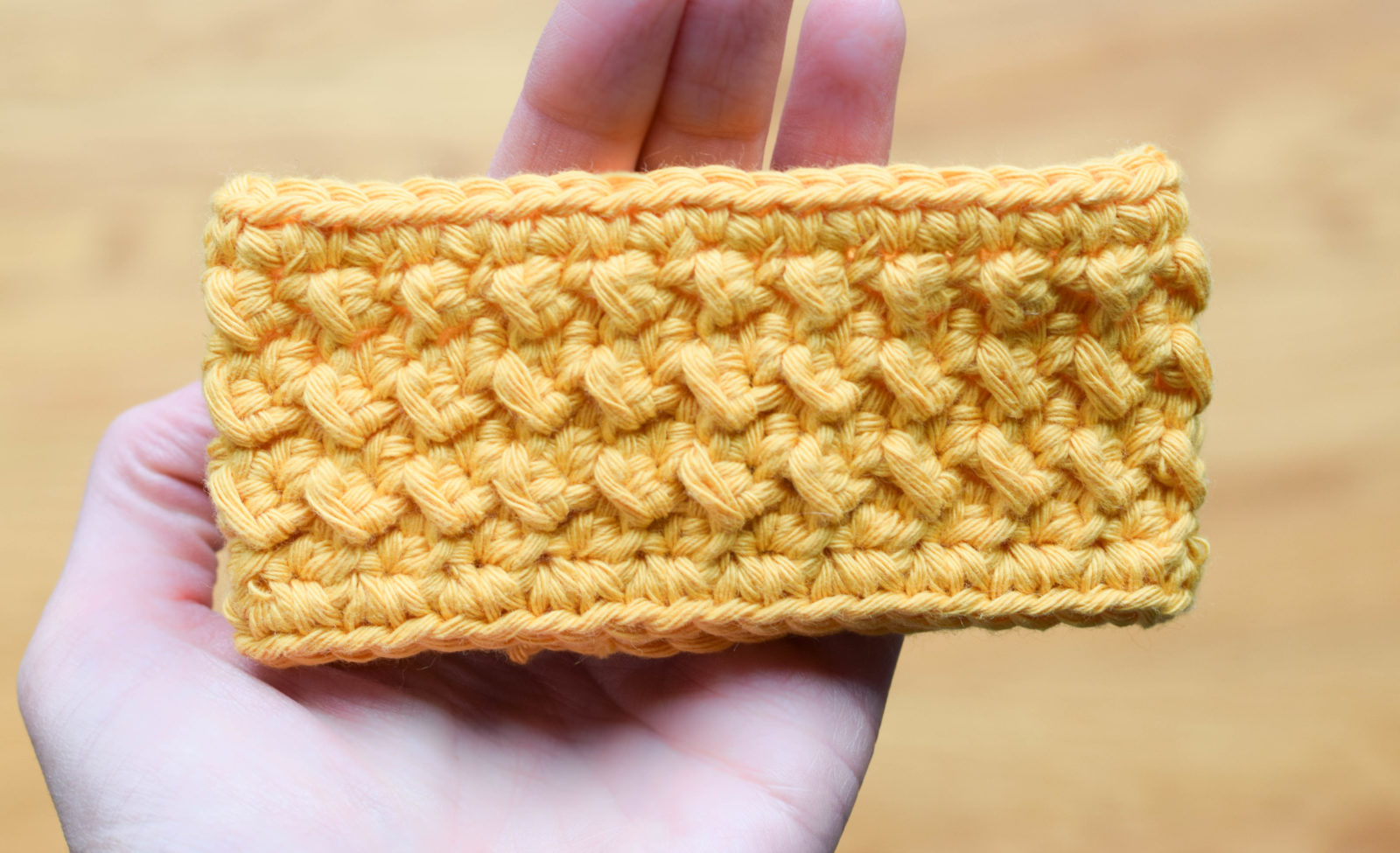 Pattern:
Ch 9
Row 1: Skip 2 chains (this counts as 1 hdc), *sl st in next ch, 1, hdc into next ch.* Repeat from * to *, end with a slip stitch into last chain.
Row 2: Ch 2 (this counts as your 1st hdc), sk 1 st, * sl st into next hdc, 1 hdc in next sl stitch*. Repeat from * to * ending with a sl stitch in the ch 2 turn stitch.
Repeat row 2 until you reach a length of 9"
Tie off, keep a length of yarn attached to seam up the ends. Seam ends with a simple whip stitch.
Attach yarn at top of seam. Single crochet around top, tie off, weave in ends. Repeat, with a single crochet border around the bottom.
Tie off weave in all ends.
Now you can keep your fingers cool and your coffee hot, all while saving the environment by not using those throw away coffee cups and cardboard cozies.
I hope you've enjoyed this!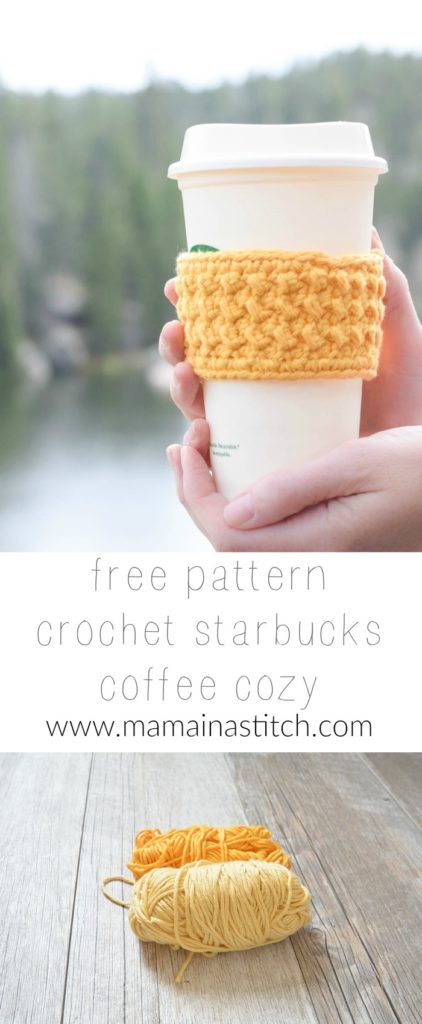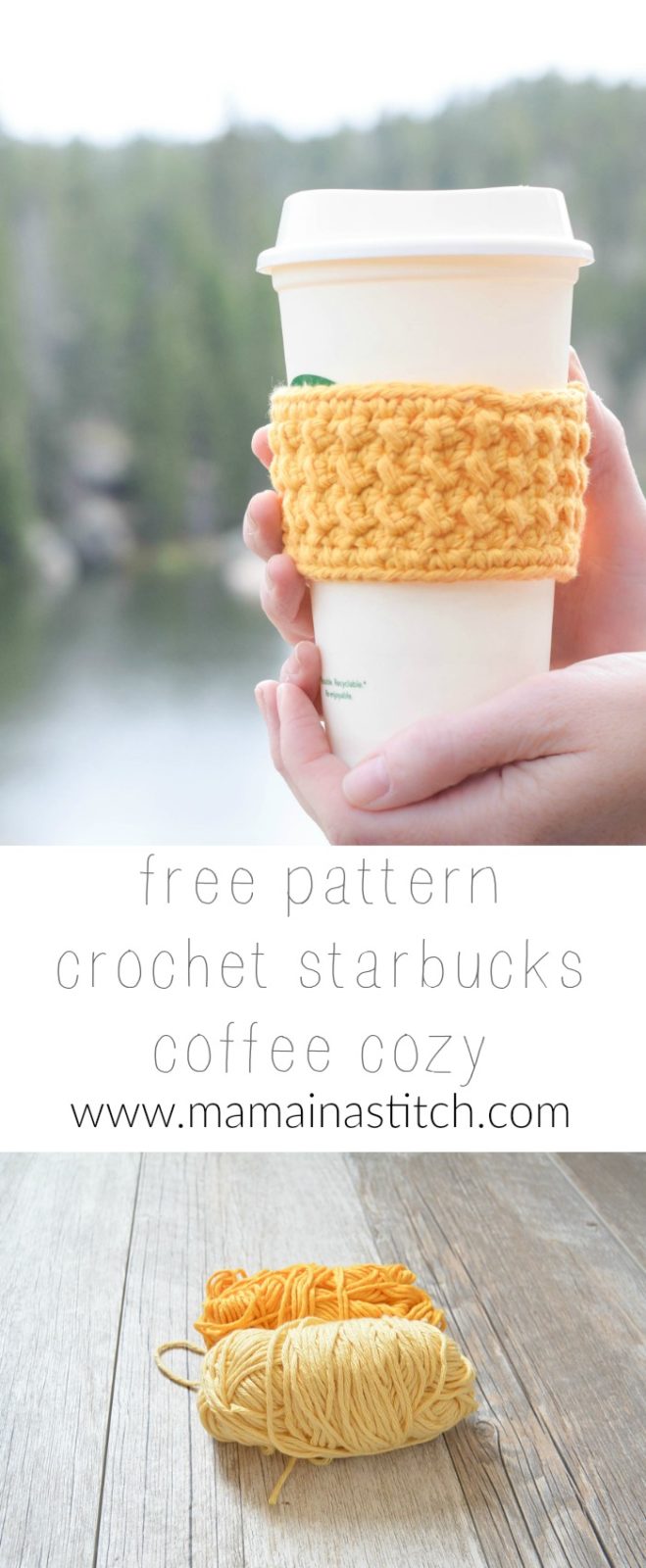 Feel free to share your pictures with me by tagging me on Instagram here @mamainastitch or post them on my Facebook page here.
Happy summer and coffee drink'n to you!
(I'm looking forward to sharing a cute crochet blanket pattern with you soon, as well as some fairy gardens and a summer knit scarf….stay tuned!)