Boho Fringe Granny Square Crochet Purse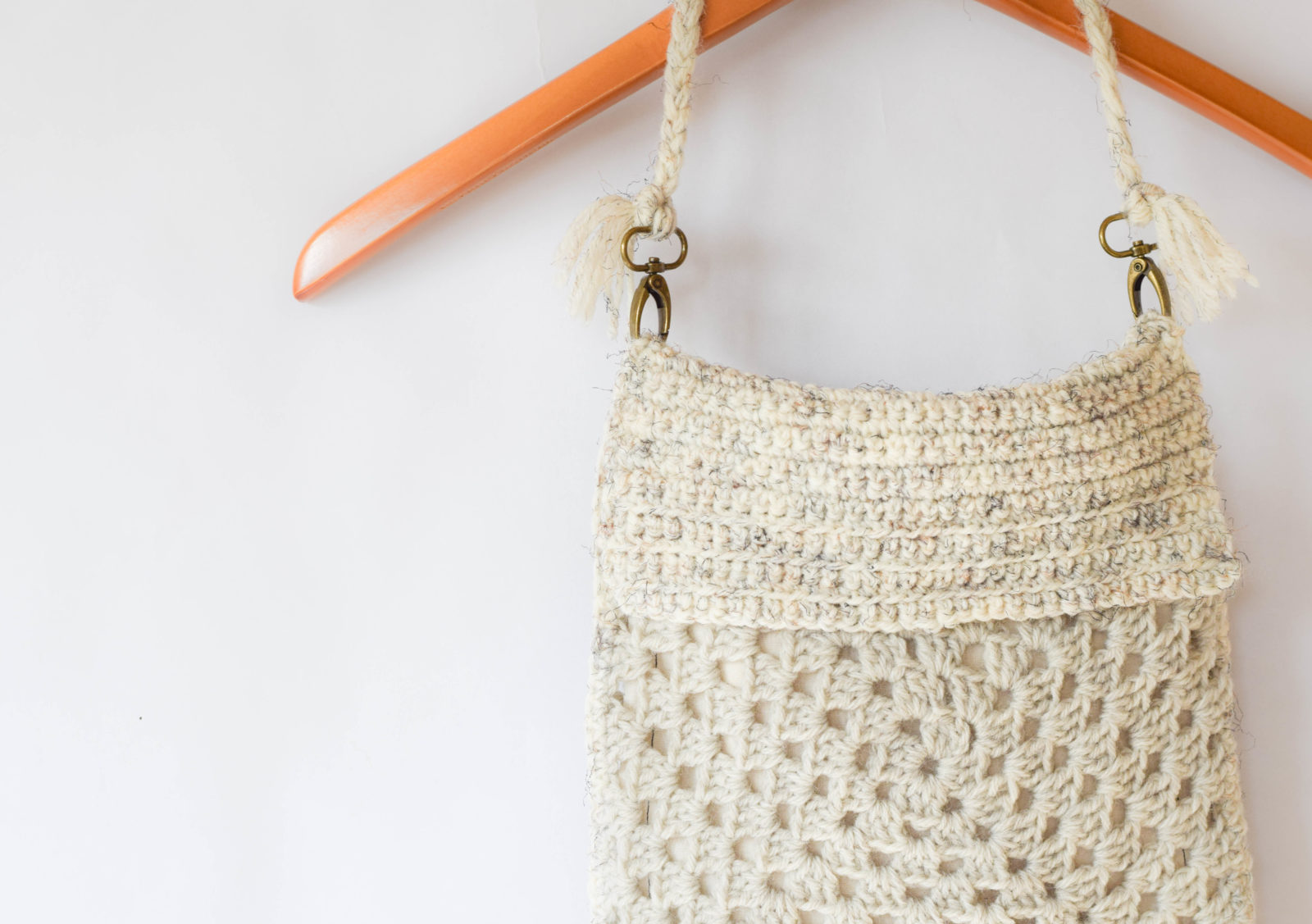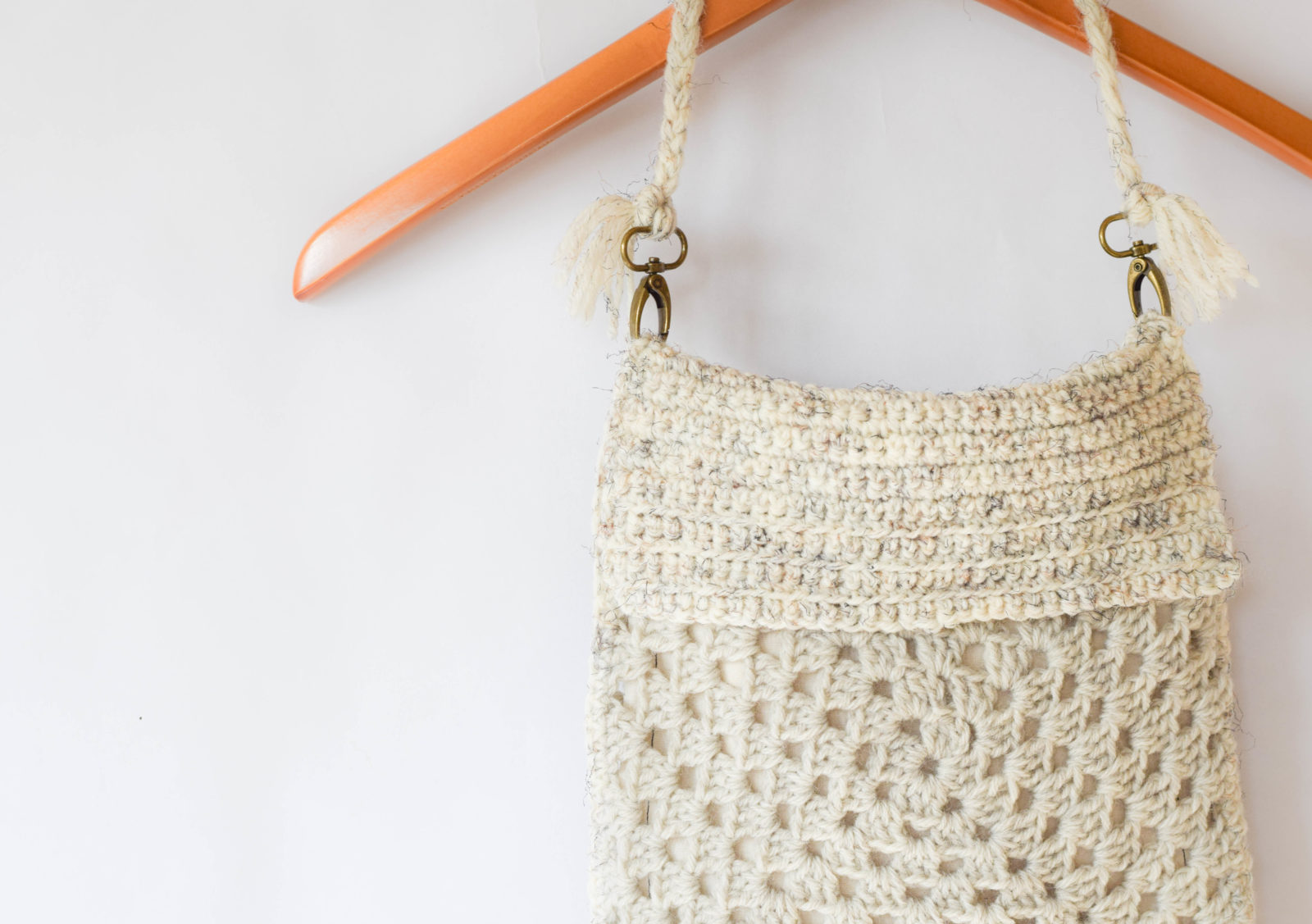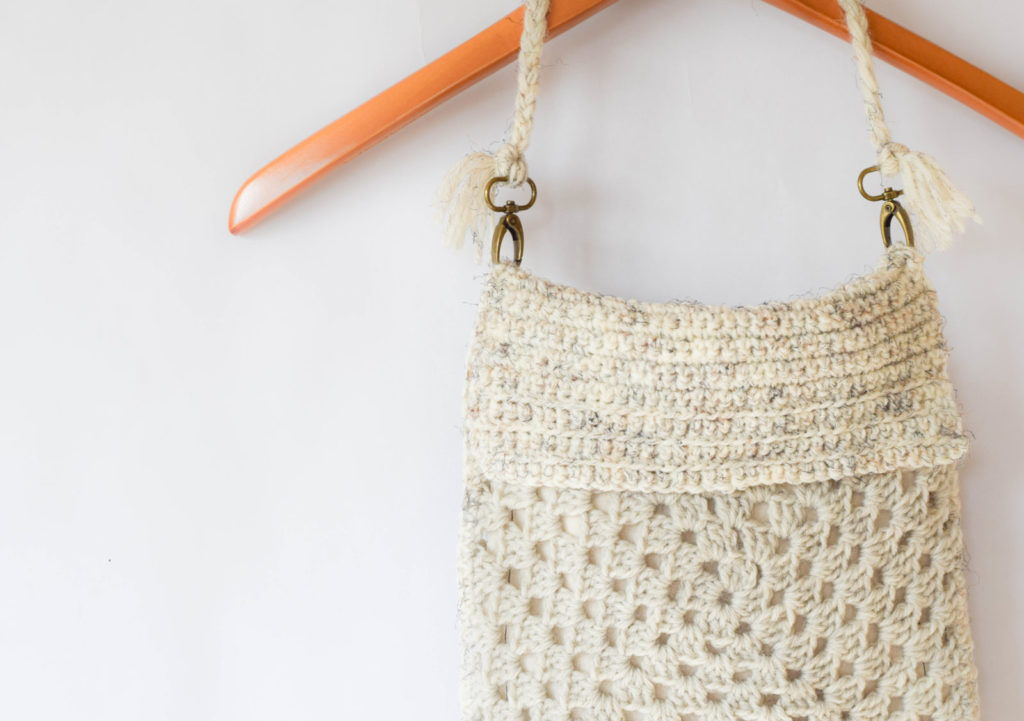 Hi friends,
No doubt, I have a thing for making bags. The "Manhattan Market Tote" has been a favorite of mine and has been one of the most popular posts on the blog. Recently, my dear neighbor knit a nice satchel type purse that got me thinking about something a bit smaller than a tote.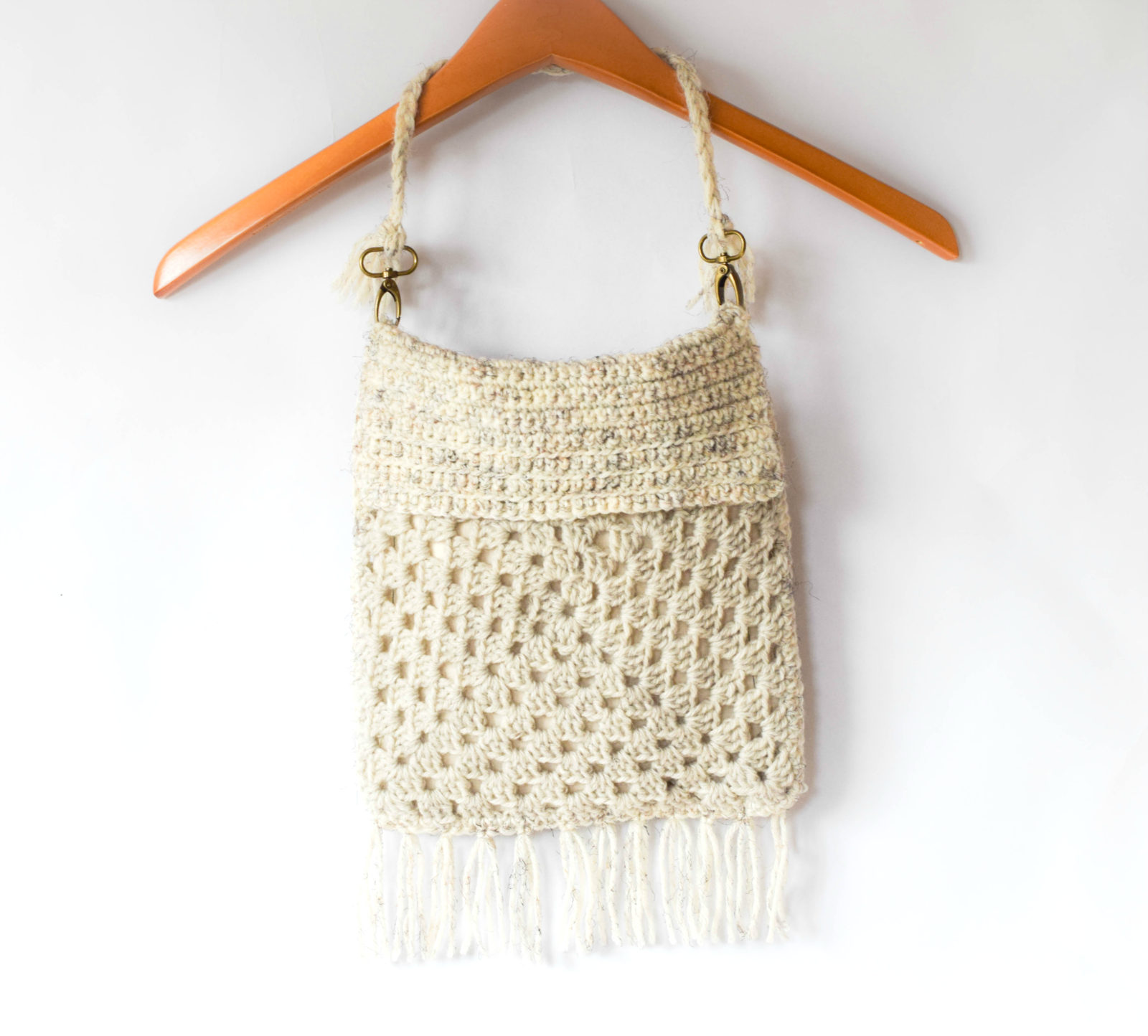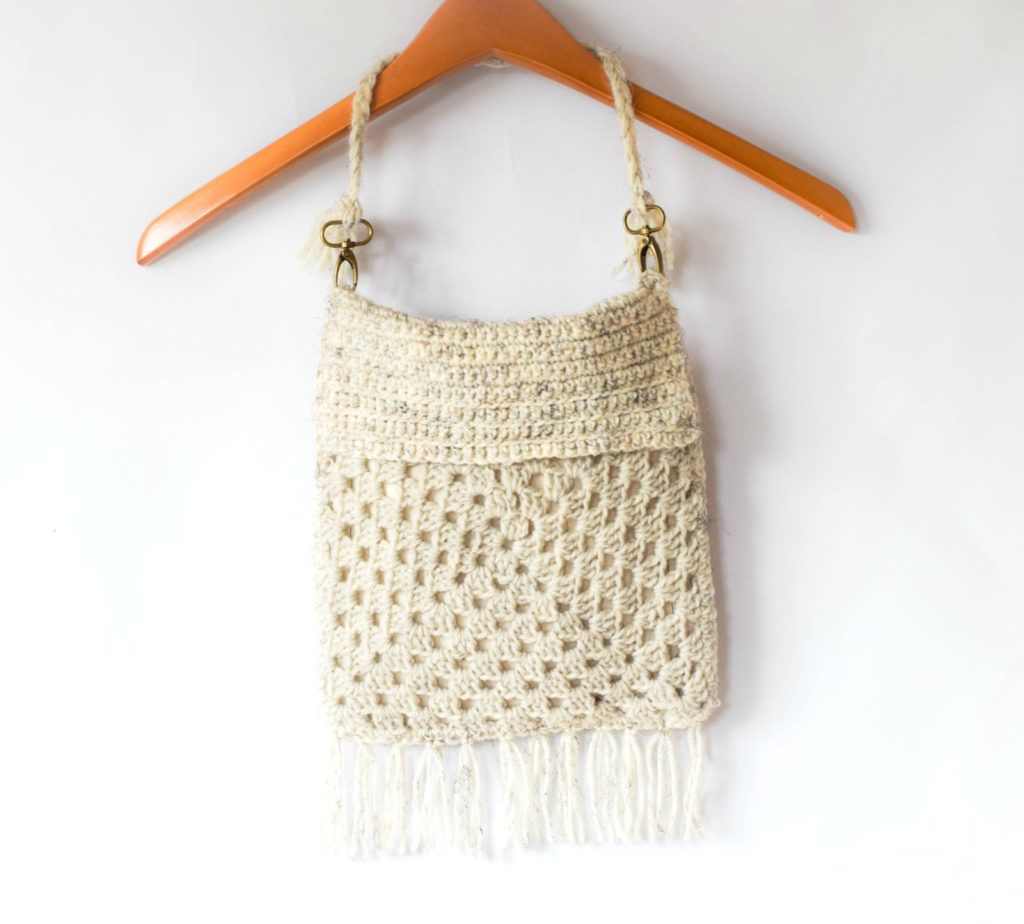 This crocheted purse is basically made with granny squares so it is very easy, but also really classic and appealing. Granny squares can be, and ARE cool after all. 🙂 As with so many other projects, you could have a lot of fun with the colors on this bag. It might be nice to even make a black or brown bag which would go with a wide variety of outfits.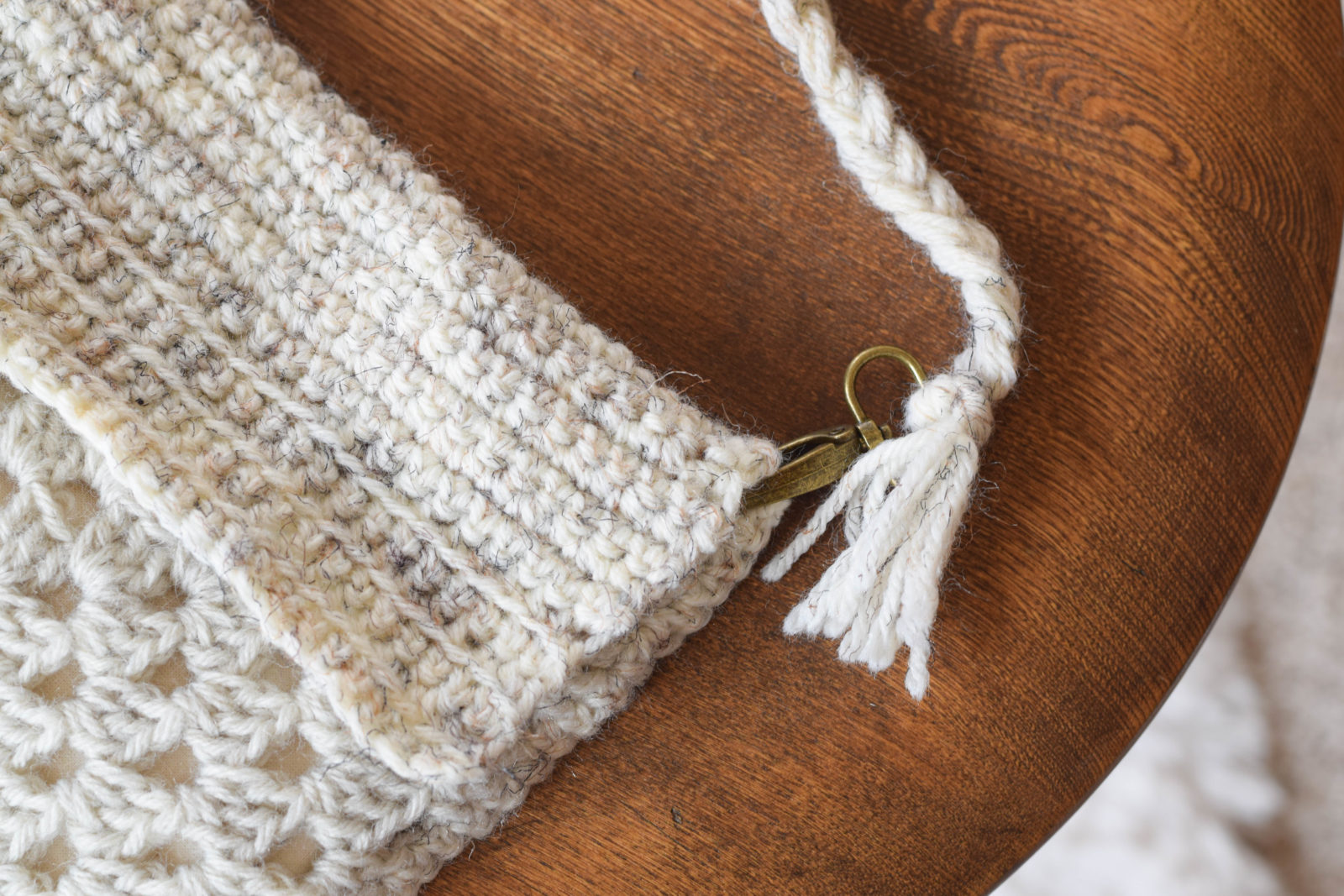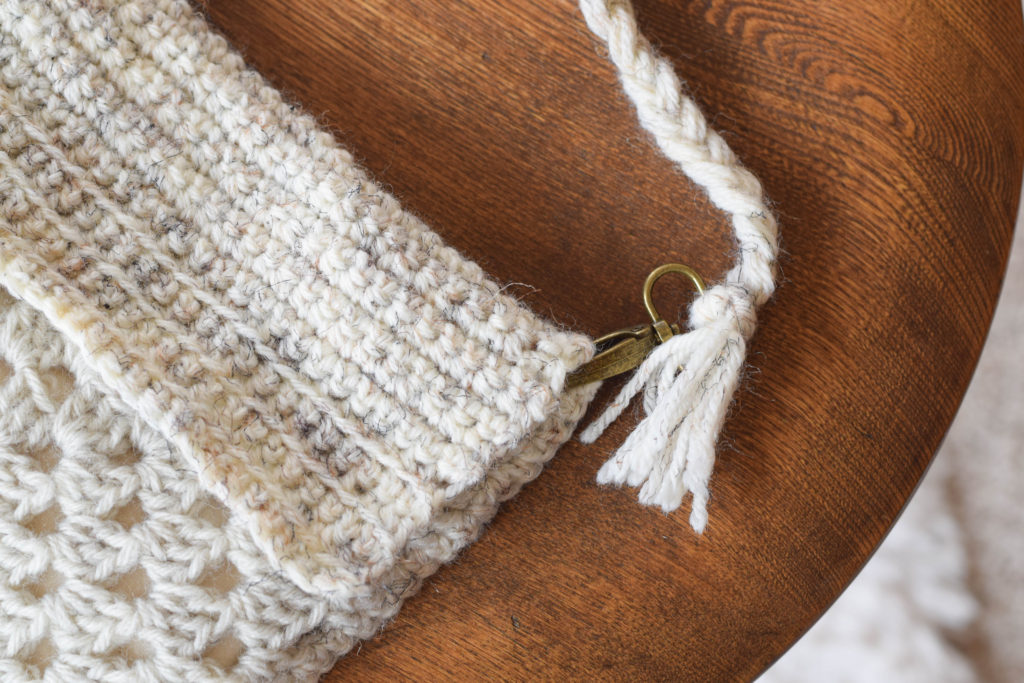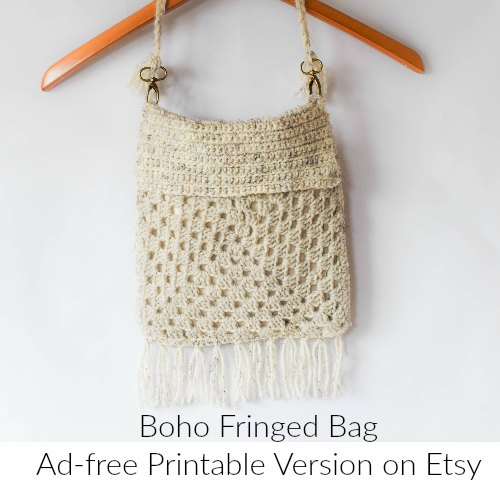 Or scroll down for the free pattern!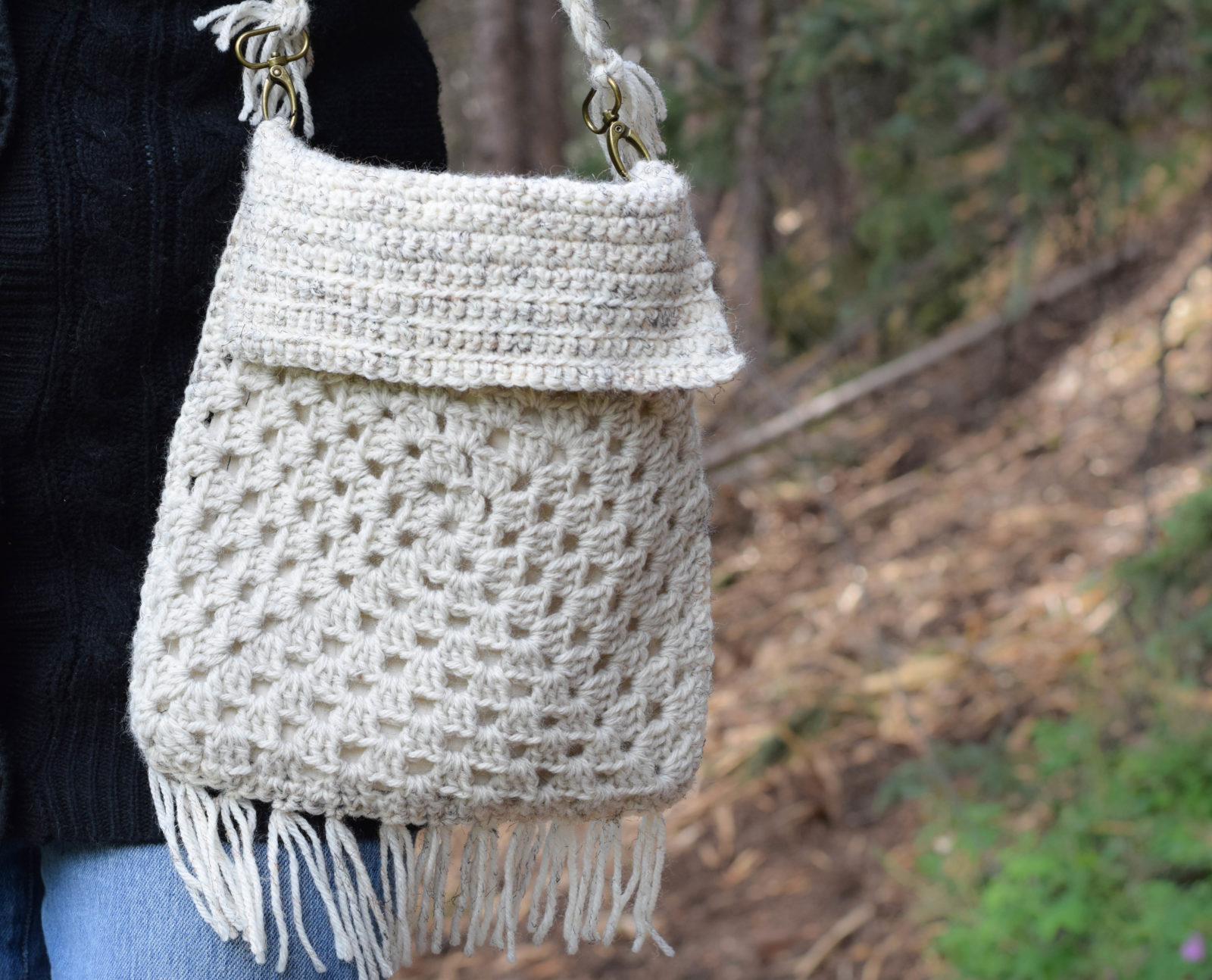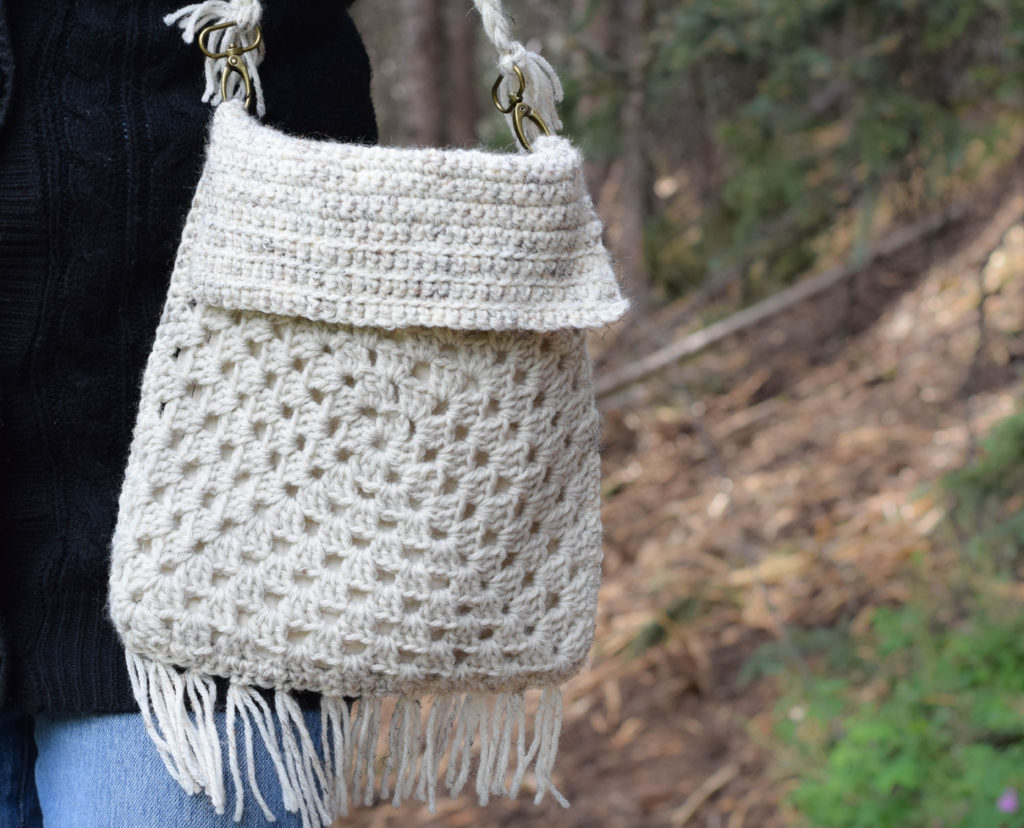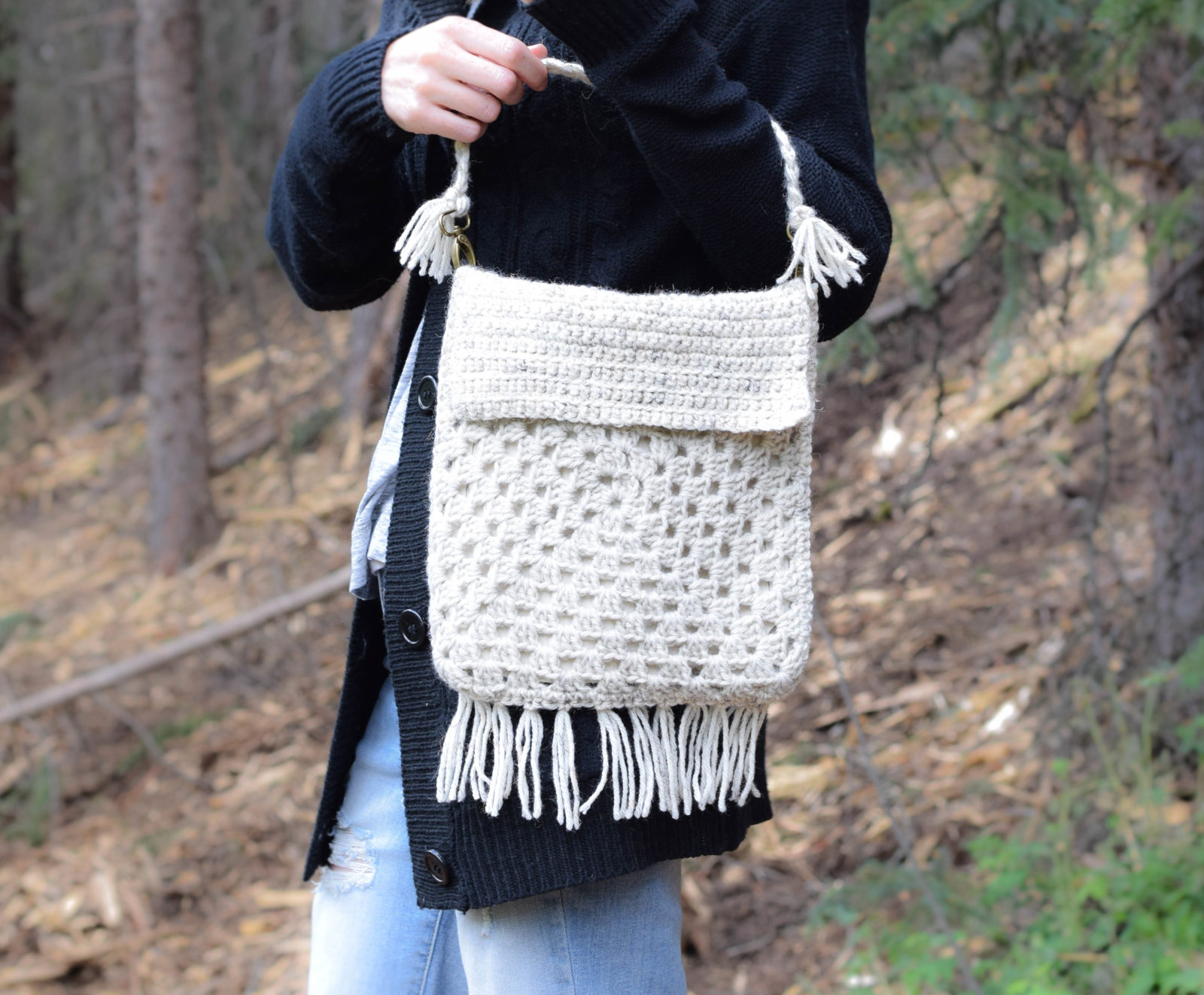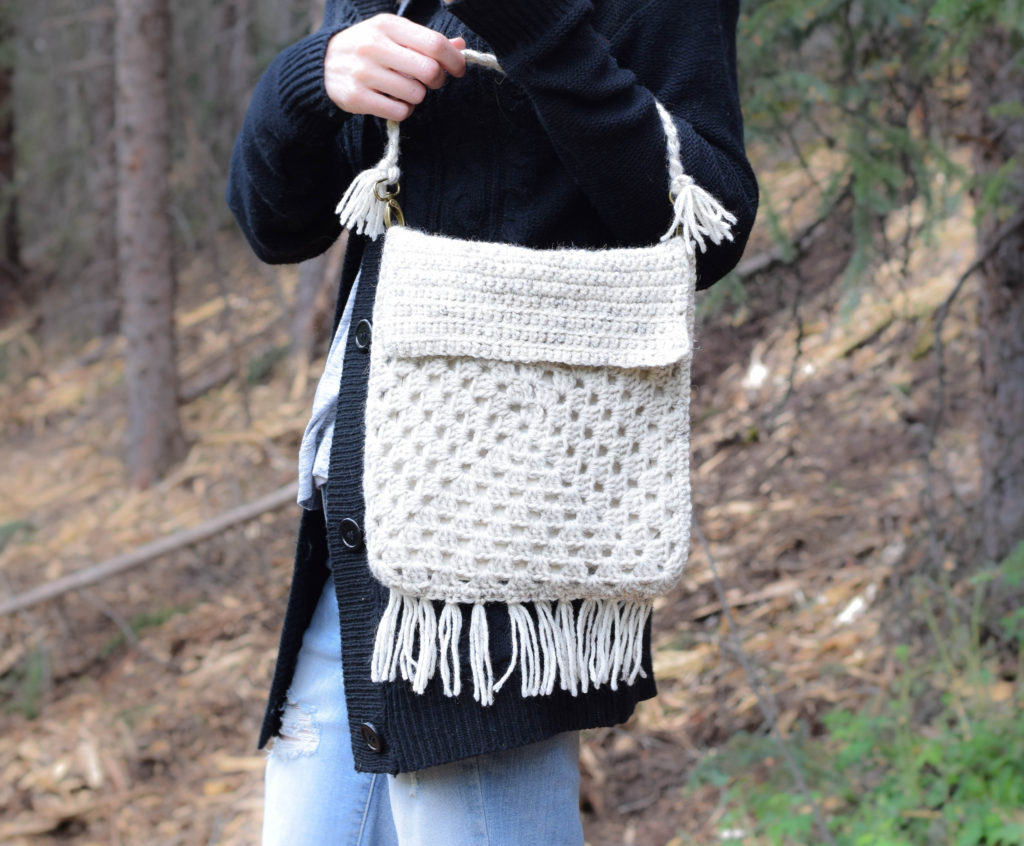 You will need:
US Size G Hook 4.0 mm
Lion Brand Wool Ease Worsted Weight (4) Yarn or comparable yarn – For this I used Wheat (Edges, tassels and flap) and Ecru (Body of the bag) There was yarn leftover from both skeins.
Tapestry Needle
Two clasps with loops as pictured (JoAnn Fabrics carries)
Fabric for insert 9.5"X19" (This is simple enough to hand sew)
Notes:
Bag Measures 9.5" x 9.5"
Gauge is not important
While I didn't make a closure for the flap, you could easily add a small button or Velcro closure.
Pattern:
With Ecru, Chain 4, join with a sl st to form ring
Round 1 Ch 3 (counts as DC), make 2 DC in ring, make (3dc, ch2) in ring 3 more times. Sl st to join in top of ch 3.
Rnd 2 Sl st in ch-2 corner space, ch 3 (counts as DC), make (2dc, ch 2, 3 dc) in same corner, work (ch 1, in next corner 3 dc, ch 2, 3 dc) 3 times. Join with sl st in top of beg ch 3.
Rnd 3 Ch 3, work (2dc, ch 2, 3 dc) in same corner, *make (ch1, 3dc)** in each ch 1 space on side of square, in corner ch 2 space make (ch1, 3 dc, ch 2 3 dc); rep from * around, end at **, ch 1 and join with a slip stitch in top of beg ch-3.
Rnd 4 Sl st to ch 2 corner, rep rnd 3 & 4 until square measures approximately 9"x9"inches
Tie off, weave in ends.
Make two of these 9" squares.
Assembly
Holding two squares together, right sides out, single crochet around each side and bottom in order to seam the bag closed. Leave the top open. At each bottom corner make 2 sc stitches in order to turn the corner.
Top Flap
With Wheat – attach yarn to outer corner of back side square.
Row 1 sc across, ch 1, turn
Row 2 repeat row 1 until section of sc measures 3 ½" in length (top flap length)
Make Insert Lining
With preferred fabric ( I used unbleached Muslin ), cut a rectangular piece 19" long and 9.5" wide. Fold the two short ends down .5 inches and seam in order to have a nicely seamed upper edge. Now fold the rectangle in half. Sew up both sides and along bottom of the bag. Place insert into granny square bag and hand sew with a whip stitch or preferred method along the top of the lining/bag to attach.
Handle (Braided)
With Wheat Color
Cut 15 lengths of yarn 21" long (If you have enough yarn, you could make this as long as you want – even long enough to be a cross body satchel bag)
Holding all strands together, tie onto loop with clip, knot, leaving 2" fringe or extra.
Separate strands into 3 sections, 5 strands in each section. Braid the three strands.
When at the end, knot and attach the handle just as you did to the 1st clasp.
Hook the clasps to the outside of the bag.
Fringe
With wheat color, cut lengths of yarn 6" long holding 2 together, make tassel on bottom of the bag. (Make a tassel by folding the lengths of yarn in half. Place the folded half through the bottom of the bag and draw up the ends through the half. Pull tightly to secure) Place tassels along the bottom of the entire bag. Trim the bottoms in order to have a straight edge on the fringe.
Block as needed.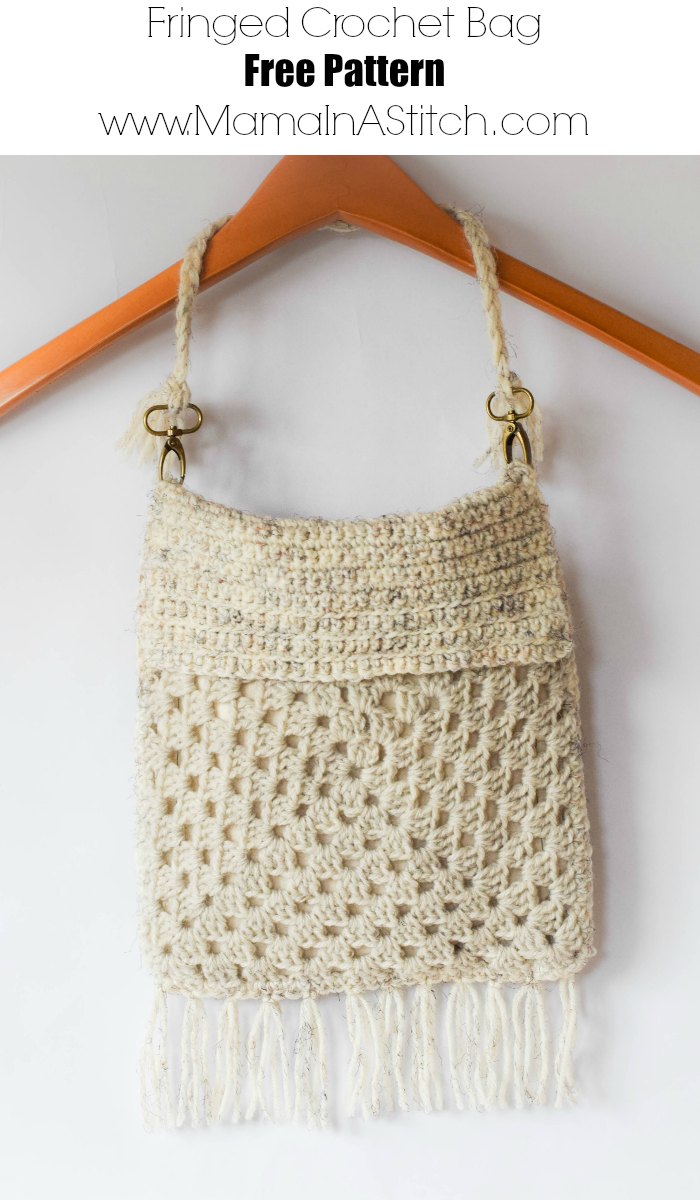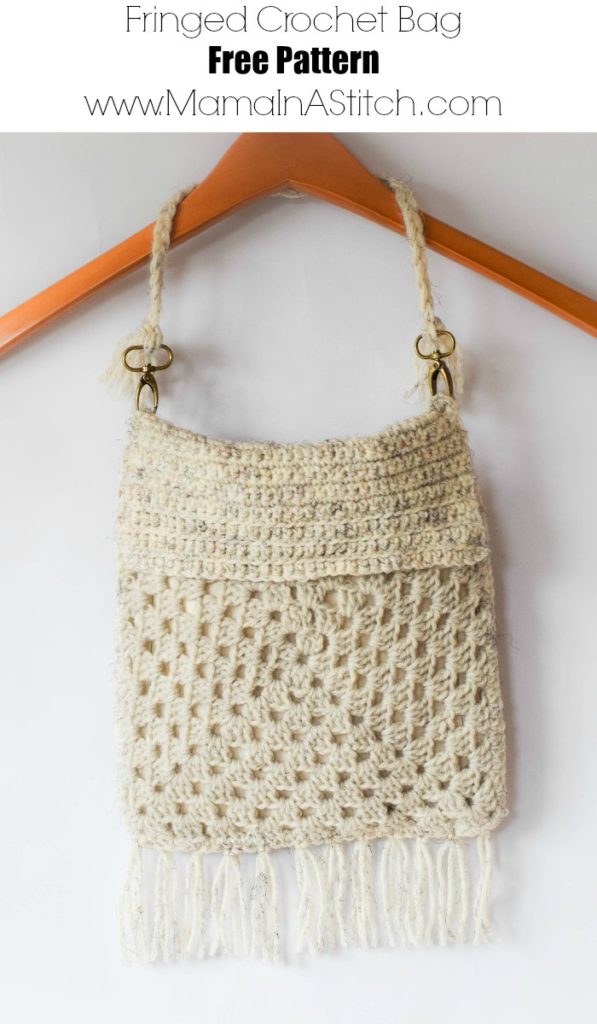 I hope you've enjoyed this "granny bag", and please let me know if you have any questions.
XO,
Jessica