Fairbanks Pommed Knit Scarf Pattern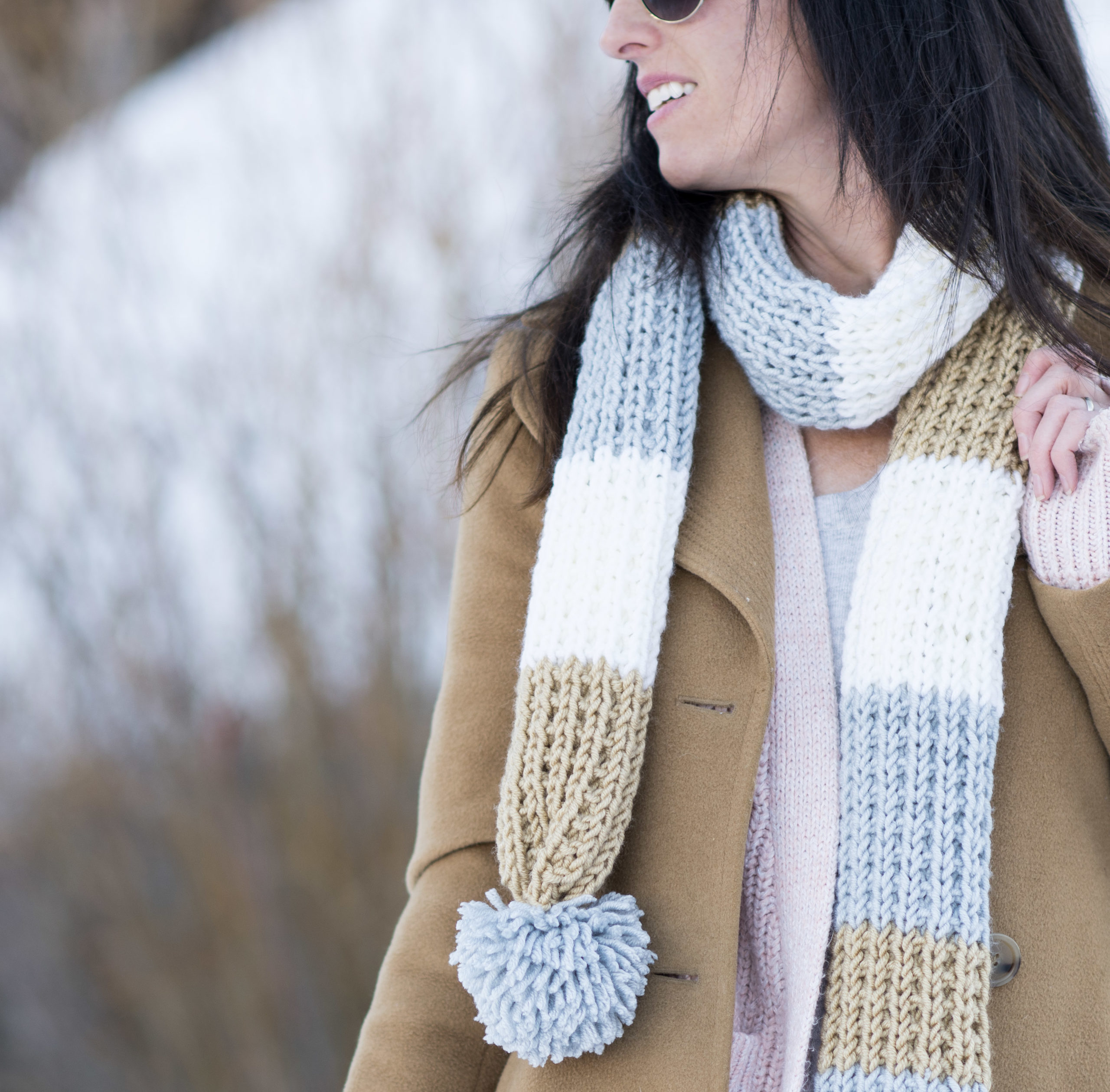 Scroll down to see the free pattern below or you may choose to purchase the printable, ad-free PDF file HERE or the kit from Lion Brand Yarn HERE
Sometimes you just want a mindless knitting pattern that turns out pretty. I've long been a fan of the broken rib stitch, and this chunky yarn was perfect for it! You'll see that this scarf is really easy to knit but has a lovely texture. It's a great pattern for beginners who would like to go beyond the basic stockinette and garter stitch, while also practicing color changes. This is the third project that I've made with the new Color Made Easy yarn from Lion Brand (you can now find it at select Michaels stores and online at Michaels and Lion Brand's sites – yay)!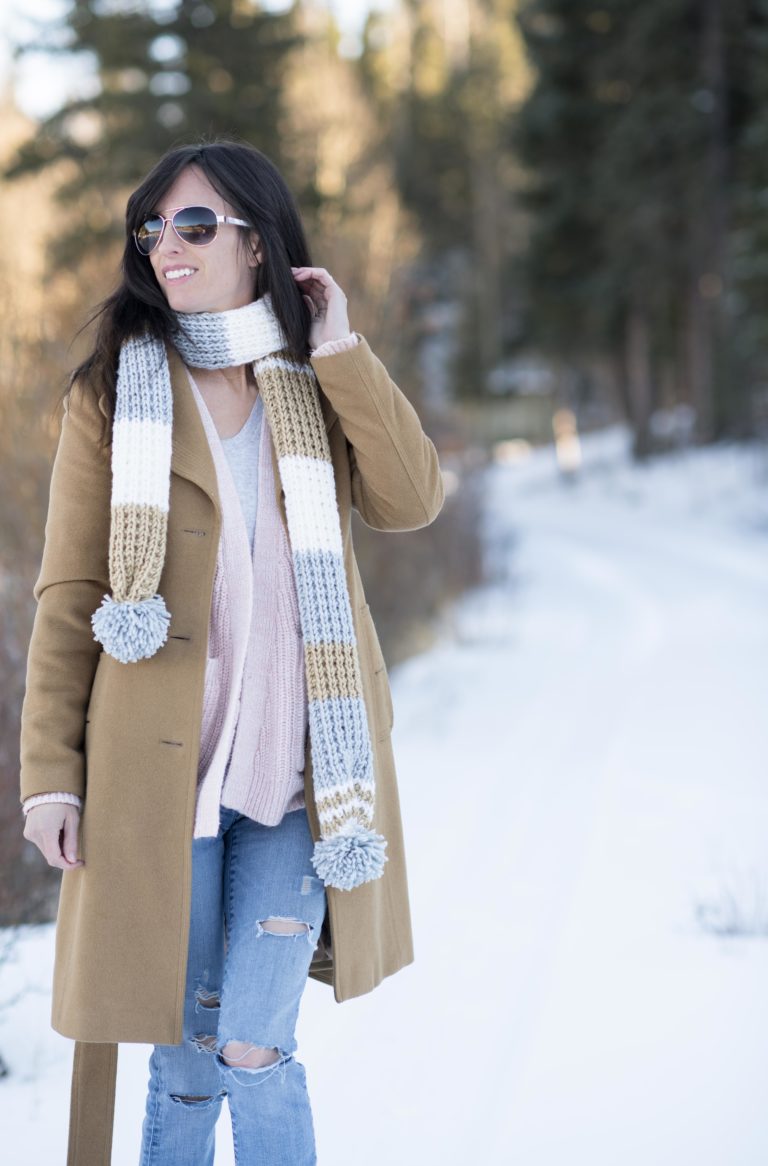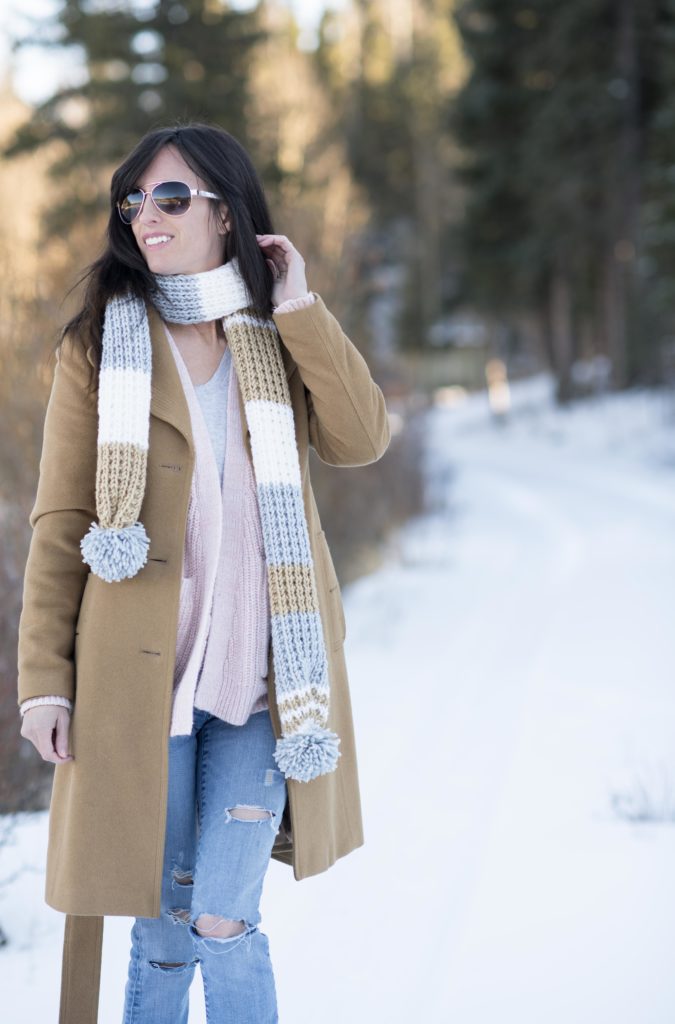 With the chill that has taken over the US lately, this scarf can definitely be put to use. It was a balmy 4 degrees yesterday morning here. Brrrr!
If you like a scarf that is squishy, long and cozy, this could be for you! The poms add a bit of fun to the ends and you can modify the stripes however you'd like. The color possibilities are endless – think school spirit colors, holiday specific colors, and more. It would also work to make it in your favorite sports team colors. I'm sure my husband would like me to make one in blue and orange for the Denver Broncos.
Below: I was soooooo cold in these photos. My toes were basically numb and frozen, but my neck was warm!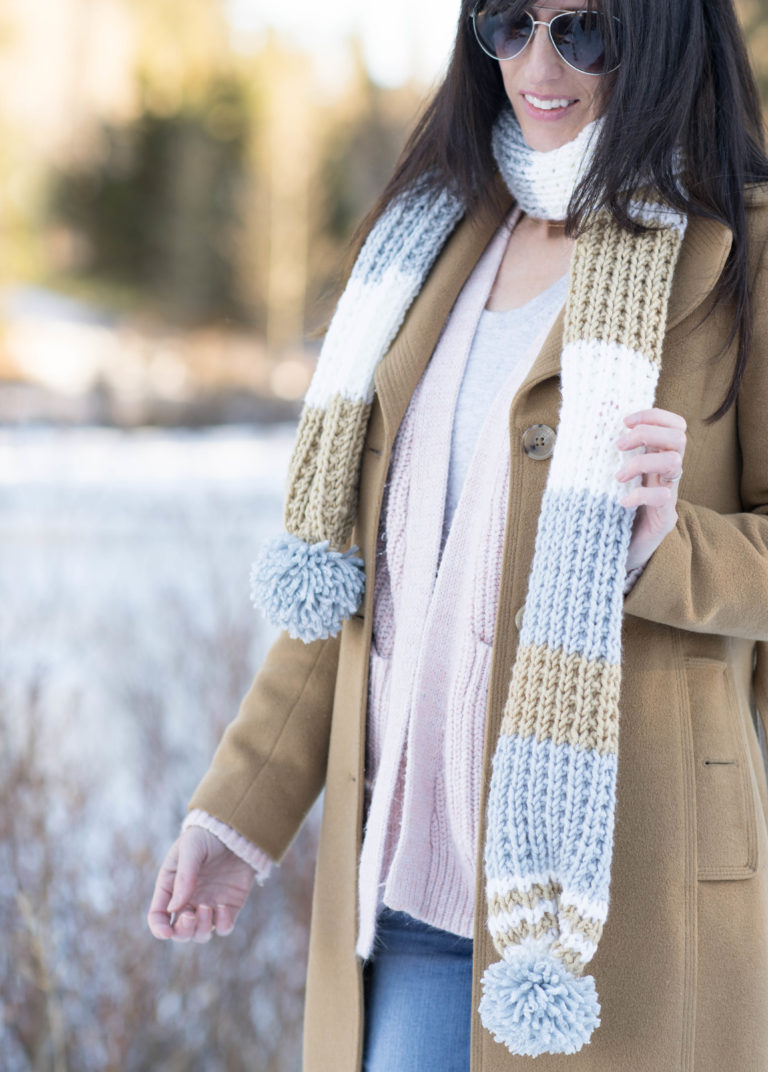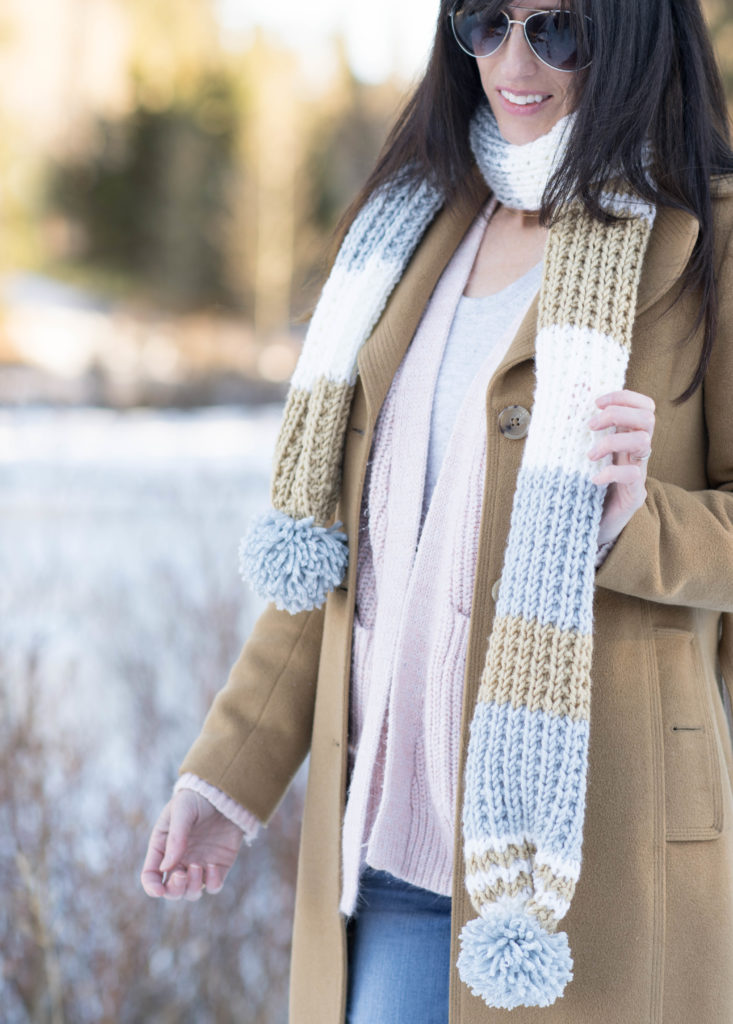 What colors would you use for this striped scarf? It's amazing the different looks you can achieve depending on your color choices. Below, you can see how this pattern turns out with these other color options.
Below: These colors are bold, yet still a bit natural. For those of you that like the outdoorsy, gypsy, boho colors, this could be a nice combo! (The color options below as well as the one that I am wearing are all available with the kit that is for sale on the Lion Brand website HERE)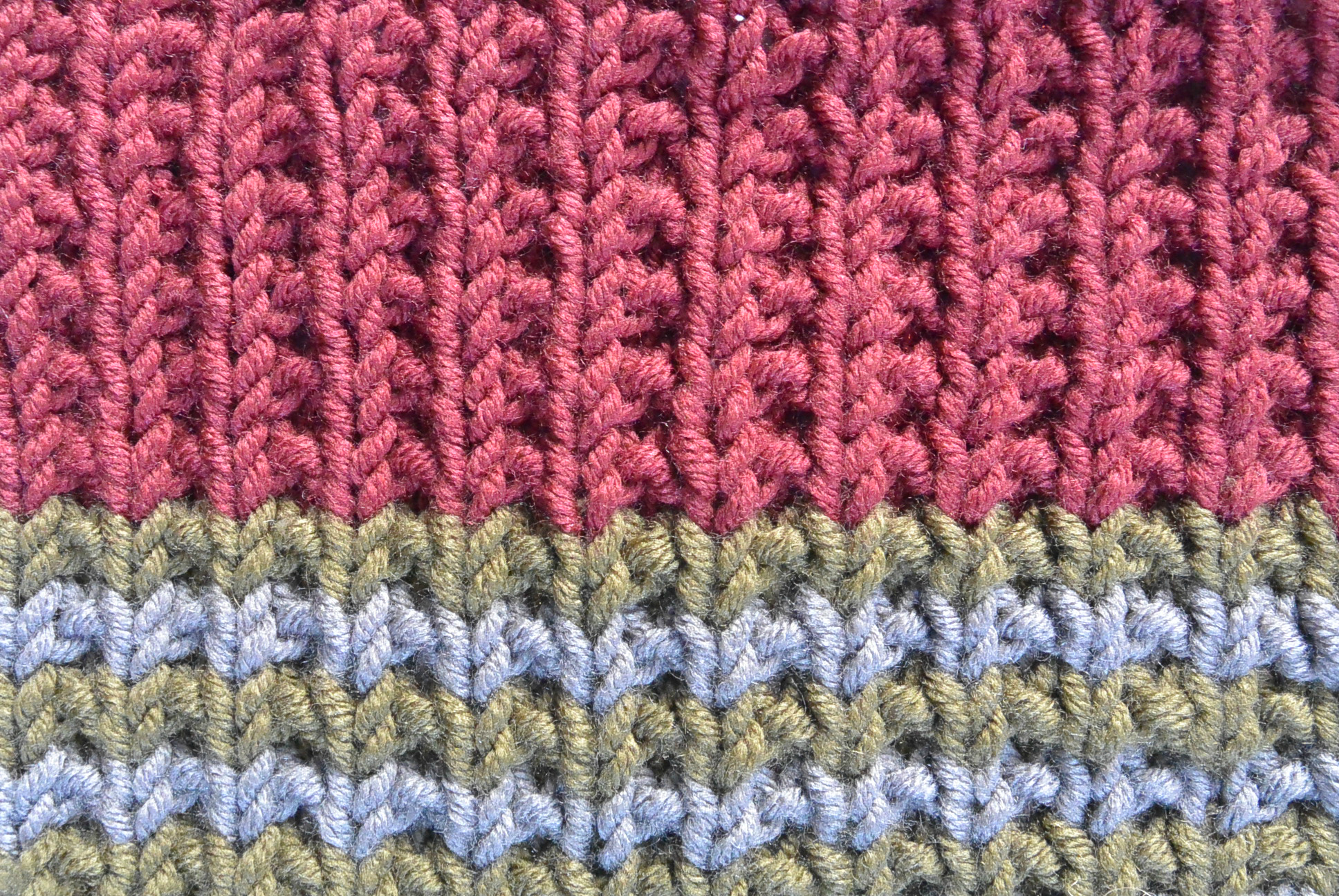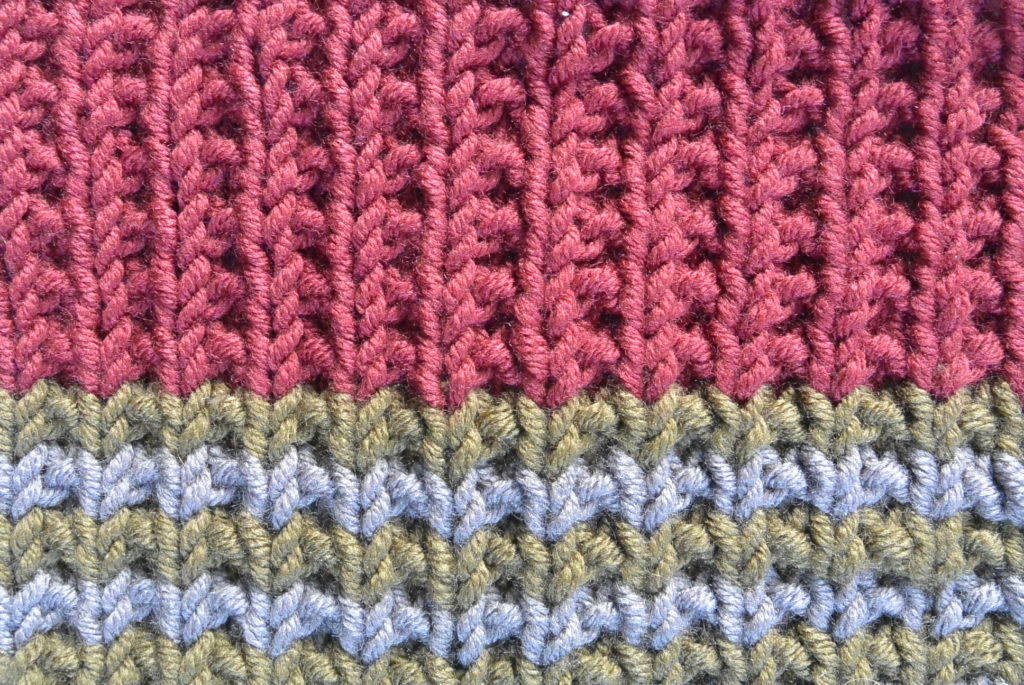 Below: I love this combo for a feminine look. The super popular millennial color contrasts nicely with the pomegranate and white.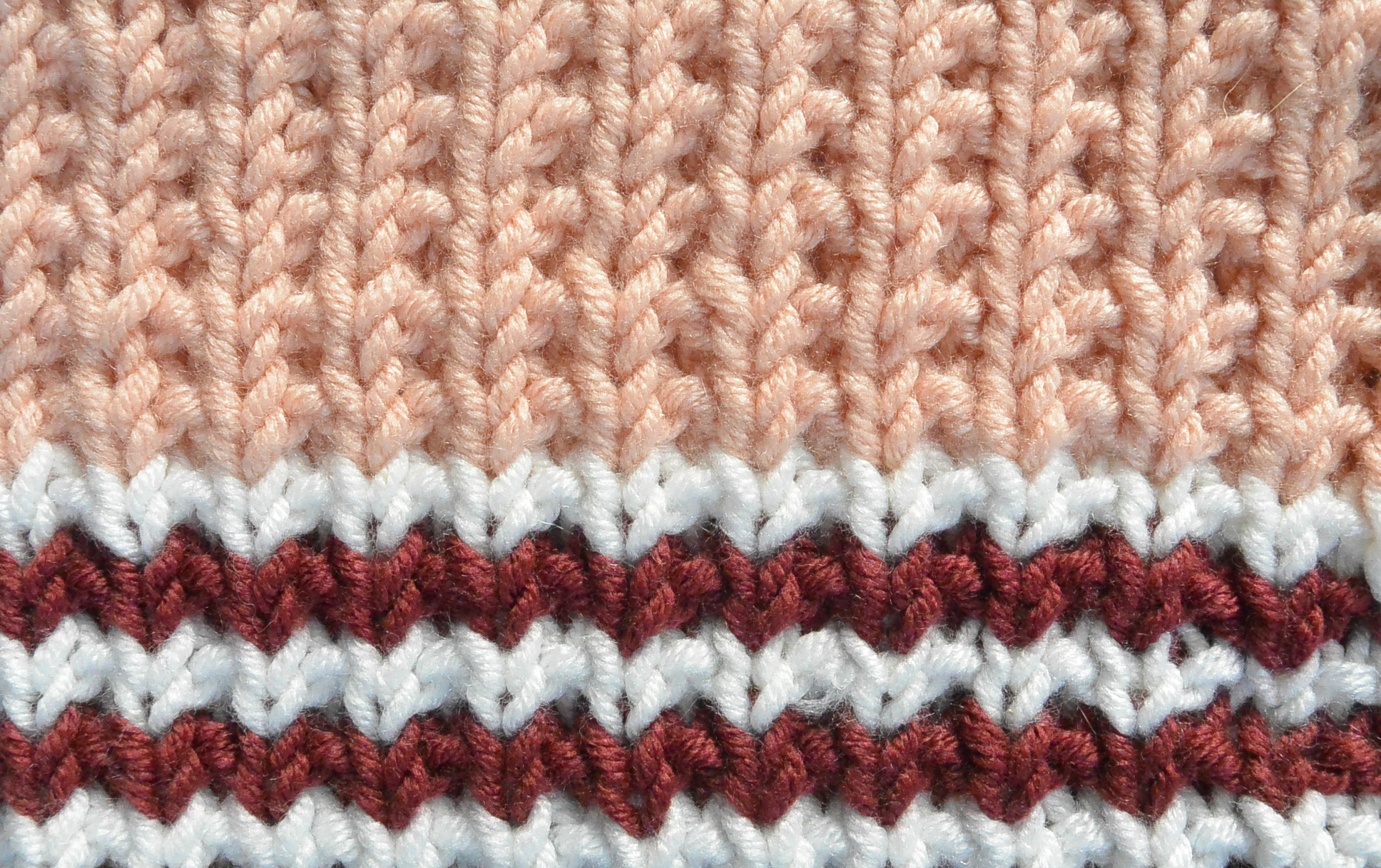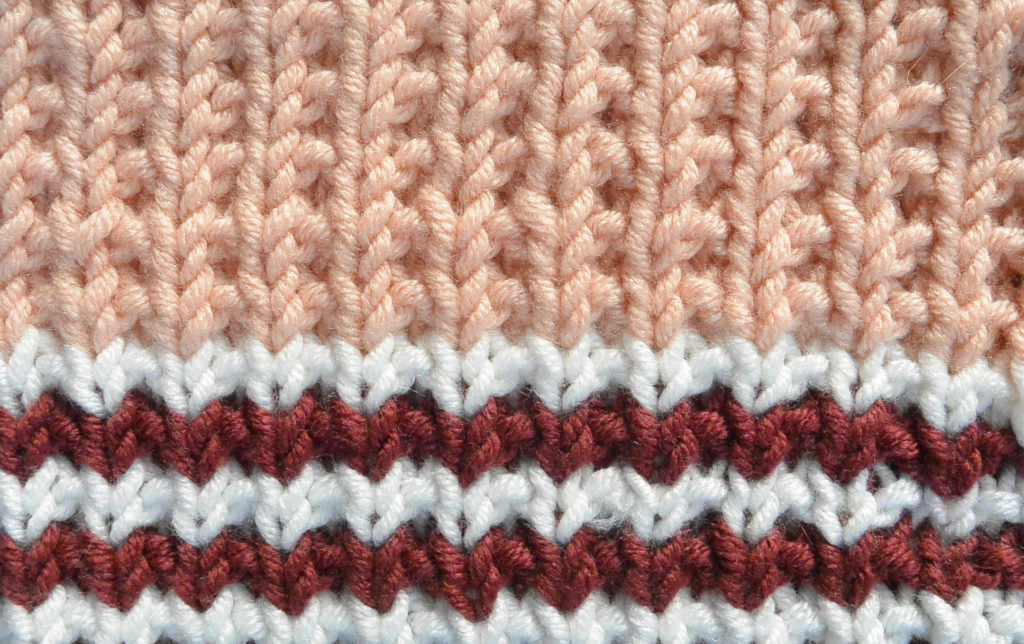 See – so many options! 🙂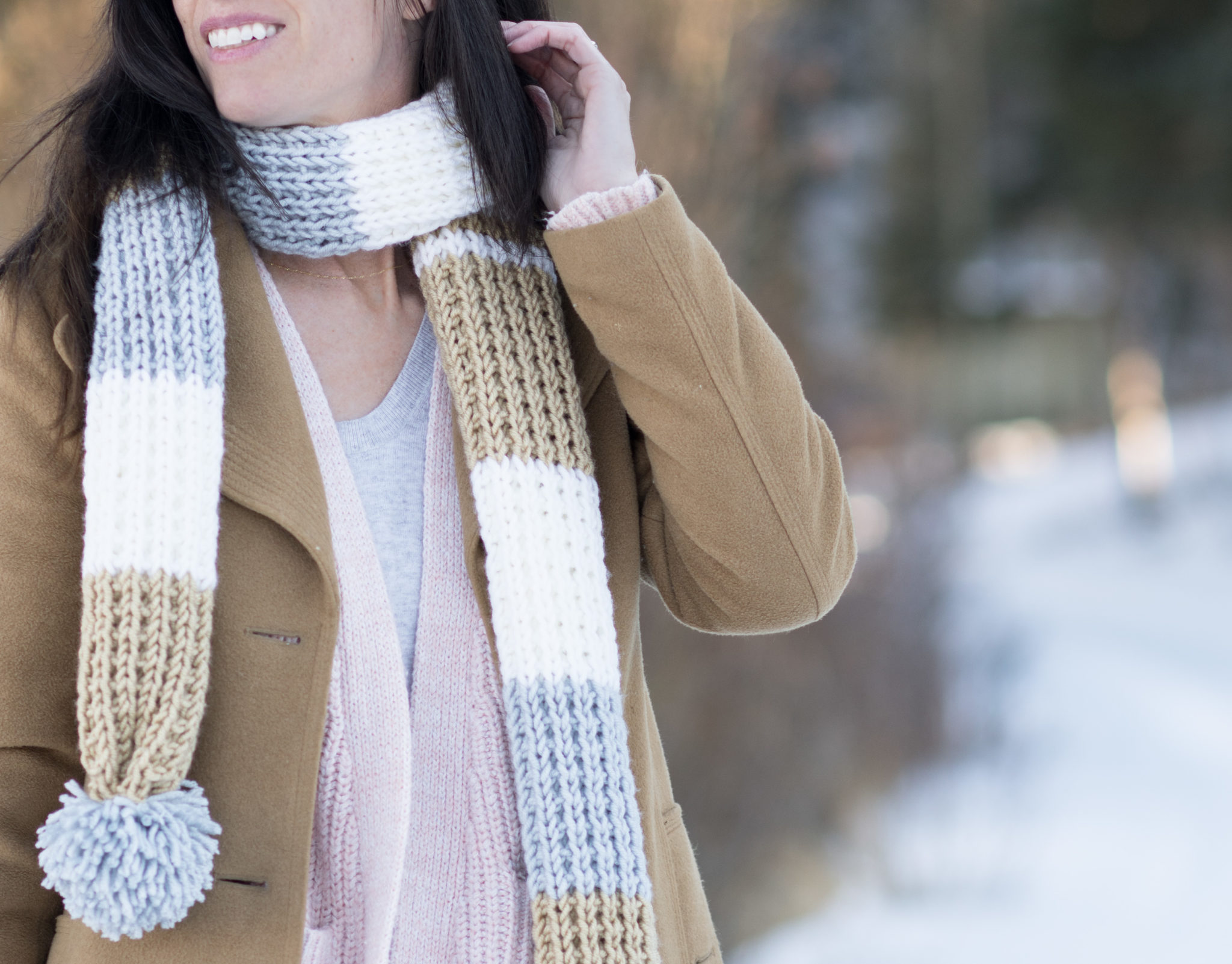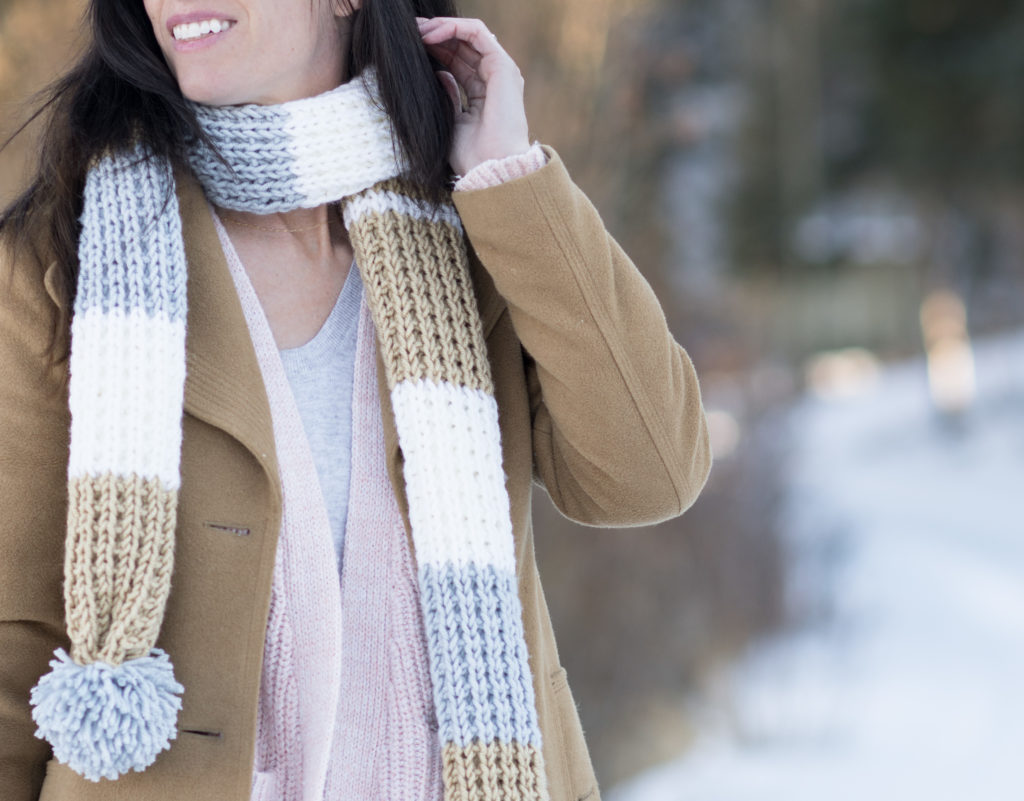 We thought it would be fun to hang out at the family cabin on this snowy day. It sure was pretty, but we didn't last long outside in the freezing temps.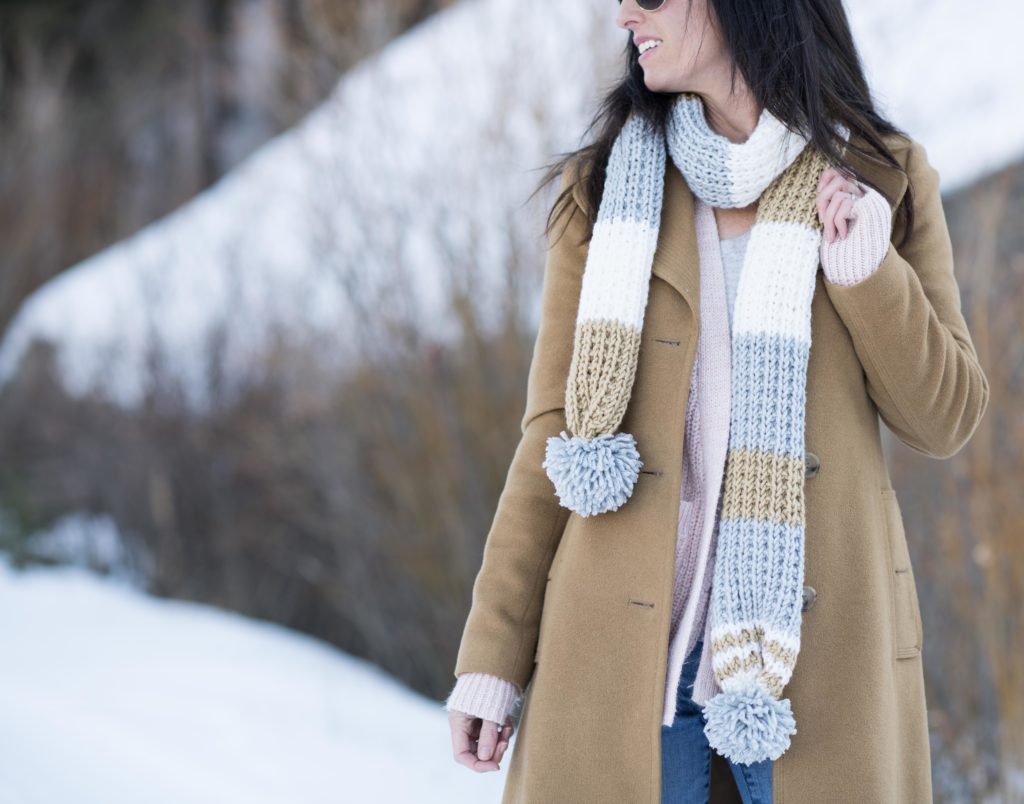 Are we ready for this pattern?!
Free pattern below or purchase the ad-free, printable version from Etsy HERE
Fairbanks Pommed Scarf Knitting Pattern
Pattern Description: This warm, chunky scarf is wonderfully soft and features playful stripes with trendy poms. While the stitch definition is stunning, it's made with simple, beginner knit stitches. This is a perfect project for new knitters and experienced knitters alike who are looking for a relaxing, on-trend pattern.
Skill Level: Beginner +
Materials:
US Size 11 8.0 mm knitting needles
1 Lion Brand Yarn Color Made Easy in Birch 200 g / skein Kit available from Lion Brand Yarn HERE
1 Lion Brand Yarn Color Made Easy in Wheat 200 g / skein
1 Lion Brand Yarn Color Made Easy in Shade 200 g / skein (Pattern uses approximately 300 g total)
Scissors
Tapestry Needle
Dimensions (approximate)
8.5" X 67.5" *The scarf curls slightly so it appears thinner
Abbreviations & Skills:
CO – cast on
k – knit
p – purl
Gauge:
Not important for this pattern
Notes: This scarf is made with a simple stitch pattern using knit and purl stitches. You should be familiar with how to change colors as color changes are made to create stripes. The scarf will curl inward due to the nature of the stitch. If you're experienced and would like to modify the pattern so it doesn't curl as much as shown, you may make a garter stitch border by knitting a few stitches (an even number) at the beginning and end of each row and working the remainder of the stitches as indicated in the pattern.
Pattern Instructions
With Birch, CO 27 stitches
Row 1 Knit across the row (27 stitches in this row and in each row throughout the pattern)
Row 2 *P1, k1; repeat from * across, ending with a purl stitch
For the remainder of the pattern, repeat rows 1 & 2 using the color indicated for each row.
Row 3-4 Wheat
Row 5-6 Birch
Row 7-8 Wheat
Row 9-10 Birch
Row 11-26 Shade
Row 27-36 Wheat
Row 37-52 Shade
Row 53-68 Birch
Row 69-84 Wheat
Repeat rows 1 – 84 two more times, using Birch for rows 1 & 2.
Cast off and weave in ends.
Poms (optional):
Use a pom maker or your preferred method to create two large pom-poms ( There are many online tutorials on how to make a pom, including one on the Mama In A Stitch blog at https://www.mamainastitch.com/how-to-make-an-easy-pom-pom-from-yarn/ ). Take the lengths of yarn that will be used to attach the pom, and weave through several stitches on the end of the scarf with your tapestry needle. Cinch the end of the scarf together and tie a knot tightly to securely attach the pom. Repeat this for the opposite end of the scarf.


Scarves have long been a beginner knitter's go-to project as there's no shaping and you can practice your stitches with ease. I hope that you find this to be a nice, relaxing project, whether you're just starting to knit or you've been at it for a while.
XO
Jessica
If you liked this, you might also like:
Monaco Kimono Knitting Pattern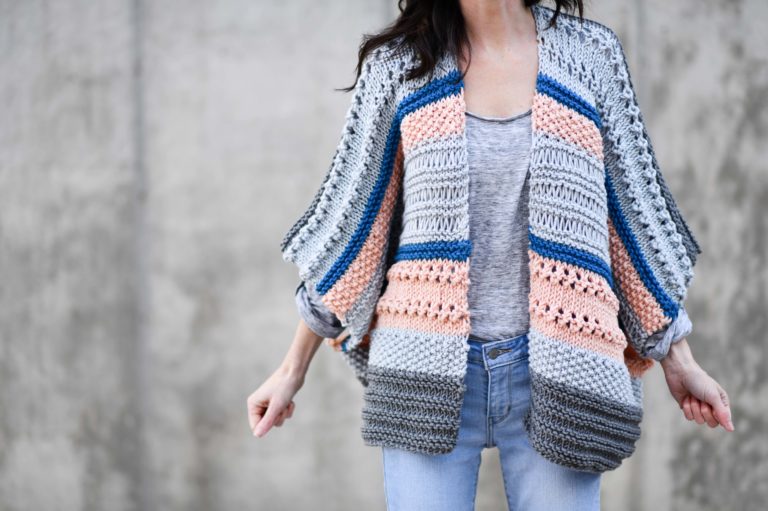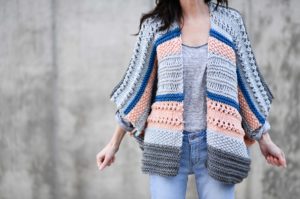 Color Block Infinity Scarf Pattern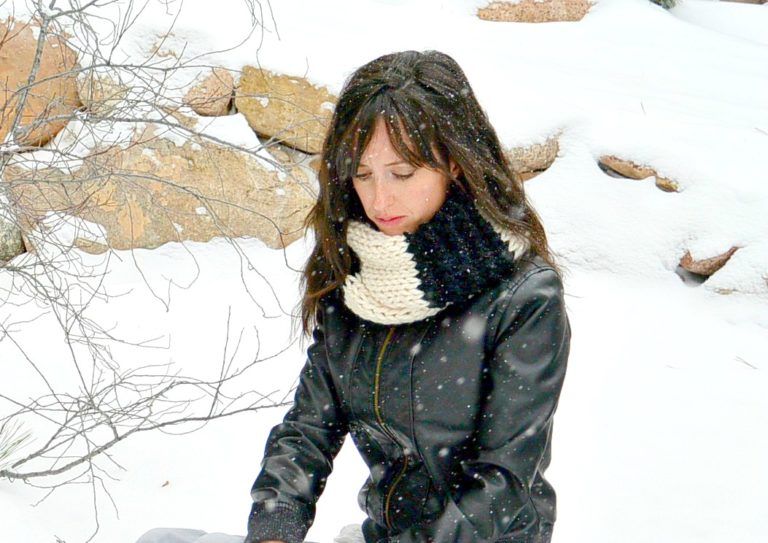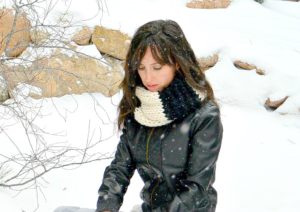 Thank you to Lion Brand Yarn for sponsoring this post. All opinions are 100% my own.