Scandinavian Scarf Free Knitting Pattern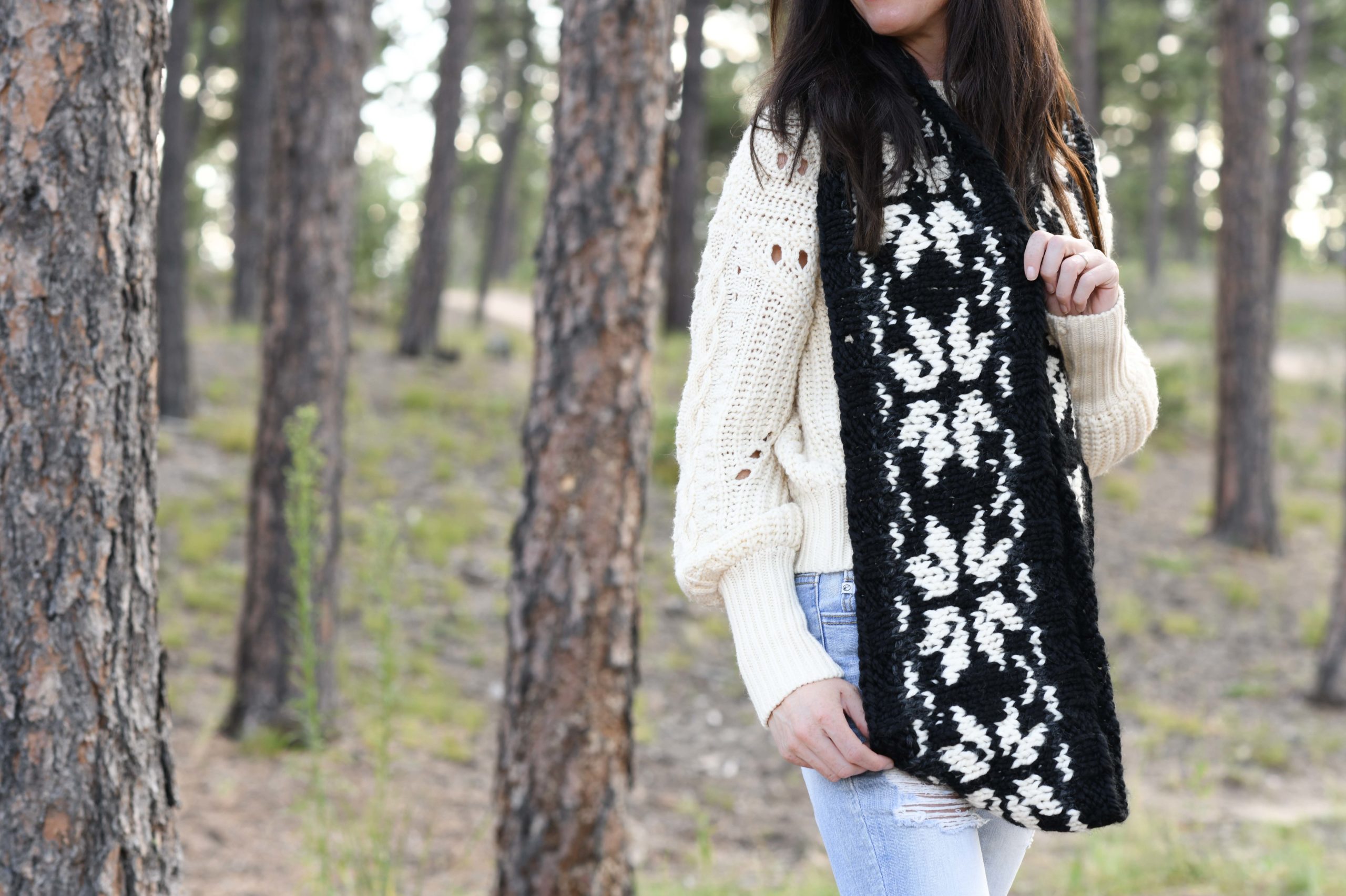 Scroll down for the free pattern below, or you may choose to purchase the printable, ad-free version from Etsy HERE or the kit (hat and scarf) from Lion Brand Yarn HERE.
You know what's really fun and not difficult? Knitting colorwork! You may remember my Fair Isle Cowl Pattern from a few years ago, but I haven't done much with color techniques since then. When I had the incredible opportunity to design something for the "Lion Brand Yarn 12 Weeks of Christmas", I thought that a nice winter inspired fair isle pattern would be a good fit. After making this particular scarf, I can't wait to do more with stranded knitting! While it may seem difficult to the untrained eye, it is quite simple ESPECIALLY when you are knitting in the round. This Scandinavian Scarf is a great option if you've wanted to try these techniques but have been too intimidated with big projects. And how cool is this piece for winter?!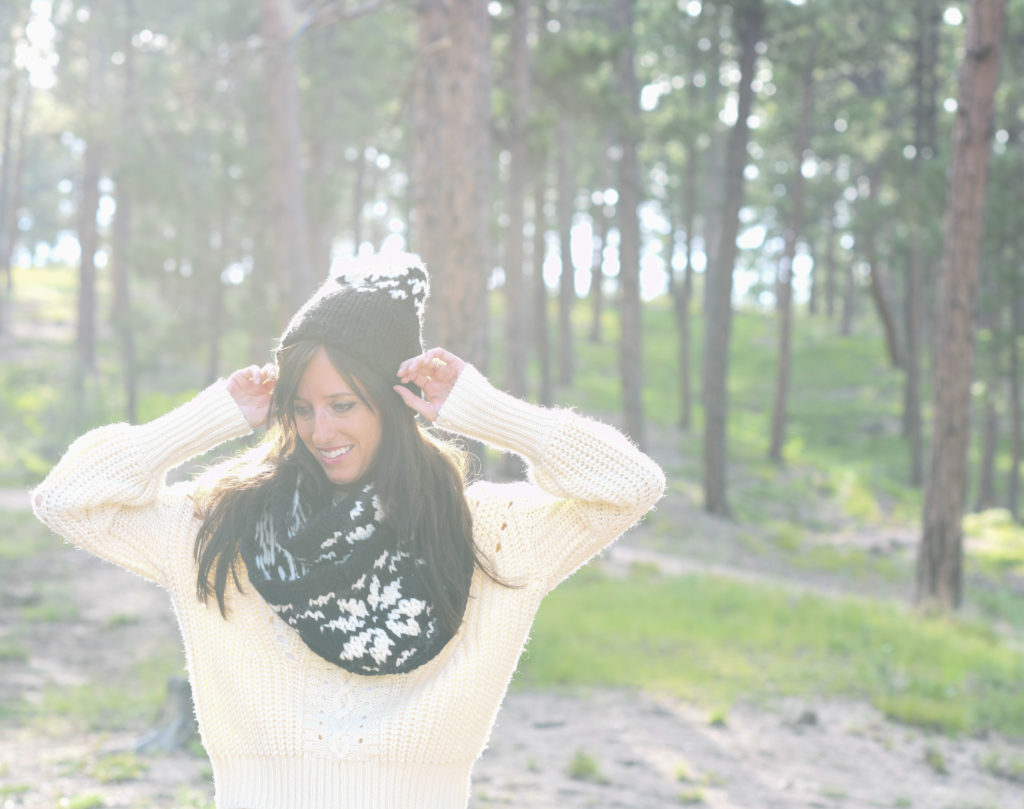 The design of this infinity scarf is inspired by cozy, Nordic knits and features modern and bold snowflakes and "flurry" accents. It's warm, warm, warm and you can even line it with fleece to make it extra cozy and professional looking.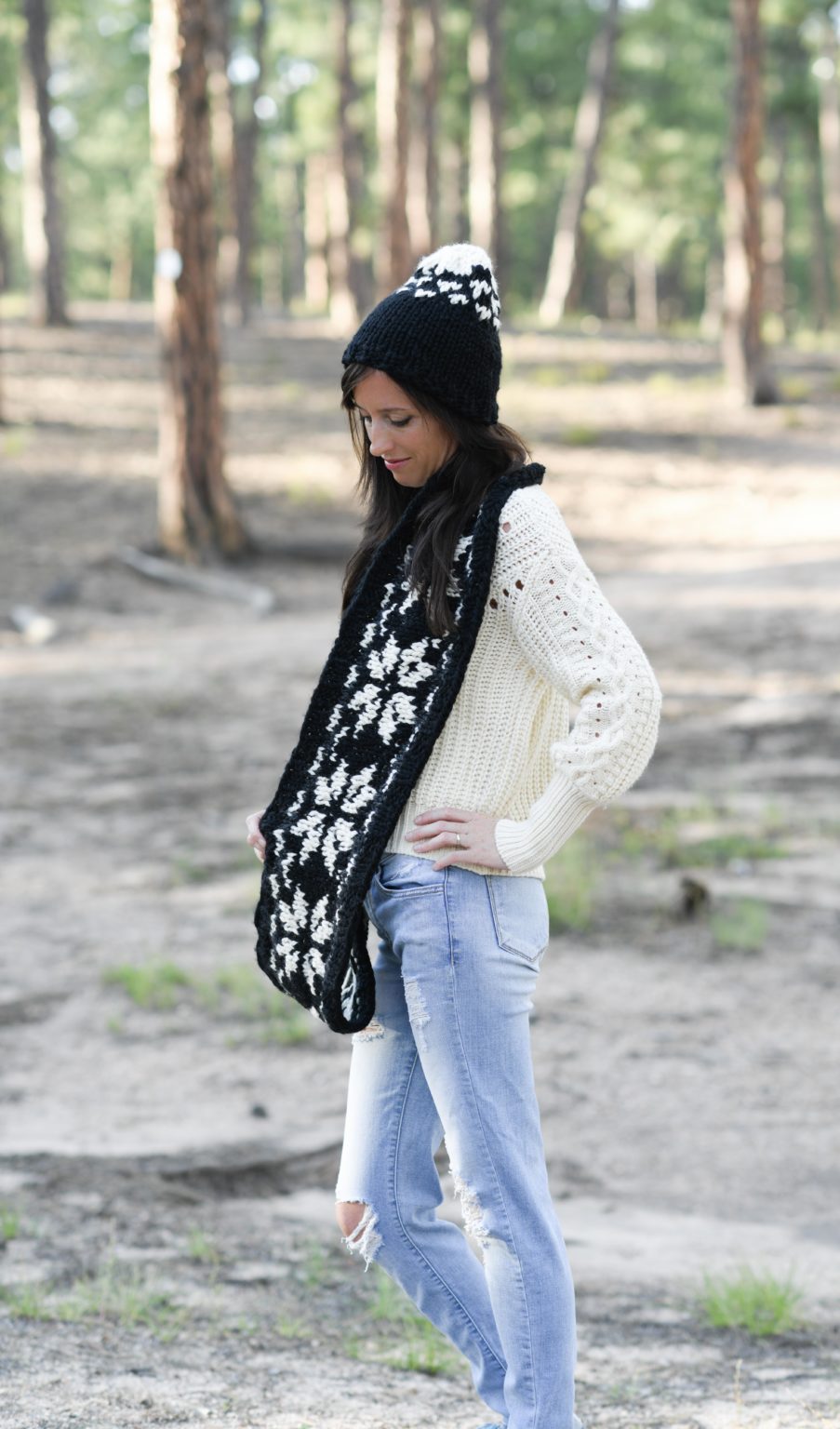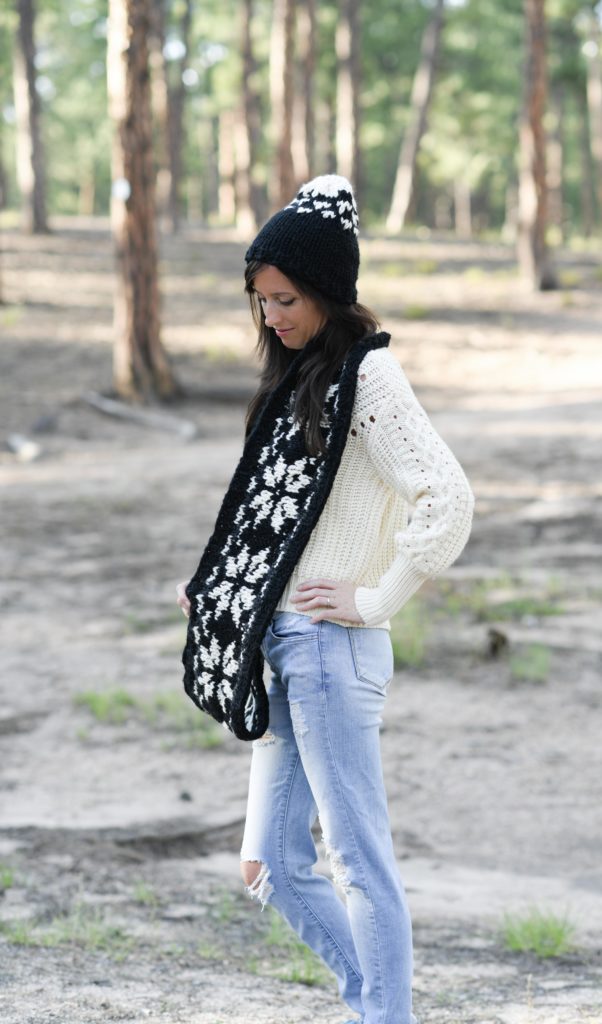 I love this scarf for the winter season and for the holidays! The hat is a perfect match and I'll be sharing that pattern in an upcoming blog post as well. In fact, the hat is even EASIER than the scarf. So hold tight for the hat pattern if you're a brand new, baby beginner! (Note that the Lion Brand Kit includes both the hat and the scarf HERE)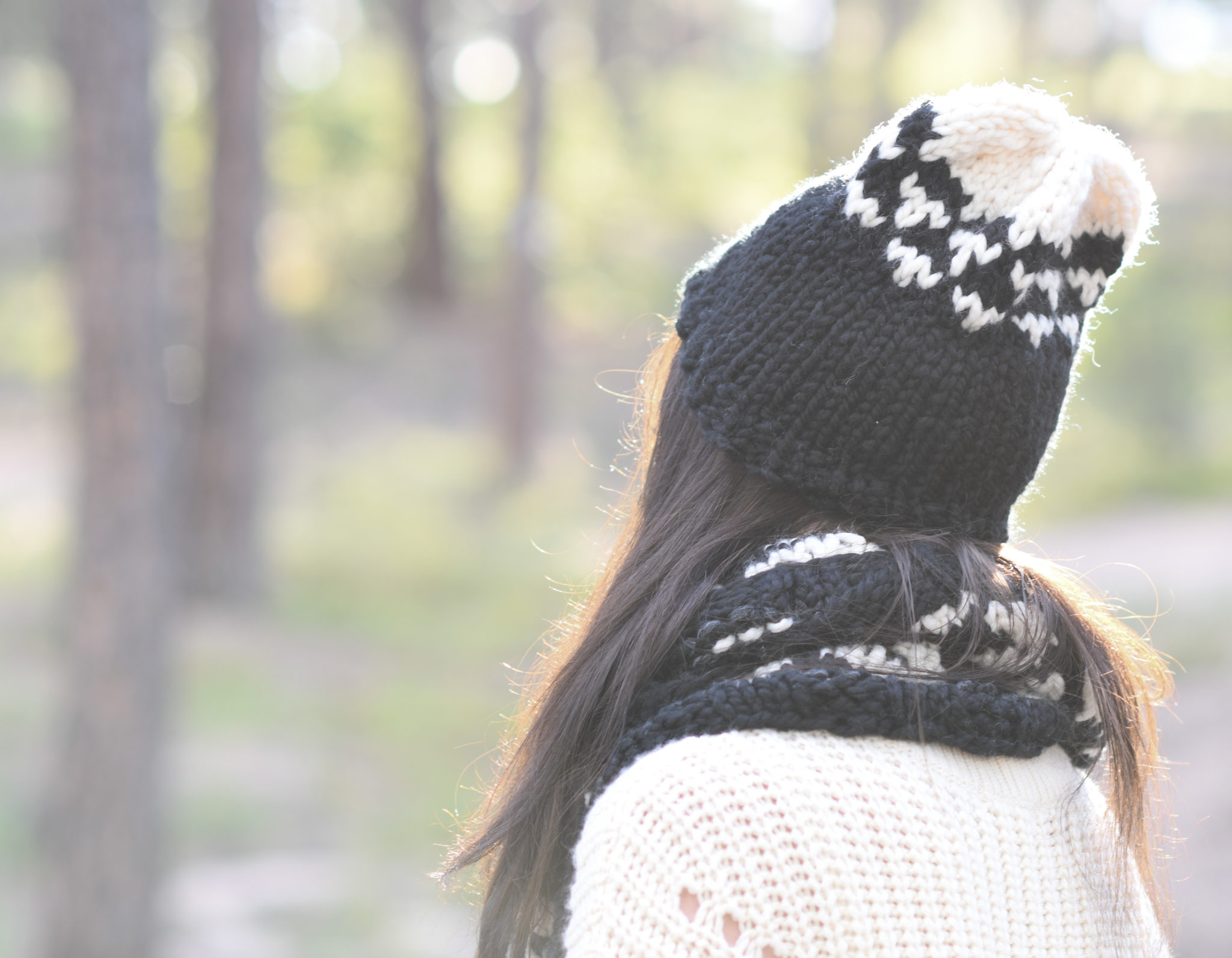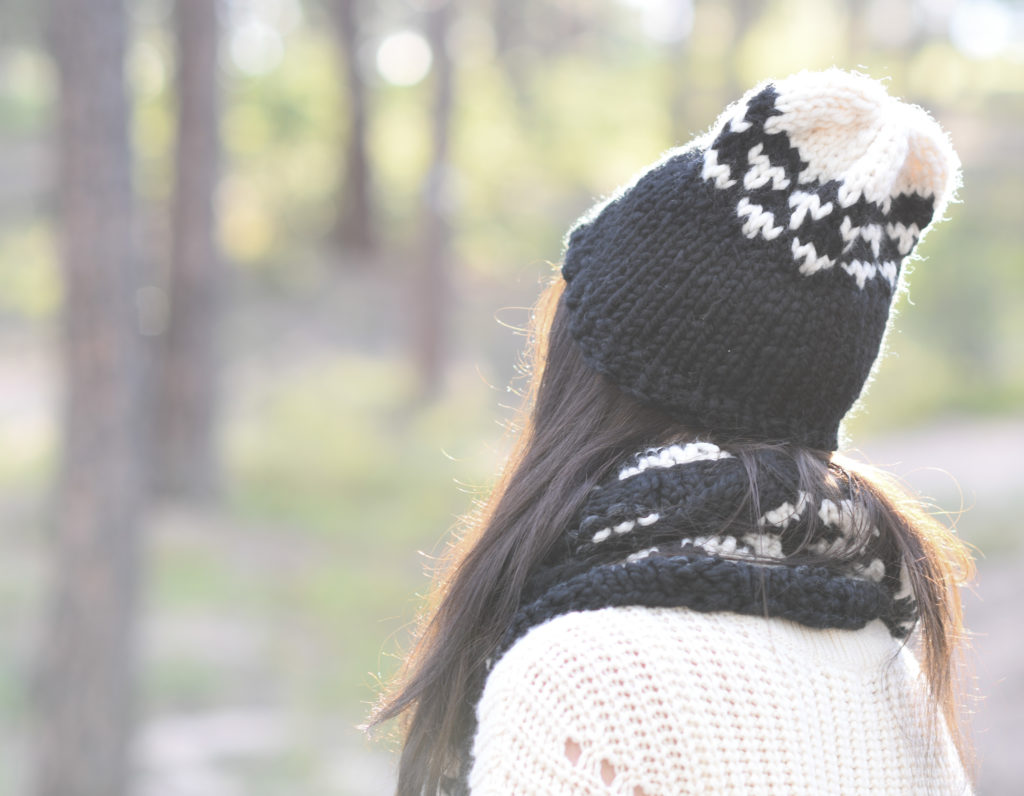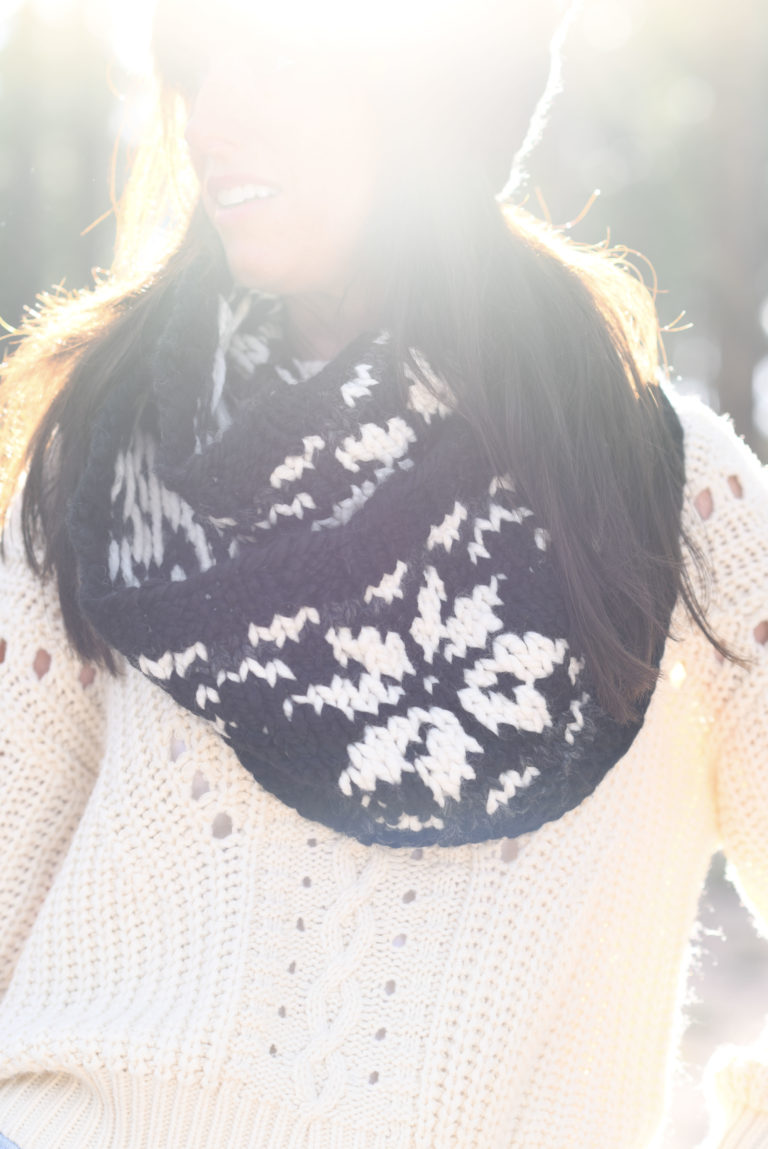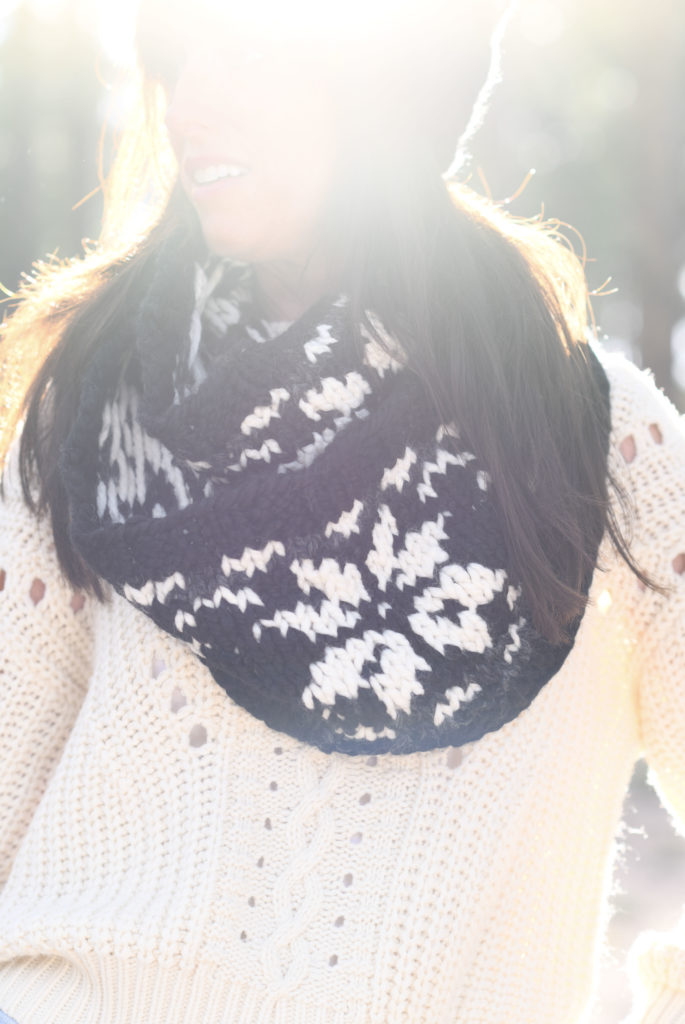 Below, you can see how the scarf looks while it's on the needles!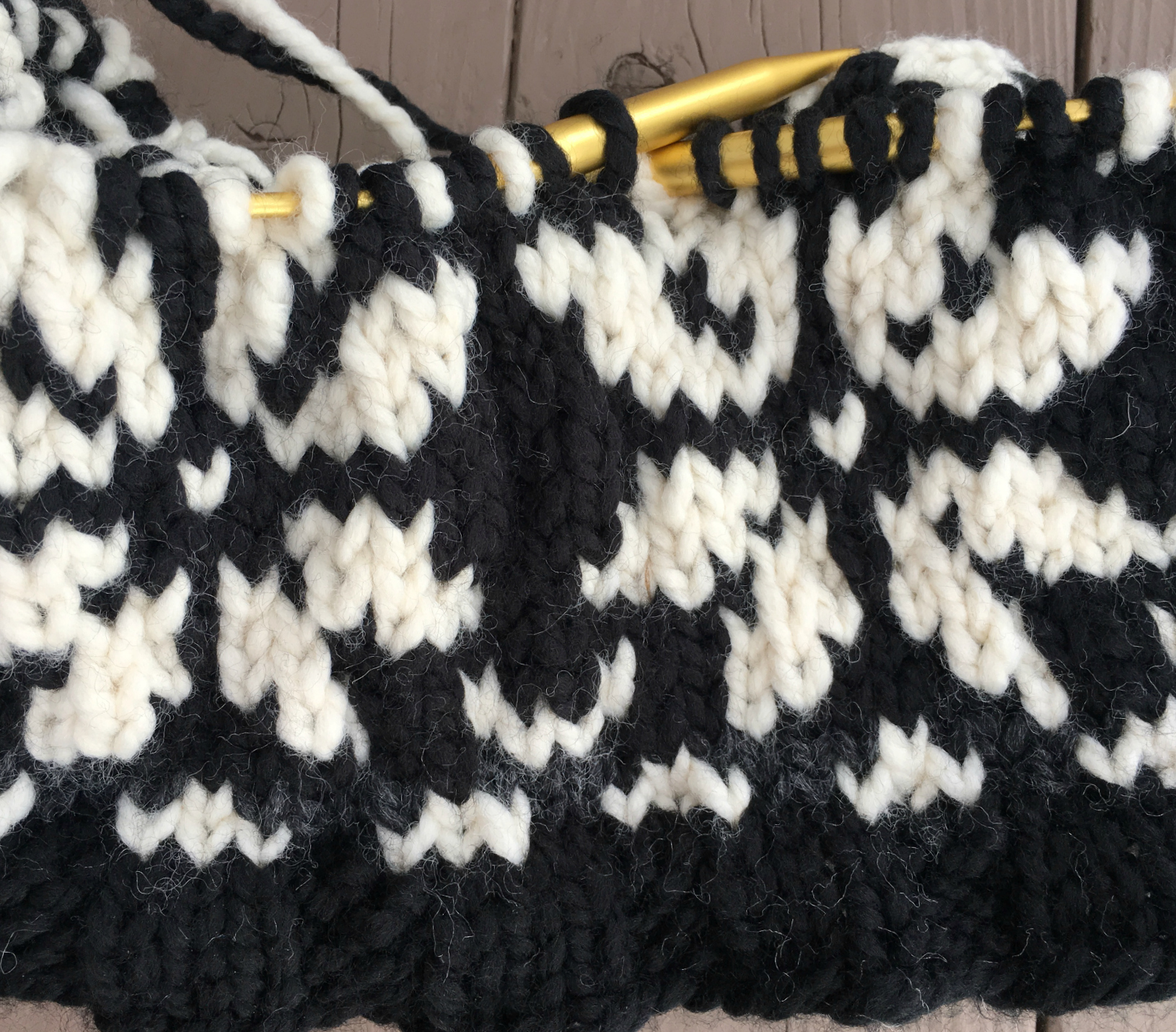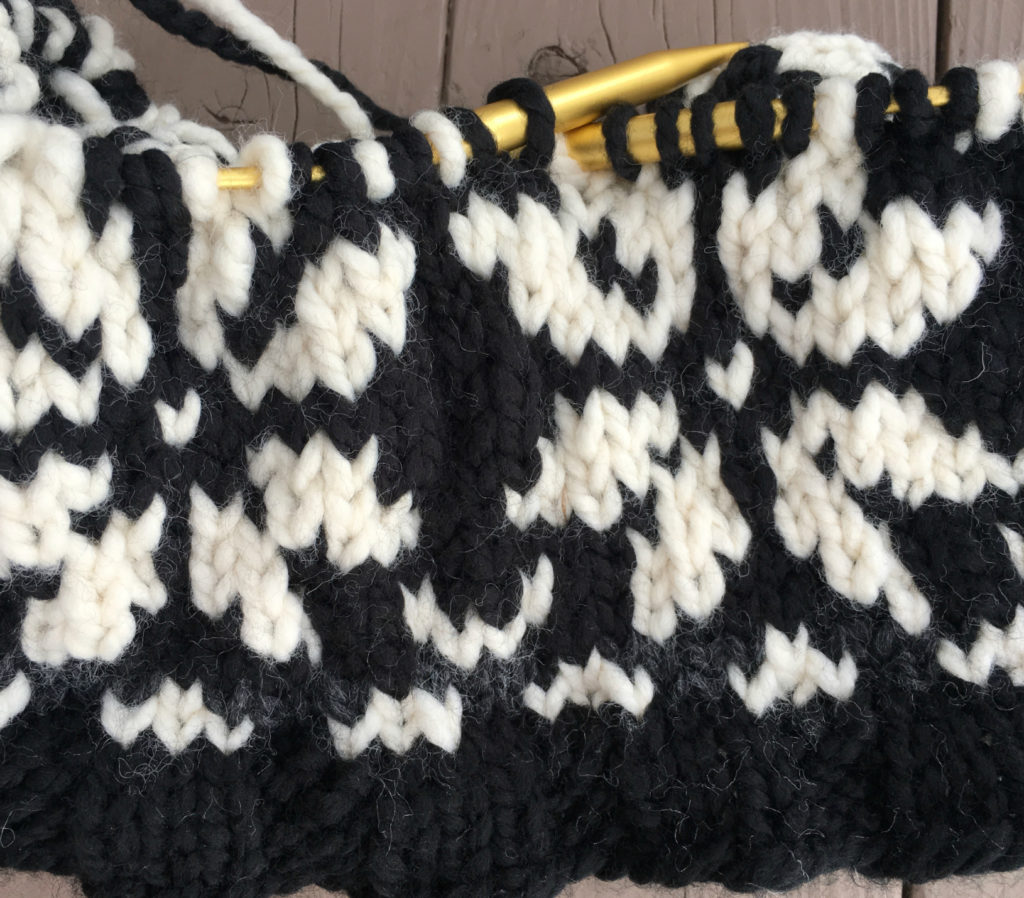 To make this, you'll start off by casting on and joining to knit in the round. From there, you will work a simple rib stitch and then get into the colorwork pattern. It's really simple to follow the chart as you knit each round. Work the pattern from right to left and repeat around. If you've never knit in the round or done basic colorwork, definitely head over to YouTube and search out some tutorials. After you've watched a few, come back here to whip out this scarf!
There are a couple of other techniques you'll want to learn with this piece as well, including how to do the joggless join, how to trap or catch your floats, and also how to steam block. These are all simple techniques that you can have in your toolbox for any future colorwork projects!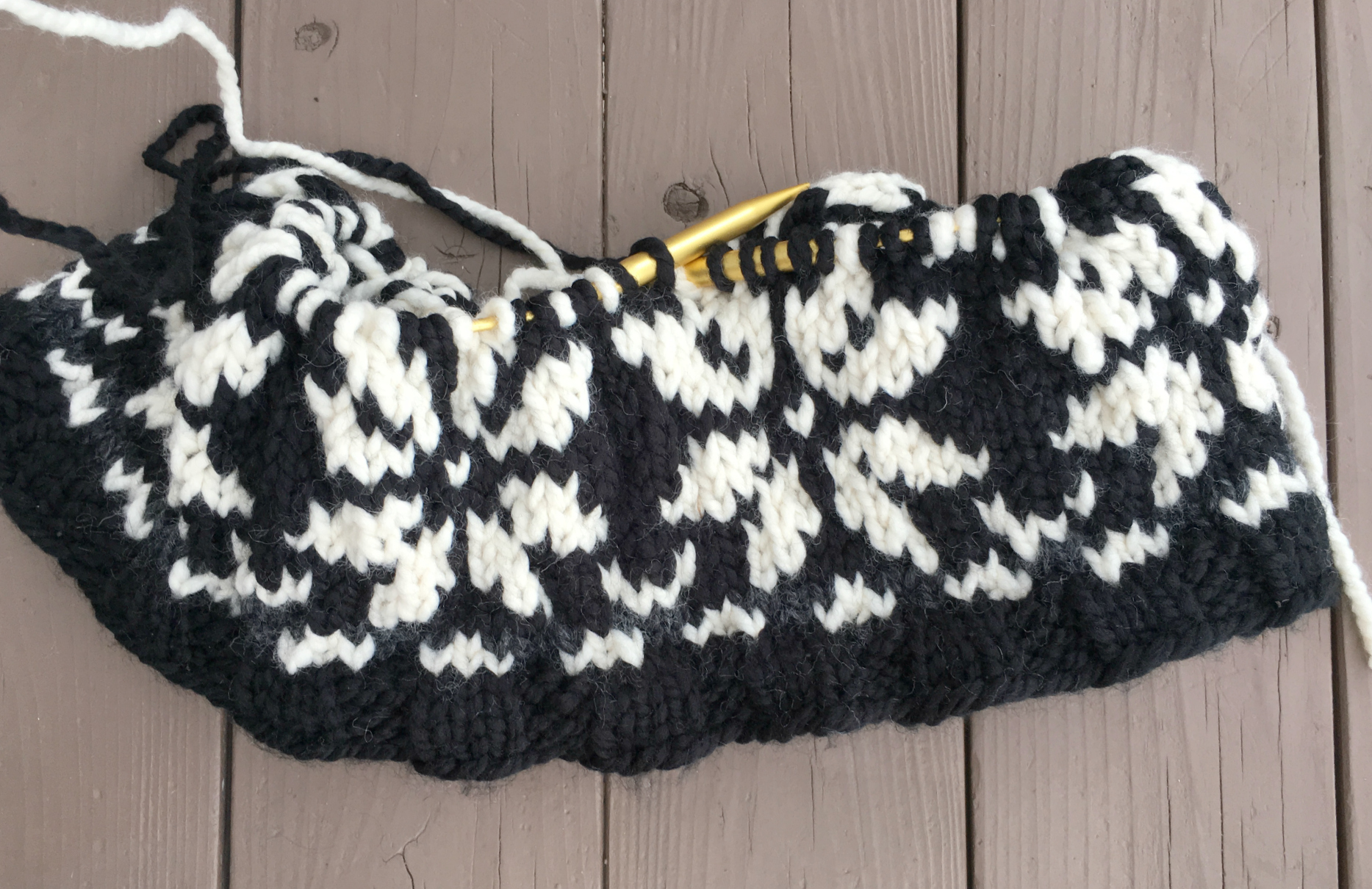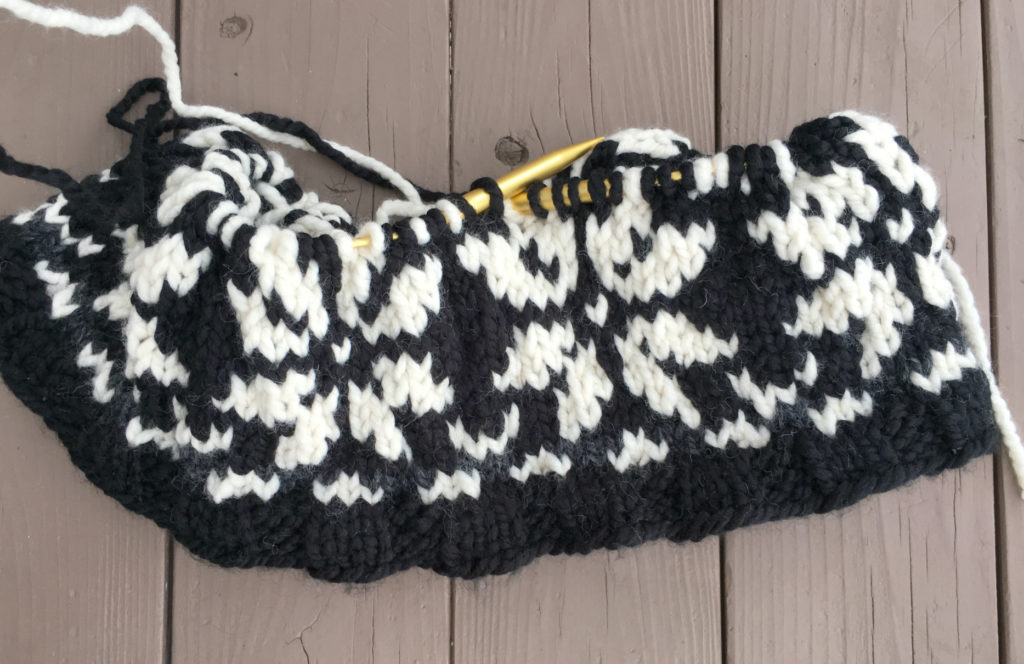 Pattern Description: This cozy Nordic inspired infinity scarf features bold colorwork designs and an ultra-warm fabric. The classic Fair Isle stitching and snowflake patterns are perfect for wearing during the cold winter months. A wonderful project if you'd like to try knitting colorwork for the first time!
Skill Level: Intermediate
Materials:
2 Lion Brand Yarn Wool Ease Thick & Quick in Black Find the kit for sale from Lion Brand HERE (Includes hat and scarf)
1 Lion Brand Yarn Wool Ease Thick & Quick in Fisherman
1 Lion Brand Yarn Wool Ease Thick & Quick in Charcoal
Pattern uses 350 g of yarn total
US Size 15, 10.0 mm 36" circular knitting needles
Scissors
Tapestry Needle
Gauge: Not important for this pattern
Size: One Size 64" circumference x 8" wide after blocking
Abbreviations/Skills:
k – knit
p – purl
You should be familiar with colorwork knitting and holding two colors at once.
Notes:
This scarf is knit in the round with stranded knitting techniques and blocked to finish. Consider catching or trapping the floats for a cleaner look on the reverse side every two to three stitches. For best results, you may choose to use the jogless join method with each round. Follow blocking instructions (required) to shape and finish.
Scandinavian Knit Scarf Free Pattern
With Black, cast on 150 stitches and join to knit in the round (mark rounds as needed)
Round 1 K3, p3 around (150 sts)
Rounds 2 – 4 repeat round 1 working a 3 x 3 rib
Rounds 5 – 22 Knit following the pattern on graph below. Work the pattern from right to left and repeat around until end of the round. Stitch pattern will repeat 5 times total around.
Rounds 23 – 26 with Black, K3, p3 around working a 3 x 3 rib.
Cast off and weave in ends. Scarf will curl due to the nature of the stockinette stitch. Blocking is necessary to shape and size (see more about blocking below)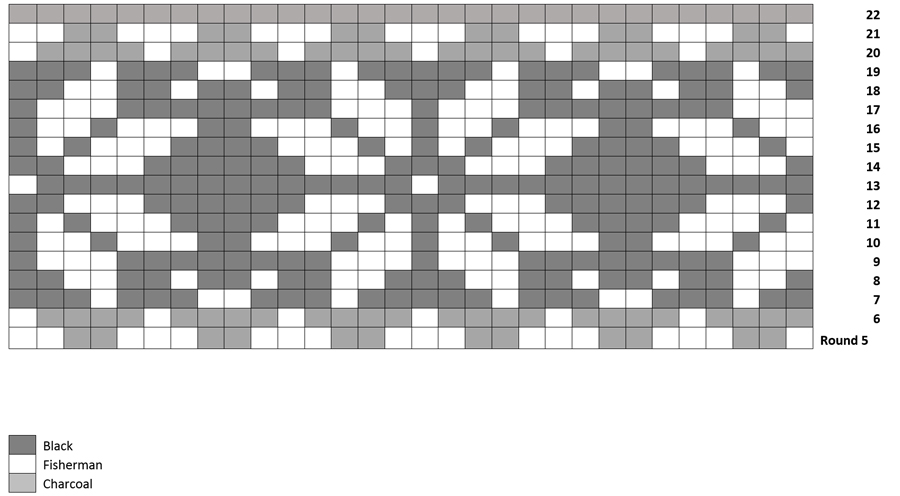 Finishing:
To finish, steam block the scarf or use preferred method. To steam block, place scarf flat on a colorfast, heat resistant surface such as an ironing board and secure in place. Using a steamer or steam iron, steam the entire area of the scarf. Let it dry in place. Repeat if necessary. Do NOT touch the fabric with the iron. Keep iron at least 1" – 2" away from the surface of the fabric while steaming.
Optional: To obtain an even cozier, professional looking scarf, you may choose to line it with microfleece. Cut fleece so that it is the same size as the scarf. Place on the inside and hand sew the fleece to the scarf with black thread and a needle. This will also help prevent the stockinette from curling.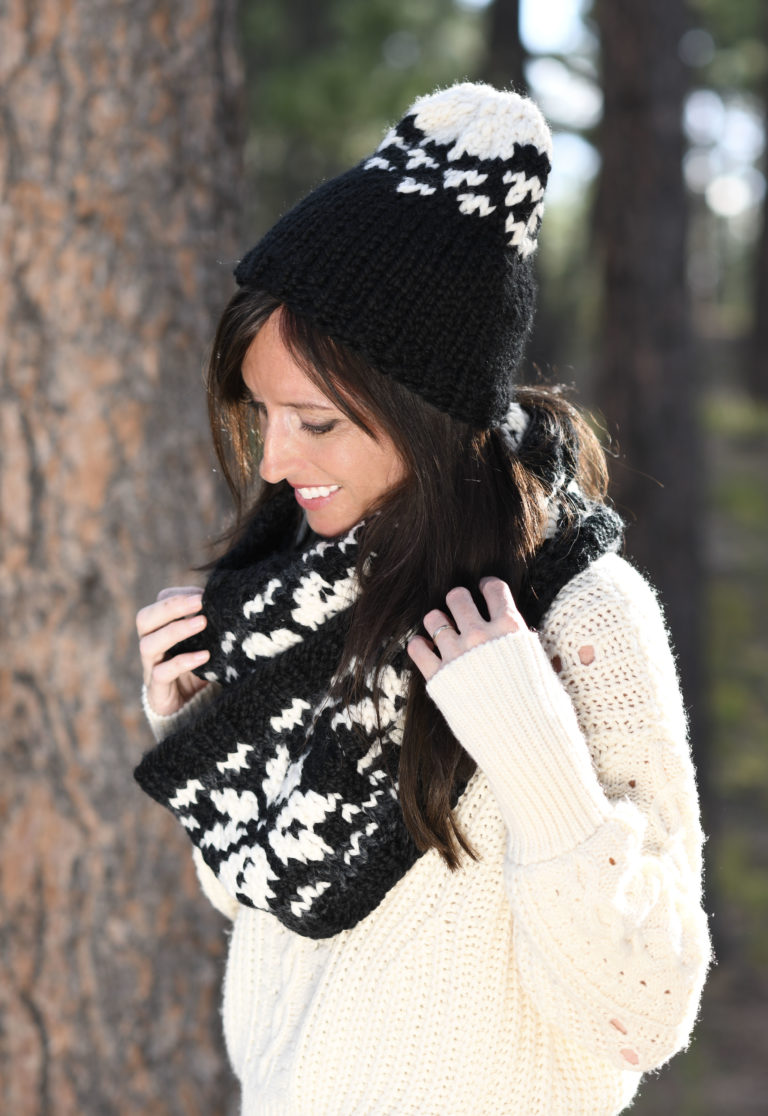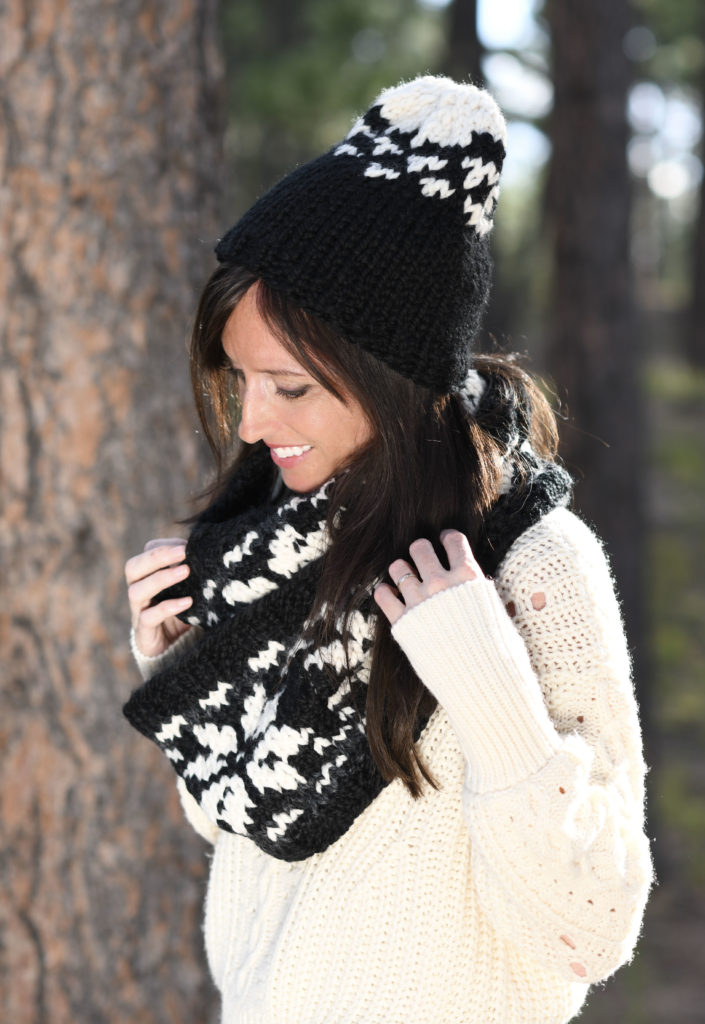 I hope you enjoy your Scandinavian Scarf and I'd love to hear if you make one!
XO,
Jessica
Mamas Maker Members get all of the patterns as ad-free, printable downloads! If you're a member or would like to be one, check it out HERE.
If you're not wanting to try colorwork, but you'd like to make a quick, cozy scarf, you might like these!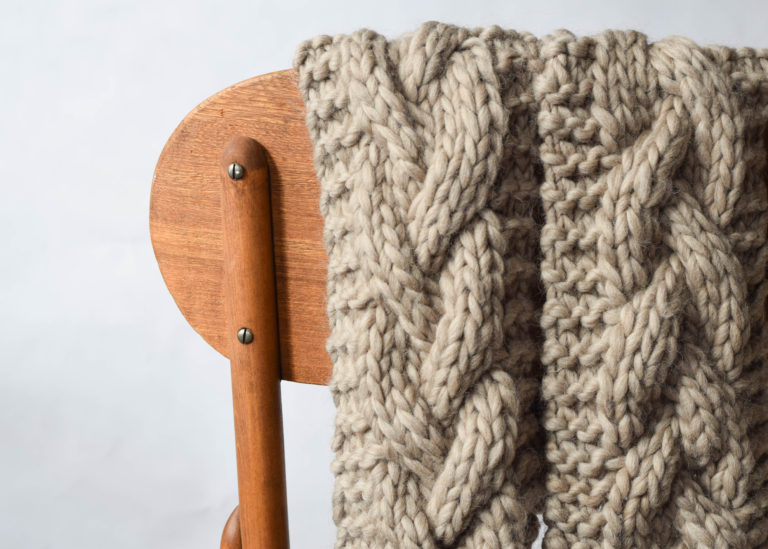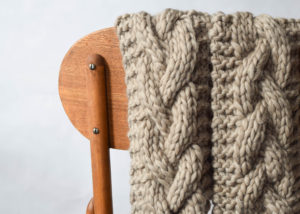 Winter Nights Easy Knit Scarf Pattern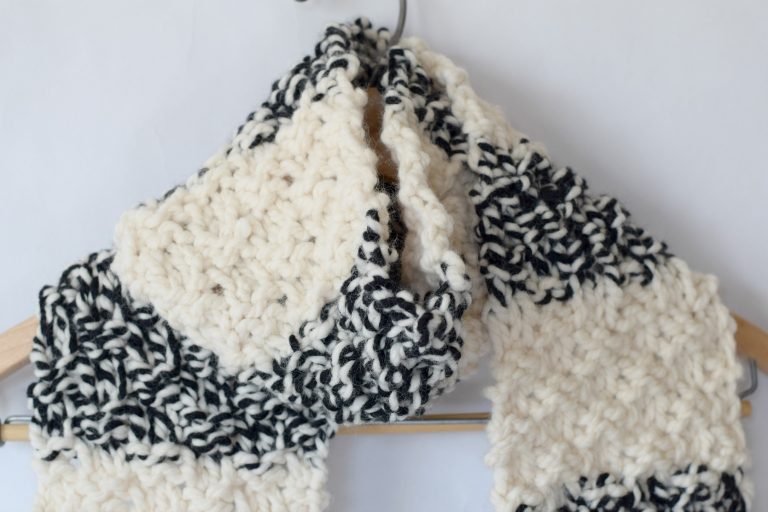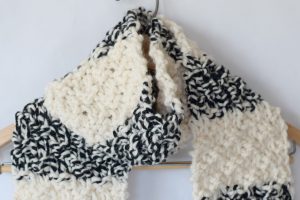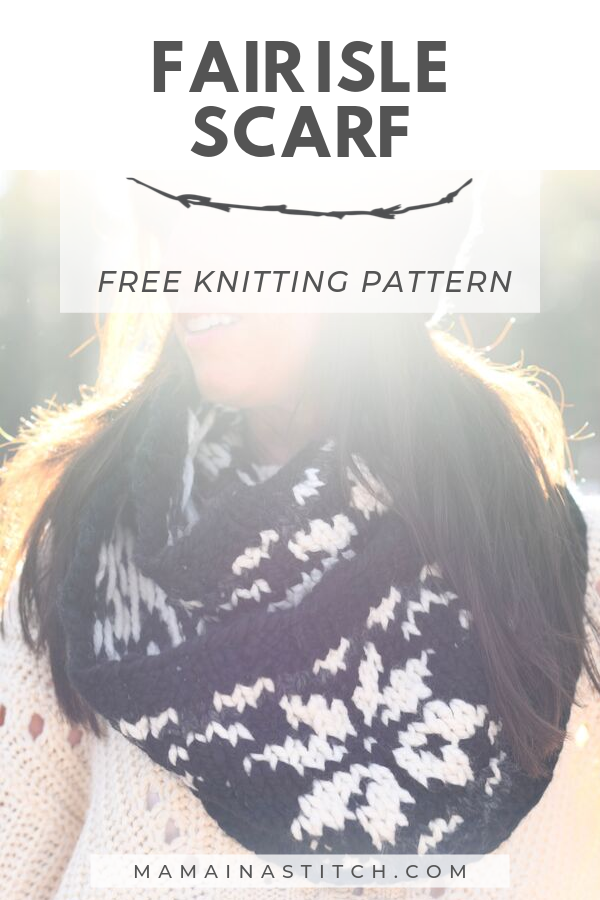 This post was sponsored by Lion Brand Yarn. All opinions are 100% my own. 🙂