Black and White Color Block Beginner Knit Infinity Scarf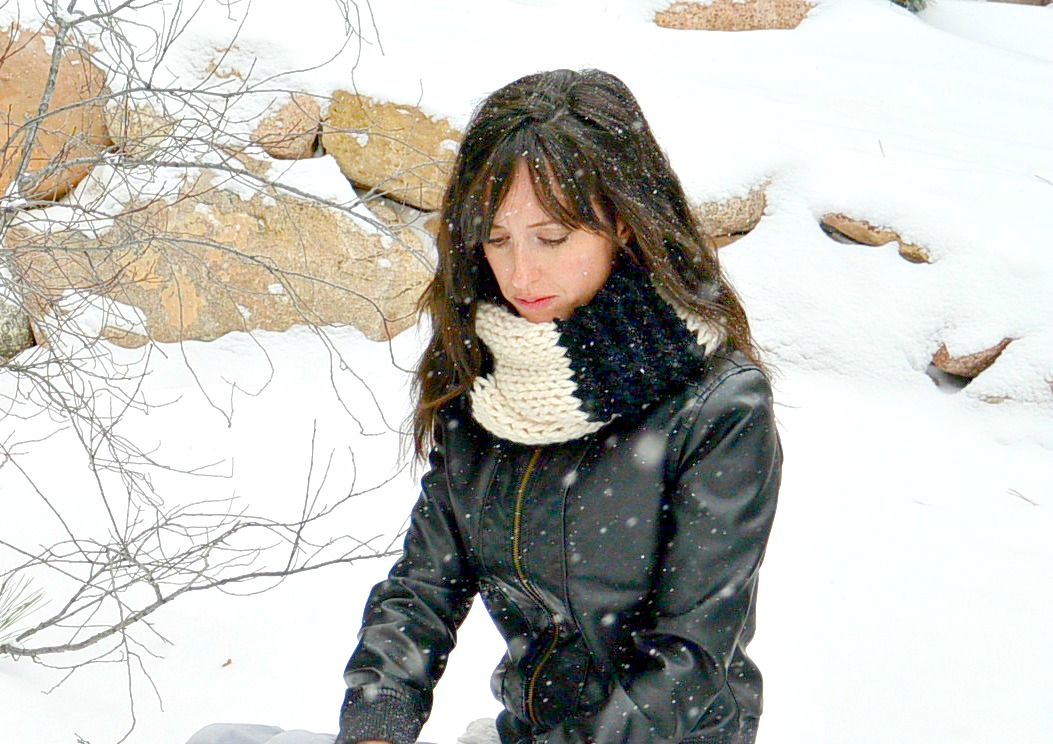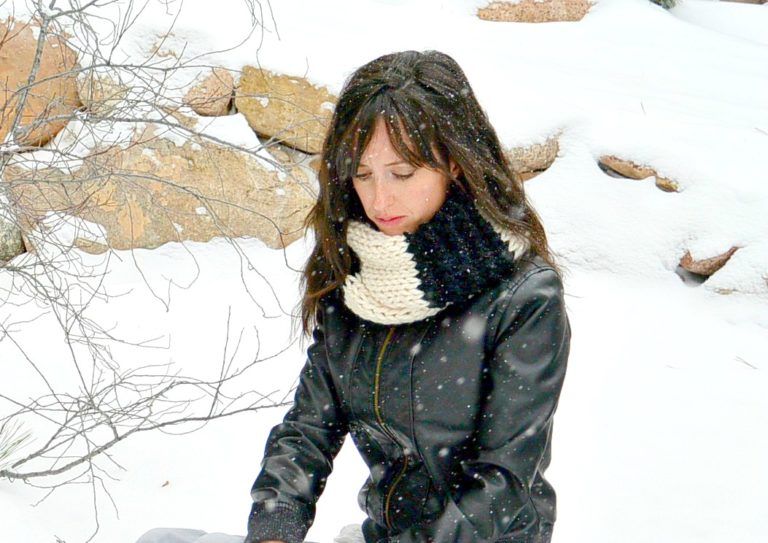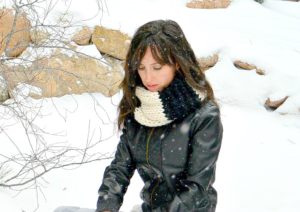 I bought a scarf that I LOVED from a fancy store in the mall about 5 years ago. The thing would never go out of style because it was perfect. An extra long scarf in a gorgeous cream color with a loose knit look, and long soft tassels. My all time favorite scarf!
And then….I washed it. On accident. In hot water. It turned into a tight, felted, stringy rag. It still sits in my closet, and I pull it out occasionally to make sure I indeed ruined it THAT bad. I pull it out, look at it, and lay it back in it's eternal place of rest.
Where am I going with this? This scarf is my replacement. Somewhat the same, yet different. I have added black. Black and white goes with so many things, and it gives me the feeling that I am sophisticated. Black and white does that to a person, ya know! The black is worked in a garter stitch, so you get a fun little popcorn like look on the black sections. I used GIANT needles, and super bulky yarn to get the look I was going for. If you have done a few projects or have a bit of experience, you can knit this up in an evening. If you are a beginner and know knit and purl, this is easy enough for you to do. It is worked in sections of garter and stockinette stitch and seamed together at the end.
** Stockinette tends to curl, and this does indeed bow inward. It doesn't bother me a bit, and I actually kind of like it. However, if you don't like curling, you can do the entire thing in garter (knit) stitch. Of course it will be a different look, but will maintain the big chunky look with no curling inward.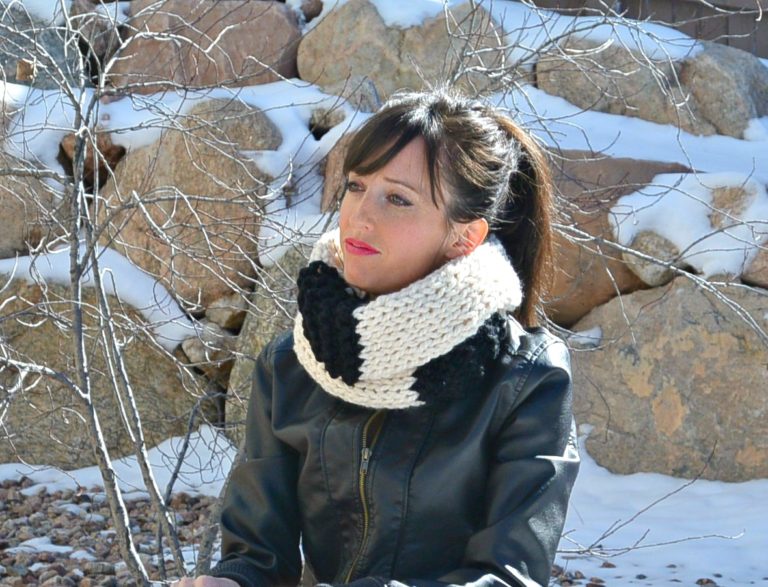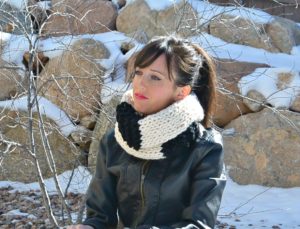 You will need:
Size 35 Knitting Needles (GIANTS)
Super Bulky Yarn (I used one skein of each color Lion Brand Wool Ease Thick N Quick in Fisherman and Black)
Scissors
Needle to weave in ends
Pattern:
Cast On 15 with Cream Color (I use Grandma's Easy Thumb Method-look it up on Youtube if you've never tried it)
Row 1 Knit across Row
Row 2 Knit, Knit, Purl 11, Knit, Knit
Row 3 *Knit across row
Row 4 Knit, Knit, Purl 11, Knit, Knit *
Repeat from * to * (this is working in stockinette with a garter edge) for 12 inches
Once 12 inch length is reached, change color to black, begin working in garter stitch
Knit Stitch (Garter Stitch for 5 inches)
Once 5 inch length is reached, change color to white, work in same stockinette pattern as previously, above
*Knit across row
Knit, Knit, Purl 11, Knit, Knit*
Repeat from * to * for 12 inches
You will make THREE alternating sections of white stockinette, and three of black garter. Once you have completed all sections, you may seam the ends (one white end to a black end) together in whichever method you prefer. The simple whip stitch worked fine for me. Weave in all ends.
We are getting blasted with another cold front, so this scarf will be put to good use this week! Stay warm out there!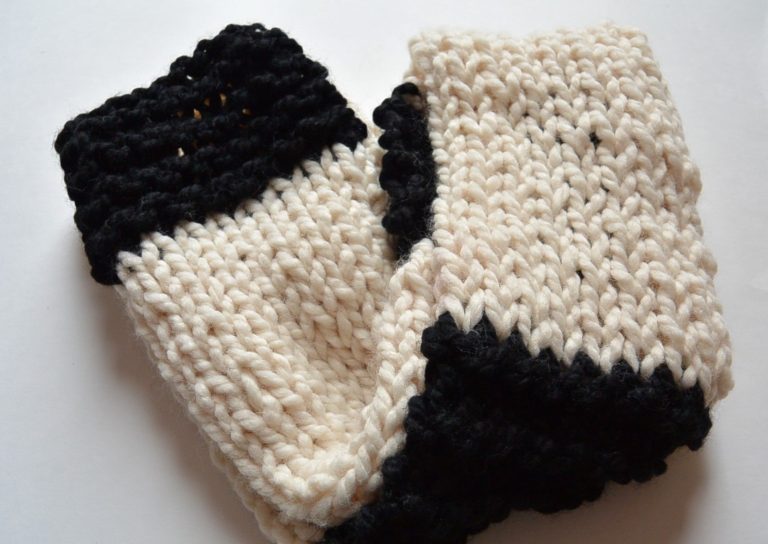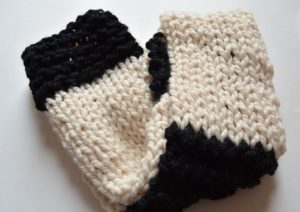 If you liked this, feel free to subscribe to my newsletter with my free patterns by inputting your email. or subscribe to the blog. You can also follow me on Facebook, or Pinterest. Thank you so much for visiting!