Cosmos Textured Knit Wrap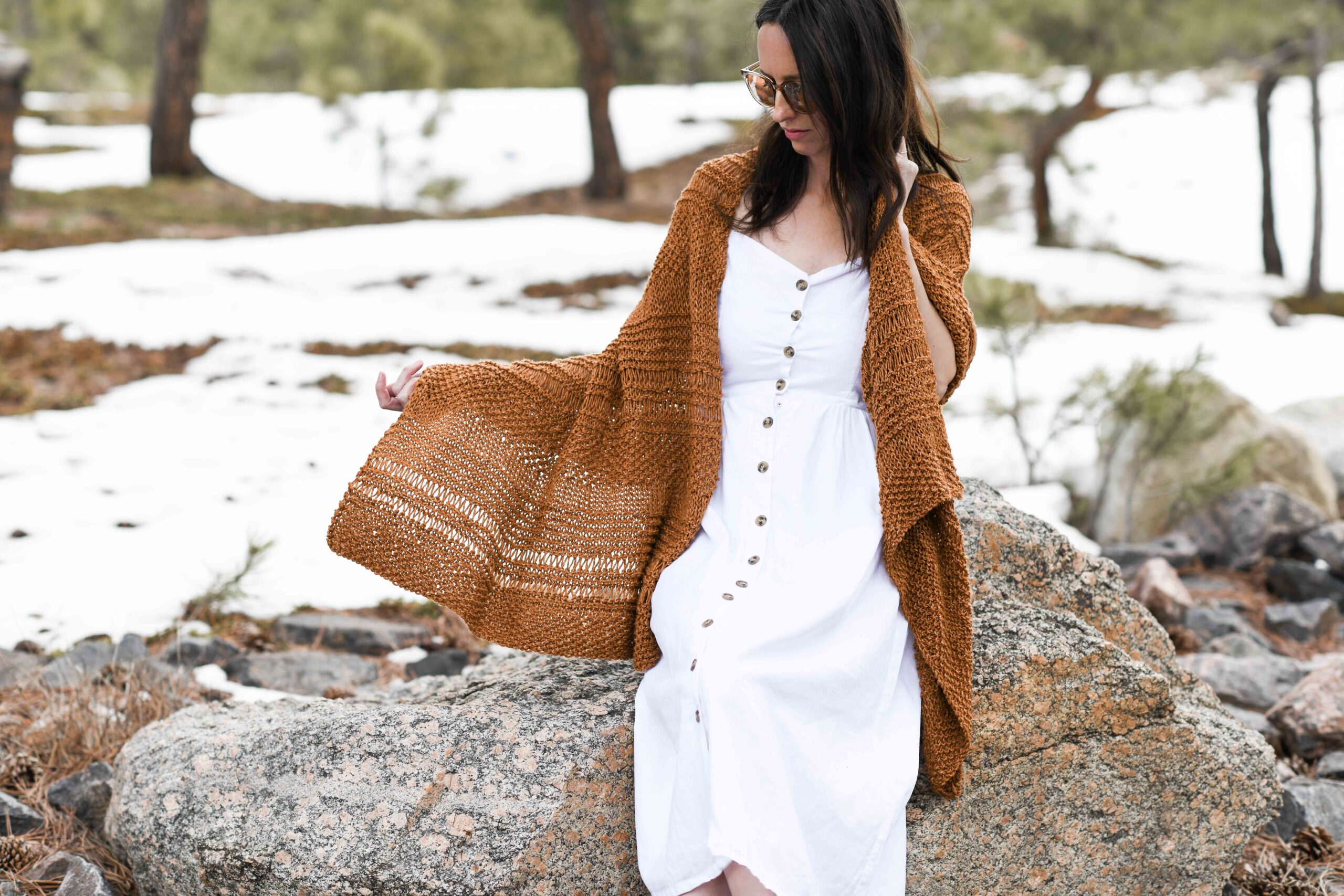 Today's free knitting pattern is for a beautiful, oversized, airy wrap that is easy yet stunning. It features a variety of stitches to take you on a journey through textures as you knit! If you're looking for a relaxing shawl, with just enough variety to hold your interest, this could be for you. The size is also completely customizable. Read on!
See the free pattern below, or you may purchase the ad-free, printable pattern from Etsy HERE or the kit from Lion Brand Yarn HERE.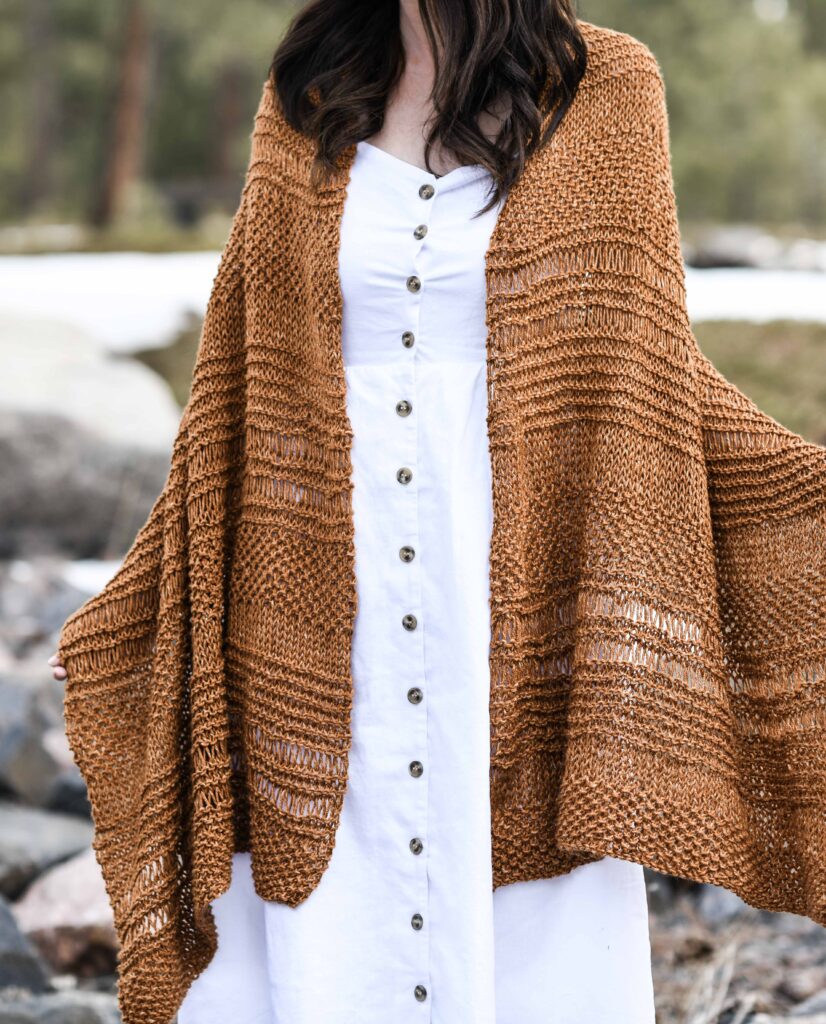 Last year when I shared the crocheted Summertide Wrap Pattern, I had several requests to make a knit version. The Summertide Wrap featured a variety of textures with a soft yarn and an airy fabric.
While I didn't use the same yarn with this knit version (Low Tide has been discontinued), it is super similar in the amount of texture and open stitch work. Both shawls are perfect for the spring and summer months and can be enjoyed year round, actually!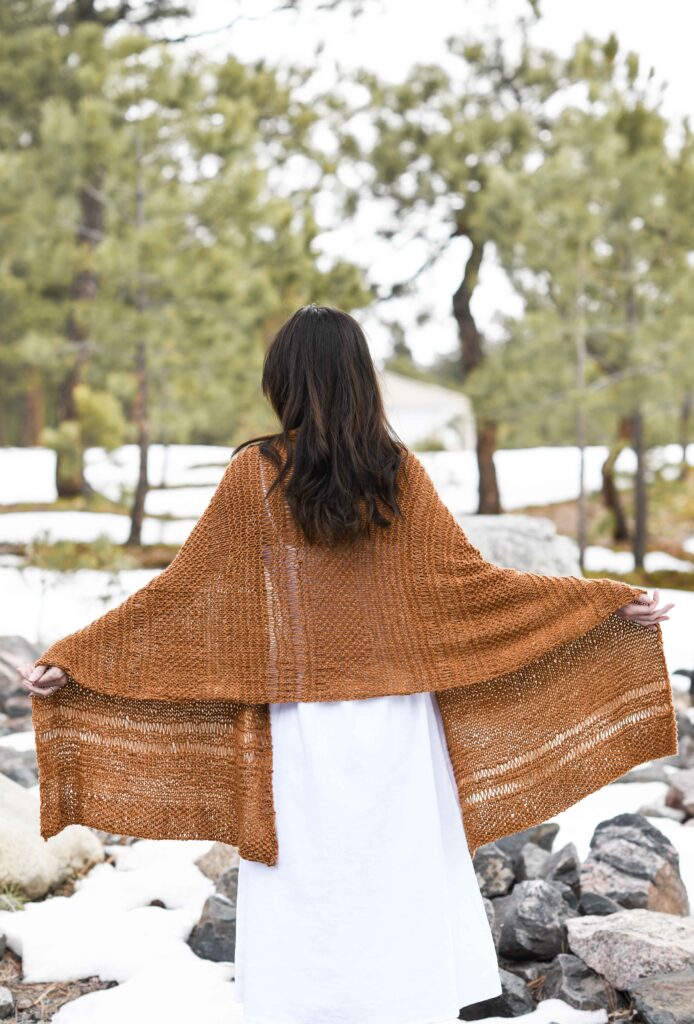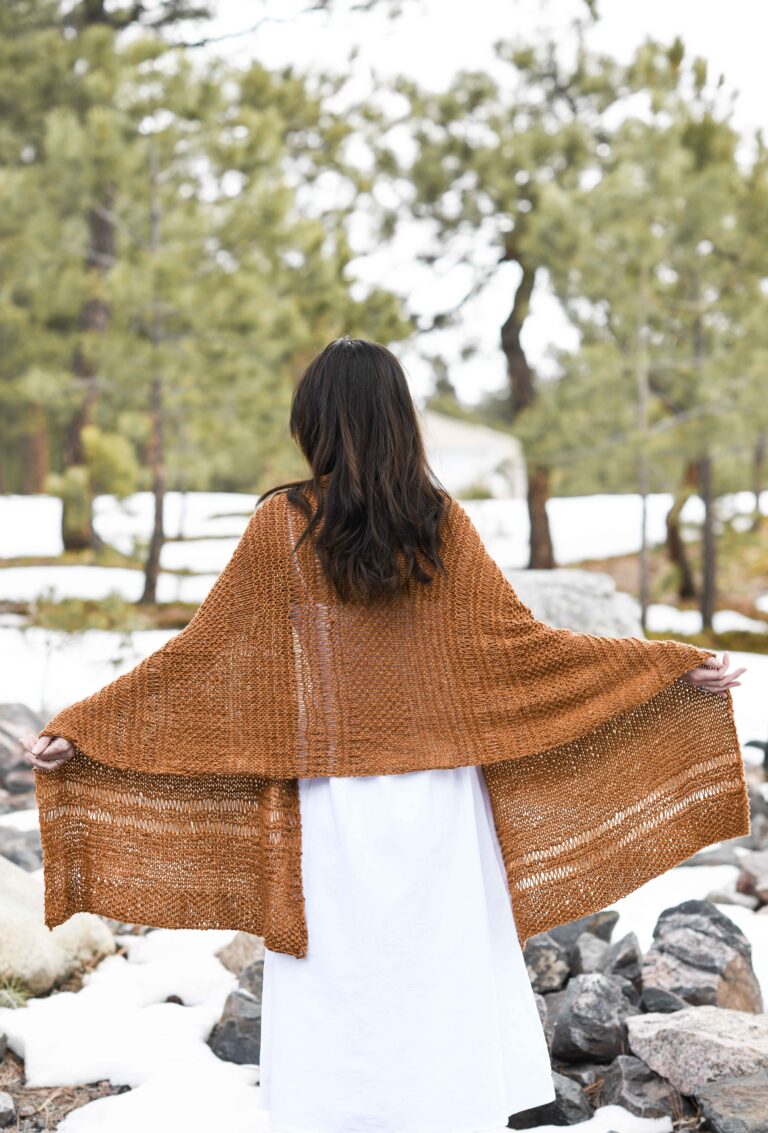 I chose to use Lion Brand Jeans yarn in the color Top Stitch for the Cosmos Textured Wrap. The Jeans yarn is a fave of mine (used it for My Comfiest Knit Cardigan, Vintage Jeans Crochet Top, and the Santa Monica Bias Wrap) as it's really soft, easy to work with, and it has amazing drape. It's perfect for this shawl that will be worn on the skin in the warmer months.
The name "Cosmos" came from being inspired by all the texture – the little seed stitches remind me of stars at night, and the variety of patterns is like the variety in our world and sky, all working together to make one grand universe (or one amazing wrap). Fun right?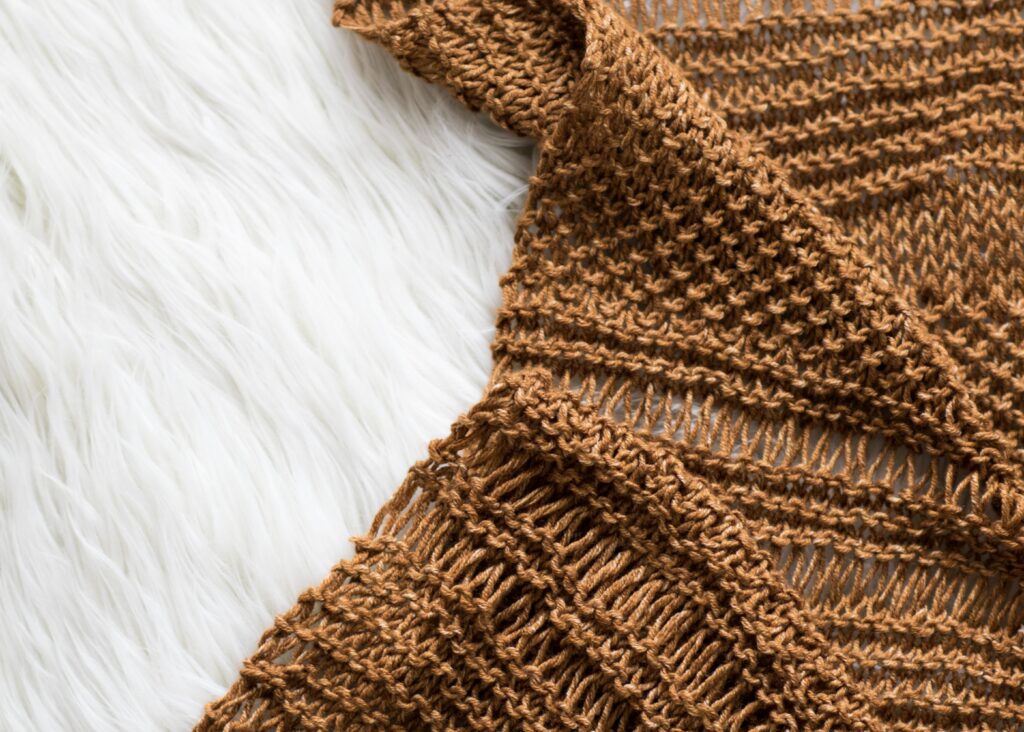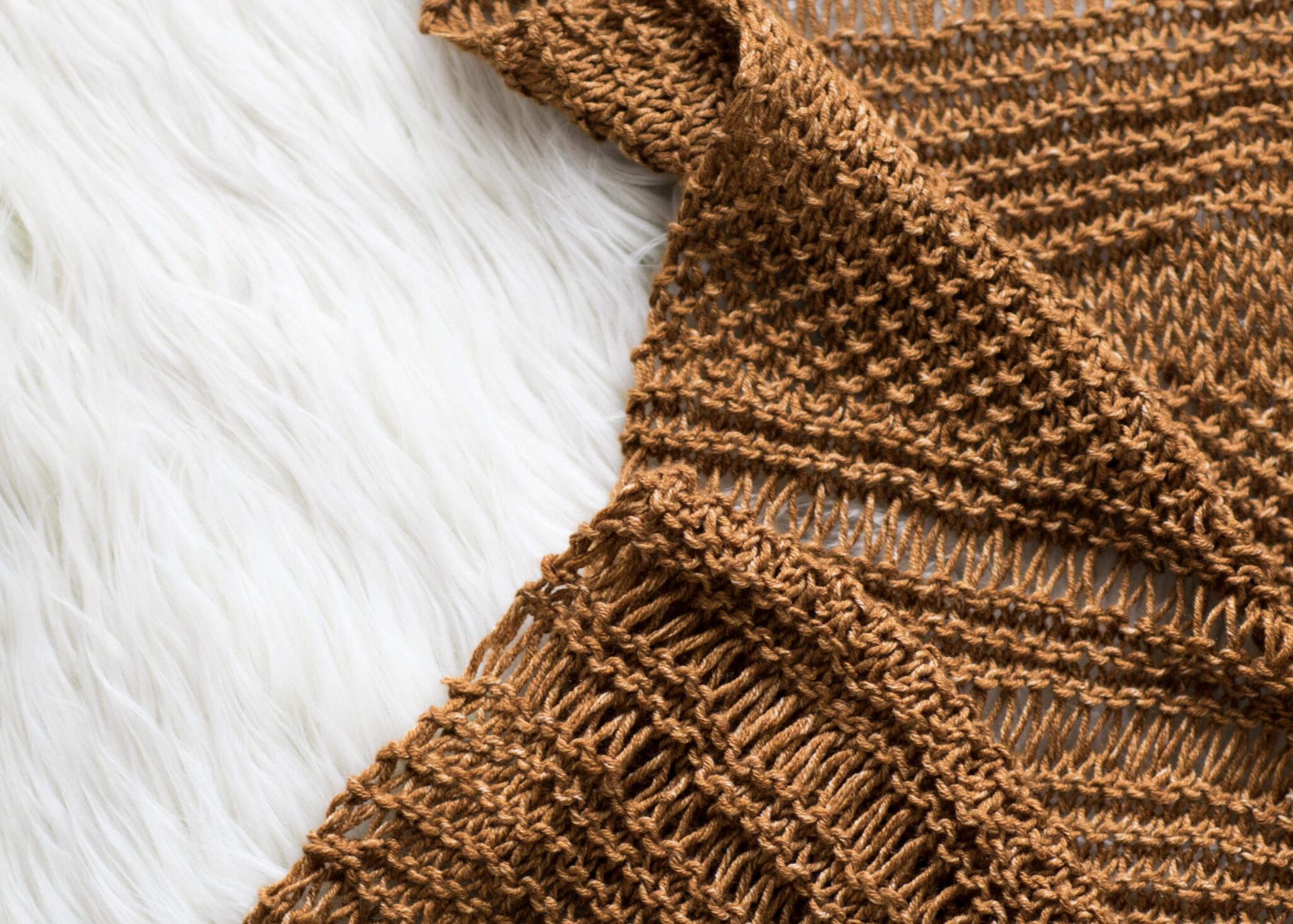 How do we knit this shawl? Since it's worked in a basic rectangle shape, there's no difficult increasing or decreasing. The only thing you need to think about is which stitch pattern you're working.
All of the stitches used are simple and include the garter stitch, stockinette, seed stitches, and drop stitches. If you're not familiar with some of these, you can easily find tutorials for each of them by doing a simple search on YouTube.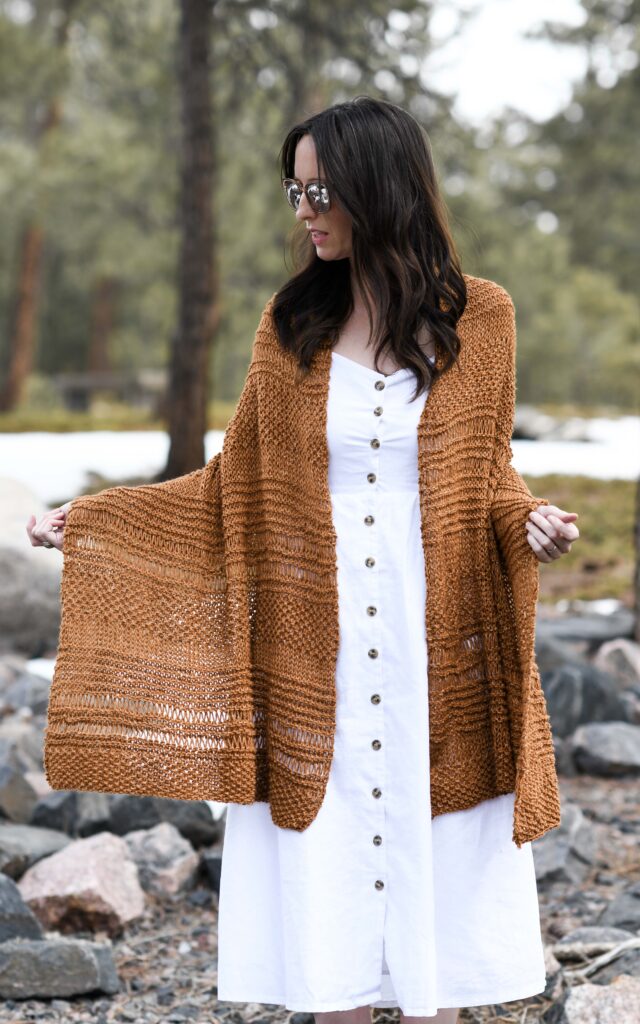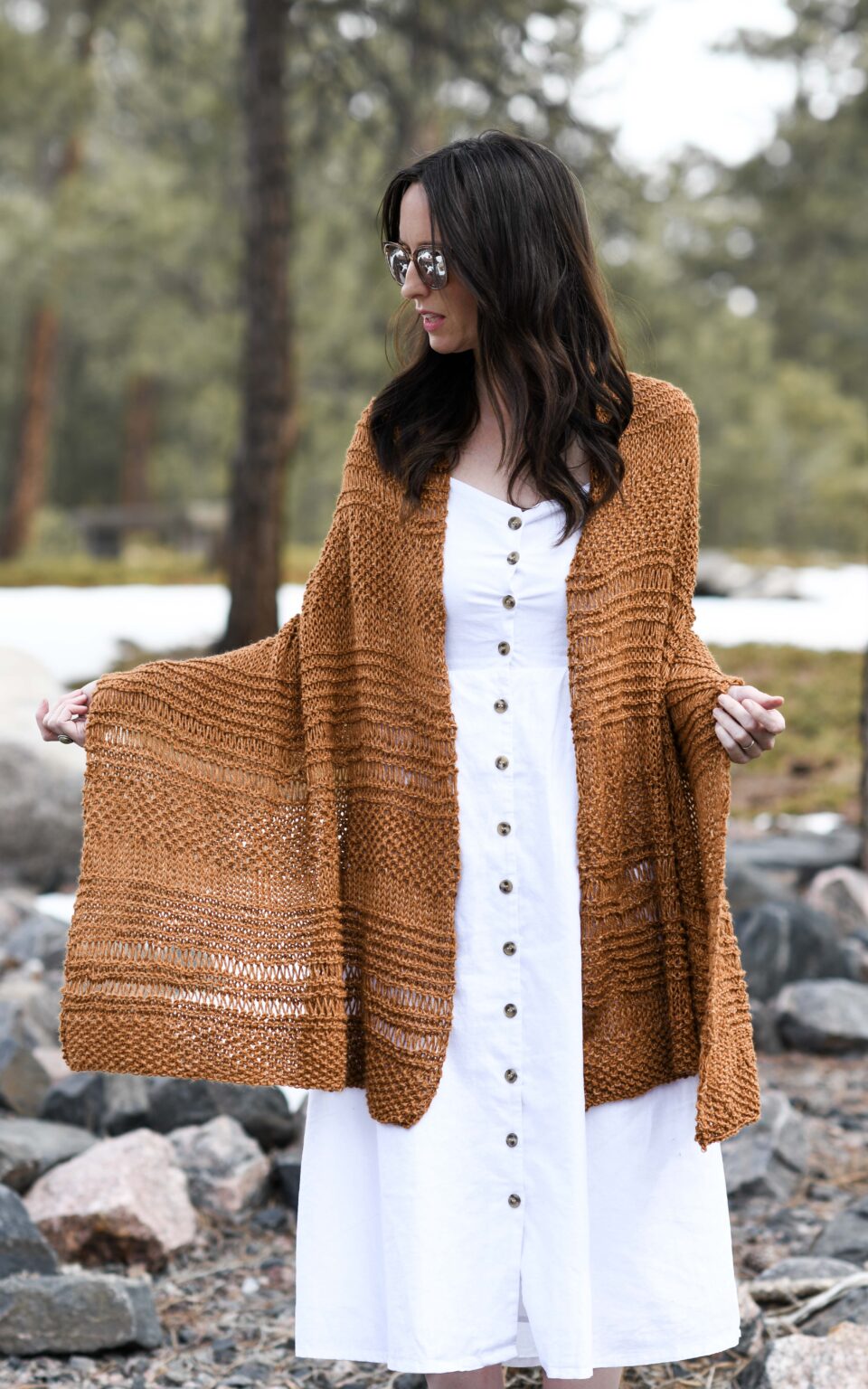 Another cool thing about this shawl is that you can literally make it any size you'd like. As written, it has a generous width like the ever popular blanket scarf. However, you can simply cast on fewer stitches to make it thinner. You can even make it as skinny as a standard scarf if you'd like! All you need to remember is to cast on with an even stitch count.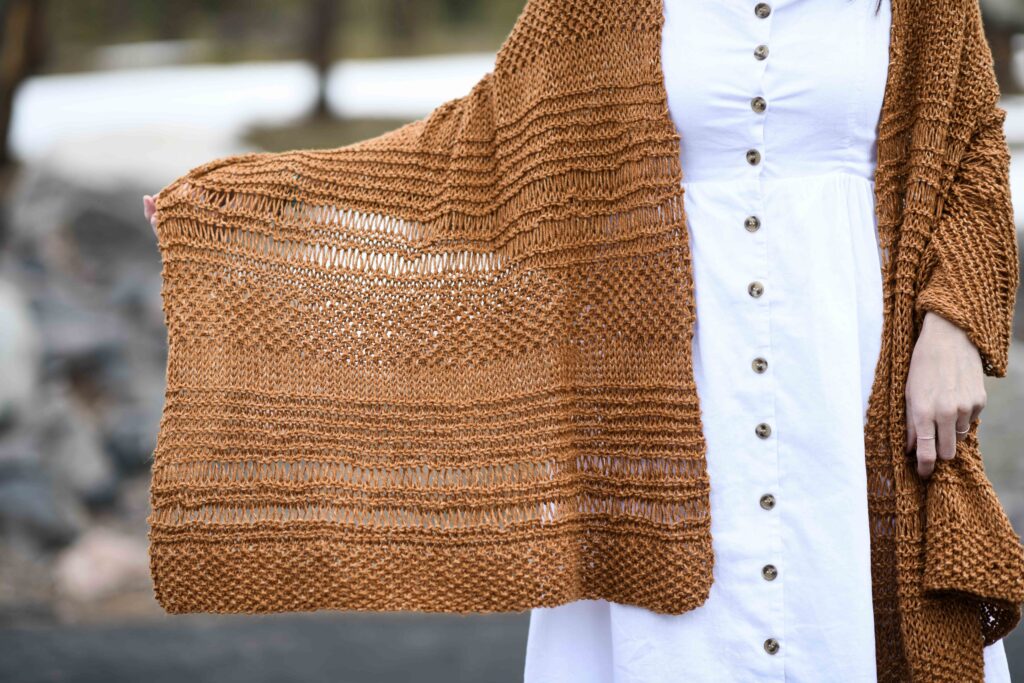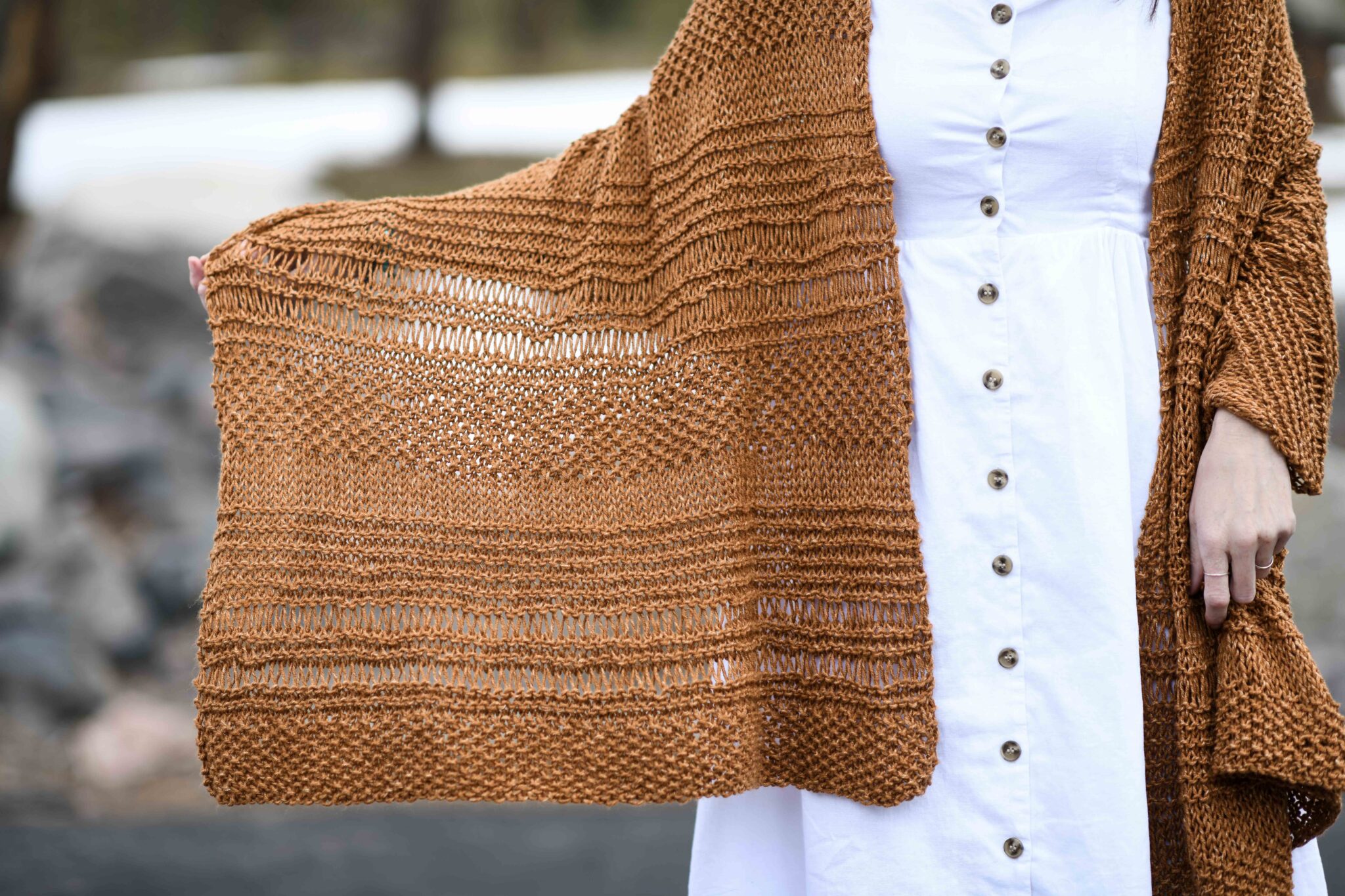 Ready to knit? Here we go…
Description:
Soft, light, and full of interest, this textured wrap is a beautiful accessory for your spring and summer wardrobe. It's generous size makes it a show stopper, and while it looks like a complicated knit, the entire wrap uses simple stitches. Take a journey through textures that will keep you interested while making a super comfortable, beautiful wrap. Whether you like large or smaller shawls, you'll appreciate that it's easy to customize to any size.

Skill Level:
Easy +

Materials:
US Size 11, 8.0 mm 29" circular knitting needles (the wrap is knit flat, but circs will comfortably hold all stitches)
4 Lion Brand Yarn Jeans worsted weight yarn in Top Stitch 100 g/skein (Grab the kit HERE)
Pattern uses approximately 340 g
Measuring Tape
Tapestry Needle
Scissors

Sizes:
One size (easily customizable – see Notes)
Approximately 25" X 68"

Abbreviations & Skills:
k – knit
p – purl
yo – yarn over
sts – stitches
st – stitch

Gauge:
Approximate: 13 sts & 16 rows in 4" x 4" of stockinette stitch (gauge not important for this pattern)

Notes:
This wrap is knit as a basic rectangle. It uses circular needles in order to hold all of the stitches comfortably. Knit flat as you would on regular, straight needles. You'll work a variety of stitches as you move through the pattern including seed stitch, drop stitches, garter stitch and stockinette. You can easily make the wrap wider or narrower by casting on more or fewer stitches while keeping an even number. To make it longer, simply knit for more rows while following the stitch pattern. Easy peasy!
Cosmos Textured Wrap Knitting Pattern Instructions

Cast on 80 stitches

Seed Stitch
Row 1 K1, p1; repeat across the row. (Right Side)
Row 2 P1, k1; repeat across the row.
Rows 3 – 12 Repeat rows 1 & 2, in that order.

Drop Stitch
Rows 13 – 15 Knit each st across the row.
Row 16 K1, *yo, k1; repeat from * across row.
Row 17 K1, *drop yo off needle, knit next st; repeat from * across row.
Rows 18 – 22 Repeat rows 13-17 , 1 more time. (ending on WS row)

Garter Stitch
Rows 23 – 32 Knit each st across the row. (ends on WS row)

Stockinette
Row 33 Knit each st across the row.
Row 34 Purl each st across the row.
Rows 35 – 38 Repeat rows 33 & 34, in that order. (ends on WS row)

Next, repeat rows 1 – 38, 5 more times (a total of 6 times), or until wrap reaches your desired length.

Finish with one more section of Seed Stitch.

Cast off and weave in ends!
That's it!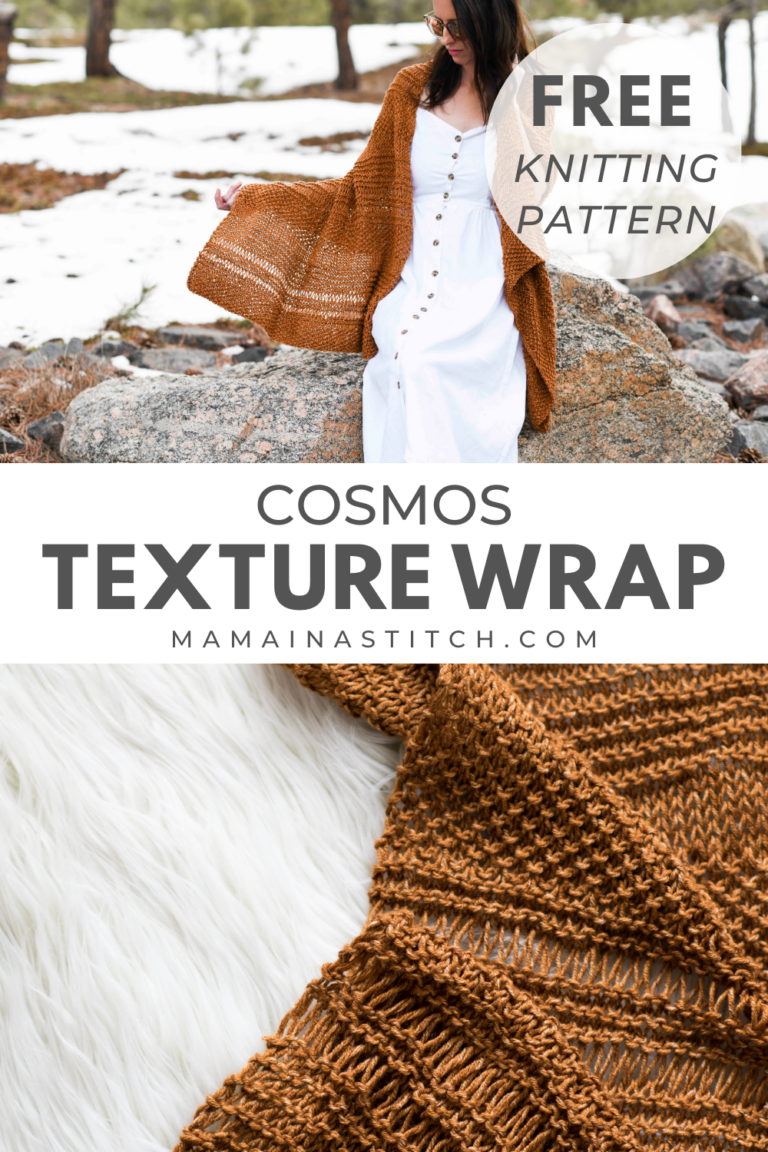 Enjoy your new, beautiful Cosmos Textured Wrap!
Feel free to let me know if you make one over on my Facebook Page in the comments, or on Instagram @mamainastitch #mamainastitch.
I really hope you enjoy this unique wrap. Happy "almost"spring!
XO,
Jessica
If you liked this, you might also like:
Lake Isle Wrap Knitting Pattern
Merlot Alpaca Wrap Knitting Pattern
Honeycombs Summer Scarf Knitting Pattern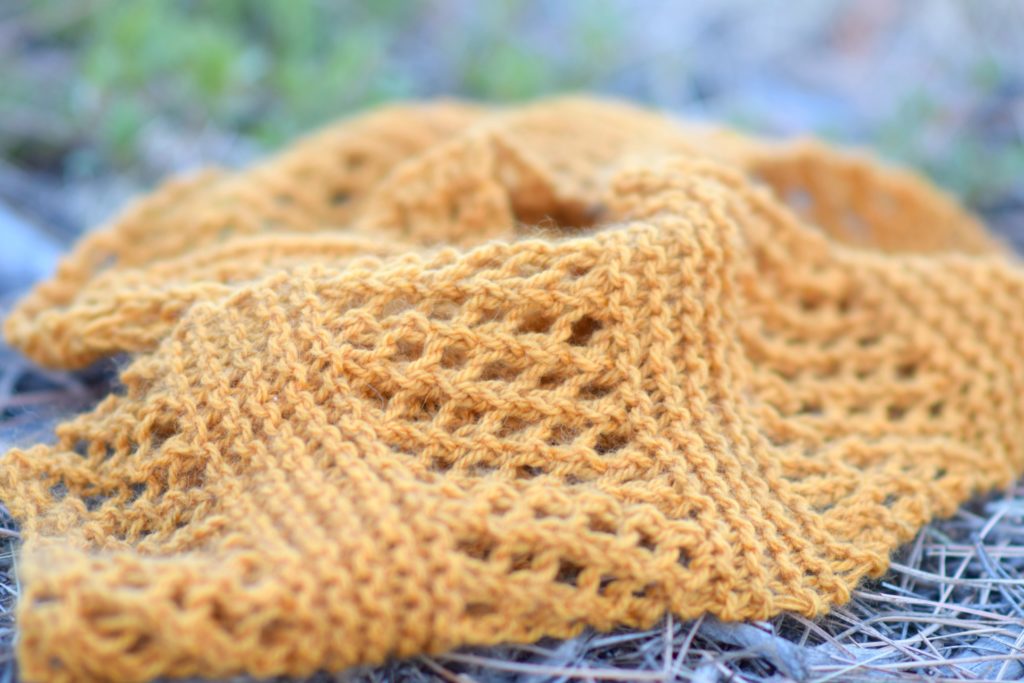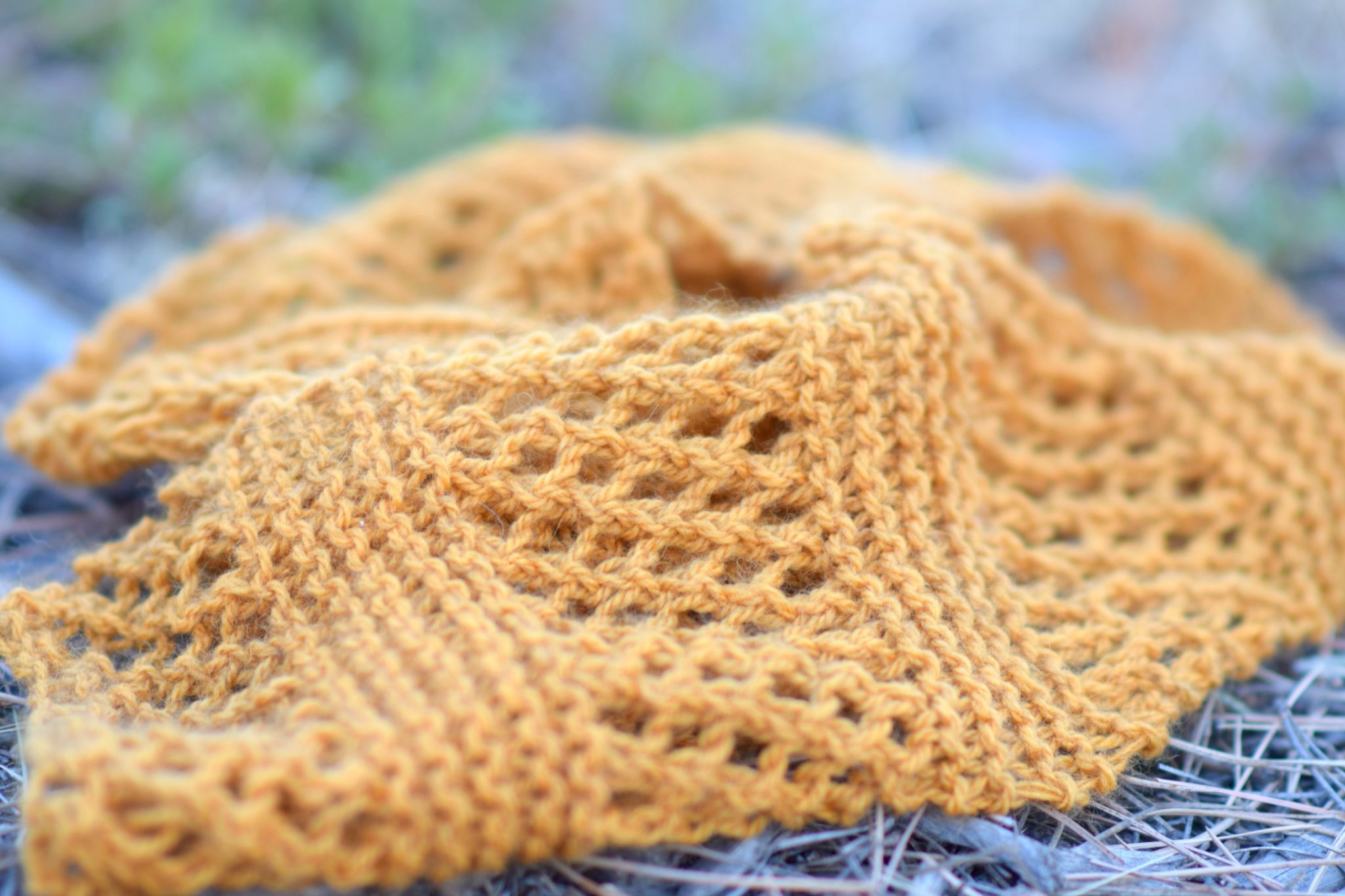 This post was sponsored by Lion Brand Yarn. All opinions are 100% my own.