Easy Knit Shawl Pattern – Lake Isle Wrap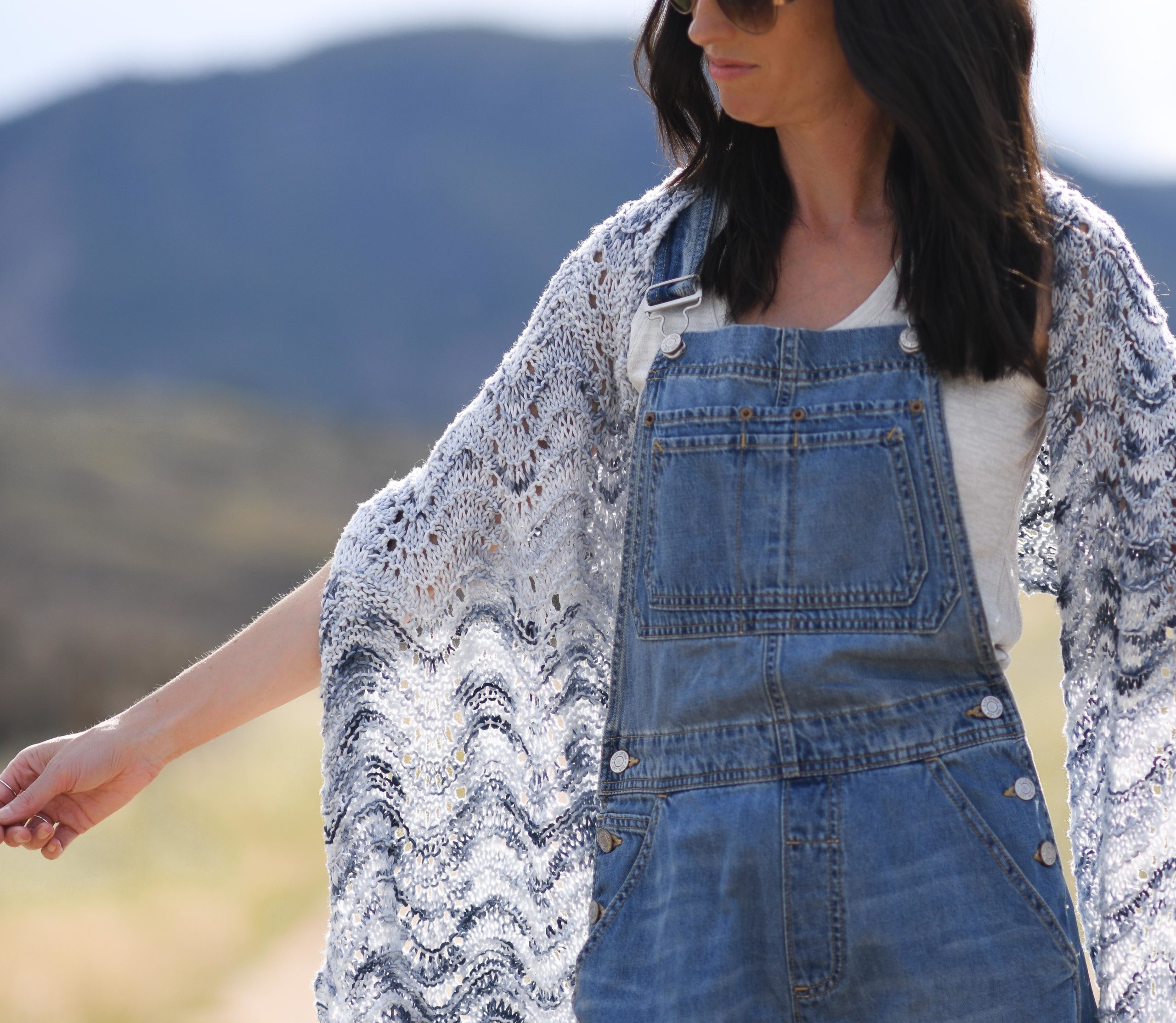 Today's free pattern is a super simple (even though it looks complicated) knit shawl! I love the yarn that was used for this project, but you can use any worsted weight or light yarn that you'd like. It's knit with a simple four row repeat using beginner knit stitches, so it's great for those who'd like to move on from basic knit and purl stitching!
You can see the full, free pattern below, or you may choose to purchase the ad-free, printable PDF version from Etsy HERE. 🙂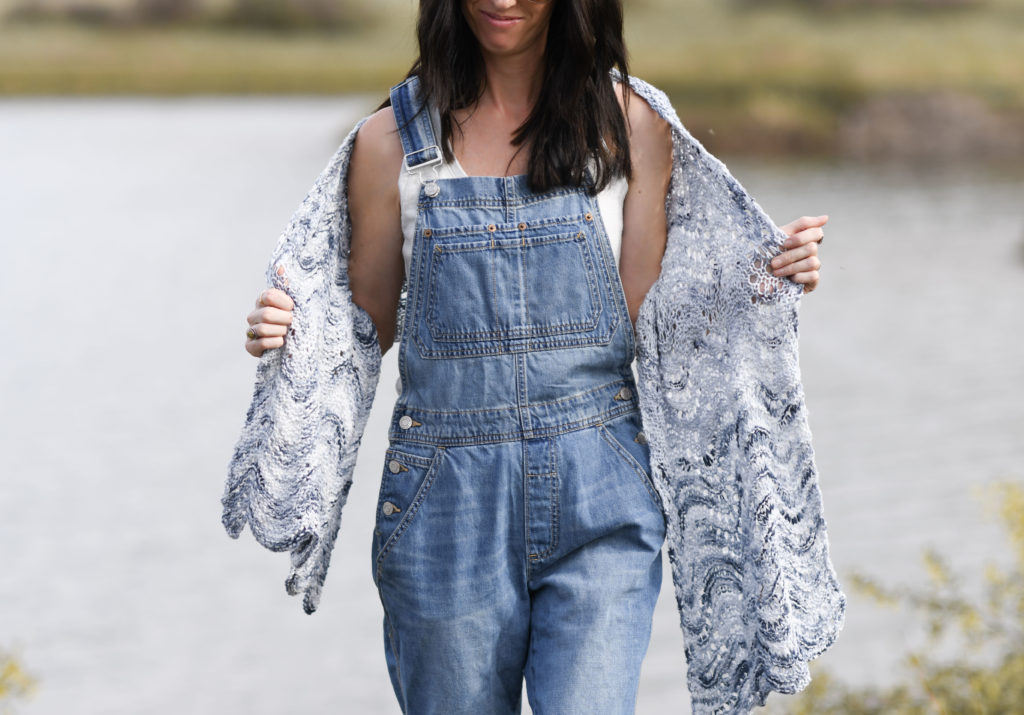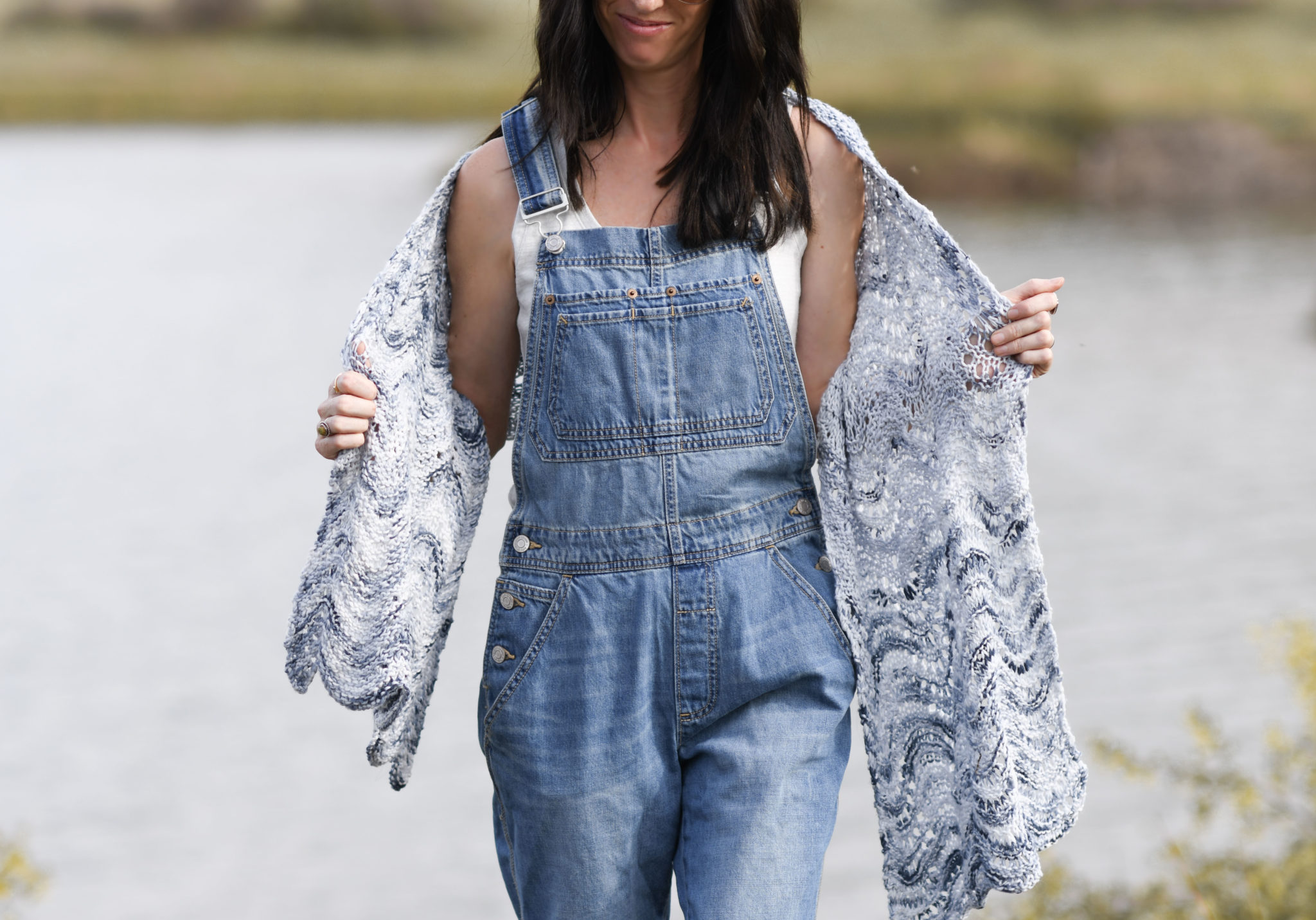 The slight waves and the color of this wrap remind me of water gently hitting the shoreline at the lake. I used a hand-dyed yarn (here) that was in my stash from a previous project (remember my Painted Sky Comfy Shrug Pattern?), but I think this would be beautiful in a solid color yarn as well. You'd definitely see the stitchwork more clearly by using a solid yarn, but I'm loving the various colors too! It makes it visually interesting and beautiful without having to do any color changes. Yay!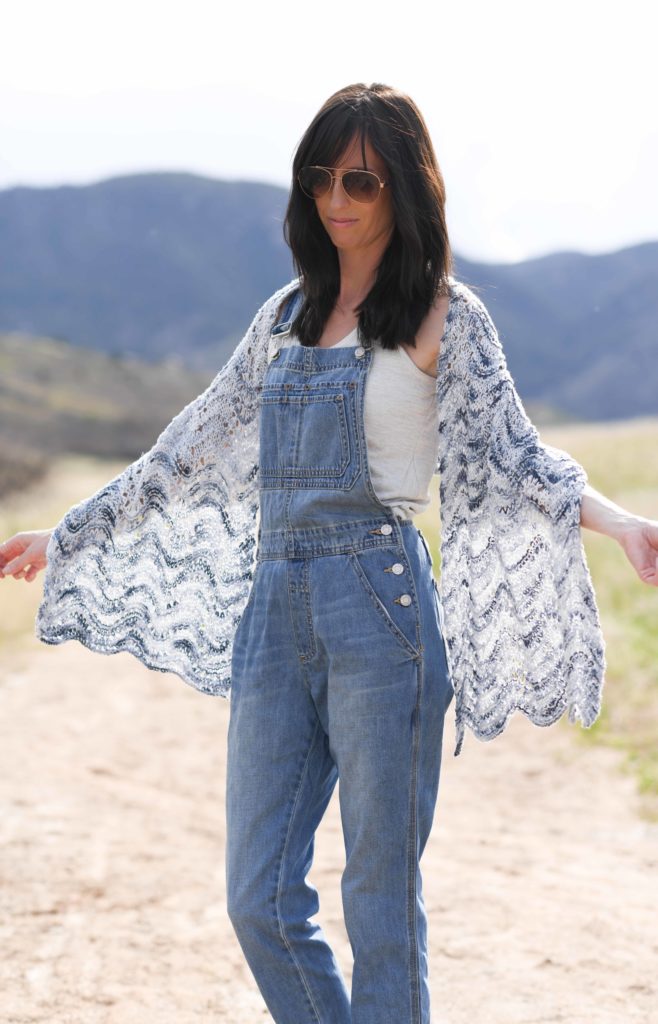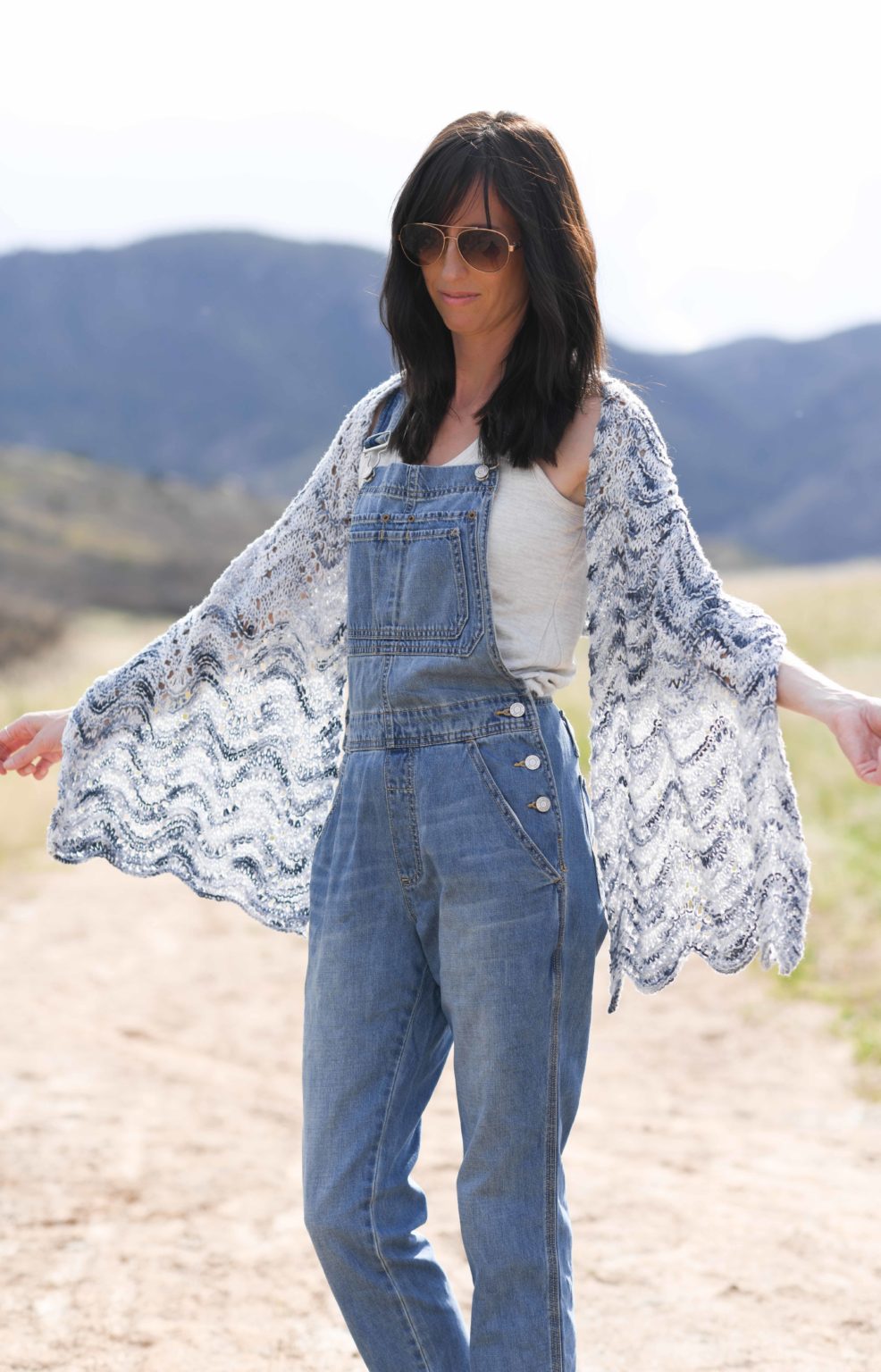 So, how easy is this lacy wrap? VERY! While I wouldn't suggest it for a first project (haha), once you've got knit, purl, and knitting two together down, you can definitely go for it. You'll see that with most of the rows, you simply knit or purl across. For row three, you will work yarn overs as well as decreases. And, if you are a total beginner knitter, you might enjoy the Sedona Serenity Shawl Pattern (here) as your first project!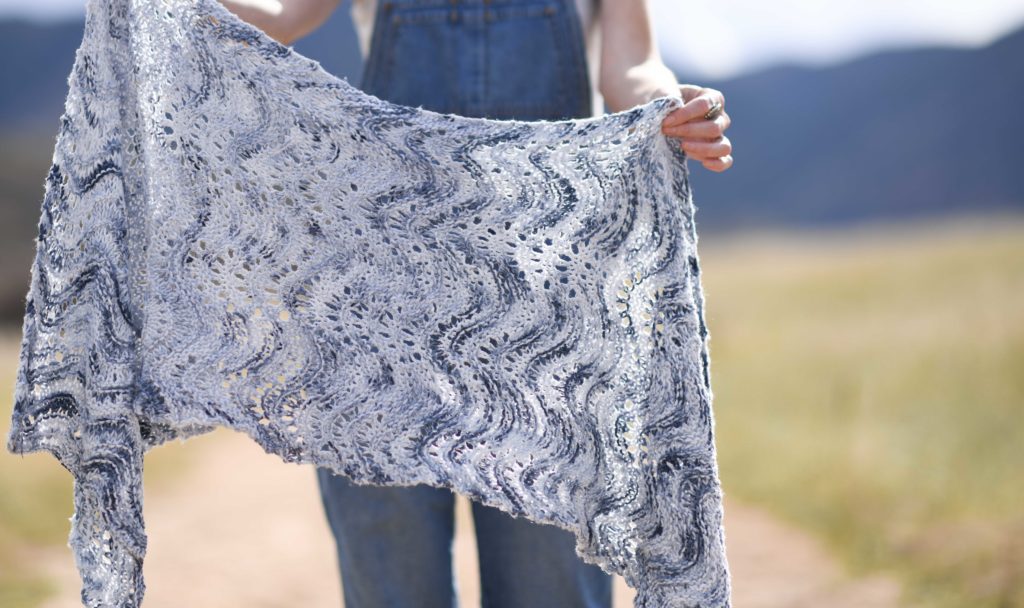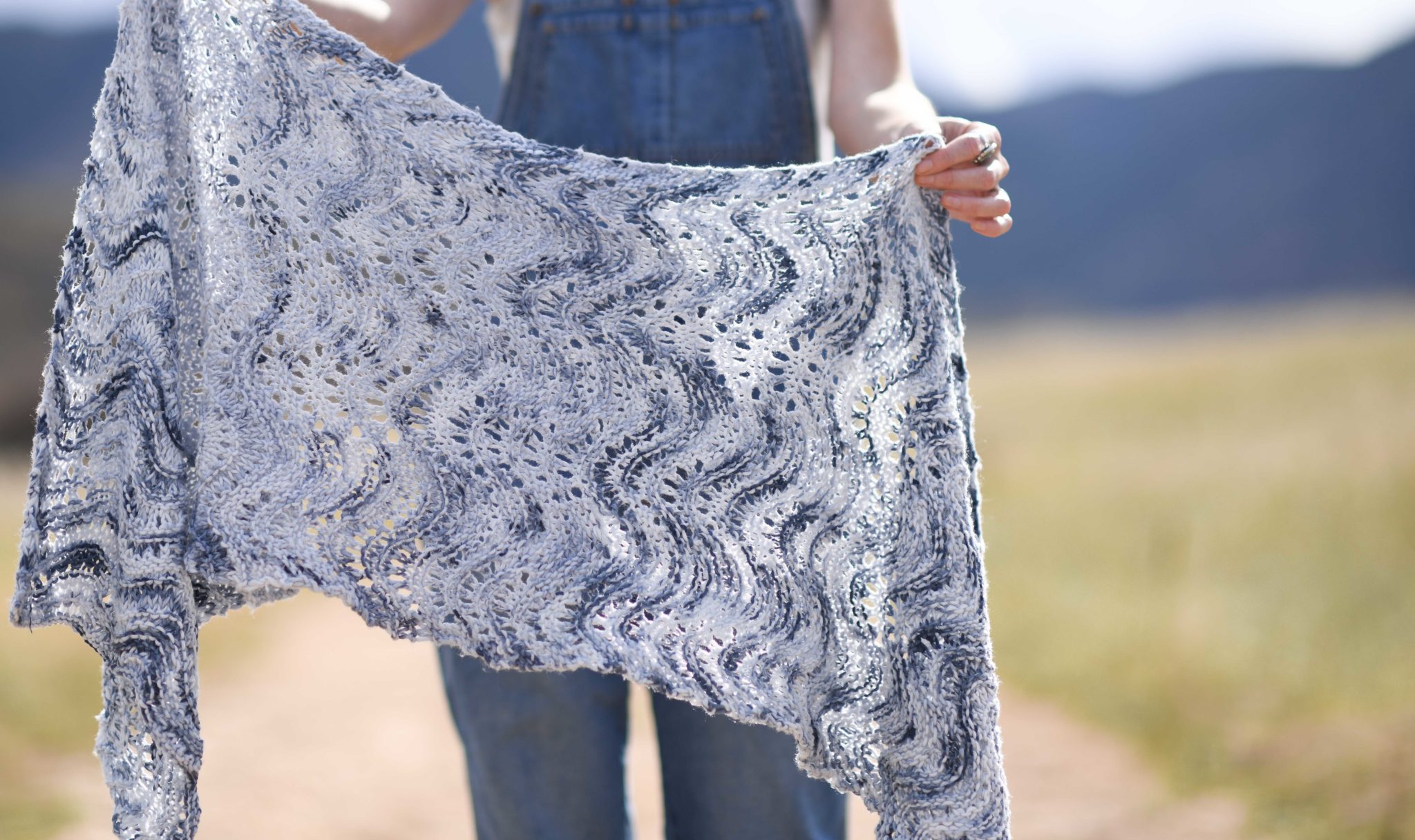 If it's your first time working a pattern like this, definitely read through my notes section! It's easy to miss how the repeat is worked through the center of the pattern, and I talk about what to be aware of in the notes. 🙂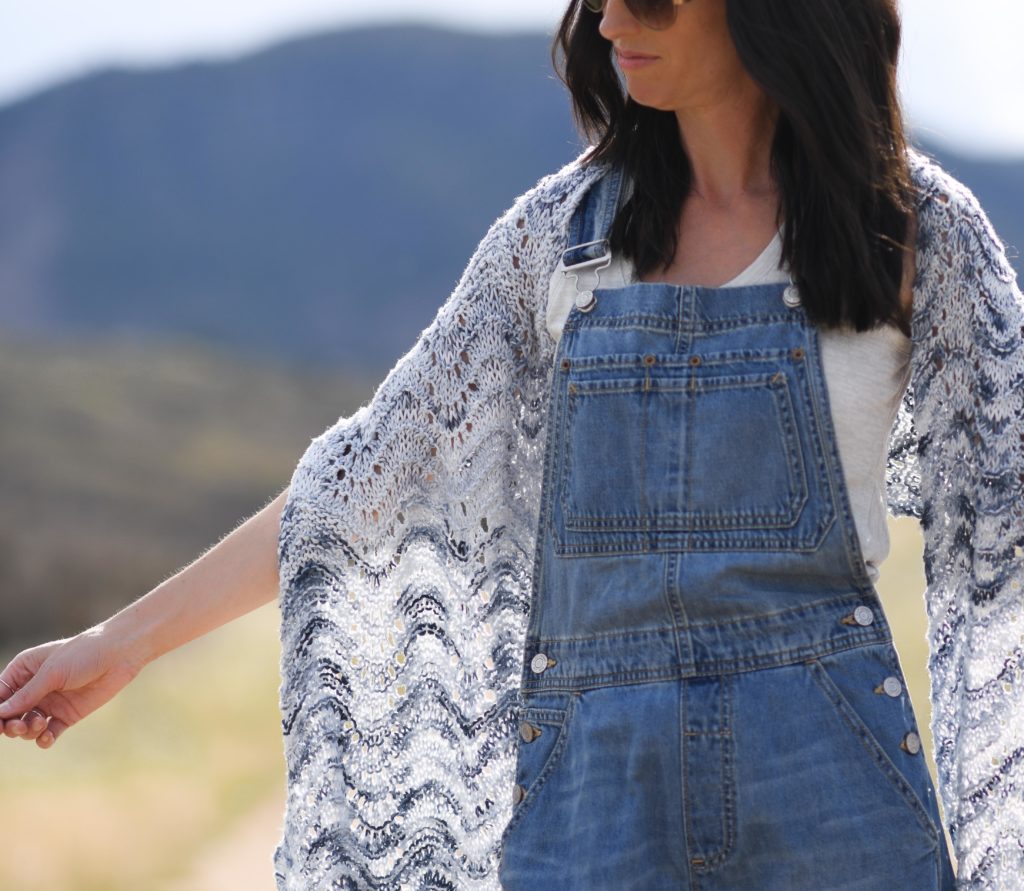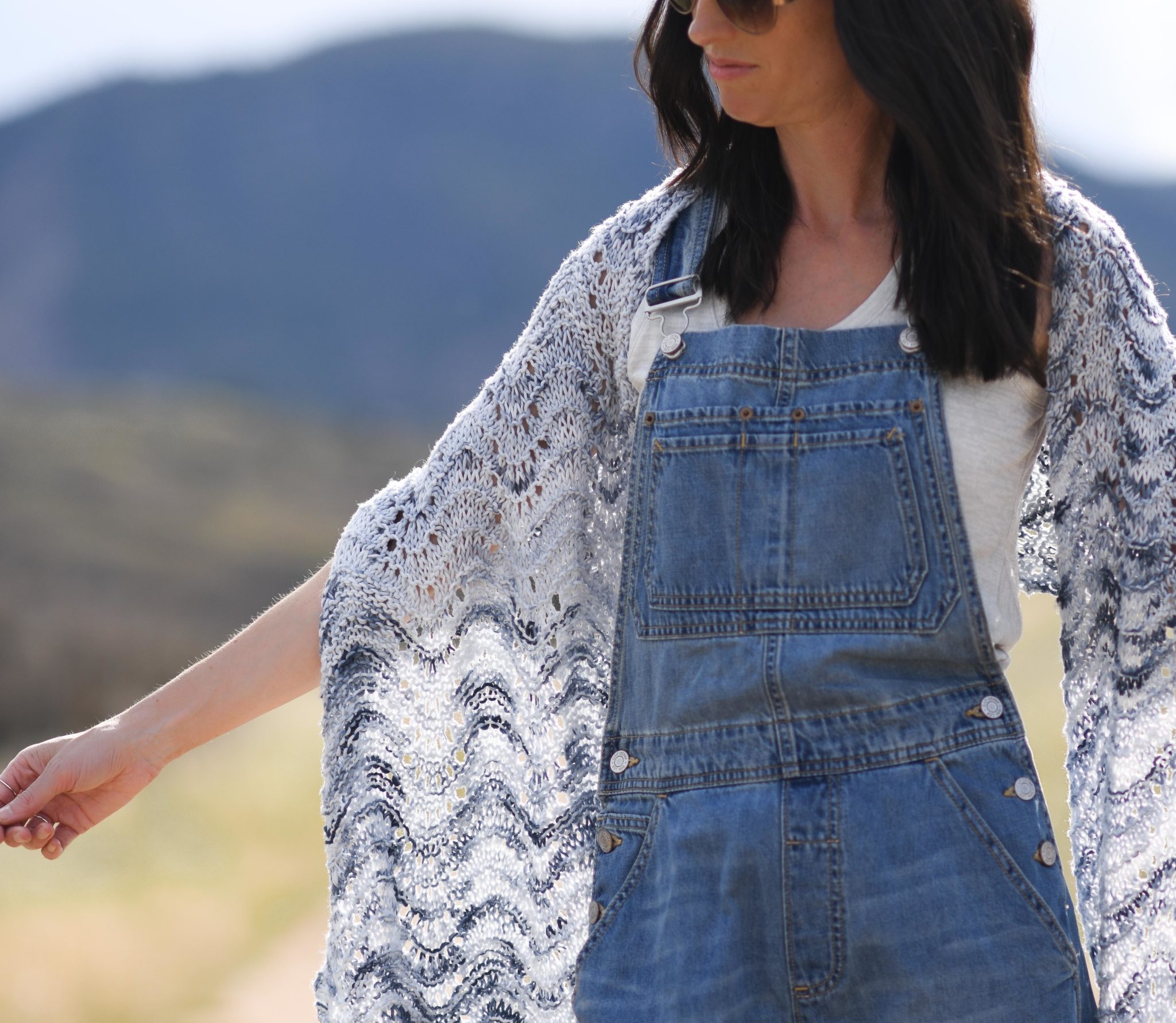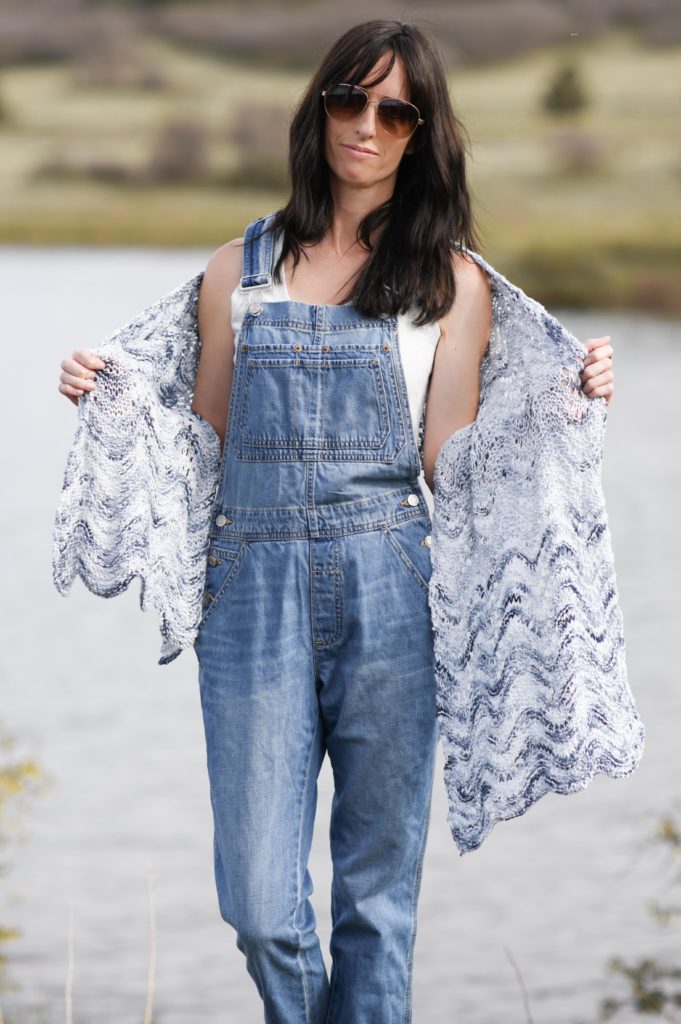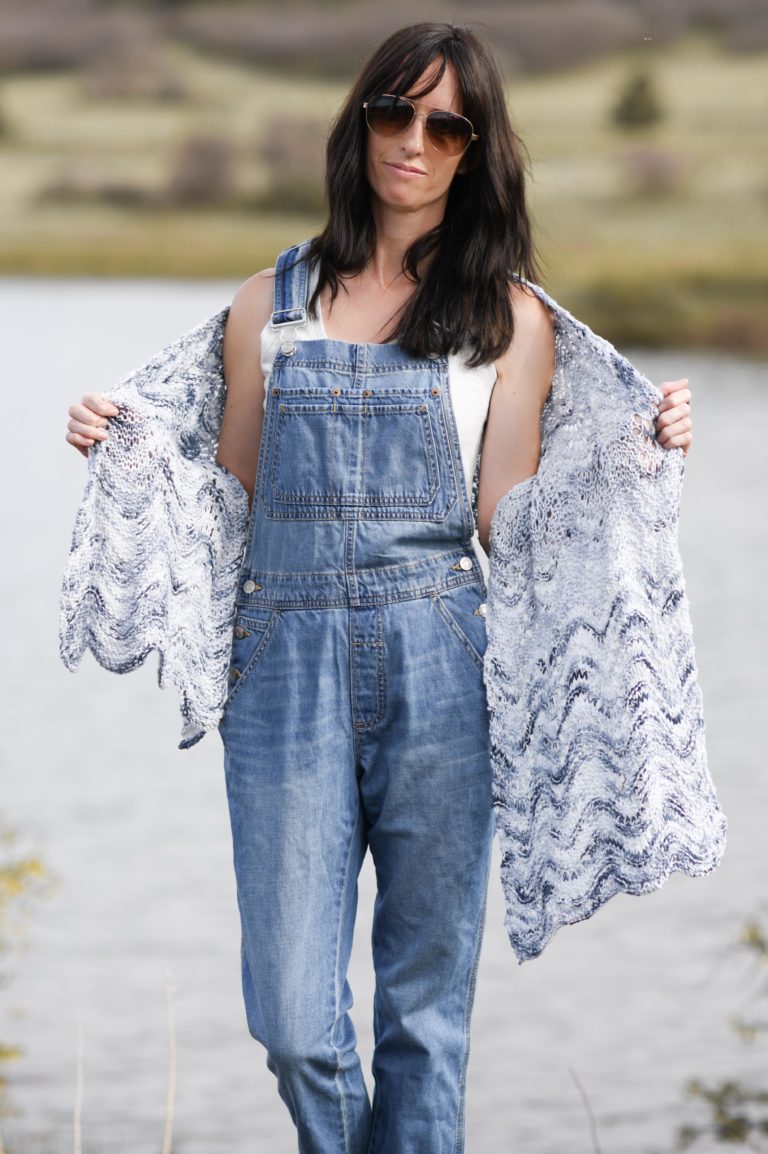 So shawl we hop to the pattern? Bad joke, shall, shawl…lol!
Description:
This comfy wrap features the look of understated waves and open stitching as well as a drapey, airy fit. The super soft, hand-dyed yarn makes it an extra special summer accessory. Easy to dress it up or down, this wrap looks beautiful with your favorite sundress, evening outfit, and even your beachwear. It's knit with a simple four row repeat so it's a great pattern for a beginners who would like to try lace!
Skill Level:
Beginner +
Materials:
US Size 10, 6.0 mm knitting needles
4 skeins Lion Brand Yarn Hand Dyed Heaven Light Weight Yarn in Greyhound (HERE)
(70 grams and 175 yds /skein)
Pattern uses approximately 280 grams
Measuring Tape
Tapestry Needle
Scissors
Dimensions:
Approximately 14" x 63"
Gauge: Not important for this pattern
Abbreviations & Skills:
k – knit
p – purl
yo – yarn over
k2tog – knit two together (decrease)
NOTES:
This wrap pattern is worked over a simple, four row repeat. It's very easy to adjust the size of this wrap! If you'd like to change the width, simply adjust the number of cast-on stitches while keeping a multiple of 18. You can make it longer or shorter by knitting for more or fewer rows. Keep yarn needs in mind if you're adjusting the size. If you've never worked a basic lace pattern, you might want to begin by practicing on a small swatch before beginning the larger wrap. Simply cast on 18 stitches and knit following the pattern. (Another note for beginners: If you're finding the pattern isn't working out correctly while knitting your wrap, double check how you are working row 3. Please note the repeat section. You will see that you will k2tog 3 times at the end of the repeat, and then the repeat begins again, which starts with k2tog 3 times. This makes it a total of 6 k2tog at this point and throughout much of the pattern. Be very careful to follow the repeat as written. Enjoy!)
Pattern Instructions
Cast on 72 sts
Row 1 Knit each st across the row.
Row 2 Knit each st across the row.
Row 3 *(k2tog) three times, (yo, k1) six times, (k2tog) three times; repeat from * to end.
Row 4 Purl each st across the row.
Repeat rows 1 – 4 until your wrap measures approximately 63" long, or until your desired length
Enjoy your new, comfy wrap!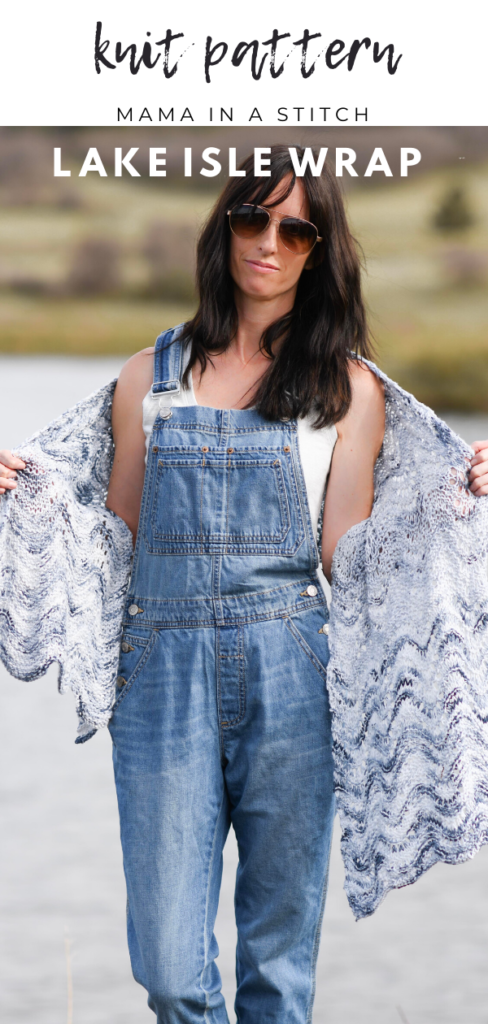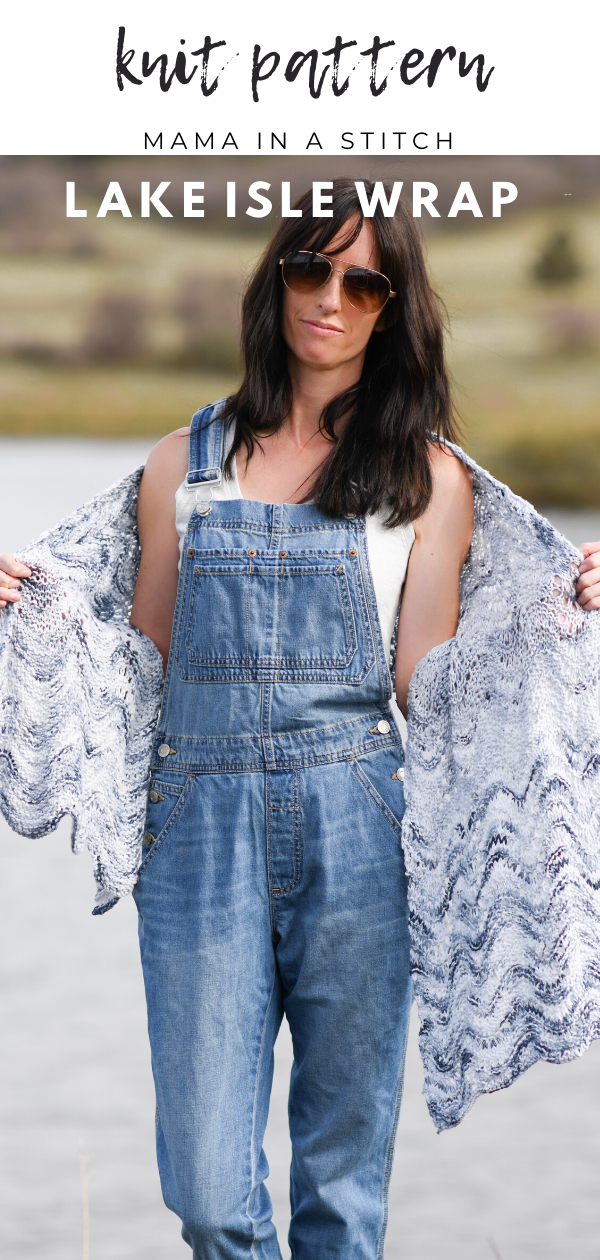 That's it my friends! Super simple, rigth? I love these types of projects that can impress your friends, yet are still simple to make.
If you make one, I'd love to see it! Feel free to share with me @mamainastitch #mamainastitch!
XO,
Jessica
If you liked this, you might also like:
Merlot Alpaca Wrap Knitting Pattern