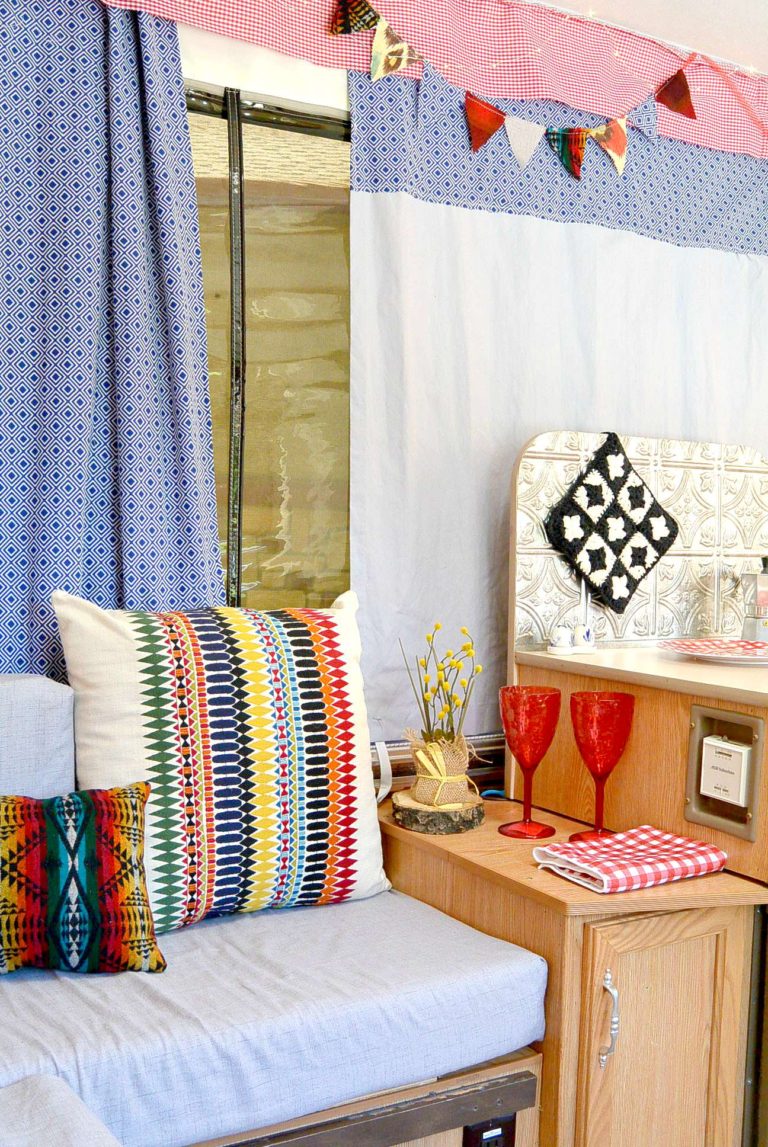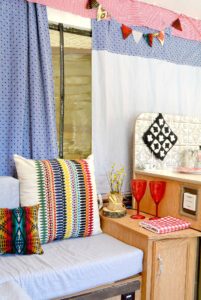 Every now and then I post something other than knitting and crochet; this is one of those posts. 🙂 I had to set down my knitting needles and crochet hooks ( though you can see my crochet granny square potholder hanging there – see the

pattern here

) for a bit when we finally purchased a used pop-up trailer camper. It was time to get back to sewing like a crazy person, making all new cushion covers, curtains, valance and some pillows. Maybe I'll post a "how to make a pillow tutorial" shortly, I am quite the expert now!
I was basically stalking all of the reasonably priced pop ups on Craigslist for the month of June, and after being beat to the punch on two of them, we finally scored this little one (note to anyone looking for a pop up at the beginning of summer: they are hard to get!). It's a Starcraft year 2001, so not super old, but the interior was not my style on top of being REALLY dirty. There was no way I felt like cuddling up on any of those cushions, so EVERYTHING had to be cleaned and/or made new. See, here is how it was….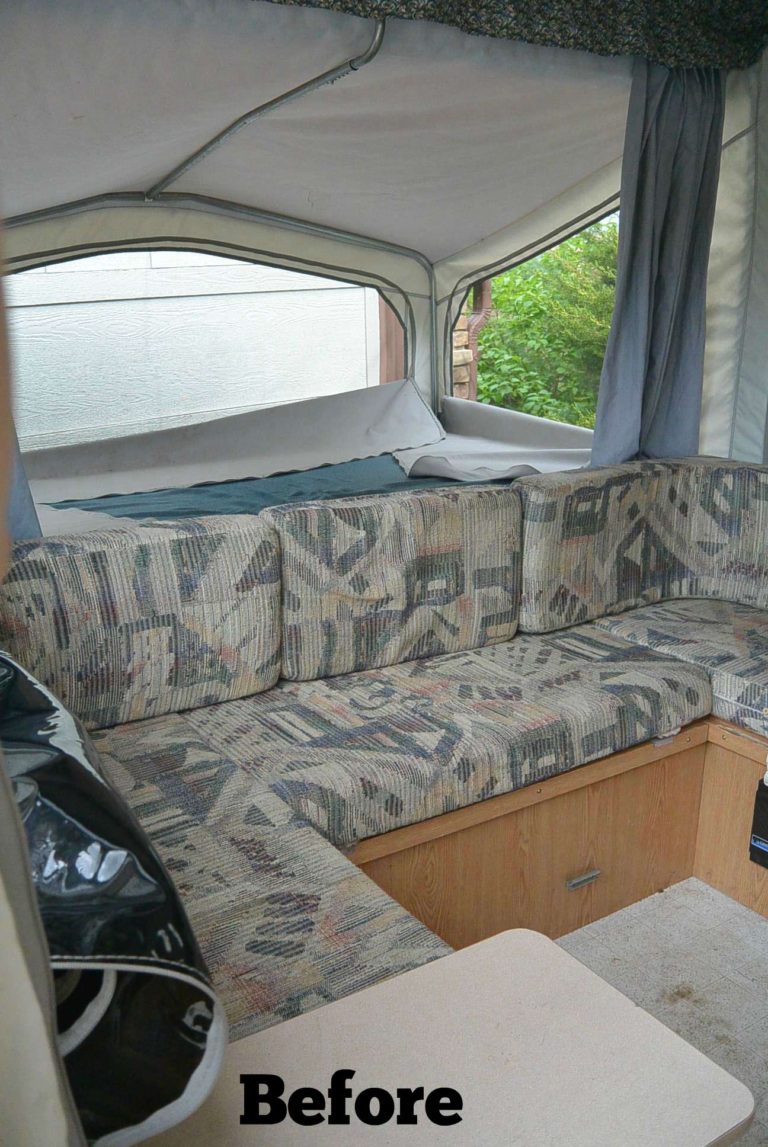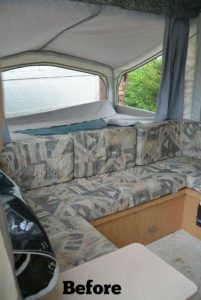 I grew up camping in a circa 1982 pop-up, and have memories of mismatched fabrics, plaid coleman sleeping bags, curtains that my brother and I would hide behind, and afghans for campfires. I wanted to keep the feel that I remember, so chose to use up a bunch of various fabric which I already had, and buy some that would go with the look. At first, my budget for the remodel was to stay under $150.00. I think it probably ended up being more like $280. We splurged on a couple of things, which were the back splash, comforters and extra mattress foam. Shockingly, the hubby was on board with splurging-he was totally into this camper remodel!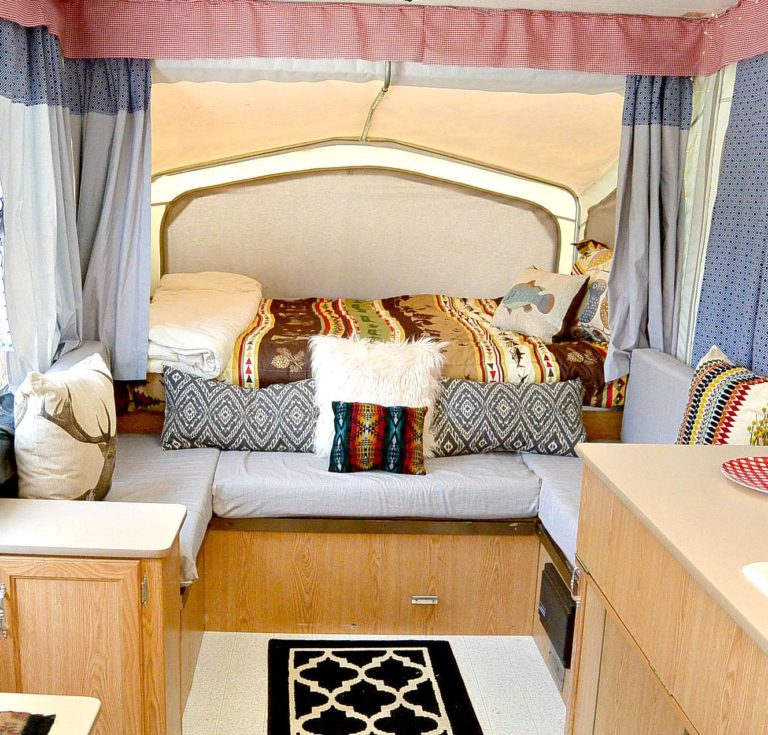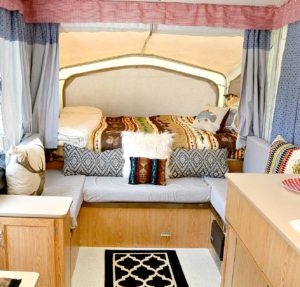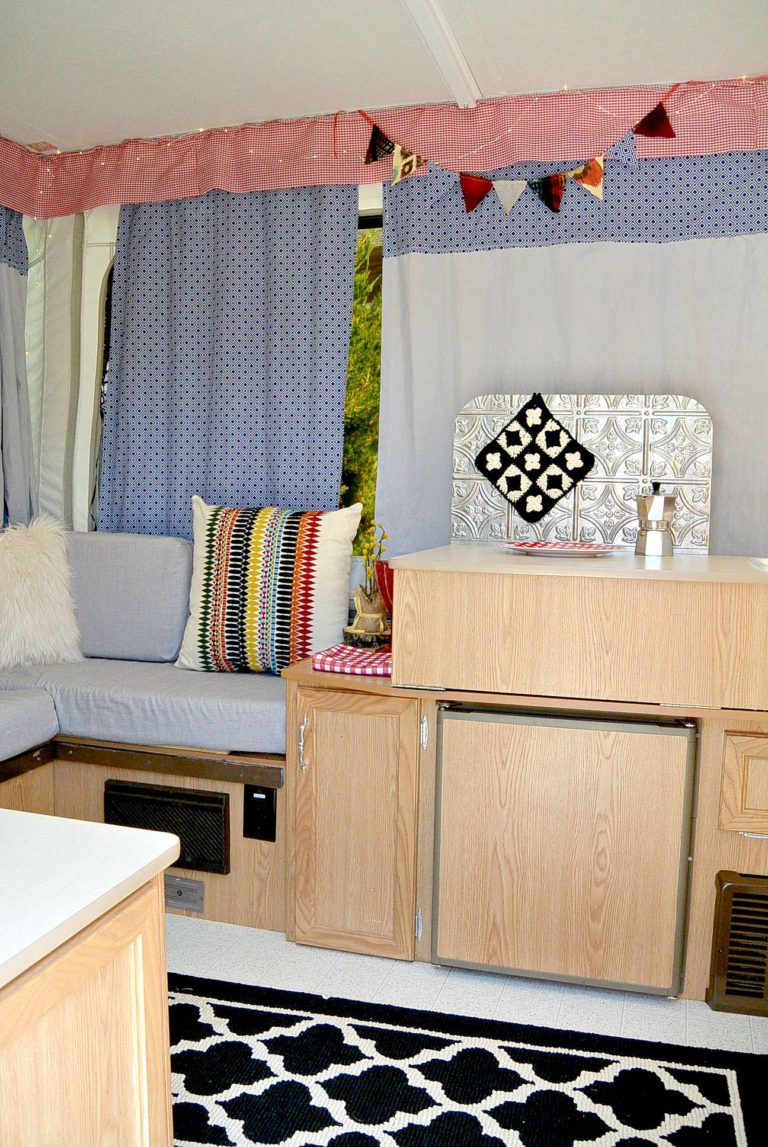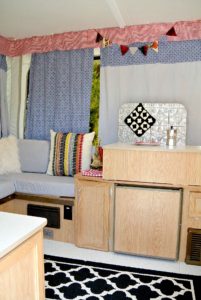 Here are a few of the fun details we did: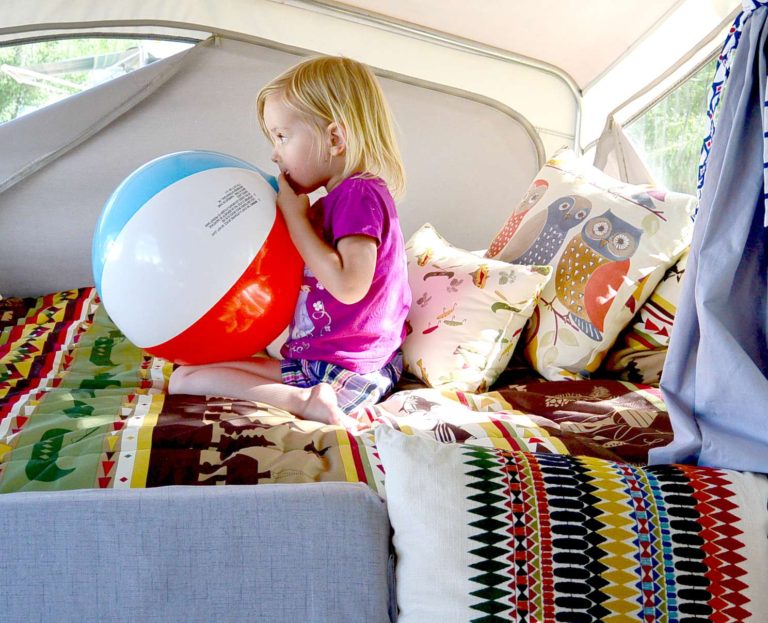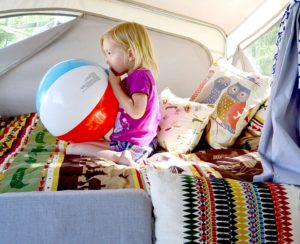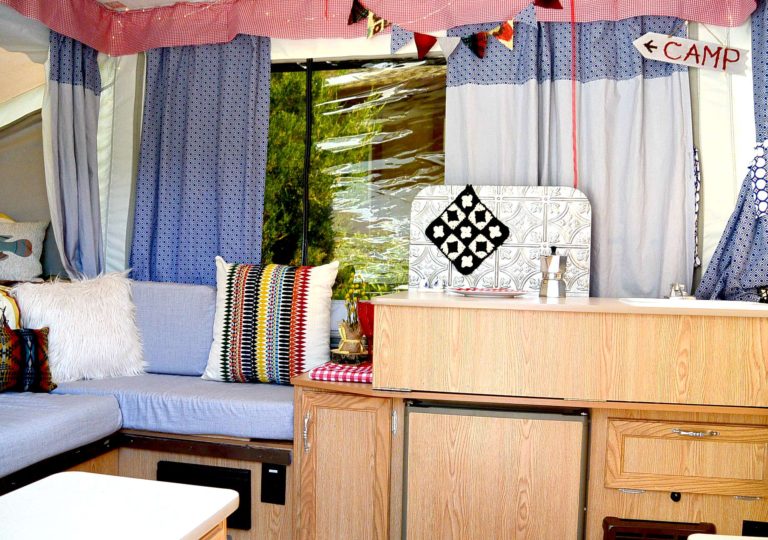 Here's what we did to this tent trailer in two weeks:
Cleaned, scrubbed, washed, fe-breezed like ca-ray-zay

Sewed new cushion covers (I did them envelope style and used Velcro to close one side)

Sewed new curtains

Sewed new valance

Bought new bedding and pillows

Sewed new pillows (used left over scrap Pendleton fabric that I already had for some of those)

Installed backsplash ( faux tin panel which we got at Lowes – that was a pricey little panel )

Painted handles and faucets stainless steel (they were gold)

Painted "Camp" sign (bought a little sign from the dollar store, flipped it and painted on the back – so easy), put up LED fairy lights (love these!)

Bought new rug

Admired, drank wine, took camping and enjoyed!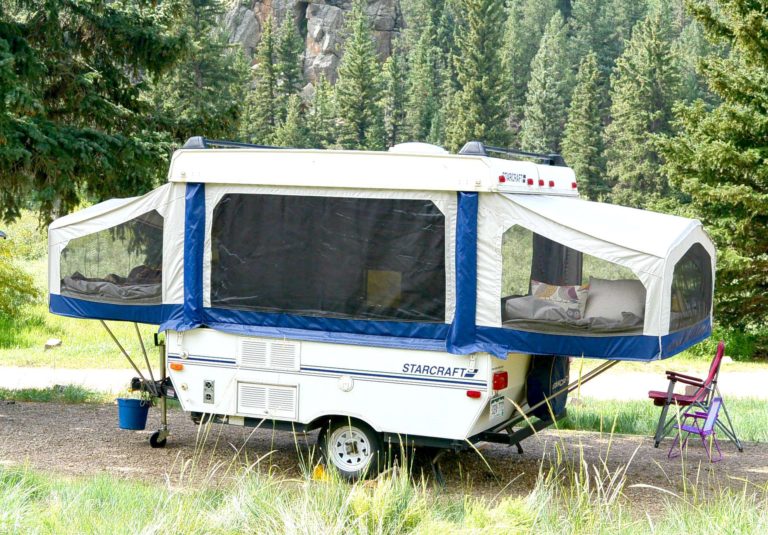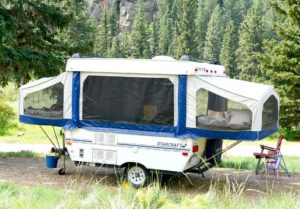 We have already had some great times in our camper this summer.
You know what, it was a lot of fun to redo this pop up. It's just a camper after all, so it wasn't stressful in the least! I just kept telling myself when I'd get all uppity that something wasn't turning out perfect, "This ain't the Taj-Mahal, it's a CAMPER". It's not the Ritz. It's not even the Holiday Inn. It's a kitschy little camper that will get dirtied up, and filled with memories. I wish I could redo another one! But maybe next year…I'm kind of tired of sewing cushions.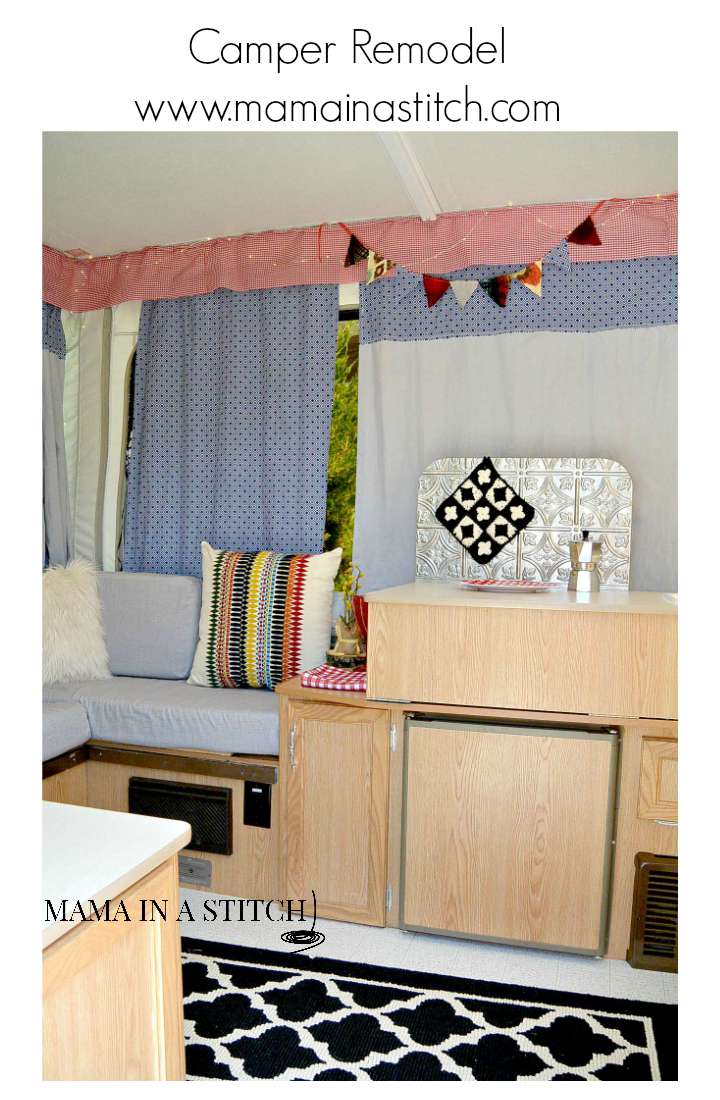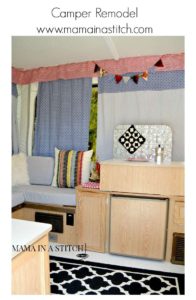 I hope you've enjoyed seeing the pics of the remodel. If you've ever wanted to do something similar, I say DO IT. 🙂 Do you have any great camping memories?