One of my first knitting projects was a pair of leg warmers, which turned out pretty hideous. My daughter ended up wearing them anyway last winter because it was great to have an extra layer of warmth when she played outside. I thought that I'd make her some crochet leg warmers this year, and I wanted to make them quickly!
These are perfect for a beginner, and they are a great alternative to a scarf project. They are really soft, and can be made in one evening. I will tell you how to make them for any size and then give you an exact pattern for a toddler (3 – 5 year old).
If you know how to single crochet through the back loop, these are a breeze! They are crocheted flat, and seamed making them super simple.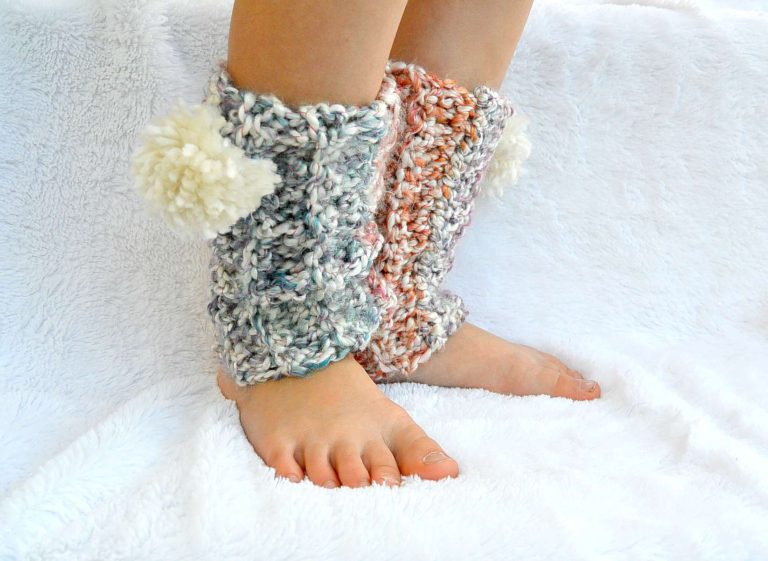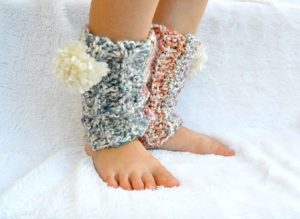 You will need:
Contrast yarn of choice for pom-poms
Size J Crochet Hook
Scissors
Tapestry needle to weave in ends
How to make for any size

– (though you will need the leg that you are making them for!)
Step One: Make a chain the length of the shin. Basically, make sure the chain measures from the top of the foot, to just below the knee.
Step Two: Row 1 – Single crochet across row, chain 1, turn
Step Three: Row 2 until desired width (width should allow the piece to wrap comfortably around the leg)- Single crochet across row in BACK LOOP only. If you've never done this, hop over to YouTube and watch a video. I am also posting a picture of it below. Because of the texture of the yarn, it's hard to see how it's really done.
Step Four: Once your desired width is reached, tie off. (You basically have a square/rectangle) Seam the sides together to create the leg warmer. Weave in ends.
Step Five: If you like the pom-poms, whip out a couple of those and attach about 1/2 inch below the top of the warmer, on the outside. If you've never made a pom-pom, see my easy tutorial here –>

Pom-pom Tutorial

.
Note: These are very stretchy! Make sure you stretch them and check how they feel. I initially thought I made them the right width but they stretched too much. I had to redo them and make them a bit slimmer.
Pattern for Toddler Age 3-5
Chain 21
Row 1 – Single crochet across row, chain one, turn
Row 2 until width is approximately 6 and 3/4 inches wide
Fold, and line up edges. Whip stitch seam closed using your tapestry needle and a length of yarn.
Pom-Pom
Using any color you'd like ( I used an off-white yarn ), make two pom-poms and tie them 1/2 inch from the top of the outside of the leg warmer. If you've never made pom-poms, check out my tutorial here –> POM POM Tutorial. It's simple, simple.
Done!
____________________________________________________________________________________________________
I admit friends, I have made things in the past that my daughter refuses to wear. This is NOT one of those things. 🙂 I'd like to make some for myself because they are so soft and cozy!
What do you think of them?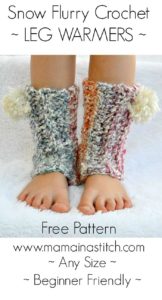 If you like beginner patterns like this, you may also enjoy: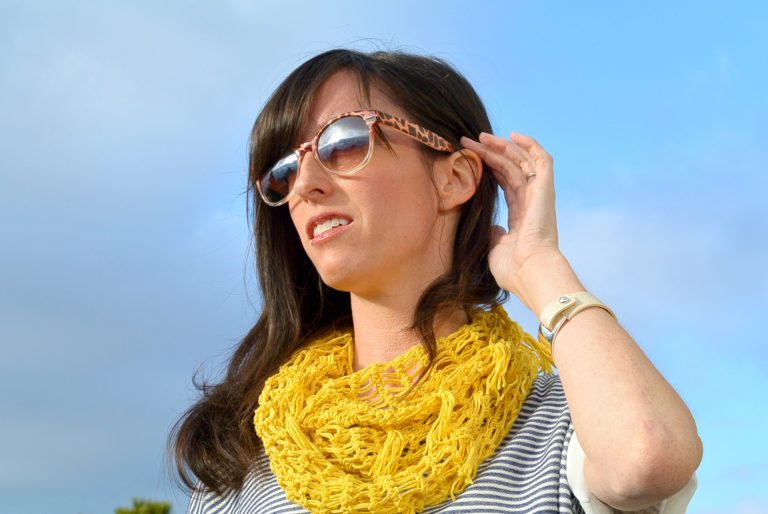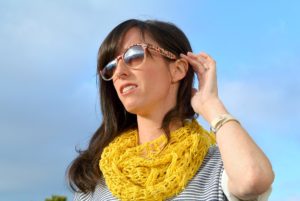 Thanks, and feel free to subscribe to the newsletter to keep up with new patterns!