How To Easily Knit A Big Yarn Blanket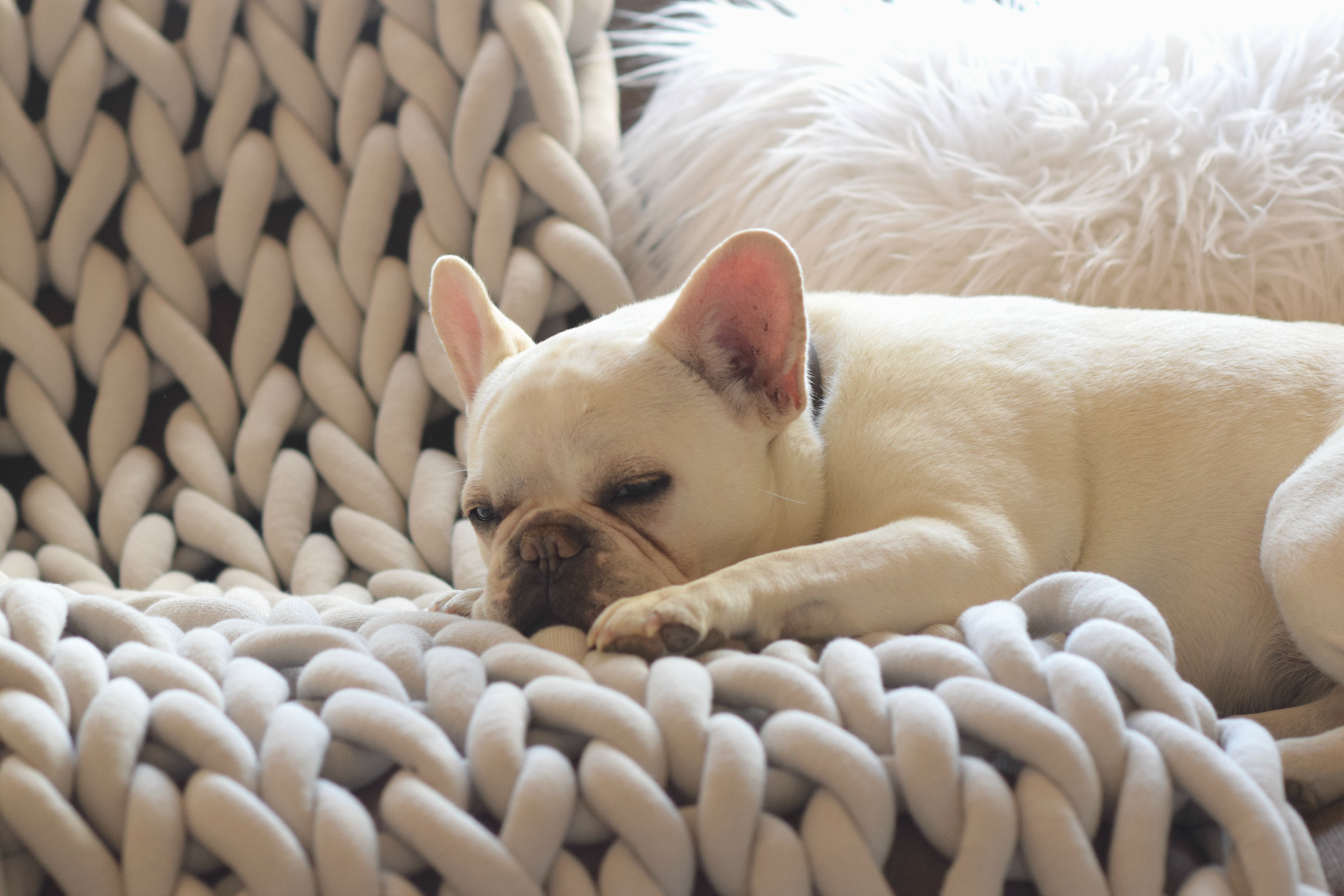 Who else has always wanted to try your hand at one of those giant knit blankets you see all over internet land? I HAVE! It was so exciting when Lion Brand offered to send me one of their newest yarns that happens to be a huge, gorgeous yarn perfect for a big blanket. I want to show you exactly how I made this, and ultimately it wasn't arm knit OR needle knit. It was sooo much easier than either method!
Let's get right to the video and you can read more about how I ended up using this method below! Be sure to click "play" if it isn't running.

Before I dive into how I made this, I want to give you some insight about the yarn. The idea of flying fuzzies has been my main trepidation with investing in merino wool to make a large knit blanket. However, this "Yooge" yarn doesn't fuzz at all. I'm also guessing it washes up a lot easier than raw merino wool which is a plus. You only need one skein to make the blanket that I made and you can literally make it in a few hours. It's definitely the most expensive yarn I've ever used at about $100 per skein, but it's a good price when you compare it to other comparable big "yarns" out there. AND, when you see these big knit blankets retailing at $500 a piece (do a google search and you'll see what I mean!), you're still money ahead if you make one. 🙂 As usual, you can scroll down to check out the free pattern and video tutorial below, or you may choose to purchase the kit which is available in Lunar Rock (grey) or Navy Peony from Lion Brand Yarn here. 🙂 Or you can go to the Lion Brand list of Kits here and find the blanket that way!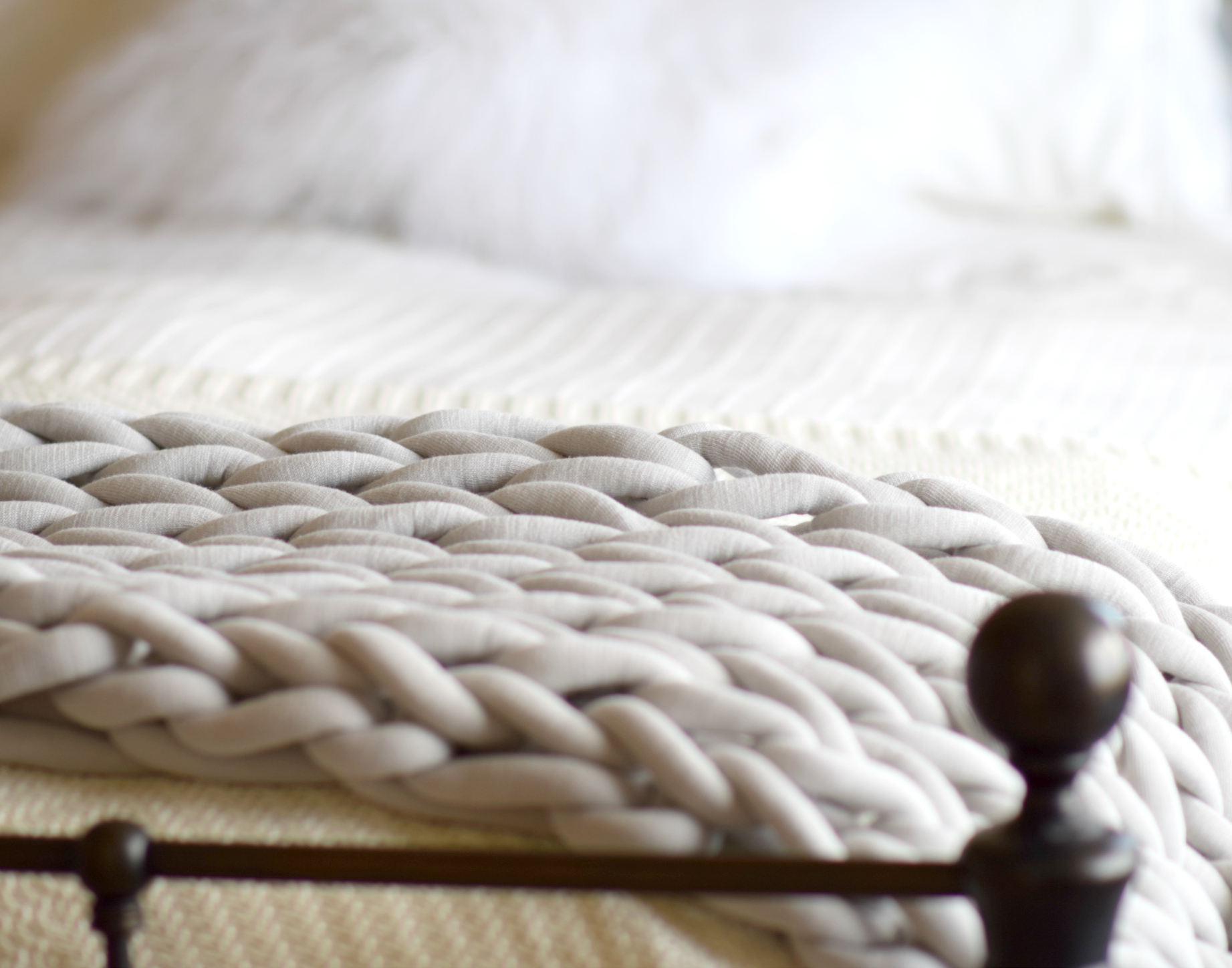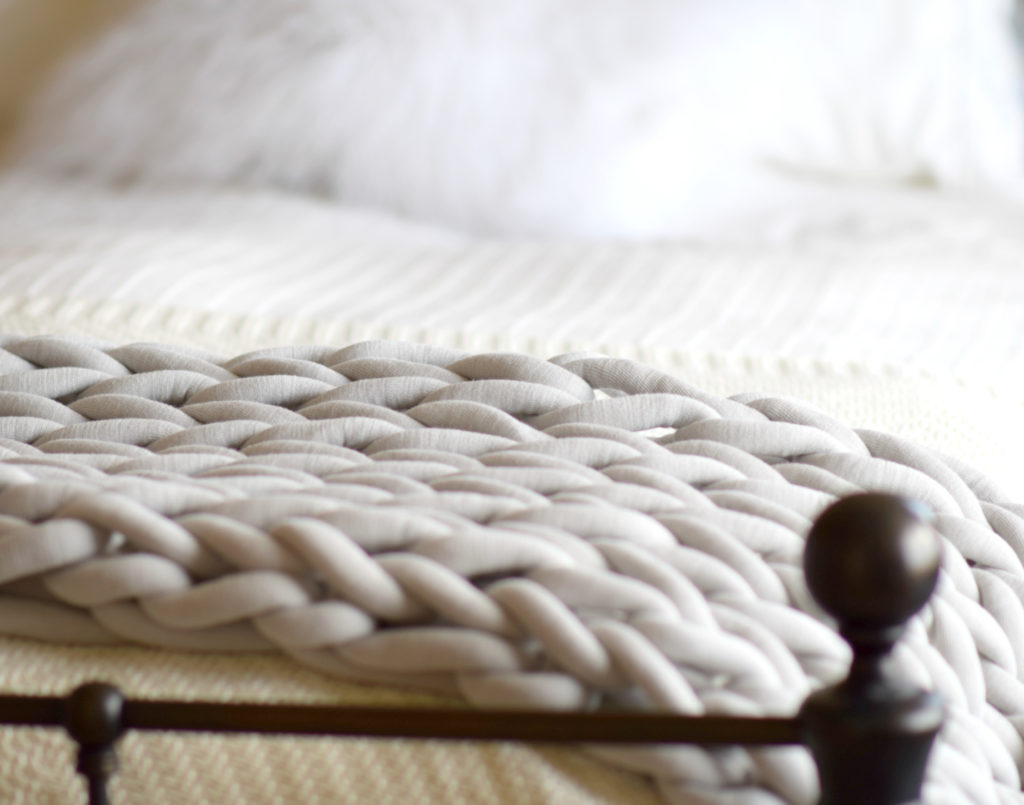 I tried several methods to make this including arm knitting and needle knitting. By knitting with the large needles, I found it gave the blanket a more uniform, tighter stitch.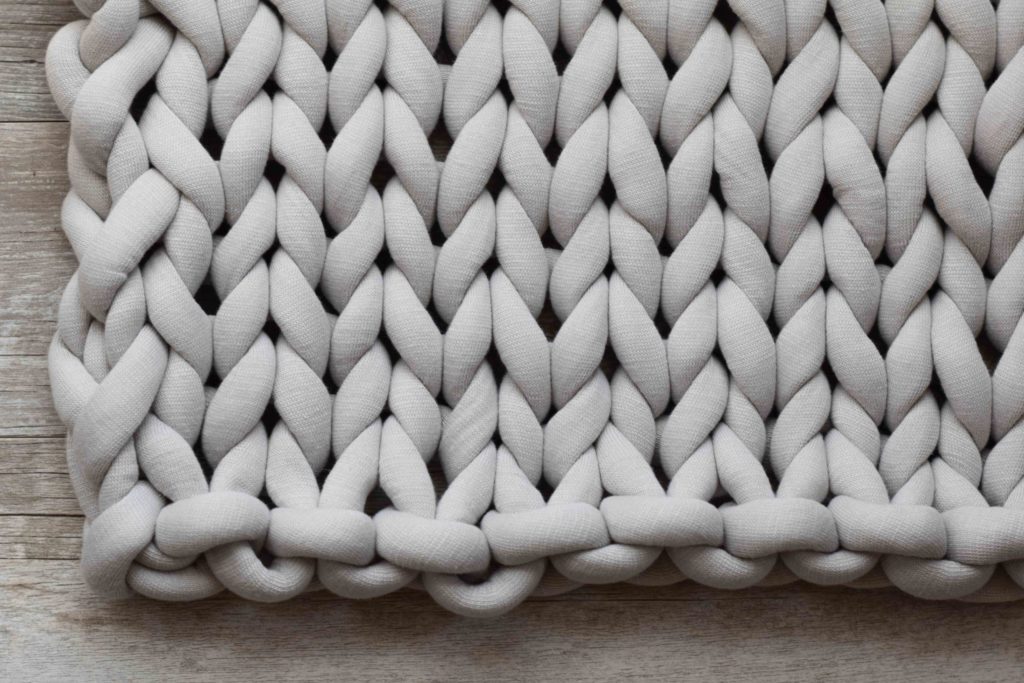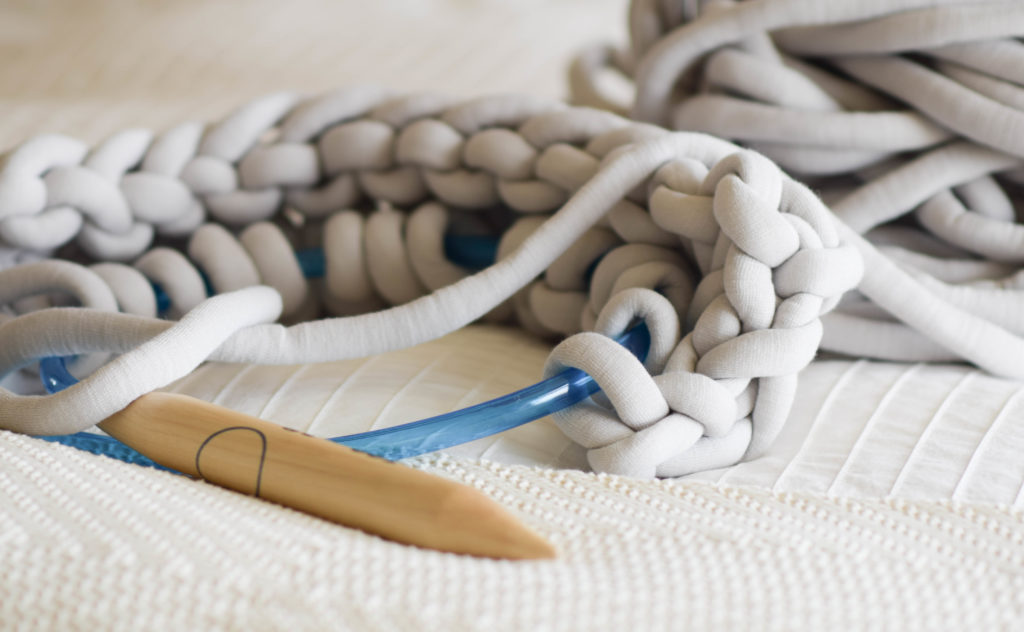 I checked out arm knitting too, but this was too much work for me. Lol!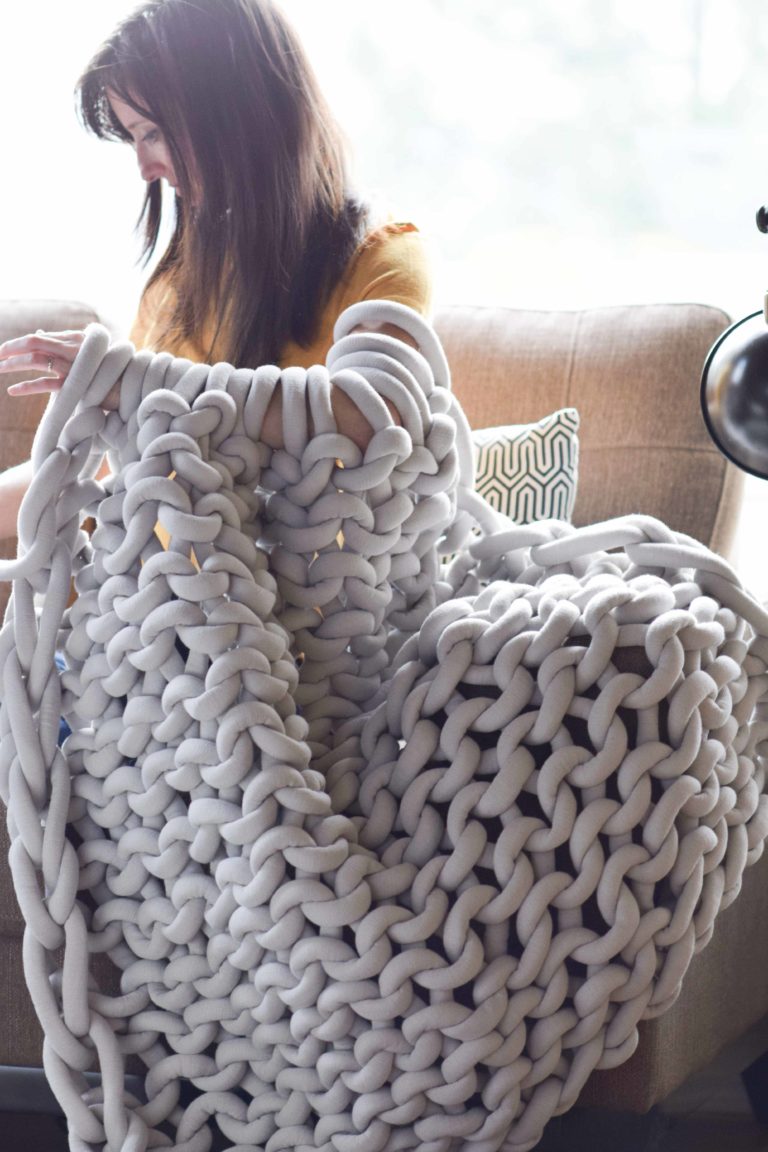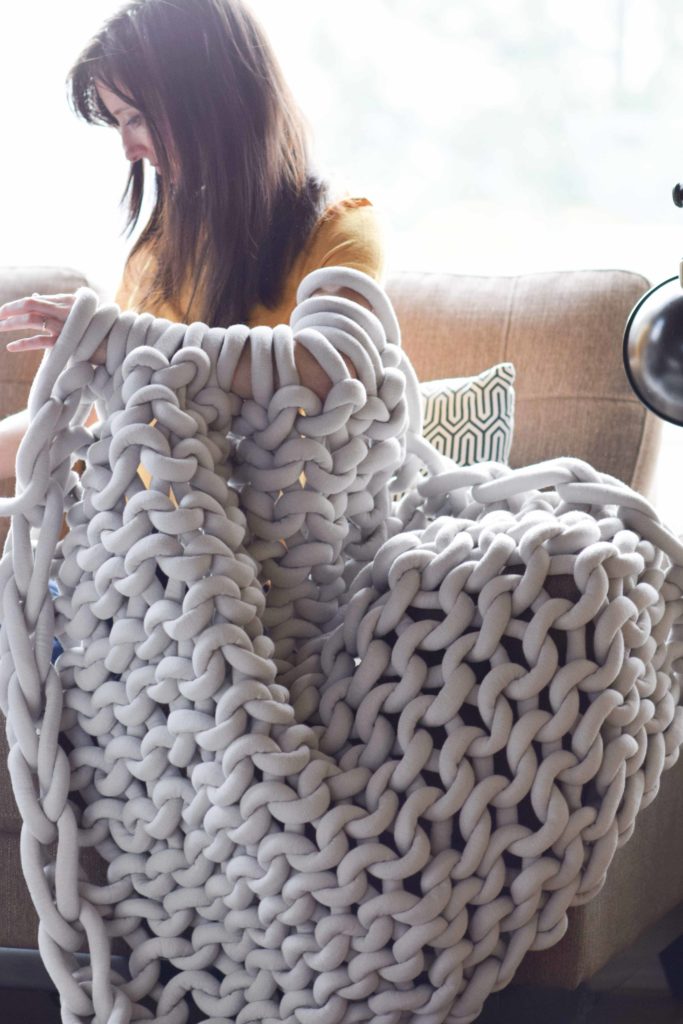 Many of you on Instagram gave me some great advice on arm knitting and how you've made large blankets like this. Ultimately, after a lot of google searching and hearing from you, I decided the easiest way to make it would be to do it by hand. I did work it up one time on my US size 100 38mm needles (giant!) and it looked awesome with a lovely tight stitchwork. However, the most cost effective way of making this (if you don't want to invest in the big needles) is to do it with your arms or hands. Some of you are amazing at arm knitting, but I was thrilled to see I could make this with JUST MY HANDS on the floor. There are quite a few amazing tutorials and videos online about arm knitting and this "hand knitting" method, so take a look if you're curious!
Below: Yes, you just lay the yarn on the floor and work this up with your hands. It's shockingly simple. No wrestling the yarn on your arms or switching stitches from one arm to the other. You can always find my video tutorial here.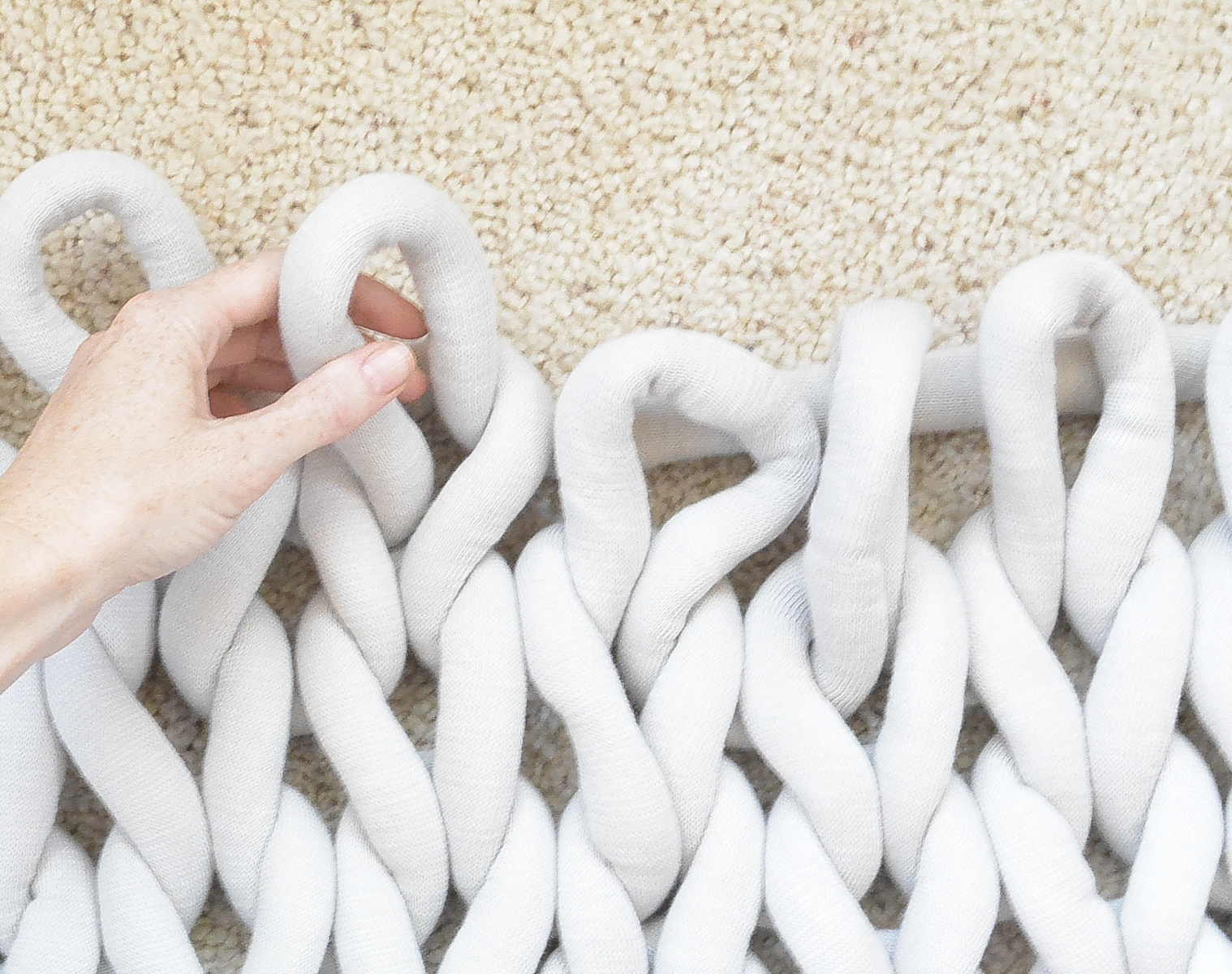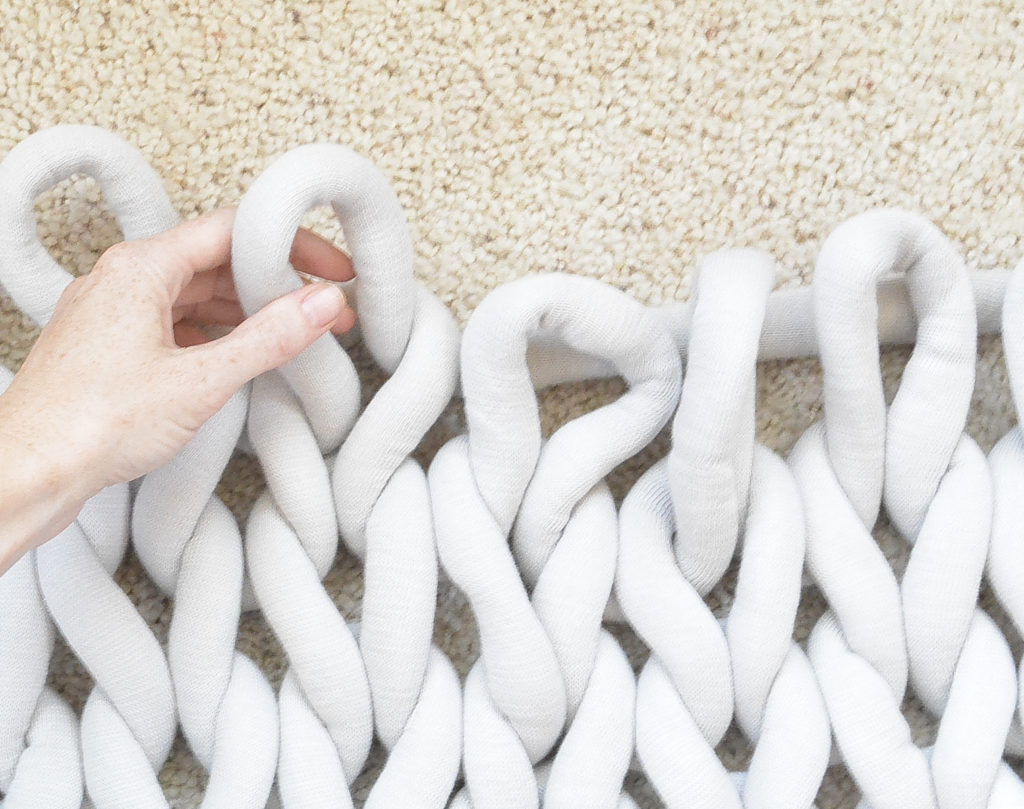 My blanket is long and skinny to lay across the foot of a bed as an accent piece and foot warmer. 🙂 I've also written the pattern for a more traditional lapghan blanket size using just the one skein.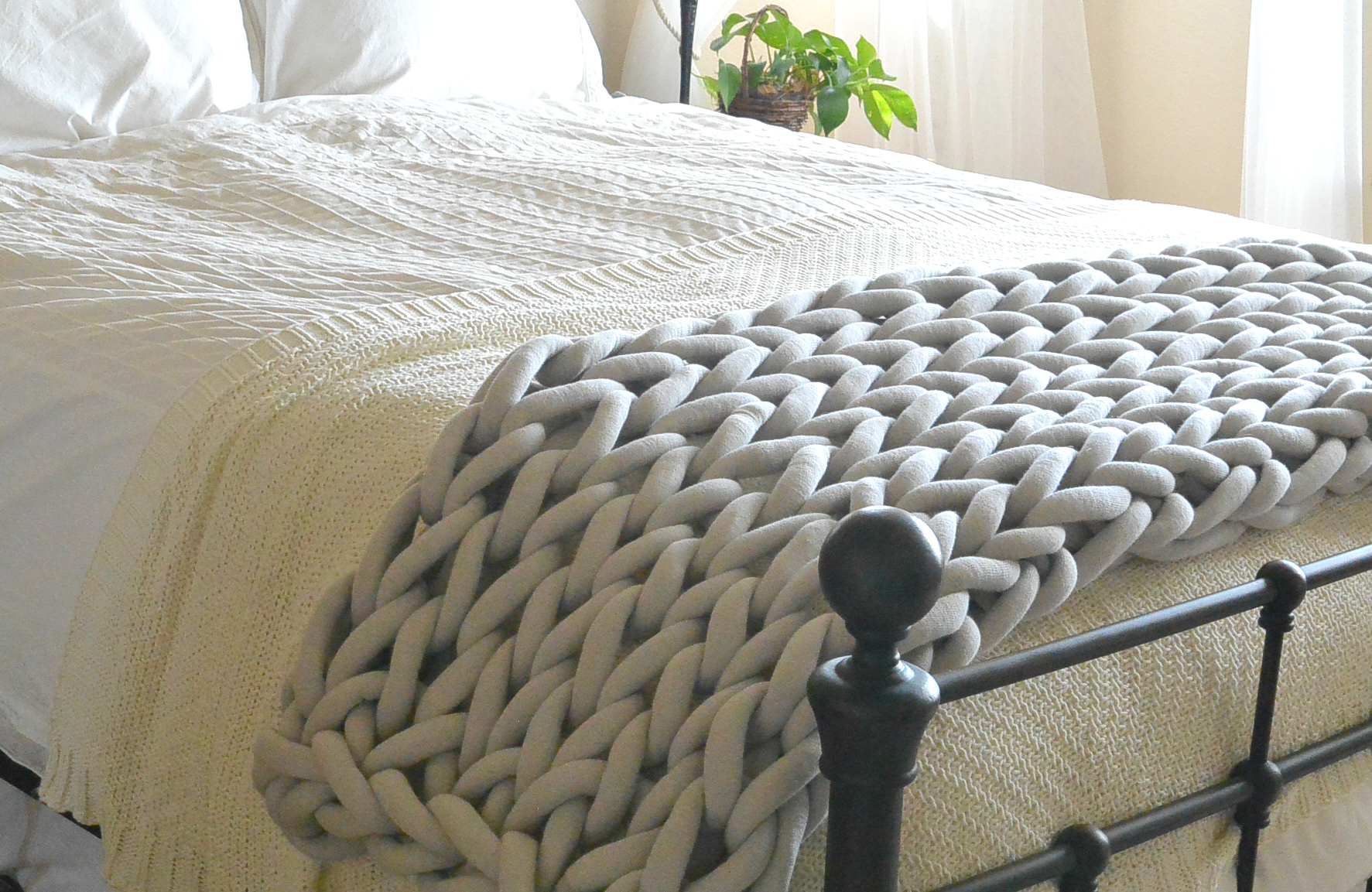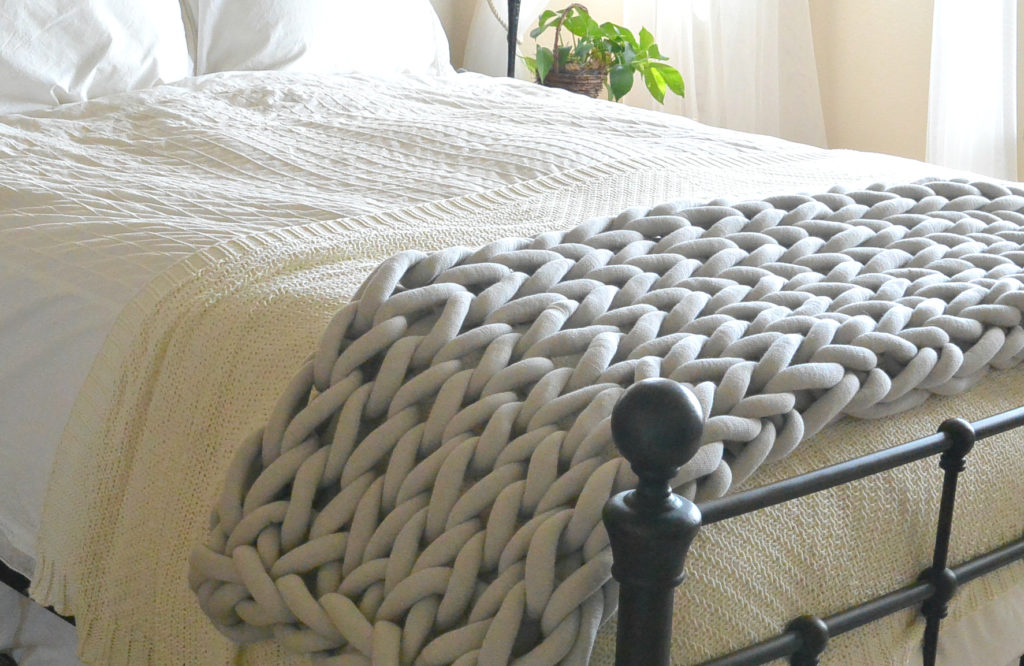 So you've seen the video, and now let's get to the actual pattern!
Pattern Description:
This project is so much fun and the results are stunning. Rather than buying one of the trendy "big knit" blankets that you see all over the internet, you can easily make your own. Whether you've knit your entire life or never touched a pair of knitting needles, you'll find this to be an enjoyable and quick project. Two sizing options are included in the pattern. Make it long and lovely to lay over the foot of a bed or make it a rectangular lapghan. It's easy to modify the pattern to make your blanket any shape and size, so get ready to snuggle up!
Skill Level:
Beginner
Materials:
One Skein LB Collection Yooge Yarn in Lunar Rock 2300 grams/skein Kit with Pattern and Yarn HERE
(if the link above doesn't work, you can also find the kit in their list of kits HERE)
(You can also find just the yarn without the pattern HERE)
Pattern uses approximately 2300 grams of yarn
Optional US Size 100 Circular Knitting Needles HERE
Gauge:
Not important for this pattern, however, the blanket will turn out smaller when knit on needles rather than if it's arm knit or knit with hands.
Dimensions (approximate):
(sizing approximate when arm knit or knit with hands only)
End of Bed Blanket: 22" X 66" (9 stitches cast on)
Lapghan Blanket: 40" X 33" (16 stitches cast on)
Abbreviations & Skills:
Cast On
k – knit
p – purl
Notes: This blanket can be arm knit or knit on US 100 size 38 mm circular knitting needles.
Yooge Big Knit Blanket Pattern Instructions
Option 1: Cast On 9 stitches for long, thin blanket (good for end of the bed)
Option 2: Cast on 16 stitches for lapghan size blanket
(cast on more stitches for it to be wider and shorter as preferred)
Row 1 Knit across the row (9 or 16 stitches)
Row 2 Purl across the row (9 or 16 stitches)
Repeat rows 1 & 2, in that order until you've used nearly the entire skein of yarn leaving a tail in order to cast off.
Cast off and weave in ends.


Enjoy your new, cozy blanket!


I'd love to hear if you plan to make one! What method would you use?
XO,
Jessica
Thank you to Lion Brand Yarn for sponsoring this post. All opinions are always 100% my own.
If you liked this, you might also like: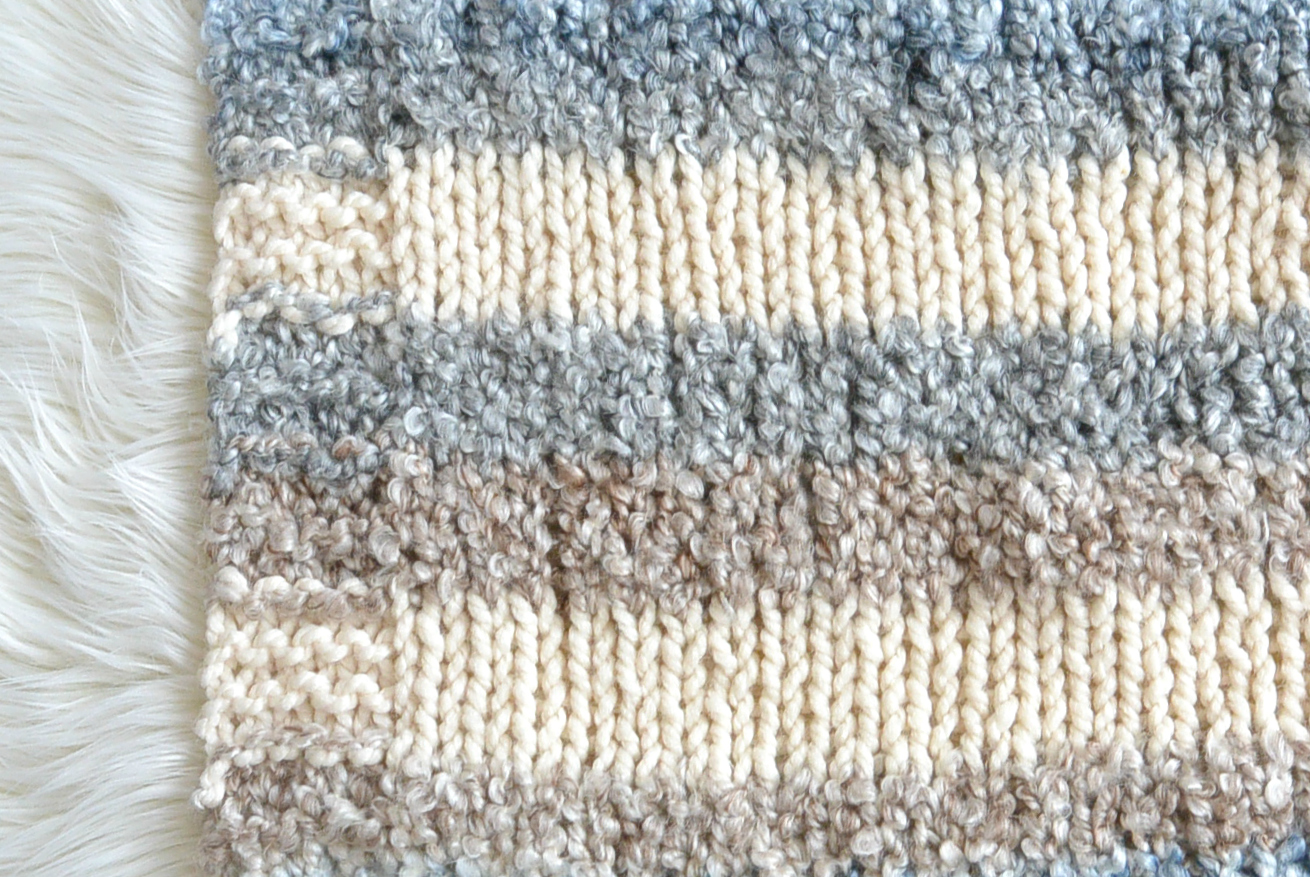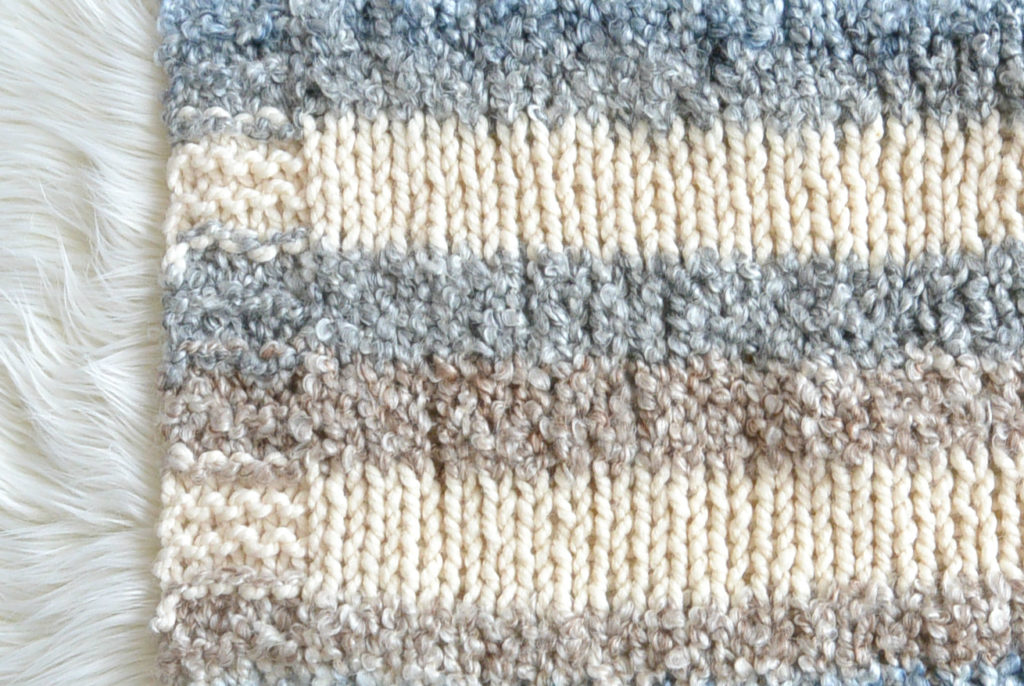 Easy Heirloom Knit Blanket Pattern