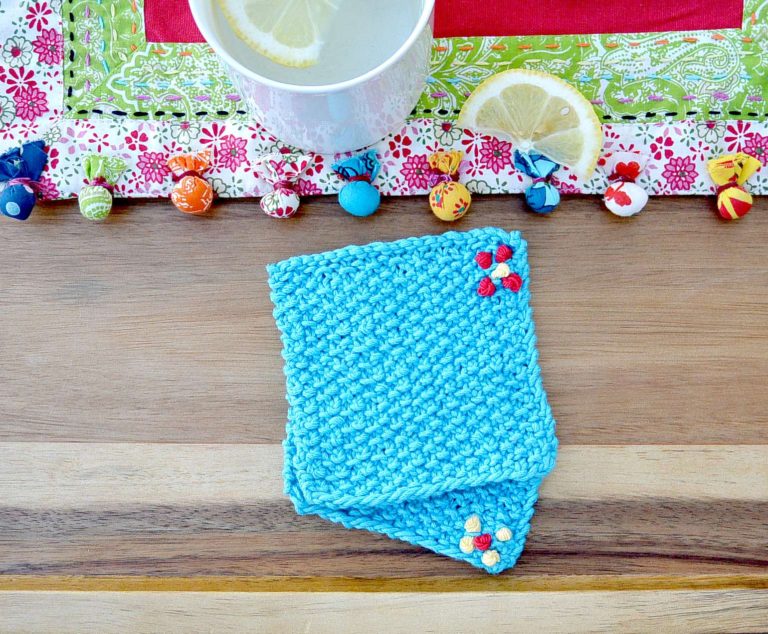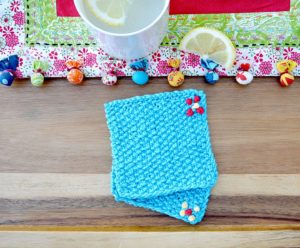 Whew – I'm home from Europe and back to posting to my blog after quite a break! We had an incredible time visiting my hubby's family in Poland, and when I arrived home there was a package of wonderful yarn waiting for me. I think I may have followed it over the ocean because it came from a new yarn company in the UK. How fun is that?! Anyway, the colors happen to be perfect because we are changing my baby's room to a "big girl" room, and she chose a turquoise bed. And BOOM, turquoise yarn was in my pack so I decided to make some coasters for her bedside table.
These are knit in the seed stitch pattern, which is very easy and I just love the texture it creates. If you know how to knit and purl, you are good to go with these coasters! I made the little flower details by making a few French knots in the corner. You can't believe how easy it is to make these little knots after watching a YouTube video. The coasters can be made with or without them. Change up colors, make them striped, put a crochet boarder around the sides and make them as big or small as you'd like. Use these just as inspiration if you'd like. 😉
I used to have a hard time with the seed stitch. I kept reading "knit the purls and purl the knits". Sometimes it's hard to tell if it's a knit or purl for those with little experience, darn it! These coasters take out most of the guess work because you simply alternate knit, purl across the row, starting and ending with a knit. If you get lost, just count back from the last stitch that will be knit to figure out if it's a purl or knit stitch that you are working on.

This is hardly a pattern it is so simple and can be changed in so many ways. Enjoy making it your own!
The yarn I used (Three Bears Yarn) was awesome and it will be available for order come October 2015. (They were kind enough to send me a free sample after I learned about them on Instagram. 🙂 I wasn't compensated in any way.) The cotton is super durable and didn't split on me at all. Even when I accidentally forced my needle through it a few times, it maintained it's shape and was easy to work with. I'm excited to try out more of their yarn because I prefer natural fibers whenever possible and they have some lovely cotton colors to choose from. I also like trying yarns from all over the world. There is something magical about trying quality yarns from different places!
So here's how I made these…..
I Used:
US Size 5 knitting needles
Scissors
I used Three Bears Cotton Yarn in Mermaid Cove – Aran (UK) Weight (NOTE: UK terms Aran weight is more like a Sport/Worsted weight in the U.S. )
*You could use a worsted weight yarn and up the needle size to a 6 or 7
Tapestry Needle to make French knots (optional) and weave in ends
Scrap yarn for the French knot details
How I Made Them:
Knit cast on 21 stitches
Row 1: Knit, *Purl, Knit – repeat from * to end of row (working in a seed stitch)
Row 2 until piece measures 3 3/4 inches wide (or desired length), Repeat row 1
If you've never done a French knot as I hadn't, I suggest you head over to YouTube and type in the search "how to do a French knot on knitting (or crochet)". I found some great videos. It is pretty straight forward so you could probably read how to do it as well, but I'm a visual learner so the videos are best for me. Here's my explanation, but really, go watch a video:
French Knot Info
With your tapestry needle, thread through the desired color yarn. On the wrong side of the knit fabric, secure the yarn with a little knot to a stitch. Now bring your needle through to the top of the fabric. Next, wrap the yarn around the needle twice, then put the needle back through the fabric through a separate hole next to where the needle came up. This may give you some idea of how it's done – but just head to YouTube and watch a tutorial. It's so easy!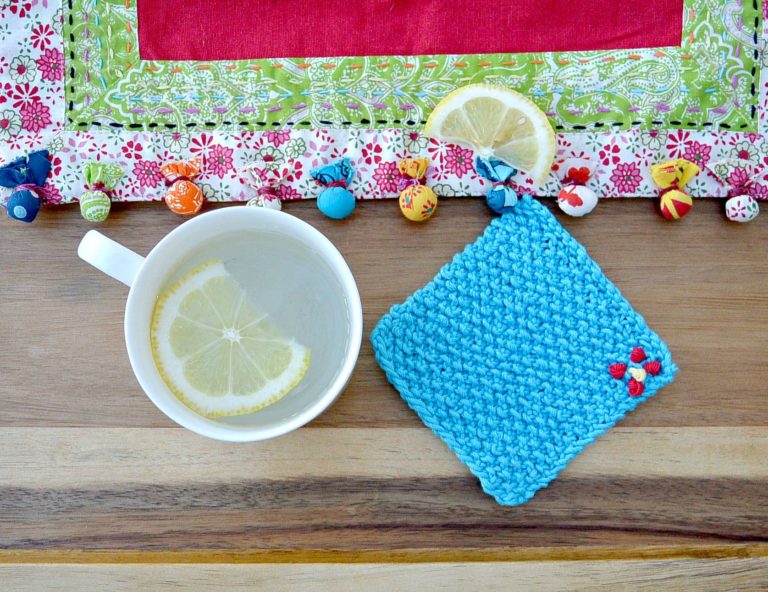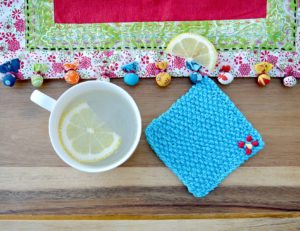 What do you think? I'm kind of obsessed with the French knots now. I think I may have to figure out what else to use them on. Any ideas – share!
Hope you have a beautiful day, friends.
If you liked this, feel free to sign up for my newsletter to stay updated on patterns.

🙂
You can also see my Seed Stitch Headband Pattern HERE