Easy Knit Boxy T Shirt "Jeans" Pattern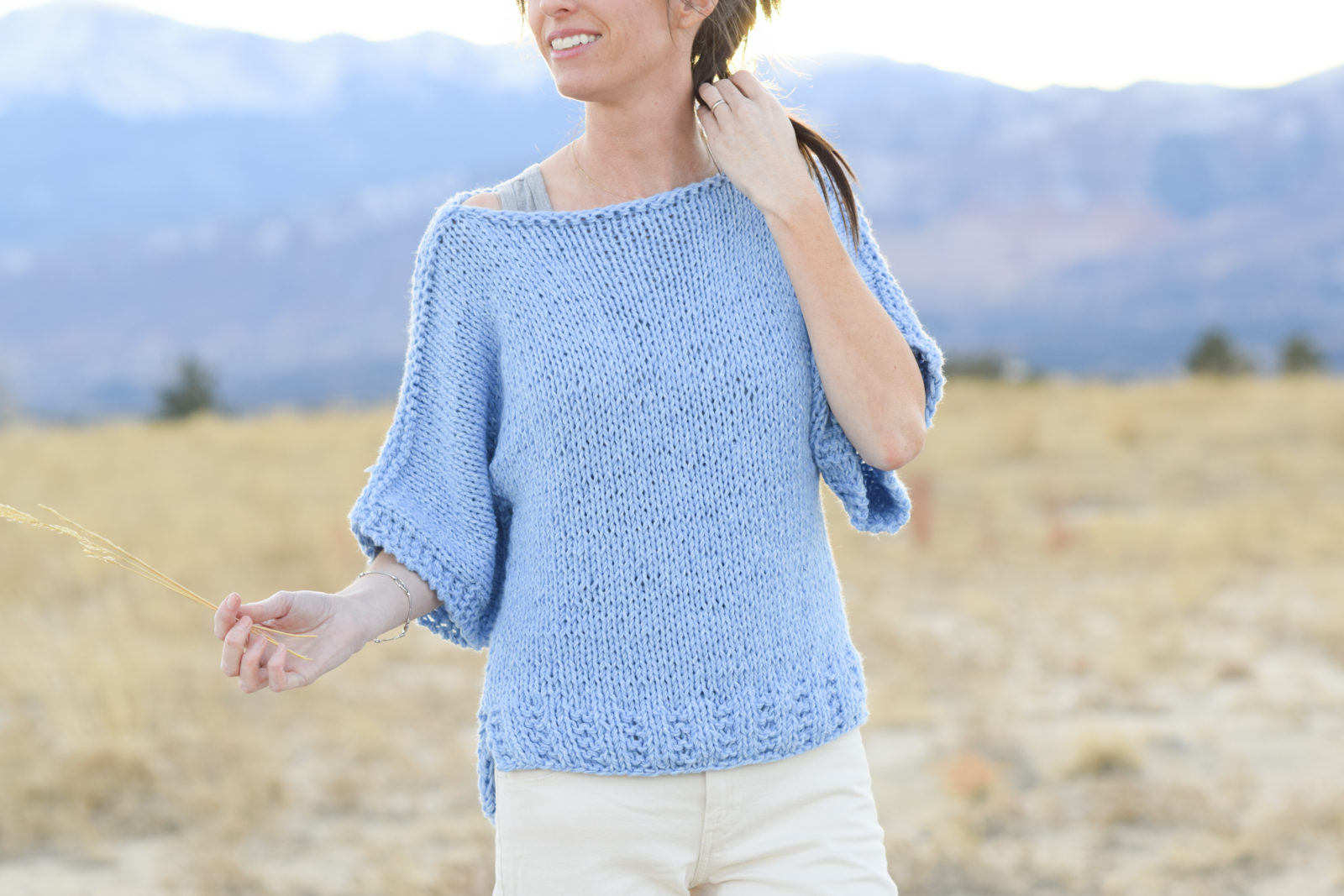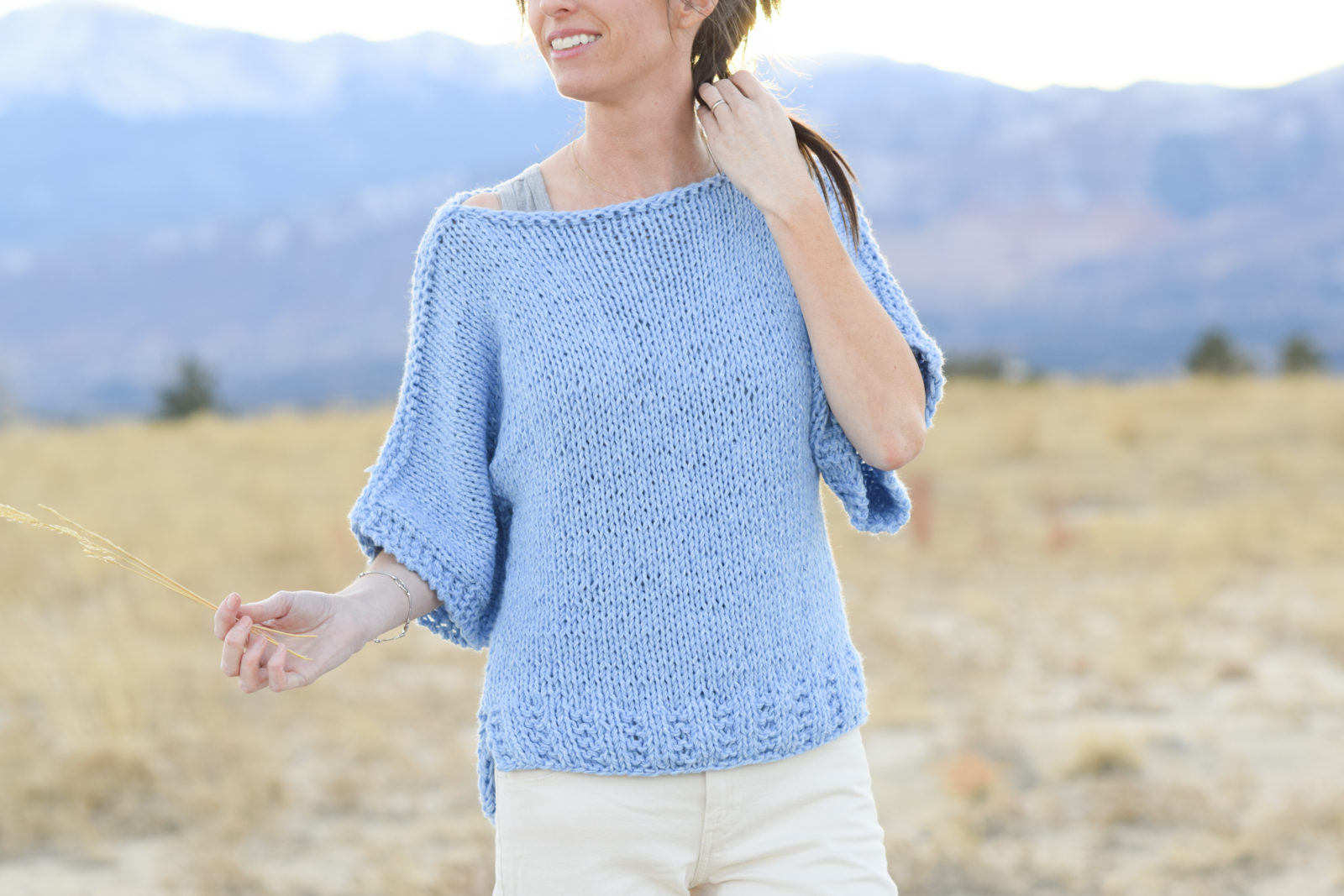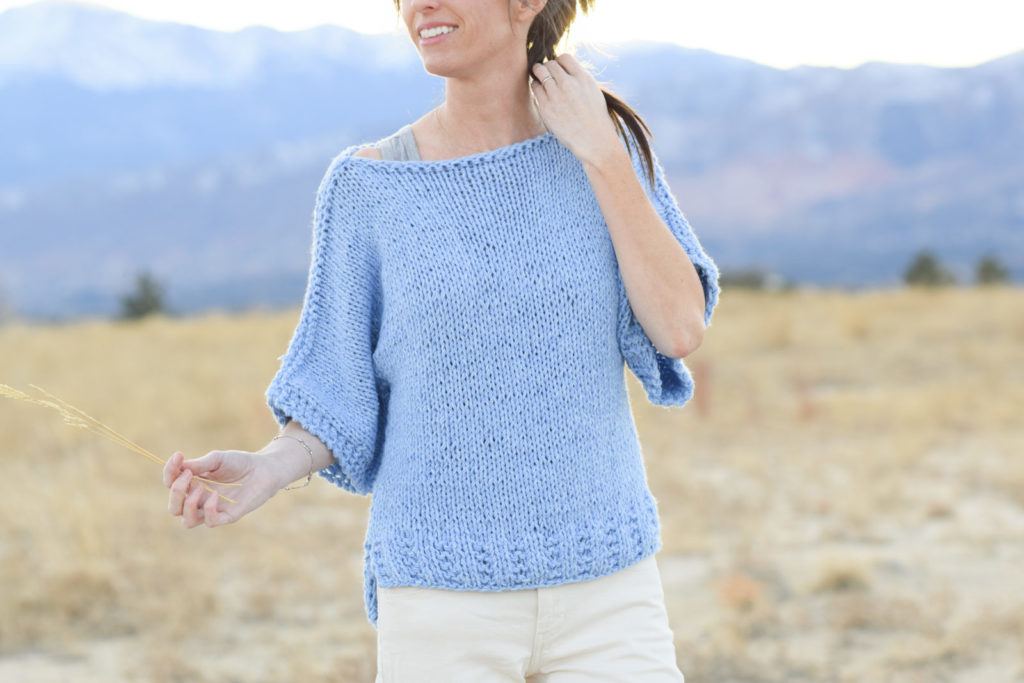 What could be comfier than a t-shirt and jeans? Not much, unless it's a Boxy Knit "Jeans" T-shirt"! Prepare to knit an easy short sleeve shirt that you will never want to take off. He he! This pattern is as simple as it gets for a knit sweater and is incredibly comfortable. If you've been too intimidated to attempt knitting a top, this may be the one to try. 😉 There's no scary shaping and it's essentially like knitting rectangles and then stitching them together. While it's a short sleeve shirt, it's big enough to wear over a fitted long sleeve shirt. It also can be worn with a tank top in warmer weather.
UPDATE – I've made another version of this t-shirt and shared the free pattern as well! You can see the Mod T-Shirt Knitting Pattern HERE
**Since writing this post, I'm happy to share that Lion Brand has made a kit with this pattern! You can scroll down for the free pattern below here on the blog or head over to Lion Brand to purchase the full kit HERE!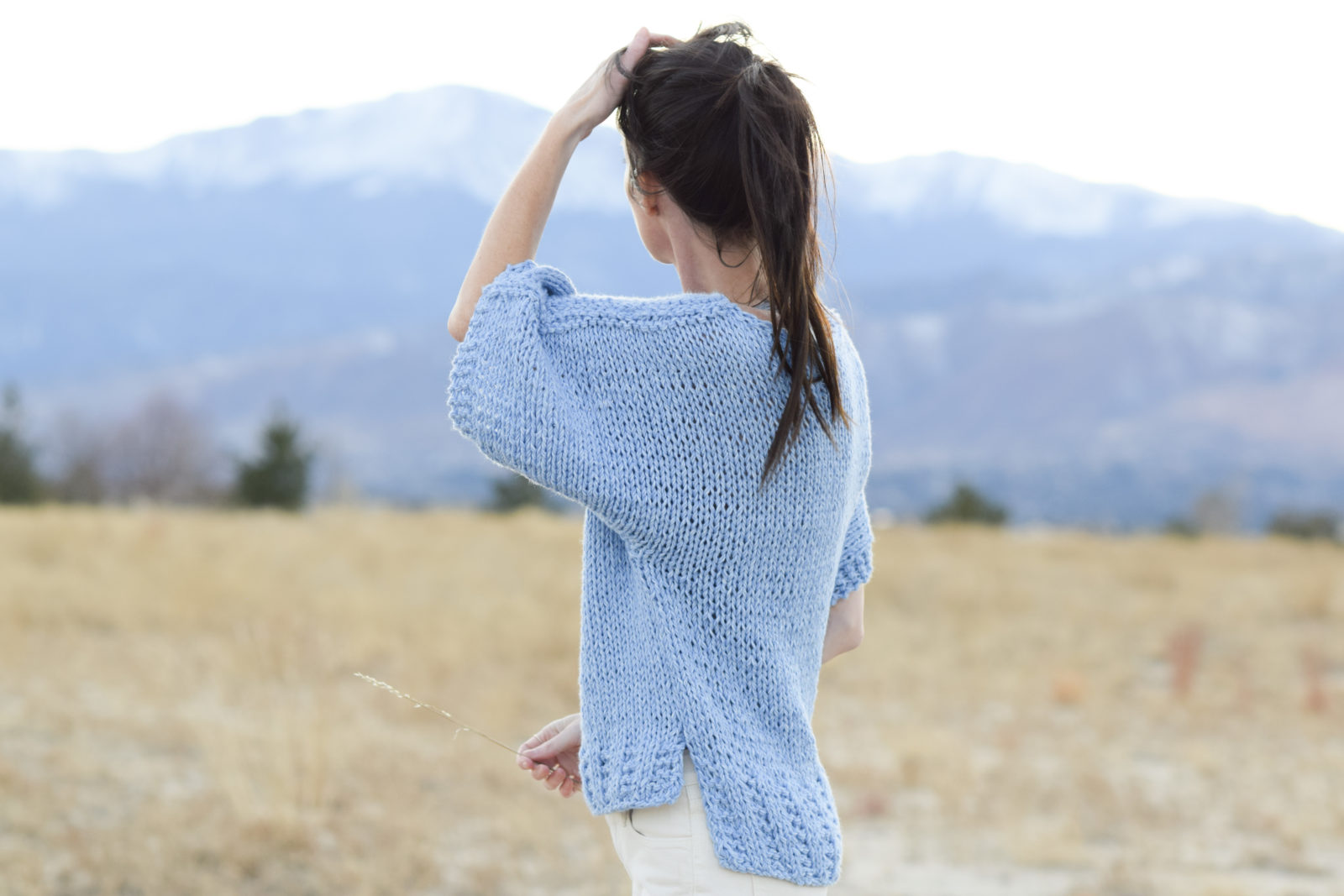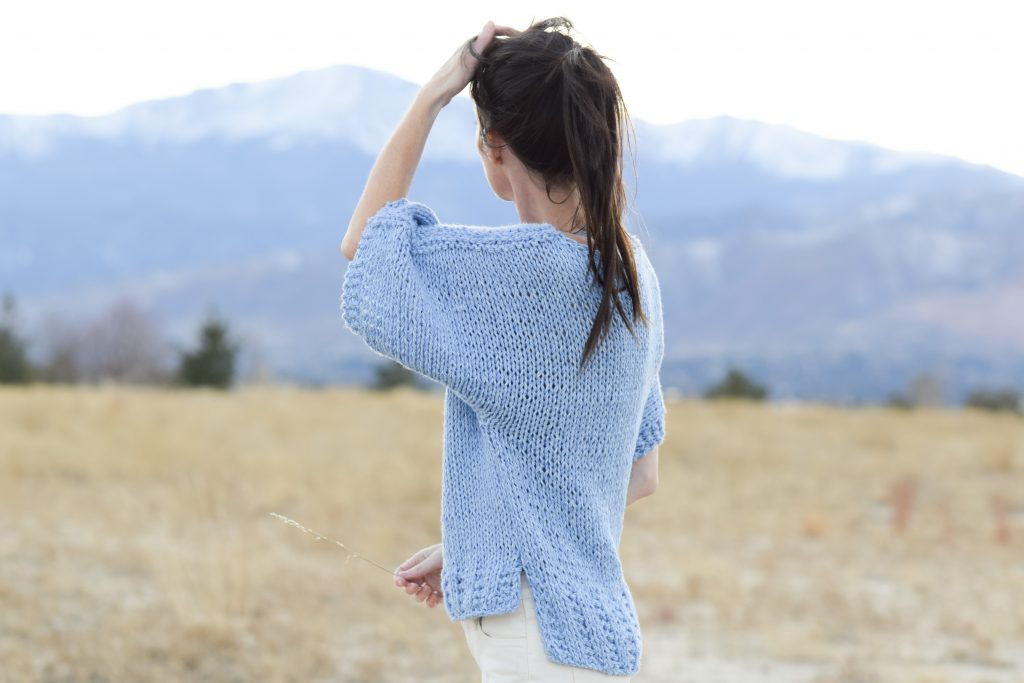 You guys know that I love over-sized, comfortable, and super easy patterns (remember the Knit Blanket Sweater). This one definitely fits in with that easy going style! While I may not be as hip as I once was, I've seen that the whole "off the shoulder" look is all the rage this spring. You have the option of making this off the shoulder or seaming the top so that you have a conservative neckline.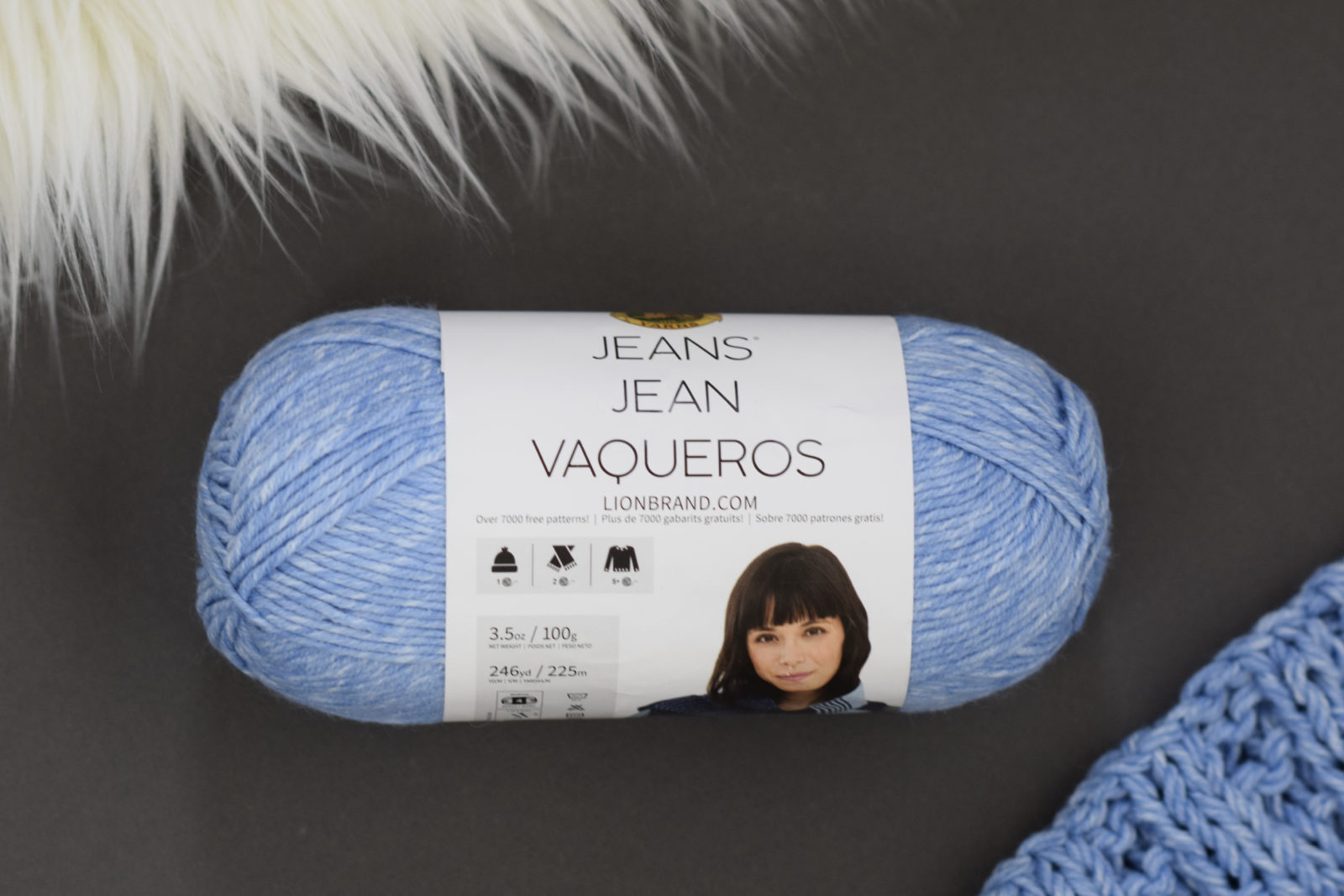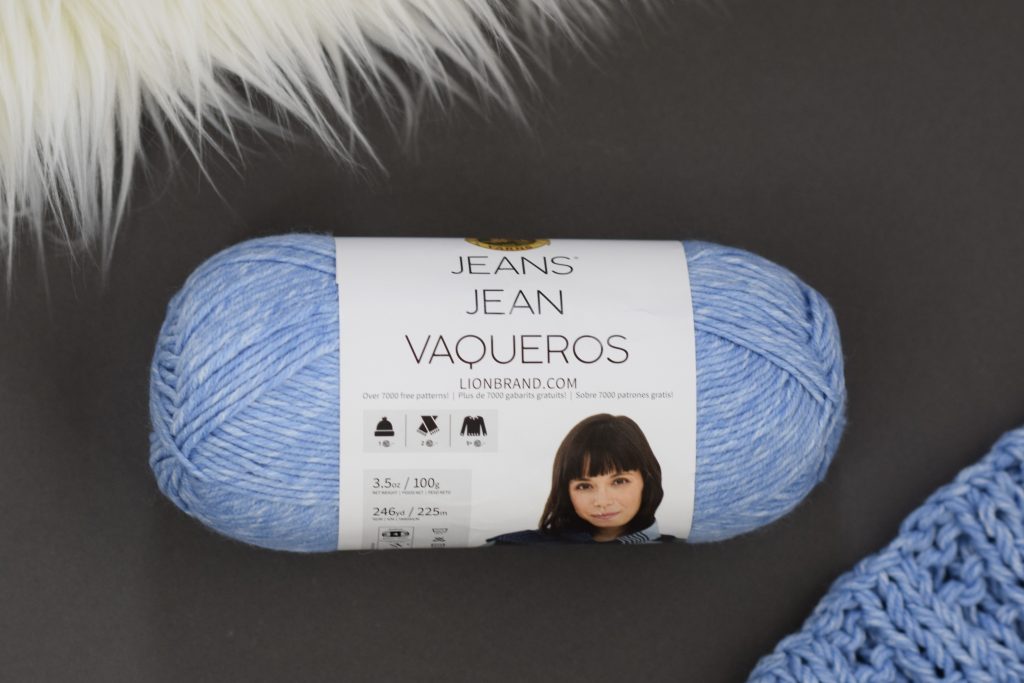 OHHHH – I wish that you could reach through the screen to feel just how soft this Lion Brand "Jeans" yarn is. It drapes perfectly and is so easy on the hands. There are also several different color options, so if you prefer a darker jean color they've got that as well! Everyone seems to love this yarn as much as I do, and as soon as I finished the sweater, I noticed that Lion Brand had sold out of the yarn. They will definitely get it back in stock, but in the meantime, I think Lion Brand Heartland would be a nice substitute. Just make sure to check your gauge, especially if you substitute yarns.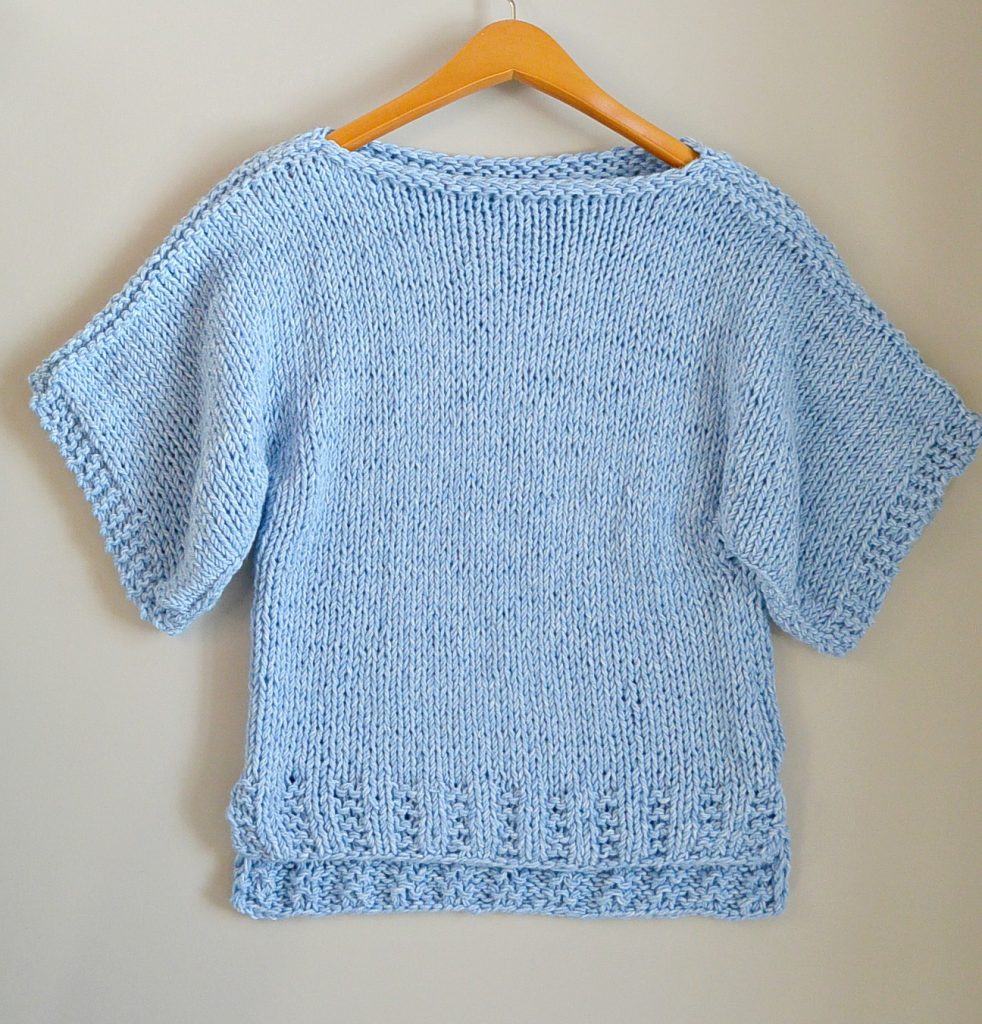 I've also heard your requests as you've wanted more sizing options. This is my first attempt at a multi-sized pattern and boy did it give my brain a workout! My absolute passion is to knit these projects and and blog about them, but this sizing thing was a challenge! I am really happy with how the top turned out though so maybe it was worth the challenge. 😉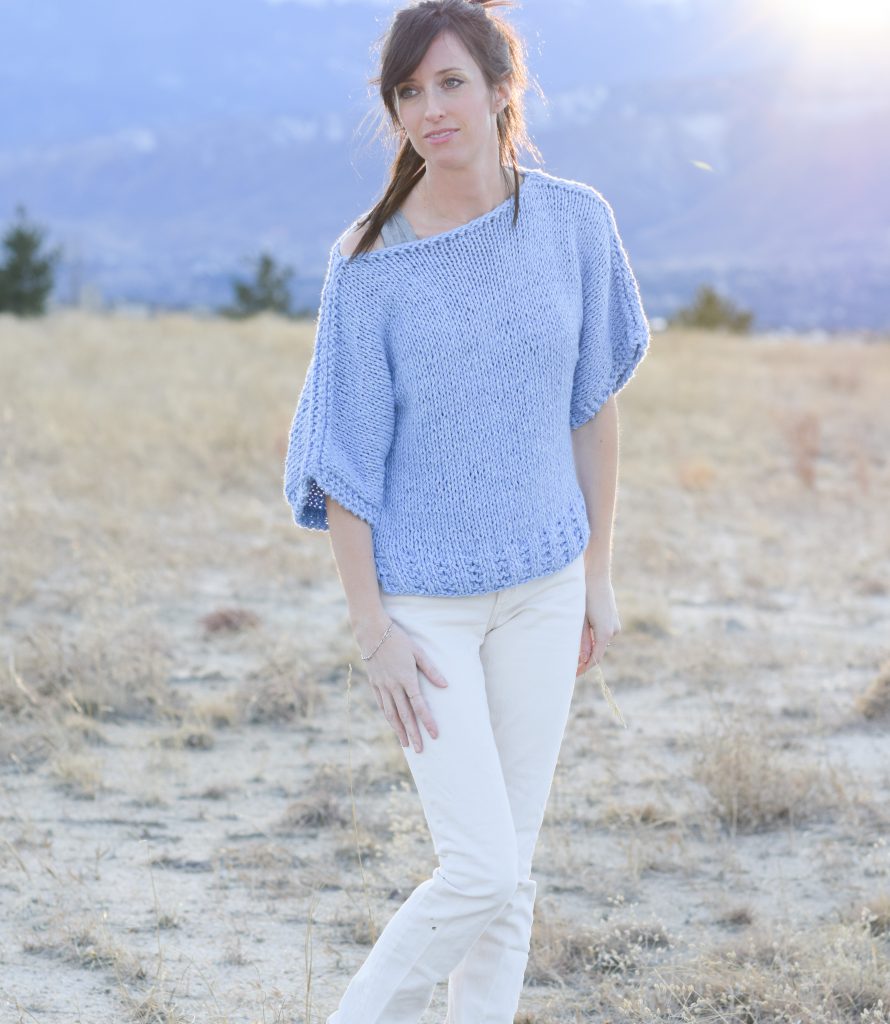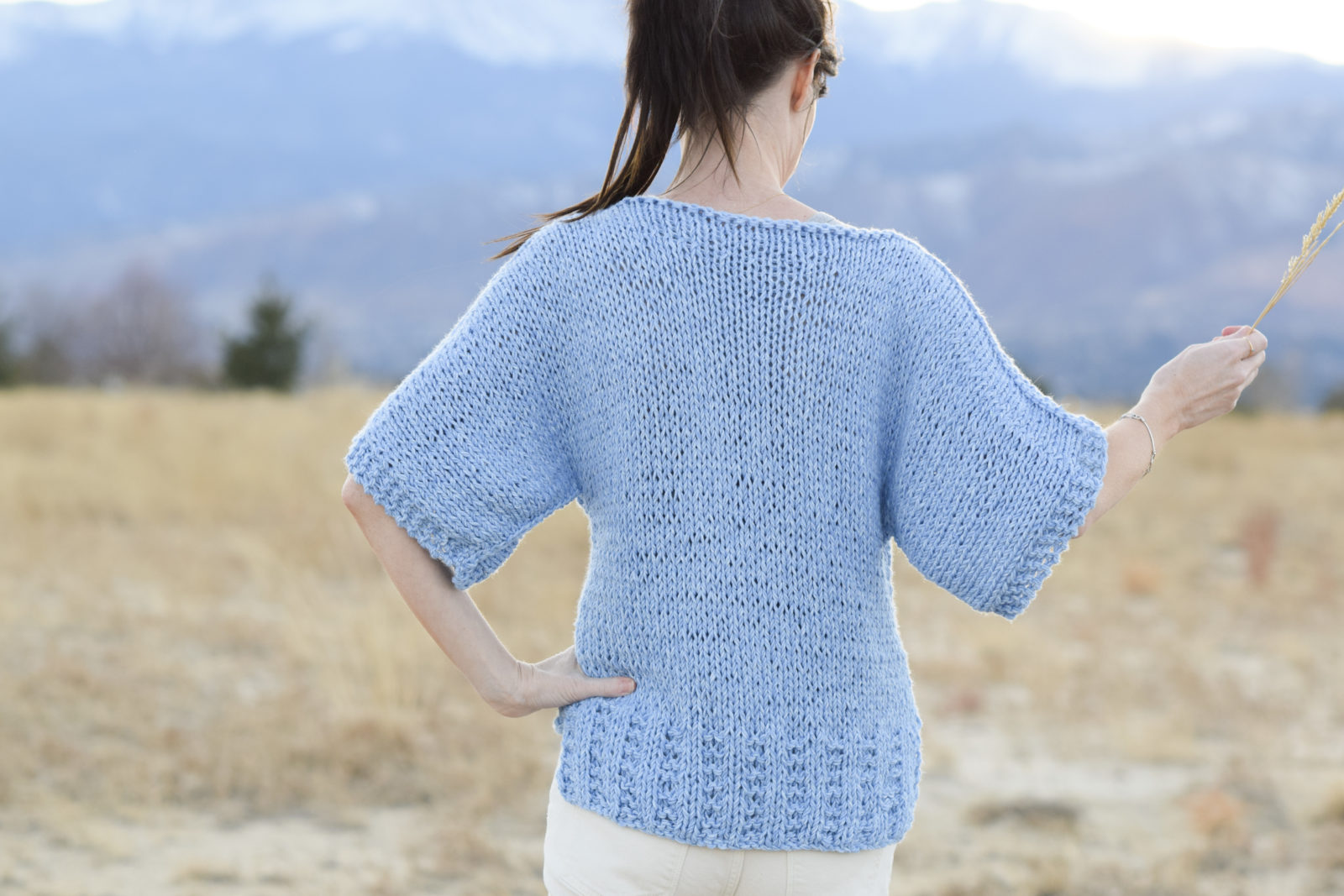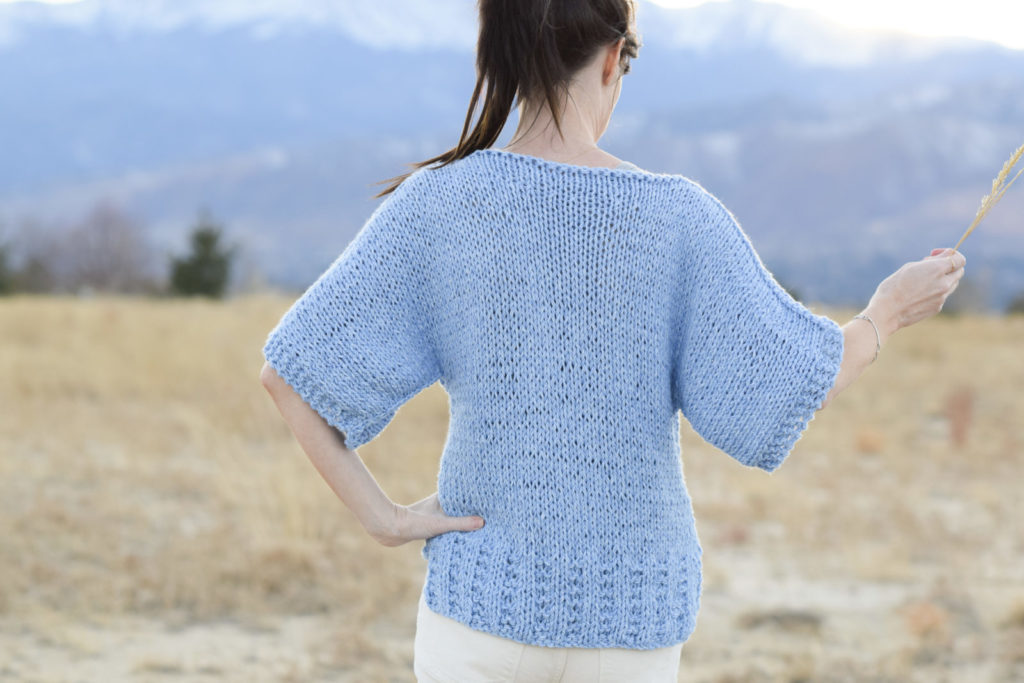 Are you ready to knit?!
Explanation:
This classic, comfortable, beginner friendly sweater is a breeze to make! If you know how to knit and purl, you will love making this roomy and soft knit t-shirt sweater. There's no need to know how to knit in the round and it works up quickly on large needles. Get ready to make this stylish piece that can be enjoyed year round.
Modeled on a size small. Pattern includes instructions for S, M, L, XL.
You will need:
US Size 15, 10.0 mm, 24" Circular Knitting Needles (You may use long straight needles if you're making a size small)
4 skeins (for a size small) of Lion Brand Yarn "Jeans" Faded worsted weight yarn (110 grams, 246 yards per skein) Small size uses 363 grams of yarn (Medium 5 skeins, Large 5 Skeins, XL 6 skeins – please purchase an extra skein as gauge may vary)
Scissors
Tapestry Needle to weave in ends
Abbreviations and Skills needed:
k- knit
p -purl
RS – right side
WS – wrong side
Gauge:
Approximately 2 ¾ stitches per inch and approximately 3.5 rows per inch
Determining Your Size:
Bust Size Circumference Approximation:
Small 32" inches
Medium 36" inches
Large 40" inches
XL 44" inches
Actual Sweater Size/Measurements:
*These are approximations. The sweater fabric is stretchy and flexible so the pattern is forgiving.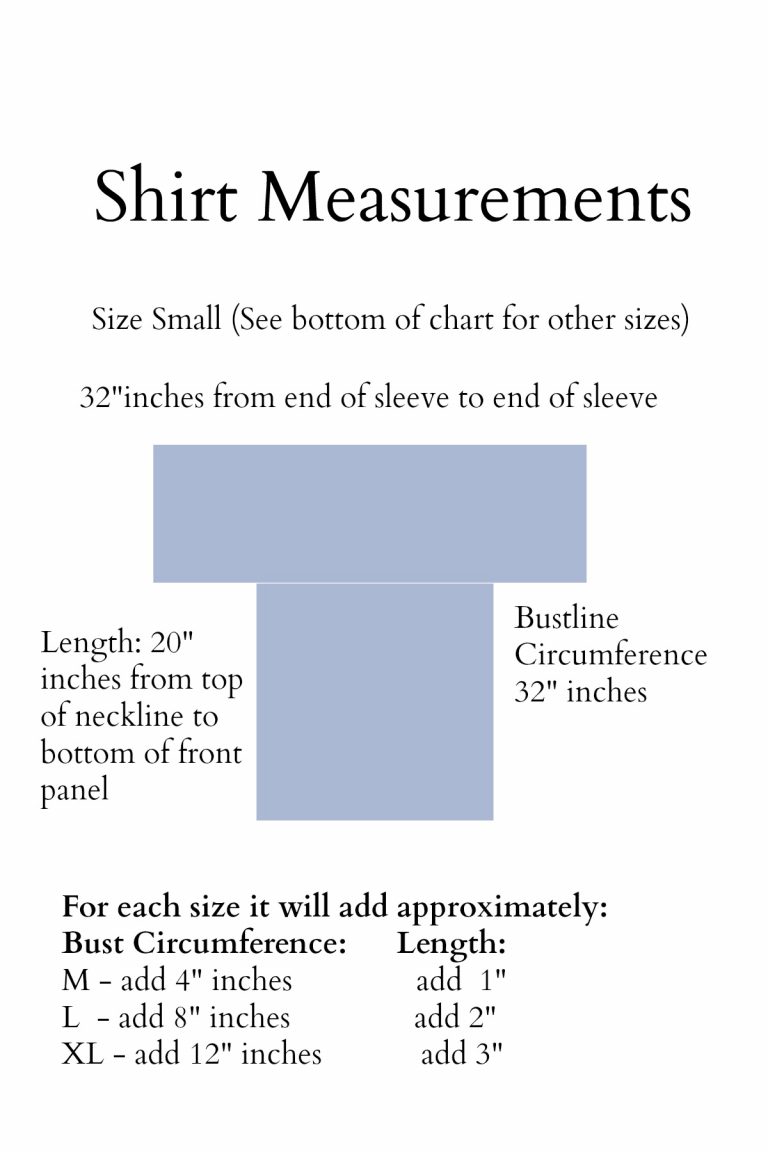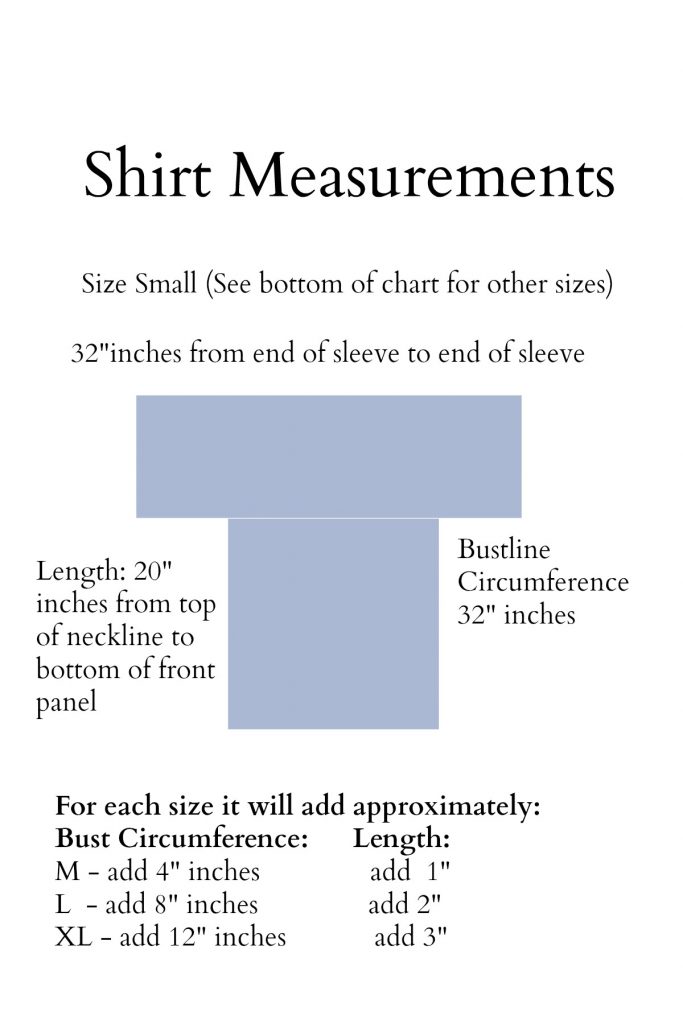 Notes:
(See photos below for additional help)
This sweater is made by making one front panel and one back panel. These panels are then seamed together to create the shirt. It is worked from the top down.
The fabric on this sweater is loose and stretchy.
This sweater is knit by holding two strands of yarn together at the same time.
You will follow the key throughout the pattern according to which size that you are knitting.
Knit Boxy T Shirt Sweater Pattern:
Follow the key for your size (S, M, L, XL)
Holding two strands of yarn together, CO (88, 94, 100, 104) stitches
Row 1- 3 Knit across row
Once you've knit for three rows, you will begin the stockinette portion.
Stockinette Upper Sweater and Sleeve Portion:
Row 1 (RS): Knit Across row
Row 2 (WS): K4, purl across, knit last 4 stitches of row
Repeat rows 1 and 2 for a total of (30,32,33,35) rows
Once you've finished these rows, you will bind off for the sleeves.
Sleeve Bind Off
To create the bottom of the sleeve, you will cast off stitches from each end.
Bind off the first ( 21,22,23,23 ) stitches of the row, then knit or purl across depending on which side you are working (if the (RS) knit side is facing you, knit across. If the (WS) purl side is facing you, purl across) (46,50,54,58) stitches. Finally, bind off the last (21,22,23,23 ) stitches. Tie off and cut your yarn. You will now pick up the yarn to continue knitting the next section.
Mid to bottom portion
Pick up your yarn and continue to knit in stockinette stitch. If you ended on (WS) or purl row, you will now knit across. If you ended on the (RS) or knit row, begin by purling across the next row. Alternate these knit and purl rows for approximately (28,30,32,33) rows. Be sure to end on a purl row, meaning that your next row will be knit. This means you may need to add an extra row if you end on a knit row depending on which size you are knitting.
Bottom Ribbed Cuff
**Please note that the front panel of the sweater has a shorter ribbed section than the back panel.
Starting on the knit side or right side of the panel:
Row 1 (RS): K2, p2 across row
Row 2 (WS): purl across row
Repeat rows 1 & 2 for (front panel 2.5" inches, back panel 4" inches )
Tie off and weave in all ends
Repeat the pattern above in order to make the second panel of your top. There is a front and back panel. You will then seam then together.
Seaming:
Seam up sides:
With a length of yarn and your tapestry needle, you will seam up each side using the mattress stitch. Begin your seam just above the bottom ribbed portion of the sweater. Seam up the sides and under the arms.
Seam along top of sweater:
Seam in on each side of the top of the sweater with your preferred method, leaving a space in the center for your head and neckline. You may create shorter seams to have an off the shoulder look, or you may make your seams longer to have a smaller neckline. Pictured, the sweater is seamed 12" inches in on both sides for the size small. Weave in all ends and you're done!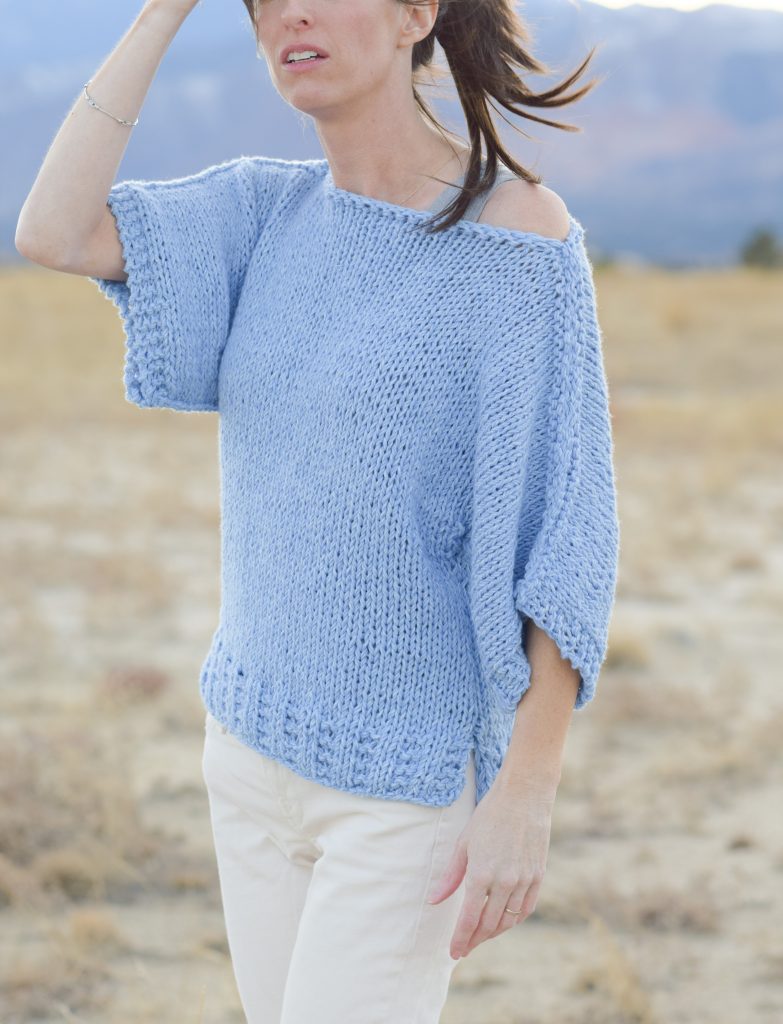 I hope that you've found this boxy, short sleeved little jeanish wonder to be enjoyable. I know that I'm enjoying mine. Please let me know if you have any questions or thoughts on the knitting pattern in the comments below! Thanks so much my friends!
XO
Jessica
Thank you to Lion Brand Yarn for sponsoring this post! All opinions are 100% my own.