Alpenhaus Ripple Moss Stitch Blanket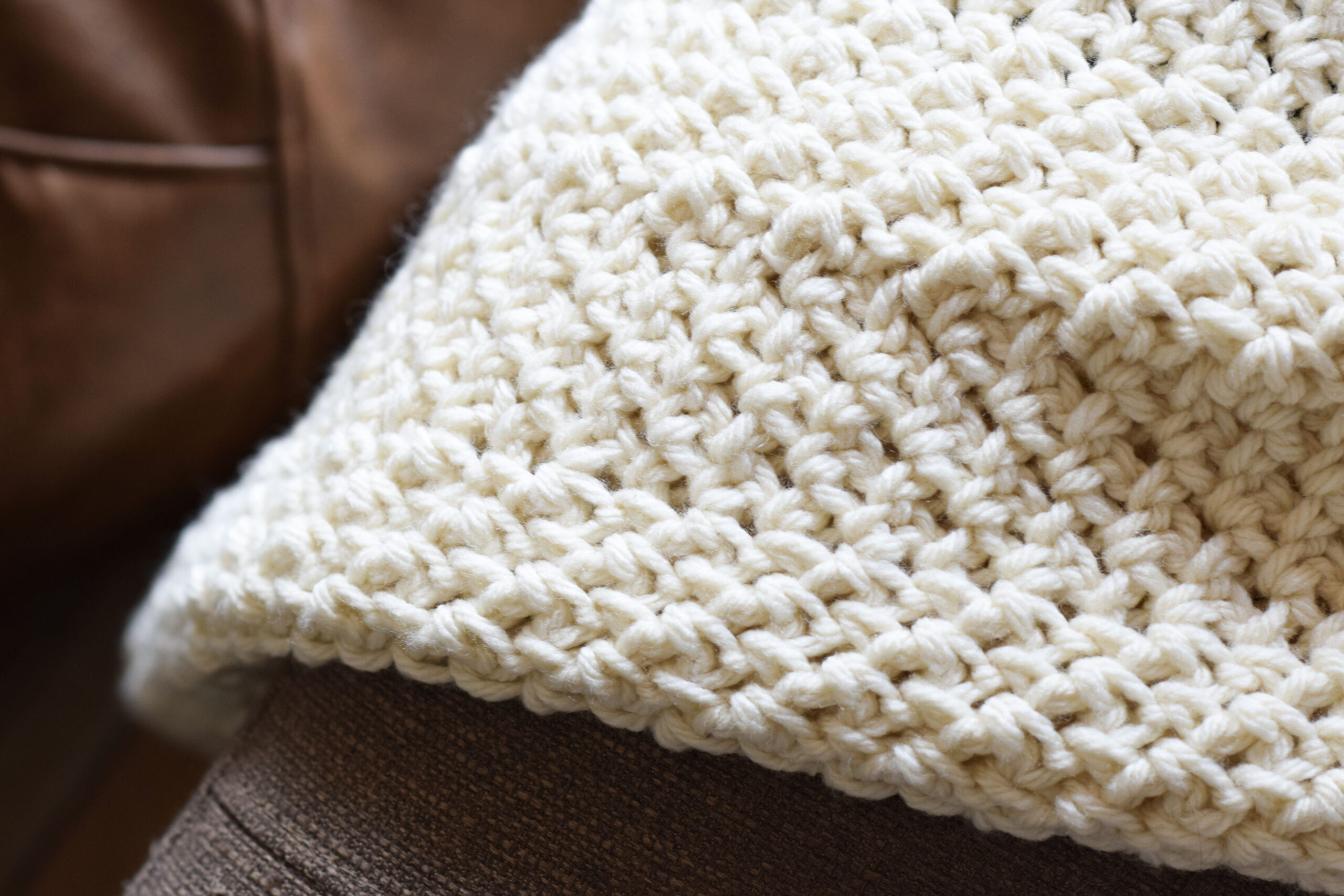 The crocheted moss stitch has always been a favorite of mine, and I'm so excited to be able to use it for this modern, COZY, alpine lodge worthy blanket! Isn't the ripple texture amazing? This is a classic that can go in any space, and it's awesome for gift giving. Shall we go ahead and welcome fall and winter with open arms and this blanket?! Ha! It works up quickly with chunky weight yarn and is super fun. Read on!
You can see the free pattern below, or you may purchase the ad-free, printable version from Etsy HERE, or grab the kit from Lion Brand HERE (available in many color options).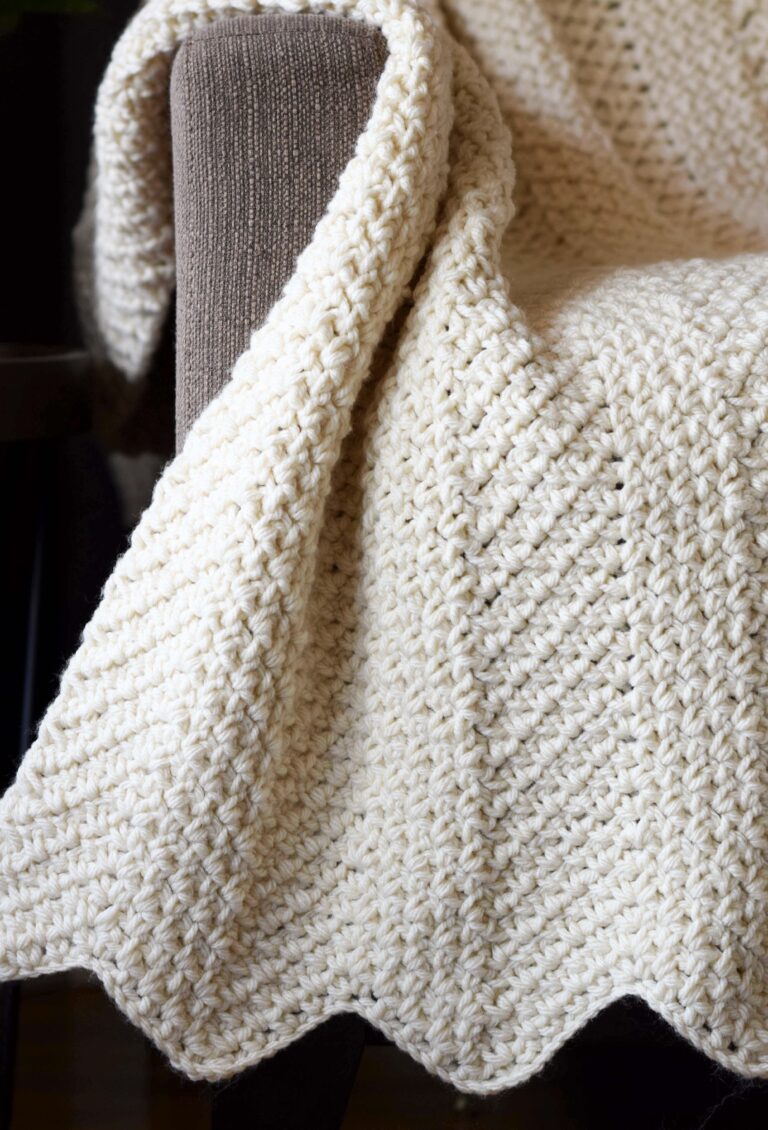 Every so often I want to make a blanket pattern that's classic yet different enough that I'd want to show it off in my living room. This is one of those blankets! It has an eye catching texture, and can work for any gender and just about any interior decor style. The stitches really pop, and it almost appears to be knit, which I really love.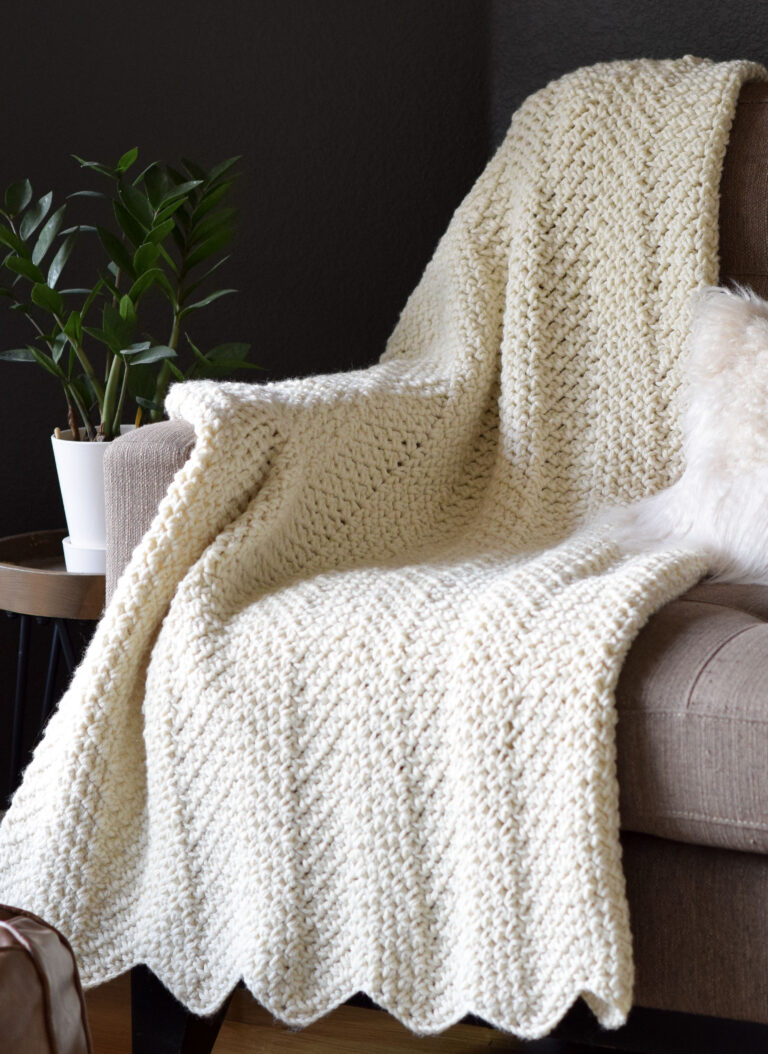 The ripple moss stitch is a fairly simple stitch pattern after you practice a few rows. It's a one row repeat, and while it takes some concentration and counting the first few tries, it does become relaxing and enjoyable. It entails just enough concentrating that you don't get bored, but it's not so complicated that you have to give up!
Definitely try the pattern out on a small swatch first before starting the blanket. This way, it's easier to catch any issues or difficulties and correct them. I'd say this is probably more intermediate than easy. But maybe I'm wrong! Once you have that one row, you're set.
This throw blanket is crocheted with Lion Brand Hue + Me Yarn, which is a chunky #5 weight. NOT to be confused with super bulky, which I use a lot. It's between a worsted and a super bulky, so it's just right. Really, it's a great yarn because it has a super high quality look and feel, and also great color options.
While my throw blanket is a classic cream, you can choose any color or colors that you like! Half the fun is being creative, and doing what appeals to you.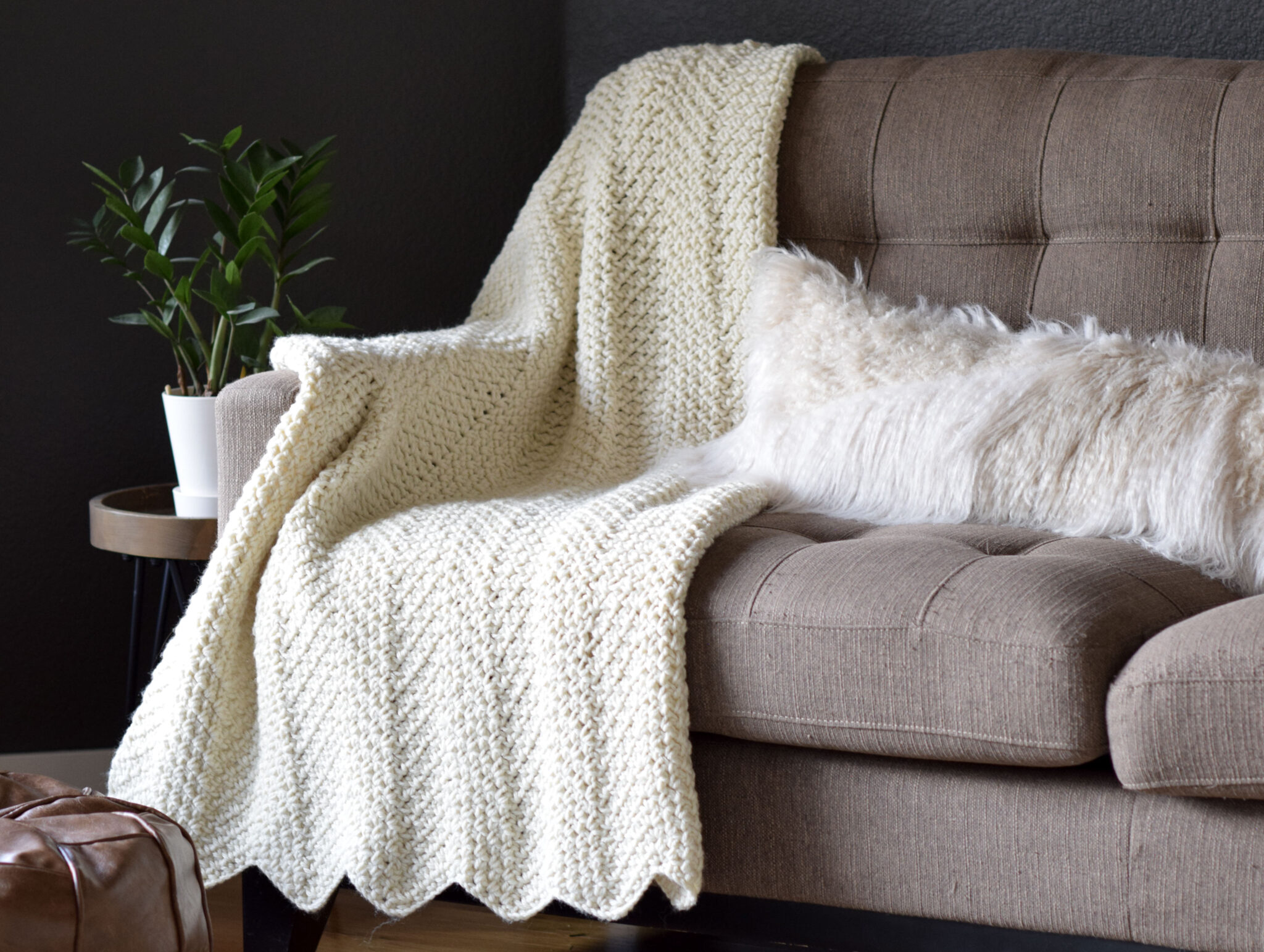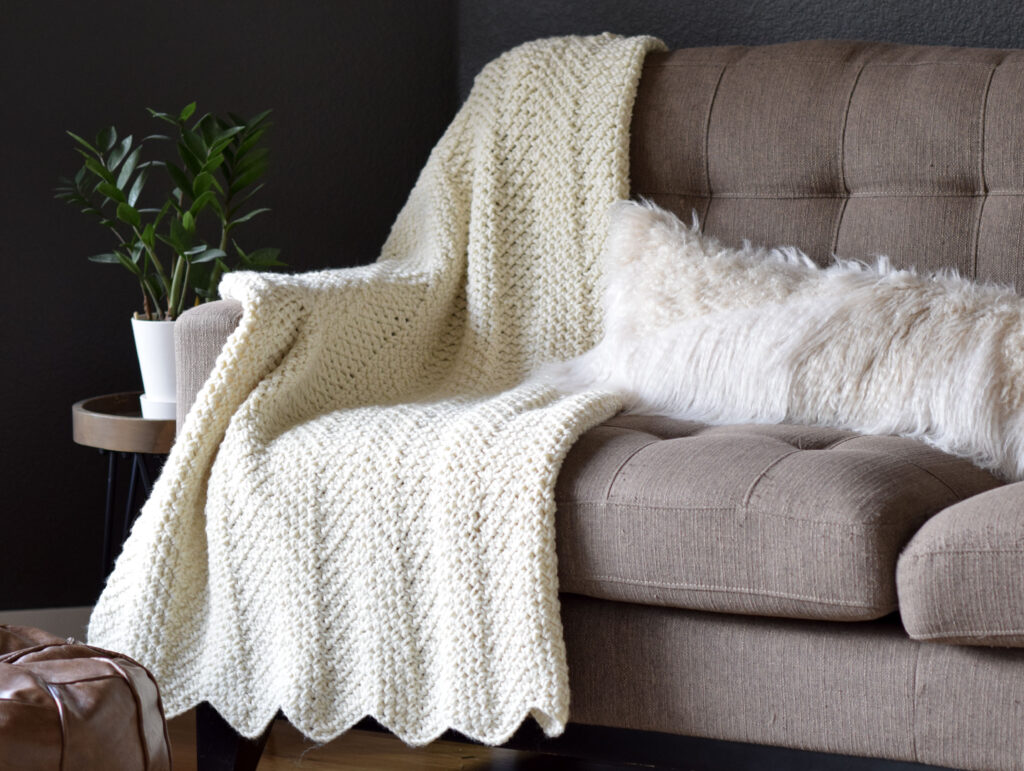 Have you seen the colorful scrap moss stitch blankets online? I think this is what most people picture now days when we talk about a moss stitch or ripple moss. Those are so pretty, but I love seeing a similar look with the chunky yarn and a solid color. It's super versatile!
Again, I just love the beautiful, yet understated texture and stitches that pop with the slight ripple. I hope you love it too!
Alright! Let's get to the pattern already. 🙂
Read on below for the free pattern, and just a reminder that you can also grab the printable PDF version from my Etsy shop HERE.
Description:
This modern, warm blanket is worthy of a place in an alpine lodge and looks stunning in any
space. The clean lines, defined stitches, and slight ripple makes it both appealing and
practical. It's fun and relaxing once you've gotten into the pattern as it's just a one row
repeat. Perfect for gift giving, and an awesome go-to blanket for anyone. Get ready to cozy
up this fall and winter in this timeless beauty! Two size options available.

Materials:
9 (14) Lion Brand Yarn Hue + Me chunky #5 yarn in Salt 125 g/skein Convenient kit HERE
Pattern uses approximately 1,125 (1,606) grams
US size K 6.5 mm crochet hook
Scissors
Tapestry needle to weave in ends

Size (approximate):
Small Throw: 37" x 59"
Large Throw: 52.5" X 60"
Follow directions throughout pattern for the size you are making.
The smaller size is listed first, followed by the larger size. S (L)
Size can be adjusted See "Pattern Notes" for more details.

Gauge:
Approximately 14 stitches (including ch sts) and 9 rows in 4" x 4".

Pattern Notes:
Pattern has a chain multiple of 19 plus 18 extra.
For example, the "Small Throw" size has a beginning chain of 132. That is 6 * 19 = 114, next
add an extra 18, so 114 + 18 = 132.

You may adjust the width by starting with a longer or shorter chain with the required multiple. To make the blanket longer, simply crochet more rows.

This pattern uses the ripple moss stitch. Consider practicing the pattern first on a small swatch before beginning the full blanket! You may chain 37 and follow the pattern as written
to practice. Have fun!

Abbreviations (US) & Skills:
ch – chain
sc – single crochet
sk st – skip stitch
sc2tog – decrease (single crochet two stitches together)
ch 1-sp – chain one space
ch 2-sp – chain two space
sp – space

Ch 132 (189)

Row 1 Sc in 2nd ch from hook, [ch 1, skip next ch, sc in next ch] 3 times, ch 1, skip next ch,*(sc, ch 2, sc) in next ch, [ch 1, skip next ch, sc in next ch] 4 times, skip next 2 chs, [sc in next ch, ch 1, skip next ch] 4 times *, rep from * to * across to last 9 chs, (sc, ch 2, sc) in next ch, [ch 1, skip next ch, sc in next ch] 4 times. 131 (188) sts including sc and ch sts

Row 2 Ch 1, turn, sc2tog across first sc and next ch-1 sp by inserting hook in first sc, yo, pull
through st (2 loops on hook) insert hook in next ch-1 sp, yo, pull through ch-1 sp (3 lps on hook), yo, pull through all 3 loops on hook (sc2tog made), [ch 1, skip next sc, sc in next ch-1 sp] 3 times, ch 1, skip next sc, * (sc, ch 2, sc) in next ch2 sp, [ch 1, skip next sc, sc in next ch-1 sp] 4 times, skip next 2 sc, [sc in next ch-1 sp, ch 1, skip next sc] 4 times *, repeat from * to * across to last ch-2 sp of last point, (sc, ch 2, sc) in ch-2 sp of last point, [ch 1, skip next sc, sc in next ch-1 sp] 3 times, ch 1, skip next sc, sc2tog across next ch-1 sp and last sc by inserting hook in next ch-1 sp, yo, pull through ch-1 sp (2 loops on hook), insert hook in last sc, yo, pull through last sc (3 loops on hook), yo, pull through all 3 loops on hook (sc2tog made), turn. (131, 188) sts including sc and ch sts

Repeat row 2 until blanket reaches your desired length.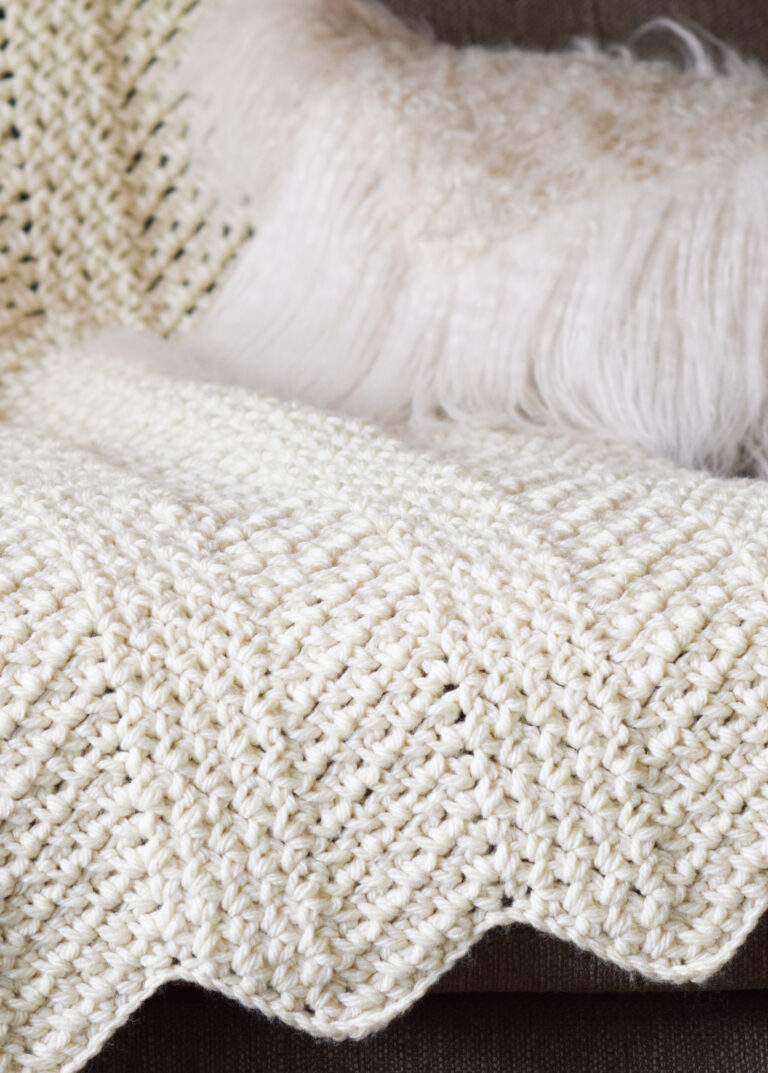 Optional:
With any leftover yarn, you may choose to add fringe or tassels for a more dramatic look.
And that's all there is to it!
So what do you think? I'm so happy the cooler months are almost upon us, and it's time for these gorgeous, chunky blankets to shine. What color would you make yours?
I hope you enjoy this pattern my friends!
XO
Jessica
If you like this, you might like these other moss stitch projects and patterns!
Crochet Moss Stitch Patterns
How To Crochet the Moss Stitch AKA Granite Stitch
And if you love chunky blankets like this one, you'll also enjoy this collection of 20+ Quick Chunky Crochet Blanket Patterns
This project sponsored by Lion Brand Yarn. All opinions are 100% my own.