How To Arm Knit A Chunky Blanket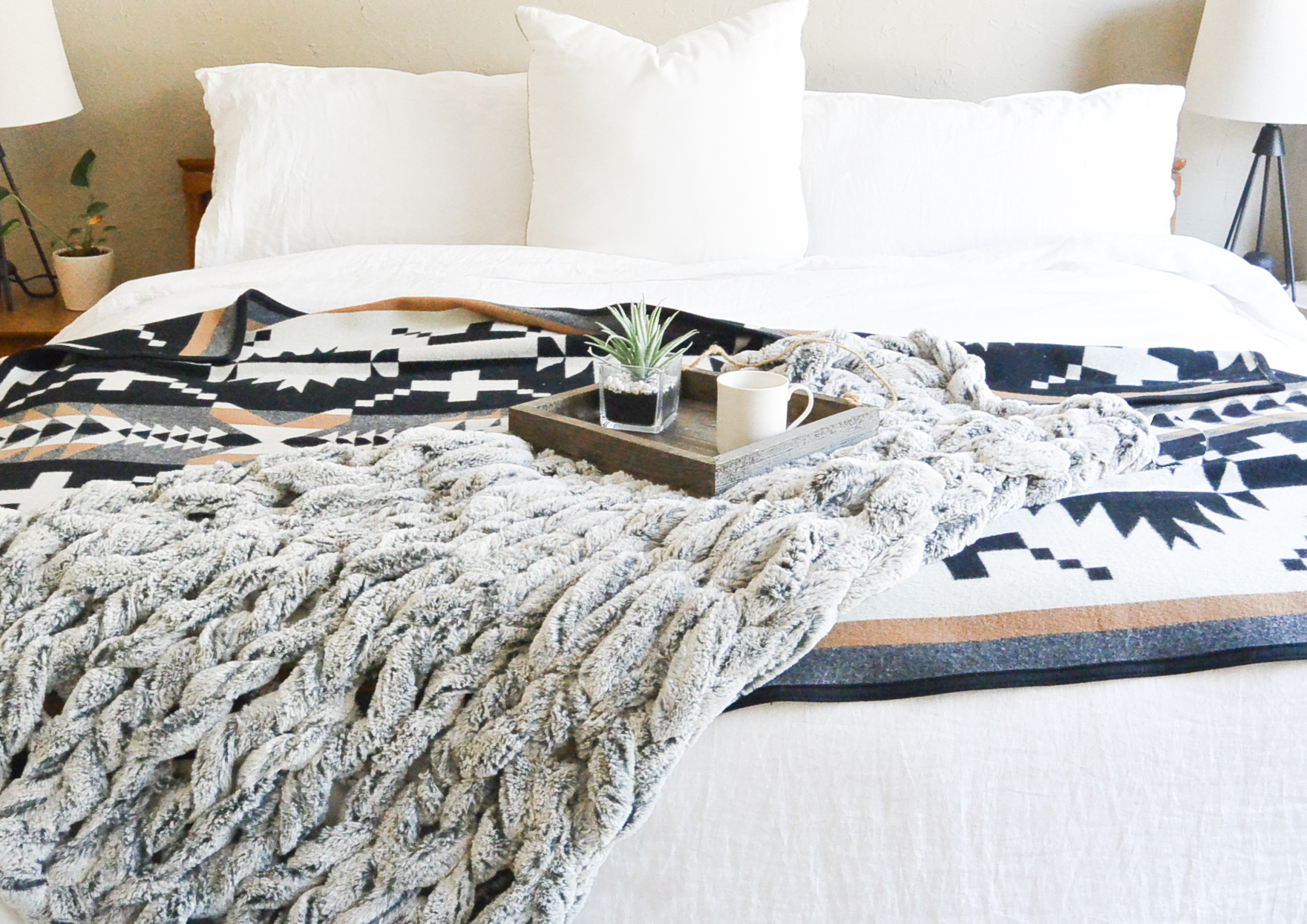 Today I'll show you how to arm knit a super trendy blanket. You don't need to have any knitting skills or knitting needles in your arsenal. All it takes is your hands a couple hours of time!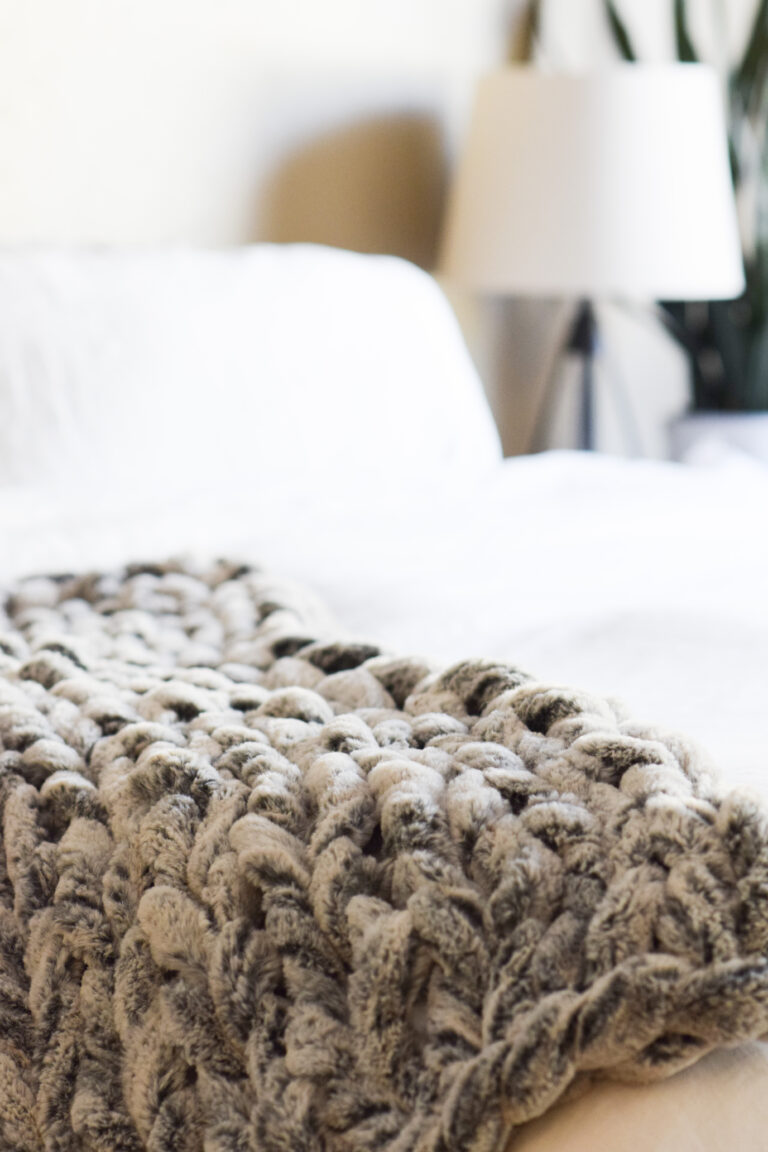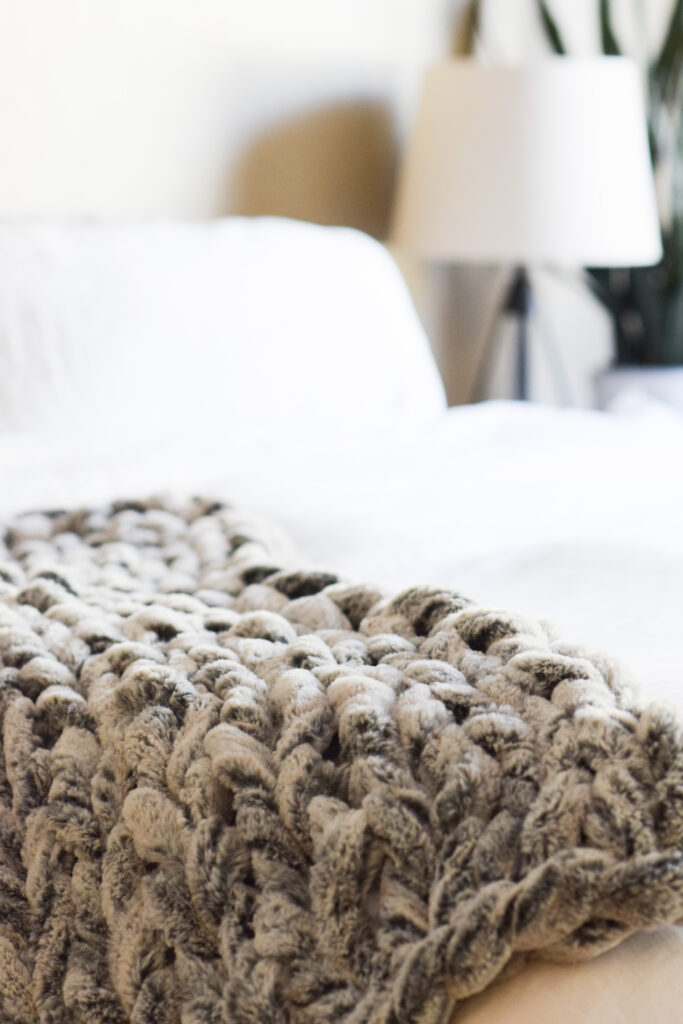 I'm using an amazing, jumbo fur yarn from Lion Brand and you can grab the kit HERE in several color options. If you like ad-free, printable patterns, you can also find the pattern in my Etsy Shop here, otherwise scroll on down to see everything for free below.
While you can knit this entirely with your hands (see the video below), you can certainly choose to make it on gigantic needles as well. I'm going to recommend using your hands over needles though because it is much, much easier in this way. And you can make this blanket in under a couple of hours! It takes just one ball of yarn to make a blanket like mine. It's a pricey one ball, but you'll find that any yarn of this size is just as expensive if not more.
This is such a fun project for those of us who like instant gratification. It's even easy enough that your kiddos can help out as well! These chunky knit blankets are still super trendy and I love the drape, softness and weight of this fur version in particular.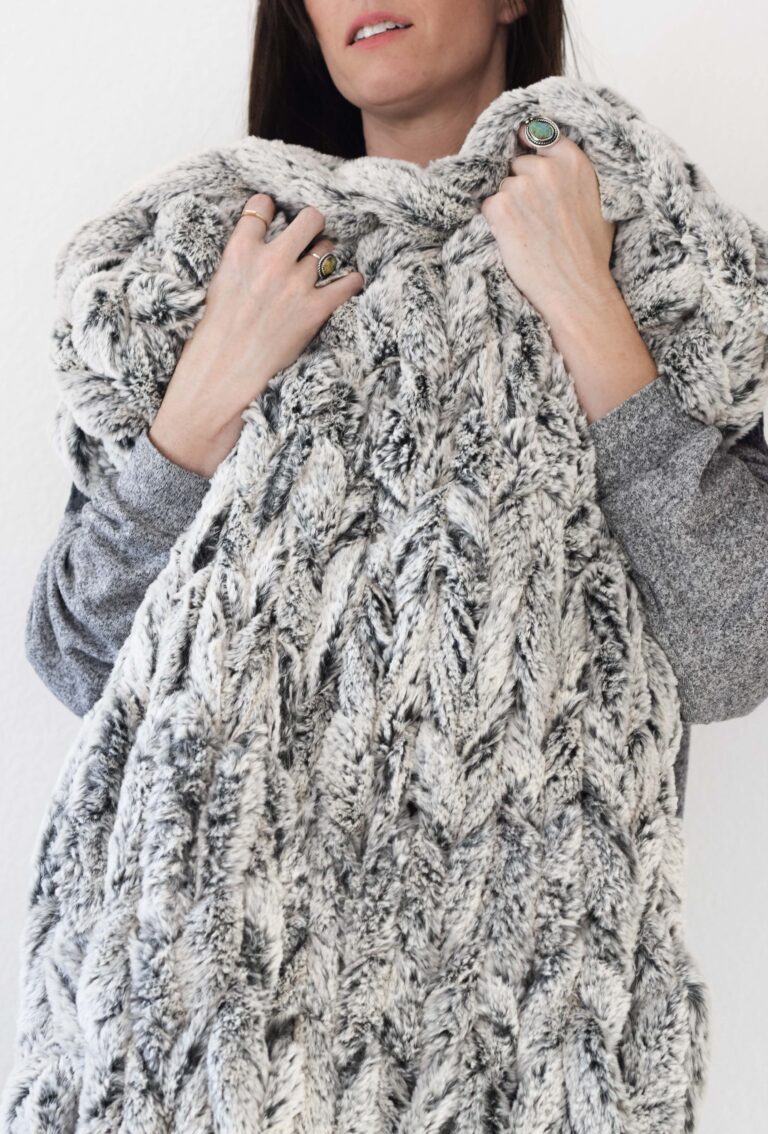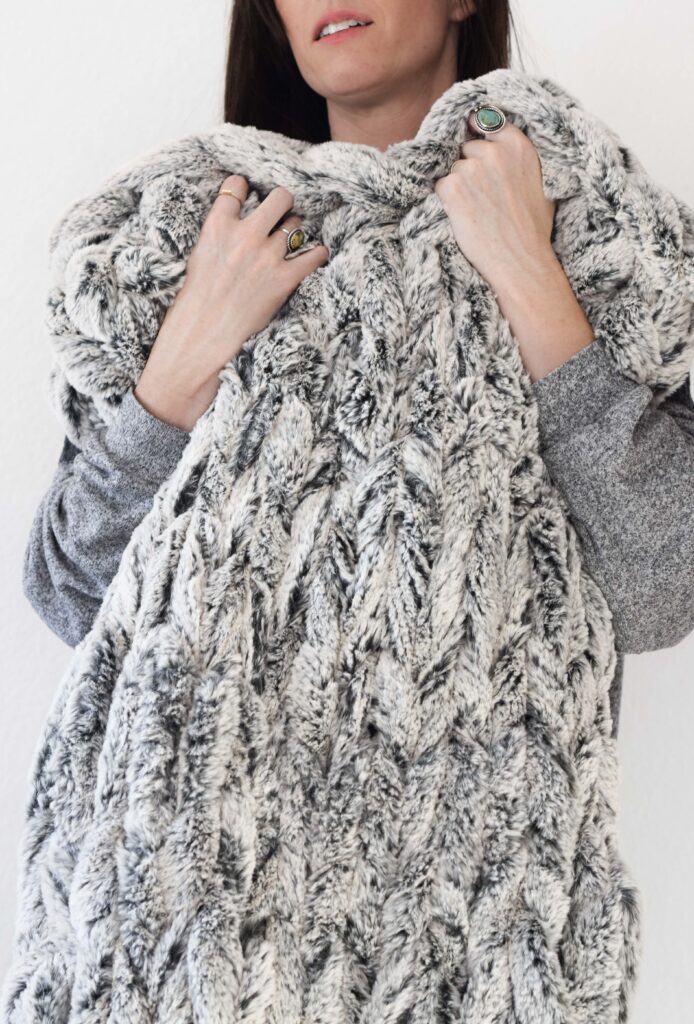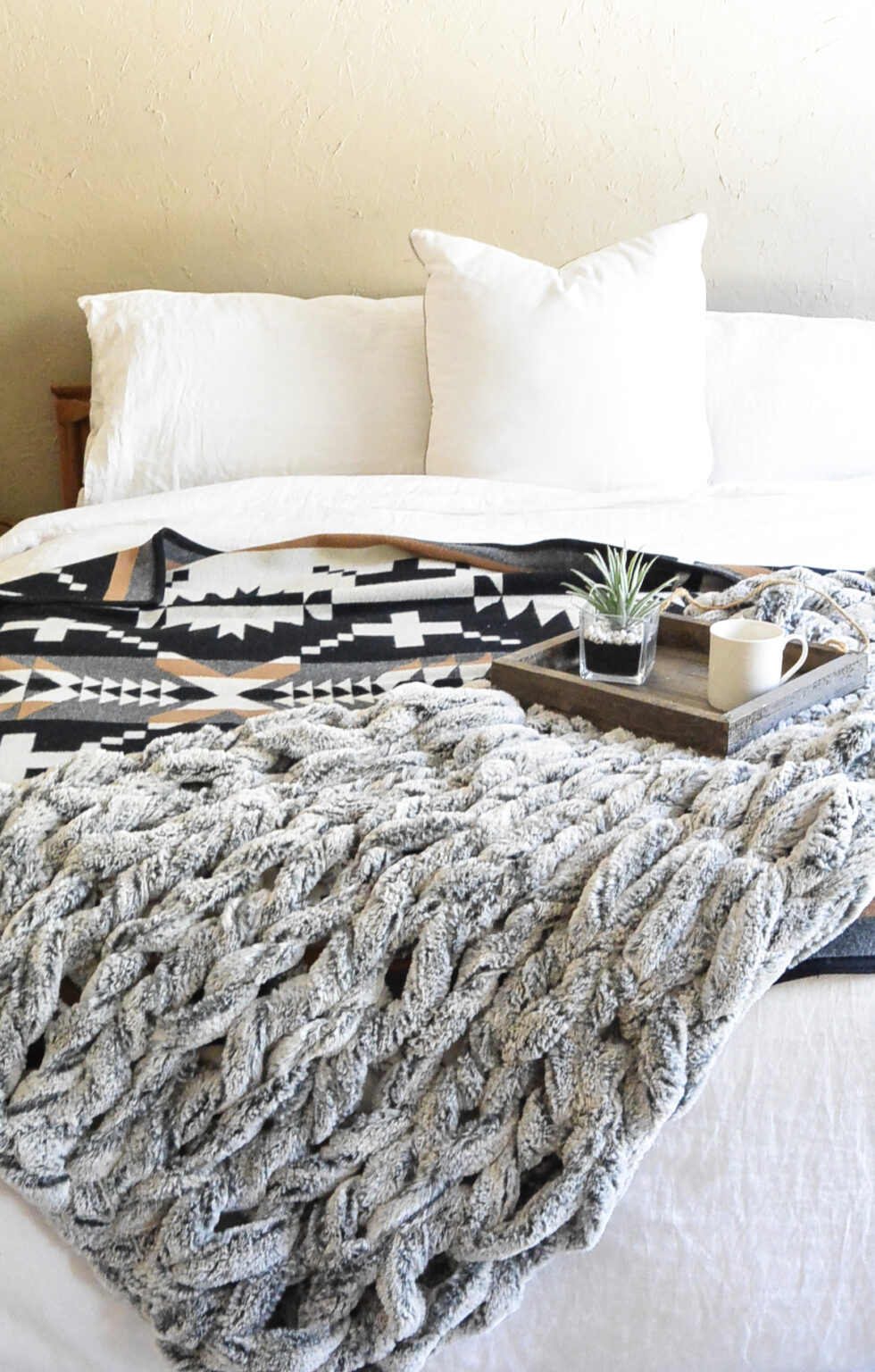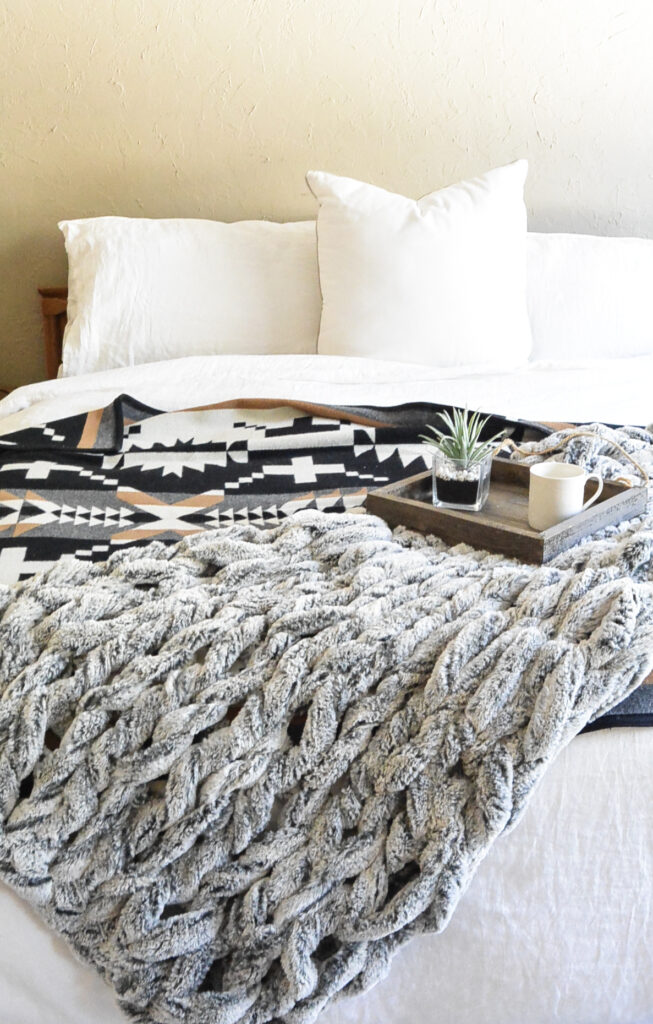 If you've followed me for a while, you might remember when I shared a tutorial and pattern for the Yooge Big Knit Blanket. You will use the very same concept to make this blanket with the jumbo fur! If I had a choice between purchasing the regular Yooge or Yooge Go For Faux, I'd personally go with the Go For Faux. It's so incredibly soft and cuddly. Alternatively, the regular Yooge gives you the look of the classic big knit blanket with slightly less cuddle factor. Both great options depending on what's important to you!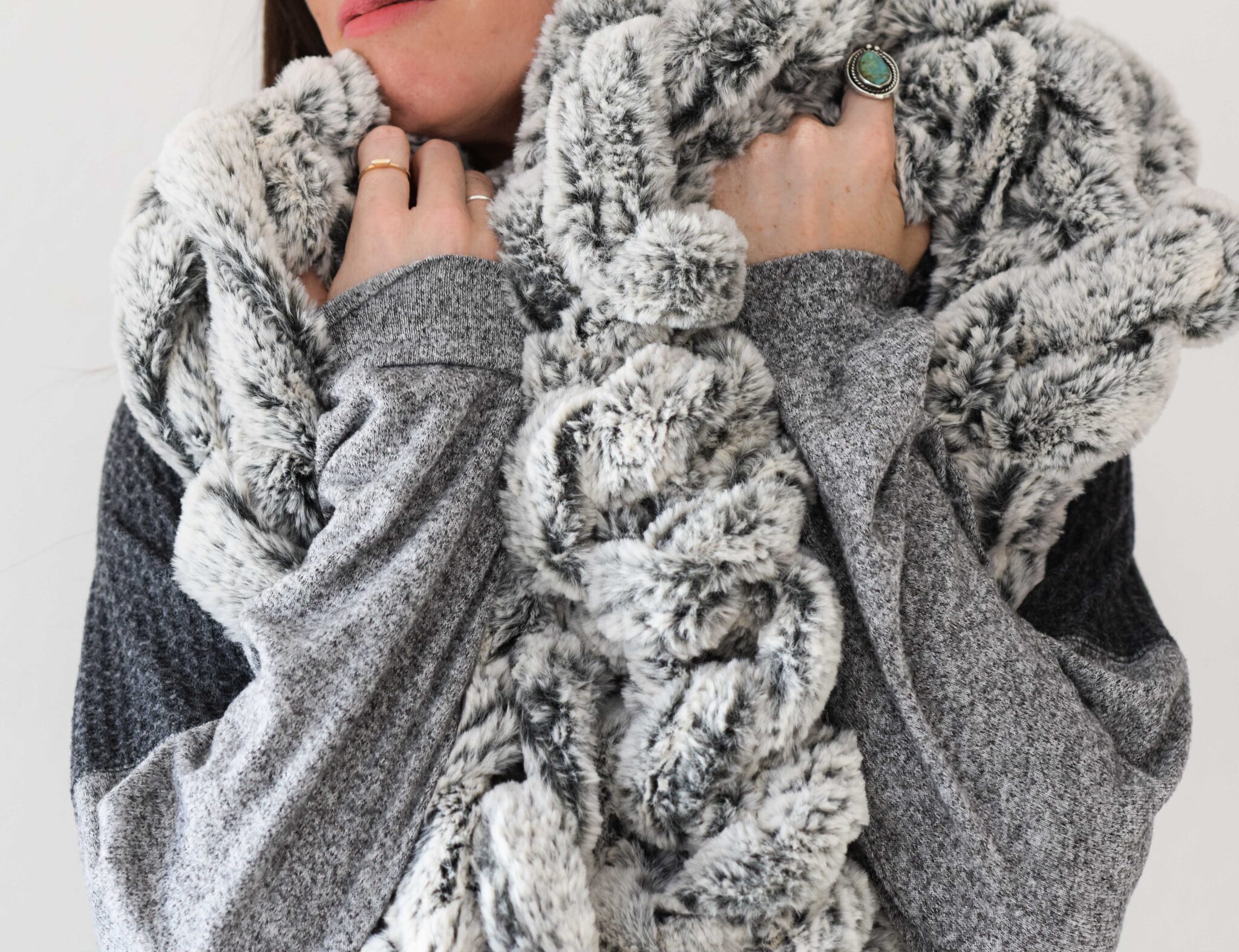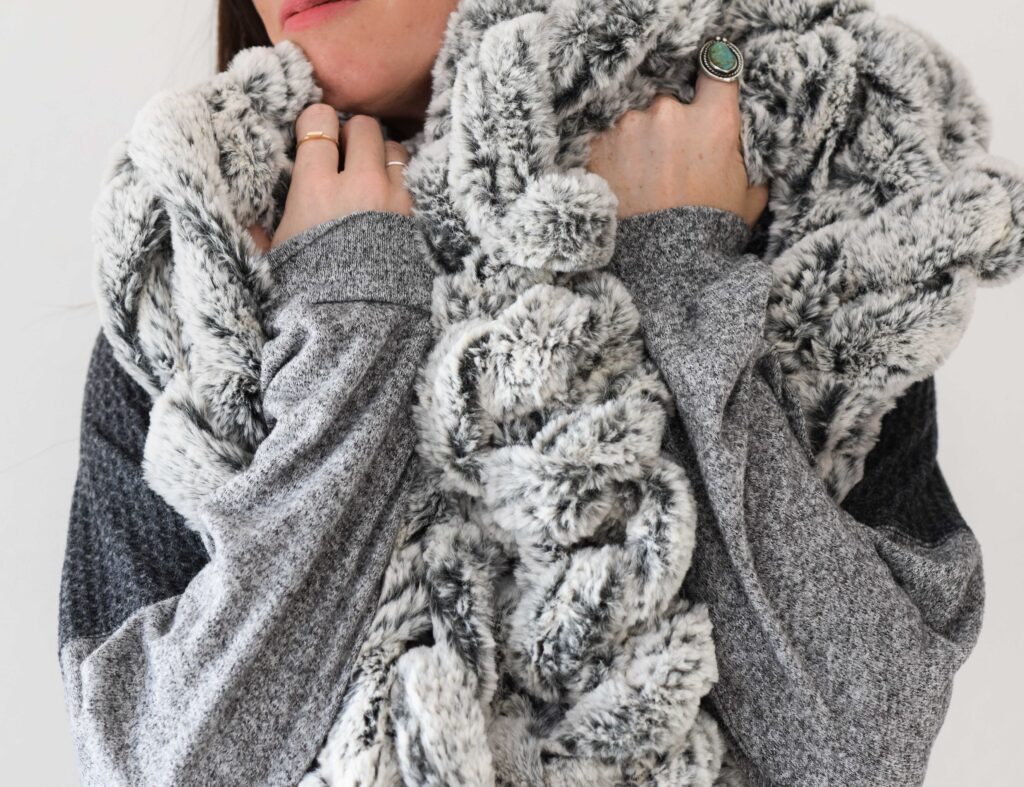 So go ahead and check out the YouTube video tutorial here, and then you can also see the knitting pattern below and written directions on how to make it. You won't believe how easy it is to arm knit this cozy wonder!
Pattern Description: Whether you've never knit, or you knit every day, you can easily make this luxurious faux fur throw! Using just your hands or a pair of knitting needles, this trendy, luxurious blanket works up in a flash. Make it long and skinny to lay over the foot of a bed or wider and shorter like a cozy throw. It's easy to modify the pattern to make it any dimensions you'd like, so get ready to cuddle up!
Skill Level: Beginner
Materials:
One Skein LB Collection Go For Faux Yooge in Mink 2267 g/skein (Grab the convenient kit from Lion Brand HERE)
Pattern uses approximately 2267 g
Optional US Size 100, 38 mm circular knitting needles if choosing to knit with needles
Gauge: Not important for this pattern, however, the blanket will turn out smaller when knit on needles rather than if it's arm knit or knit with hands.
Dimensions:
Sizing shown is approximate when arm knit or knit with hands only
25" x 57" (12 stitches cast on)
Abbreviations & Skills:
Cast on
k – knit
p – purl
Notes: This blanket can be knit without needles (recommended). It can also be knit on US 100 size 38 mm circular knitting needles. It is made using the stockinette stitch, so if you're knitting it with needles, you will work a row of knit followed by a row of purl stitches.
Yooge Big Fur KNit throw Pattern Instructions
Cast on 12 stitches
(Cast on more or fewer stitches in order to make it wider or shorter as preferred. The fun of this project is that you can make it any size that you like!)
Row 1 Knit across the row
Row 2 Purl across the row
Repeat rows 1 & 2, in that order until you've used nearly the entire skein of yarn leaving a tail in order to cast off.
Cast off and weave in ends.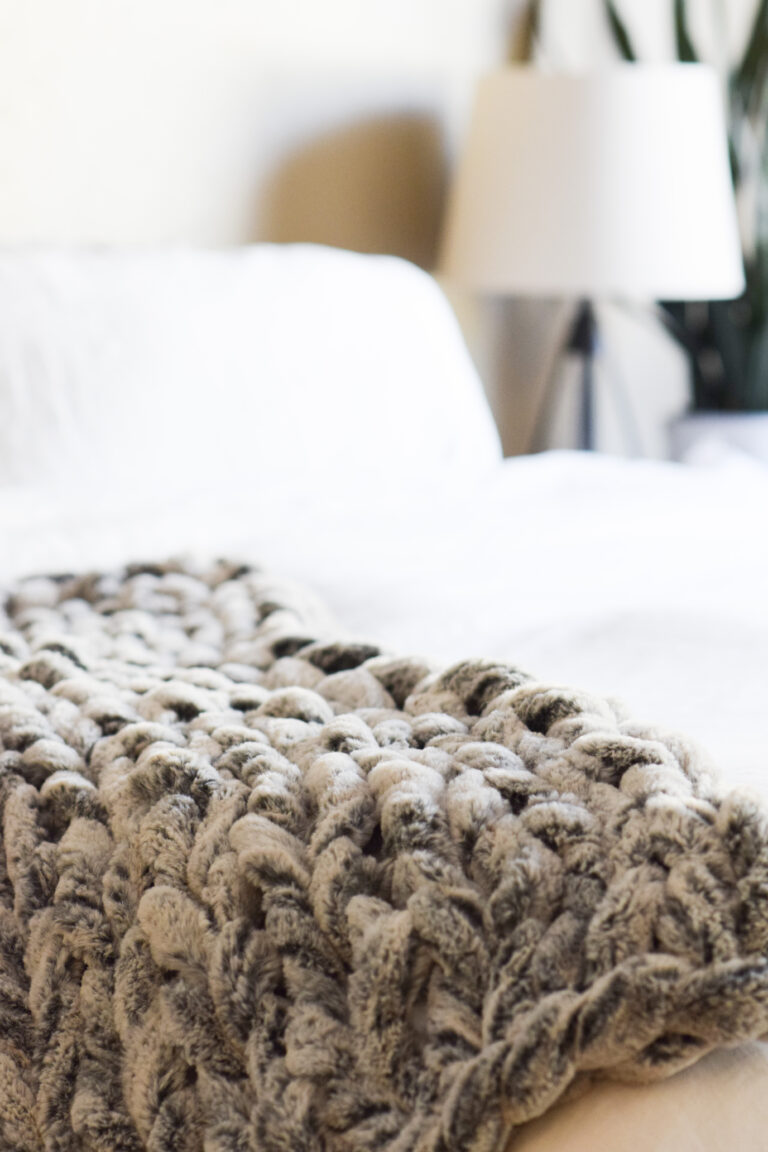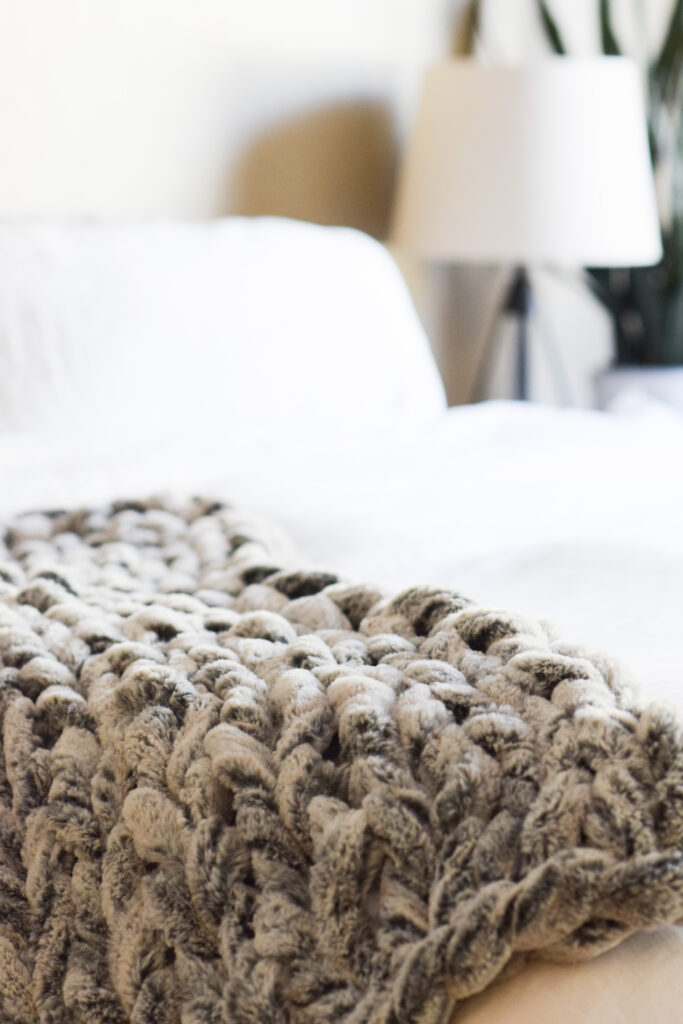 Enjoy your new, furry luxurious throw!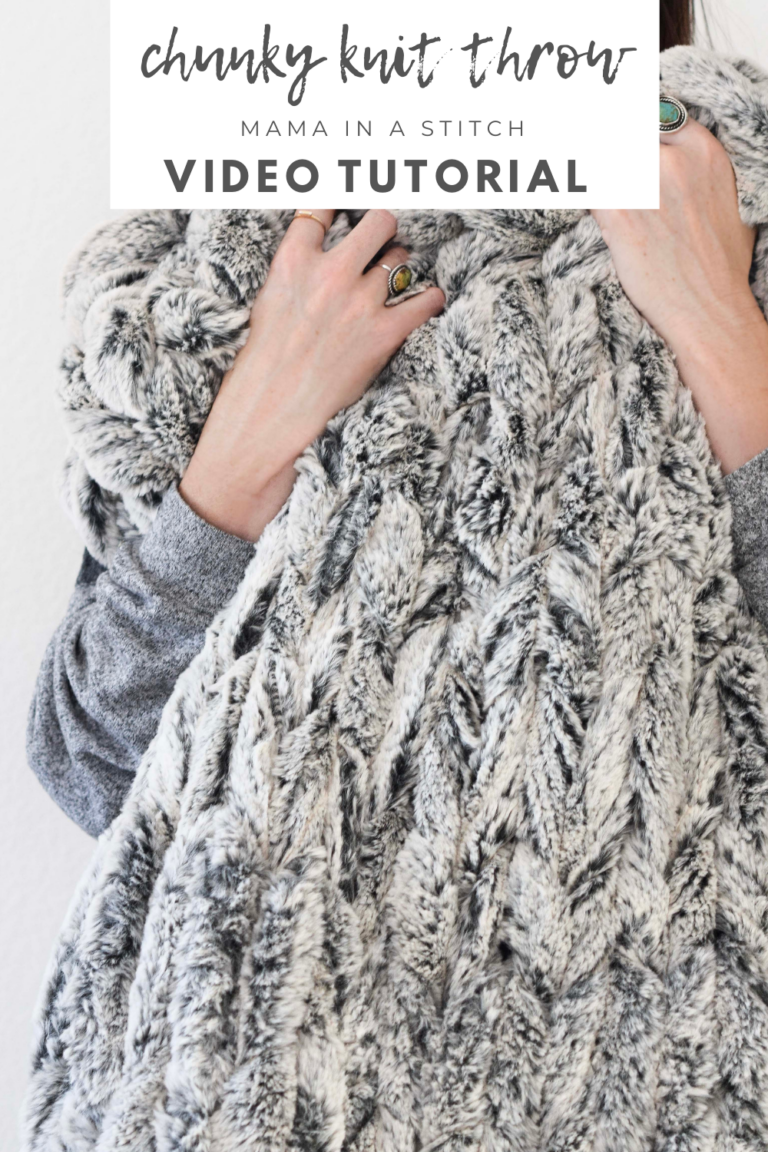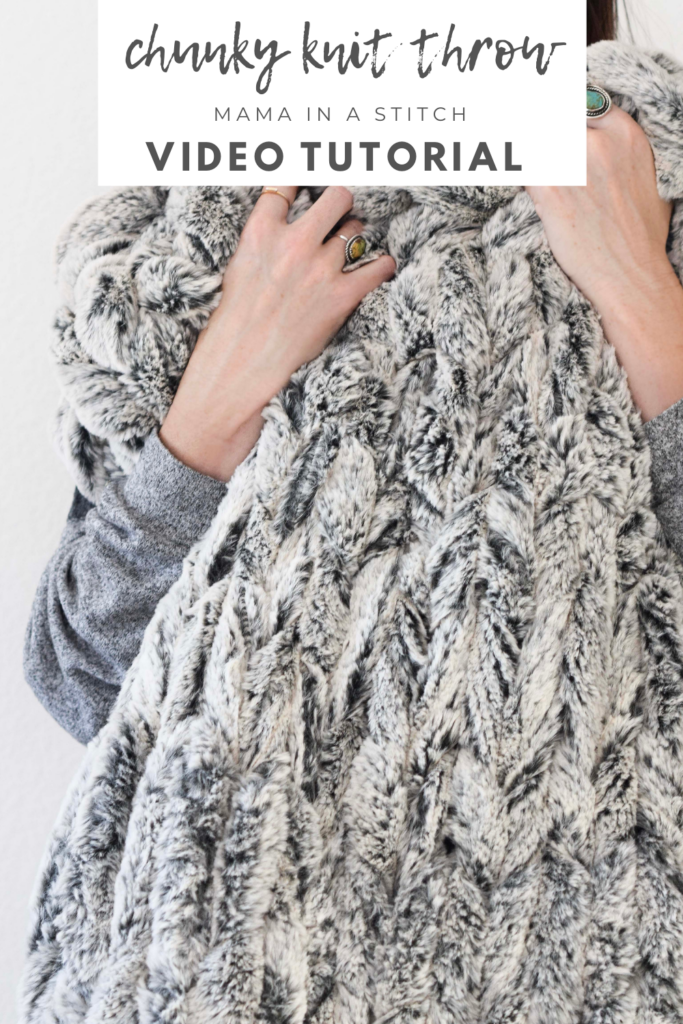 If you're going to make one of these trendy blankets, which yarn would you choose? The fur or the classic look?
Happy making my friends!
XO,
Jessica
Thank you to Lion Brand Yarn for sponsoring this post. All opinions are 100% my own.