Coal Miner's Fingerless Mitts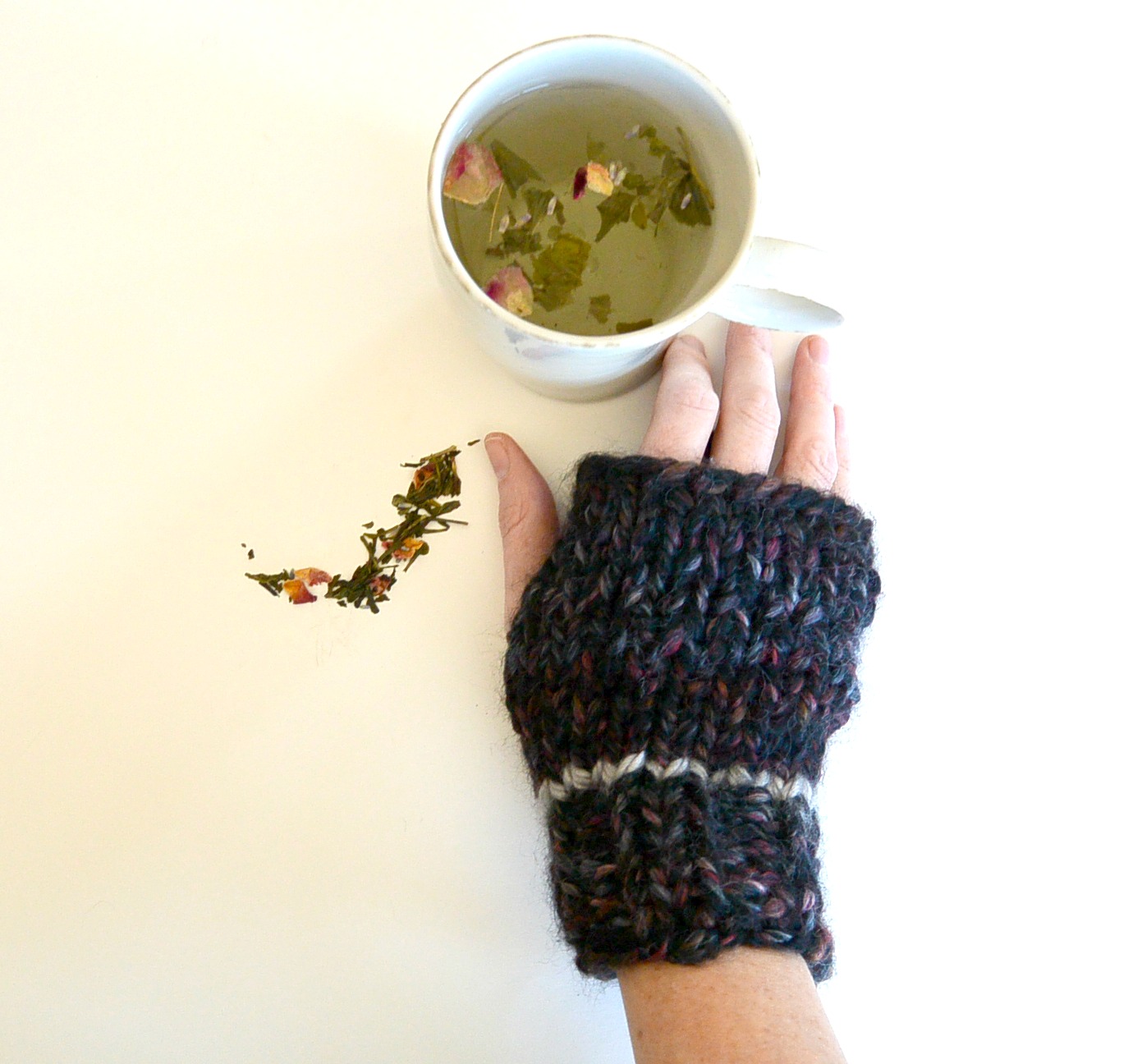 Easy "Coal Miner's Fingerless" Mittens
So I'm loving my other straw colored fingerless mittens so much that I wanted to make another pair that are slightly different. I am liking the fit of these even better. My last pair were knit flat, so I wanted to do some in the round. This was only my second time using DPN's, so it had to be easy. I really like how they turned out. The dark color is great for gloves since my hands can get dirty playing with a toddler all day! I named them "Coal Miner's" because of the color, and the fact you can get some hard work done with these since your little fingers are free.
You will need:
Less than 1 Skein of Lion Brand Wool Ease Thick and Quick ( I used the color "Blackstone")
(Optional) Super Bulky Accent color – I used Lion Brand Hometown USA in Dallas Grey for the strip
Scissors
Size 13 DPNs – 4 total
Tapestry needle
Pattern:
Top of Mitt:
Cast on 16 onto three DPN's
Use 4th DPN to Knit
Begin to use place marker at start of Round 1
Round 1 through Round 6 – Knit –
You will knit, creating the stockinette stitch for 6 rounds
Thumb:
You will now work back and forth (to avoid joining, in order to make a thumb hole). It will be as if you are knitting flat
Row 7: Purl
Row 8: Knit
Row 9: Purl
Row 10: Knit
Row 11: Purl
Row 12: Knit the row and then join, (you will continue to knit around for Round 13)
Bottom and Ribbing:
You are now working in the round again
Round 13: Knit
Round 14: Change to accent color(optional), and knit
Round 15: Change back to Main Color, Begin Ribbing at Stitch Marker, Knitting 2, Purling 2 Across the Row
Round 16: *Knit 2, Purl 2 across the row*
Repeat from * to * Continue this pattern until you have reached the length you prefer for your mitt. I knit about two inches of ribbing.
Let me know if I can improve the pattern in any way since I am new to this!
These also make a great stash buster from your bulky winter scarves
You can find this yarn at the Lion Brand website: https://www.lionbrand.com/yarns/we-thick.htm?yarnPage=1419769&categoryKey=1419769&start=25&pageLength=25