Light Knit Easy Fingerless Gloves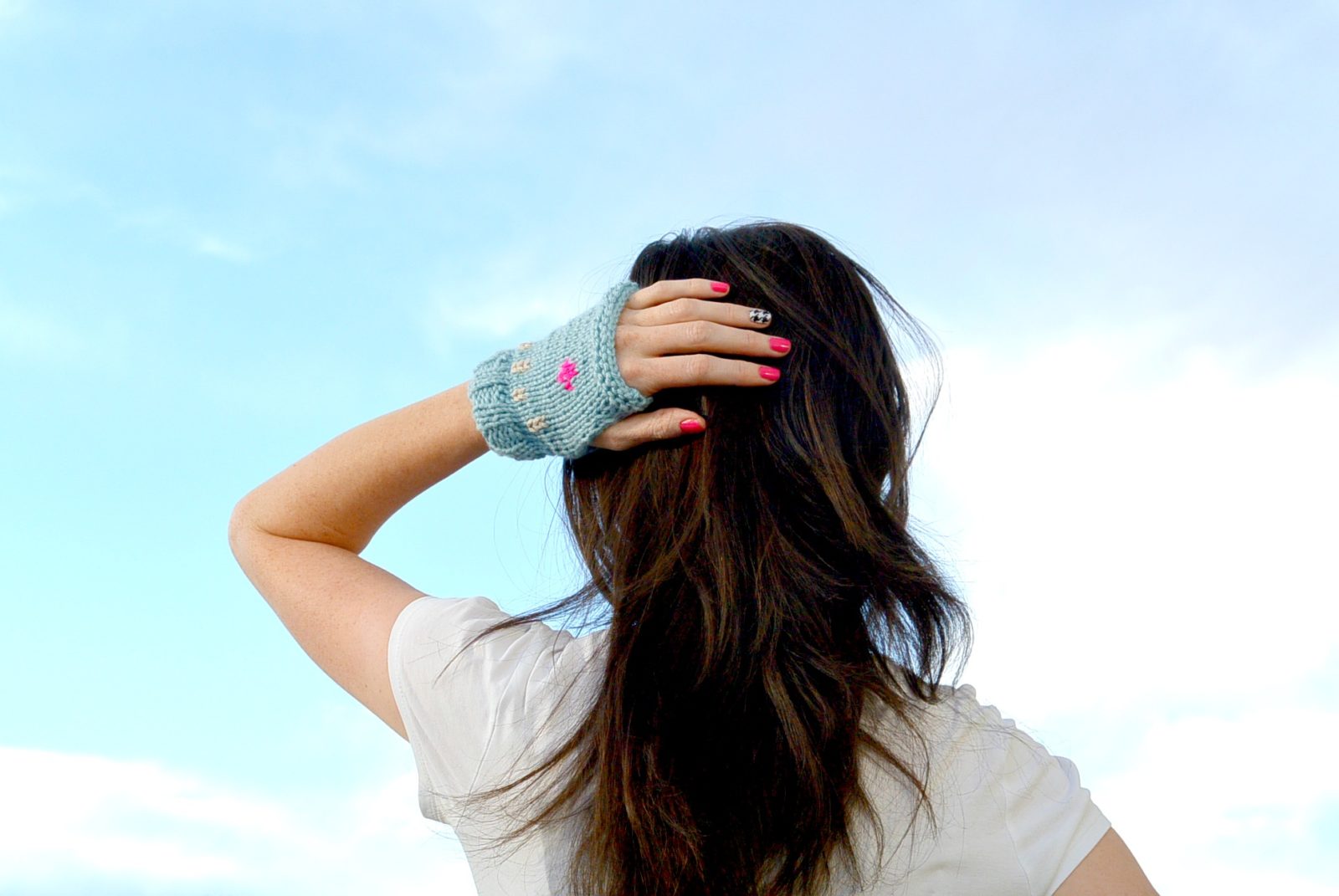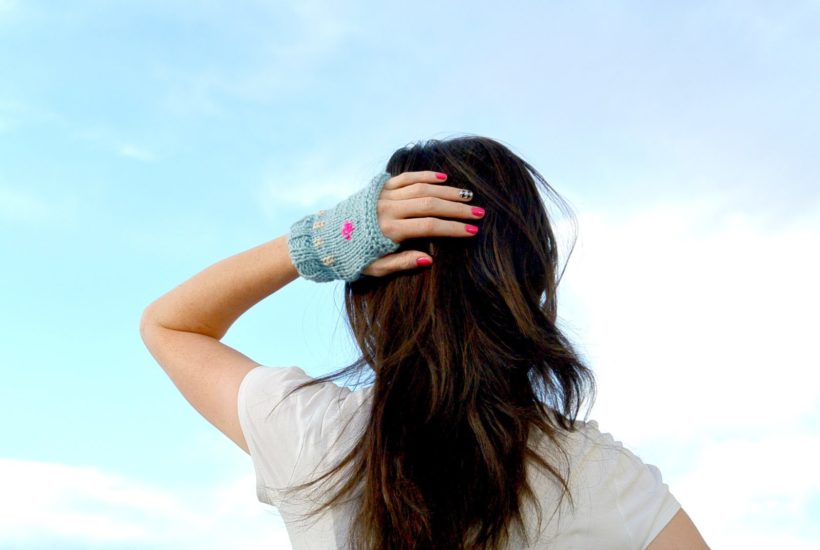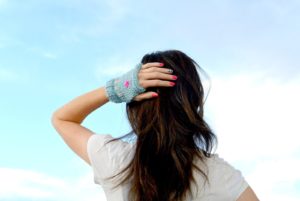 My first blog post was a pattern for a bulky, knit flat fingerless glove (you can see here). The whole reason I made that pattern was out of frustration of not finding a pattern that was done flat when I was trying to make some for Christmas gifts. Since then, I've loved my own pair of fingerless gloves, but the weather is getting a bit warm.
These are knit with bamboo and silk yarn. I know. Luxury!! It was so fun to knit with because it is sooooo soft. It's also great because it takes the chill off in the mornings but doesn't make me feel like I'm still living on the frozen tundra (this is how I felt this winter).
*These are knit flat, and seamed, making them beginner friendly
* You need to know how to knit and purl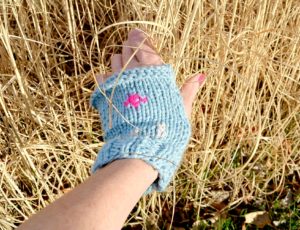 You will need:
US Size 8 Knitting Needles
One Skein Worsted weight yarn ( I used Yarn Bee Oriental Teal in silk and bamboo from Hobby Lobby)
Two differing worsted weight contrast colors for details ( I used off white and magenta )
Tapestry Needle
Scissors
Pattern:
Cast on 30 Stitches, leaving a tail to sew up the seam
Row 1: *Knit 2, Purl 2, across row (you are working in a 2X2 rib)
Row 2: Purl 2, Knit 2, across row *
Repeat this pattern from * to * of a 2X2 rib for about 1 1/4 inches
Once you have 1 1/4 inches of rib stitch, you will begin stockinette
To knit in the stockinette stitch:
Row 1 of stockinette: *Knit across row
Row 2: Purl across row*
Continue from * to *, making the stockinette stitch pattern for 3 1/4 inches
Once you reach the length of 3 1/4 inches, you will do garter stitch to finish. This will prevent curling, and give it a finished look.
Knit three rows of knit stitch (Garter), then knit cast off. Leave a tail to seam.
Seam your gloves (If you are going to embroider details, wait to seam until AFTER you have embroidered details):
Using either the tails, or a length of yarn, fold the glove together in order to seam. Seam from the bottom up, to the point where your thumb will go through. Use the mattress stitch. (If you've never done it, just look it up on youtube. It is really easy, and you won't even be able to see the seam at all!) Then, with a length of yarn, or tail, seam from the top down, stopping where the thumb will go through.
Weave in all ends.
Embroidered Detail
The details are stitched on after I made the flat glove. The details are added, and then the glove is seamed. I really like these details because they are so easy to add, and you can be as creative as you want! Feel free to play around, and make your stitches in different places than mine.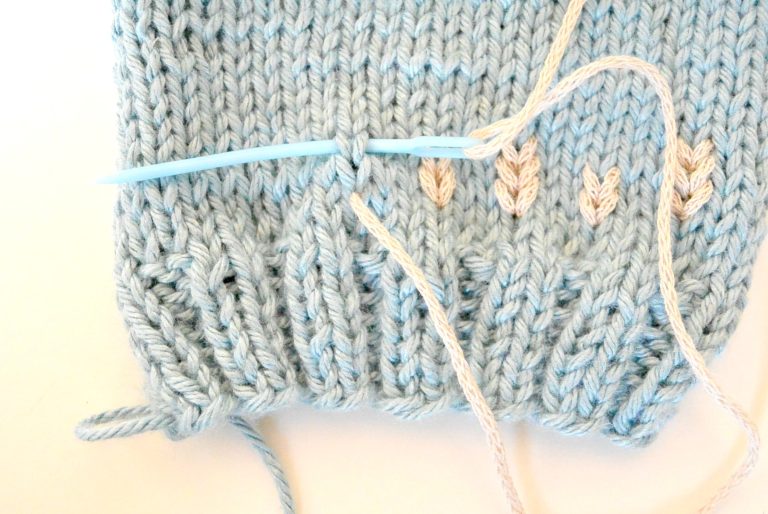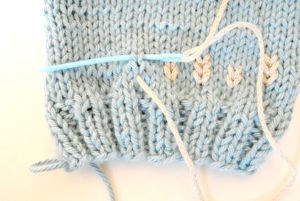 I used a technique called the duplicate stitch to add detail. See my tutorial here on adding these to the gloves. You will simply use a length of yarn, your tapestry needle, and weave over stitches to make the details.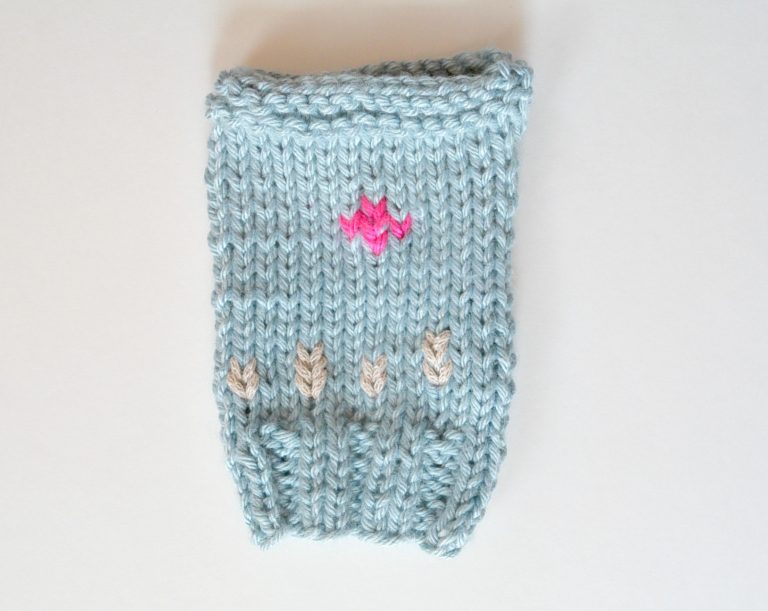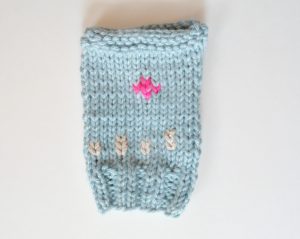 Use the contrast colors you have chosen to add these details. My stitches are placed, in sets of two or three, every two rows just above the cuff of the glove. The pink detail is centered over my hand. Enjoy making your details, and make sure to see my picture tutorial to see my glove details being added in pictures!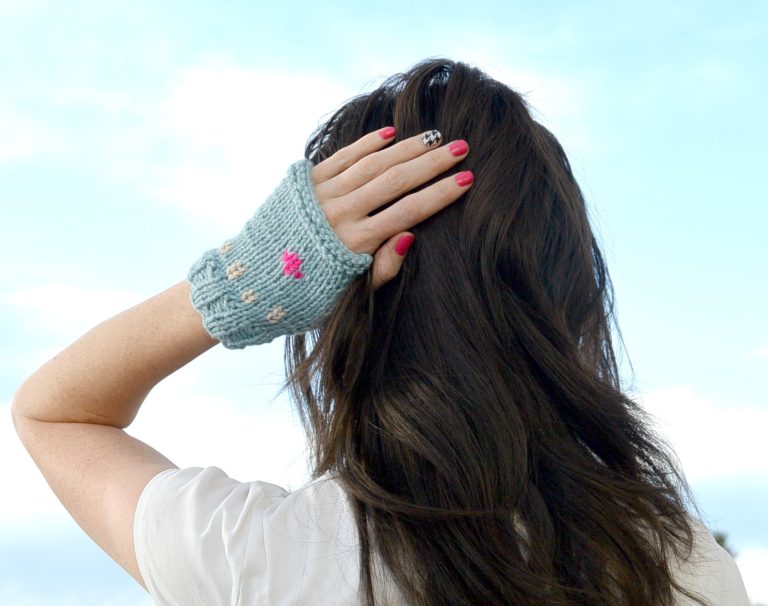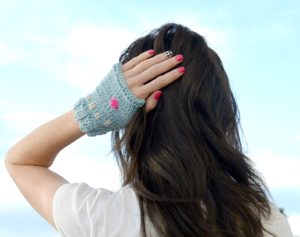 As always, let me know if I can improve the pattern or instructions. I'm no pro! Ha ha!
Have fun with your luxurious gloves!
You can also see my bulky fingerless knit in the round here!
If you liked this please subscribe to my newsletter or blog, and check back often for new patterns! Follow on Facebook, Instagram or Twitter!