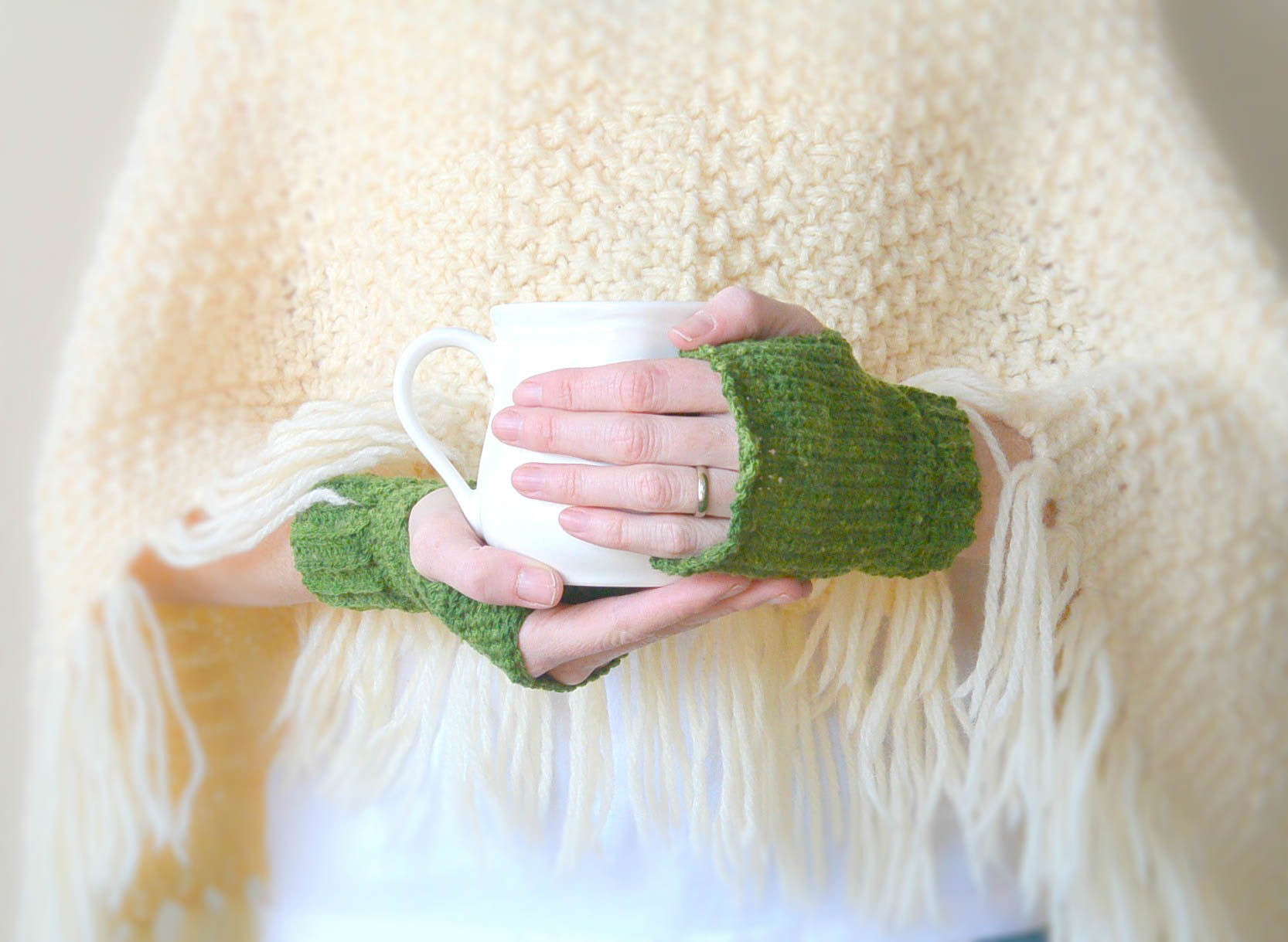 So I've finally finished up this super easy pattern for crocheted fingerless mitts with my Mountain Meadow Wool yarn! 🙂 I figured now would be a good time to make them so they are ready to sport on St. Patrick's Day. They are easy, but really feminine with the little "lace" edging, and so very wearable. It's also a great pattern because you only need one skein of yarn, and after this project I'm not so intimidated with fingering weight yarn!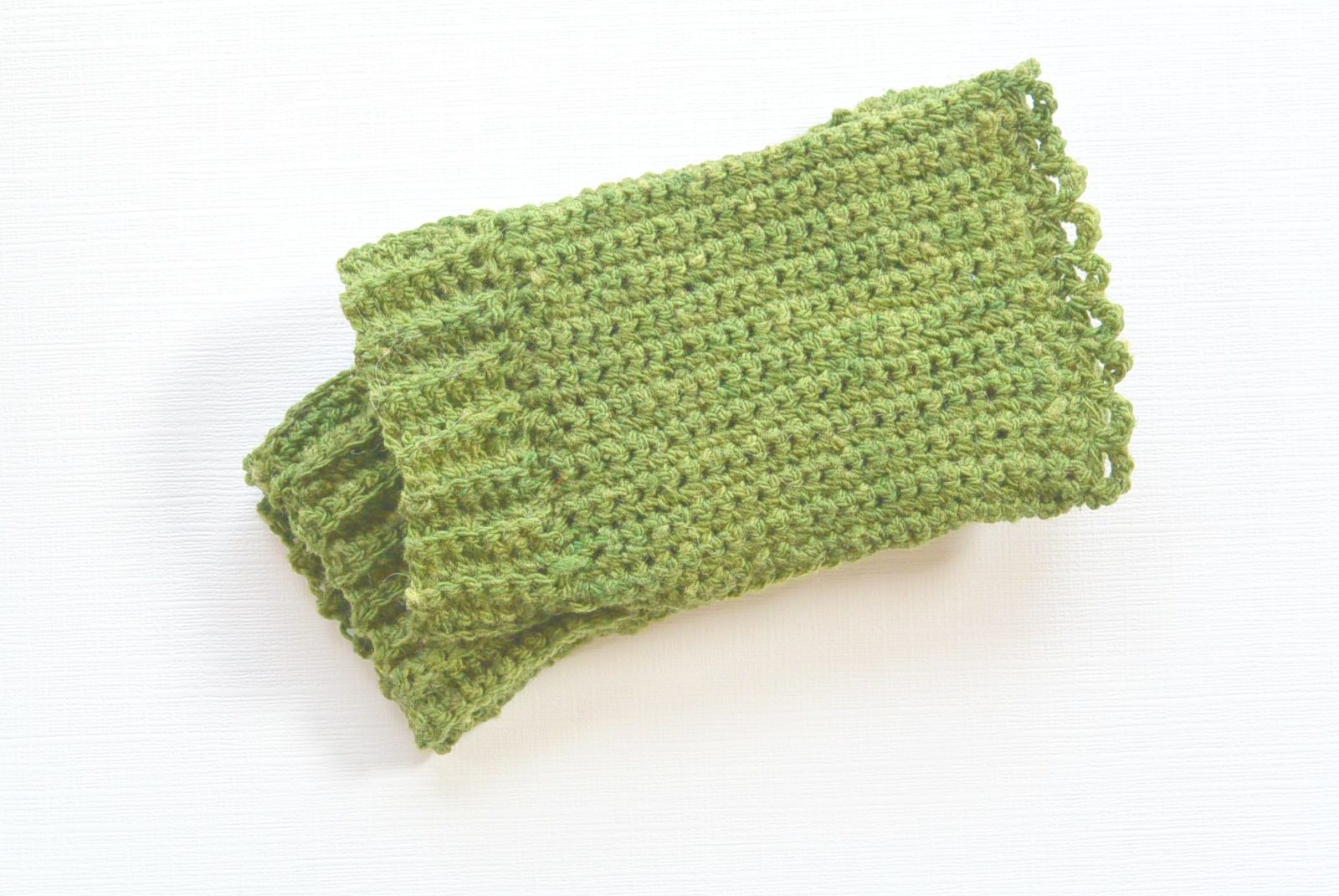 This is a perfect project if you are new to crochet or if you're an ole' pro but want a T.V. worthy, mindless little pattern. The hand dyed yarn has such wonderful color tones and also offers a perfect stretch and warmth since they are wool. I wanted to name them "Prairie Winds" because the green makes me think of nature, prairies, and this wool comes from beautiful ranches here in the west.
Notes about this pattern:
These gloves are made in two parts. There's an upper portion, which is essentially a square, and a bottom portion that is a ribbed rectangle. You will then seam the upper and bottom portions together. You should know how to single crochet, chain, seam, and slip stitch. Once you've attached the ribbed portion to the upper portion, you will then fold in half, and seam up the side leaving a hole for the thumb. Easy as pie!
For this pattern you will need:
One Skein of Mountain Meadow Wool Dubois hand dyed in Fern (2 ply fingering), or comparable yarn (be forewarned, if you click on the yarn to check it out – you will be in love with all of the color options)
Size D Crochet Hook
Scissors
Tapestry Needle to weave in ends
Pattern:
Upper Portion:
Chain 26 Stitches
Row 1 Sc across, ch 1, turn (25 stitches)
Row 2 – Until piece measures 7 inches wide (or as wide as you need to fit comfortable around your hand.)
Upper Lace Edge
With your yarn still attached, or by attaching yarn to upper corner, single crochet along entire upper edge.
Lace
In one corner of upper edge, chain 4, skip stitch, slip stitch in next stitch. Repeat this across, chaining 4, and slip stitching after skipping a stitch. This creates the little "chains" of lace at the top of the glove.
Tie off, weave in ends
Bottom Ribbing:
Chain 8
Row 1 Sc across, ch 1, turn (7 stitches)
Row 2 – until piece measure the same width as upper piece – Single crochet in back loop only across, ch 1, turn
(Single crocheting in the back loop creates the "ribbed" look that you see)
Tie off, weave in ends.
Attach Ribbing to Upper Portion
Lay your ribbed edge along the bottom edge of upper piece. Put the right sides together.
With your yarn and crochet hook, attach yarn, single crochet stitch the two pieces together, working through both pieces of fabric.
Seaming up Side
Finally you will seam up the side, leaving a hole for the thumb. Fold the piece in half with right sides together. Attach yarn and slip stitch seam up from the bottom. Tie off wear the bottom of the hole begins. Attach yarn at top of thumb hole, and continue to seam up to the top of the glove. Tie off, weave in ends.Try to test out where you'd like the whole as you seam it by trying on the glove once you've started your seam.
I realized when I was about to make these that I've done several pair of knit fingerless mitt patterns, but this was my first crochet pattern for mitts. I hope that you like them, and feel free to share a picture to my Facebook page if you make them!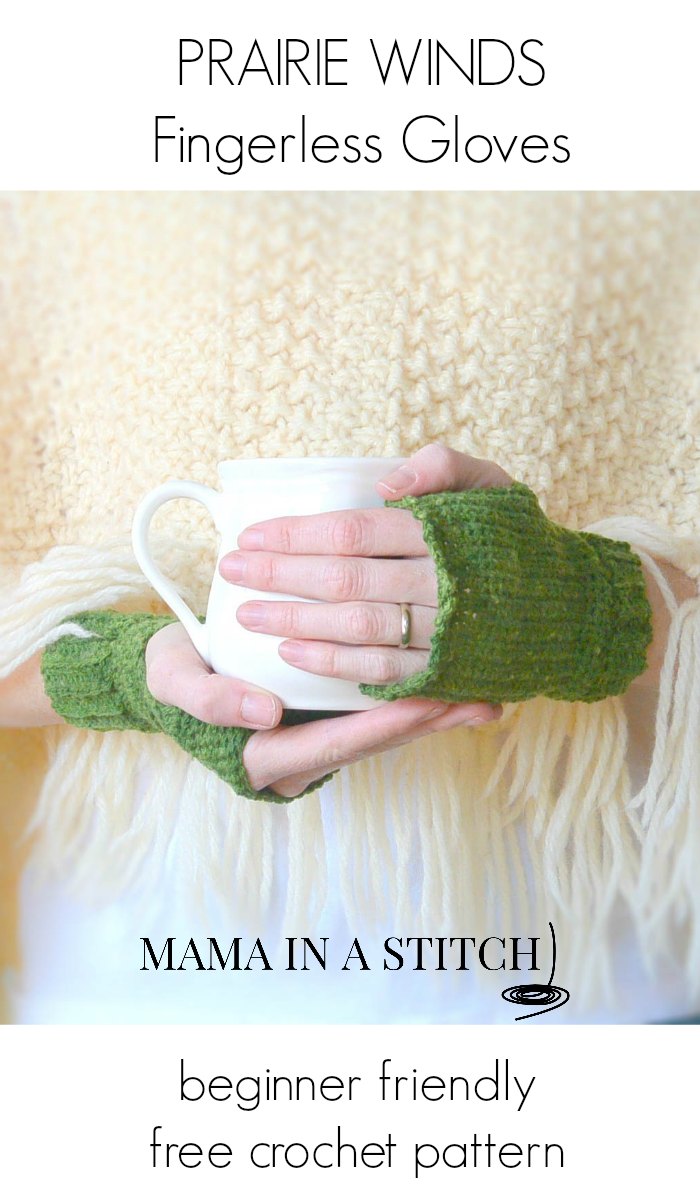 Have a wonderful day my yarn friends!
Do you or someone you know like fingerless mitts? I like them because they are cozy, but I can still use my touch screen on my phone. Why do you like them?
Don't miss a post!
[jetpack_subscription_form]
Thank you to Mountain Meadow Wool for sponsoring this post. All opinions are 100% genuinely my own.