Waffle Stitch Crochet Blanket Pattern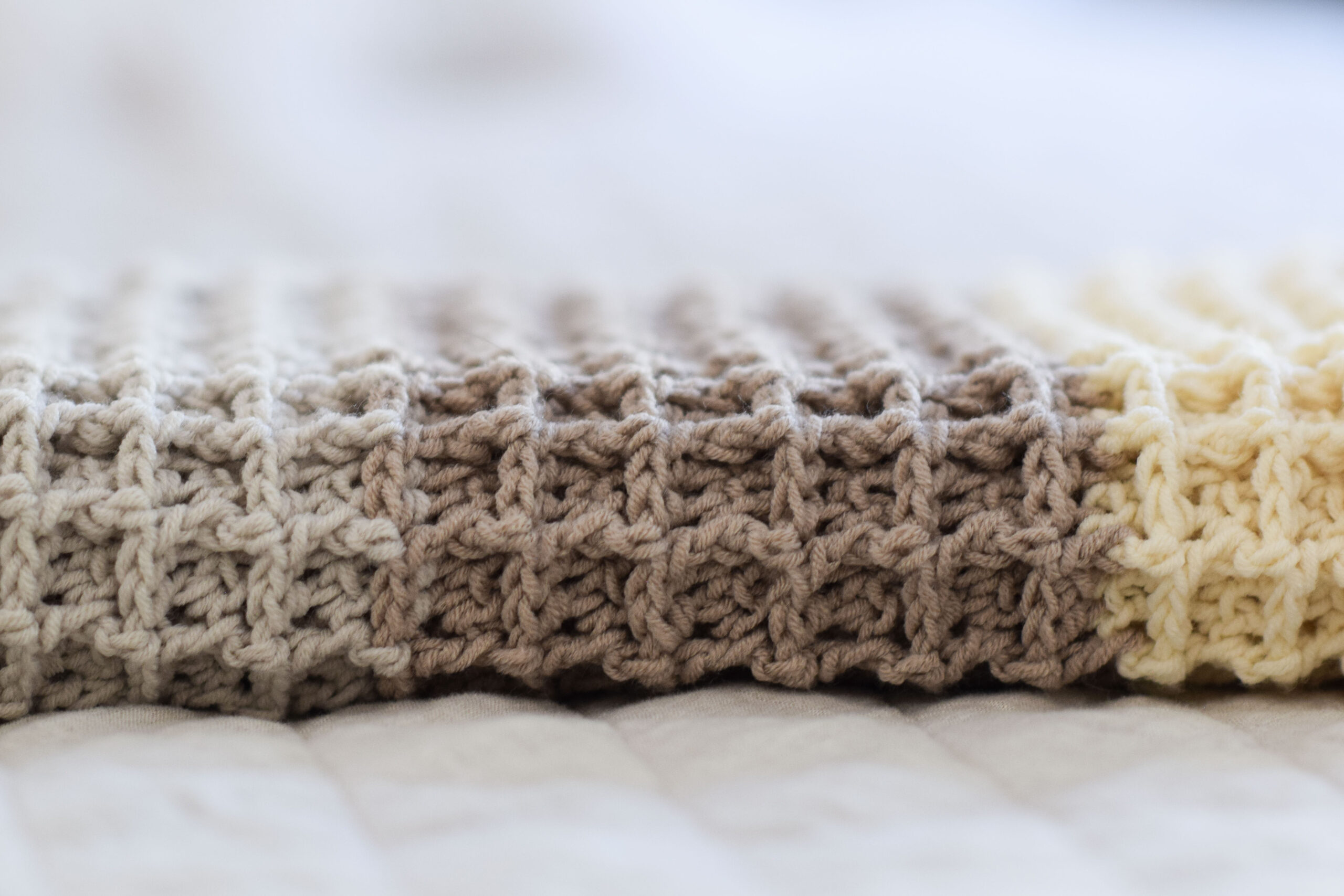 There are just some crochet stitches that really shine, and the waffle stitch is one of them, don't you think? This "Winterscape Waffle Stitch Crochet Blanket" is easy to make and it's so beautiful! I love the thermal type fabric because it's so warm, cozy, and modern.
You can see the free pattern below, or you may choose to purchase the ad-free printable from Etsy HERE or the kit from Lion Brand Yarn HERE (in several color options).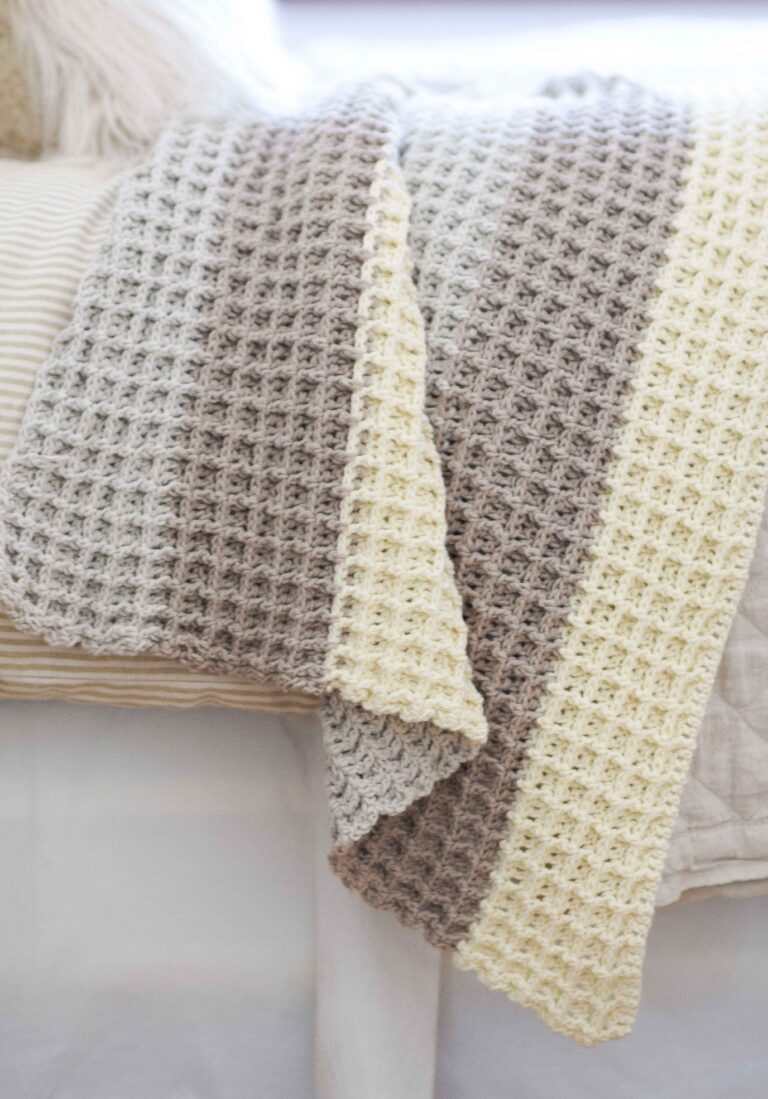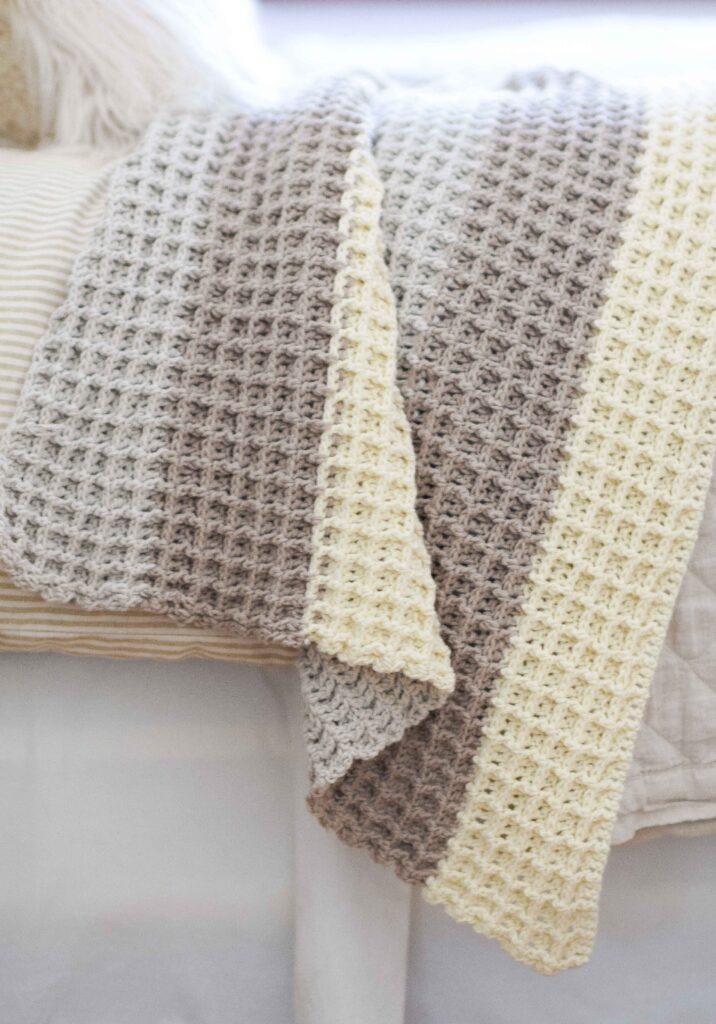 This blanket can be made in two different sizes. It's super fun because you just work through each skein of yarn, so there are minimal color changes. You simply join a new skein when you finish one!
I chose colors that remind me of winter – warm, off whites and grey tones. This color palette is perfect to me as it goes with just about any decor and color scheme. It's a good neutral, but the pretty striping adds interest.
I love a good, modern, textured blanket. (Remember the Wintertide Throw Crochet Pattern, the Rolling Hills Throw)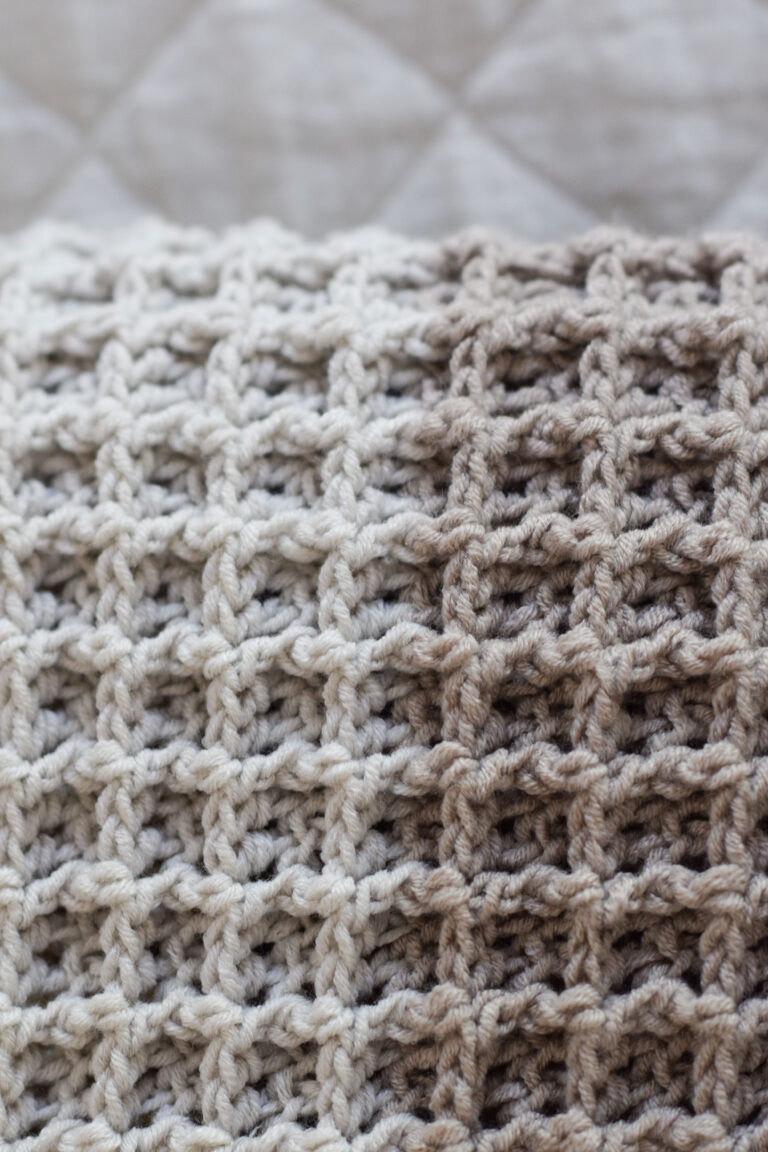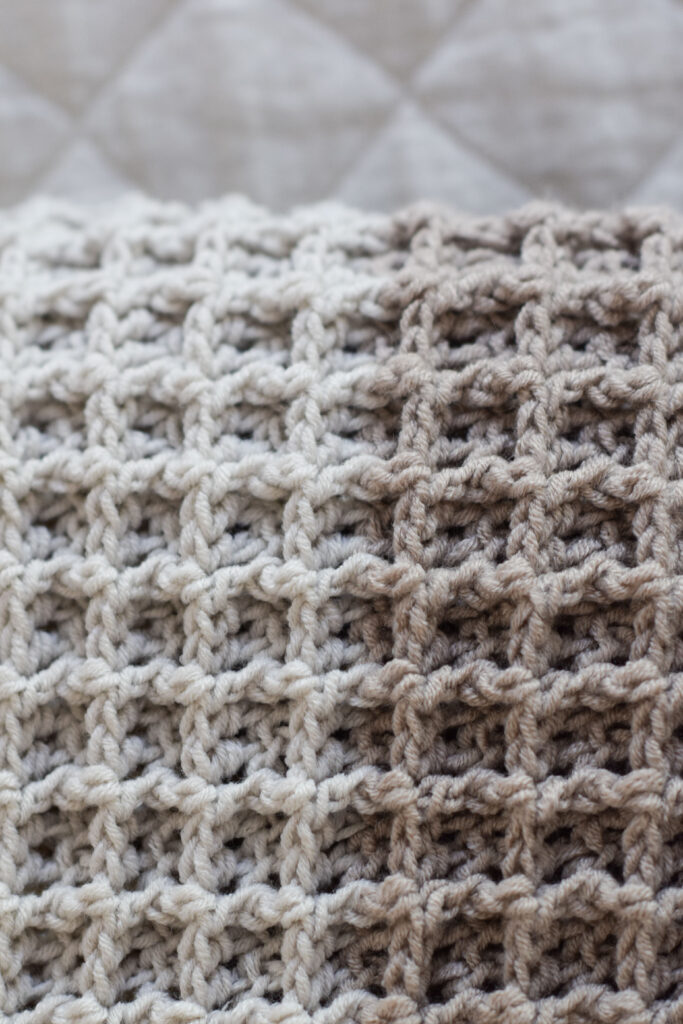 Oftentimes folks think they need to crochet a border on a blanket. You certainly can add one if you'd like! I'm not a big border person unless it's needed. One, because when I'm done, I'm done. Ha! And two, sometimes I actually prefer it without a border. This stitch works perfectly fine without a border!
How Do You Crochet The Waffle Stitch?
This really is an easy pattern. You can see the specifics in the free pattern below, and I've also linked to a video tutorial at the end of the blog post. However, here's a basic explanation of how you make this stitch! You will start with a beginning chain and then will double crochet across the entire first row. From there you will find that in row 2 you will work a couple double crochet stitches, followed with a double crochet around the post (FPdc). Row 3 is also worked similarly. These are really simple stitches! From there, you will just repeat rows 2 and 3 for the rest of the pattern. Easy peasy!
What Yarn To Use for this Waffle Stitch Blanket?
My blanket here uses worsted weight #4 yarn, and I really like how it turned out! If you choose to make this pattern with a different yarn, you will have to make adjustments to the pattern accordingly. For instance, if you were to use a chunky yarn, you'd need a larger hook and a fewer starting chains to create the same size. AND, if you are using a different yarn or hook size, I definitely suggest making a small swatch first! Be sure you like the fabric that you're about to create before you buy up a bunch of yarn.
I really love the Lion Brand Colory Theory yarn for this blanket. It is super soft, and has a great drape. It worked up super nicely! Some people have mentioned it almost seems like a light #3 yarn. I do agree that it is on the light side of a #4 yarn for sure.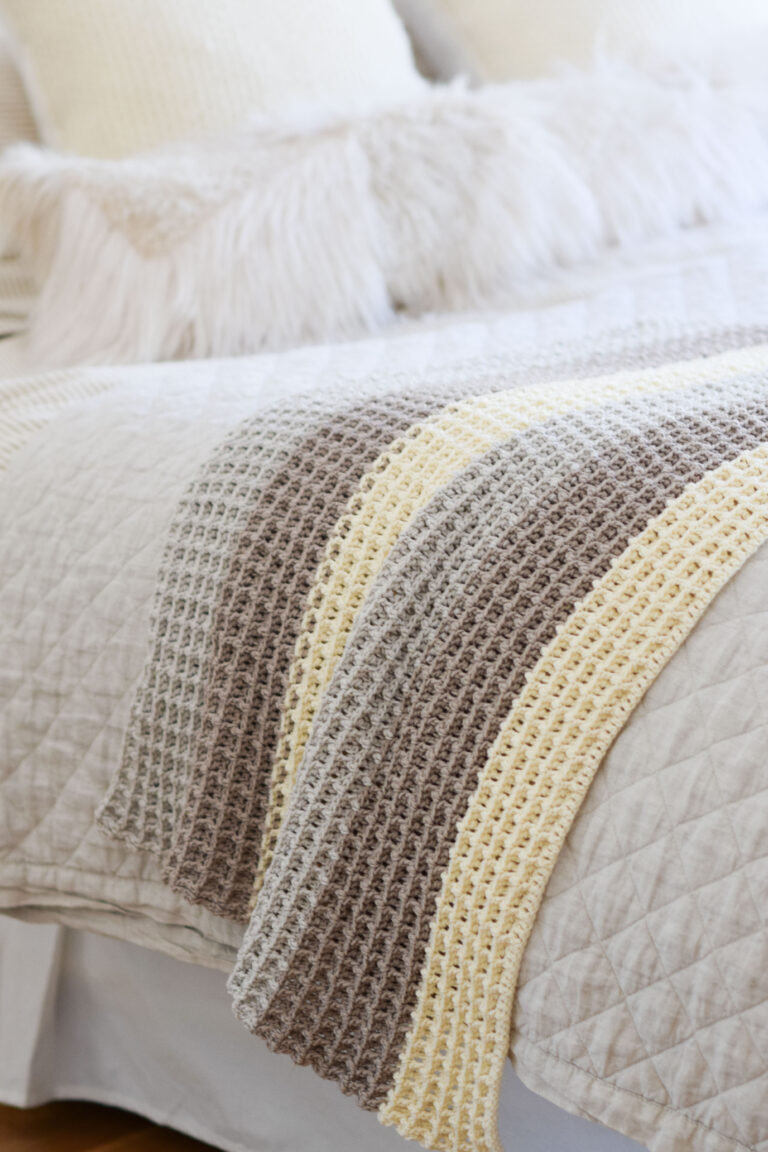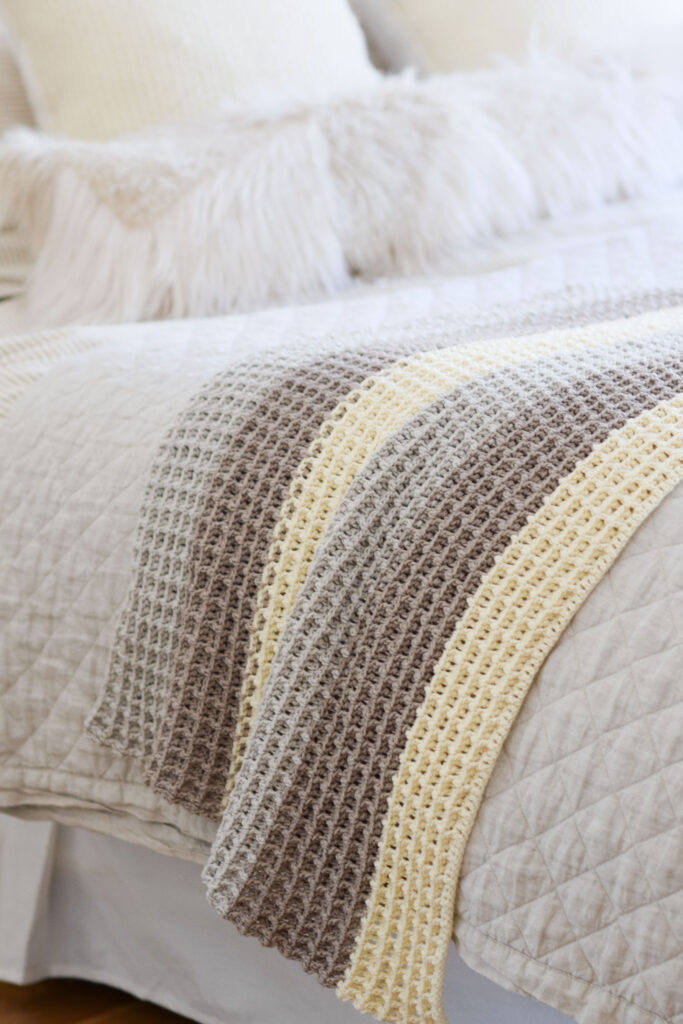 Okay, shall we hop to this pattern?
Just a reminder that you can grab the convenient, ad-free printable Winterscape Waffle Stitch Blanket Pattern from my shop HERE, or see the free pattern below. 🙂
Description:
With it's modern waffle stitch, soft yarn, and variety of colors, this lovely blanket is sure to be
cuddled for years to come. Pick your favorite three colors and crochet away as you make this
thermal fabric that holds in warmth on chilly winter days. Following an easy two row repeat
with minimal color changes, you'll love to watch your new blanket come together. Two sizes
available – a lapghan size, and a throw size.

Materials:
Convenient kit available in several colors HERE or just the printable Etsy version for purchase HERE
2 (4) Lion Brand Yarn Color Theory in Bone (100 g/skein) worsted weight #4 yarn
2 (4) Lion Brand Yarn Color Theory in Ivory (100 g/skein)
2 (4) Lion Brand Yarn Color Theory in Moonbeam (100 g/skein)
Pattern uses approximately 600g (1200 g)
US size H 5.0 mm crochet hook
Scissors
Tapestry needle to weave in ends

Size (approximate):
Lapghan or Baby: 38" x 30"
Throw: 40" x 54"

Follow directions throughout pattern for the size you are making.
The smaller size Lapghan or Baby is listed first, followed by the larger size Throw. S (L)
Size can be adjusted See "Pattern Notes" for more details.

Gauge:
Approximately 15 sts and 10 rows in 4" x 4" of stitch pattern

Pattern Notes:
Ch 2 at beginning of rows do not count as stitches.
Pattern has a chain multiple of 3 + 2 stitches.
You may adjust the width by starting with a longer or shorter chain with the required multiple. To make the blanket longer, simply crochet more rows. Keep yarn needs in mind if
you are adjusting the size! This pattern uses the crocheted waffle stitch. Consider practicing the pattern first on a small swatch before beginning the full blanket! You may chain 14 and follow the pattern as written to practice as long as needed. You will crochet the striped blanket by working through each different color of yarn. Feel free to customize it as you like!

Abbreviations (US) & Skills:
ch – chain
dc – double crochet
FPdc – front post double crochet
st – stitch
Winterscape Waffle Stitch Crochet Blanket Pattern

Crochet your blanket in this order, working through each skein of yarn. Be sure to finish a
skein at the end of a row, and pick up the new color at the beginning of a row.

Make color changes in this order 1 time (2 times for the larger size).
Cream
Bone
Moonbeam
Cream
Bone
Moonbeam

Ch 146 (155)
Row 1 Dc in 3rd ch from hook and in each ch st across. (144) 153 sts total
Row 2 Ch 2, turn, dc in 1st st of row, *FPdc around post of next st, dc in next 2 sts*, repeat
from * to * until there are two stitches left, FPdc around post of 2nd to last st, dc in last st.
Row 3 Ch 2, turn, dc in first 2 sts of row, *FPdc around post of next 2 sts, dc in next st*;
repeat from * to * around to last st of row, dc in last st of row.

Repeat rows 2 & 3, in that order, working through each skein of yarn and changing colors as you get through each skein. When you've reached your desired length, tie off and weave in ends!
If you're looking at this pattern, and you're like, I need some extra visual help, there are a ton of online videos you can watch that work this stitch! Some videos vary a bit with the starting chain, or where the first stitch goes, but the idea is the same. I'd suggest searching out some tutorials that work for you. Here is one from Moogly
If you conduct a search on how to crochet the waffle stitch, you can find quite a few video tutorials (if you're a visual learner). I've seen a few varieties of patterns, but mostly they just vary on how to get started, and where you will put the first stitch of the first row. Feel free to check them out, and then come back here to make your blanket. Here is one tutorial of this waffle stitch pattern from Moogly: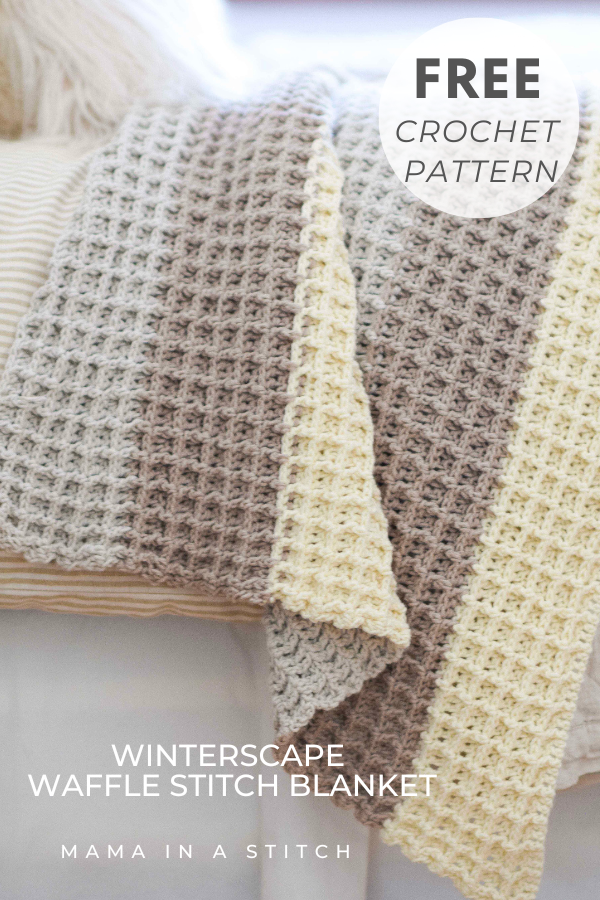 I hope you loved this Winterscape Waffle Stitch Blanket pattern! Making a blanket pattern with this stitch has been on my to-do list for ages. So glad to have it done, and out there for all of us to enjoy and cuddle up with!
XO
Jessica
If you liked this, you might like these other blankets with modern stitch patterns:
30 Crochet Blanket Patterns To Try
This post sponsored by Lion Brand Yarn. All opinions are 100% my own.