Toddler "Cat" Knit Hat Mommy & Me Pattern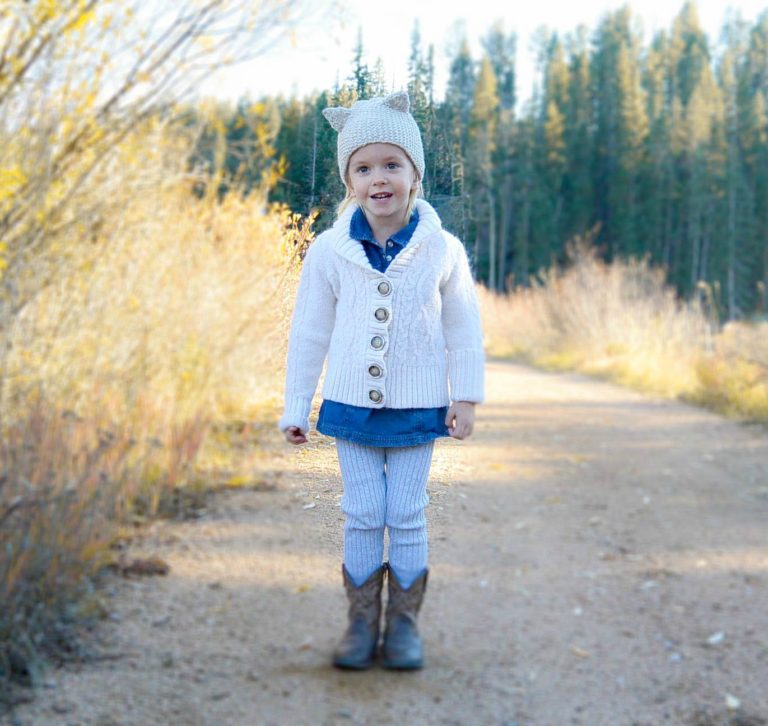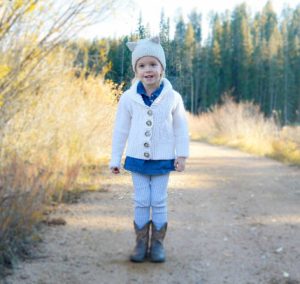 So here's the child/toddler version of my "textured knit hat" to complete the "mommy and me hats". 🙂 You can see the

mommy version here

. My girl wanted ears on her hat, so I whipped the cat ears up really quickly and played around a bit to put them in the right place. I've noticed that she is much more excited about things when she is involved in the decision making process. 😉 She was definitely excited about this hat!
There is a little bit of decreasing on the top of this hat, which is different than the other one. I wanted a little less bulk on the tippy top. You can keep the slouchy look of the mommy hat if you prefer by NOT decreasing in the pattern and making the hat a bit taller than the pattern below. I toyed around with the idea of putting a nose on it, but ultimately liked it plain. 🙂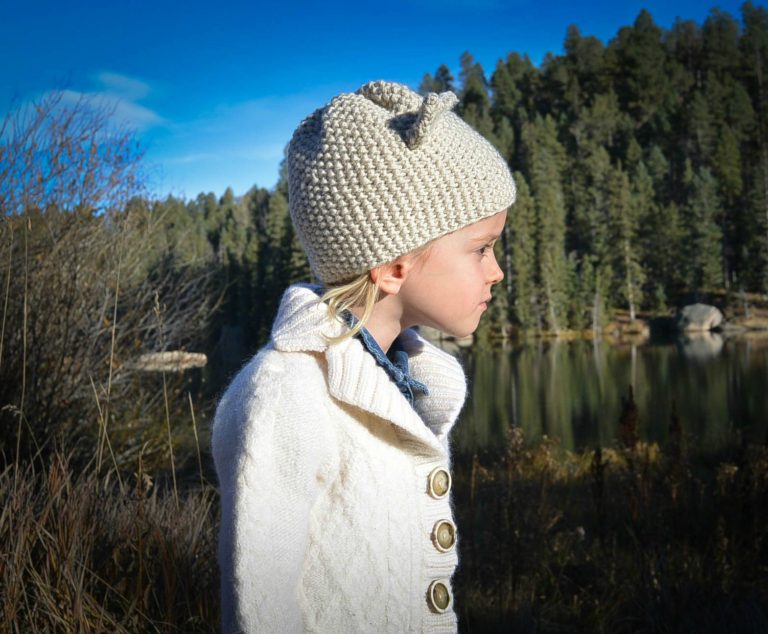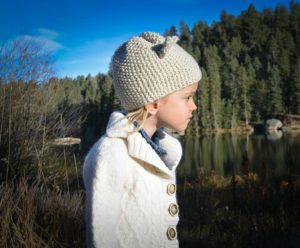 This pattern fits: 18 months – 3 years old
**To make it a child size (3-8 years old) my best guess is to cast on an additional 6 stitches, so 65 stitches . Work the hat until it's an additional 1.5 inches taller than the pattern gives.
You will need:
US Size 8, 16 inch circular knitting needles
1 skein Lionbrand Woolspun Yarn or comparable chunky yarn (If you make the mommy hat, you can use up the rest of the second skein. Both hats together use two skeins total)
Scissors
Tapestry needle to weave in ends
Pattern:
With your US Size 8 circulars, Cast on 59 stitches
Round 1 *K1, P1* Repeat from * to * around
Round 2 until piece measures 7 inches tall – Repeat round 1
Once entire piece reaches 6 and 3/4 inches tall, you will do a row of decreasing. This is the part that is a little tough, but doable! It is also optional. You may just have a little extra bulk on the top of the hat without it.
Decrease Round (OPTIONAL):
When you are about to make a knit stitch, instead, knit three together.( It's a little tough to get that needle under three stitches, but it's the only way I found to keep the pattern straight. ) Follow the knit 3 together with p, k, p, k3tog, p, k, p, k3tog and so on. Repeat the * k3tog, p,k,p* around FOR ONE ROUND ONLY.
Final 2 Rounds
Repeat Row 1 for 2 rounds
Top of Hat
Thread your tapestry needle with your yarn. Feed the needle through the loops on the top of the hat. Pull tightly and tie off and weave in ends. See the pictures below.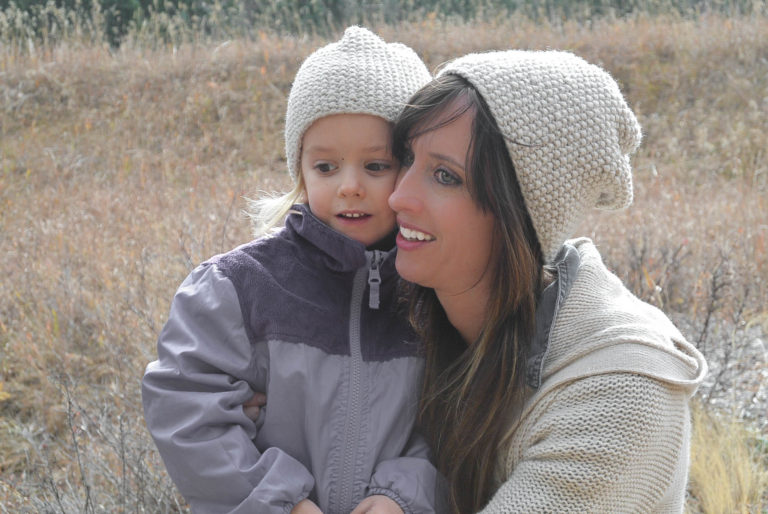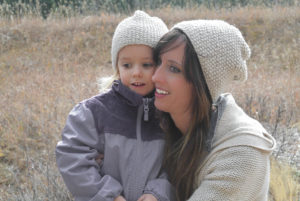 Here is how it looks as it's being made….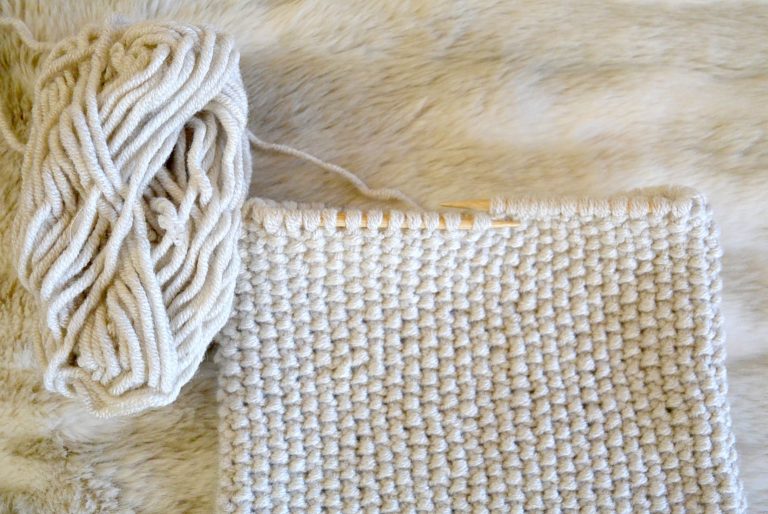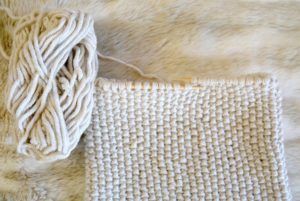 Just like with the mommy version, it's just a tube!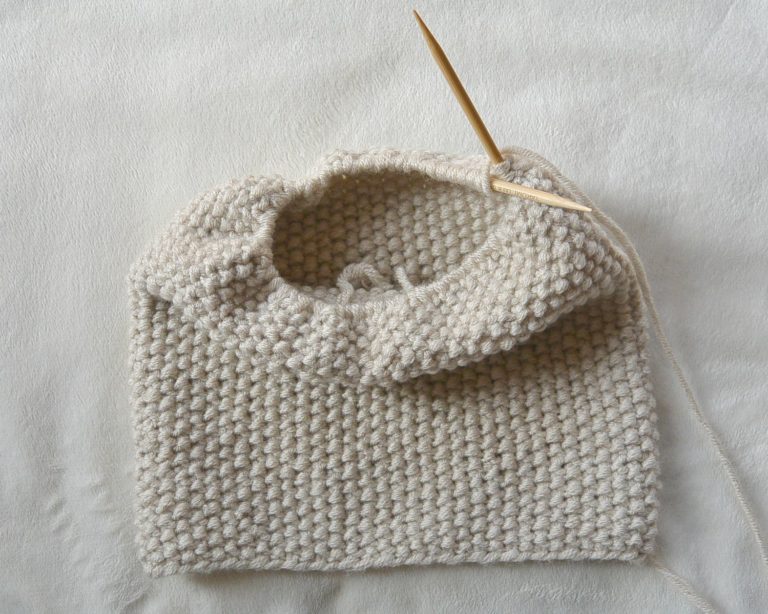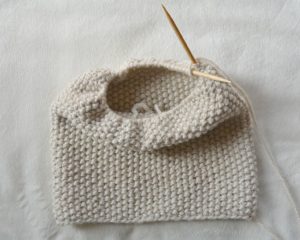 Here at the end I use the tapestry needle to pull the yarn through all the loops. Pull it tight, and tie off you make the top of the hat. If there is any small hole left, simply make some straight stitches to stitch it closed.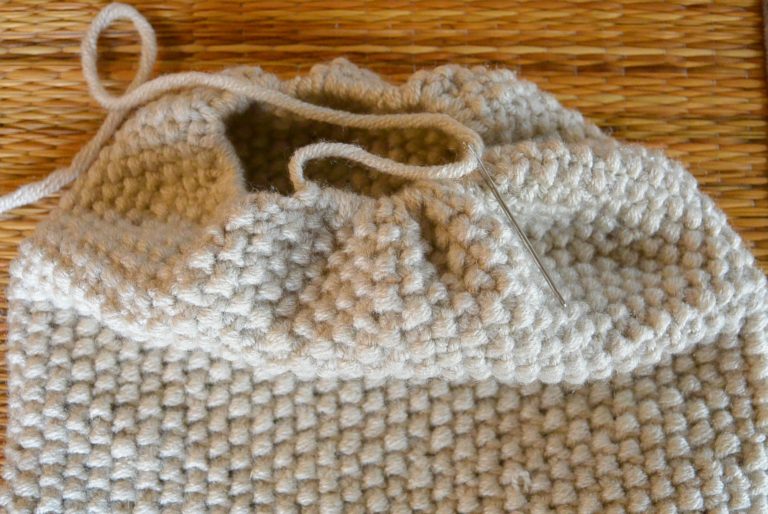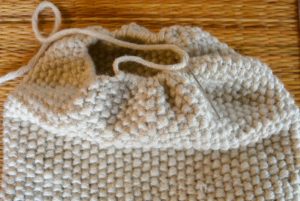 The Cat Ears:
Unlike the hat, the ears are done in stockinette stitch. Make 4 of these ears. You will then whip stitch two together to form one ear. It makes them thicker and better at standing up on the hat. 🙂
You need:
US Size 8 knitting needles
Same Chunky Yarn used to make hat
Pattern:
Cast on 9 stitches
Row 1 Knit across row
Row 2 Purl across row
Row 3 knit 2 together, knit across, knit Last 2 together (7 left)
Row 4 purl across row
Row 5 knit 2 together, knit across row, knit 2 together (5 left)
Row 6 purl across row
Row 7 knit 2 together, knit across row, knit 2 together (3 left)
Row 8 purl 2 together, purl one 2 left
Row 9 knit 2 together, tie off weave in ends through tip of the ear
Whip stitch two of the ears together, with the stockinette stitches facing the outside. Do this for both sets of ears.
Placement of Ears:
Place ears 4 inches above the bottom of the hat, and the center of each ear should be set two inches from each side. Whip stitch the ears to the hat using your tapestry needle.
That's all there is too it!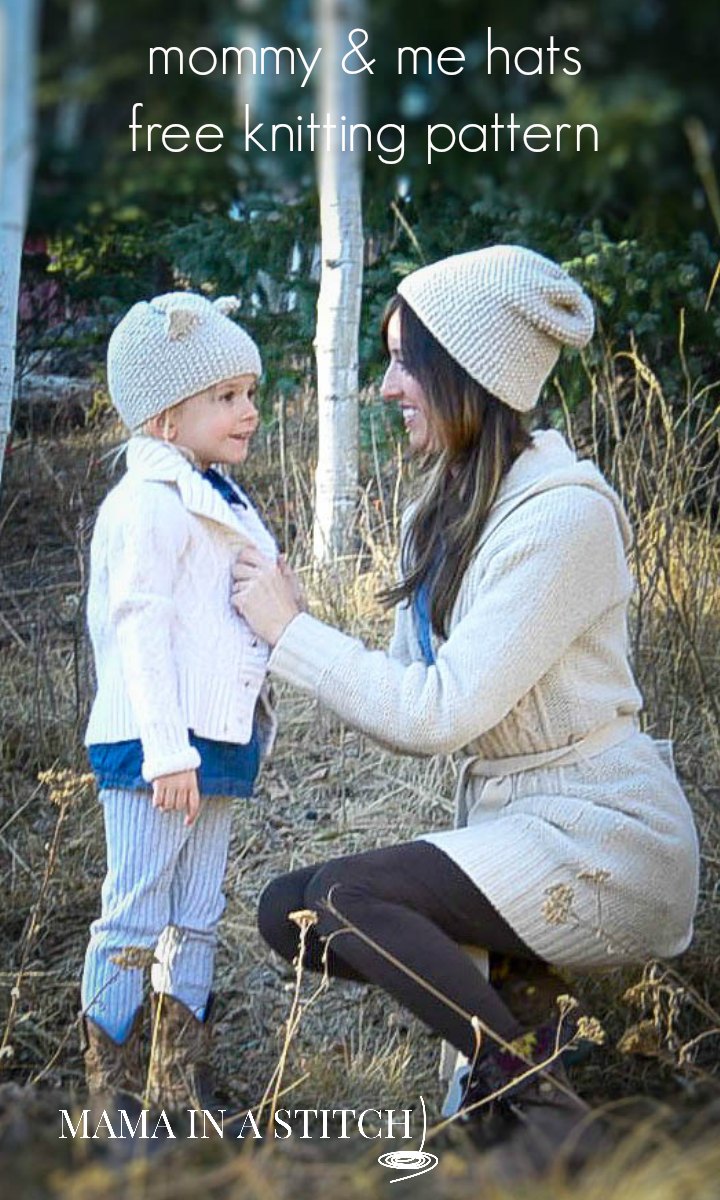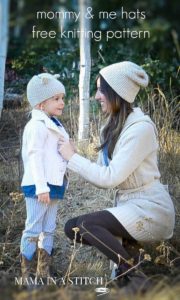 Let me know if you have any feedback or questions as always.
I've got a fun and ridiculously easy crochet project up next. Of course, I went to the yarn store while baby was at pre-school just to "browse around" and couldn't leave empty handed. Please tell me some of you have this problem?! 😉
You may also like: