GIANT Yarn "Plush Knit Bag" Pattern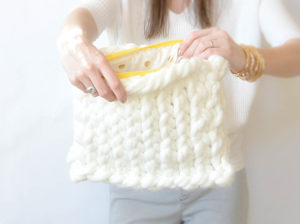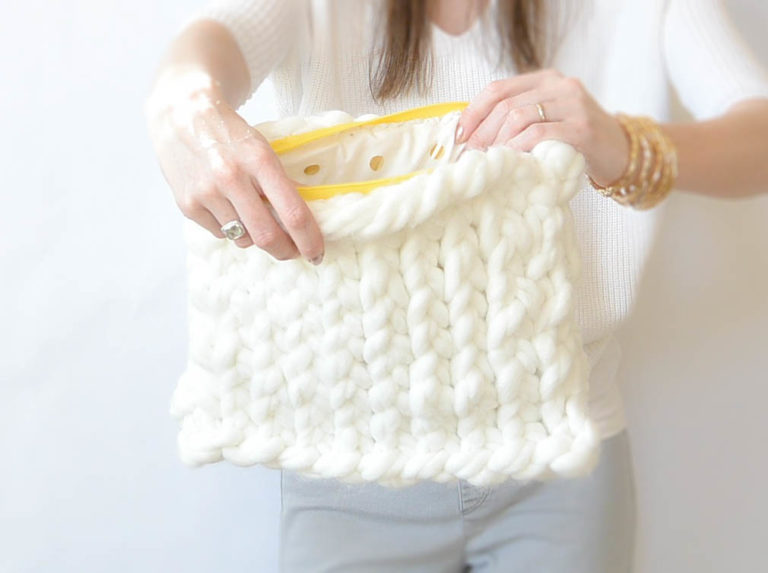 So friends, I've finally gotten my hands on some BIG yarn and GIANT needles and this was the result. I'm telling you, this feels like a big squishy cotton ball! Seeing so many gorgeous BIG knits all over the internet this last year has had me wanting to try it for a long time, and it didn't disappoint. Have you tried it out yet?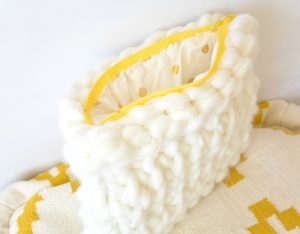 If you can knit and purl, you can easily make this bag. The most surprising part of this knitting project was that it didn't knit up as quickly as I imagined. I thought the yarn would just fly off the needles, but something with the big needles and giant yarn kept it from being super fast. My original thought was to make a scarf, but I figured out I wanted to do something a bit smaller for my first go at this. I'm totally hooked on the look. It would be awesome to make a giant blanket with amazing cables but you know I'm all about quick and easy. 🙂 I'd have to consider changing my ways for a project like that!
Bag is 9 " tall, by 10.5 " wide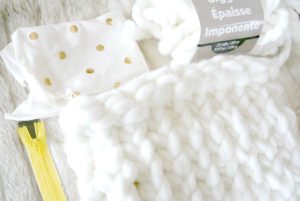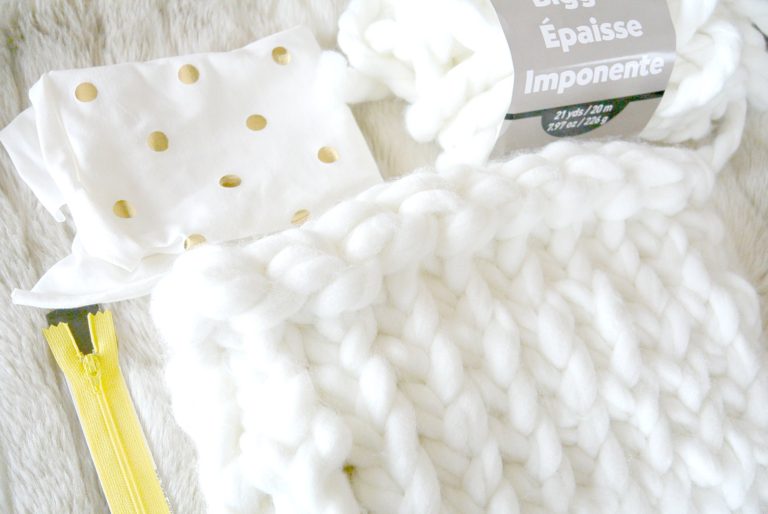 You will need:
US Size 50 Knitting Needles
2 Skeins – Super Bulky Yarn ( I used "Biggie" Yarn from Michaels Stores ) This yarn is Super Bulky 6, but it's the biggest super bulky I've seen.
Scissors
Fabric
Zipper – I used a 9 inch zipper, but it is a bit small. If you can find a 10 or 11 inch (do they make those?) , it would be perfect. OR YOU CAN CAST ON 1 LESS STITCH AND A 9 INCH ZIPPER WILL BE GREAT.
Hand sewing needle and a sewing machine (optional – you can just hand sew the fabric if you don't have machine)
Ummmm…..you don't need a tapestry needle to weave in ends for this project. 😉 I'm not sure if they make tapestry needles large enough to fit yarn the size of ROPE through it. 😉
Notes: This is a simple knit rectangle done in stockinette stitch with a section of garter stitch in the middle, and then seamed up the sides.
Pattern
Cast on 10 stitches
Work in stockinette stitch ( in other words, *knit one row, purl the next row*. Repeat from * to * for 9 inches)
Once you have approximately 9 inches of stockinette, you will work a section of garter stitch (knit stitch) to make the bottom of the bag.
Starting On the wrong side (purl side), knit row
Next row: Knit row
Next row: Knit row
Next row: Knit row
You will now have what looks like two ridges. Now you will continue with stockinette stitch for another 9 inches. (See the picture below to get a visual of the two ridges)
Cast off.
You will seam up the two sides after you do some measuring for the fabric lining.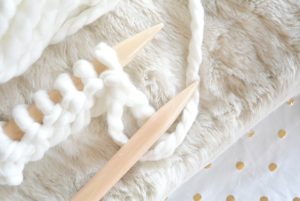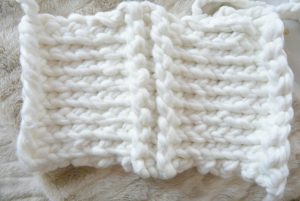 Fabric Lining
Before you seam this sides, measure how large your bag is from side to side (length and width)
Cut your fabric to match size of bag.
Lay your fabric, right side down. Fold back edges that will be at the top of the bag, and pin. Sew each side down. In other words, fold and make a seam at the upper edges of the fabric. This will make it pretty when you open the bag.
Now fold your fabric in half with the right side of the fabric facing inwards (wrong side out). You are folding and sewing the sides to finish up your lining, so sew down each side of bag to finish your inner pouch. Don't sew the top closed! You should now have a nice little pouch to go in your bag.
Seaming Sides of Bag
With a length of yarn, whip down each side of the bag. Simply weave in the ends with your fingers and tuck any extra yarn into the bag. No one sees it with the liner. 😉
Insert Liner in Bag
Place your liner, right side up into the bag. Hand sew around the top of the liner in order to attach it to the bag.
Zipper
Unzip the zipper
Pin the zipper along one edge of the bag, hand sew along the edge. I liked sewing it where I went through some of the fabric, and went through some of the yarn. (See the picture)
Pin the other side of the zipper along the opposite side. Hand sew around to attach.
I used my needle and thread to sew a little closure on one edge of the zipper. My zipper was just a bit short for the bag, so there was a tiny opening at the end of the zipper. I just closed that opening with a few stitches.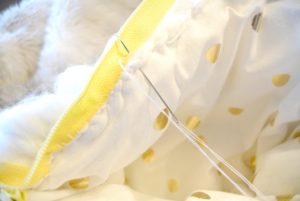 I really love this new bag of mine. I thought of adding a handle to make it into a legitimate purse. If you've got any ideas on the best way to do that, let me know!
Some of you have told me you'd like to try out the giant knitting and crochet trend. Do you still think you might give it a whirl?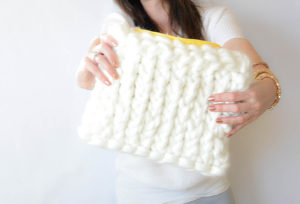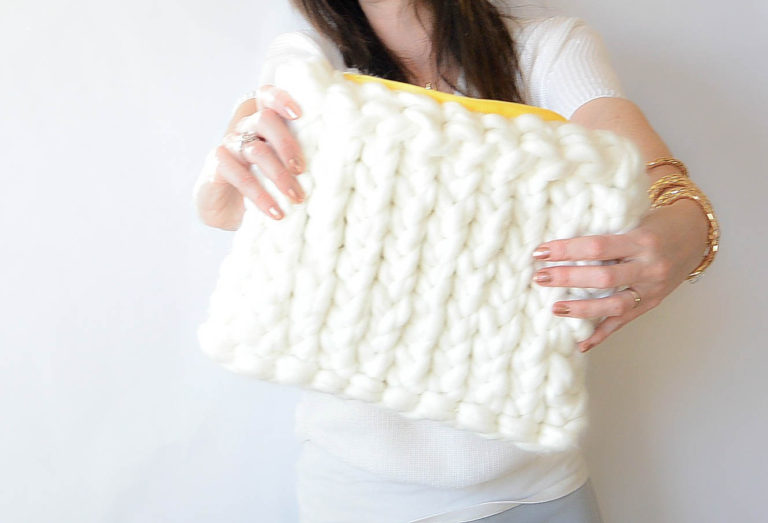 I hope you enjoyed this. 🙂
I've got a crochet project coming up, and will be celebrating one year of blogging this month!
[jetpack_subscription_form]