Stripes & Eyelets Urban Easy Blanket Knitting Pattern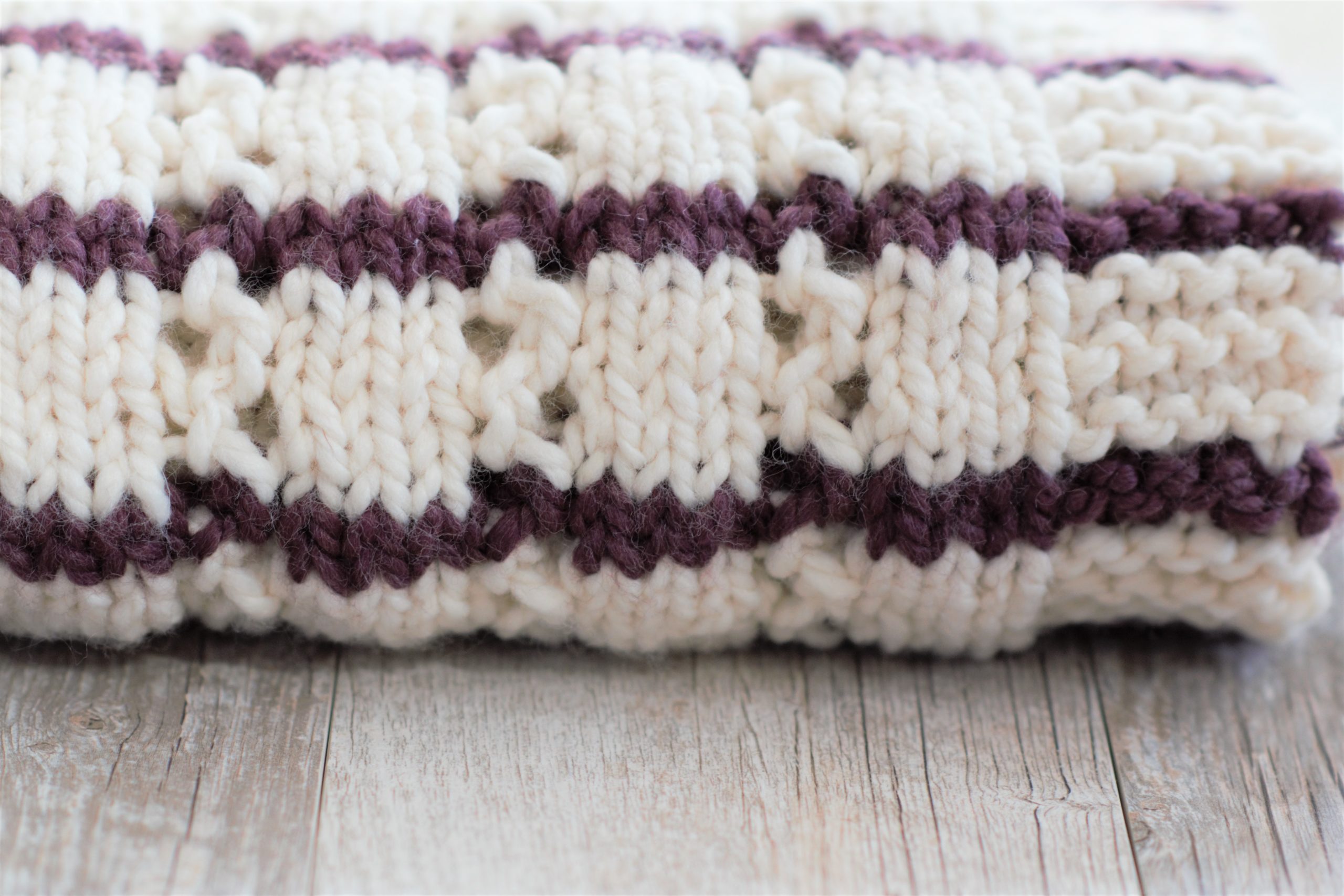 Scroll down for the free pattern below, or you may choose to purchase the ad-free, printable version from my Etsy shop (here)!
Look, there's color! Now, here's a knit blanket that's easy to make yet it has lovely detail so that you don't get bored. The large tassels and modern striping give it an urban worthy look and the eyelets create a look of mini-cables. I love the contrast of the cream and fig colors, but you can use any two colors that you like. Apparently we will be seeing a lot more color in home interior design for 2019 according to some of the home decor blogs I've been reading. Bring on the color! This should be a fun challenge for this neutral loving girl 😉
This blanket reminds me a bit of my Easy Heirloom Knit Blanket (here) as it's simple and classic while still being on trend. The pattern's definitely easy, but you do need to be ready to go just beyond the basic knit and purl stitches. You can do it!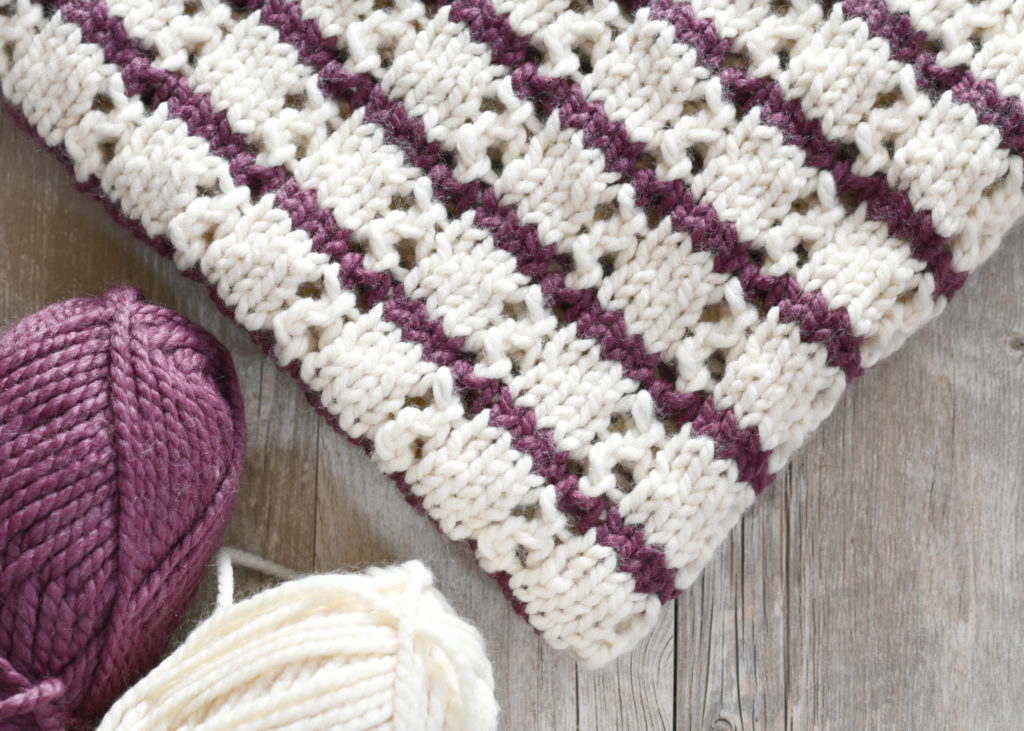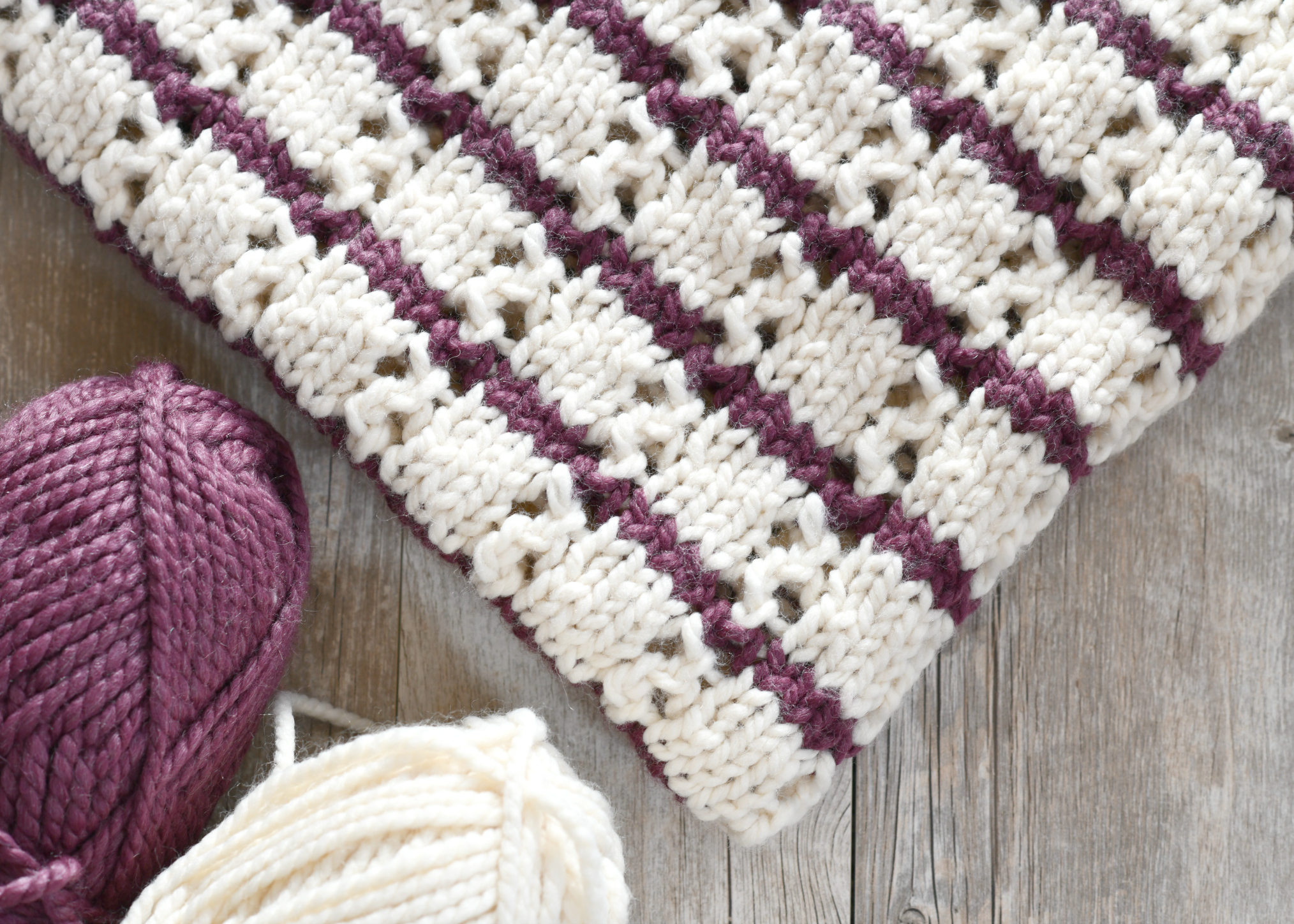 Above: I love how the eyelets seem to climb the blanket. They almost look like little braids, cables or vines. And they are soooo simple to knit!
If you want a more classic look, you can simply forgo the stripes and make the blanket using just the cream or any of your favorite colors. You can also choose a neutral contrast color, like a pale grey or carmel, to make your stripes a bit more understated.
Oh! And this makes a great baby blanket as well. If you do use this pattern to make a baby blanket, you might consider substituting yarns for something soft. For babies, I like cotton or soft acrylic. Lion Brand Hometown USA super bulky yarn would make a good substitute for this blanket.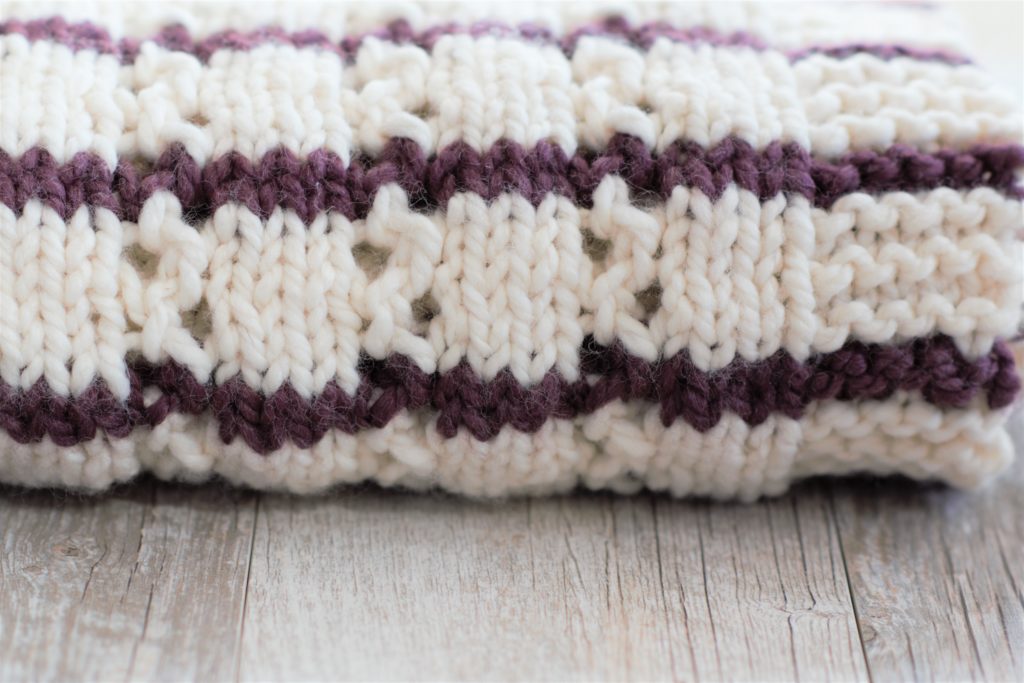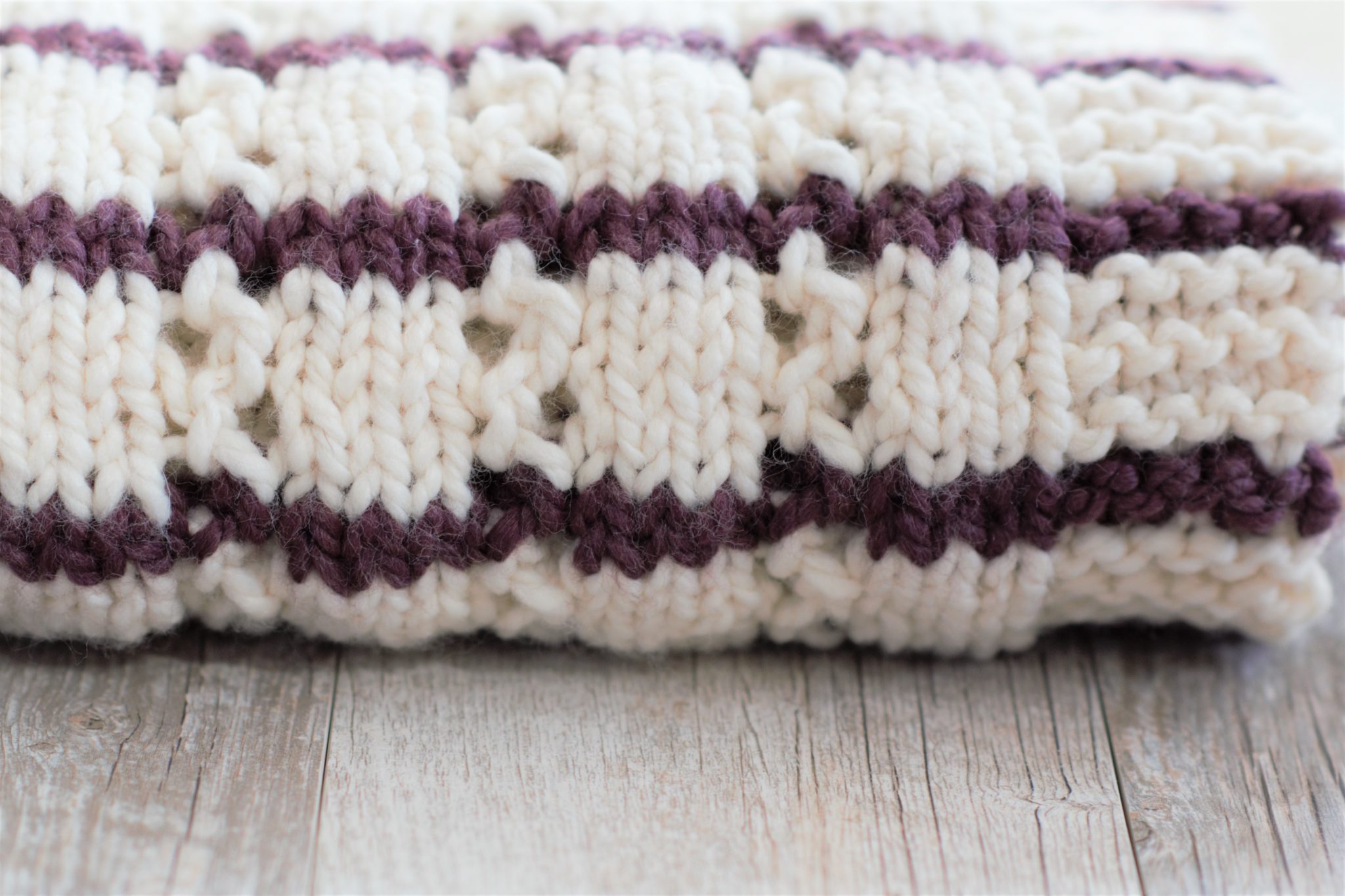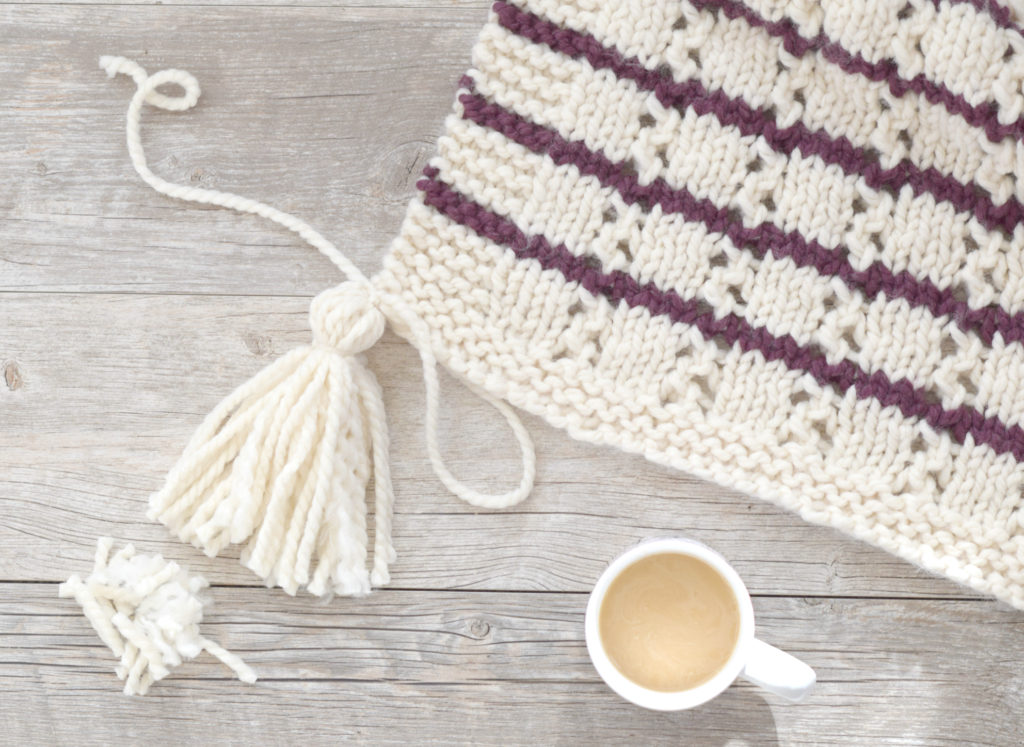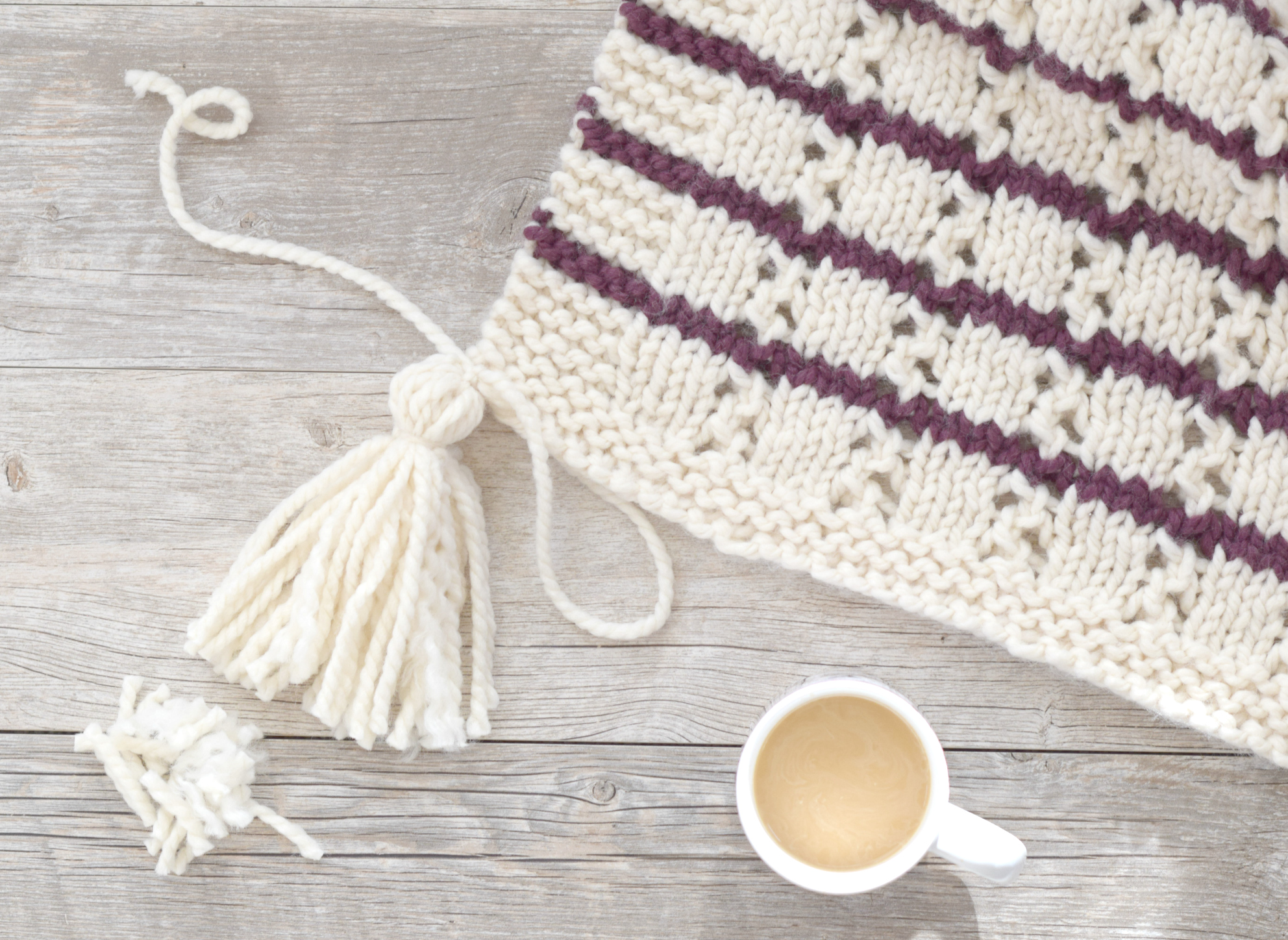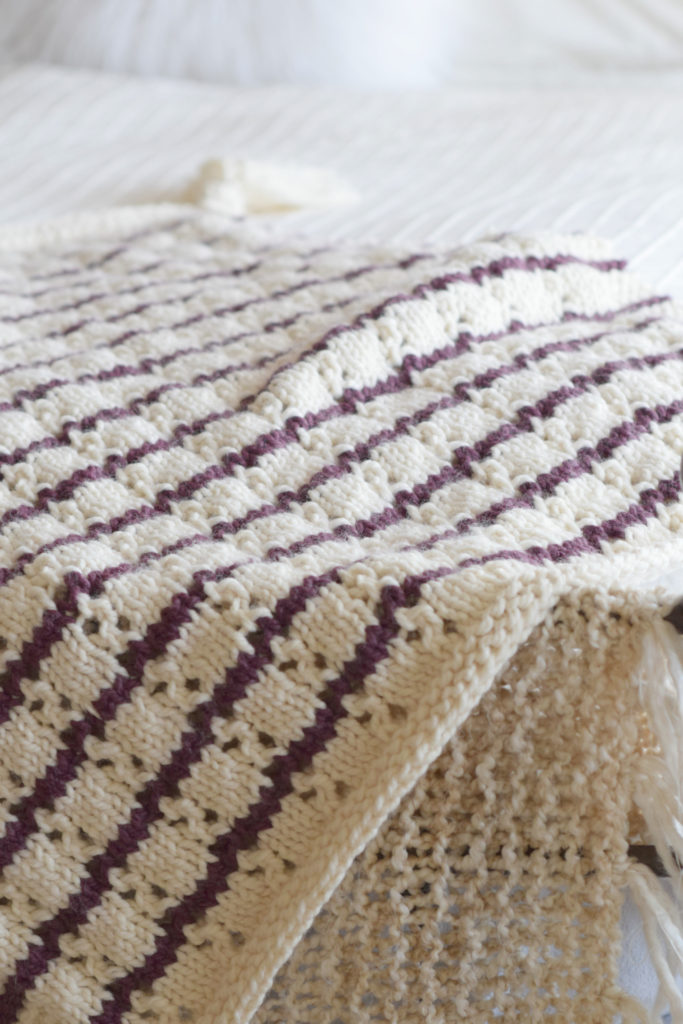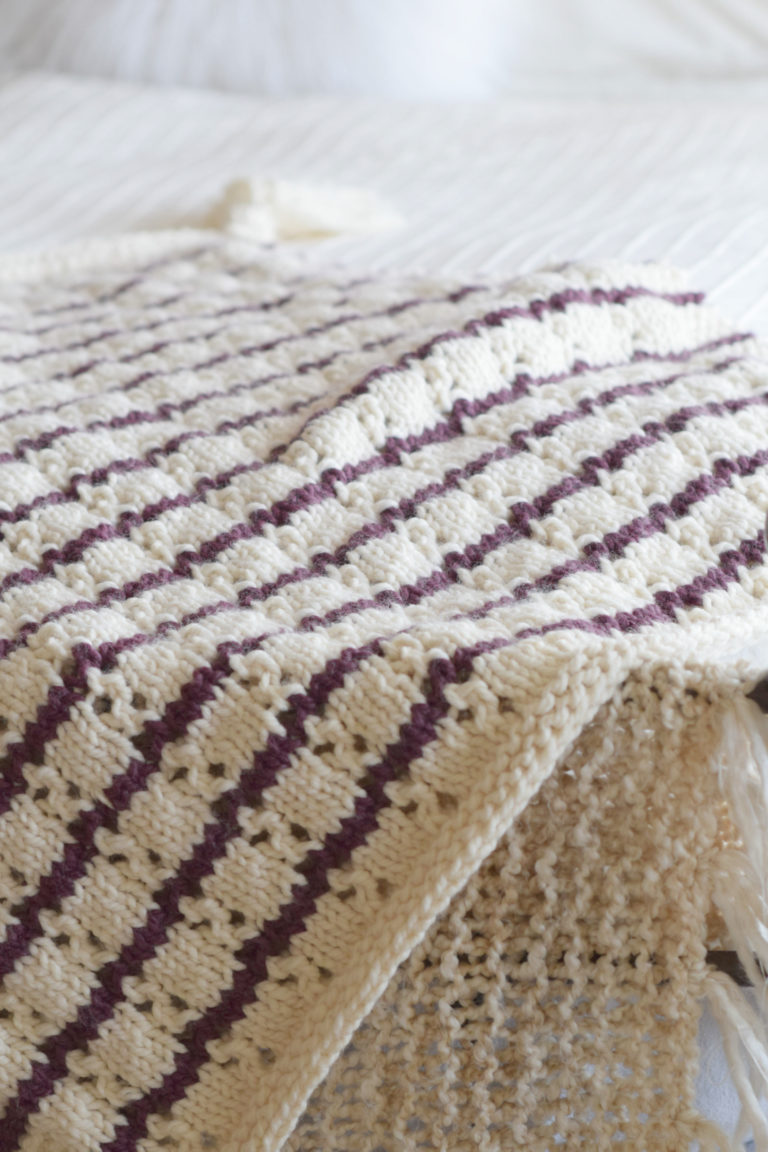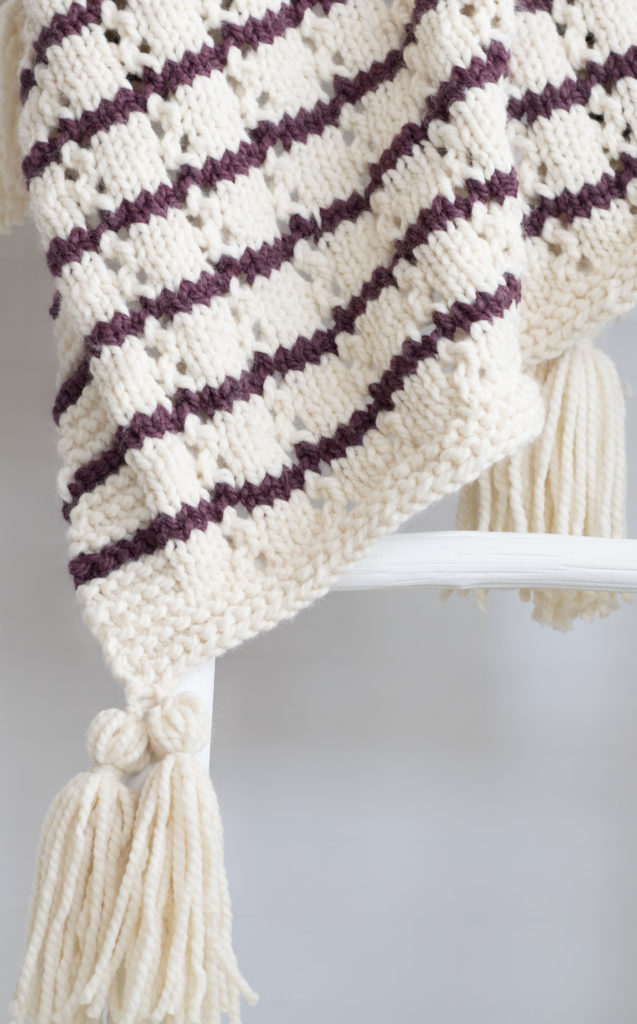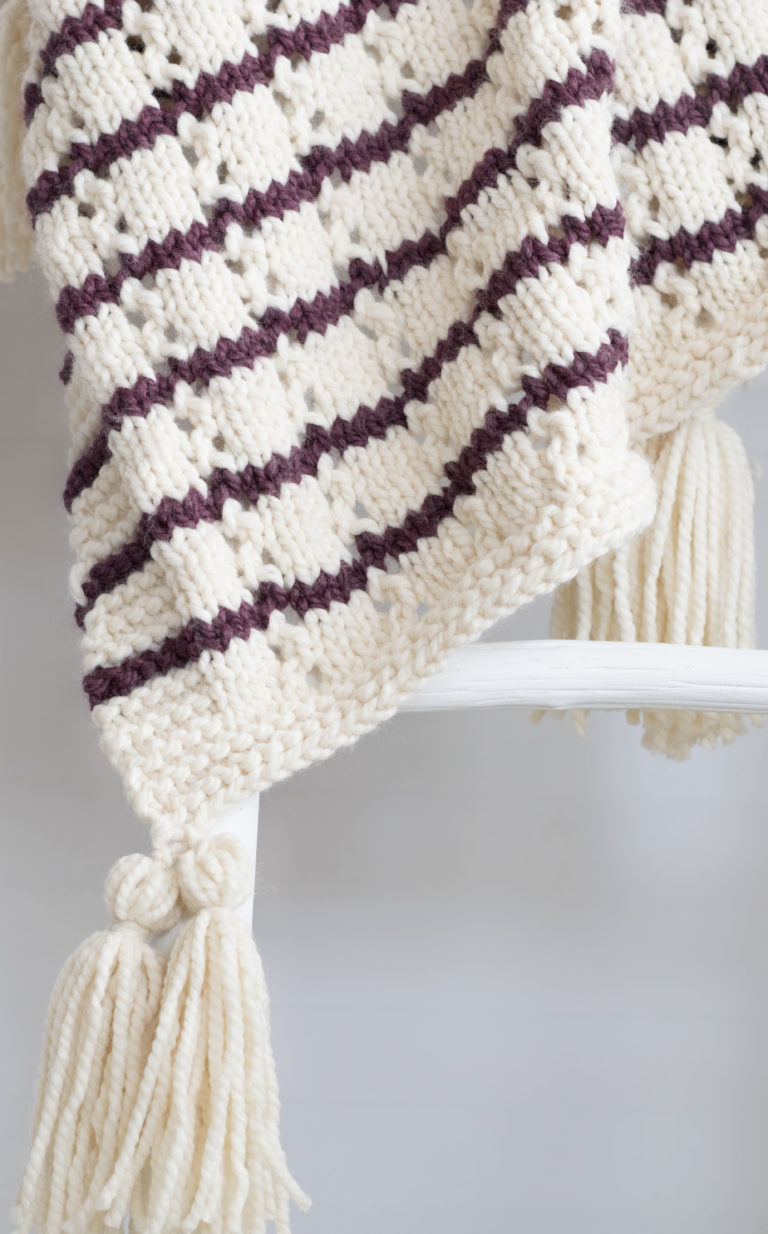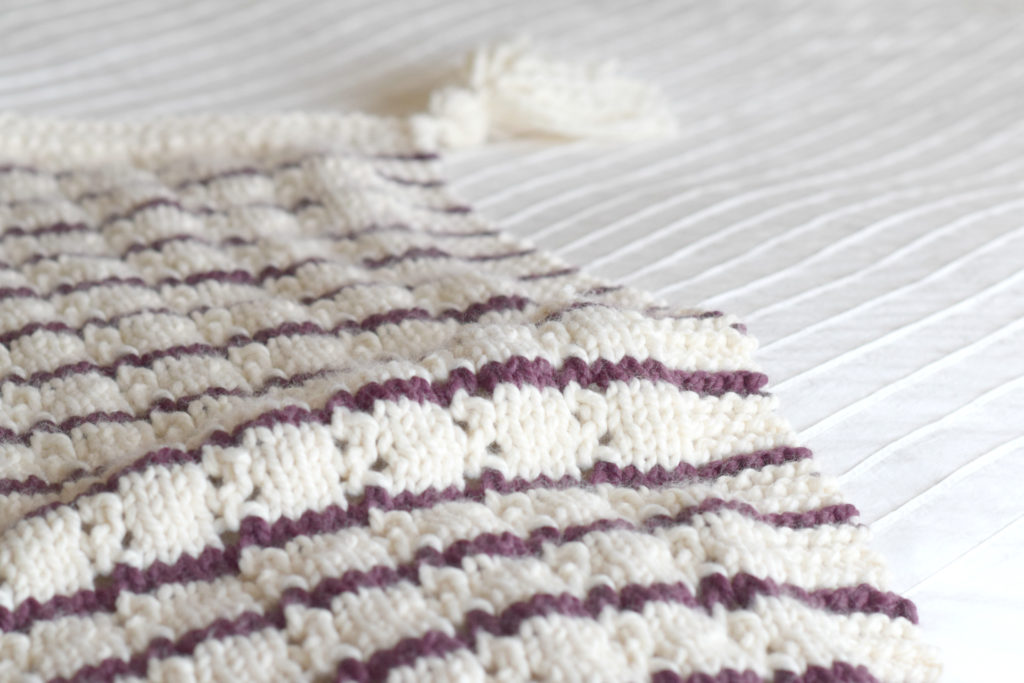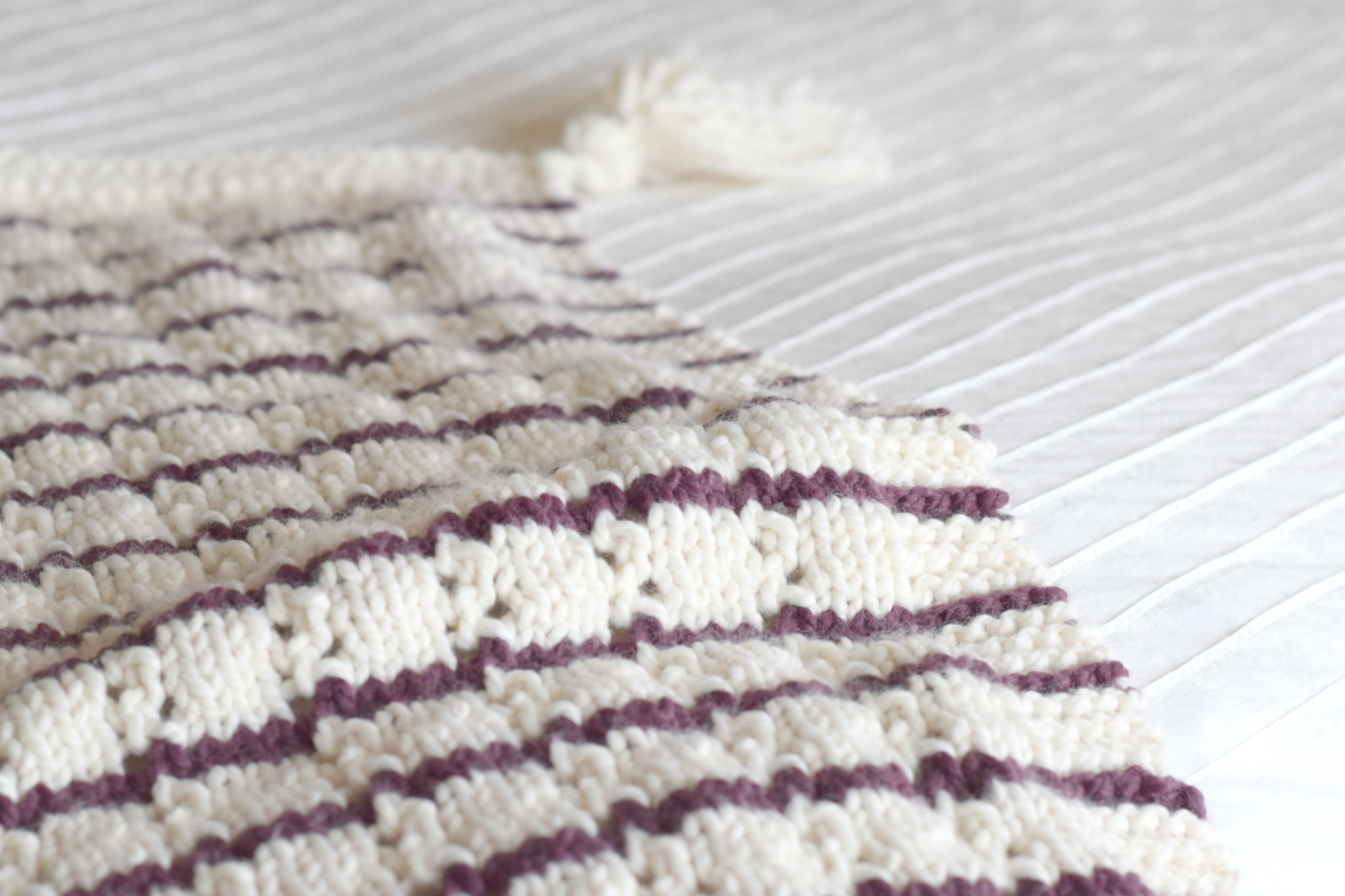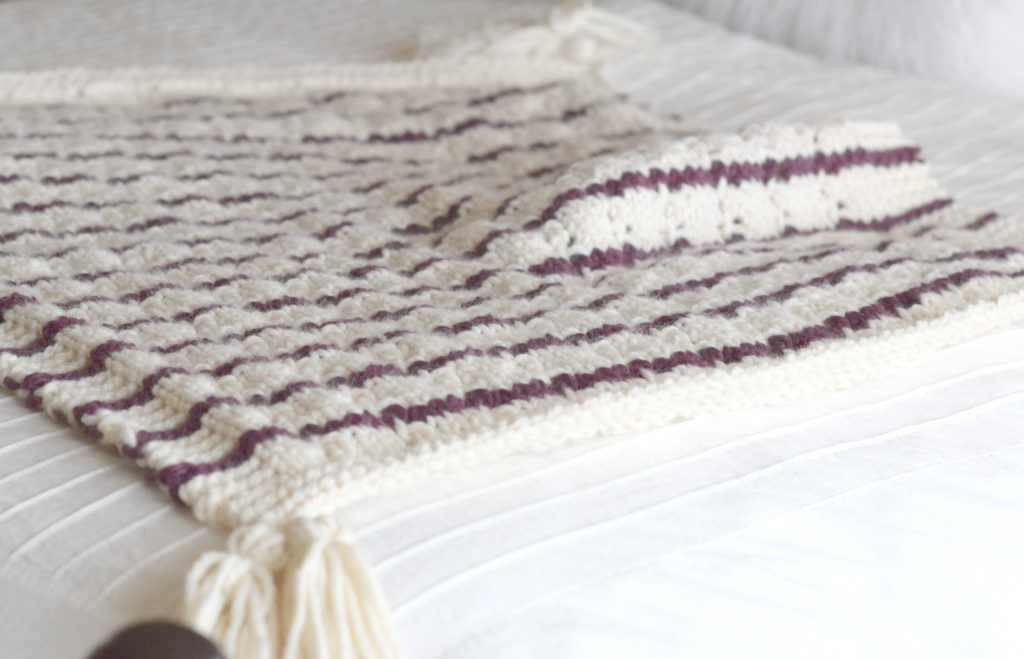 As I was finalizing the look of the blanket, I couldn't decided whether or not to add fringe or tassels. I reached out on Instagram to get your opinions. Thank you so much for your help! After reading through your thoughts, I decided to go with large tassels on all four corners. However, I also played around with some fringe as you can see below. The good thing about fringe or tassels is that it's noncommittal and they can always be removed. 🙂 The tassels give it a trendy, urban feel that I'm liking. The fun of making our own blankets is that we can do whatever we like best! A lot of you thought that the stitch pattern and striping was beautiful left alone. I totally agree that this blanket is a beauty without anything added to the edges or corners.
Below: I tried out some fringe along the bottom. I like this look for more of a farmhouse feel but the corner tassels won me over.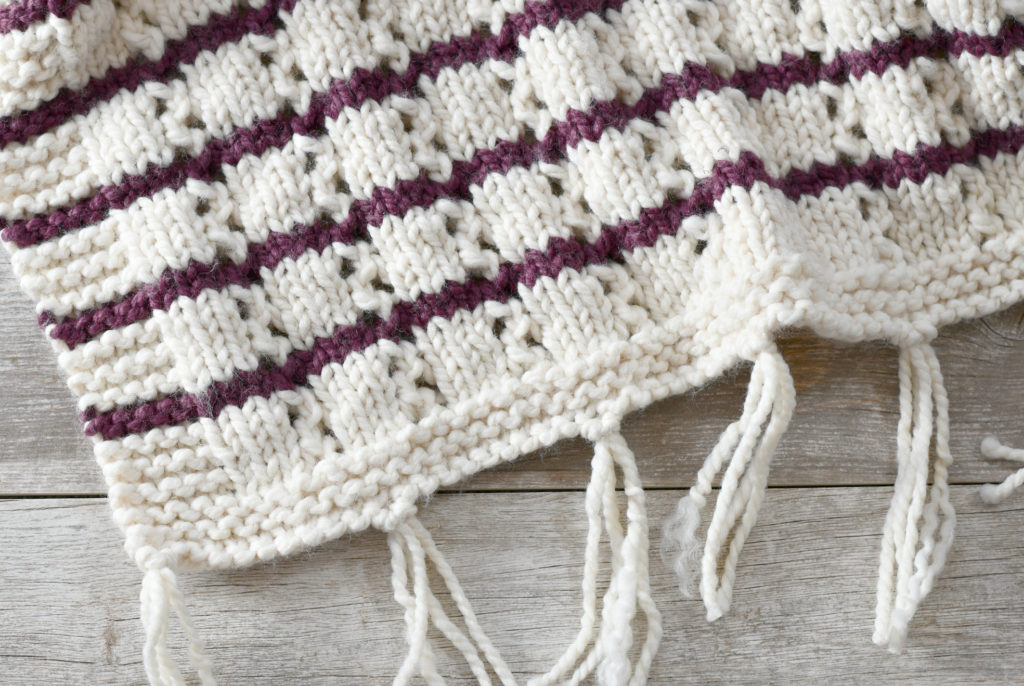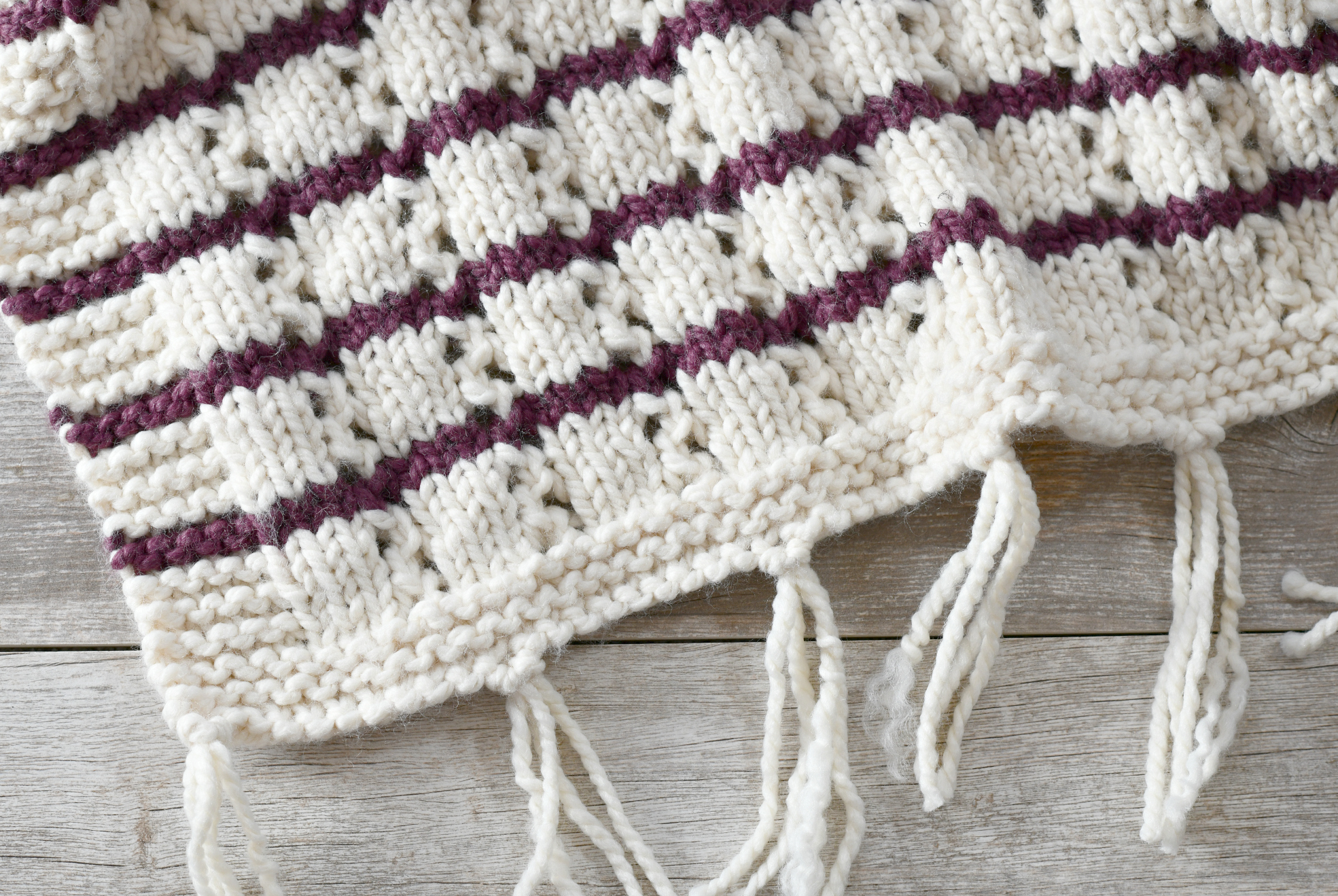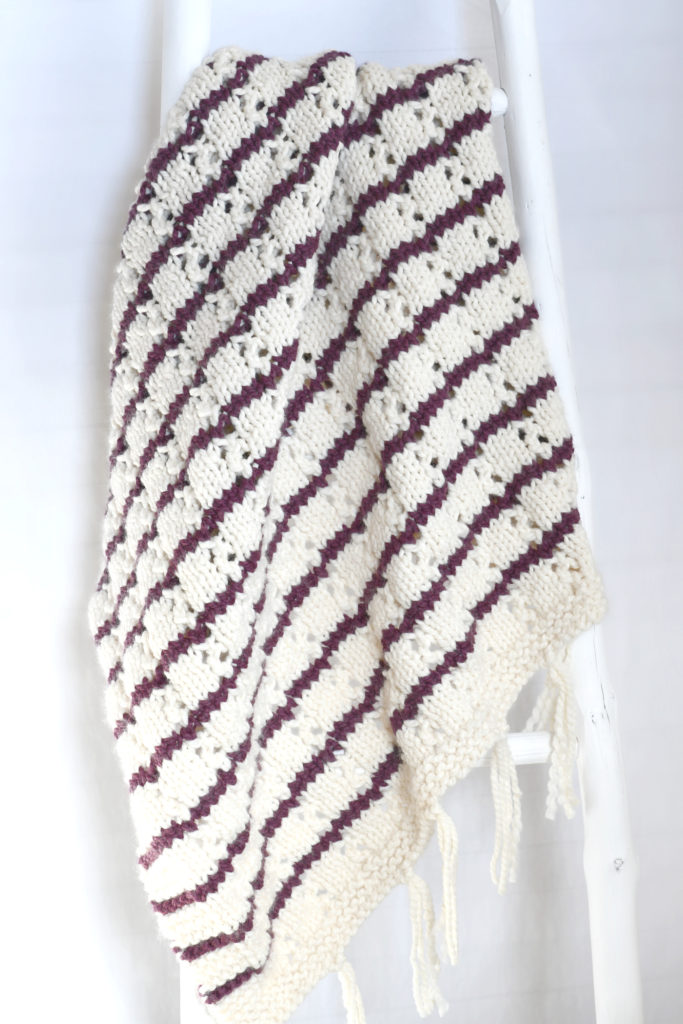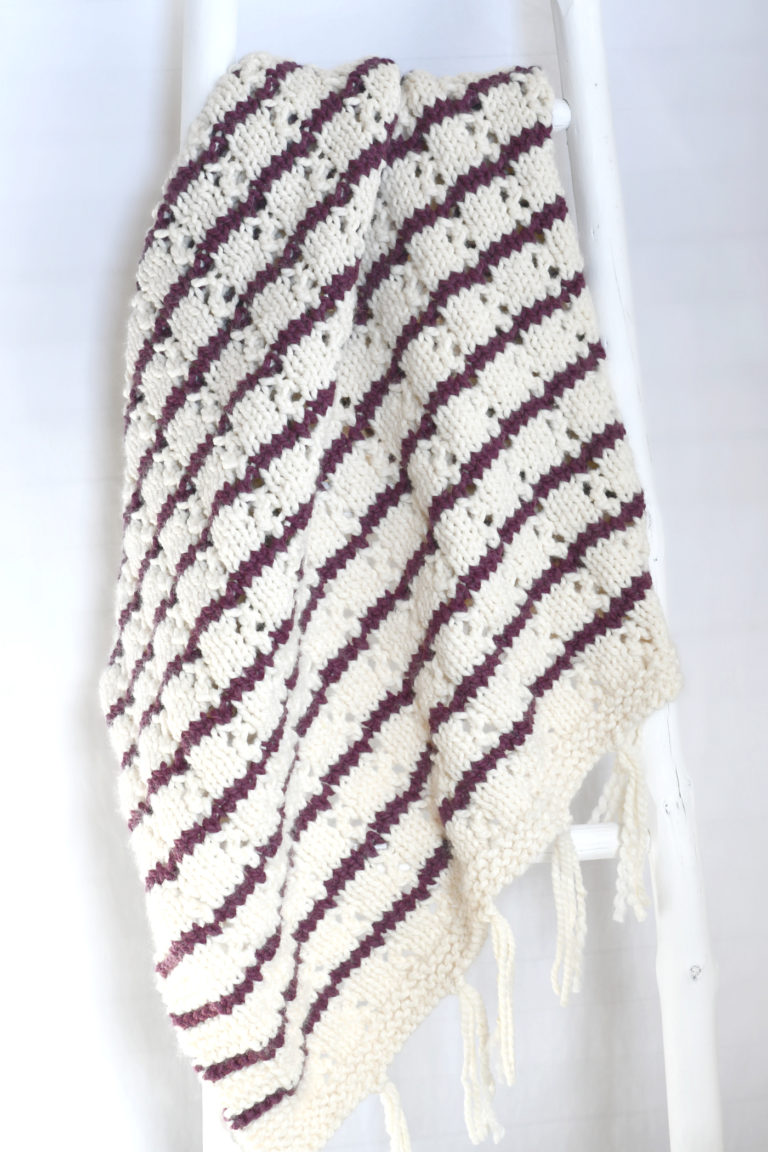 Below: In some lights the Fig color almost looks like a muted eggplant color. Whatever it is, it's gorgeous and it goes right along with the trending jewel tones.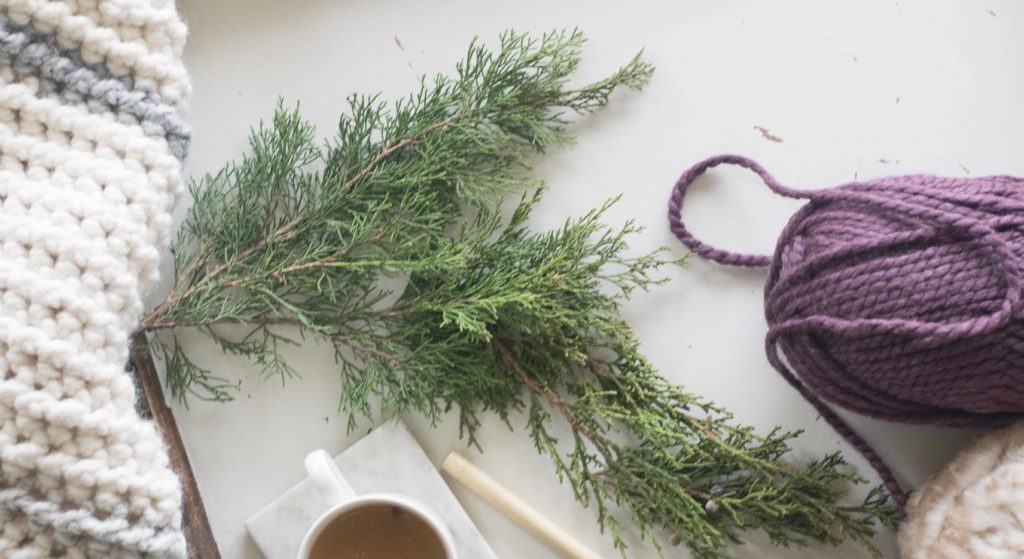 Alright, are we ready for the pattern?
You may purchase my inexpensive ad-free, printable version from my Etsy shop (here) or see the free pattern below. 🙂
Here we go!
Stripes & Eyelets Urban Blanket Knitting Pattern
Pattern Description:
This lofty blanket features stripes and eyelets for a urban-modern meets classic design. The pattern is easy enough for advanced beginners and it works up quickly on large knitting needles. Because it's a lapghan size, it makes a lovely accent blanket and also works wonderfully as a baby blanket! With a slightly ribbed look and super bulky yarn, it's warm and comfortable. Finish it off with large tassels for an on-trend look.
Skill Level: Easy +
Materials:
US Size 15, 10 mm, 29" or 36" circular knitting needles
5 skeins Lion Brand Yarn Wool Ease Thick & Quick Super Bulky #6 in Fisherman (HERE) (170 g/skein)
2 skeins Lion Brand Yarn Wool Ease Thick & Quick Super Bulky #6 in Fig (HERE) (170 g/skein)
Pattern uses approximately 932 g (includes yarn used for corner tassels)
Scissors
Tapestry Needle
Gauge: (Approximate) 9 stitches and 13 rows in 4" x 4" of stockinette
Dimensions (approximate): 41" x 34" before blocking NOTE: If you want to make the blanket wider, and you are EXPERIENCED, the stitch pattern is in a multiple of 5 +3. You will then add the 5 stitches on the beginning and end of each row to make the border. To make the blanket longer, simply continue the pattern repeat until you reach your desired length. Keep in mind that you'll need more yarn!
Abbreviations:
k – knit
p – purl
k2tog – knit two together (decrease)
skp – slip 1 as if to knit, k1, pass slip stitched over
Notes:
This blanket is knit flat and is worked from the bottom up. You should know basic knit stitches and be familiar with making color changes. Tip: You may choose to carry your contrast yarn up the side so that you don't have to weave in ends when making color changes.
Pattern Instructions
With the Fisherman color, cast on 78 stitches
Rows 1 – 8 Knit each stitch across the row
Row 9 K8, *k2tog, yo, k3; rep from * to last 5 stitches, k5 (RS)
Row 10 K5, purl across to last 5 stitches, k5
Row 11 K8, *yo, skp, k3; rep from * to last 5 stitches, k5
Row 12 K5, purl across to last 5 stitches, k5
Row 13 Repeat row 9
Row 14 Repeat row 10
Change color to Fig
Row 15 Repeat row 11
Row 16 Repeat row 12
Next, repeat rows 9 – 12, working 6 rows with Fisherman, followed by 2 rows with Fig. Continue this pattern repeat until piece measures approximately 38", ending with a section worked with the Fisherman color. Finish the final edge of the blanket to match the beginning edge by knitting 8 rows. CLARIFICATION: After several questions about this section, I want to make sure you guys understand. I'll do my best to explain this more clearly. 🙂 You are repeating the stitch pattern for row 9-12. This is a total of 4 rows. HOWEVER, you need to make the color changes as indicated, working 6 with Fisherman and then 2 with Fig. So work the stitch pattern but change colors at these intervals. I hope this helps!
Cast off and weave in ends
Optional Fringe or Tassels:
Create eight large tassels approximately 7.5" long. Attach two tassels to each corner of the blanket. Weave in ends. You can find a tutorial on how to make tassels here: https://www.mamainastitch.com/how-to-make-tassels/ To create the fuzzy look on the tassels, take one of the lengths of yarn and pull it apart from the bottom-up. Repeat for each tassel on as many lengths of yarn as you'd like. You may also choose to add fringe along the bottom and top edges of the blanket or add poms to each corner instead of tassels. A pom tutorial can be found here: https://www.mamainastitch.com/how-to-make-an-easy-pom-pom-from-yarn/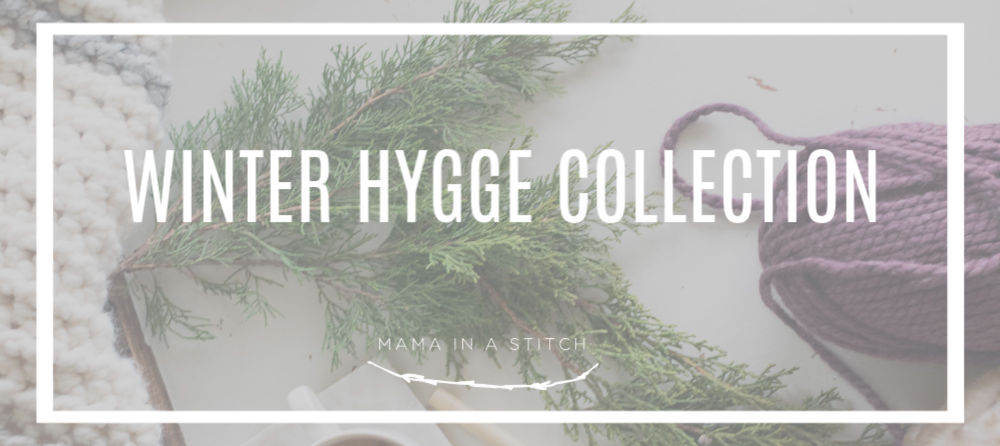 This is the final project in my winter hygge collection! I hope you enjoyed it!
Sooooooo, what do you think, tassels, fringe or nothing at all?
XO
Jessica
If you liked this, you might also like: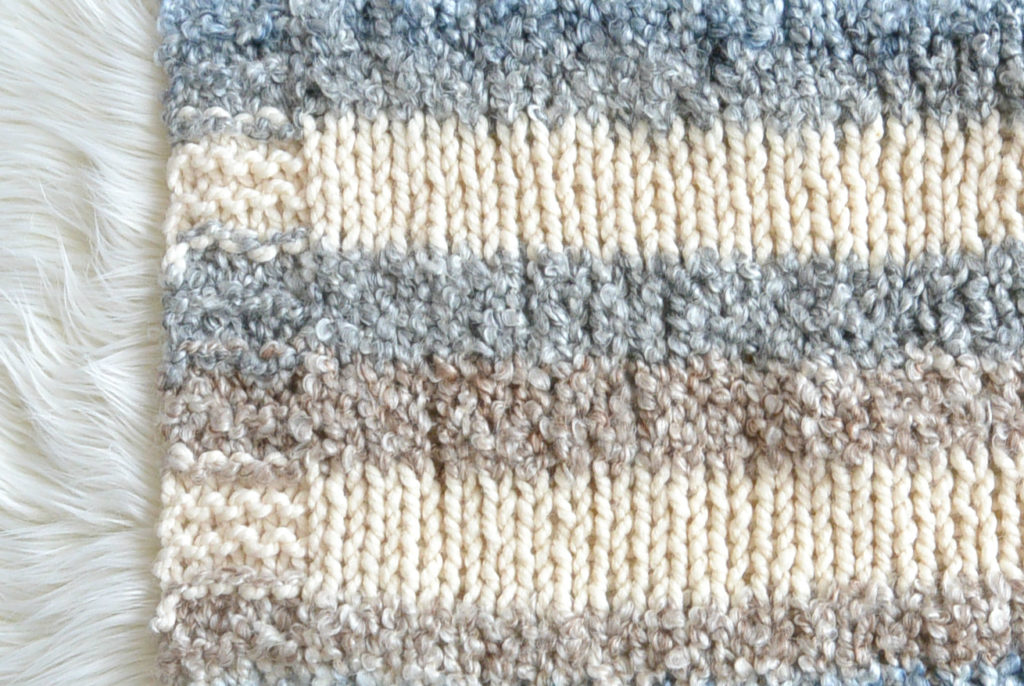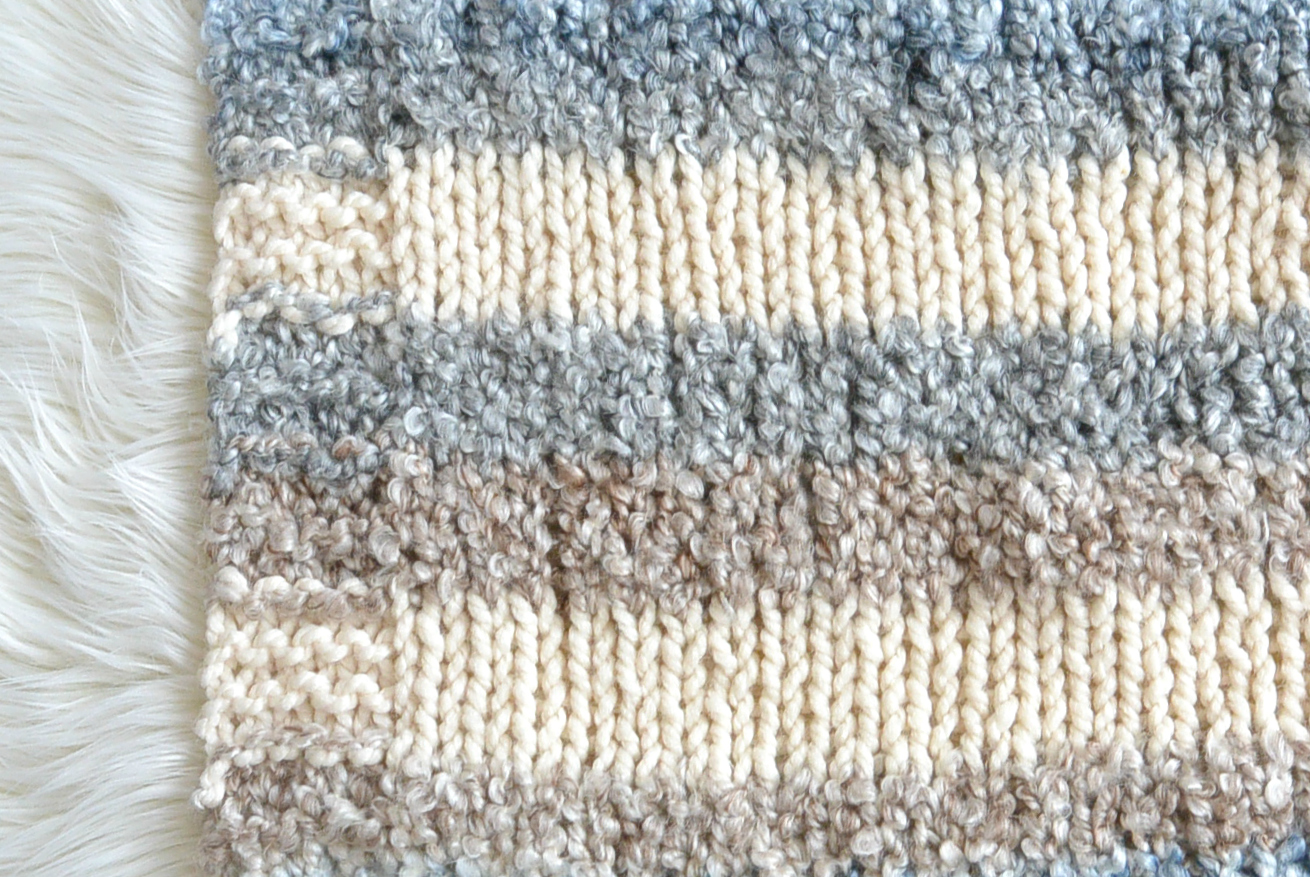 Easy Heirloom Knit Blanket Pattern