Merino Crocheted Ruffle Scarf Pattern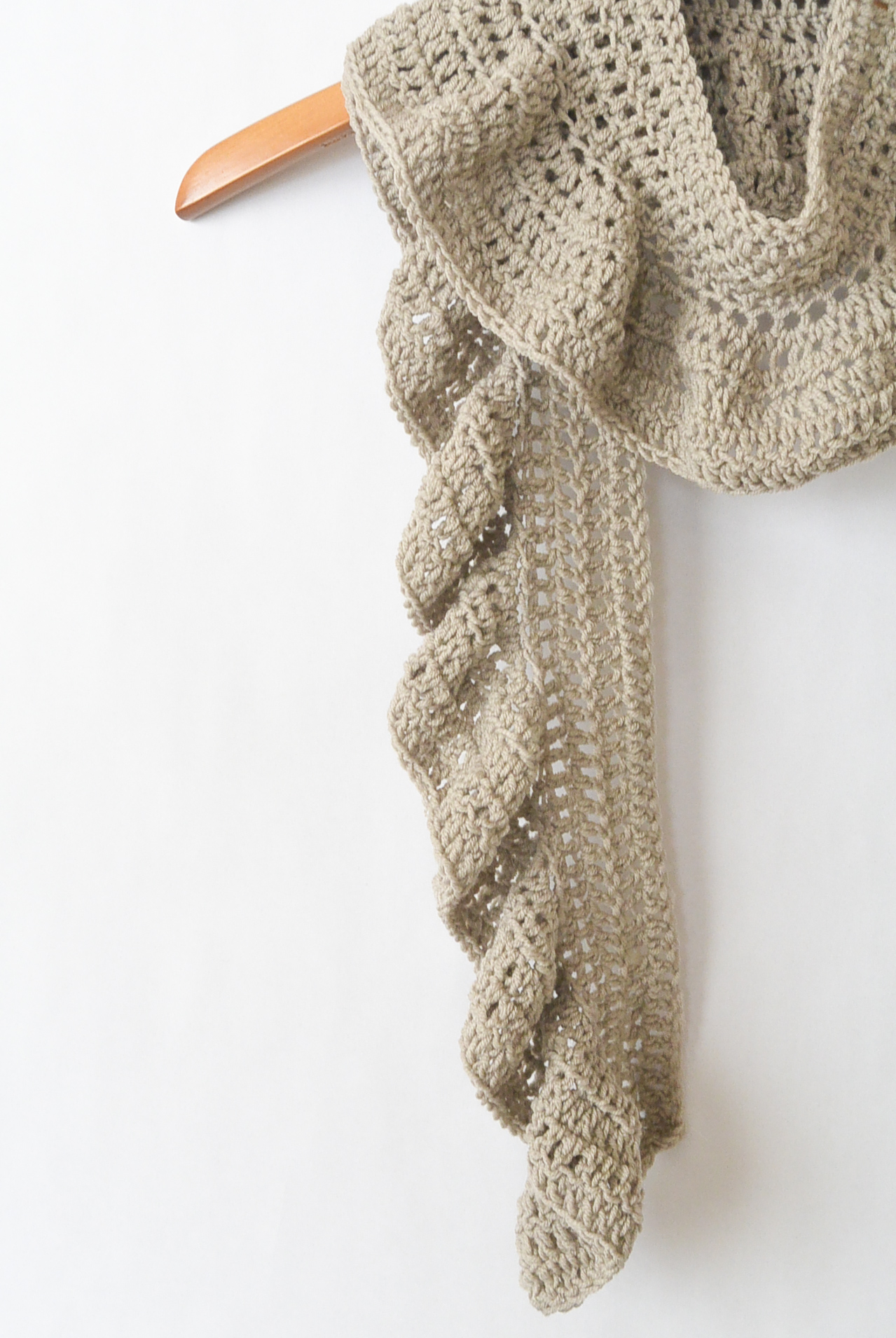 Hi friends! A little something different here on the blog today – every so often we need to change things up, right?! I've been wanting to crochet something with a ruffle for quite some time but couldn't get it to work out correctly until now. Ruffles on clothing have been quite the trend, so why not put one on a scarf? The whole ruffle idea was a bit more challenging than I anticipated even though it sounds so easy. At first, it kept turning out too frilly and tight and looked like it belonged on the back of a baby diaper cover, not on a flowing scarf. Lol! But after some trial and error, I got a nice, soft ruffle to happen and I'm really pleased. This is going to be my go-to scarf for the winter and I'm planning to make some for Christmas gifts as well! It's a super easy project as it's all done with half double crochet and double crochet stitches. AND it's my fave – a nice neutral that goes with anything. I know ruffles aren't for everyone, but I think they can add a really nice touch when done right. While this ruffle scarf is wool, it's super duper soft and it's washable! It's one of the comfiest scarves I've ever worn so I hope you enjoy it! Have you crocheted ruffles on anything before?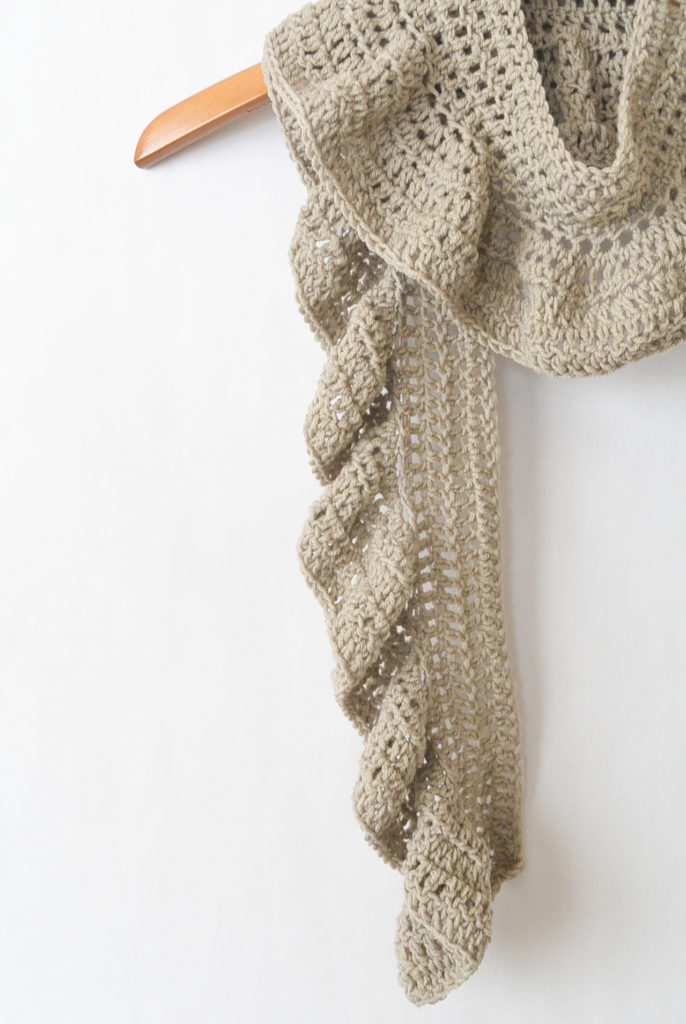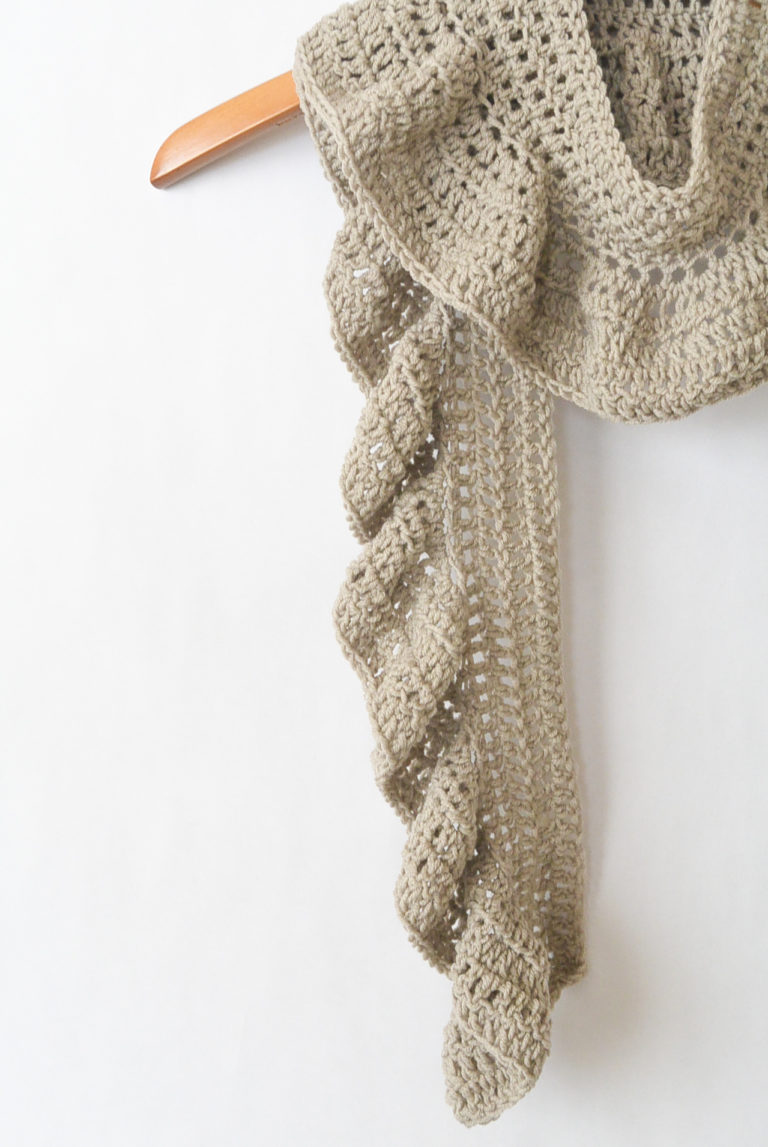 I actually owned a scarf that looked a lot like this several years ago and loved it. I have no idea where that scarf is now and I've been missing it! It was a cream color (surprise – my fave color of all), but this color is a lot more practical as it won't show dirt so easily.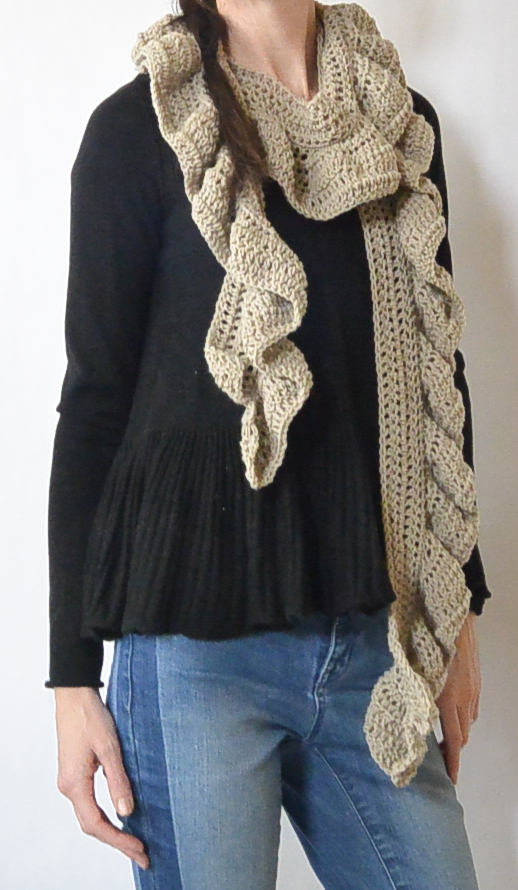 Again, as long as you know how to half double crochet and make double crochet stitches you should be good to go. OH! You also will increase in a couple of rows. If you've never increased in crochet it's really simple. Here, you will simply make two stitches in one stitch when indicated in the pattern.
So let me get to this super easy project for you. 🙂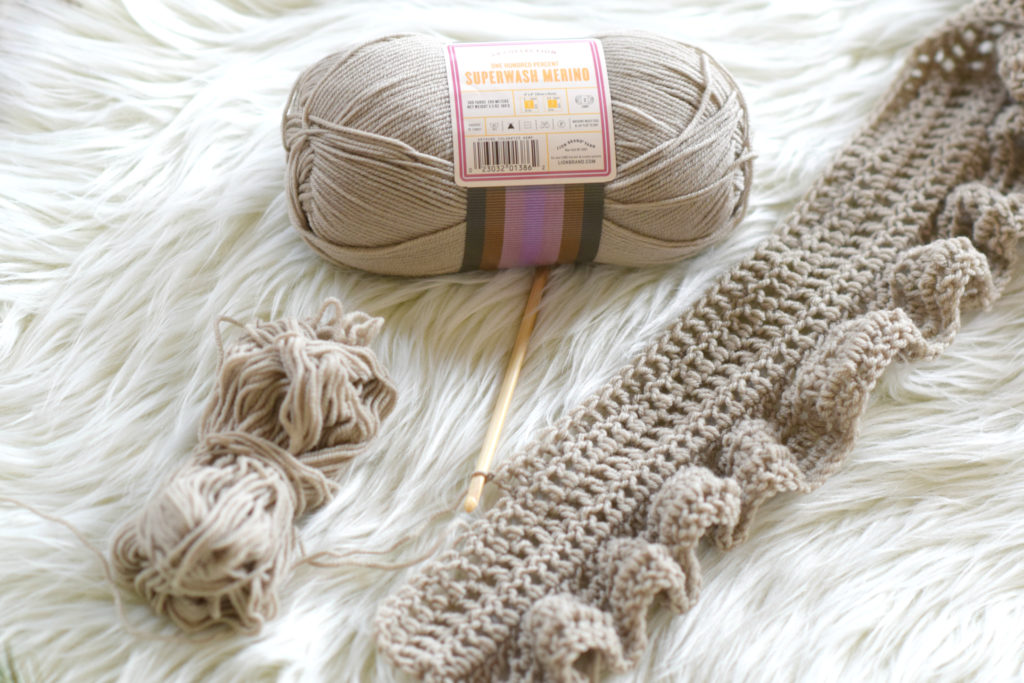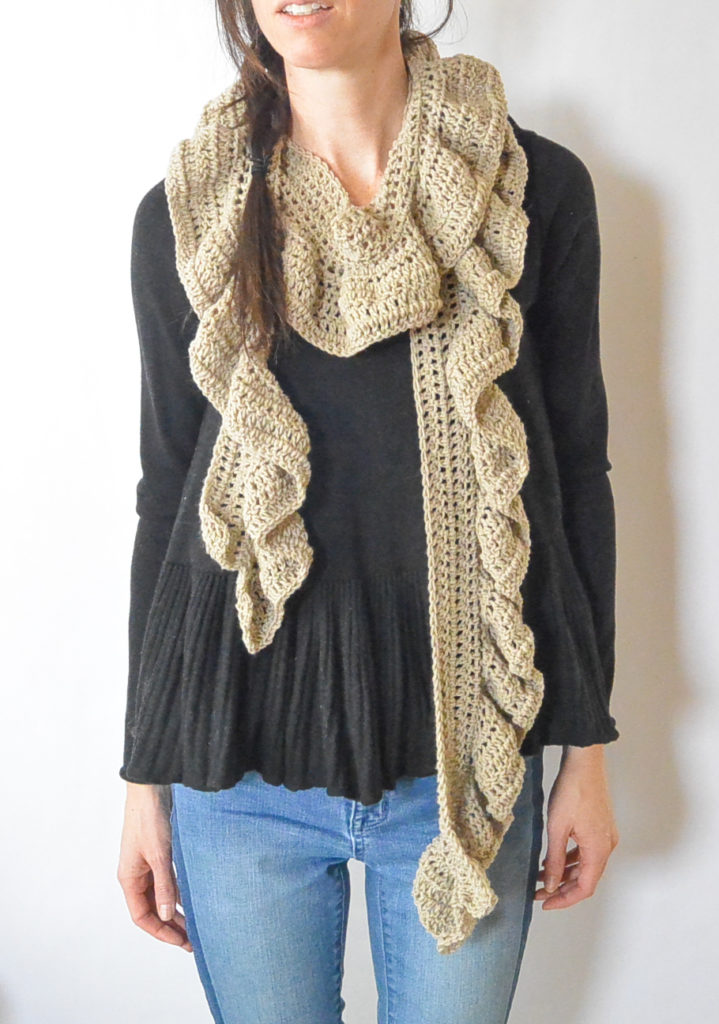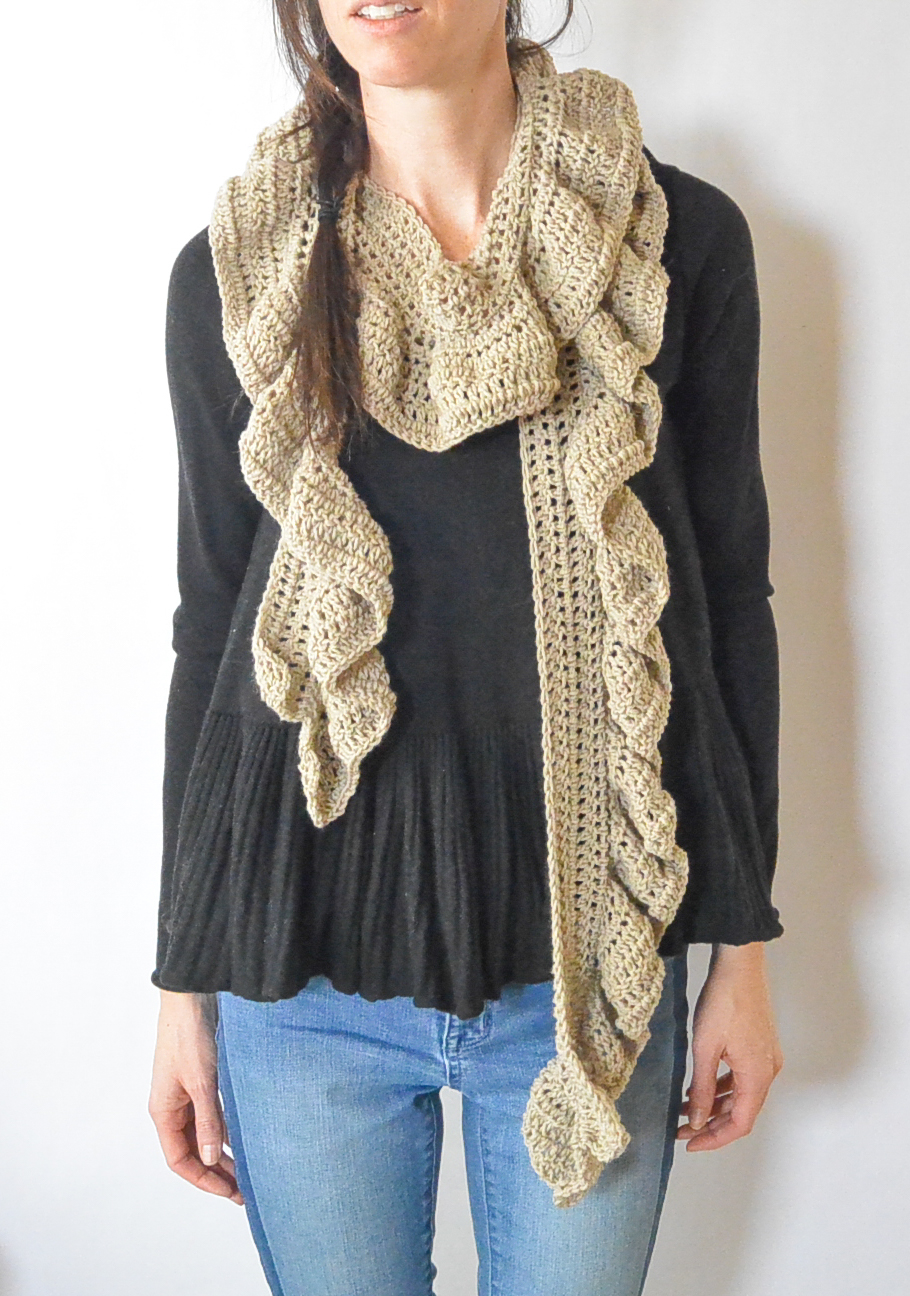 As usual, you'll find the free pattern below or you may choose to purchase the ad-free, printable pattern from my Etsy shop HERE! Thanks so much!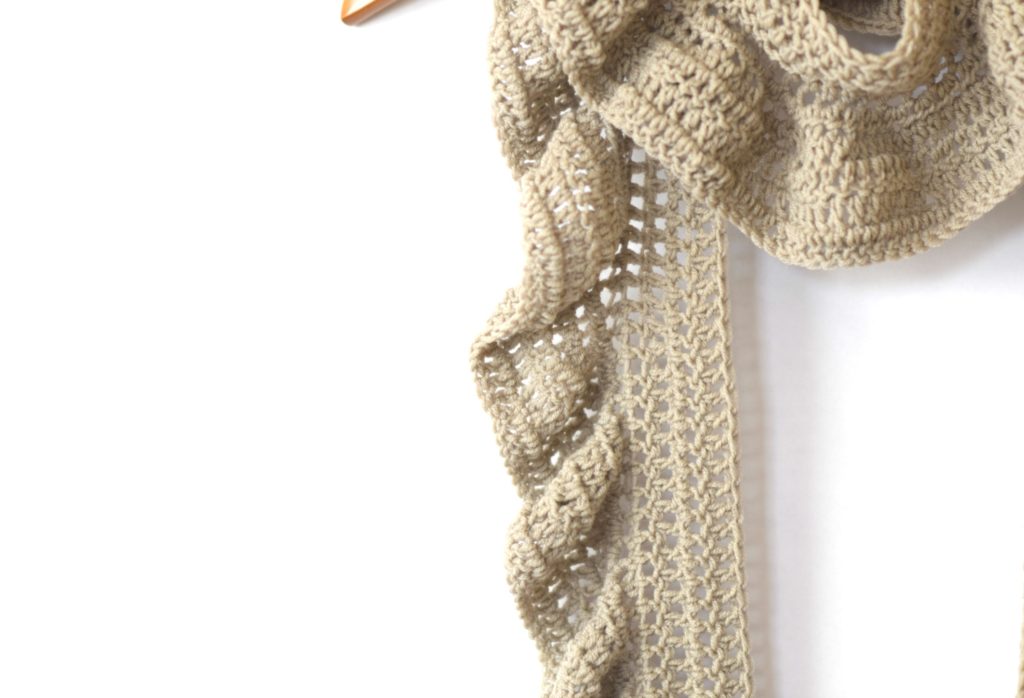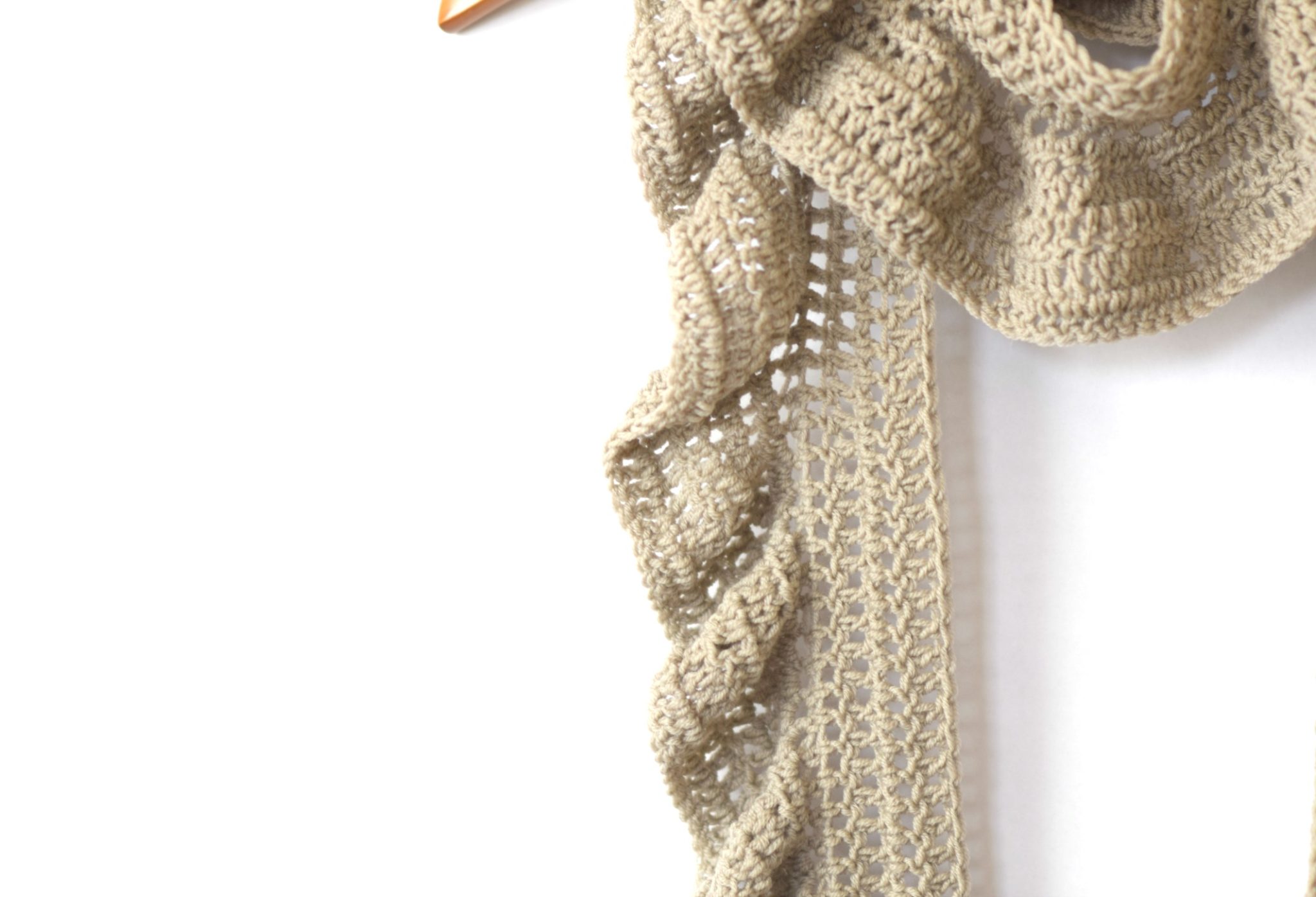 Merino Ruffle Scarf
A soft and beautiful scarf that features a feminine ruffle and airy stitches.
You will need:
US Size H 5.0 mm Crochet Hook
2 Skeins Lion Brand Yarn Superwash Merino Wool Light #3 Yarn in Hemp (100 grams/skein) (Pattern uses approximately 120 grams) Update! You can also find the full kit with various colors for sale at Lion Brand HERE
Size:
Approximately 68" long and 5 ¼ " wide
Skill Level:
Easy
Gauge:
Not important for this pattern
Skills & Abbreviations:
ch- chain
st – stitch
hdc – half double crochet
dc – double crochet
Notes:
This scarf is made by first crocheting the ruffle and then adding the flat scarf portion with double crochet stitches. You will begin with a long chain and then work the pattern, creating the beautiful ruffle. Next, you will pick up yarn at the end of your original chain and double crochet to make the flat scarf portion. You can crochet for more rows to make the scarf wider. You may also make your ruffle even larger by repeating the final ruffle row for as long as you'd like! Lastly, the pattern for the ruffle is very forgiving. If you are slightly off on your stitch count, it's no big deal!
Merino Ruffle Scarf Pattern
Ruffle Portion:
Chain 198
Row 1 Hdc in 3rd ch from hook and each st across the row (196)
Row 2 Ch 2 (doesn't count as stitch), turn, 2 hdc in each st across the row (392)
Row 3 Ch 2 (doesn't count as stitch), turn, 2hdc in 1st st, 1 hdc in each of next 3 stitches, *2hdc in next stitch, 1hdc in each of next three stitches. Repeat from * across the row (490)
Row 4 Ch 3 (counts as stitch), dc in each st across the row (490)
Row 5-6 Repeat row 4
Tie off and weave in ends. Next, you will make the flat portion of the scarf.
Flat Scarf Portion:
With ruffle placed horizontally and original chain along the top, attach yarn to the end of the original chain in order to crochet along opposite end of ruffle.
Row 1 Ch 3 (counts as st), dc in each ch st across (196)
Row 2 Ch 3 (counts as st), turn, dc in each st across the row (196)
Row 3 – 4 Repeat row 2
Tie off and weave in all ends. That's it!


This is such a feminine, fun little scarf and I hope that you enjoy it and make it your own!
XO,
Jessica
If you liked this, you might also like: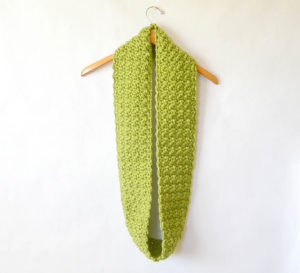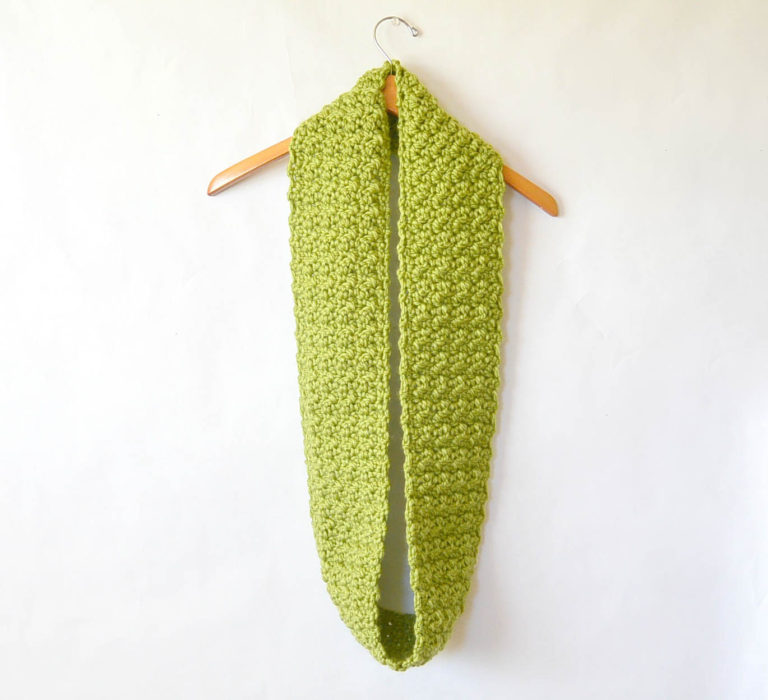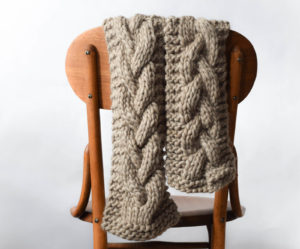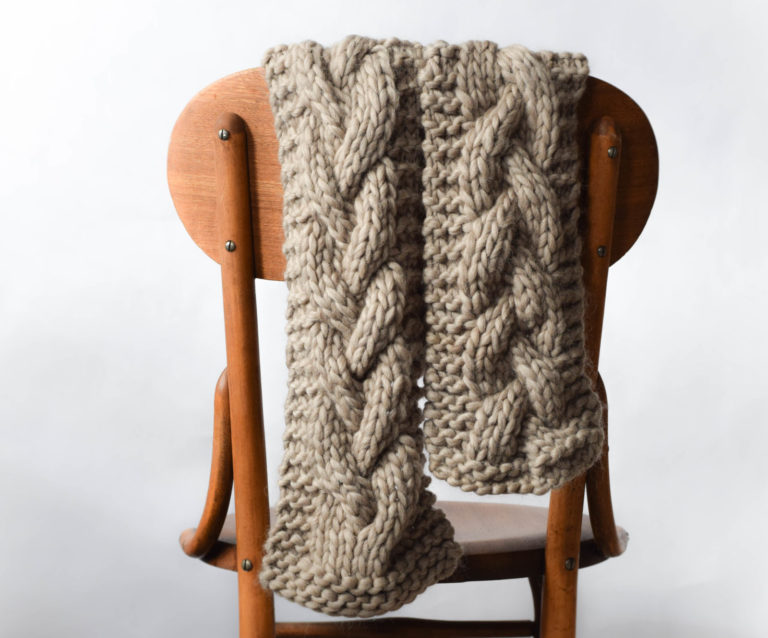 And as always, I'd love to know if you make one!
Thank you to Lion Brand Yarn for providing the yarn for this project! All opinions are 100% my own. 🙂