Little Crochet Deco Roses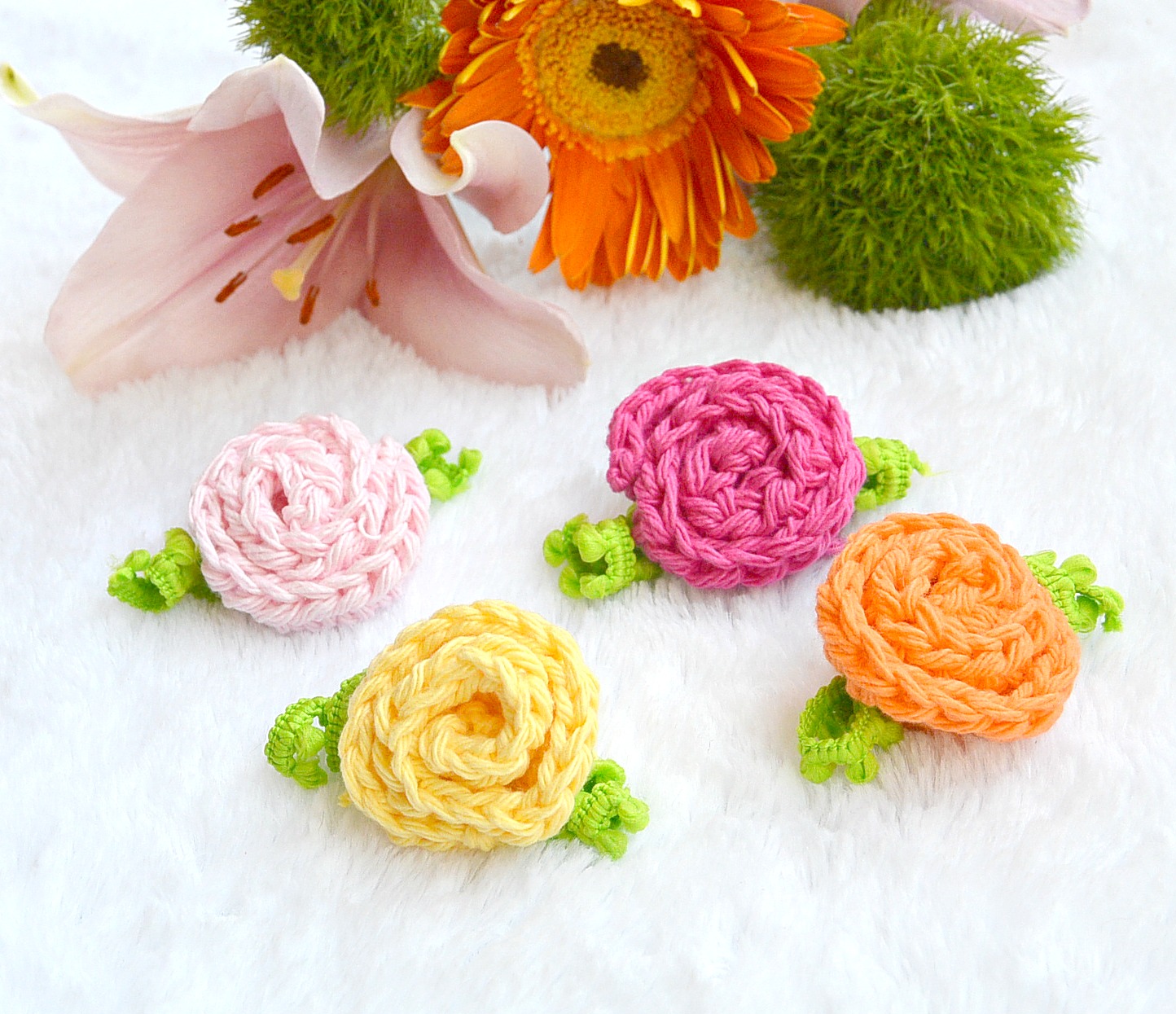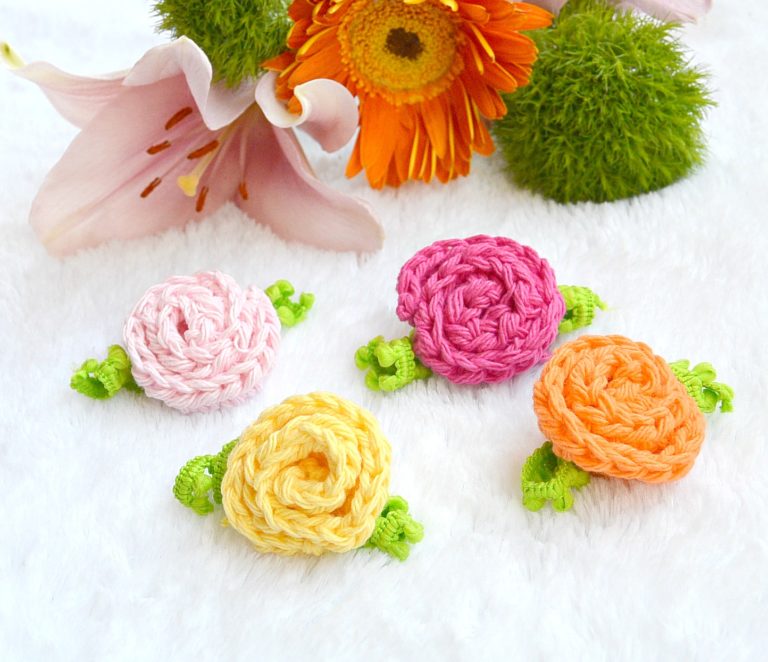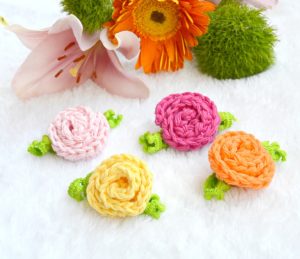 A while back I made some little roses and had intended to share the pattern. It totally slipped my mind until someone requested that I post it. I bought a pretty bouquet of flowers for myself (that's right, I don't wait for someone to buy me flowers – I just buy them up myself 🙂 ) which inspired the color choices for these little buds. I completely cheated on the leaves, and aren't they fun? They are just made of pom-pom trim that I cut and tied to the back (see assembly pictures below)!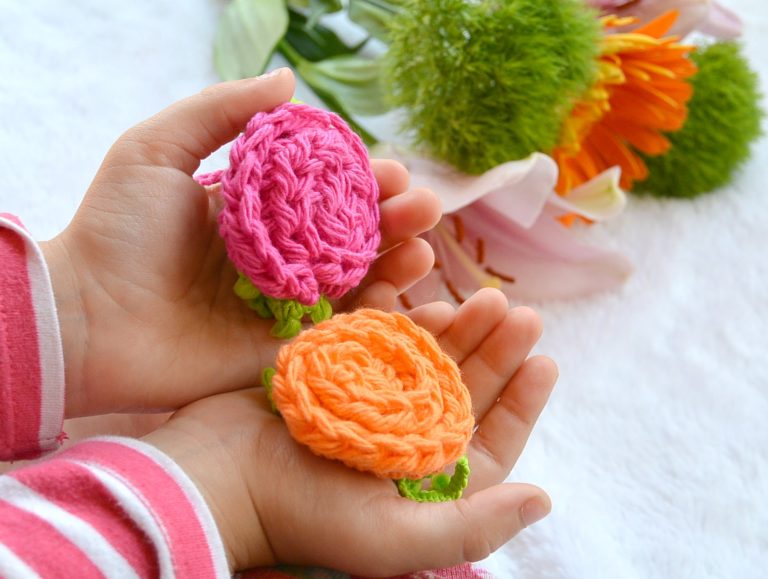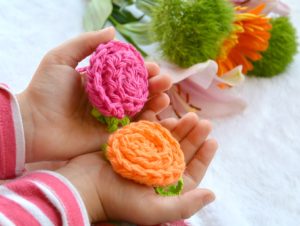 These roses are really cute and little as they measure less than 2 inches wide, and 3/4 inches tall. They are small and fairly flat which make them nice to add to small items. I'm picturing hair pieces, clutches, and pins, but the possibilities are endless. They are made and finished in only two short rows, so they are a breeze to whip up.
You Need:
Size F Crochet Hook
Lily Sugar N Cream (cotton) in various colors (I found these at Jo-Ann Fabric Store) or another worsted weight yarn
Pom-pom trim (optional for the leaves) found at Hobby Lobby
Tapestry Needle
Scissors
Pattern:
Leaving a 6 inch tail, With your Size F hook, Chain 15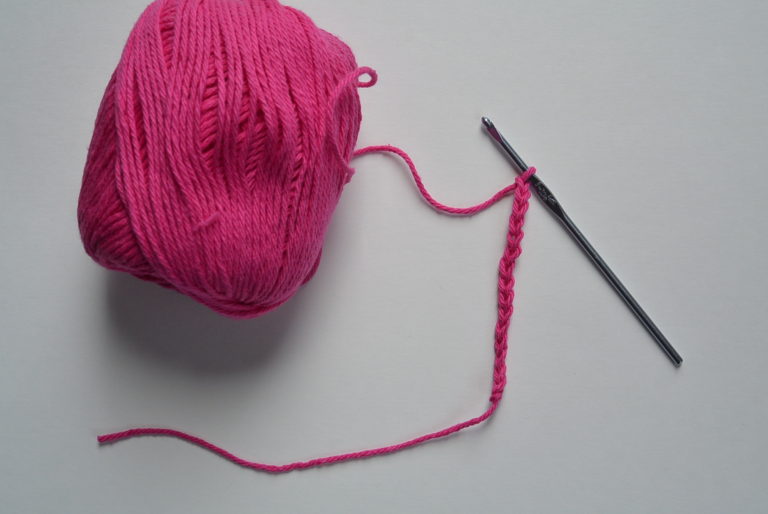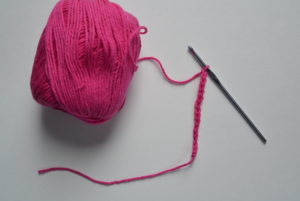 Row 1 In second chain from hook, Single Crochet two times. Single Crochet two times in each stitch across (28 stitches), Chain 2, Turn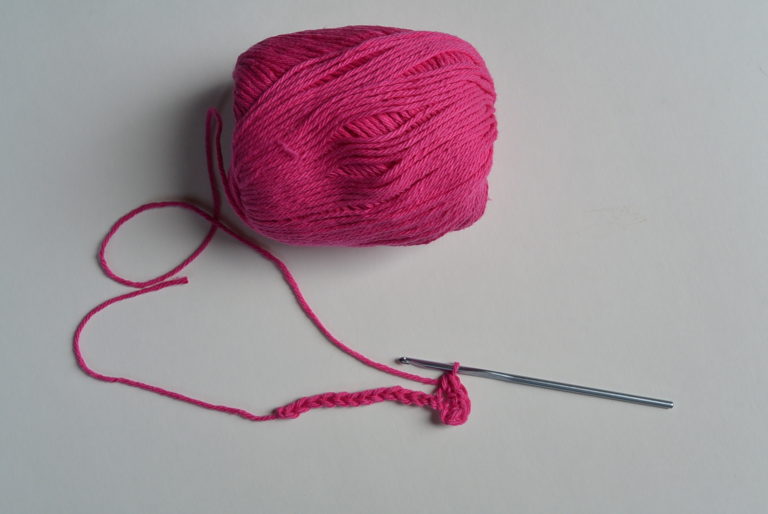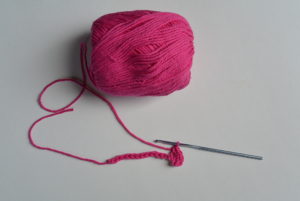 Row 2 Half Double Crochet (HDC) in third stitch from hook, and HDC in each stitch across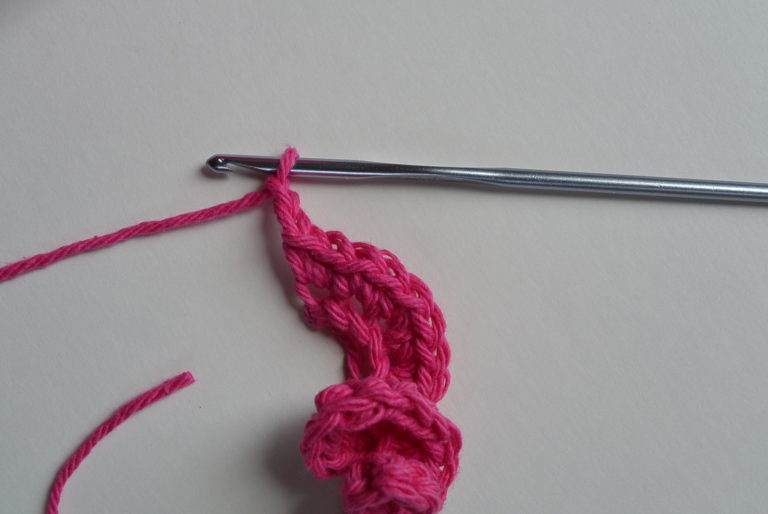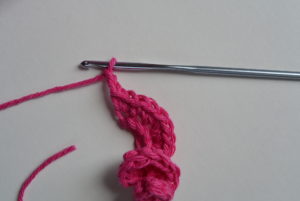 Tie off
(**If you want a taller rose, I would Chain 3 rather than 2 at the end of row one, and Double Crochet across row)
Assembly
Coil your crocheted piece into the shape of a rose
Take your tails and weave in and out, tacking down the flower to hold it together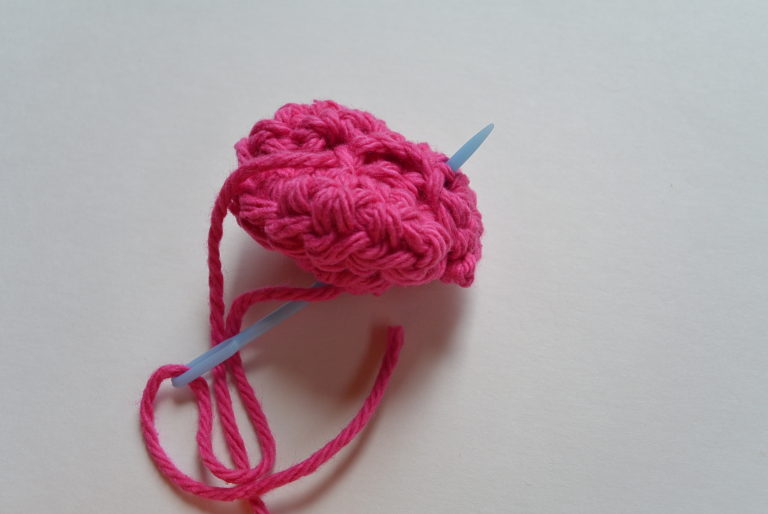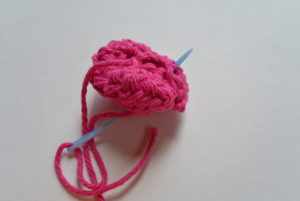 Leave the tails coming out of the bottom in order to tie the flowers to anything that you would like
For the leaves:
Cut a 5-6 inch piece of pom-pom trim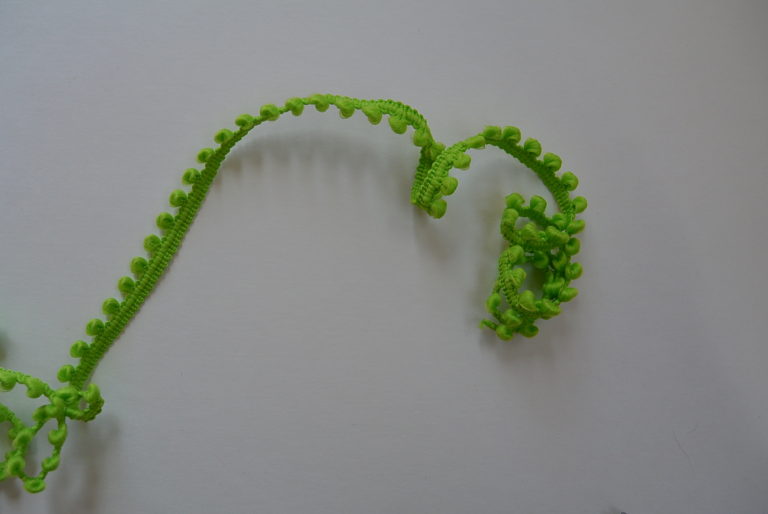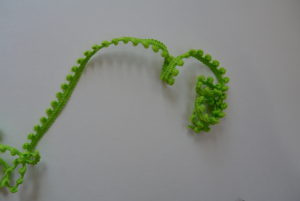 Tie trim to the back of the rose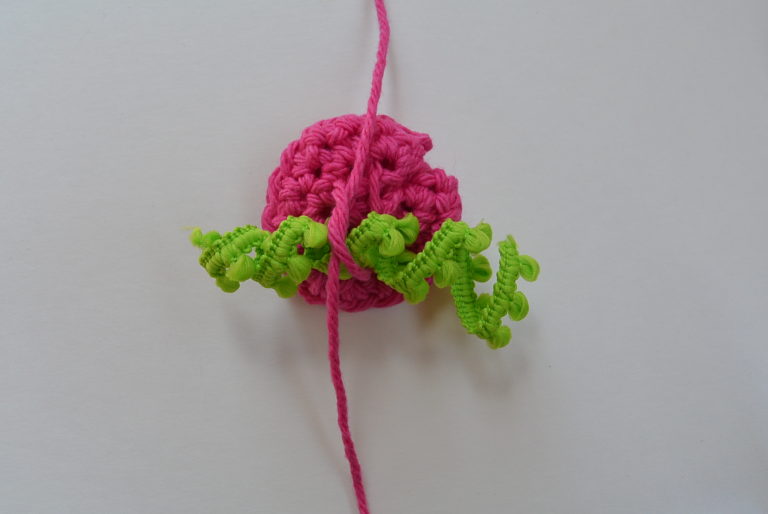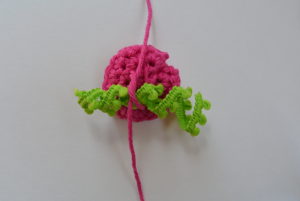 Manually curl with fingers (this is naturally curly, so you shouldn't have to do much of anything to get a slight curl)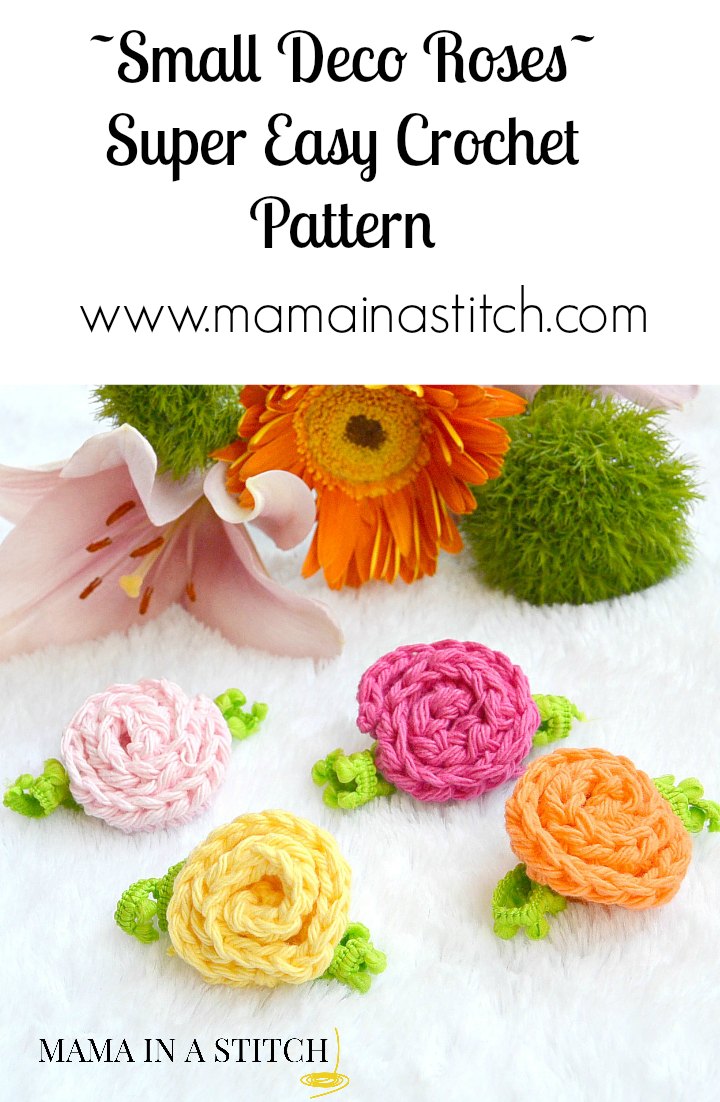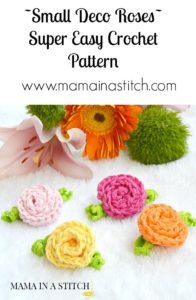 That's it! Enjoy your flowers!
Have you made flowers before? I made a bunch of these and am trying to figure out what I want to do with them…..any ideas creative ideas?
If you liked this, feel free to subscribe to my newsletter or blog to see more free and easy patterns! Follow me on Facebook, Instagram or Pinterest!