Easy Crochet Spring Scarf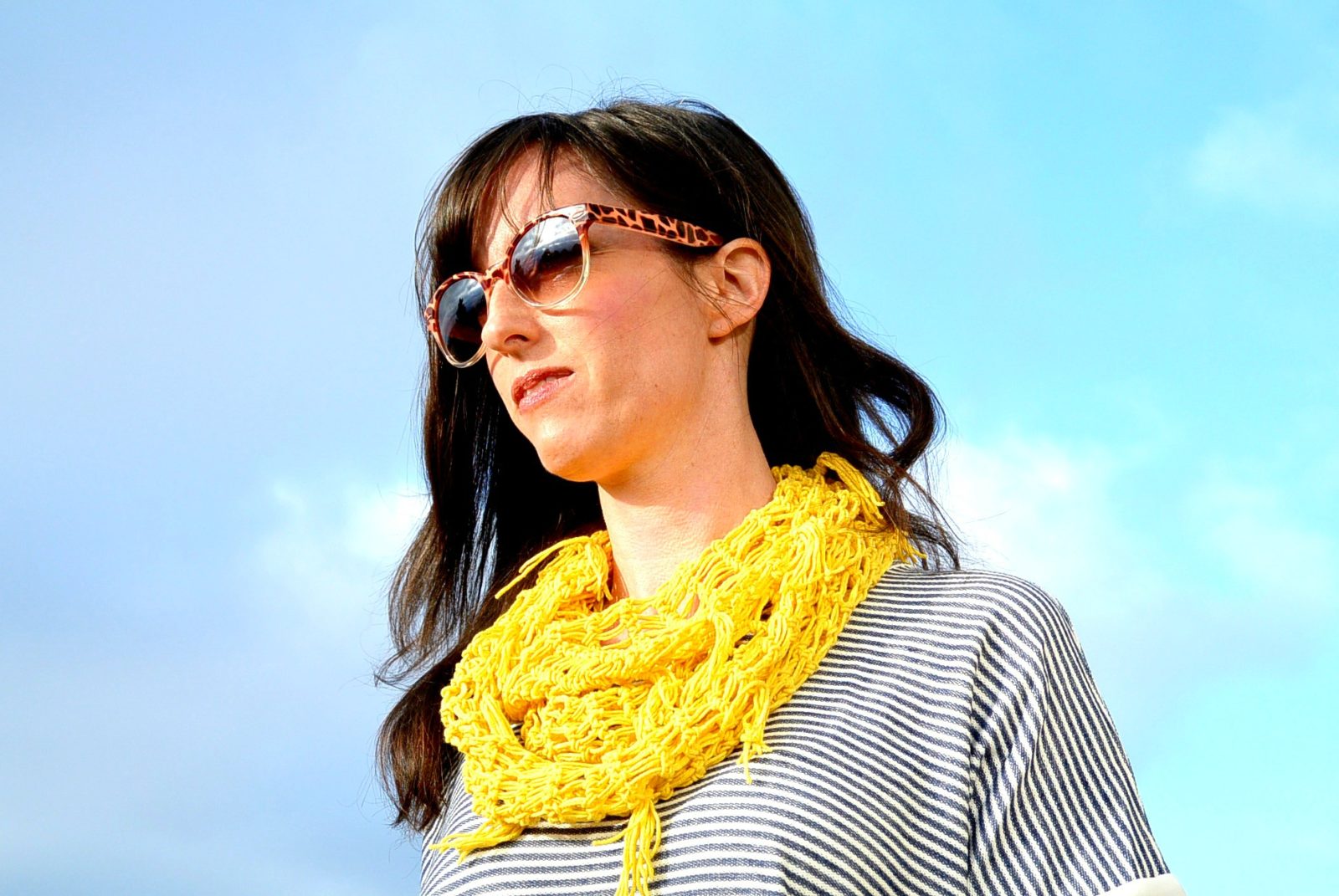 Easy Crochet Spring Infinity Scarf
I am really enjoying my knit spring scarf (you can see it here), and I've had great feedback about it (thank you!), so I wanted to make something similar with crochet. This spring scarf is perfect for beginners as it is done in single crochet only. It gets its lacy look from using a large hook with a tiny yarn. Well, it's not that tiny, just a light yarn (size 3). This one is done in a cotton blend (I used Bernat Cotton-ish in Lemon Twill), because cotton is what I prefer in warm weather. For some reason I have the hardest time finding cotton yarns here in Colorado. I wonder if it is the same in other parts of the country? In any case, this scarf is as light weight as it gets! So get ready for summer!
The picture above shows the scarf wrapped around my neck three times. I prefer this look, but also like it wrapped two times around. I added fringe along one side of the scarf, but that is optional.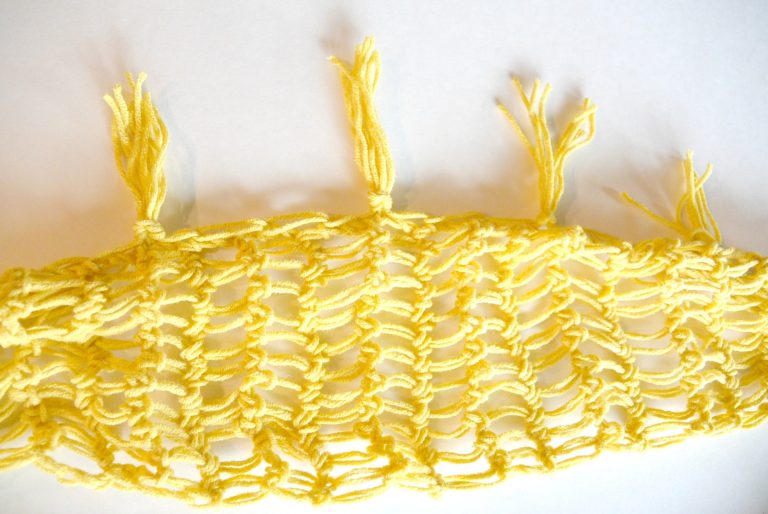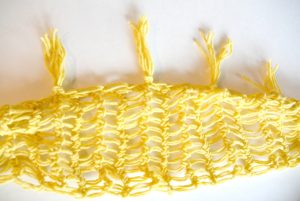 Here is how I made it:
You will need:
Size 3 – Light Yarn (I used less than one skein of Bernat Cotton-ish by Vickie Howell in Lemon Twill) – You can sub a worsted weight yarn as well
Size N Crochet Hook
Tapestry Needle
Scissors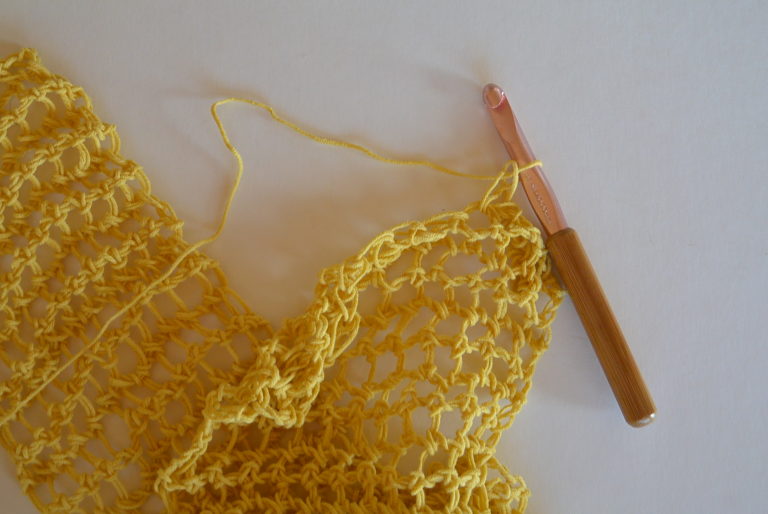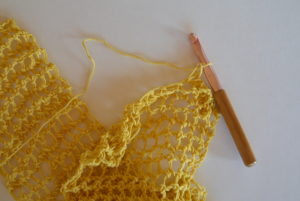 **This is all done in Single Crochet. You must make the single crochet into the stitch, not the hole that is created below. Make sure you are crocheting into the actual stitch on top of the hole.
Pattern:
With your Size N Crochet Hook, Chain 14
Row 1 In second chain from hook, Single Crochet across row (13 Stitches), Chain 1, Turn
Row 2 and until finish – Repeat the same pattern as in Row 1 (single crochet across row, Chain 1, Turn) until scarf reaches length you desire. (Mine is very long at 82 inches. This is the length I needed to get it around my head three times.)
Once length is reached, join ends with a slip stitch.
Single crochet around scarf, along both sides. ( You could also get away with skipping this step. It just gives it a more finished edge)
**It is helpful to count your stitches as you make this scarf. I actually added stitches to a couple of rows, and had to pull it apart. If you are a beginner, especially, make sure to count 13 across each row. Because of the big hook and little yarn, it can get tricky.
Attach tassels every four stitches along one side of the scarf. (This part is also optional)
To make a tassel:
Cut 6 strings approximately 5 inches long. Holding them all together, fold in half. Place folded half through a stitch on the edge of the scarf. Draw the ends of the yarn, through the folded portion, and pull tight to secure tassel. If this explanation doesn't help you enough, check out YouTube. There are so many tutorials on how to add tassels onto crochet. It is super easy!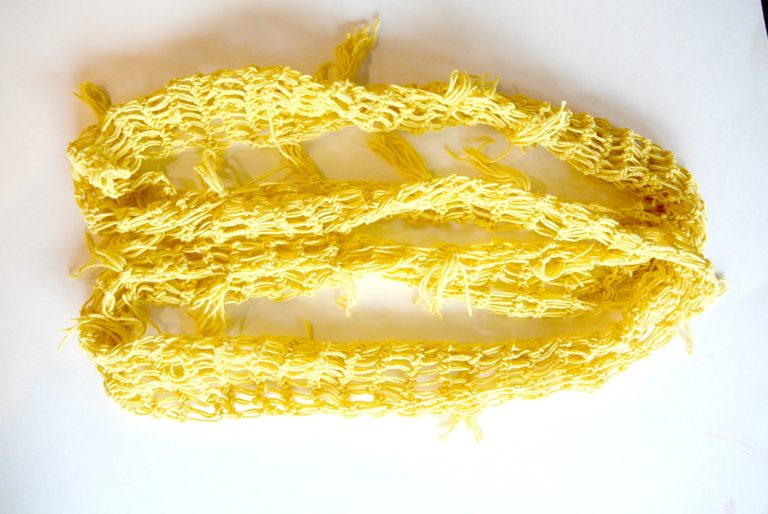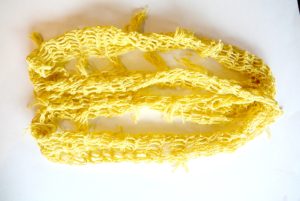 There you have it! A super easy summer scarf!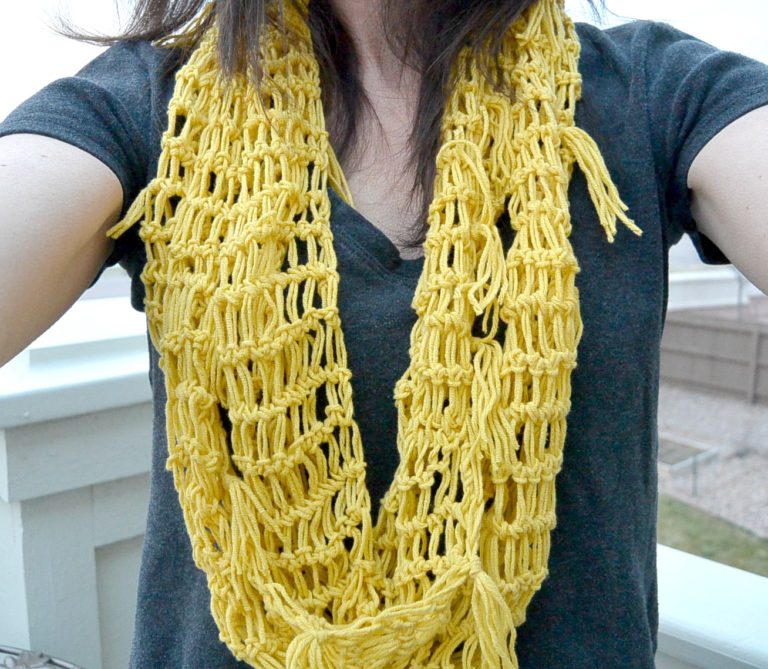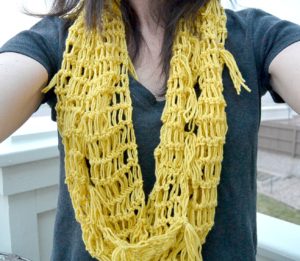 It was nice enough for me to take my daughter to the zoo the other day. I am so ready for winter to move on!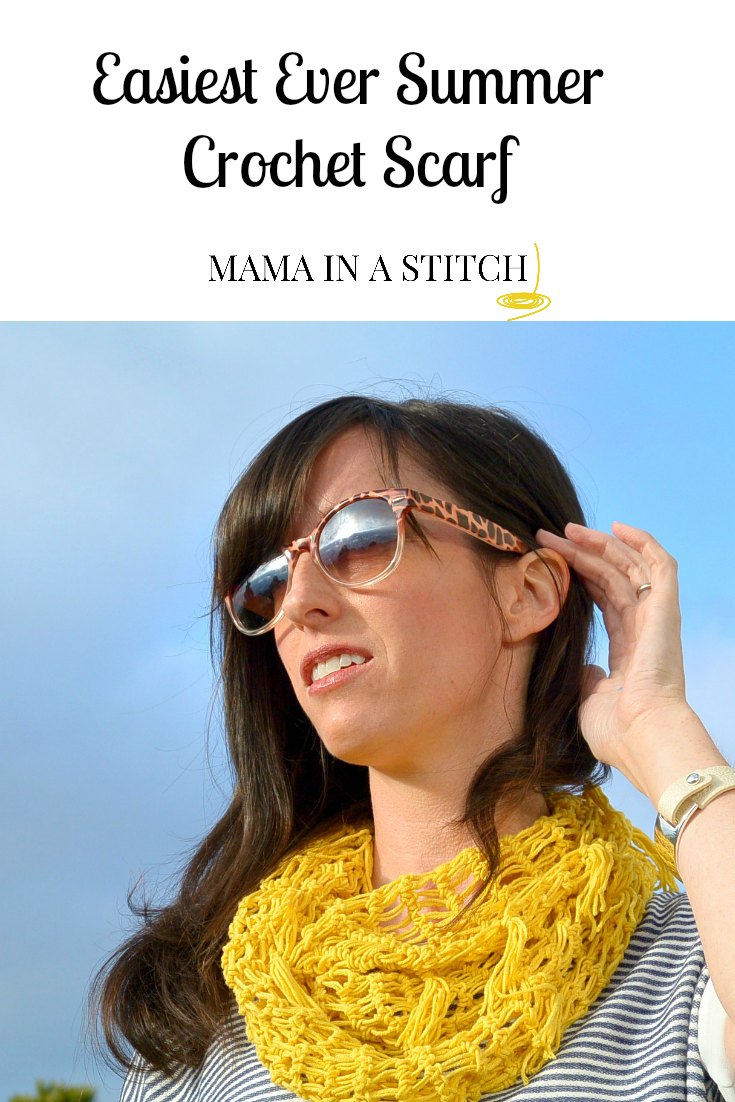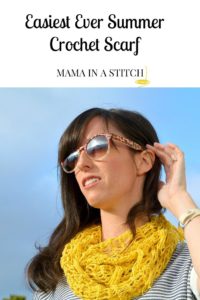 If you liked this, please check out my other easy crochet patterns! Subscribe to the blog and follow me on Facebook, Twitter and Instagram! I love hearing from you!
Also, as always, let me know if you have any questions or if I can improve the pattern!