Hooded Knit Adak Wrap Pattern
Today's free knitting pattern is a gorgeous, chunky, quick and EASY wrap that also features a hood! These hooded wraps have gotten so popular, and I really love the stitch pattern on this one.
This knit hooded shawl is made with the ever simple knit and purl stitches as well as some basic yarn overs and decreasing. Believe me, even if you've only learned to knit and purl, the yarn over and decrease will be really easy to master. The pattern creates a warm and cozy wrap that's eye catching and practical.
The yarn itself is an absolute favorite of mine as it's super bulky and also very soft and quite similar to Lion Brand Yarn Wool Ease Thick & Quick. The dark yarn is sure to go with any outfit and it won't show dirt either. The stitching is a variety of garter stitch, yarn overs to create an open look and the ends are done in the seed stitch. There's really no getting bored with this pattern as it's a lot of fun to see it all come together!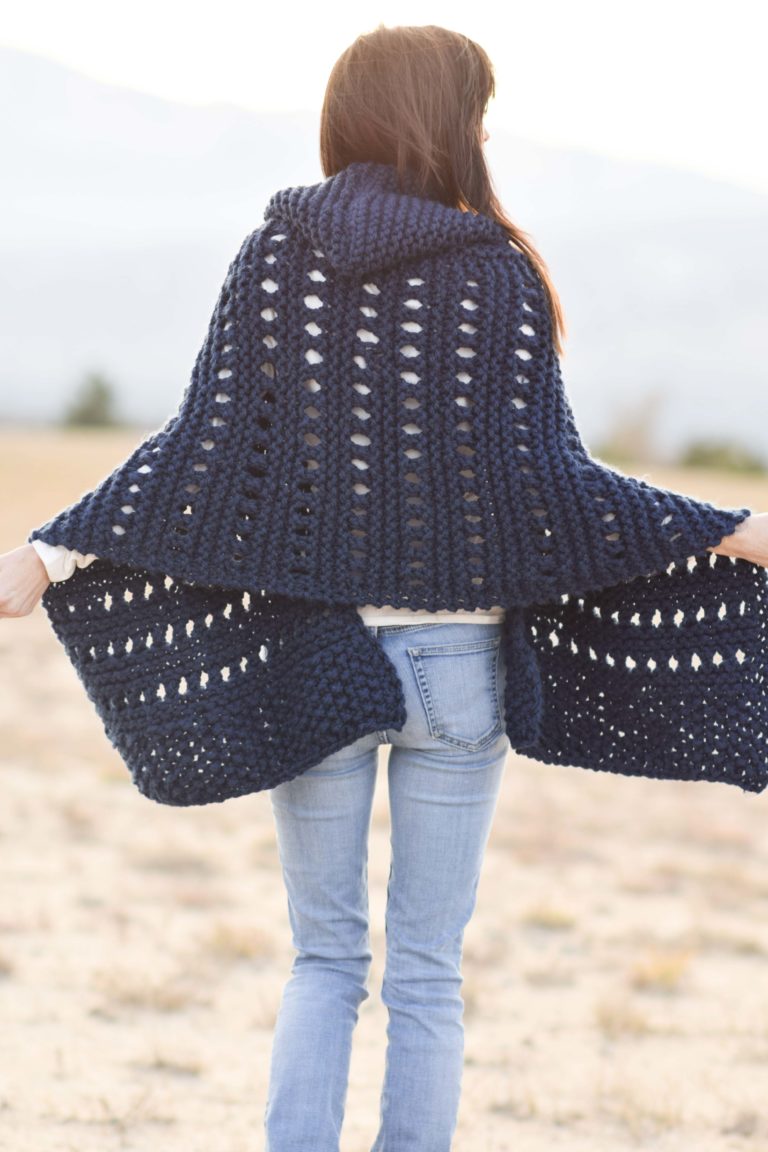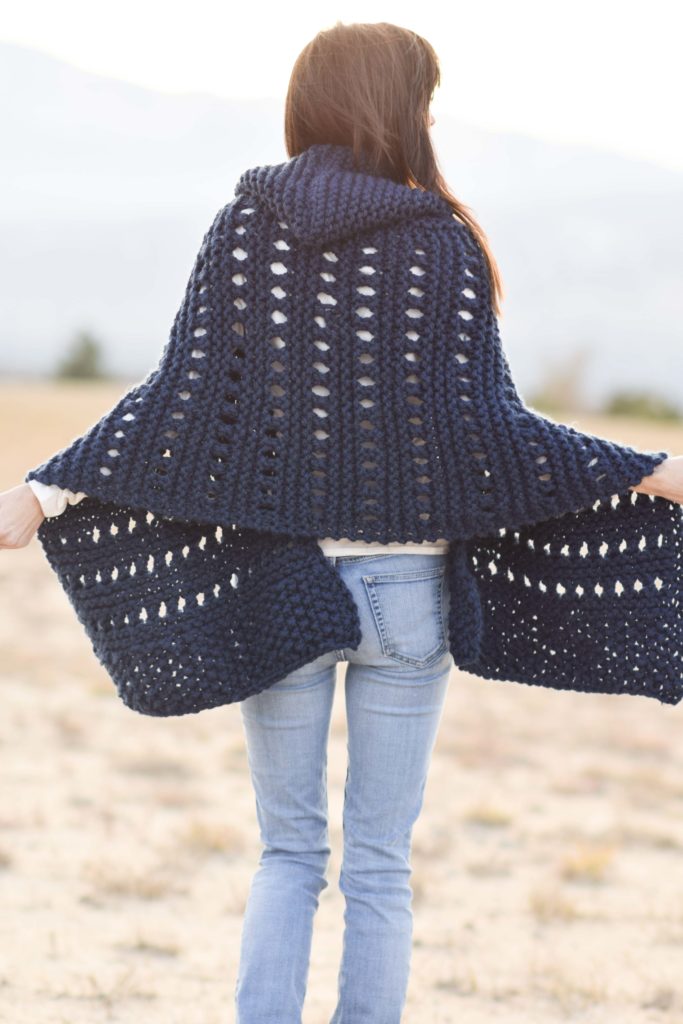 If you're looking for a cozy crochet project with a similar skill level, you also might like this Light Alpaca Poncho. 🙂 Onward to the Adak Hooded Knit Wrap!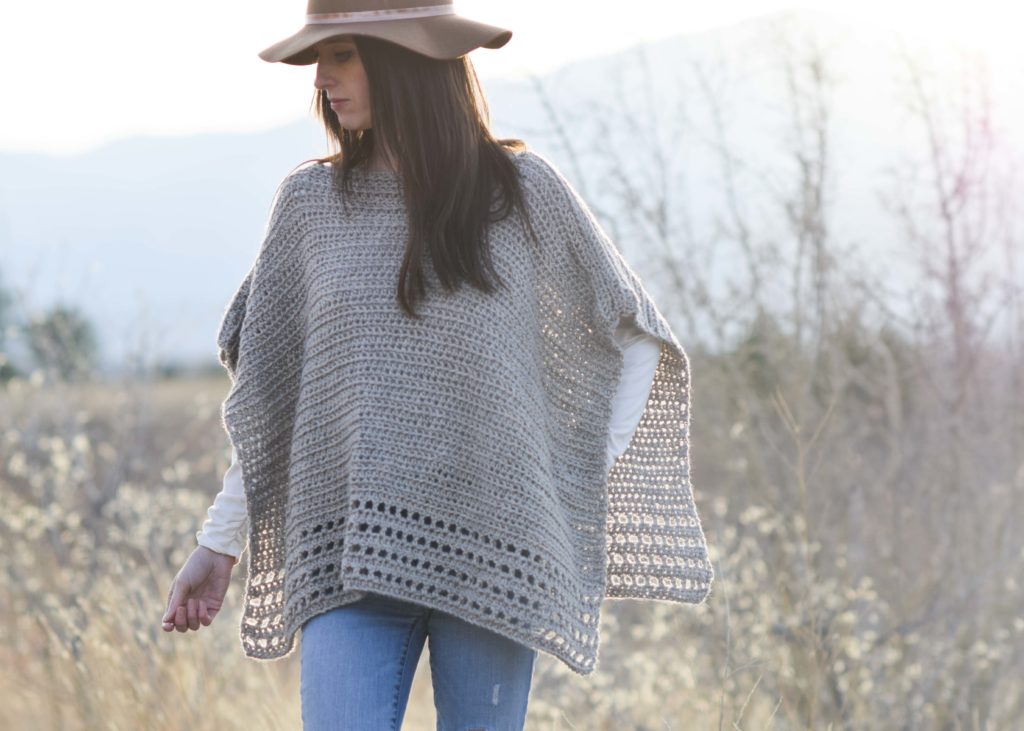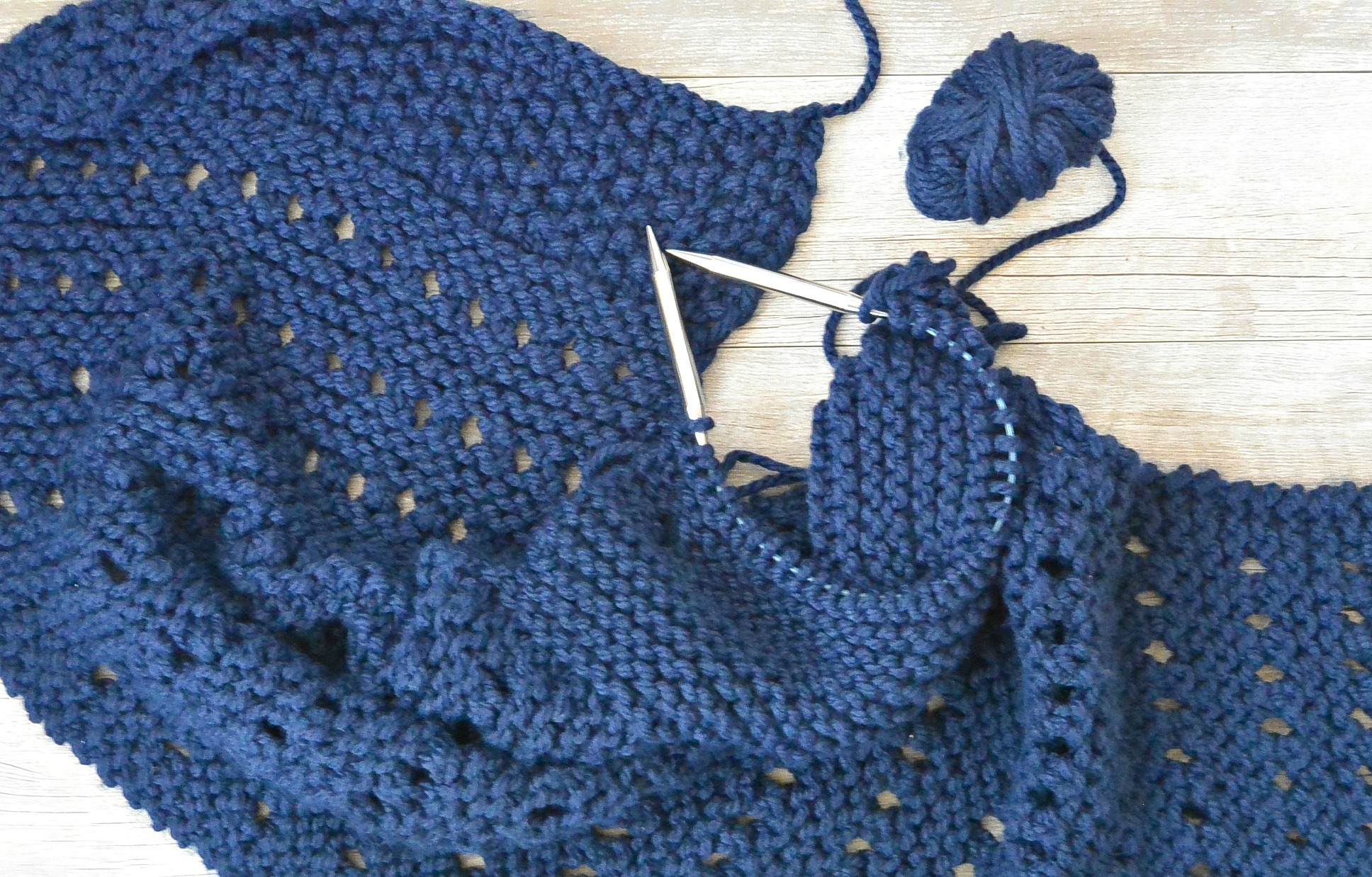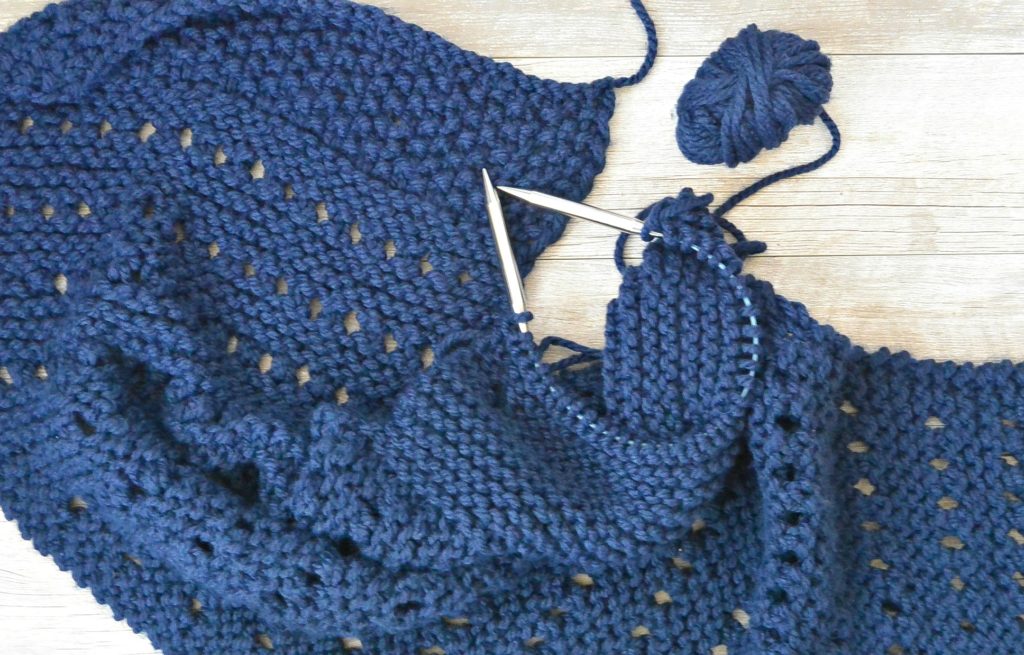 My neighbor recently knit a hooded scarf for her sister and it looked so cozy and beautiful. I thought that it might be fun to make a hooded wrap to add to the warmth and coziness of that idea. This hooded wrap is much like a warm shawl or oversized scarf with a hood attached.
Picture yourself walking about on a brisk day, keeping warm by the fire or even chill'n at a football game while wearing this piece. It's like a mini blanket with a hood. LOVE! I also love the texture that the stitch pattern provides, and while it looks complicated it's not.
It's no secret that Wool Ease Thick & Quick is my go to yarn. This is nearly the exact same thing, but it is 100% acrylic. I know this is a welcome thing for many of you with allergies to wool! It is super soft, great to work with and completely washable. But you can use any super bulky yarn that you like for this wrap.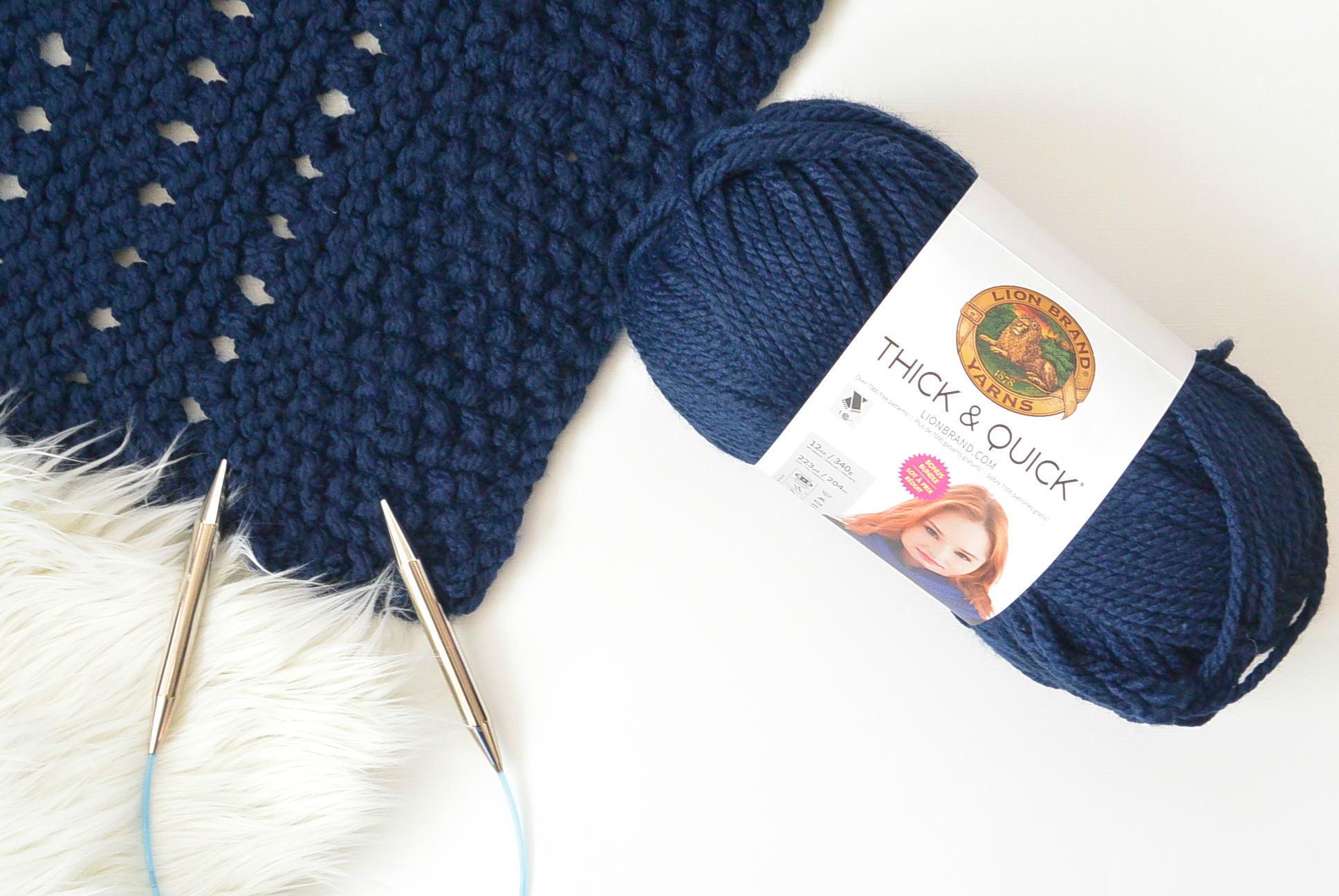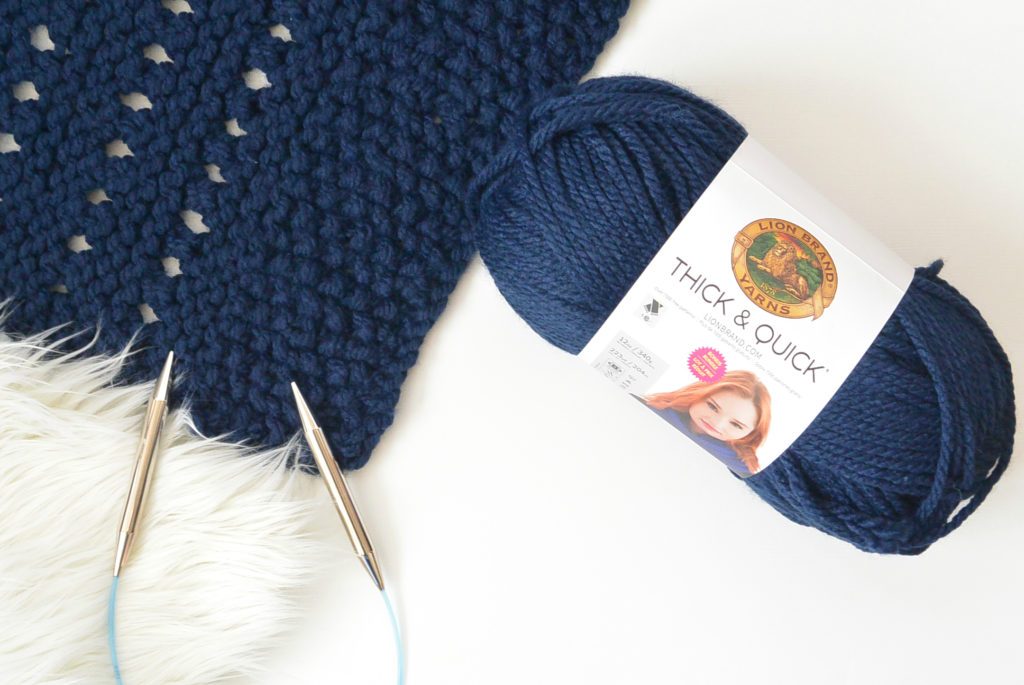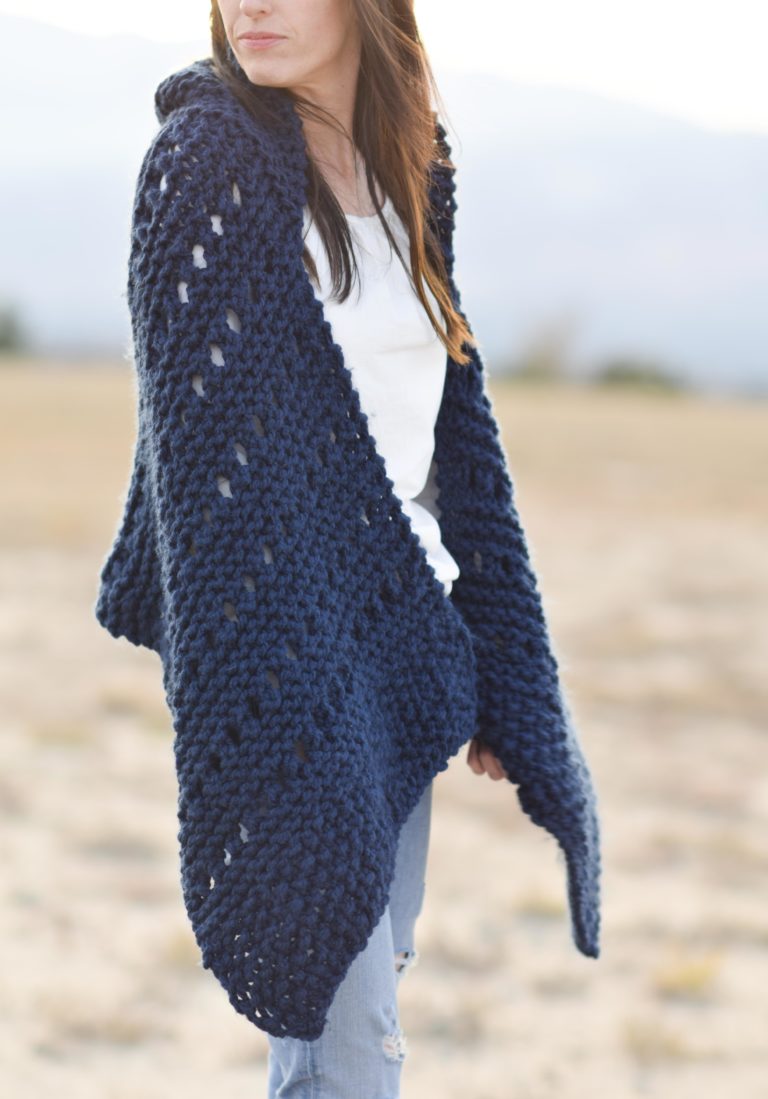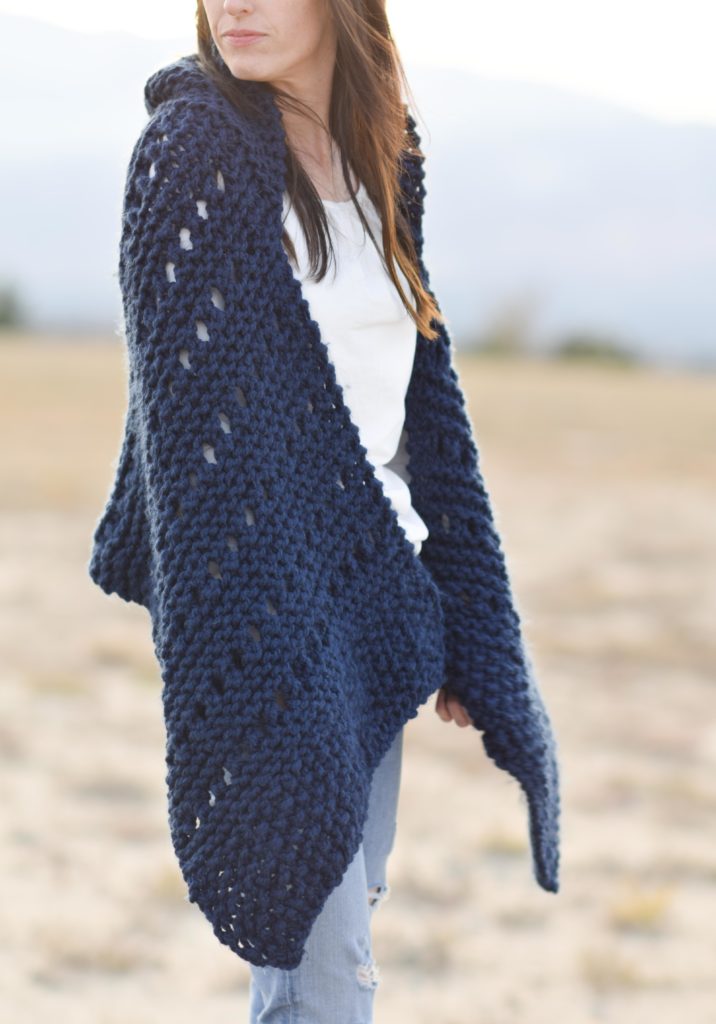 So shall we get to this ever so cozy pattern? I say yes!
Hooded Knit Adak Wrap Pattern
A warm and beautiful hooded wrap to keep you cozy on the coldest of days.
You will need:
US size 17 (12 mm) 24" circular knitting needles
2 Lion Brand Yarn Bonus Bundle Thick & Quick Acrylic Skeins in Navy (340 grams/skein) Pattern uses approximately 680 grams *Find this yarn at Michaels Stores , Michaels.com or the kit here on Lion Brand's Website
Scissors
Tapestry Needle
Size:
Approximately 54" long and 18 ½" wide
Skill Level:
Easy +
Gauge:
Approximate: Just over 7 stitches per 4 inches
Skills & Abbreviations:
k – knit
p – purl
yo – yarn over
k2tog – knit two together
You should also know how to pick up stitches for the hood portion of the pattern
Notes:
This wrap is made by knitting a simple rectangle while following the stitch pattern. The hood is worked by picking up stitches, knitting several rows and then seaming to finish.
Pattern
CO 33 stitches
Beginning Edge
Row 1 *K1, p1; repeat from * across the row, knit last stitch of row (33)
Repeat row 1 for approximately 4"
Main Body
Row 1 – 6 Knit each stitch across the row (33)
Row 7 K3, *yo, k2tog; repeat from * to last 2 stitches; k2
Repeat rows 1 – 7 until entire piece measures approximately 50" ending with 6 rows of knit stitches.
Final Edge
Row 1 *K1, p1; repeat from * across the row, knit last stitch of row. (33)
Repeat row 1 for approximately 4"
Entire piece should now measure approximately 54"
Cast off and weave in ends
Hood
Fold wrap in half to find center. Place marker 10" from center on each side (20" total). Pick up 38 stitches evenly in center.
Row 1 Knit each stitch across row (38)
Repeat row 1 until hood piece measures approximately 9 ½"
Cast off leaving a long tail to seam hood closed.
Fold hood in half and seam with length of yarn and tapestry needle using a simple whip stitch. Tie off and weave in ends.
That's it! Now wrap yourself up in it and give yourself a hug.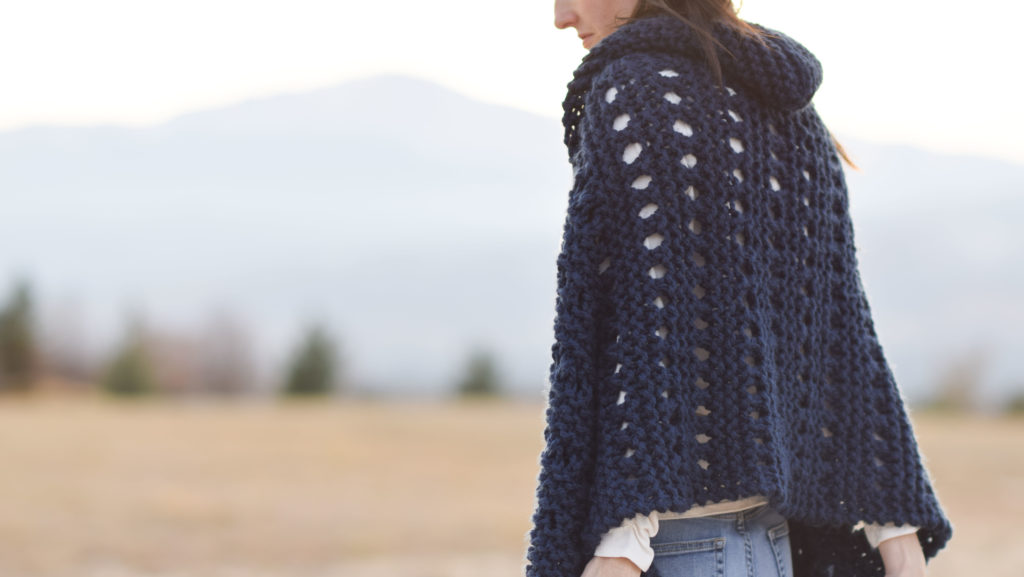 I hope that you love your new hooded wrap! Happy knitting!


XO,
Jessica
If you like this, you might also like: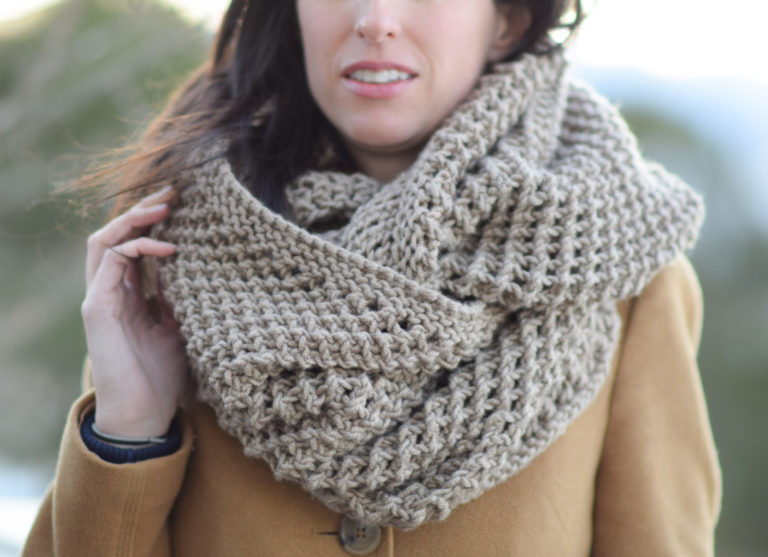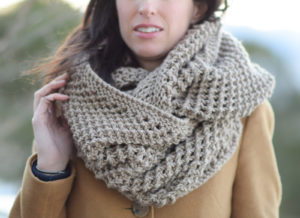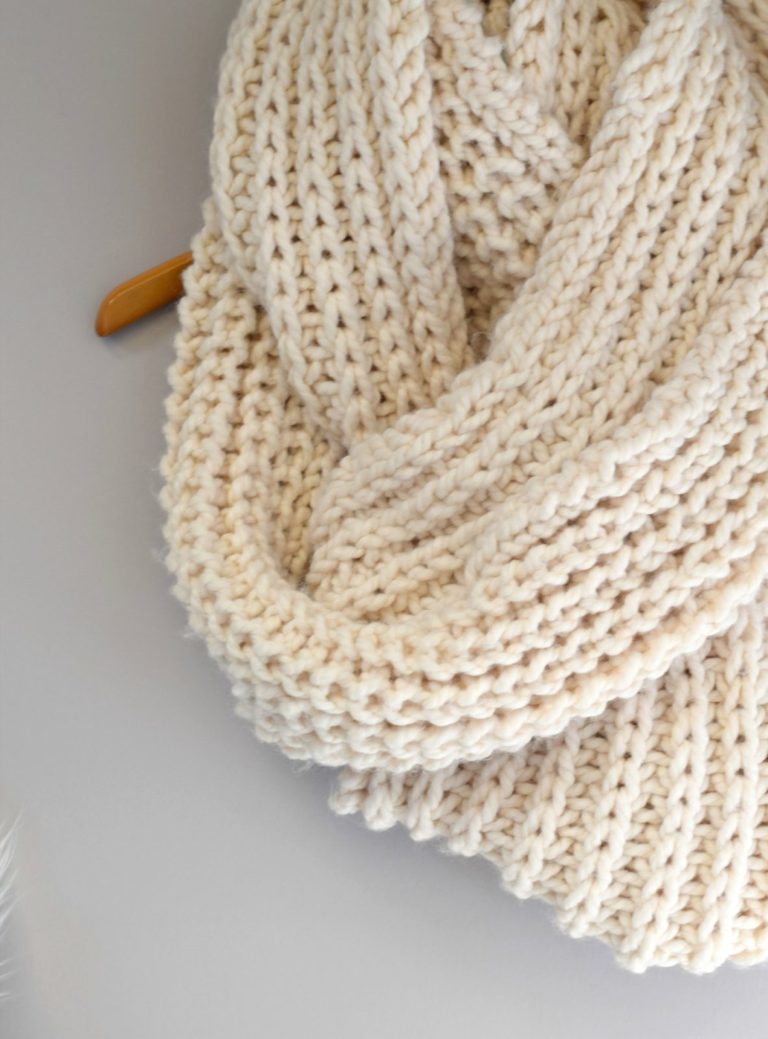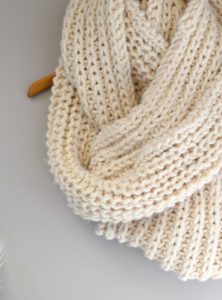 Thank you to Lion Brand Yarn for sponsoring this post. All opinions are 100% my own. 😉