Boheme Days Wrap Knitting Pattern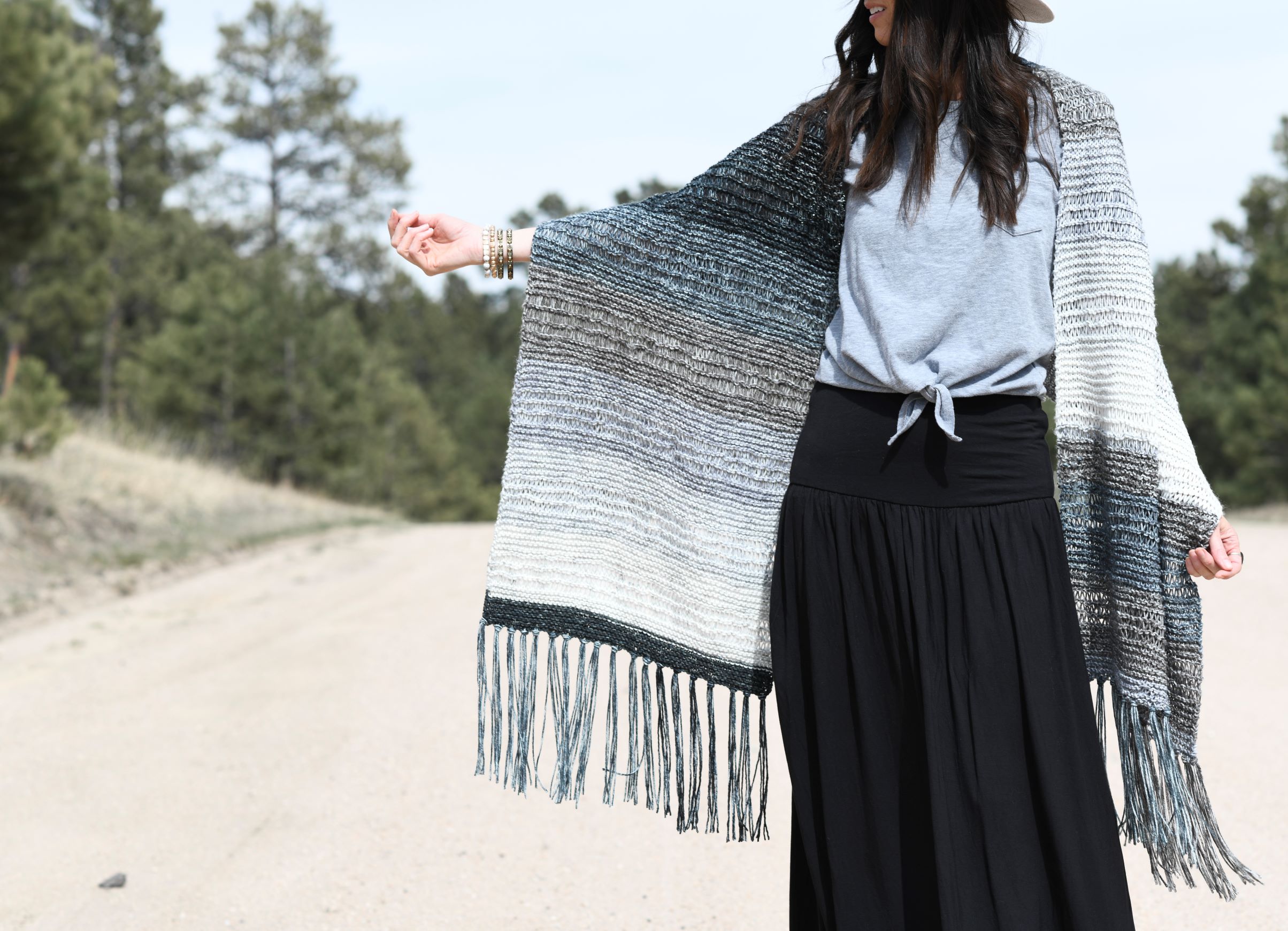 It's time for a summer worthy, pretty shawl knitting pattern! I'm loving how comfy this turned out, and it's a great example of what a color changing yarn can do a for an easy project. This boho inspired wrap is super nice for cool summer nights, or even to use as a cover-up! See the free pattern below, or you may choose to purchase the ad-free printable from Etsy HERE or the kit from Lion Brand HERE (in several color options). Read on!
When I saw this yarn I had to have it. Color changing Lion Brand Mandala yarn means no color changes, and no weaving in a bunch of ends, which is always a plus. I bought up a whole bunch this yarn at Jo-Ann with no clue what I'd use it for, but the colors were so versatile. Not only is it a pretty colorway (and there are many other color options HERE), it's also super soft and great on the skin. It seemed perfect for a pretty, summer wrap. Boom!
To add more interest, and because the yarn has such great drape, I also added some fringe to both of the ends. This is of course totally optional, but I think it really took the shawl from nice, to over the top. I used a steamer to make the fringe nice and straight once it was attached to the shawl. What do you think? Would you add the fringe?
How Do I Knit This Shawl?
You'll see the detailed pattern below, but depending on the size you want to make, you will cast on stitches, and simply knit away. This pattern uses the basic knit stitch (see my tutorial here on how to knit if you crochet), as well as a drop stitch.
To make a drop stitch, you will yarn over, and then drop the yarn overs off the needle on the next row. There are a ton of YouTube tutorials on how to knit a drop stitch if you do a basic search, so definitely check those out if you've never done a drop stitch. It's super easy!
What Yarn Do I Use to Knit A Shawl?
For this wrap, you will be using Lion Brand Mandala Ombre yarn, but you can also use any worsted weight #4 yarn that you like. Two things that I think are important for a piece like this is that the yarn is soft, and also that the yarn is not super chunky. Because this wrap is meant for spring and summer, you will likely have it touching your skin, and you don't want it to be too heavy or have any itch factor.
Alright, are we ready for the pattern? It's available in two sizes. You'll see that the one I'm wearing is the size small. The large is for more of a blanket scarf style, which would also be amazing!!
Description:
Perfectly blended colors and two simple stitches come together to make this wrap look more complicated than it really is. Dress it up for an evening out, or dress it down as the perfect boho accessory. Need a quick cover-up? This is it! The luxuriously soft fabric is just right to take the chill off during cool summer nights. If you know the knit stitch, you can easily make it for your next summer vacation. Available in two sizes.
Have fun!

Skill Level:
Beginner +

Materials:
US Size 8, 5.0 mm Knitting Needles (If making the size Large, consider using circular needles in order to comfortably fit all of the stitches)
3 (5) Lion Brand Yarn Mandala Ombre in Cool (KIT AVAILABLE HERE in several colors) worsted weight yarn 150 g/skein
Pattern uses approximately 350g (700 g)
Measuring Tape
Tapestry Needle
Scissors

Sizes:
Two Sizes Available
Small (S) Standard Scarf Shawl: Approximately 17" X 66" (pictured)
Large (L) Blanket Shawl: Approximately 34" X 66" (can double as a small lap blanket or shawl)
Directions for the smaller size is listed first, followed by the larger size in parenthesis.
S (L)

Abbreviations & Skills:
k – knit
p – purl
yo – yarn over
sts – stitches
st – stitch

Gauge:
Approximate: 15 sts & 18 rows in 4" x 4" of garter stitch (Gauge is not important in this pattern)

Notes:
This wrap is knit as a basic rectangle. It uses the knit stitch and drop stitch throughout. You can easily make the wrap wider or narrower by casting on more or fewer stitches. To make it longer, simply knit for more rows while following the stitch pattern. If you choose to make the larger size, there will be more striping due to the nature of the yarn. In order to have a continuous flow of color, when you come to the end of a skein, you will want to start with a color with which you ended. It may be necessary to wind some yarn from the
next skein in order to reach the color that you need to begin. Simply save this yarn for later. Have fun!

Boheme Days Wrap Shawl Knitting Pattern (Beginner Friendly)
Cast on 65 (131) stitches
Garter Stitch
Row 1 – 15 K each stitch across the row.
Drop Stitch
Row 16 K1, *yo, k1; repeat from * across row.
Row 17 K1, *drop yo off needle, knit next st; repeat from * across row.
Rows 18 – 21 Repeat rows 16 – 17, in that order. (There will be a total of 3 drop stitch sections here)
Repeat rows 1 – 21 until piece is approximately 66" inches long.

Optional Fringe
Below you'll see instructions on how to add fringe to your wrap. You can also find many tutorials by conducting a simple online search on how to add fringe to knitting.

In order to make each set of fringe, start by cutting 3 strands of yarn, each approximately 14" inches long. Hold the three strands together, and fold them in half.

Starting at the outer corner of the end of the shawl, pull the folded section through a stitch.
Next, draw the ends of the fringe/yarn through the fold and pull.
Continue to attach your fringe evenly along both ends of your shawl. Feel free to steam or block the fringe to straighten if needed. Trim evenly to finish!
Enjoy your new, beautiful wrap!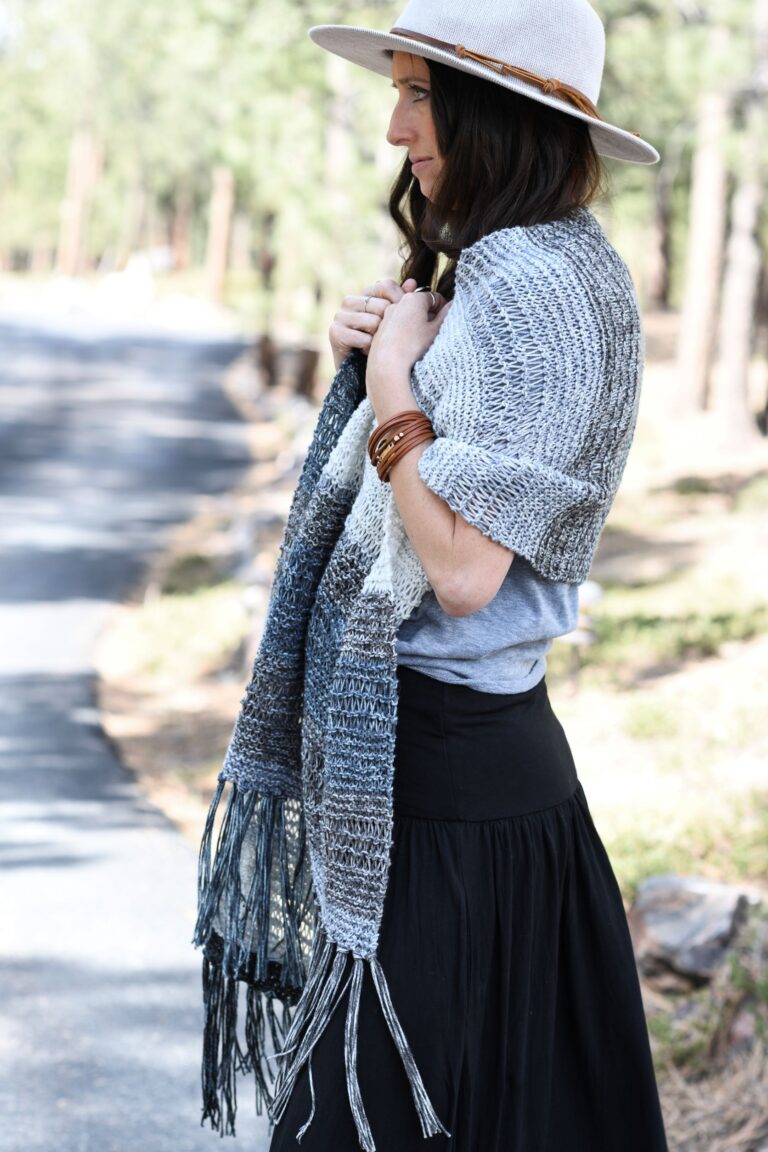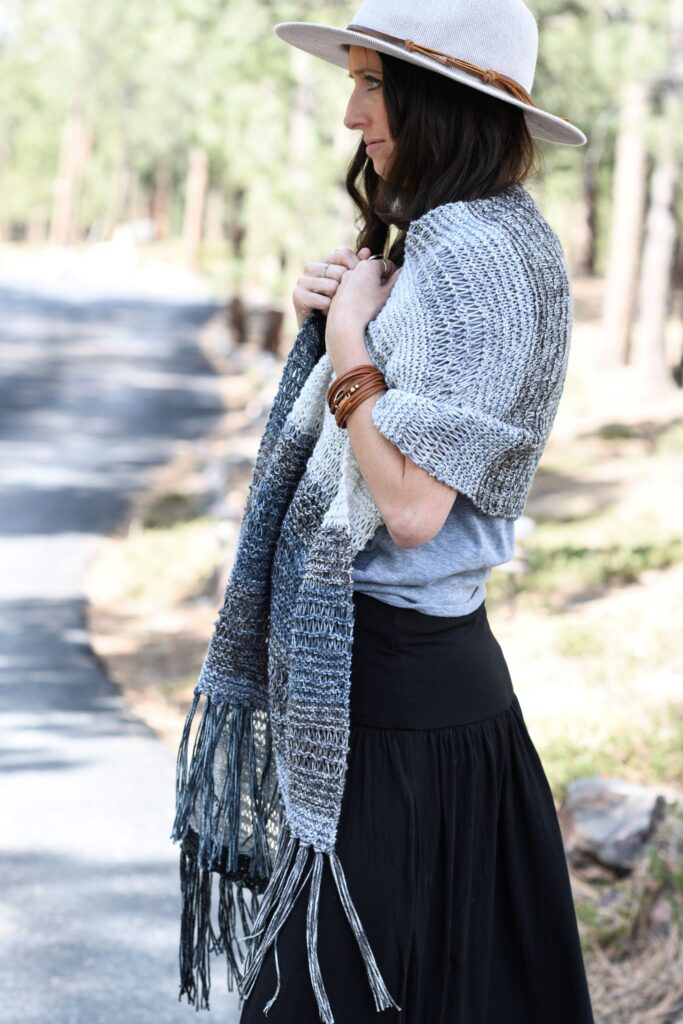 And if you liked this wrap shawl, you might also want to check out my Cosmos Wrap as it's similar!
I sure hope you enjoy making this one, my friends. Happy knitting to you!
XO,
Jessica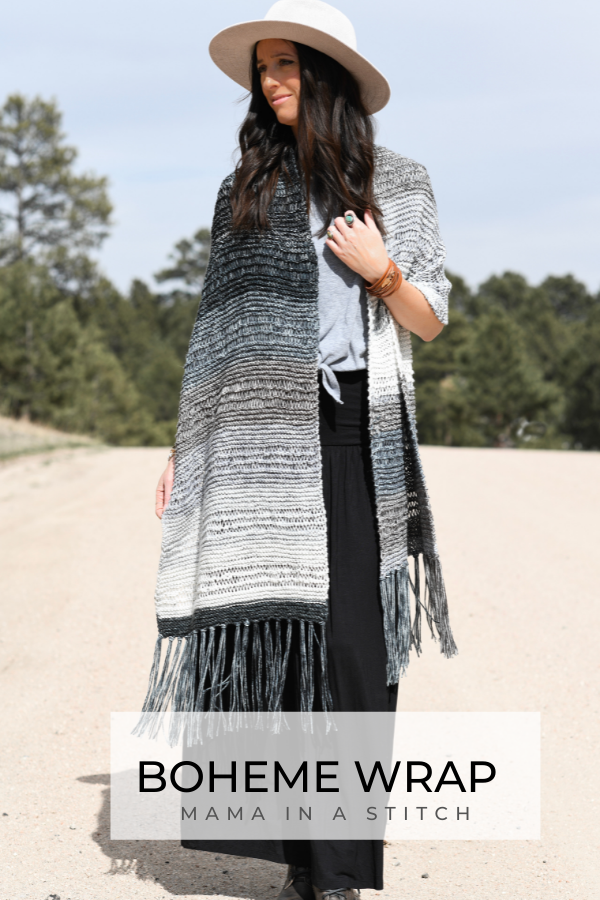 Some other easy knit shawl wrap patterns for you: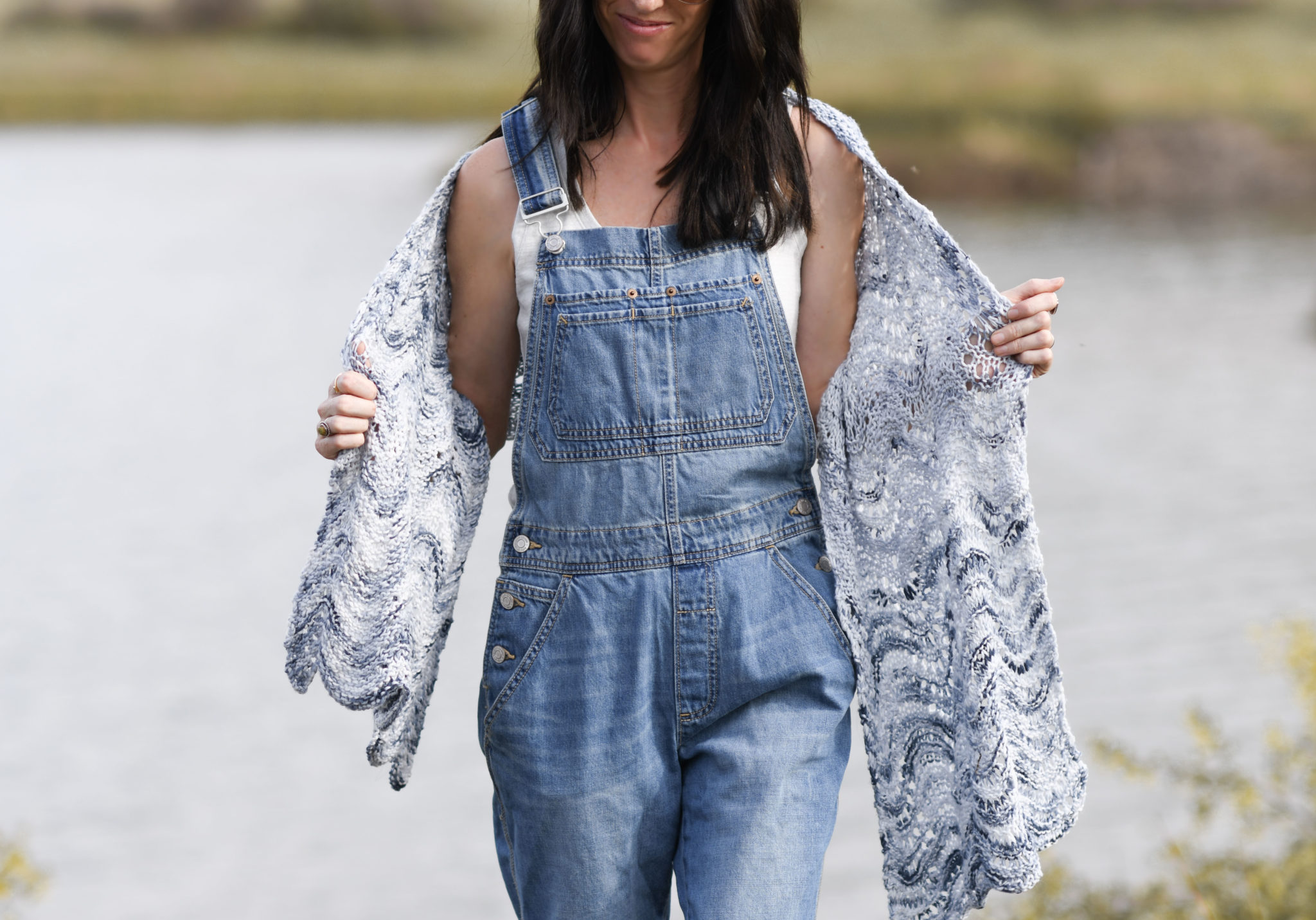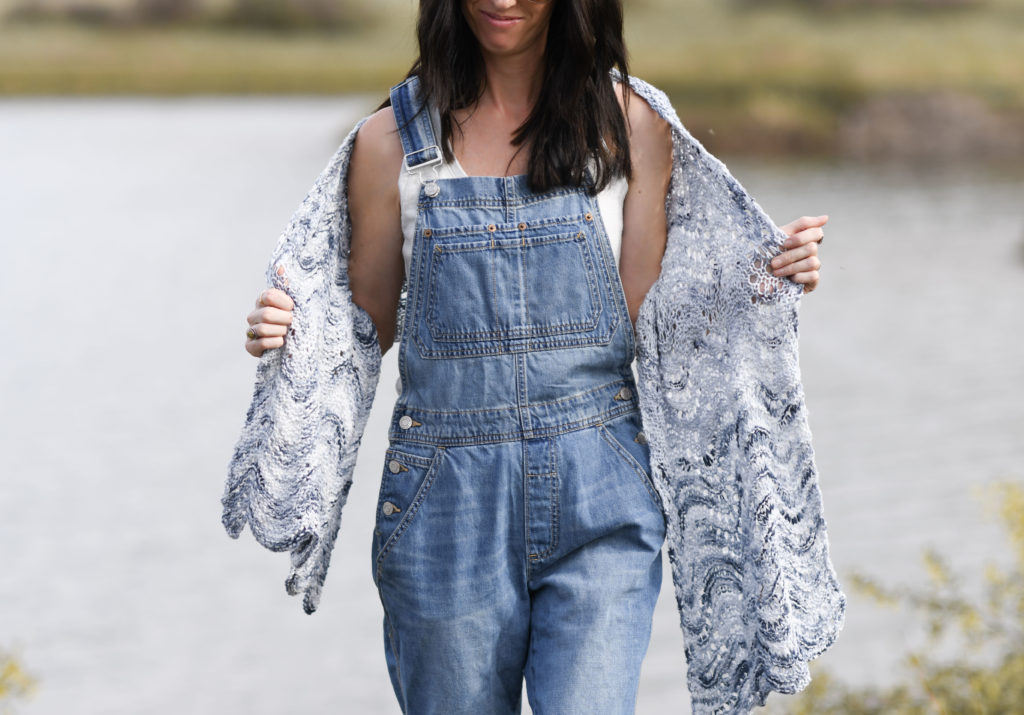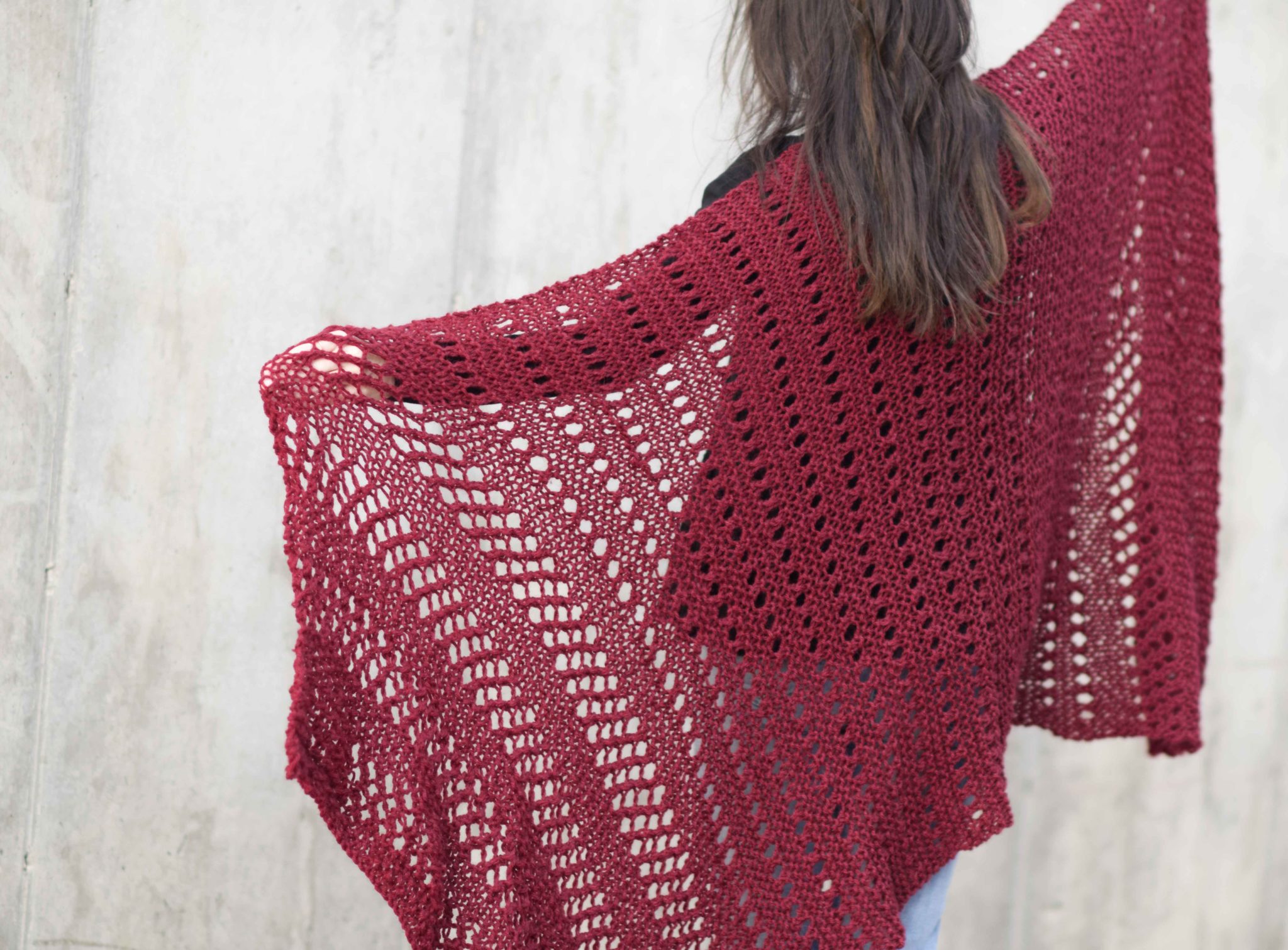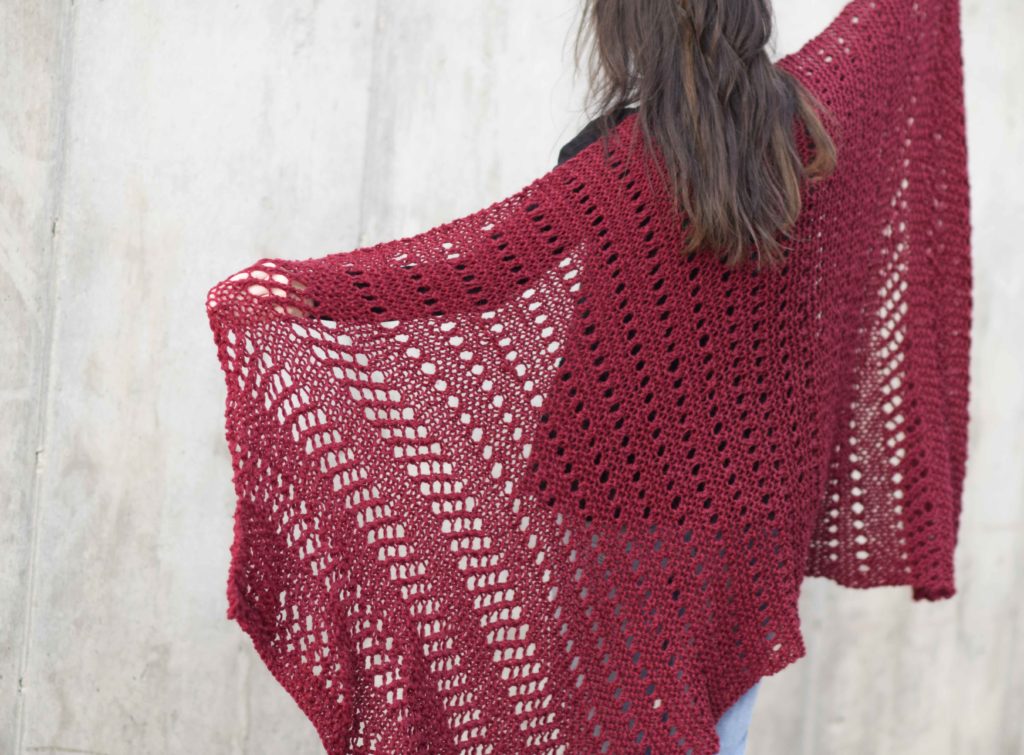 This post sponsored by Lion Brand Yarn. All opinions are 100% my own.