"Provence Gold Fleck Headband" – Crochet Headband Pattern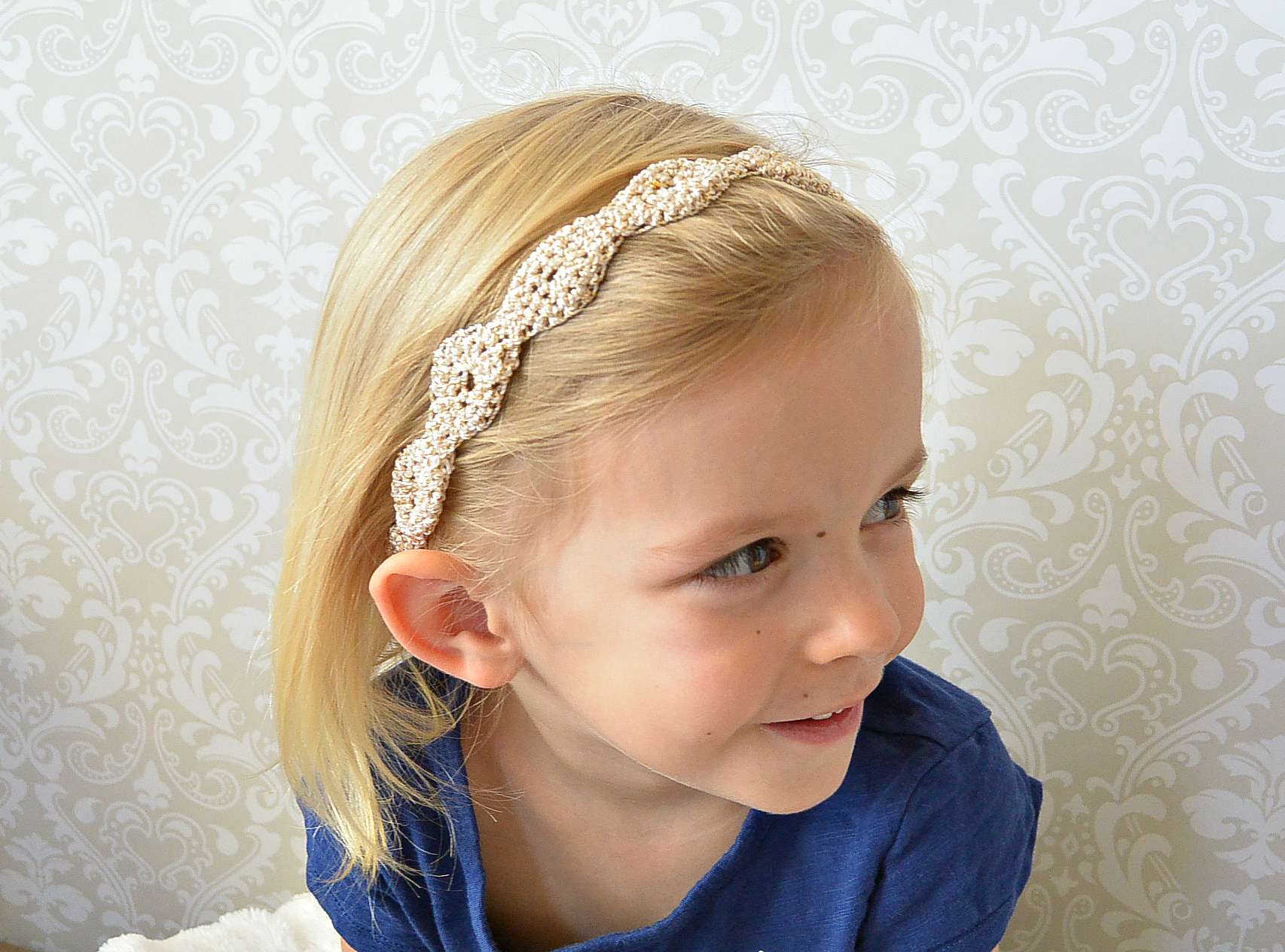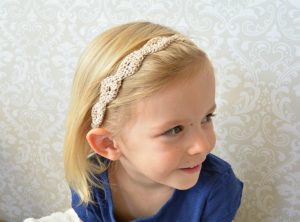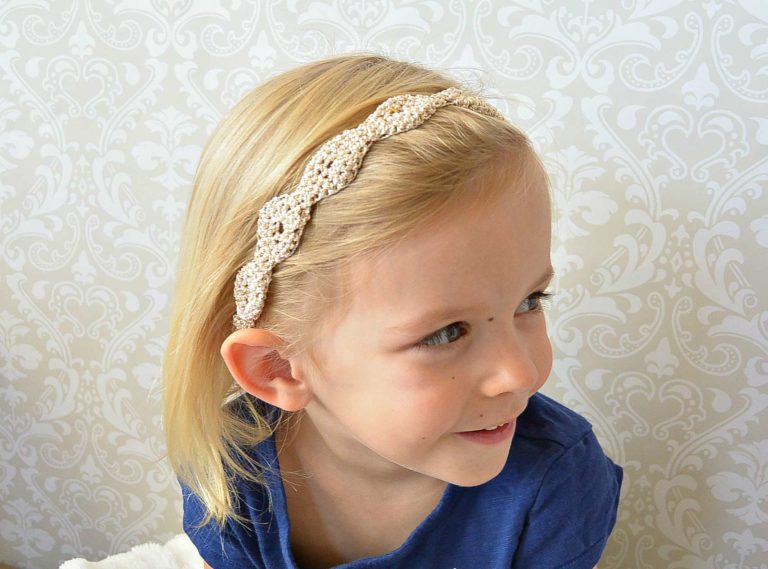 The other day I was wearing my knit headband (see the pattern here), and my hubs said something like, "that headband looks nice on you". If you knew him, you would know he is a man of few words. So when he dishes out a compliment – it is a moment of wonder! 😉 Of course I then thought about how I could make another one – not just because he said it looked good, but because it's a nice alternative to wearing a ball cap when I don't do my hair (which seems like almost every day lately).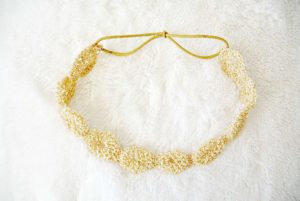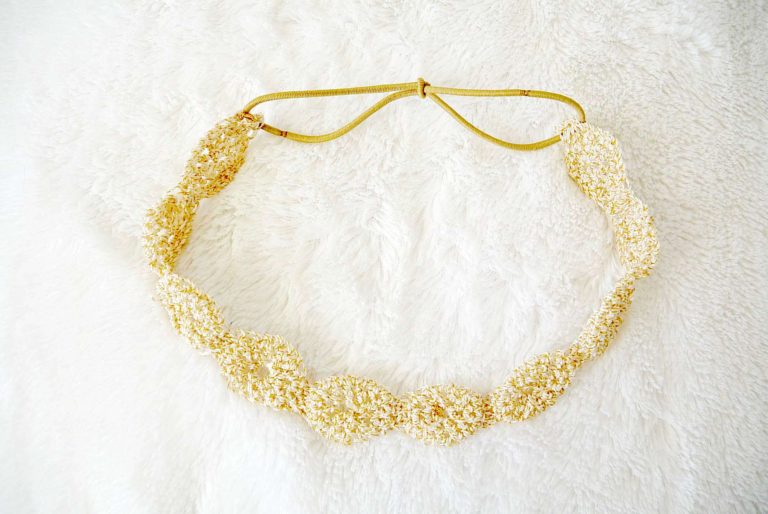 Typically I make a headbands with the usual yarn, which is great, but I really wanted one that looks like something I could buy at a boutique. Hence the look of this "Provence Gold Fleck Headband". Anthropologie has some beauties, but I can't justify dishing out that kind of dough for a headband. This one cost me less than $2.00 for the "yarn". The headband is so simple as it is just a bunch of circles connected with slip stitches. If you know how to crochet in the round, you won't even have to do any counting. Just crochet up a bunch of round pieces, and slip stitch them together. Voila!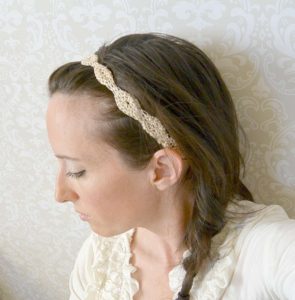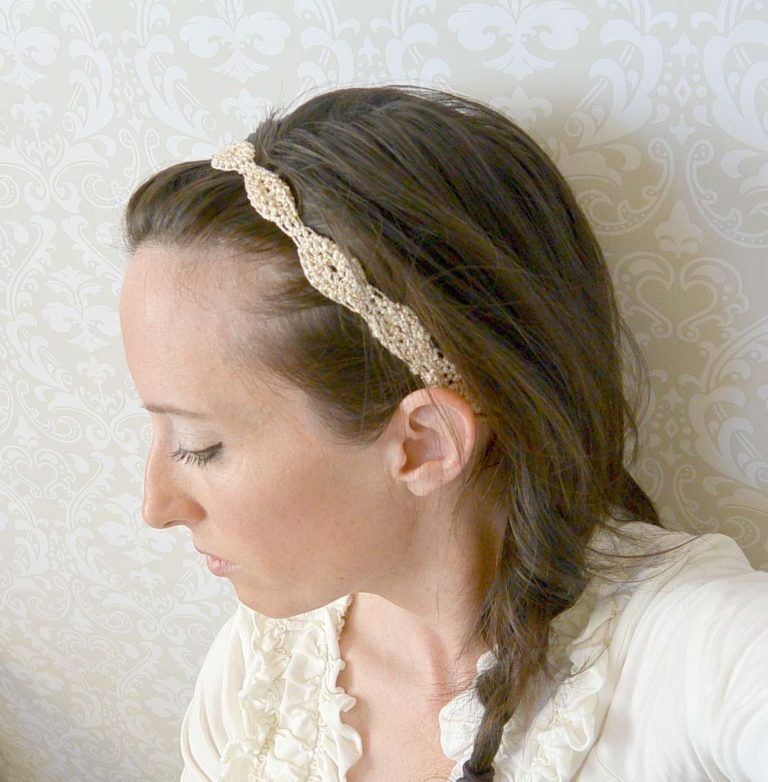 You will need:
1 Ball Red Heart Sizzle Number 2 Thread in Ivory/Gold ( I found at Wal-Mart)
Size B Crochet Hook
Scissors
Two elastic hair bands
Tapestry needle to weave in ends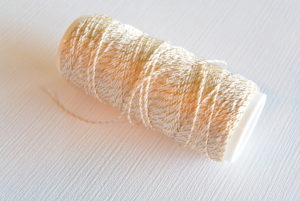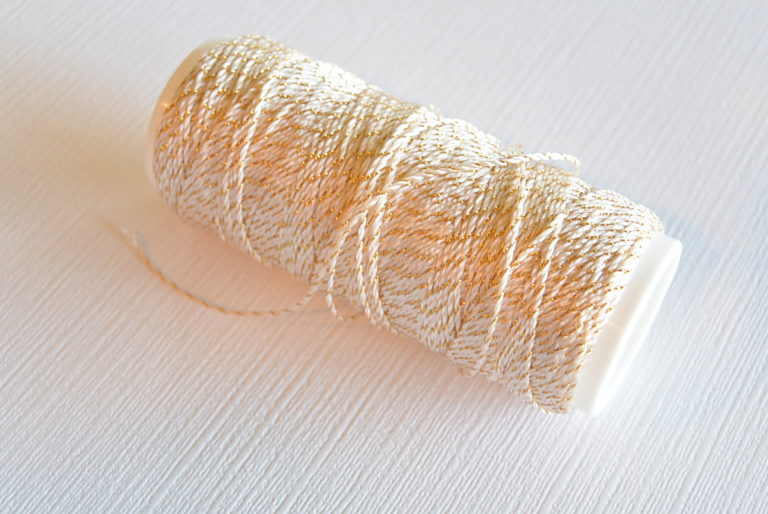 How to Make It – Pattern
Remember, you are simply crocheting a bunch of circular pieces and slip stitching together
For one circular piece:
Chain 2
Round 1 Make 6 single crochet into second chain from hook (on one of your single crochets, pull the tail through as well to tighten up and hold the center)
Round 2 Make 2 single crochet in each stitch around ( total of 12 stitches around)
Round 3 *Make 2 single crochet in first stitch, make 1 single crochet in next stitch* Repeat from * to * around(18 stitches around)
Round 4 Make 2 single crochet in first stitch, make 1 single crochet in the next two stitches. Repeat this pattern around. (24 stitches around)
Tie off and weave in ends.
You will make 9 or 10 of these for a woman's size. Less or more for a smaller size, child or larger size. Once you have 10 of these circular pieces, you will connect them with slip stitches.
Connecting the pieces:
Hold back sides of two pieces together, lining them up
Attach yarn by pulling through and making a chain ( I pull through both the working yarn and tail to make it more secure)
Slip stitch through the back loop of both pieces at the same time ( you are connecting them by crocheting them together)
Slip stitch across four stitches, tie off securely and weave in ends.
Elastic Hairbands
Take your two hairbands and attach them together as pictured. The bands below are about 2.5 inches long when lay flat and held together.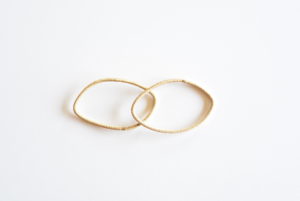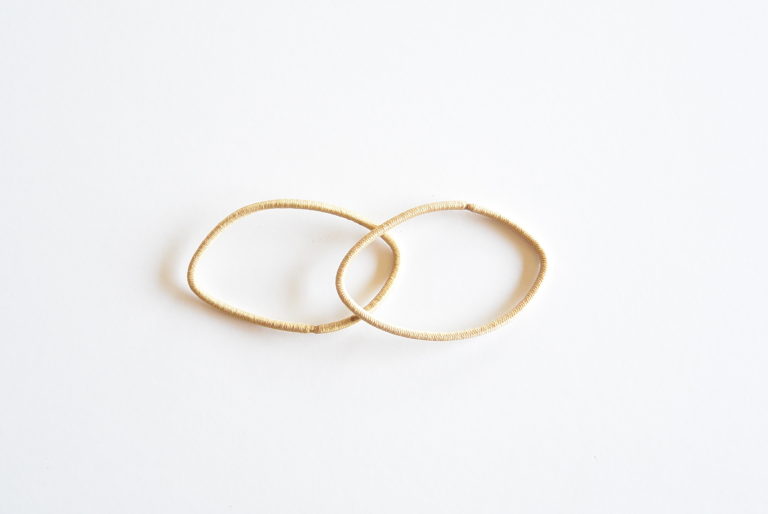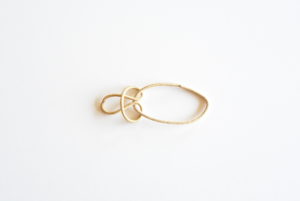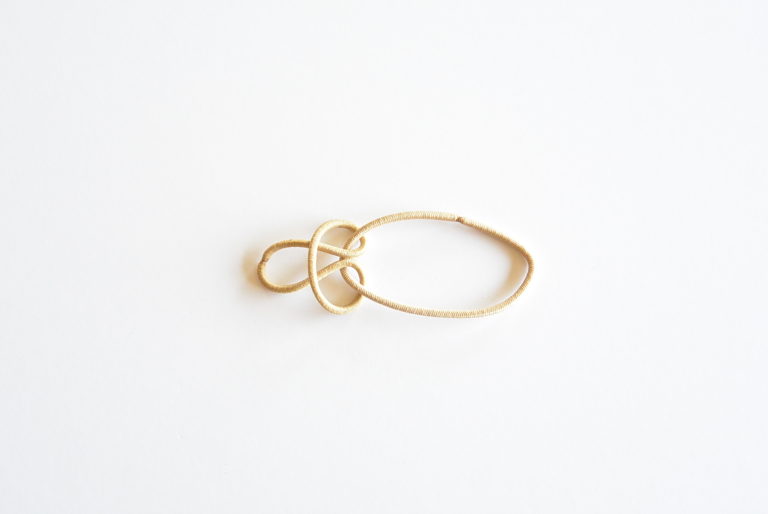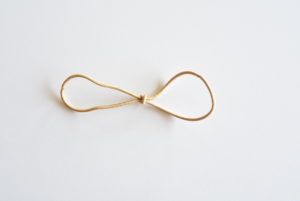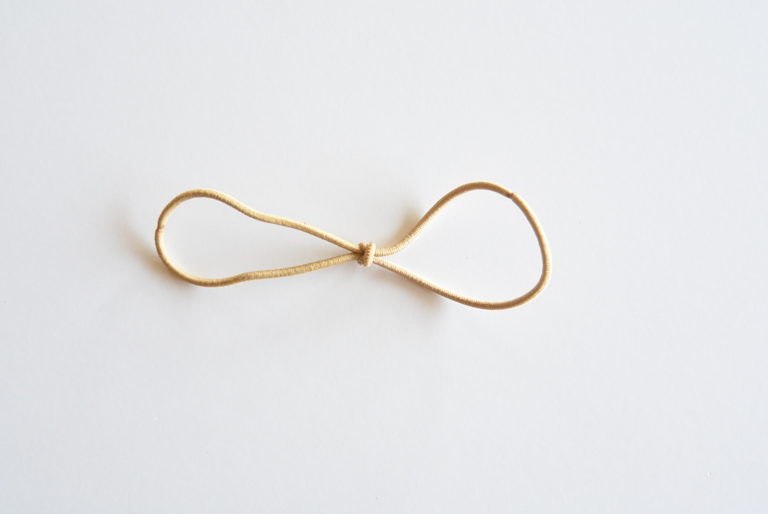 Now you will take each end of your crocheted headband and attach the piece to the elastic with a single crochet stitch. Draw the thread around the elastic band and crochet, making five stitches.
There's your useful little headband to keep, or gift! I'm pretty sure any teenager would love to have this.
Just another example of how crochet is so much more than the afghan from your couch in the 70's. 😉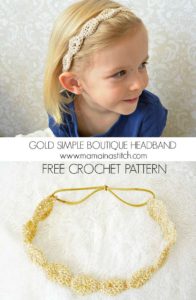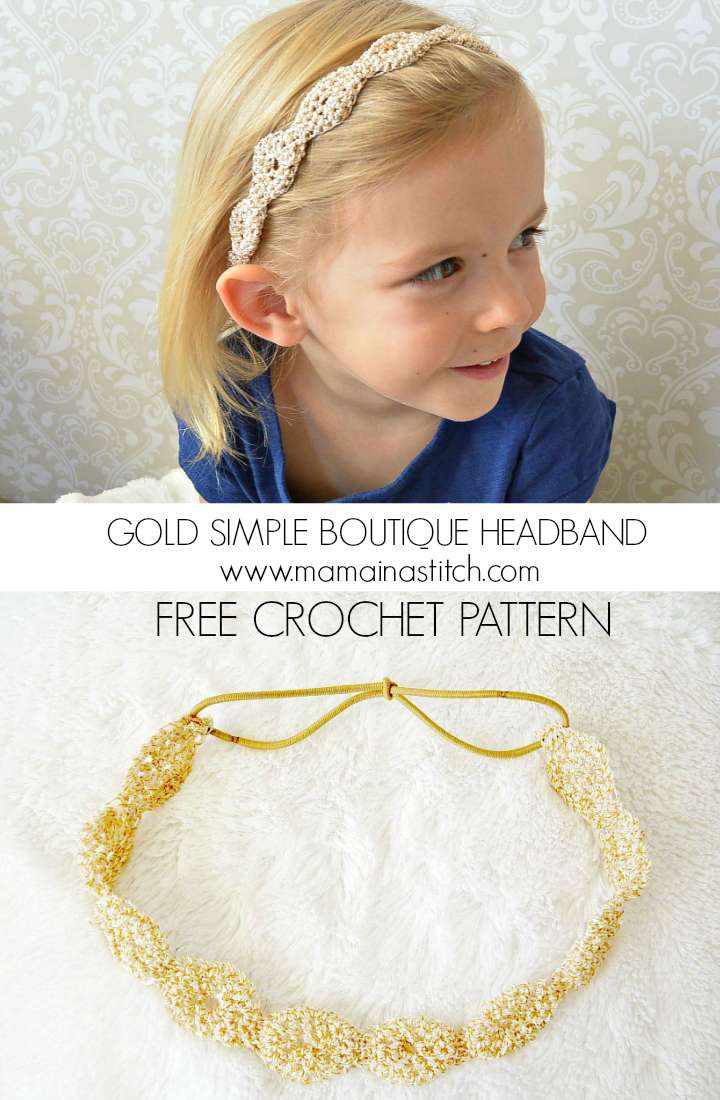 If you liked this feel free to subscribe to my free newsletter!