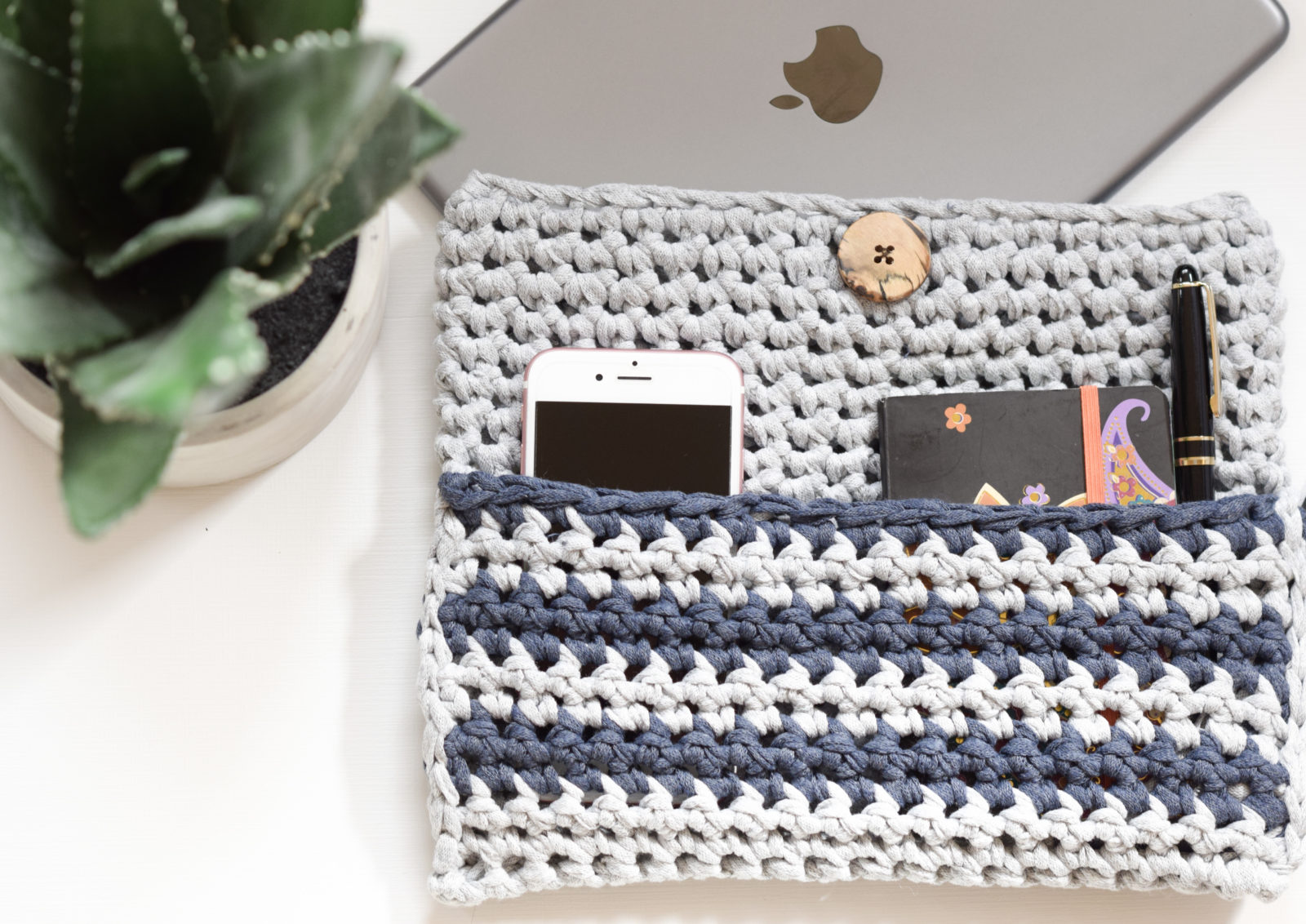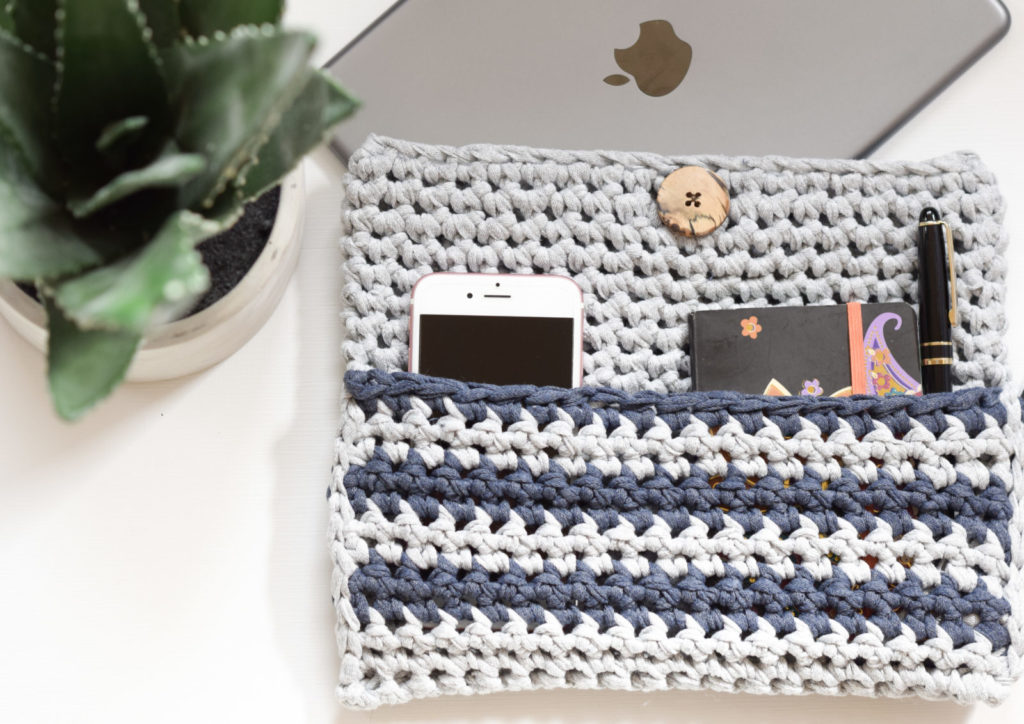 If you've dropped your tablet, raise your hand! I haven't dropped mine yet, but my husband has done it. Our poor I Pad is cracked thanks to a swift drop on the concrete garage floor. Anyway, we need a durable little case and I think this case will do the trick. This could qualify as the ultimate I-Pad or tablet case because it's super sturdy and there are pockets on the front so you can carry around other loot too. I love extra pockets because it seems I'm always carrying around too many things for my hands to hold. Maybe this happens once you have kids…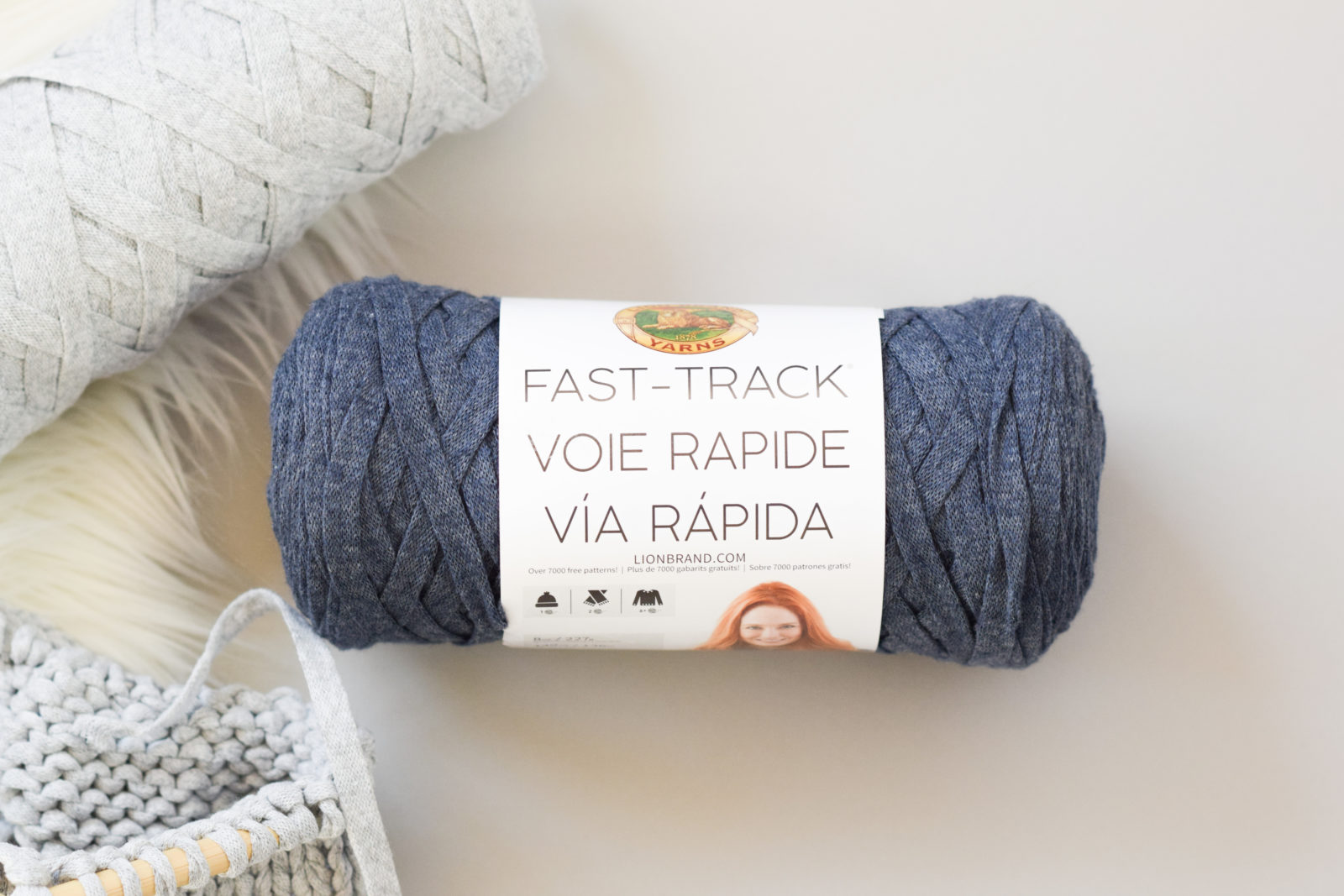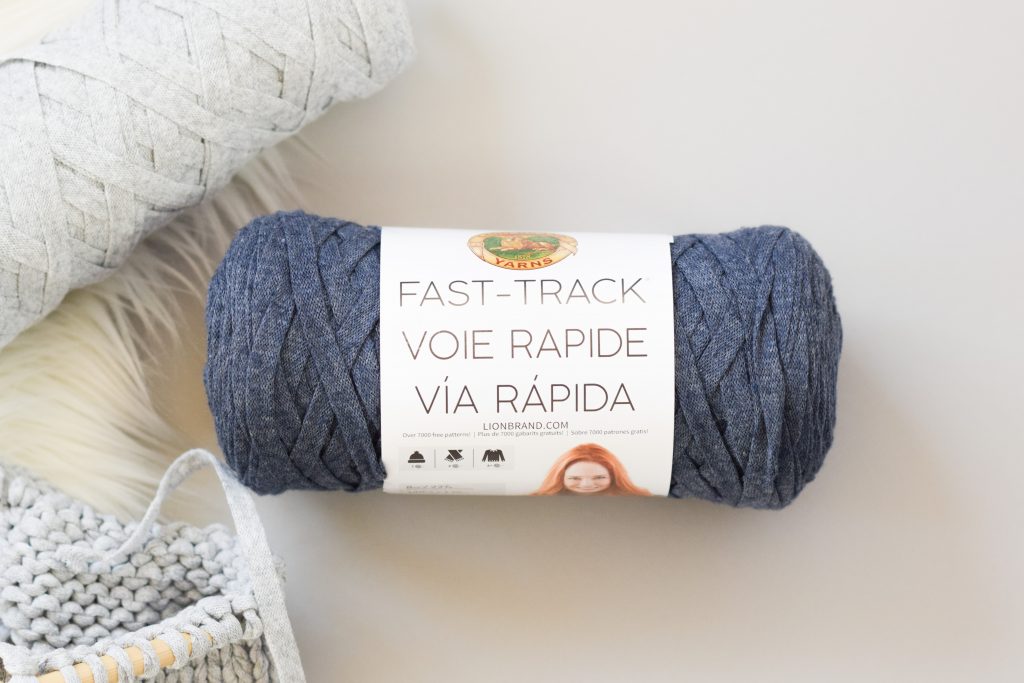 This is also a beginner friendly project as the entire thing is made with single crochet stitches. It's finished with a slip stitch seam, or you can simply whip stitch around the edges to close. The stripes are totally optional too, and you can make this with just one skein of this yarn. Add a button and badda bing!
Lion Brand sent me a few samples of their new "Fast Track" yarn, and it's durable, thick and perfect for this type of project. Have you worked with any t-shirt type yarns? This is very similar, but it reminds me of shoe laces rather than t-shirt material. I think it would work great to make baskets, rugs, place mats and other home goods. I also tried knitting with it, and you could make some lovely things to wear when it's knit. You could crochet items to wear also, but I love it mostly for home decor!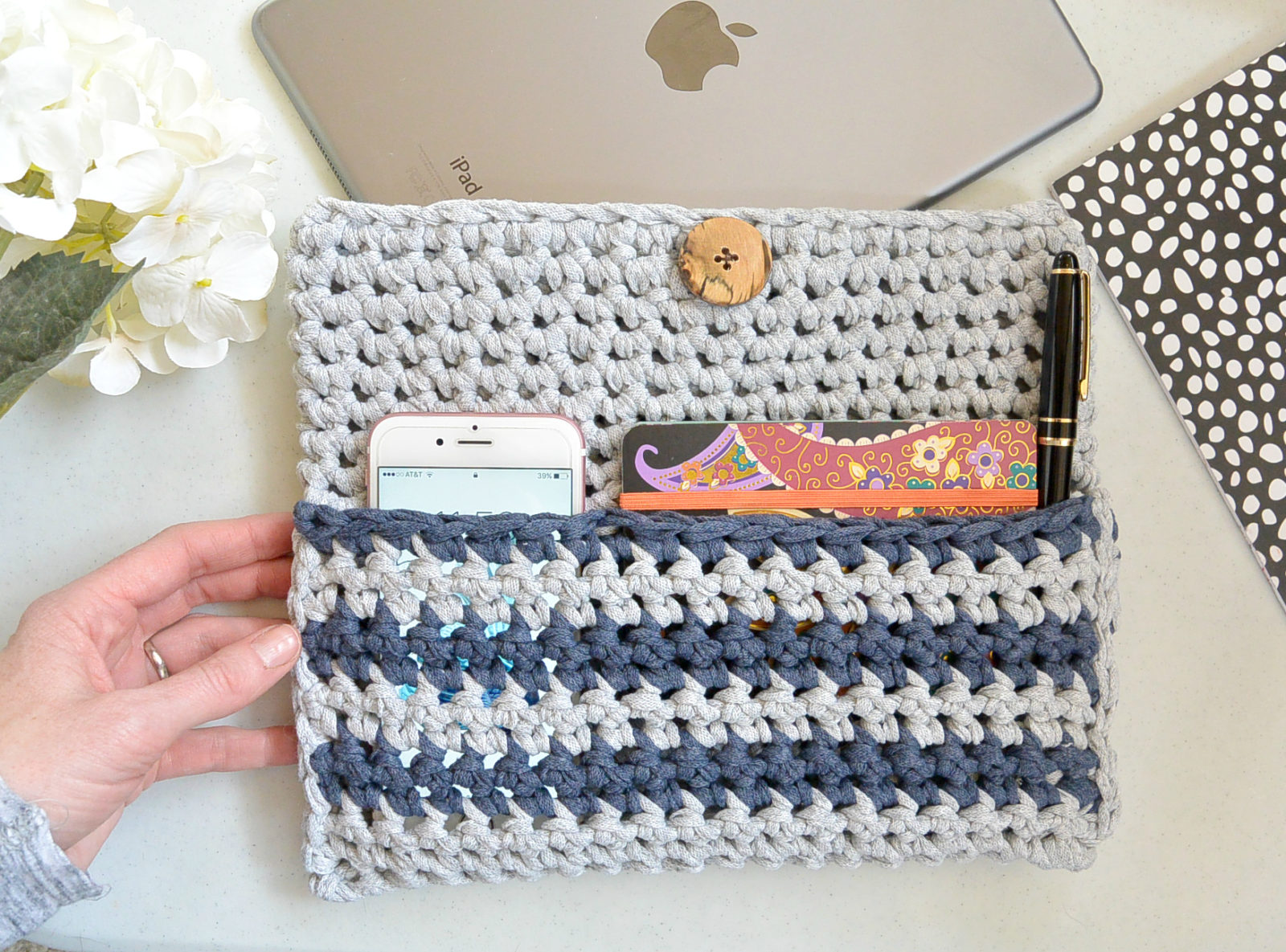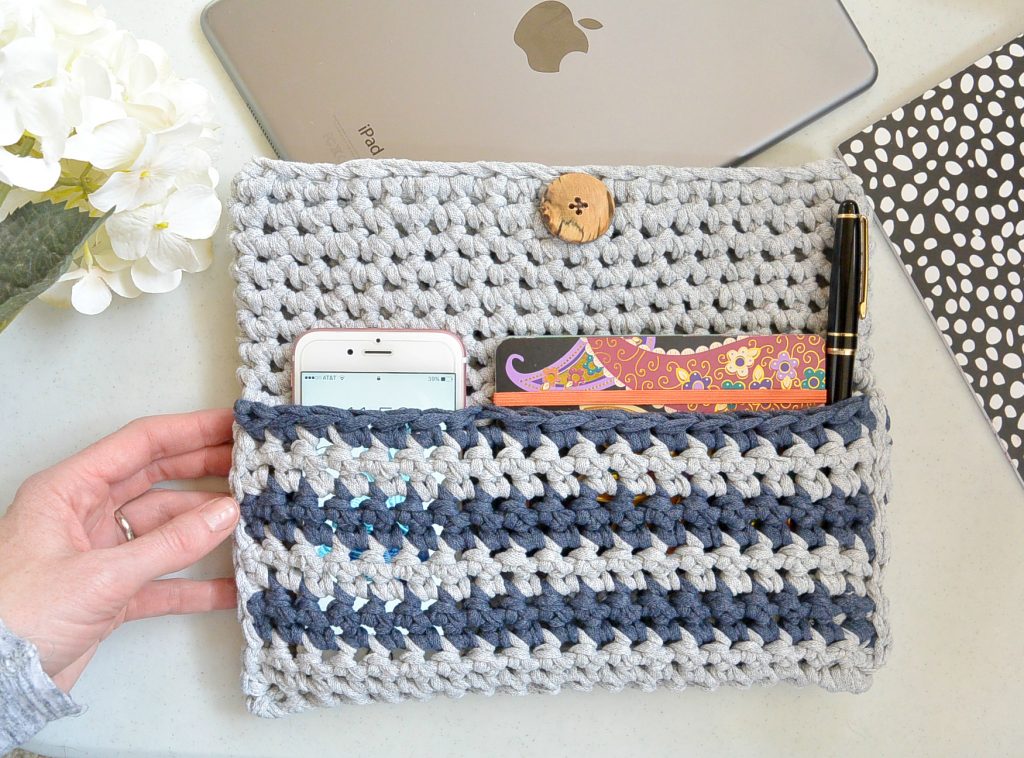 I've also made a video of how I made this handy, dandy little case! You can check it out here: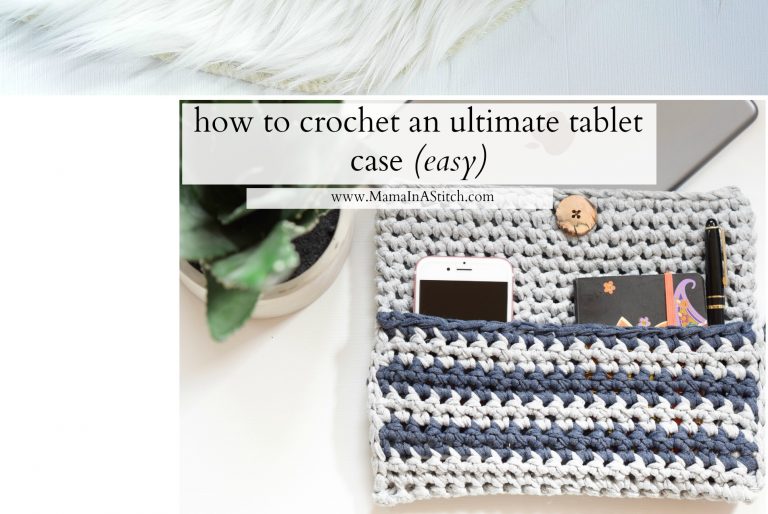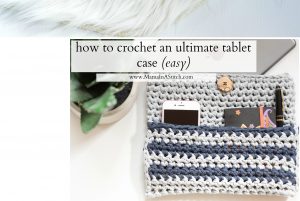 You will need:
Size 9mm crochet hook
1 1″inch button (or a button that fits through your stitches snuggly)
1 Skein Lion Brand Fast Track Yarn 227 g and 149 yards/skein ( This I Pad case uses 194 grams of yarn ) Note: you will need two skeins if you want to make stripes as pictured
Scissors
Tapestry Needle to weave in ends
Needle and thread to sew on button
How to Crochet An I Pad Case:
Make a chain 2 x's times as long as the length of your tablet. My I-Pad is just over 9″ inches long, so my chain worked out to be 40 stitches.
Join to crochet in the round ( be careful not to twist your chain )
Single crochet in continuous rounds until your piece measures approximately 2″ inches wider than your tablet. My I Pad is about 6.5″ inches wide, so I crocheted until my case measured 8.5″ inches tall.
Lay your piece flat, and begin to crochet the pocket flap by crocheting along half of the length of the bag. Single crochet in rows. ( See the photo below)
Continue crocheting until your flap measures approximately 5″ inches long.
Fold the flap over the bag and seam up each side with a slip stitch seam or a simple whip stitch using your tapestry needle and a length of yarn. This will be your pocket!
Place a button in the center, top interior of the bag. Make sure that the button will fit through your stitches. You want a tight fit, but not so tight that you can't get the button through the stitch! Attach the button by hand sewing with a needle and thread.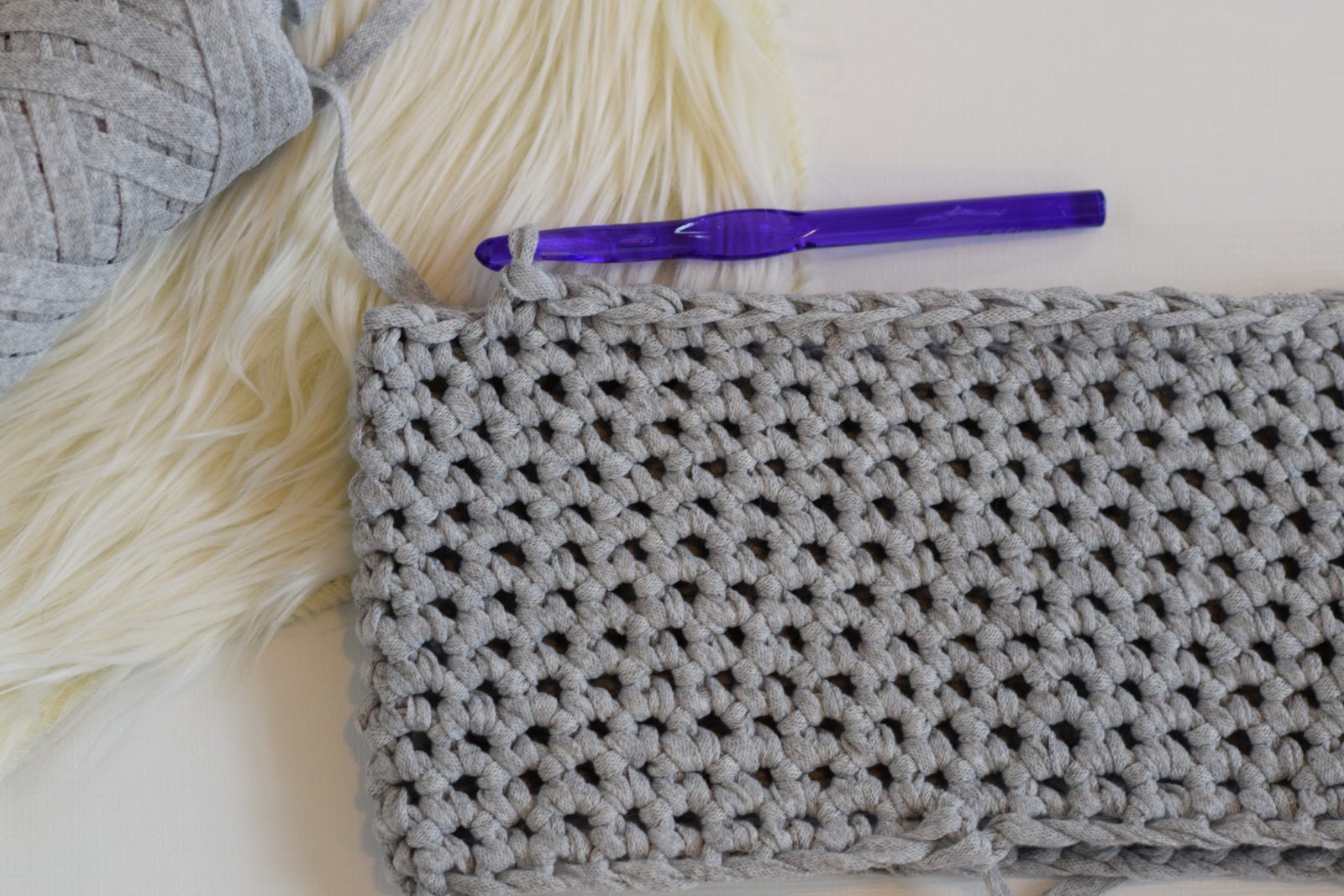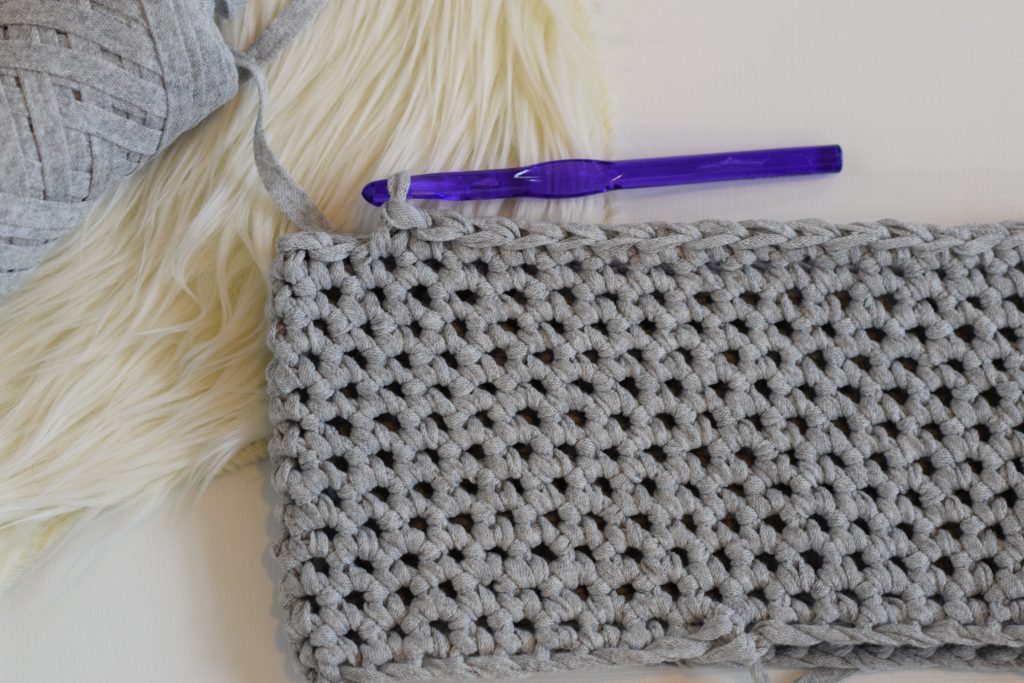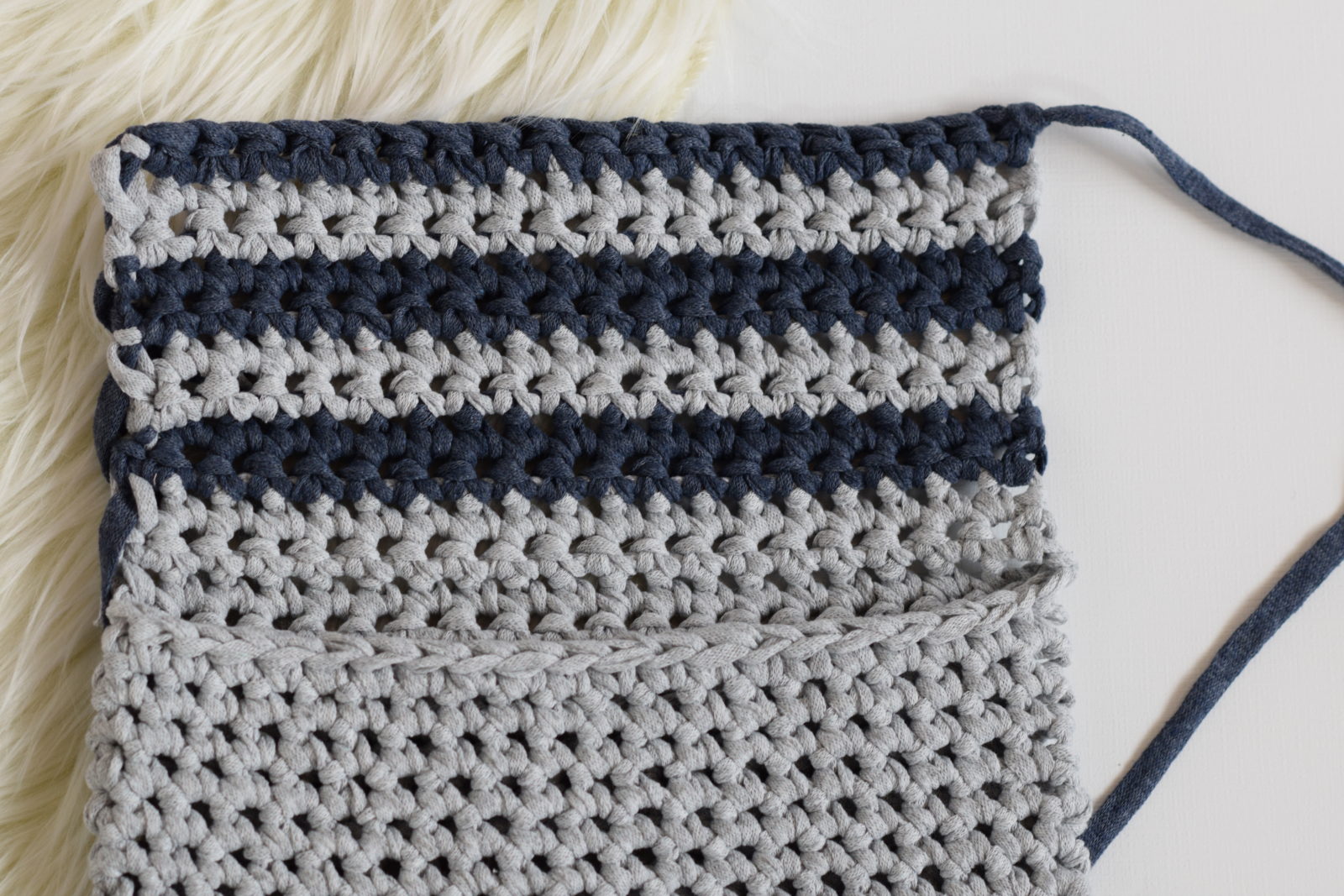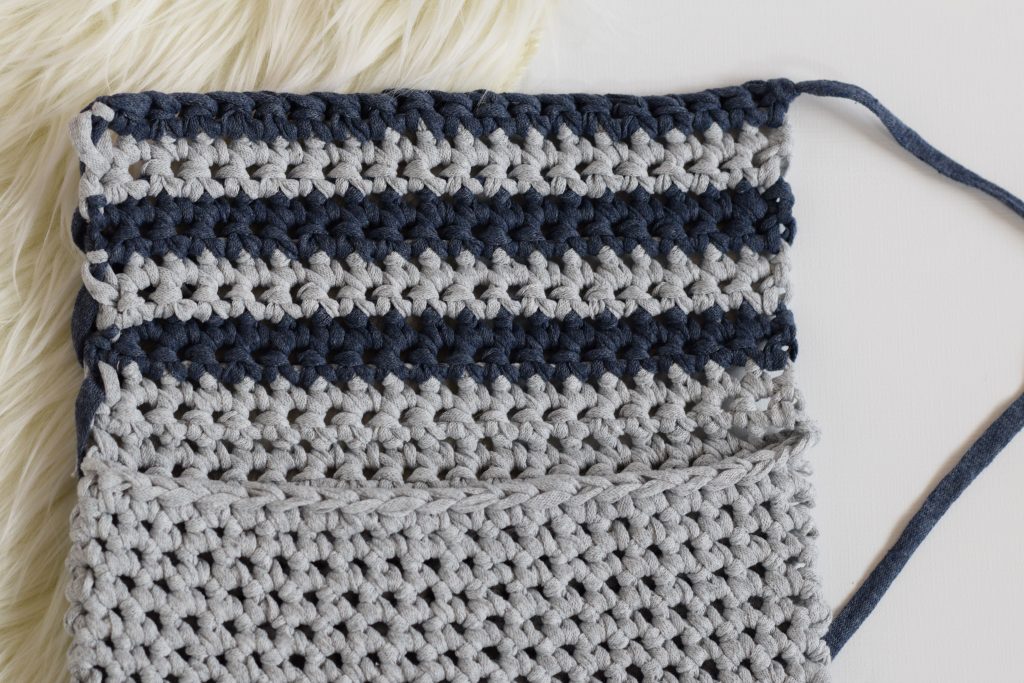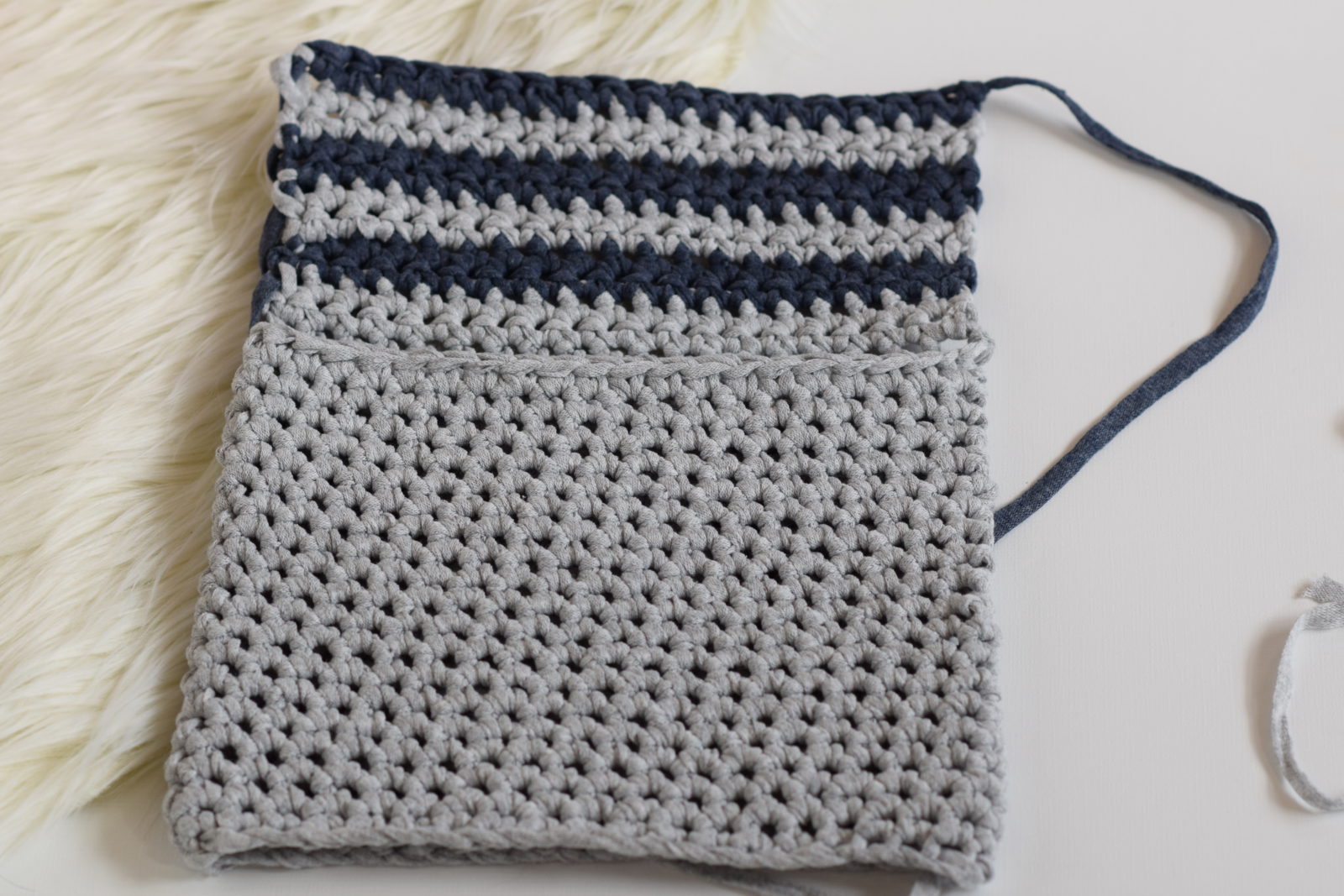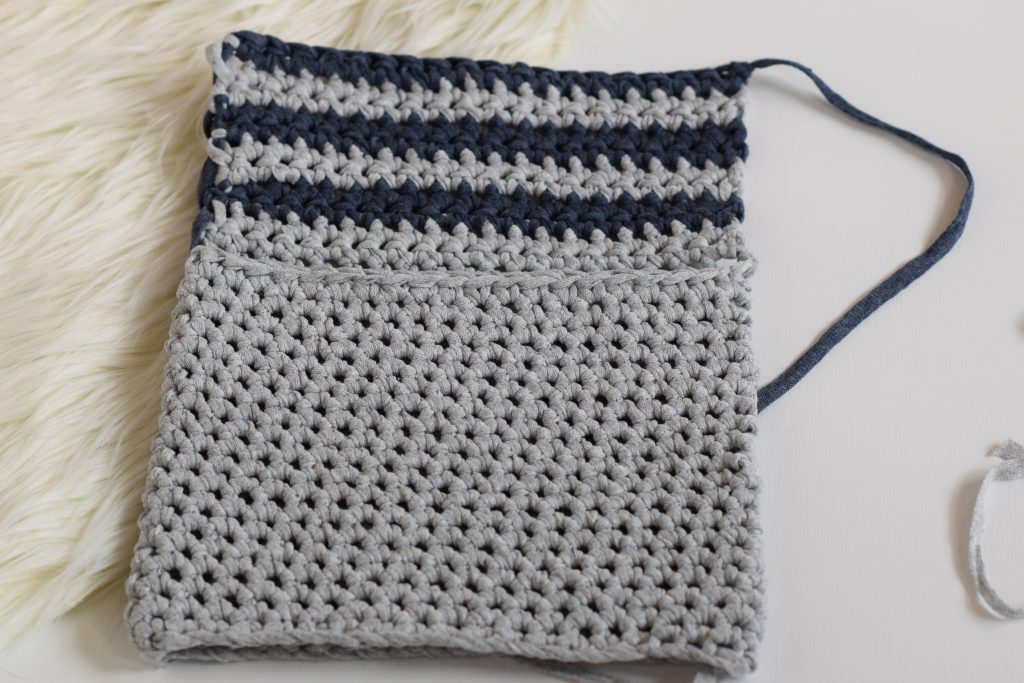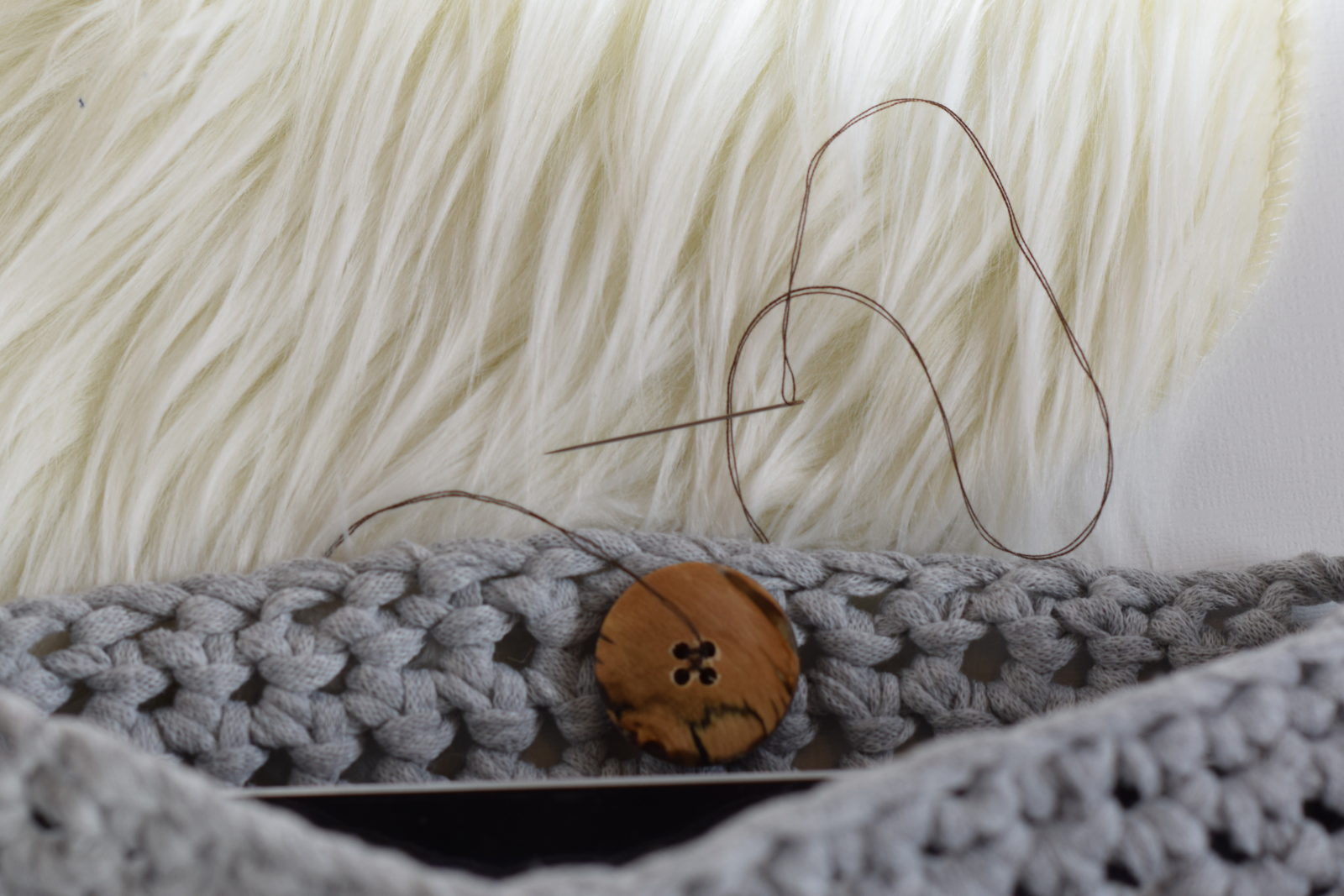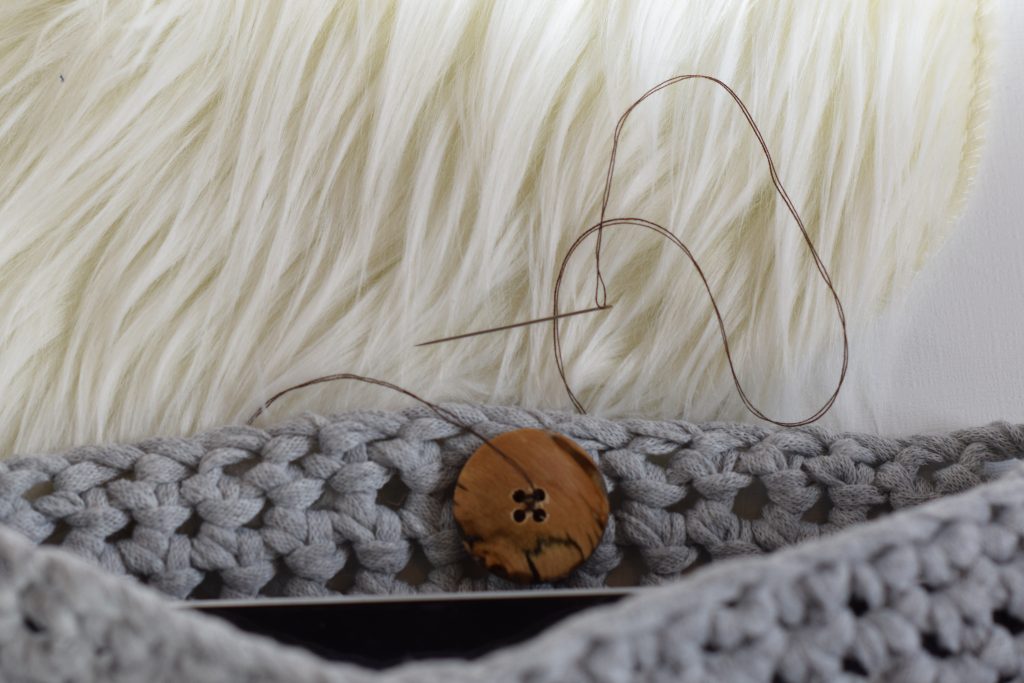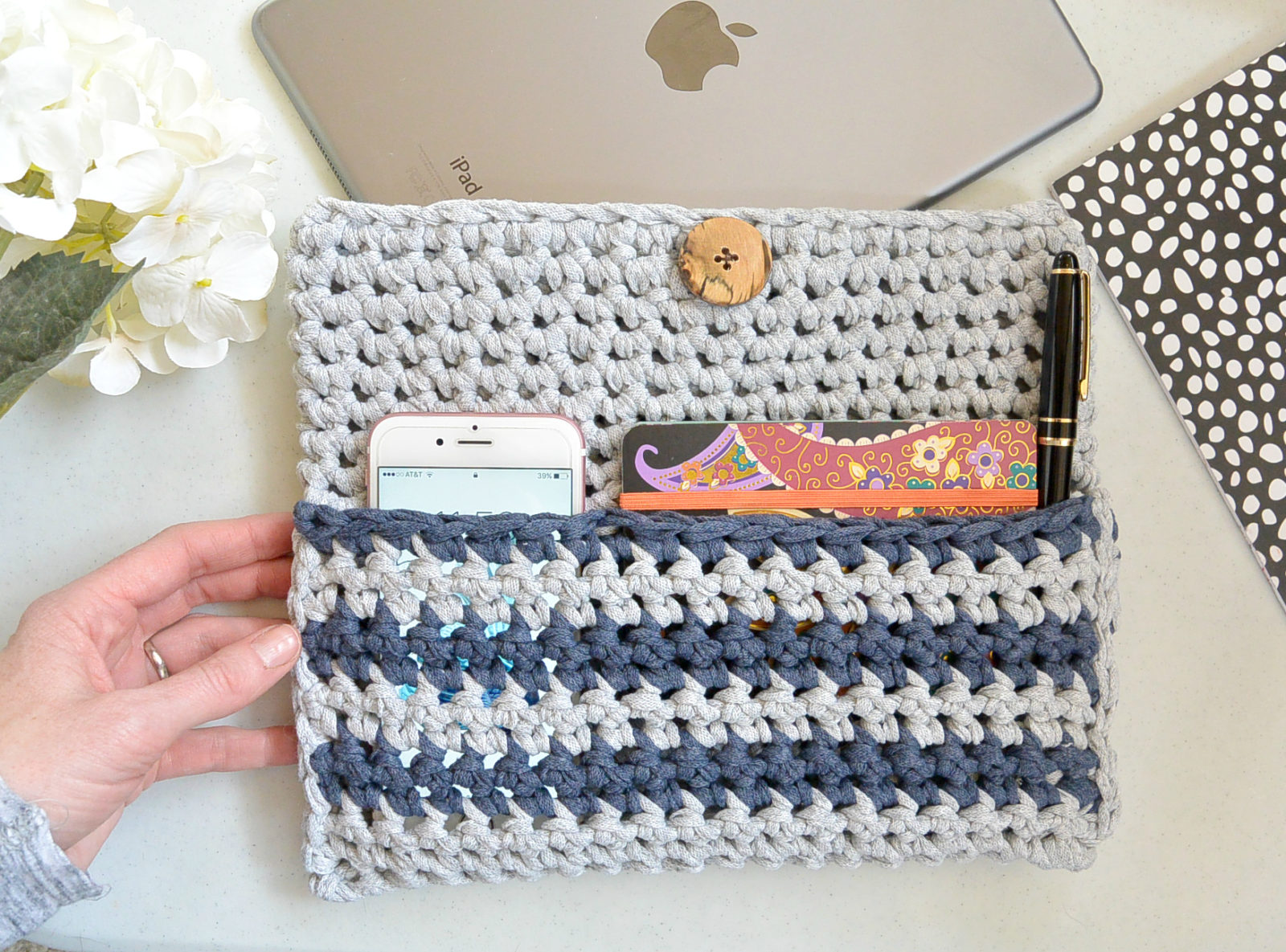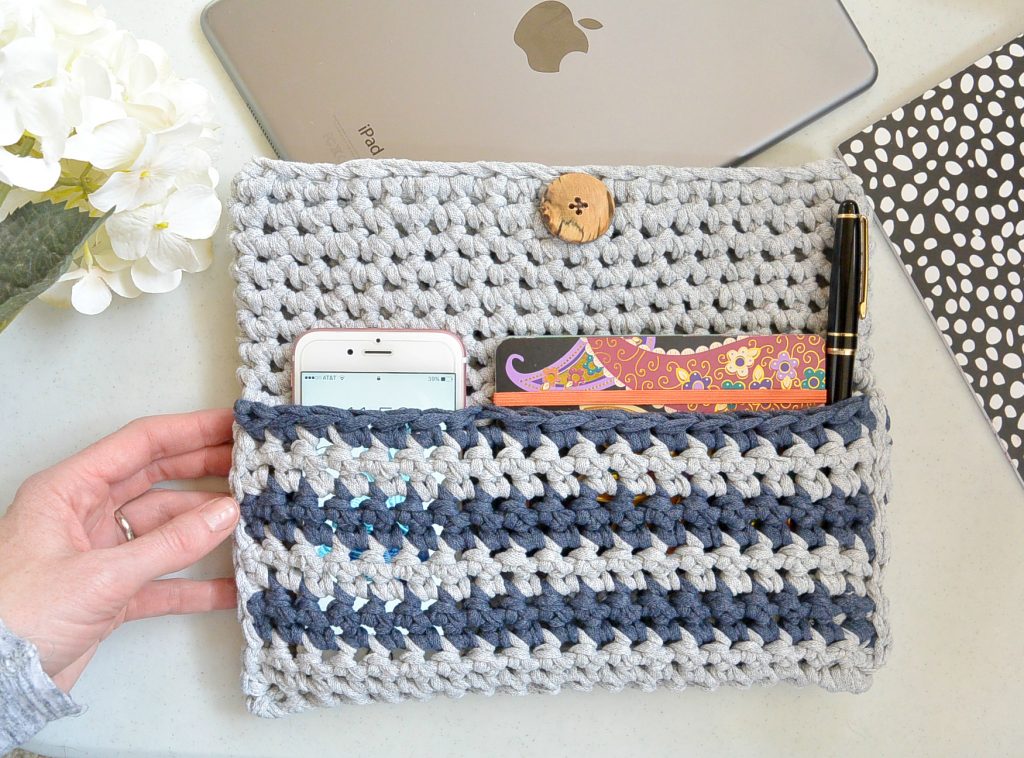 I simply made a straight stitch, tied it and then wove in the ends to make the separate pocket for my phone. It worked out well! Can you see that little grey stitch between the phone and my notepad?
Maybe this pouch will even keep me more organized! Now that would be nice!

Hopefully this case will prevent any more damage to my I Pad (or yours) 😉 !
Happy crocheting my friends!
XO
Jessica
Thank you to Lion Brand Yarn for providing the sample of yarn for this project!