Remember when I talked about the fact that I was driving and knitting on the way to Santa Fe, New Mexico? Yes it sounds really scary and dangerous but actually the hubs was driving, and I was knitting so it wasn't careless knitting or anything. 😉 THIS is what was on my needles and isn't the yarn incredible? I am in love with this Gold Leaf yarn! The clutch is an easy knit and it works up pretty quickly with a combo of the bamboo stitch and stockinette. If you've never tried the bamboo stitch, YOU MUST TRY IT. I've even included a little bamboo stitch picture tutorial below, but there are a lot of great YouTube tutorials on how to do it as well. It's so simple and creates a whole new look and texture if you're used to just basic knit and purl stitches. I'm already imagining all of the projects that would look great with this stitch if only I had the time. 😉 And once again, I'm so honored and thrilled that Lion Brand has made a kit with this pattern that is on sale for a limited time HERE! It includes all of the yarn needed to make the clutch and a hard copy of the pattern. (If you've followed my blog for a while, you know it is taking all that I have to refrain from placing too many exclamation points at the end of the sentence when I mention that this is now a kit. It is such a complete honor, and I have you to thank for your support.)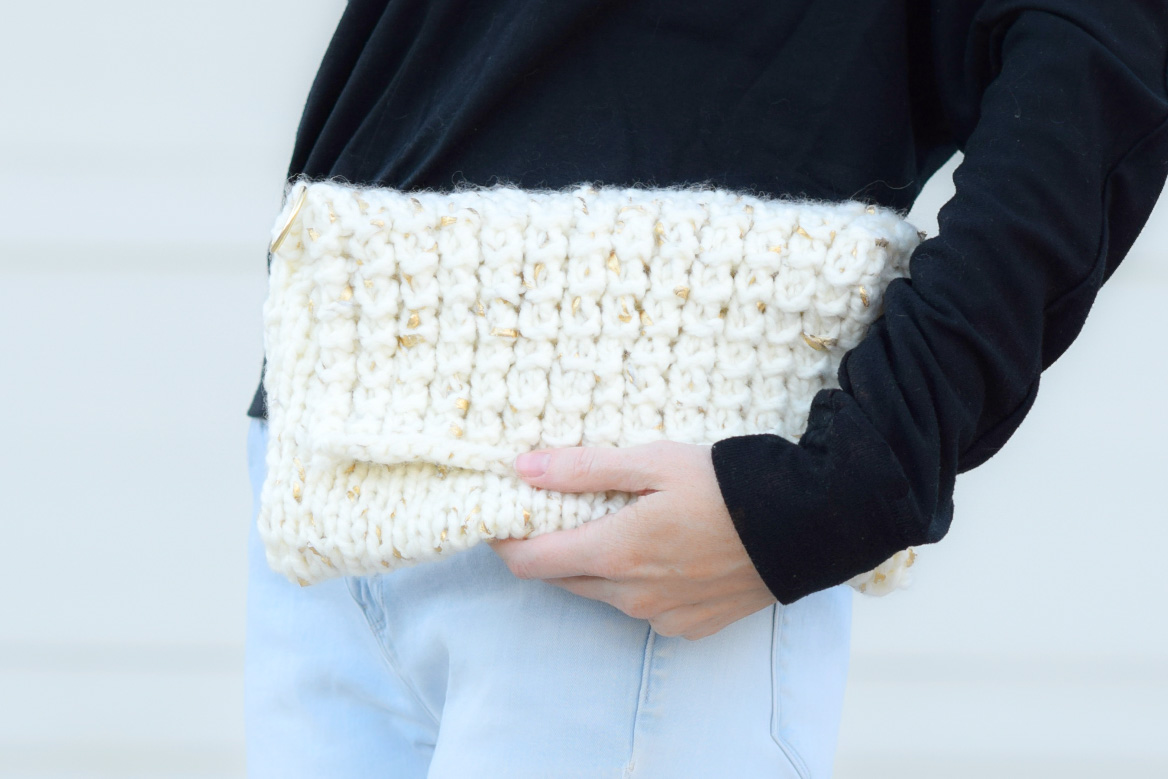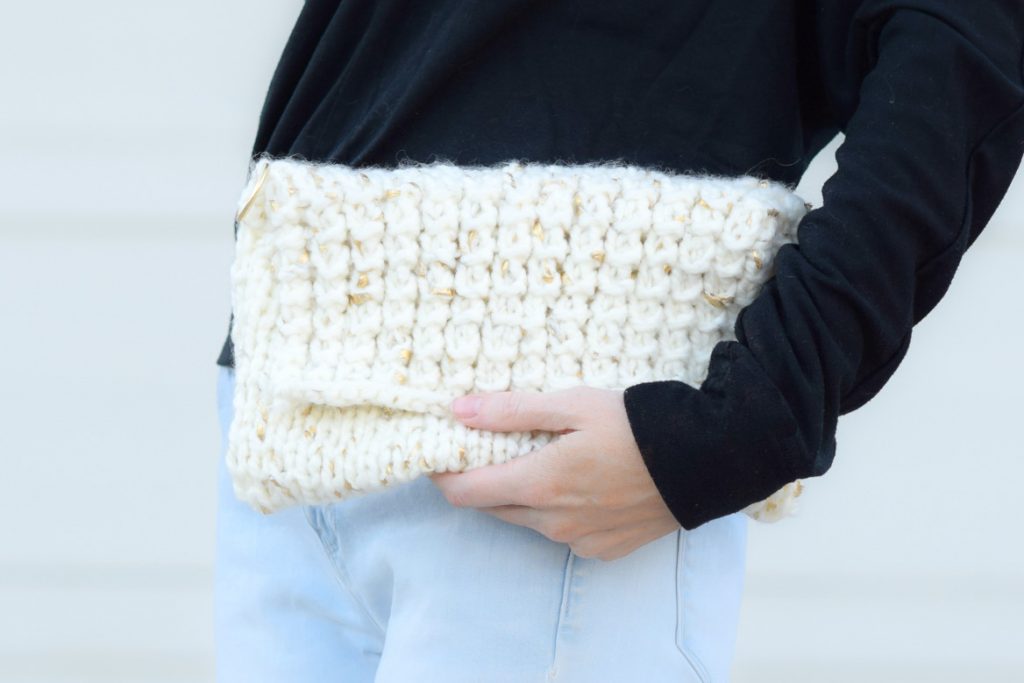 With the shimmering gold and the soft white, I think this clutch is sophisticated enough for evening use but not overly dressy for daytime use. I included a lining and zipper in my bag, but you can knit it and use it just as a catchall without the lining and zipper. I named it "The Soho" because I think it would be a lot of fun to tote around the neighborhood of Soho in New York City. Well, it would be fun to tote around anywhere, but the yarn makes it cool enough to tote around in even the coolest of places. Right?
I know I probably talk about texture too much, but I can't help but love the look of the bamboo stitch flap. Isn't it lovely?
Scroll down for the free pattern below, or you may choose to purchase an inexpensive, advertisement free printable PDF copy from my Etsy shop HERE which includes the picture stitch tutorial that you see below.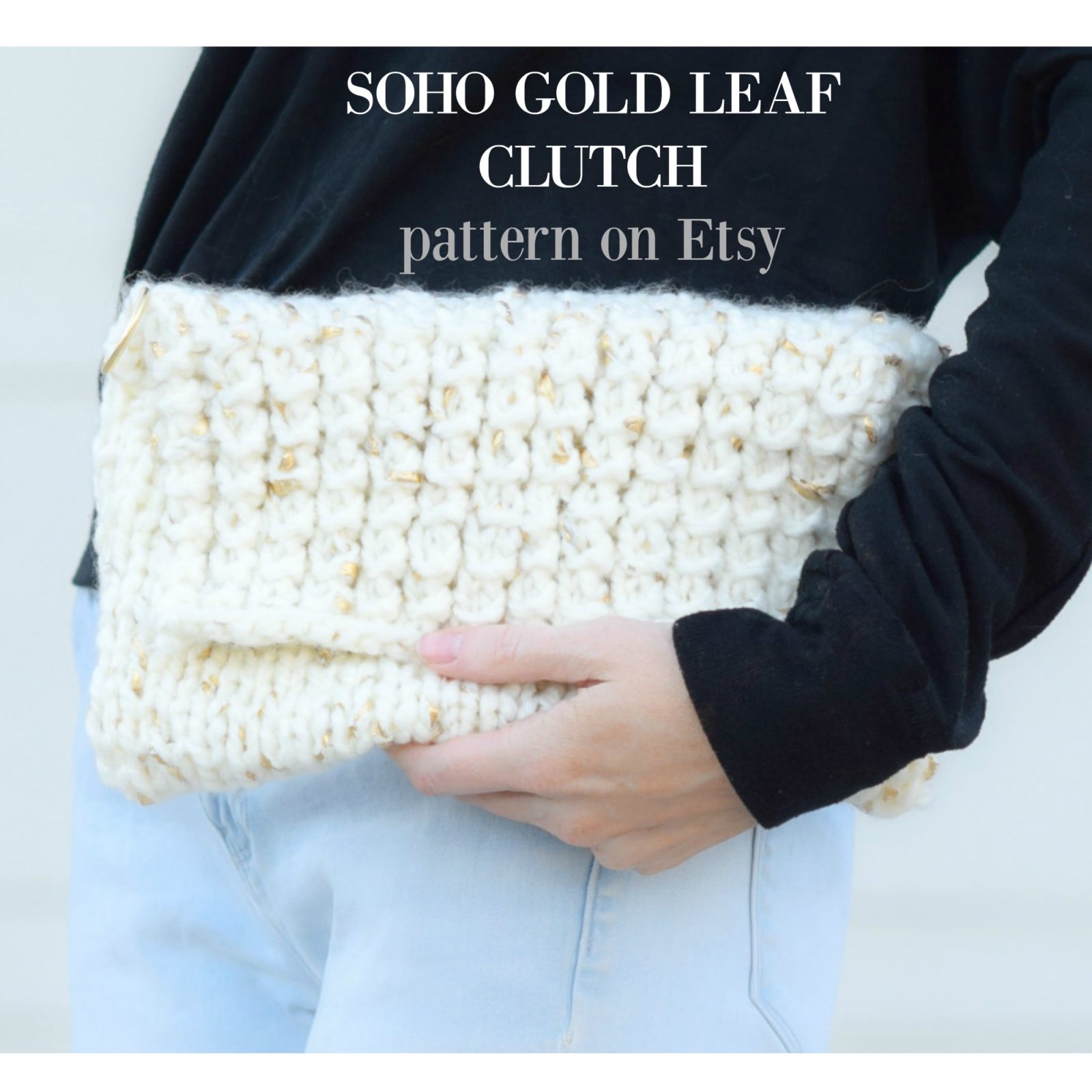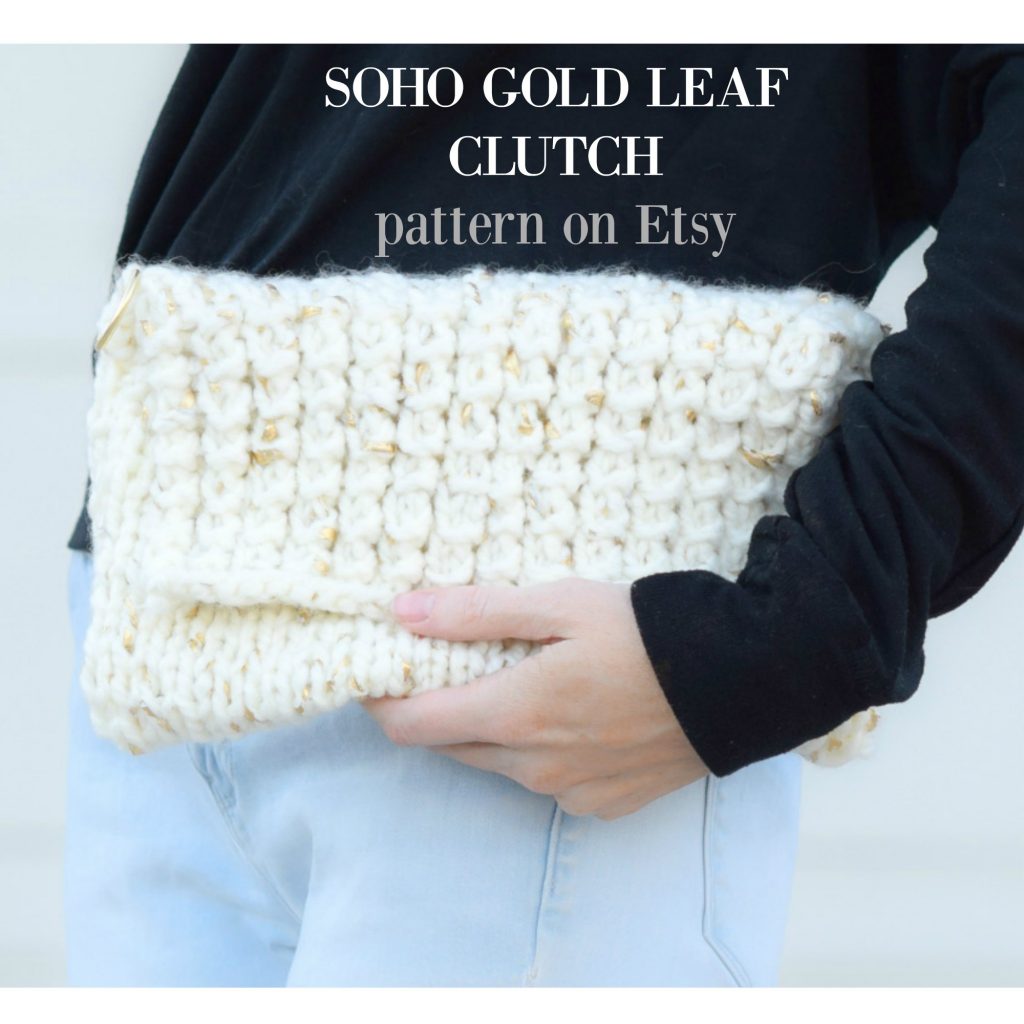 Explanation:
An elegant and simple knit "gold leaf" clutch perfect for day or evening use. Eye catching, varied textures are created by knitting the bamboo stitch and stockinette stitch. Knit in one piece and seamed up the sides, this makes a great project for a new knitter who is comfortable with knitting and purling and wants to improve their skills or a seasoned knitter that would like a simple project.
Size:
Approximately 8.25" wide at top and 10.5" inches wide at bottom once finished and seamed. Approximately 6.5" inches tall from top of clutch (where zipper would be placed) to bottom of clutch. The width changes due to the stitches used which makes the bag slightly larger at the bottom than the top.
Notes:
*Gauge is not important in this pattern, but the size of your clutch will vary if gauge is different. Note: adjust size of zipper and lining for your particular clutch size.
Bamboo Stitch Gauge (approx.): Just over 3 stitches per inch and just under 3 rows per inch
Stockinette Gauge (approx.): Just over 2.5 stitches per inch and 3.5 rows per inch
You will need:
US Size 10 6.0 mm knitting needles
2 Skeins of Lion Brand Gold Leaf Yarn Super Bulky Yarn (49 yards/skein – uses approximately 77 yards) ** You may purchase the Full Kit from Lion Brand which includes the pattern and yarn HERE
Tapestry needle to weave in ends
Scissors
Optional:
Zipper- size will vary according to the width of the top of your clutch as gauge may vary (pictured is a 7" inch zipper)
Gold d-ring for decorative purposes
Fabric for lining
Needle and thread to sew in liner and zipper
Skills:
Cast On
Knit
Purl
Decrease – Knit three together
Yarn Over
Pass stitch over (this is part of the bamboo stitch used in the pattern)
Abbreviations:
k – knit
p – purl
k3tog – knit three together
yo – yarn over
RS – right side
st -stitch
Notes:
You will begin knitting the top flap in the bamboo stitch (photo tutorial of the bamboo stitch included below and there are great tutorials about this stitch that you can view on YouTube). The clutch is knit from the top down in one piece and then seamed up with sides. After making several rows of the simple bamboo stitch for the flap closure you will then work stockinette for the body of the bag. The final row of the pattern includes a decrease. The right side is the knit side in this pattern.
Pattern:
Cast on 28 stitches
Row 1 Knit across row
Begin with the bamboo stitch as written below (see picture tutorial below if needed)
Row 2 *YO, k2, pass first stitch over the two knit stitches. Repeat from *across
Row 3 Purl all stitches across row
Repeat rows 2 & 3 until piece measure approximately 4" inches long, ending with the wrong side which is the purl side
Begin stockinette portion of bag
Next row (RS), knit across row
Next row, purl across row
Repeat this pattern alternating one row of knit stitches and one row of purl stitches in order to create the stockinette stitch pattern.
Work this stockinette stitch pattern for approximately 13" inches ending with a purl row
(Total length of piece including bamboo stitch portion and stockinette portion should be approximately 17" long at this point)
Next – Decrease row
Once you've knit 13" inches of stockinette stitch, you will decrease before casting off.
Decrease row – k3tog, knit across row, k3tog at end of row (Knit three stitches together at the beginning and end of this final row (RS). You will have 24 stitches left on your needle.)
Knit cast off. Weave in ends.
Assembly
With wrong side facing you, fold bottom portion upward so that the cast off end meets the top of the stockinette portion of bag which is also the bottom of bamboo stitch portion. Cut two lengths of yarn and using your tapestry needle, seam up each side of clutch using the mattress stitch. Tie off weave in ends.
Note: If you plan to add a decorative d-ring or zipper, you might find them easier to add before assembly
That's it!! Enjoy!
Optional
Add a lining, zipper and/or D-ring.
Tips:
Lining – cut piece of fabric 1" inch wider than top of upper clutch opening and two times as tall as your clutch. Begin by folding down upper edges of lining ½" inch down on wrong side and sew/seam to make top edges. Next, fold piece in half with wrong side out, and sew down each side with a ½" inch seam. Insert into clutch and hand sew to attach along top of the liner.
Zipper – Unzip the zipper in order to hand sew into clutch. You may find it easier to hand stitch the zipper into the clutch by turning the clutch inside out. The first side can be hand stitched inside out, then turn right side out to hand sew the final side. Use a simple whip stitch or your preferred method.
D- ring – with a length of yarn and your tapestry needle, attach the d-ring to upper side of clutch and knot to secure. Work yarn around the d ring several times, working in and out of the fabric and tie off. Weave in ends. You can also knit a small handle which you can tie to the d-ring by casting on 1 or 2 stitches and knitting a "handle" until it reaches your preferred length. Tie to d-ring. Weave in ends.
Bamboo Stitch Picture Tutorial (there are also great YouTube tutorials available on this stitch):
The whole metallic, gold leaf thing seems to be a big trend right now. Do you dig it? 😉 I really like it, especially when it's not too gaudy. This yarn is the perfect balance in my eyes. Glitzy, yet not overly so.
What do you think?
Happy knitting my friends!
XO
Jessica

Thank you to Lion Brand yarn for sponsoring this post! All opinions are 100% my own.