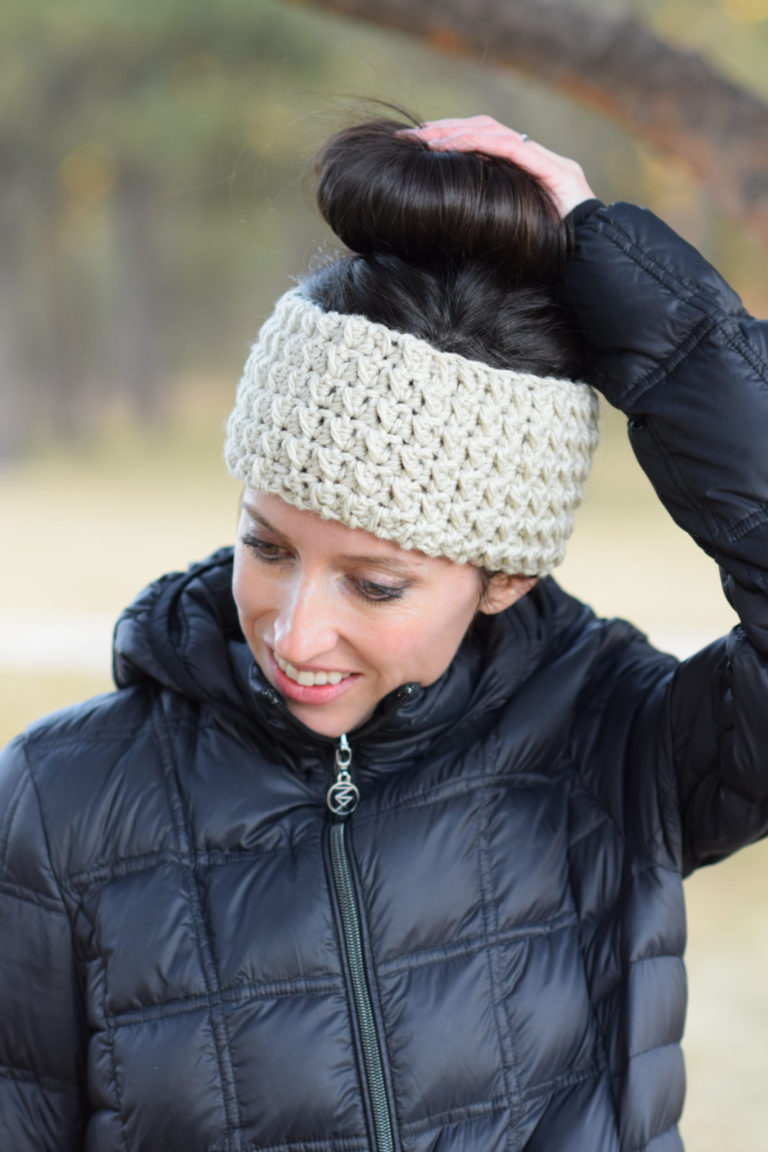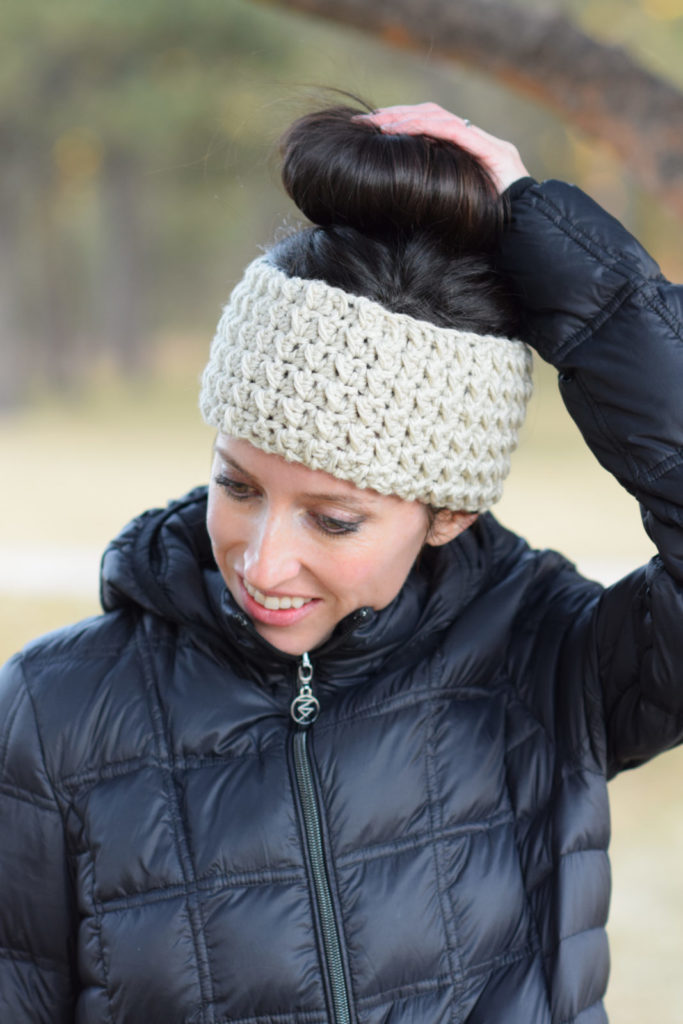 If you haven't already seen one of the hottest trends that's hit the knit and crochet world, let me tell! The messy bun hat, beanie, ear warmer, headband or whatever it is has become the perfect accessory for us gals with pony tails and buns to still keep our head warm. Most of these are actually a hat of sorts that feature a hole at the top through which you can put your pony tail or bun. It is certainly practical and I think my mom told me to make one of these last year. I didn't listen to her advice and once again we're reminded that mom is always right! Ha!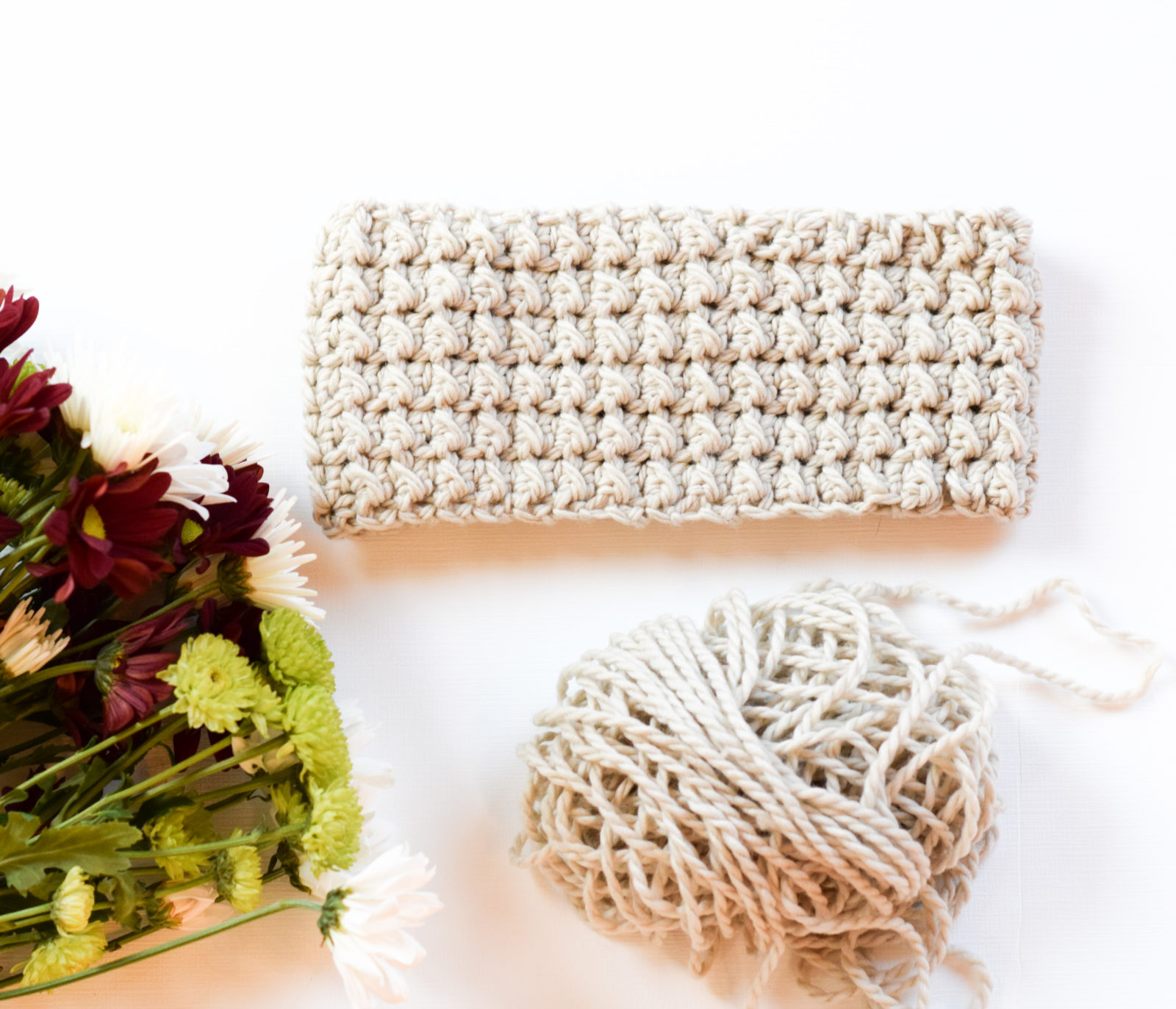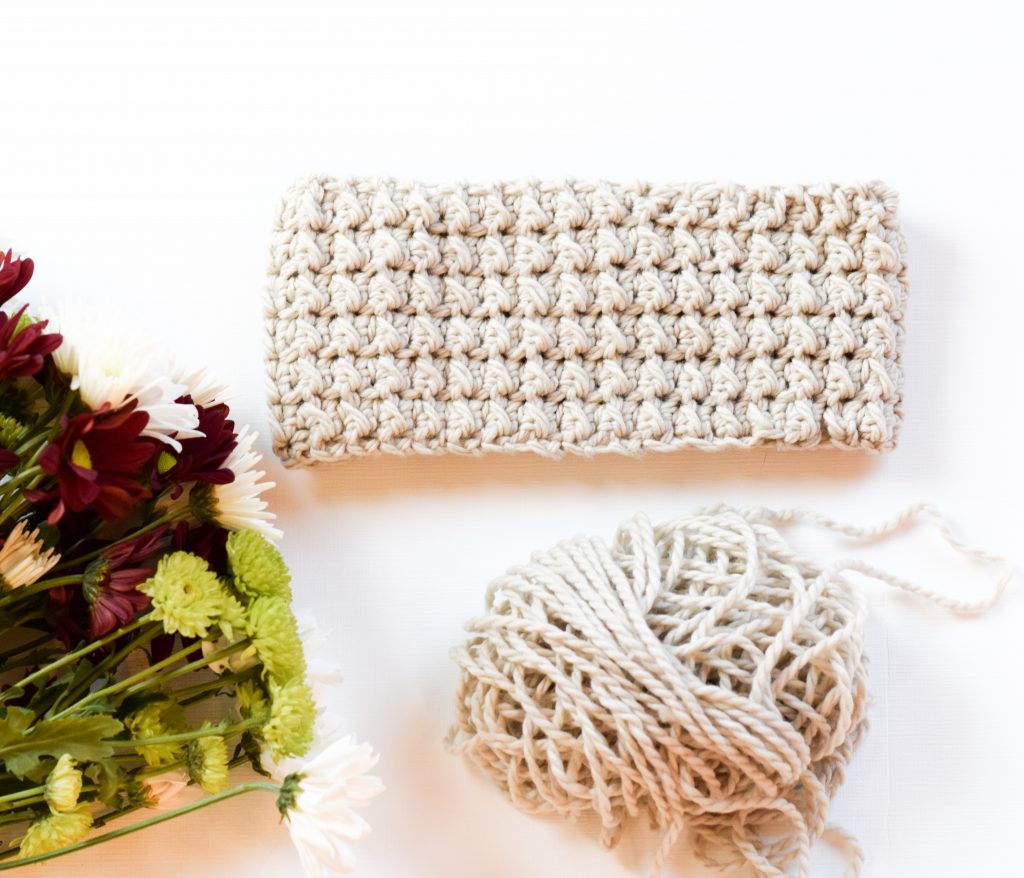 There are quite a lot of opinions on these hats, so if you've seen them (or made one), I'd love to hear your thoughts! I have seen some super cute versions, but I have to admit, I'm not sure that I'm ready to wear one yet. Is that terrible?! I would put one on my daughter in a heartbeat, but I hesitate to make one for myself. I'm not saying that they aren't cute, they definitely are, but I don't know if they'd be cute on ME! Maybe I'm just slow to join certain new trends. When skinny jeans first hit the fashion scene I thought there was no way I'd ever wear such a thing.
SO, today I'm sharing my version of the messy bun hat, which is actually an ear warmer. I finished this up last week but interestingly it serves much of the same purpose as these new hats, so I thought it would make sense to share it today. Especially if you're like me….hesitant to jump feet first into wearing the hat with a hole (a cute hat with a hole)! You may remember a few of my other headbands from the past such as the "Fave Twist Headband" or the "Half Fisherman Rib Headband". I really enjoyed those headbands too, but the purpose of this particular "Messy Bun Ear Warmer" is truly to keep you warm.
A wide, chunky ear warmer that will keep you cozy while wearing a pony tail or bun! Of course, it can be worn with hair down as well and looks super cute as a wide headband. This pattern uses the even moss stitch which is a variety of half double crochet stitches and slip stitches.
Skills Needed:
Chain stitch, slip stitch, half double crochet
You can find a tutorial of this stitch pattern, the even moss stitch, at New Stitch A Day HERE
Scroll down for the free pattern below, or you can purchase an inexpensive, printable, advertisement free PDF copy of this Messy Bun Crochet Warmer Pattern from my Etsy shop HERE
Abbreviations:
ch – chain
hdc – half double crochet
sl st – slip stitch
Size:
Approximately 4" wide X 18" inches long for an adult woman – 17" inches for a child.
(You can easily make it longer or shorter to adjust for head size )
Gauge:
Not important for this pattern
You need:
1 skein of Cascade Yarns 128 Superwash Bulky weight -5 in Feather Grey Color or comparable yarn – I consider this a chunky yarn (Pattern uses 57 grams of yarn)
US Size J 6.0 mm crochet hook
Scissors
Tapestry needle to weave in ends
Pattern:
Ch 14
Row 1 Sl st into second chain from hook, *hdc into next ch, sl st into next chain. Repeat from * to end, turn.
Row 2 Ch 1, sl st into second stitch from hook, *hdc into next stitch, sl st into next stitch. Repeat from * to end, turn.
Repeat row 2 until the headband is as long as you would like or until it's 18" inches in length for an adult woman, 15.5" for 1 – 6 year old, or 17" for a child. (Note: You should be ending with a slip stitch on each row)
Tie off and weave in ends.
Seam both ends together with preferred method. I used a simple slip stitch seam.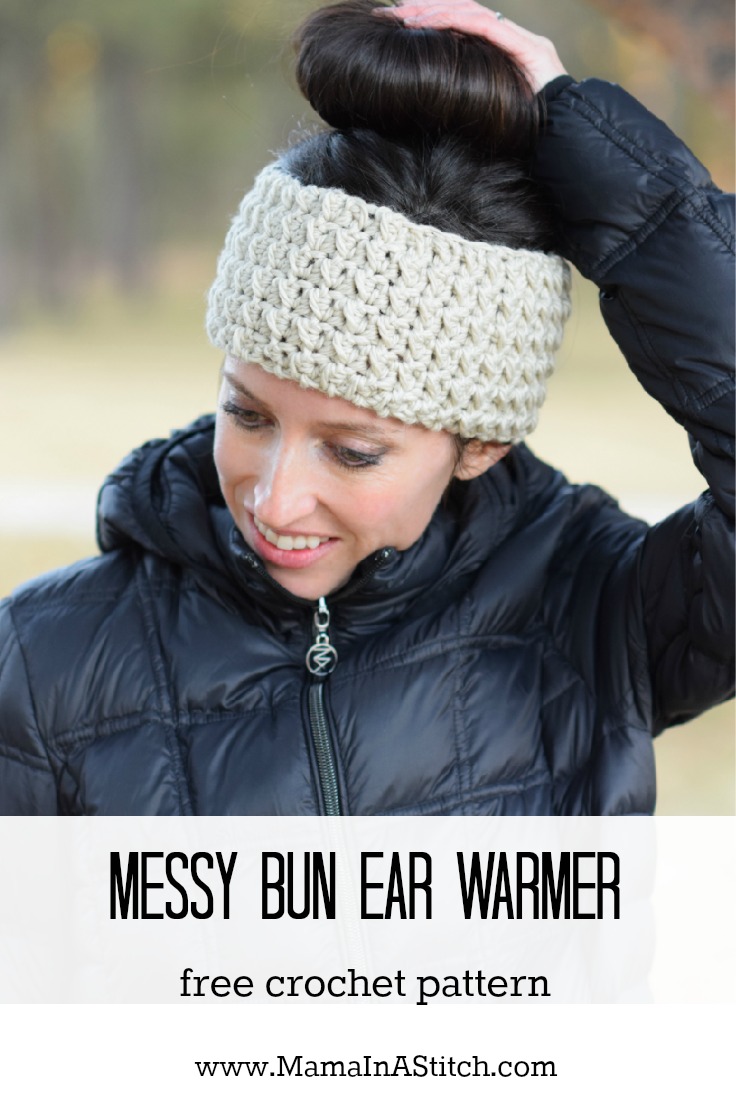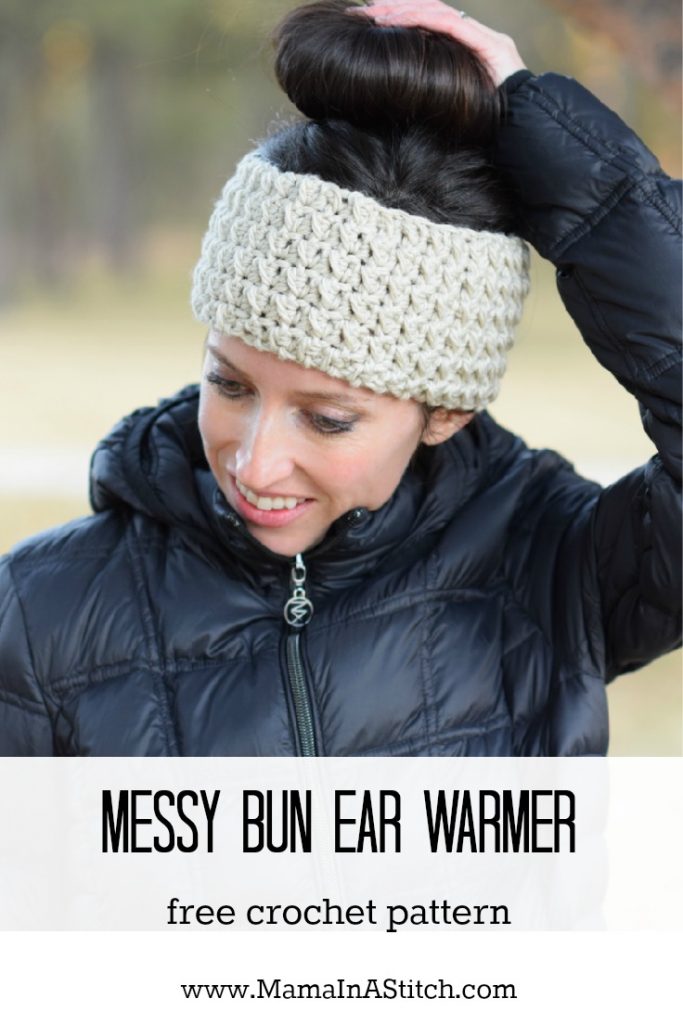 Stay warm and I hope you enjoy your new ear warmer!
I soooooooo want to know what you think of the messy bun hats if you've seen them! Let me know in the comments below.
XO,
Jessica