Lovely Lavender Crochet Sachets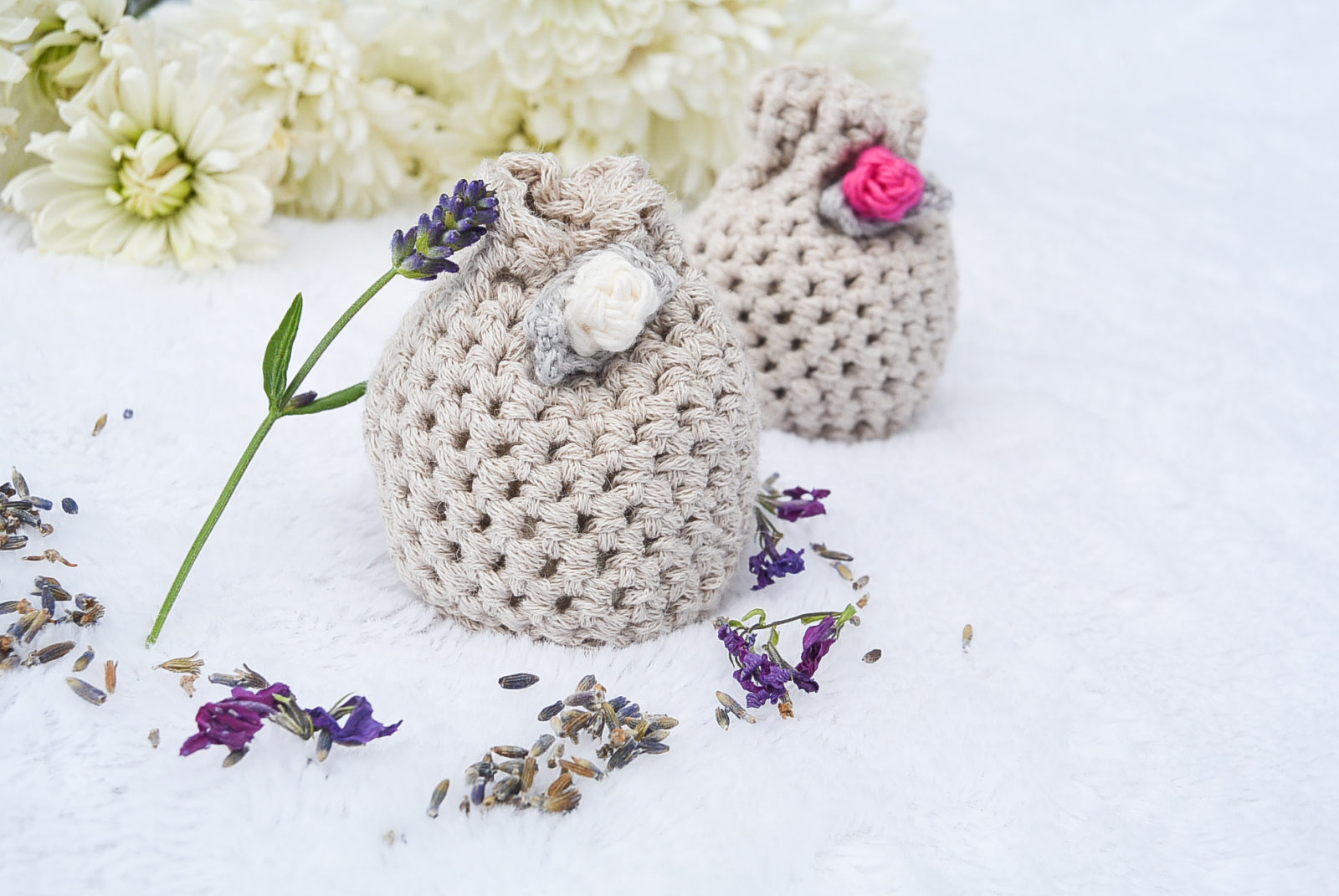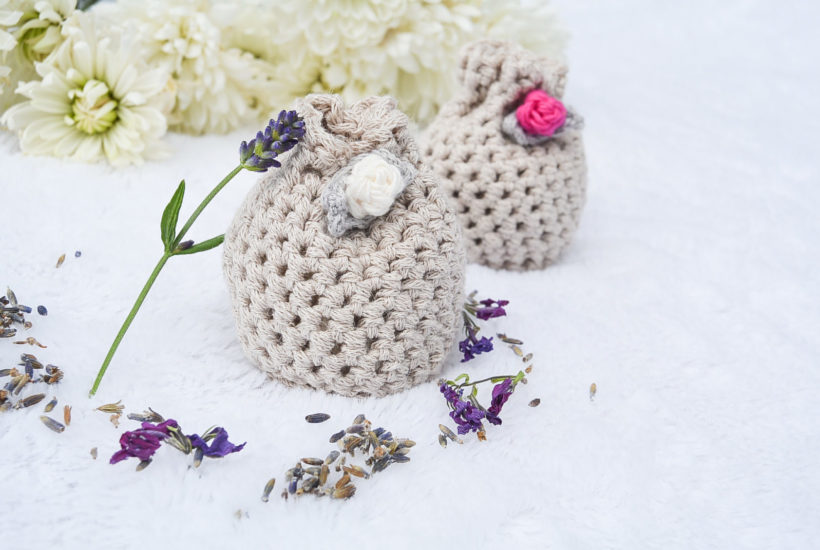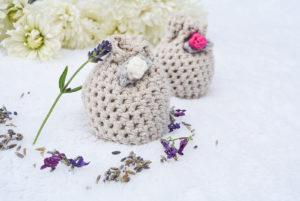 I am so excited because I planted lavender in my little garden this year. The smell of lavender is so clean, calming and pretty to me. These little sachets are filled with lavender flowers, but you could make them with your favorite herb or scent. These special little pouches are going to be included with a wedding gift, but I think they would make a thoughtful thank you gift as well, don't you? I love putting sachets in my drawers and closets, so feel free to gift me a sachet anytime. Maybe I just need to make some for myself. Ha ha! 🙂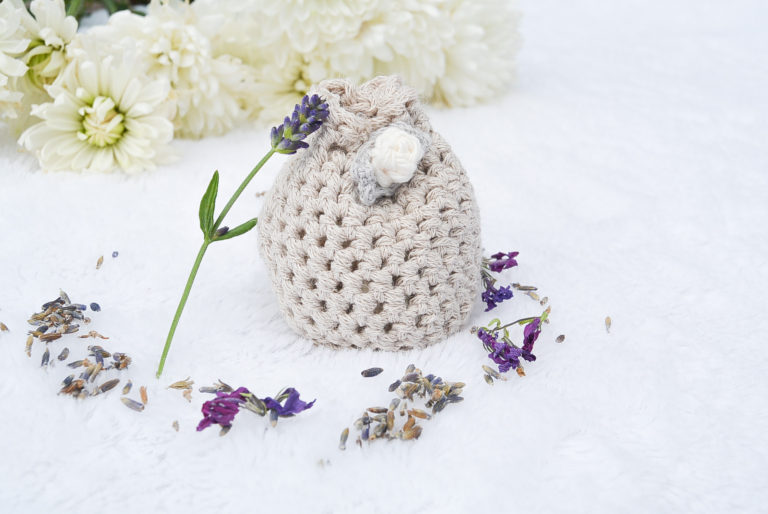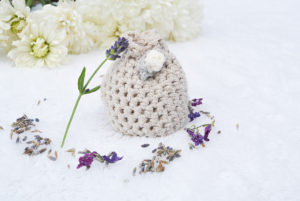 These are made so that you can untie the top, and remove the sachet once the smell runs out. You could put a new sachet in the bag or use the baggie to hold any little things from around the house.
You will need:
Size F Crochet Hook
1 Small bag of dried lavender (find online, or at a natural foods or herb store)
Optional: Lavender essential oil ( I put a couple of drops on the flowers before putting them in the sachet. It makes the smell stronger, and last longer)
Small amount of muslin or cotton fabric OR little cotton goodie bags from your local party store
Worsted weight yarn for the pouch ( I used Berroco Cotton/Alpaca yarn )
For the roses –
Small amount worsted weight yarn in contrast colors
I used Lily Sugar N Cream for the buds, and Lion Brand Modern Baby for the Grey "greenery" underneath
See my post HERE for how to make the roses
Notes:
These little bags are made from the bottom up. The bottom is simply crocheted in the round. If you've never crocheted in the round, I suggest you check out YouTube and see how easy it is. They work up really fast, and are a wonderful little project to use up your scrap yarn.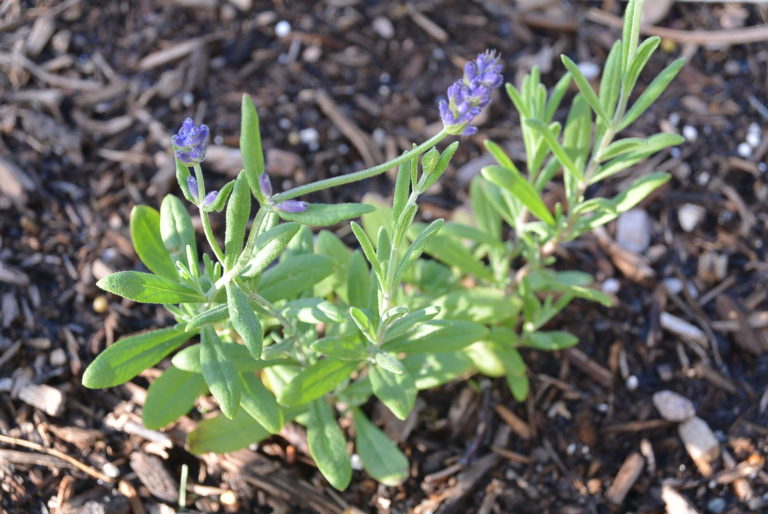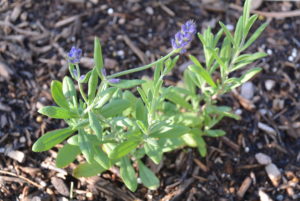 How to Make the Sachet Pouch"Pattern":
With your size F hook, Chain 2
Round 1 Single crochet 6 times in second chain from hook
Round 2 Single crochet 12 times around (2 sc in each sc around)
Round 3 *2 sc in first sc, 1 sc in next sc * Repeat from * to * around (18 stitches around)
Round 4 *2 sc in first sc, 1 sc in next sc, 1 sc in next sc, 2 sc in next sc* Repeat from * to * around (24 stitches around)
Starting the sides:
Round 1 Single crochet in back loop around (24 sc) (This will create the sides)
Round 2- end Single crochet around (no longer in back loop) until height of bag reaches approximately 3 inches.
Tie off, weave in all ends.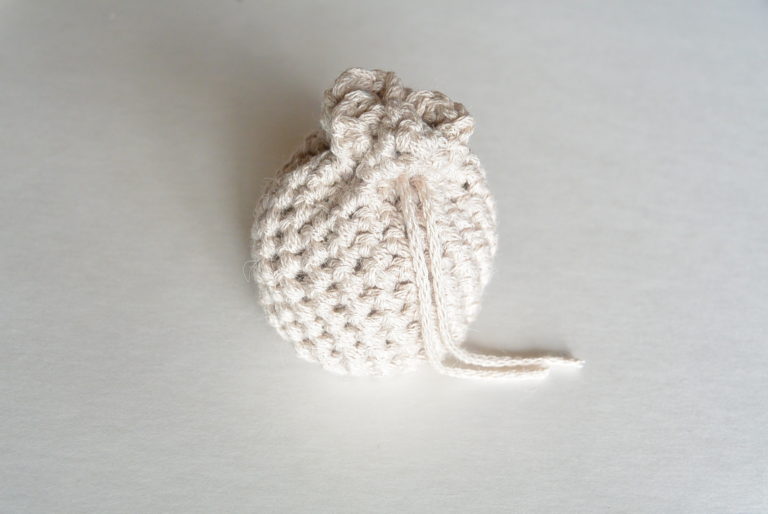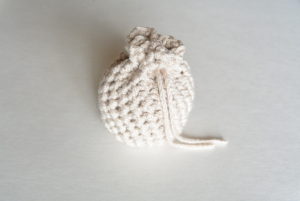 Making tie on top:
Take a length of yarn about 8 inches long, and place it through your tapestry needle.
Weave tapestry needle in and out of crochet holes, two stitches down from the top. Put through the bottom of the rose once you reach the point where you will tie it off. Pull the length of yarn, and tie in a loose knot. Tuck the ends in to the top of the bag. You can also choose to simply tie the rose on by itself, which is the easier option. Tie the bag however you would like, it may even be cute with a bow tie. Don't forget to put your sachet insert inside! See below how to make that….
Make the sachet insert: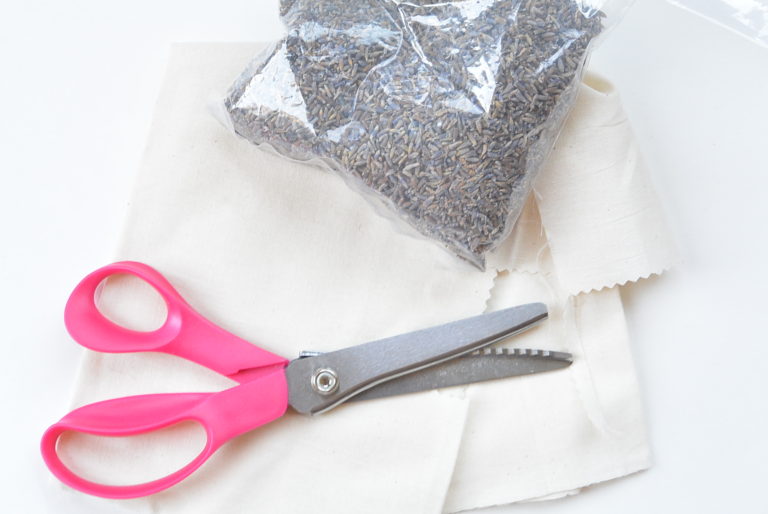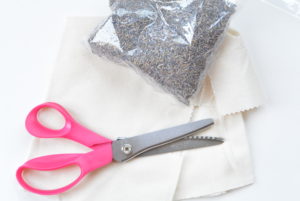 I had the idea of buying little cotton goodie bags that I have seen for sale in order to avoid sewing. So if you don't sew, you can still make these. My machine is all set up, so I decided to just sew some little sachets. Here is how:
Cut two pieces of cotton fabric into 4×4 inch squares
Line up the squares, sew three sides
Fill bag with lavender, and sew fourth side closed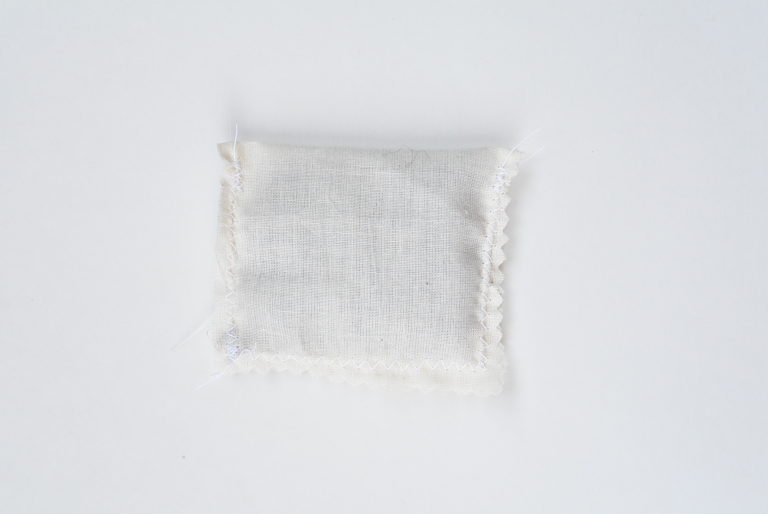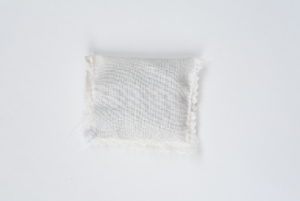 Place your lavender insert into the pouch and tie off. You might want to make it look fuller, so could put some little cut strands of fabric to "fill" the bag.
I hope you enjoy making, and gifting your sachets. Do you use sachets, and what is your favorite scent?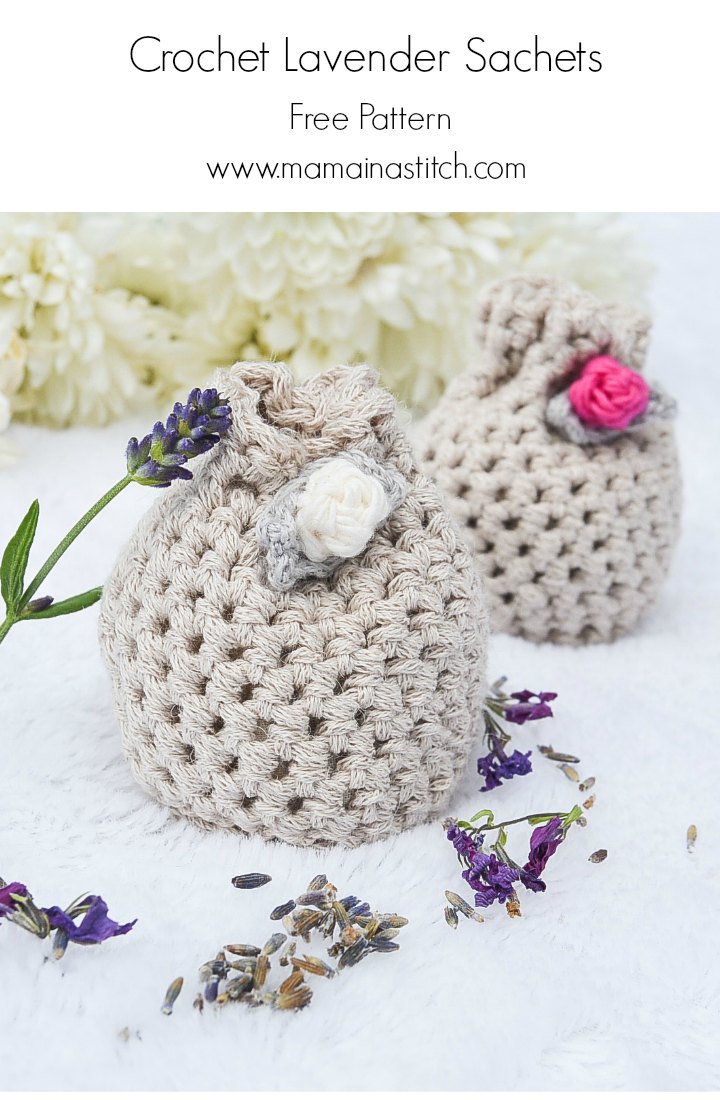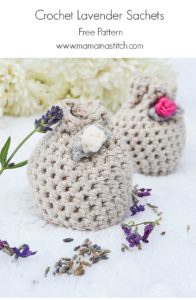 If you liked this, feel free to subscribe to my newsletter by entering your email address or follow me on Facebook or Instagram. You can check out all of my always free patterns and ideas here on the blog. I love hearing from you!
-Jessica