This Alpine Vest Tee is SUPER easy and turned out even cuter than I expected! You can knit it up in just a few hours. Read more about it below and check out the free pattern, or you may choose to purchase the ad-free printable version from my Etsy shop HERE. 🙂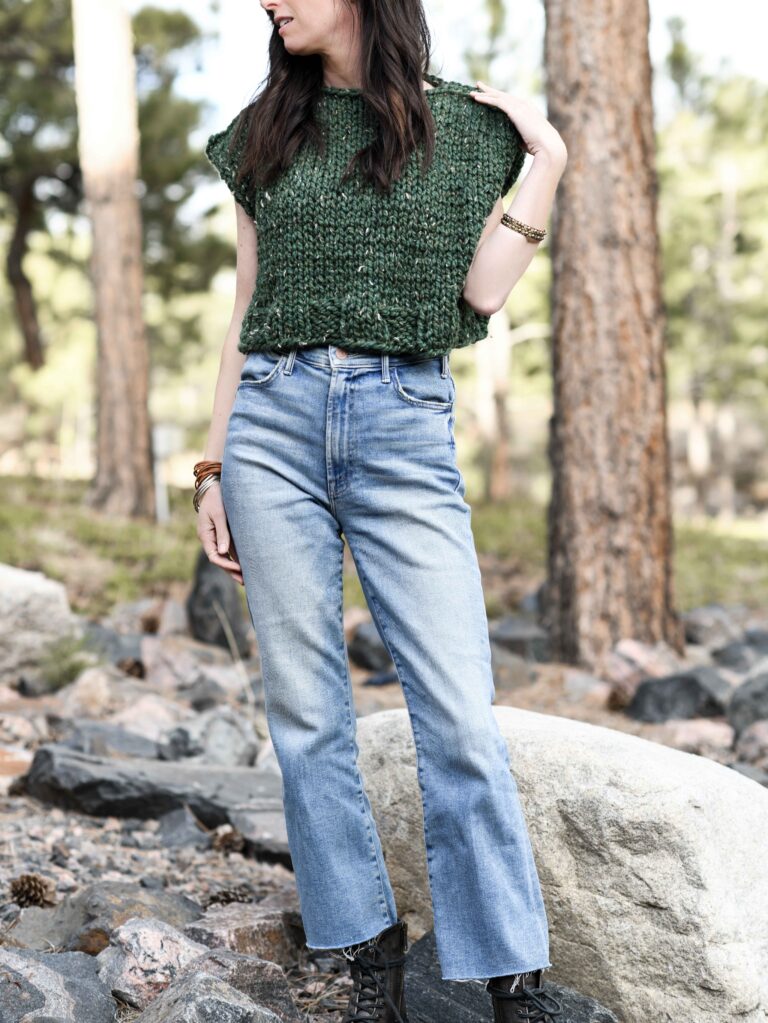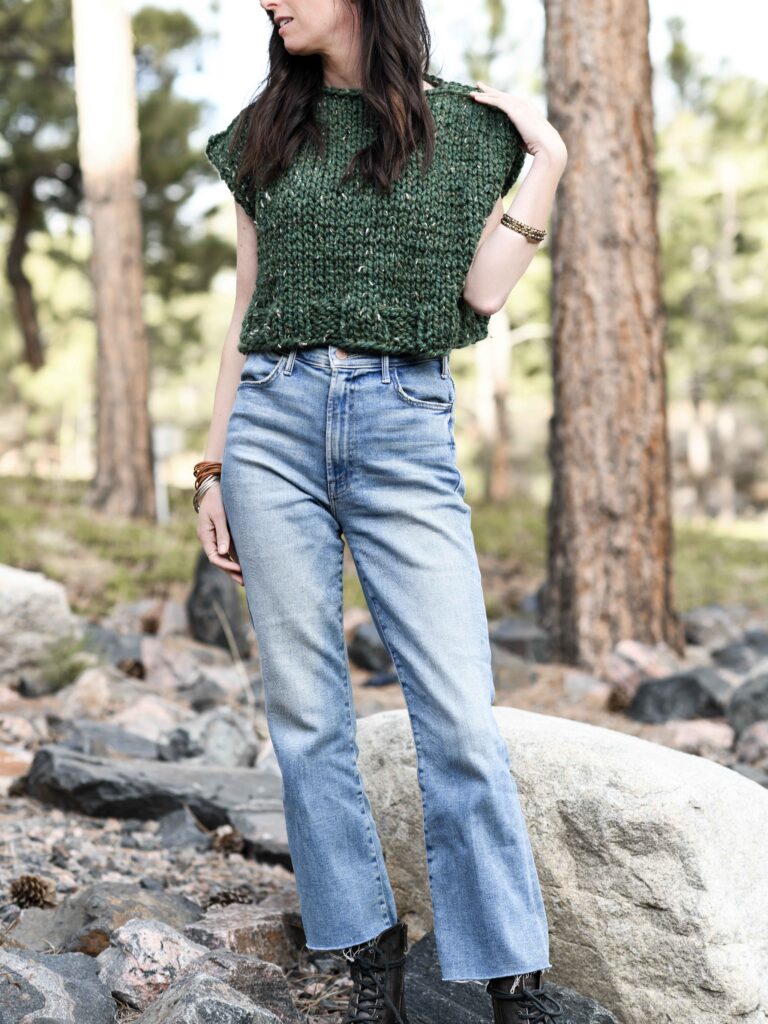 I recently finished a new blanket, and was needing a quick and easy brain break of a pattern. Are you the same? I like to break up big projects with little projects, otherwise I end up having a bunch of unfinished projects. LOL. This vest is that fast, gratifying project that you can make in a day. Yes!
I had bought this gorgeous dark green LB Wool Ease Thick & Quick yarn from Jo-Ann with hopes of making a legit sweater this winter, but figured it would work well for a trendy little vest as well (now that winter's over). If you've got a few skeins of super bulky yarn and a few hours, you can whip this out in a flash too. 🙂 This is a great project to use leftover super bulky yarn in your stash!
By the way, I don't see this particular color on the Lion Brand site currently, but there are several other color options. Also, if you want the tweedy look like this, the color "Oatmeal" or the "Grey Marble" would have that same vibe.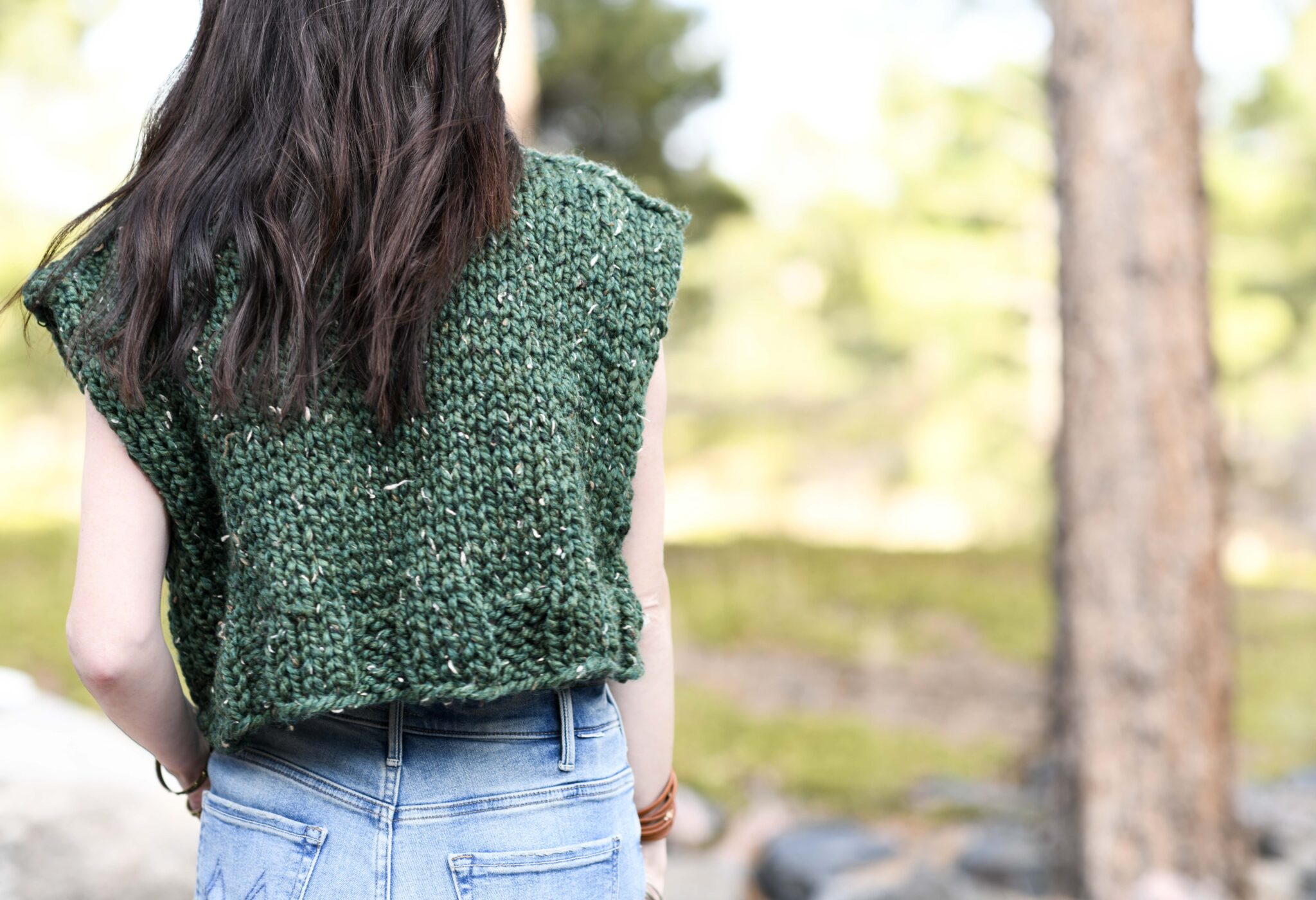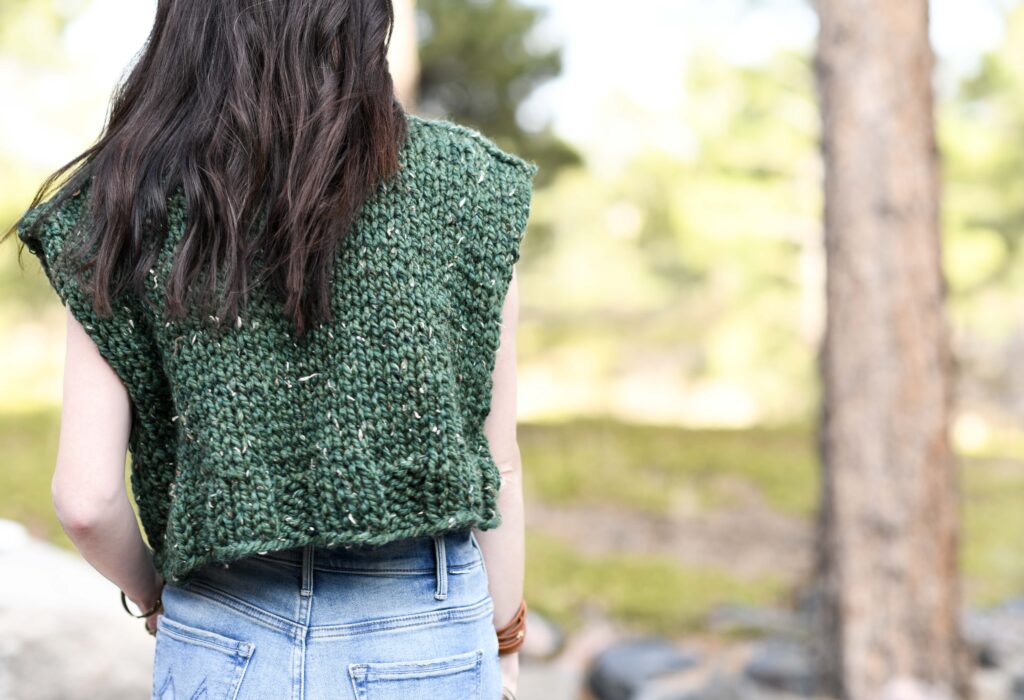 When we think of beginner projects, washcloths and scarves come to mind, but this vest is also totally beginner friendly. Once you know how to knit and purl, you can make this as it's just two rectangles sewn together at the sides and shoulders. (If you're wanting to learn to knit, check out my post and video here and then make your way back to this pattern!) If you are new to knitting, I have a few other beginner knitting patterns including the Sedona Serenity Shawl or the Native Stripes Blanket.
You could wear this as a layer over long sleeves or short sleeves, or you can wear it alone as I've done in the photos. It's super versatile!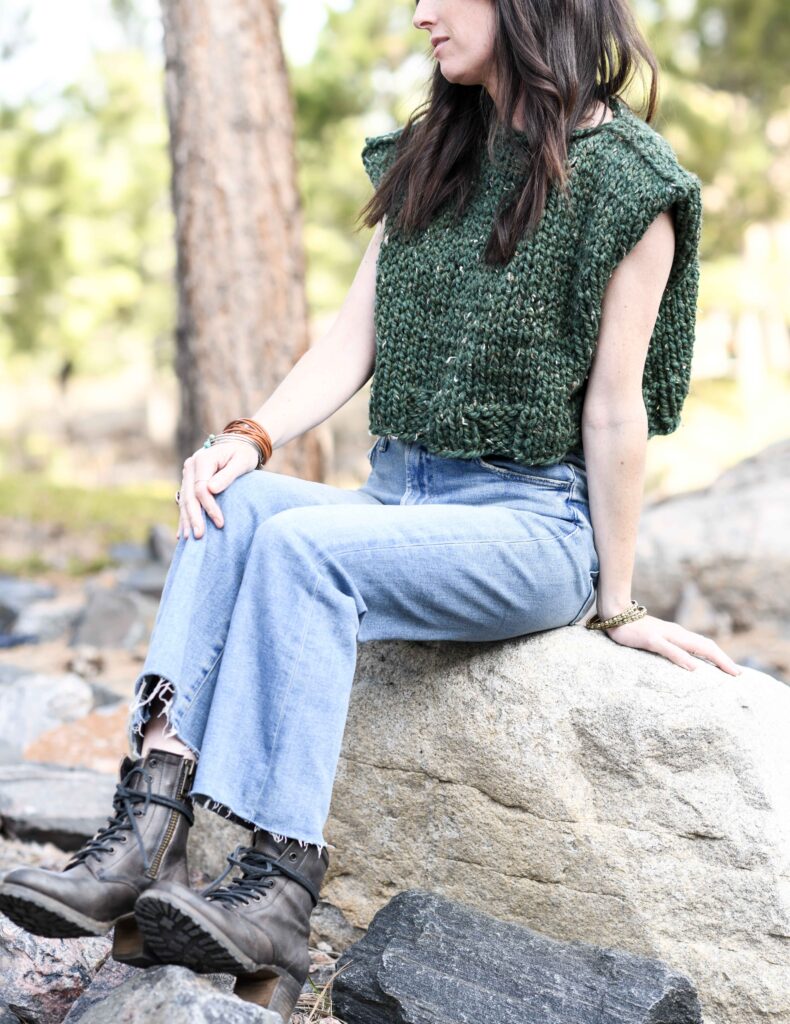 The pattern is written so that it's "almost" a cropped vest, but you can easily add as much length as you want by knitting for more rows. It's also oversized, so it is quite wide. To adjust width to your liking, you just need to keep a cast on stitch count in a multiple of four stitches.
OKAY! Let's hop to the pattern. As usual, you can see the free pattern below, or you may choose to purchase the ad-free printable from Etsy HERE!
Description: This trendy vest will keep you cozy no matter the weather! Wear it as an
extra layer or sport it alone as a cute sweater vest. Because it's knit with large needles, it's
easy to whip out in less than a day. Pair it with wide leg jeans for a super cute look! A
perfect beginner project or meditative knit for any level.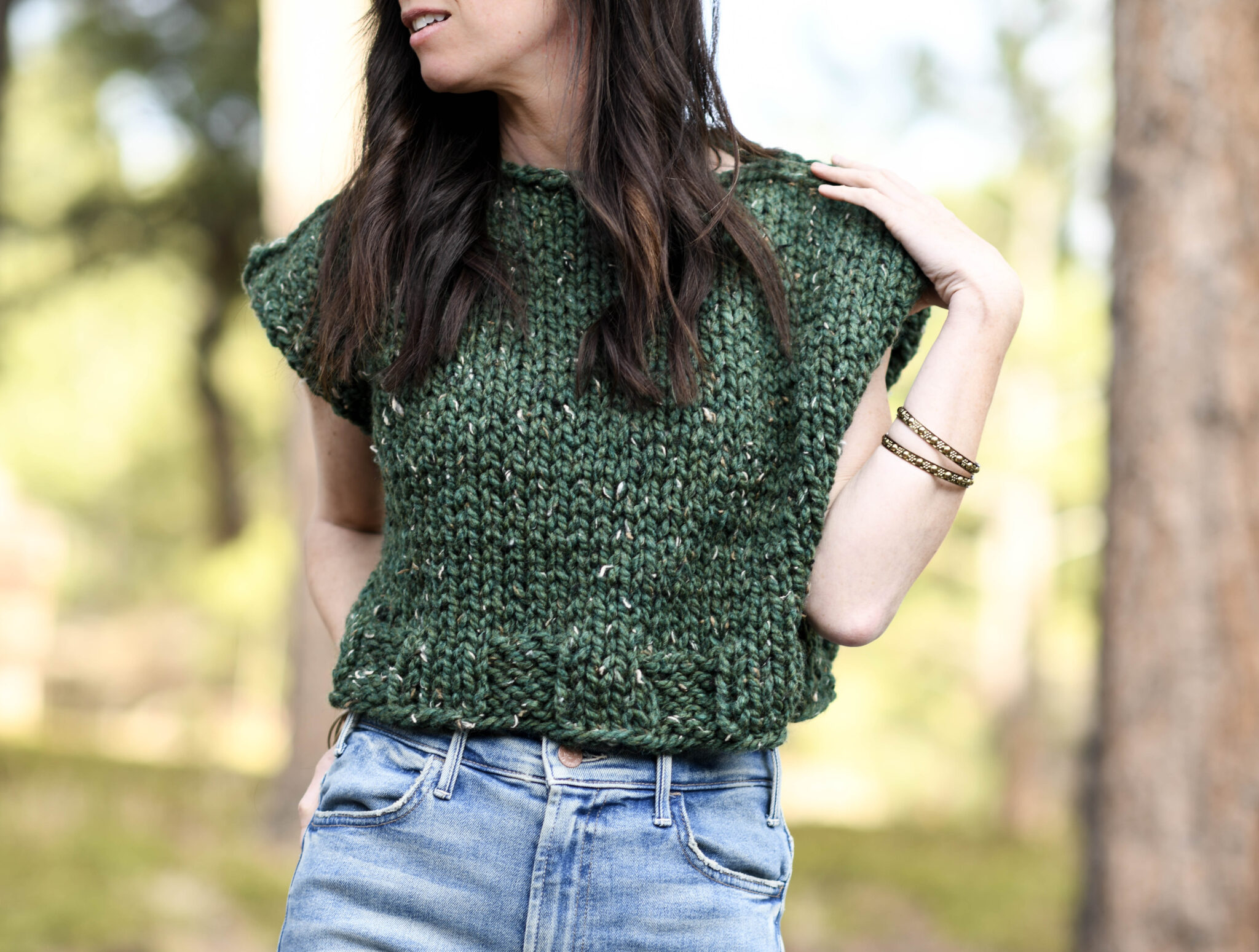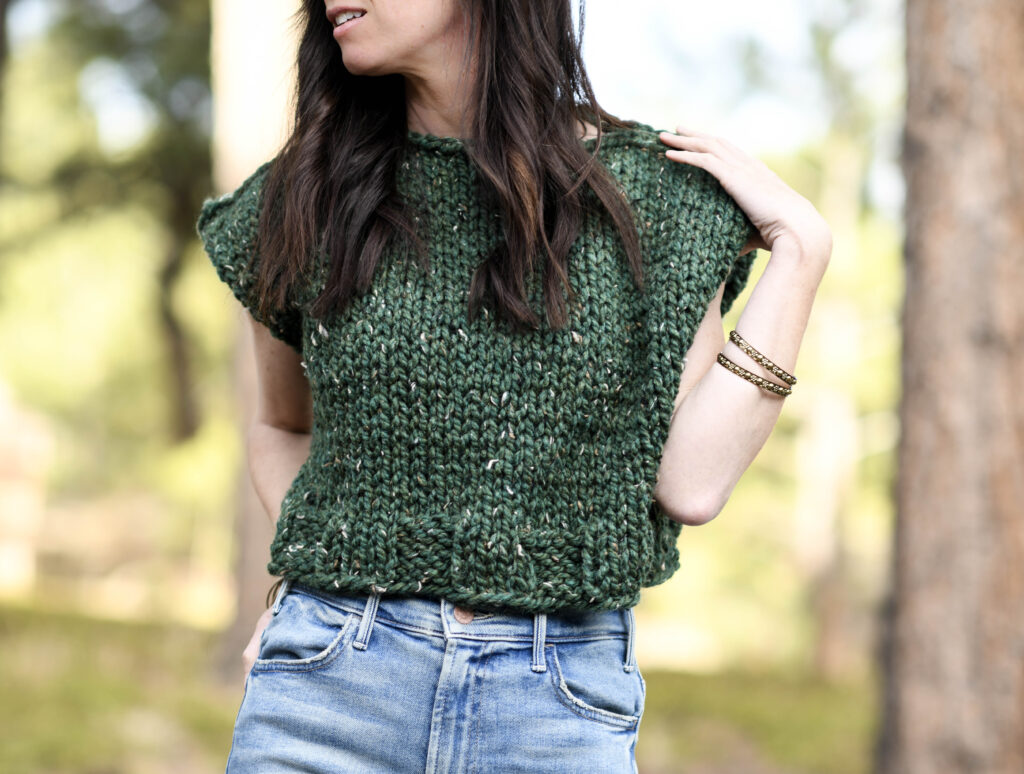 Materials:
US Size 19 knitting needles (consider circulars when making the larger sizes to
comfortably fit all the stitches)
2 (3,4) Lion Brand Yarn Wool Ease Thick & Quick super bulky #6 yarn in Kale 170 g/skein
and 106 yds/skein
Pattern uses approximately 340 g (477, 630)
Scissors
Tapestry Needle
Measuring Tape
And yes, the needles are BIG! They are larger than what the yarn calls for on the label. This is why the stitches really show, and it works up quickly. If you really want to use smaller needles you can, but you should try to match the gauge or adjust the pattern accordingly!
Gauge: Approximately 7 stitches and 9 rows in 4" X 4" of stockinette stitch (Adjust needle size or tension to match gauge if needed.)

Sizes: Three Sizes Available

Small/Medium, Large/XL, and 2XL

Please follow the key throughout the pattern according to the size you are knitting:
S/M (L/XL, 2XL)

*Note there are 3 size options as this top has a forgiving fit. For example, the S/M would
typically fit a size small or medium. See bust circumference sizes to determine which
would be the best size to knit.

Bust Circumference (approximate):
S/M – 44"
L/XL –48"
2XL– 52"

Note:
There is a lot of positive ease. Model is wearing a size S/M and, is 5'5" with a 32" bust.
Fabric is also loose and stretchy. Length can easily be customized by knitting more or
fewer rows on each panel. Width can be customized by casting on more or fewer
stitches for each panel (keep a multiple of 4 stitches). Keep yarn needs in mind if
customizing the size.

Length (approximate):
S/M -15"
L/XL – 19"
2XL – 23"
*adjust length as desired as pattern creates a cropped fit

Abbreviations & Skills:
k – knit
p – purl
st – stitch
sts – stitches

Pattern Notes: This vest is made by knitting two rectangular panels for the front and back,
and seaming them together at the sides and shoulders. The only stitches you will need to
know for this pattern are knitting and purling! Each panel is worked from the bottom up and
begins with a 4 x 4 rib. From there, you will work stockinette for the remainder of the pattern.

Feel free to make this longer by simply knitting until each panel reaches your desired length
(keep yarn needs in mind when adjusting the length). This is a cropped style, so more length
will be needed if you like a longer fit!

ALPINE VEST TEE EASY KNITTING PATTERN

Panel Pattern (make 2)
*stitch count remains the same throughout the pattern

Cast on 40 (44, 48)
4 x 4 Ribbing Pattern
Row 1 *K4, p4; repeat from * across the row.
Rows 2 *P4, k4; repeat from * across the row.

Repeat rows 1 & 2, until you have a TOTAL of 6 rows of ribbing. Next, move onto the
Stockinette Section.

Stockinette Stitch Section
Row 8 Knit each st across the row.
Row 9 Purl each st across the row.
Repeat rows 8 – 9, working stockinette stitch until entire piece measures approximately
15"(19", 23") or until desired length, ending on a knit side.

Knit cast off, and weave in ends.

Assembly
Place two panels, right side out, aligning outer edges.
Using a simple whip stitch, sew the shoulders along the top on each side leaving approximately 8" inches in the center open for the head and neck.
Starting just above the ribbing (or you may choose to start below the ribbing), seam up sides of the vest with the mattress stitch leaving 7" (8", 9") for the arm openings.
That's all there is to it!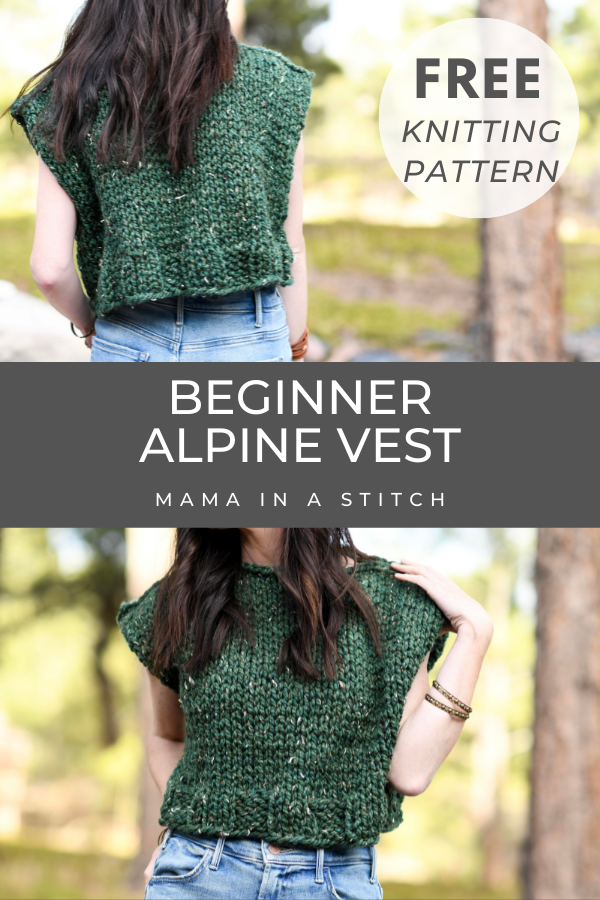 I hope you liked this easy peasy top for something a little different. I can't wait to use this color of yarn again for future projects, myself.
Happy knitting my friends!
XO,
Jessica
If you liked this, you might like: