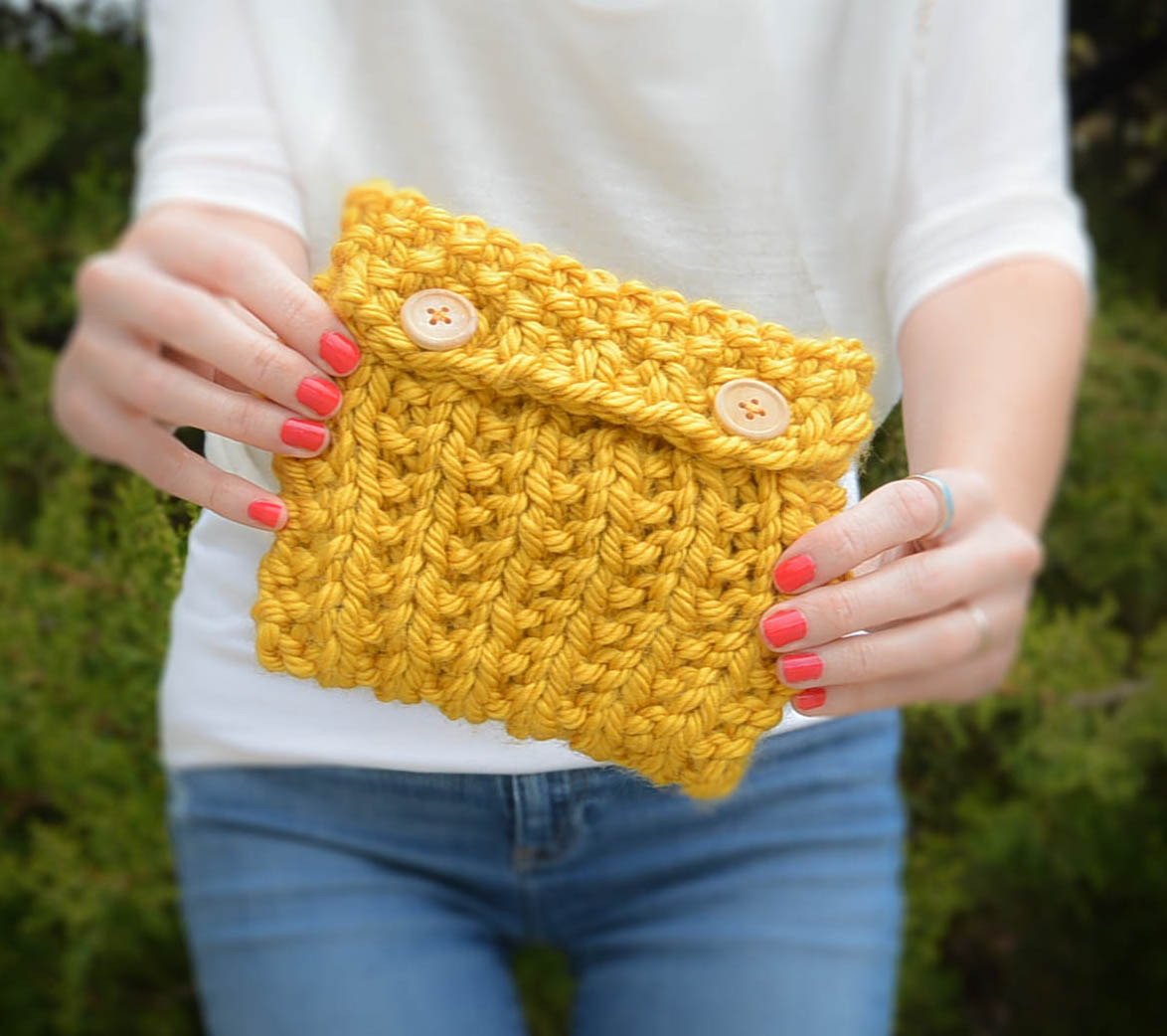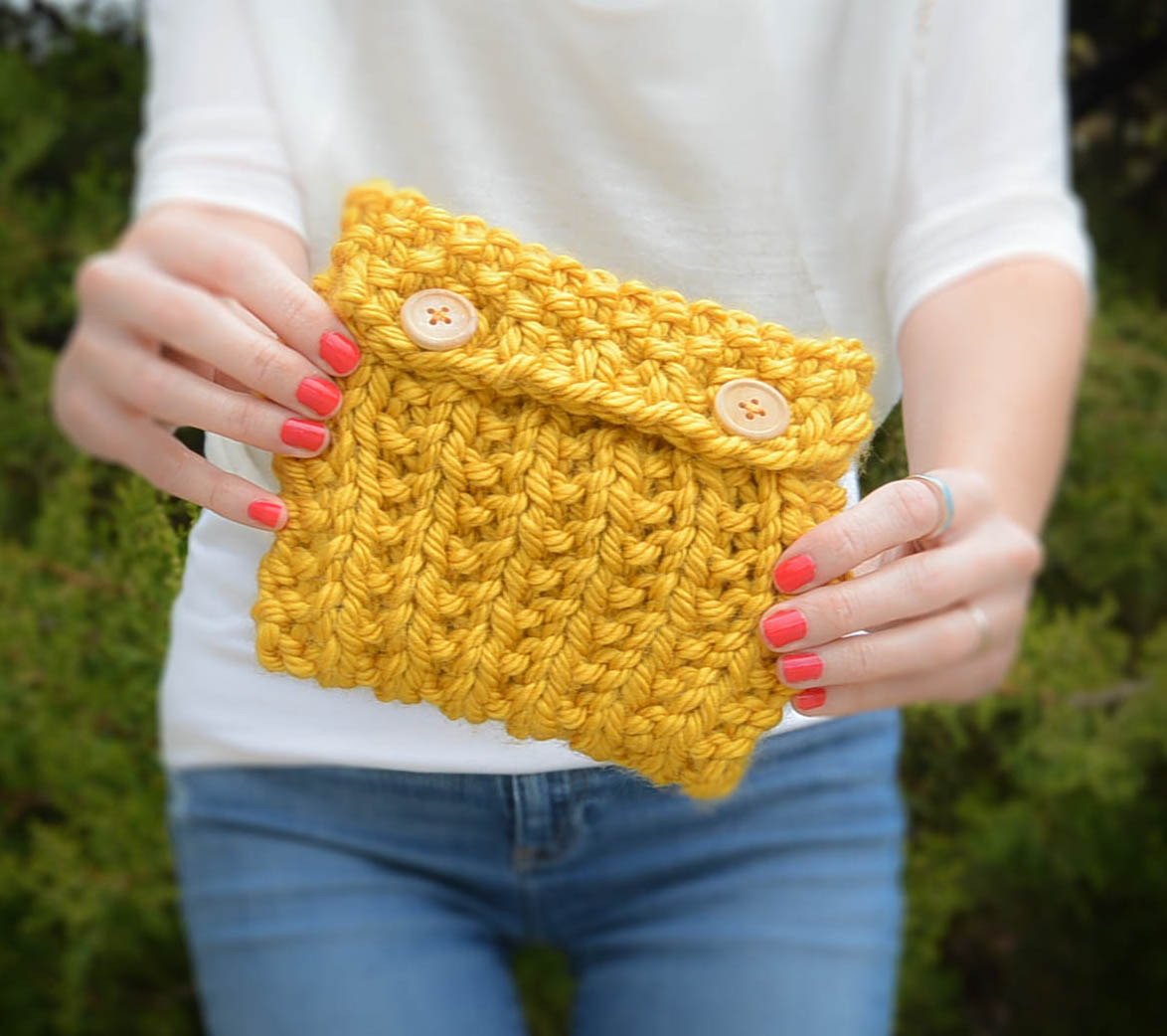 Hi friends! So I've made all sorts of crochet bags (the Manhattan Tote, Knit Look Sweater Bag…the list goes on) and realized I'd only done one knit bag pattern. What?! So here we go, a little knit bag. 🙂
This is a small pouch that would work well to throw in your summer bag to hold little things that you don't want flying around inside of your purse. You could even use it in the bathroom as your primary makeup case! If you have a hard time getting rid of makeup, and you end up with a ton of it (like me), this might be a bit small, but it's great for so many things!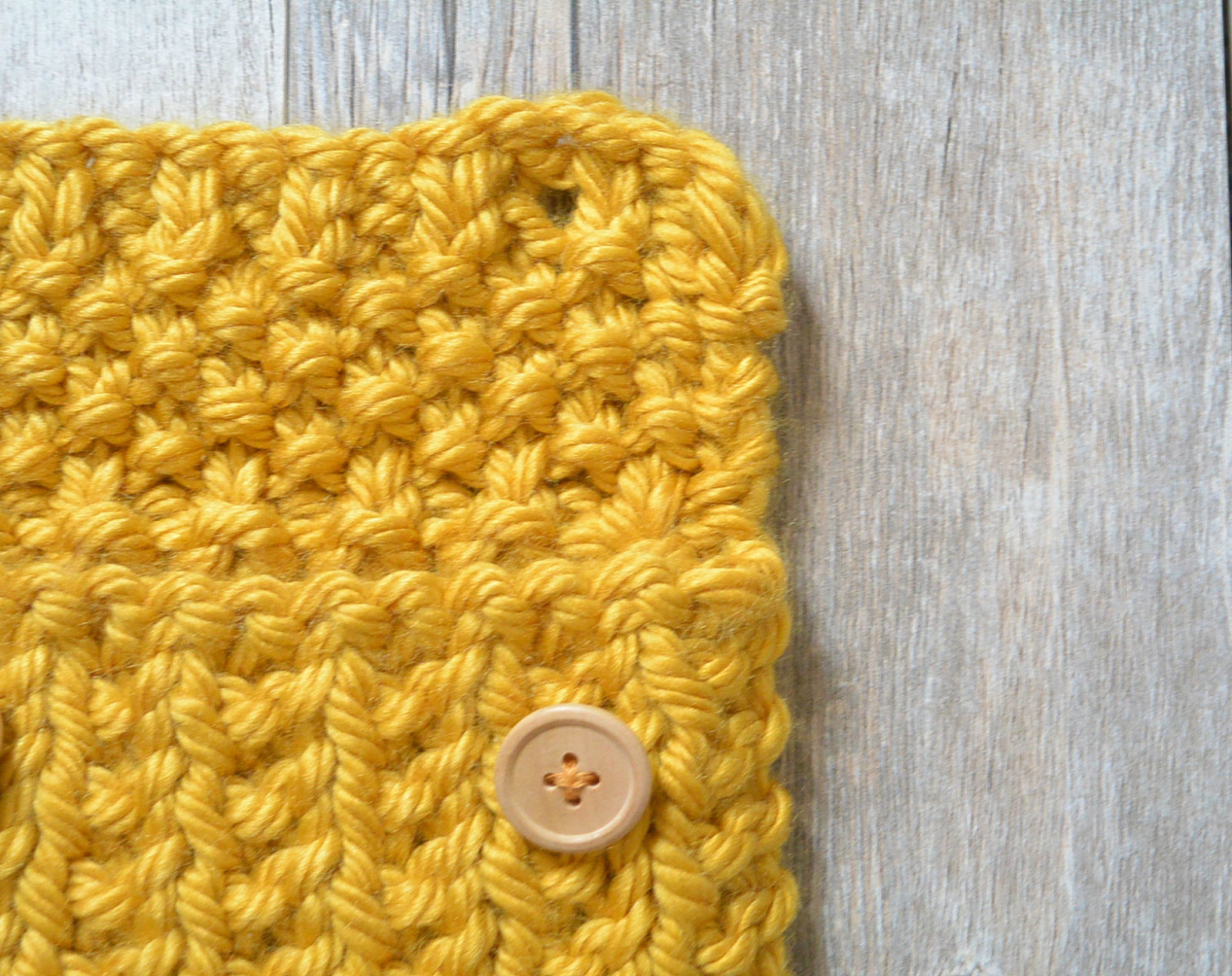 Isn't the texture lovely? It's knit with the broken rib stitch, which is SO easy. The top closure is done in the seed stitch, so you get a nice little mix of stitches going on. These are simple patterns that you can easily do if you know how to knit and purl.
This pouch has wood buttons, but you could get creative with the buttons that you use. It might be fun to use some gold buttons to make it bling!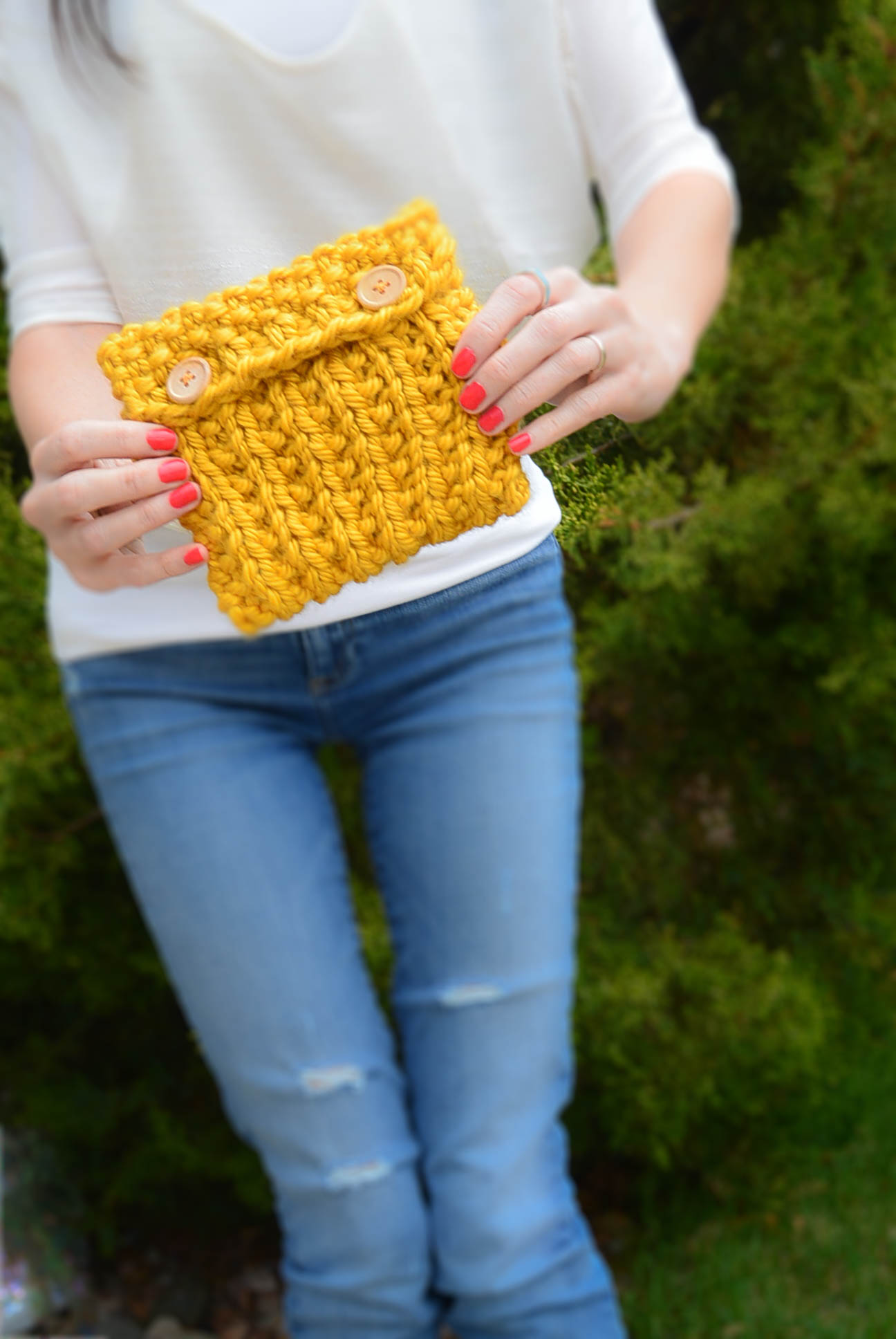 What say you about using super bulky yarn in the summer months? I like it any time of year myself. Because I love a quick knit or crochet project, super bulky yarns are always up my ally. Hand me a giant needle and a big fat yarn and I'm happy – summer, winter and everything between. 😉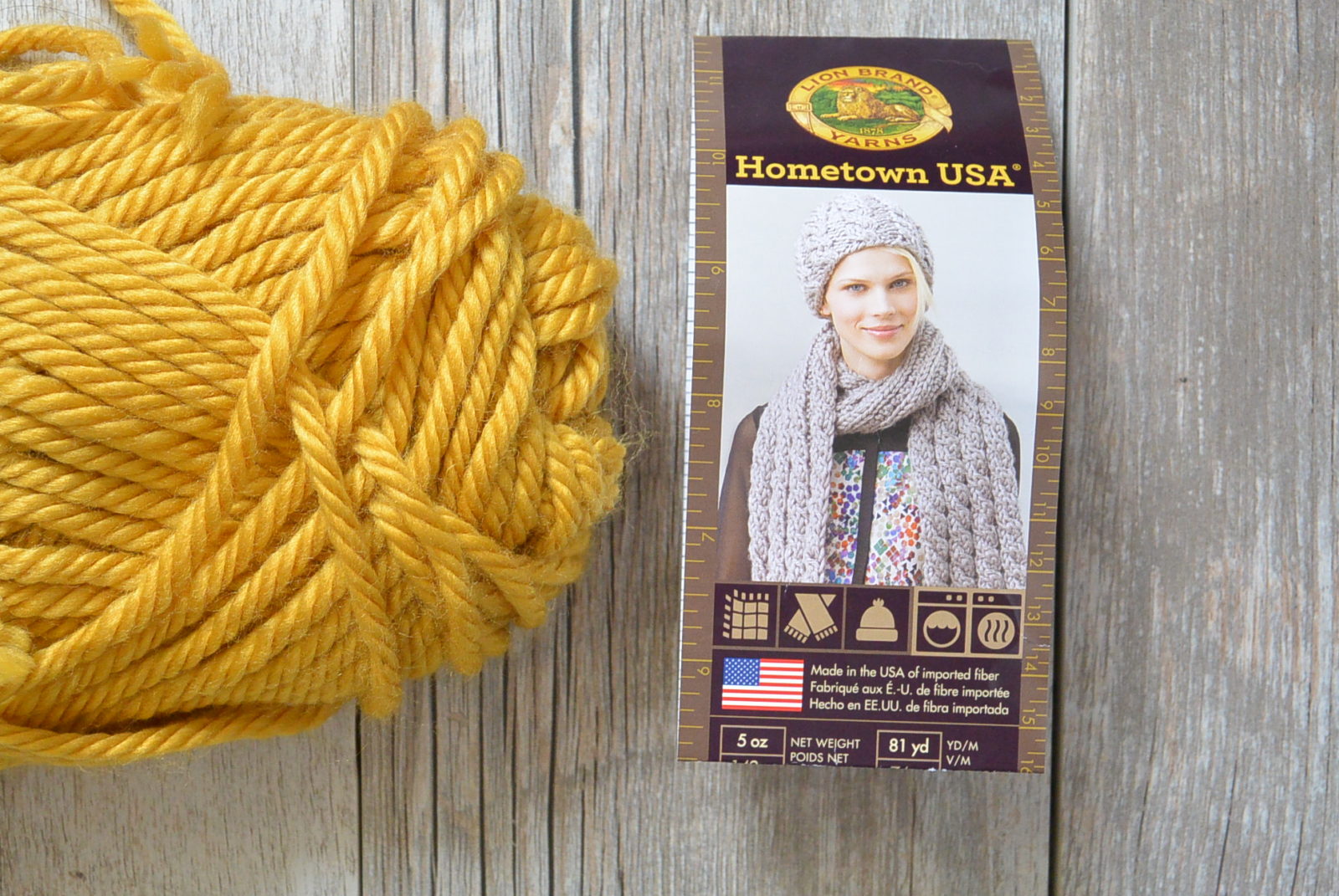 Oh, and I forgot to mention that this is a great stash buster project to use up some of that yarn from your winter projects. You need less than one skein to make it. 🙂
"Anything" Small Knit Bag Pattern
You will need:
US Size 13 Knitting Needles
One Skein Super Bulky Yarn (Lion Brand Hometown USA in Madison Mustard) (This pattern uses about half of a skein)
(Below is an affiliate link. I will make a small commission if you purchase your yarn through this link.)


Lion Brand Hometown USA Yarn – $4.24
Retail Price: $5.30
You Save: $1.06
from: Craftsy
Scissors
Tapestry Needle to weave in ends
Two 1" diameter buttons
Needle and thread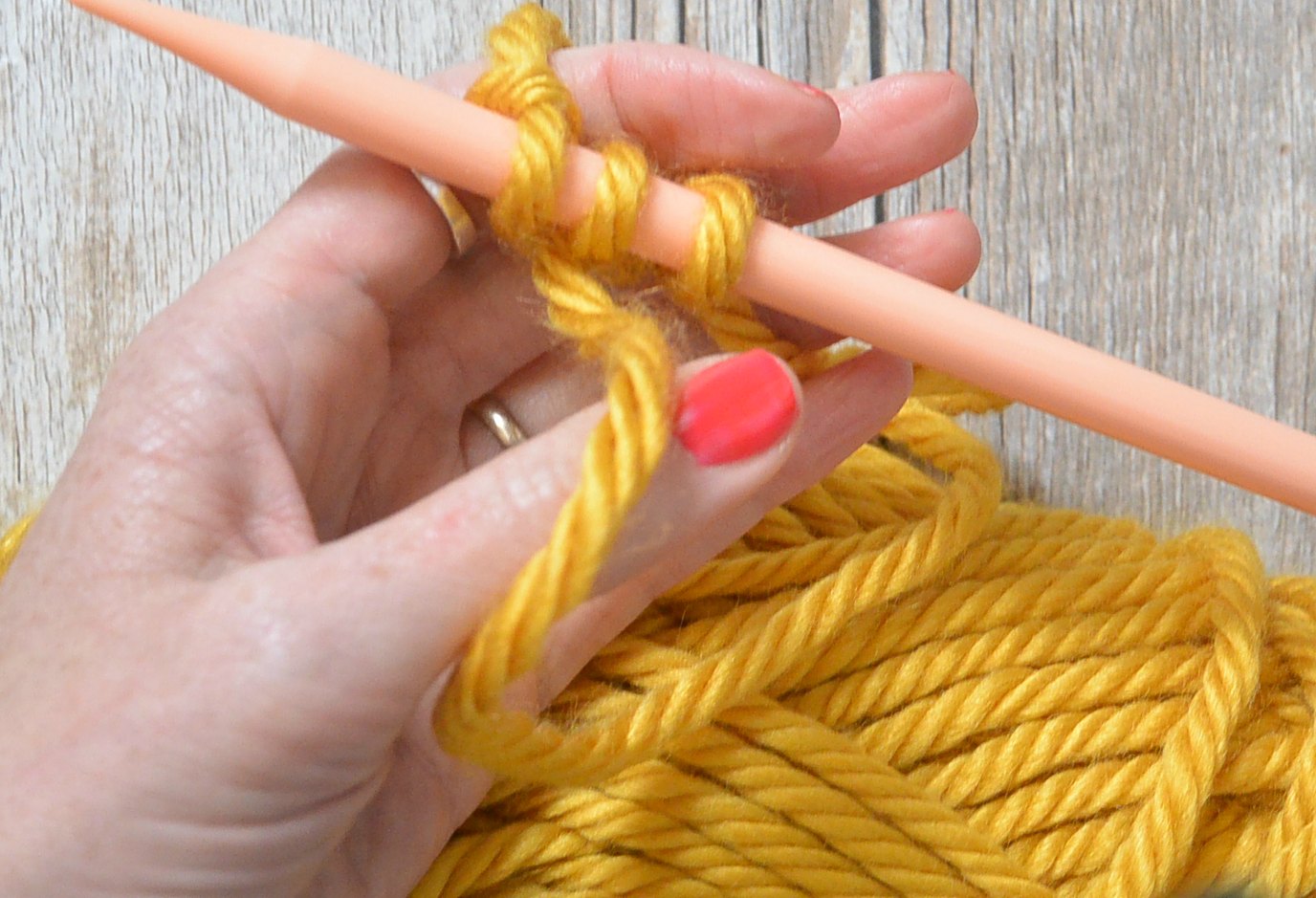 Pattern:
Cast on 15 stitches
Row 1 Knit
Row 2 *P1, k1*, repeat from * to * across row. End with a purl stitch.
Row 3 and until piece measures 12" in length – Repeat rows 1 and 2
Once your piece measures 12" in length, you will begin the seed stitch pattern
Next row: (start of seed stitch) *K1, p1*, repeat from * to * across row ending on with a knit stitch.
Repeat this seed stitch pattern for 2" more. When your entire piece, from end to end, measures 14", cast off and weave in ends.
Assembly:
Lay piece flat with broken rib section on the bottom. Fold 6" up, so that the "wrong side" of the broken rib sections lay together (right sides out). The seed stitch section should be above on the top. The broken rib section is now folded in half, and you will whip stitch seam the edges together. The seed stitch section is left on top and will be the flap that will close on top of the bag.
With your needle and thread, secure the two buttons approx.. 1.5" down from the top and 1" in from the side on either side. The stitches should be large enough to slip over the button. No button closures needed.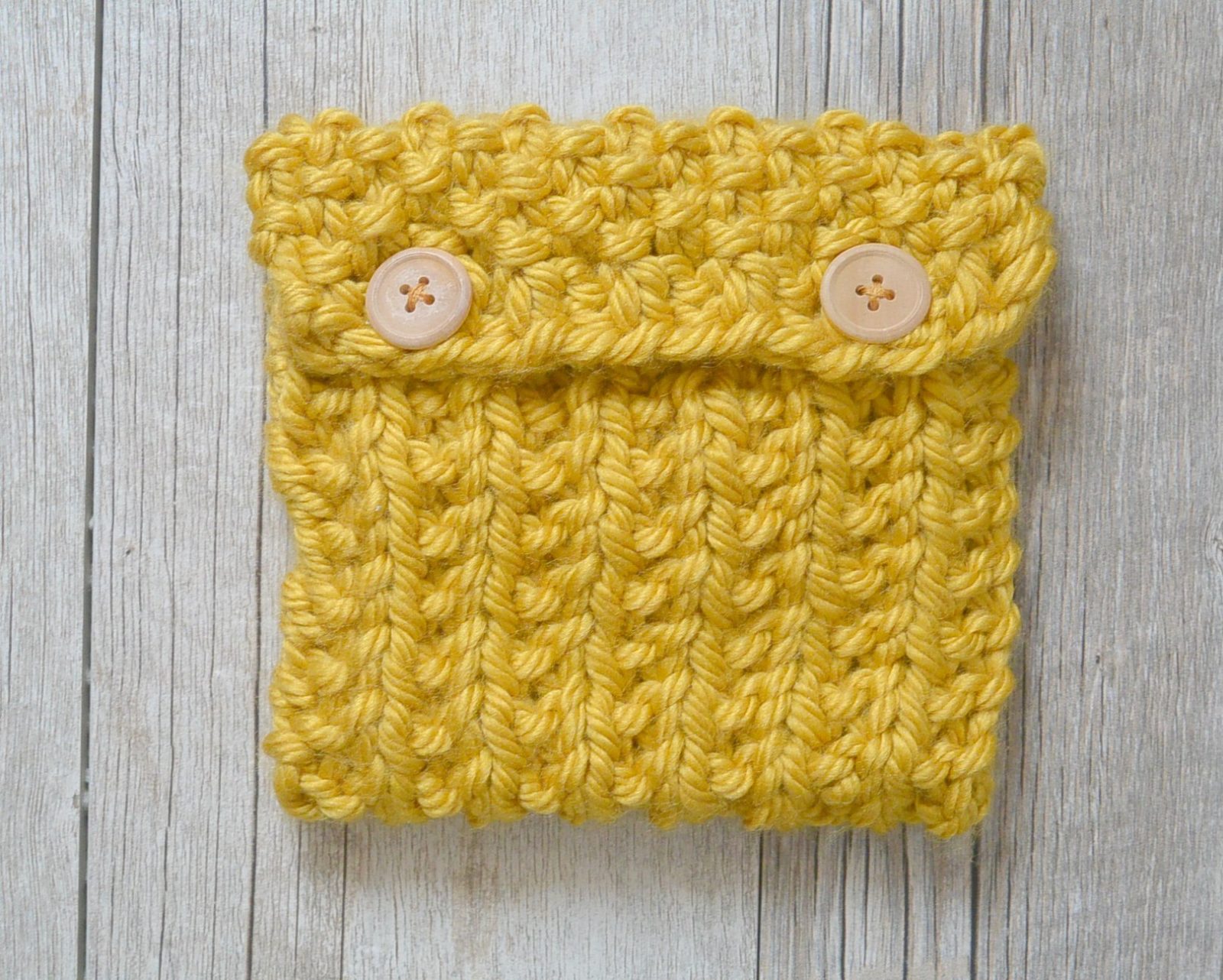 So easy, and such a fun knit! I hope you've enjoyed this little bag, and while this is my first knit pouch, it will not be my last.
Best to you and yours! I'd love to hear your thoughts on this bag in the comments below. As always, feel free to post your pictures of your finished projects on my Facebook page, or tag me on Instagram @mamainastitch!