Bernie's Mittens Inspired Hat – The Bernie Beanie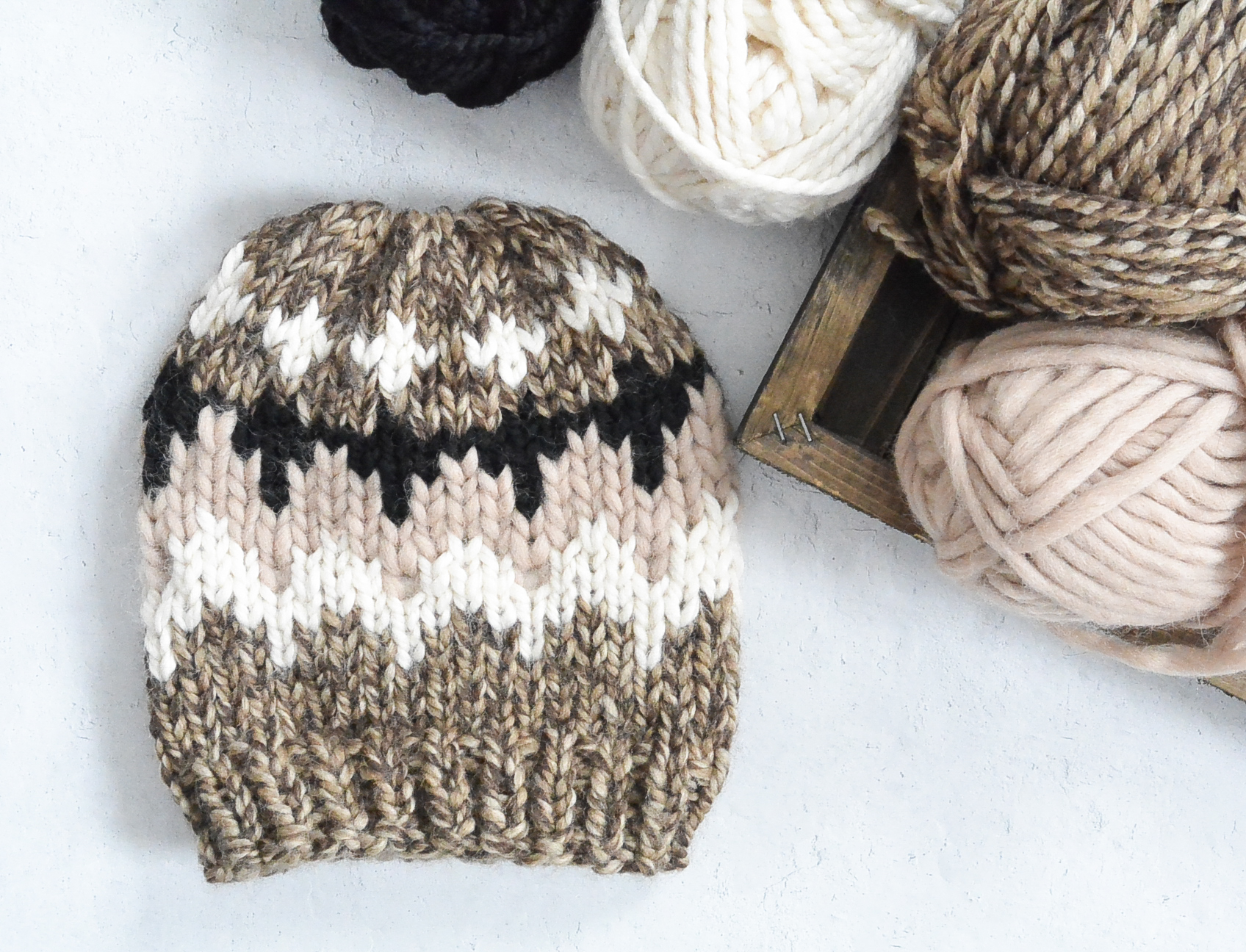 If you've been on the internet lately, you surely haven't missed the sight of some mittens. As a blogger, I would basically be remiss to not mention it, and I actually loved seeing "knits" go viral! I don't have the time to work up little worsted weight mittens right now, but I did want to jump in on the fun – hence this beanie! And WOW, did you give me some amazing name suggestions on Facebook and Instagram! I'll include several of your name ideas below because they are super entertaining. By the way, my blog isn't political and never has been political. It will always be a welcoming place for everyone. I simply found the mittens to be super cute and got a bang how these knits went viral. 🙂
See the full pattern for free by scrolling down, or you may purchase the ad-free printable on Etsy HERE.
If you're not in the US, or you've been offline for a while, Bernie Sanders wore some knit mittens to the inauguration. There've been memes and photos shared all over the place, and a slew of knitting and crochet patterns to make the mittens as well as patterns to make Bernie dolls (Tobey Time Crochet has my fave). She sold her original doll for charity and over $20,000 was raised for Meals On Wheels!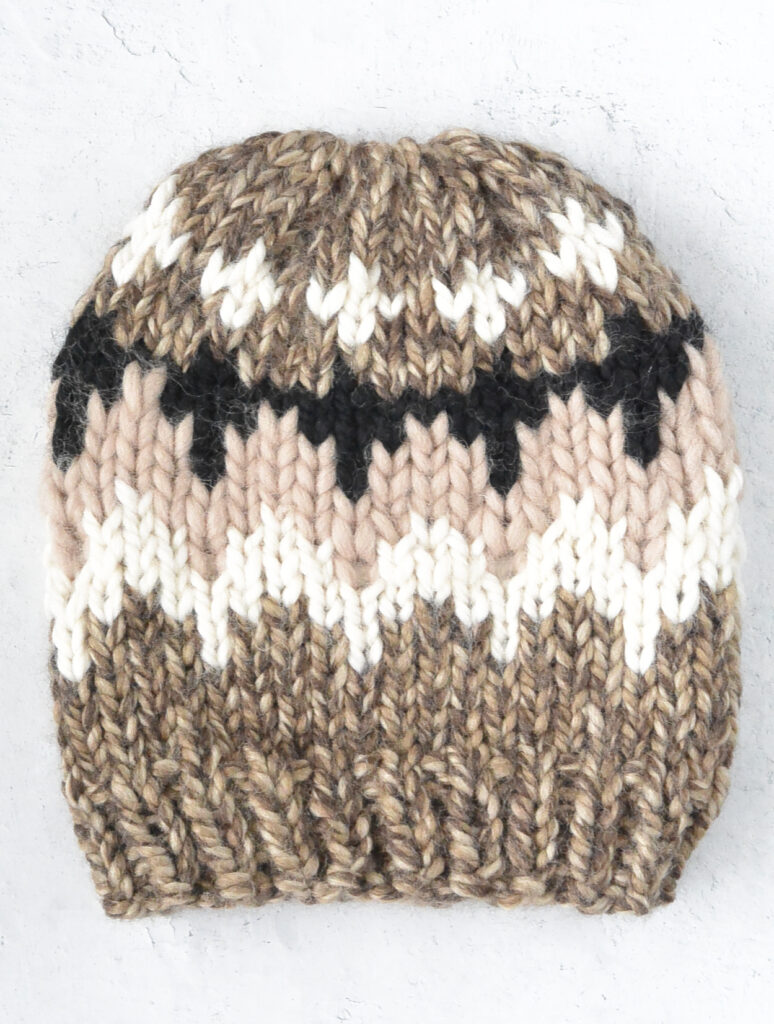 Bernie was gifted the mittens by a teacher who actually cut up sweaters and sewed the pieces together. She then lined them with fleece made from recycled plastic. So while they weren't hand knit, they had the look of being hand knit. It was actually a very heartwarming, kind gift. I'm thinking about what sweaters I might be able to cut up at this point. 🙂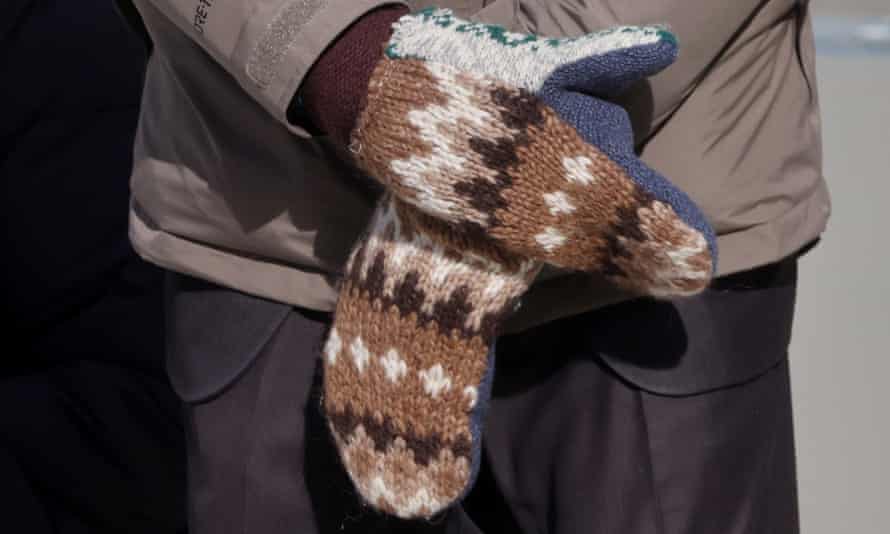 As many of you know, I love working with chunkier yarns and making quick, easy patterns. It was really fun to make this hat as I literally just looked at Bernie's mittens online, and used similar stitch counts that I used in my Scandinavian Fair Isle Hat. All I had to do was pick the colors, and be inspired by the fair isle style on the mittens. A little math here and there, some fiddling with colors, and voila!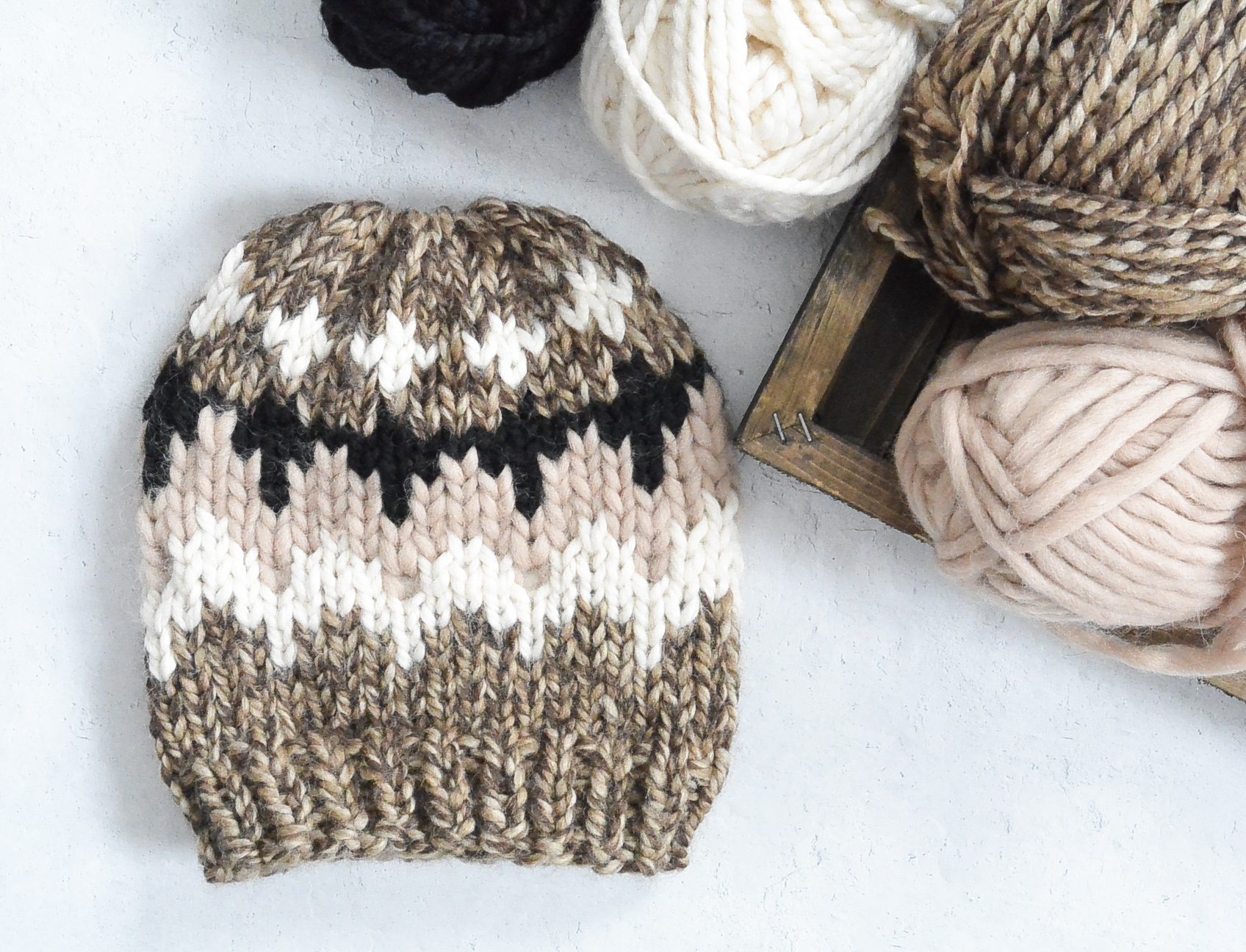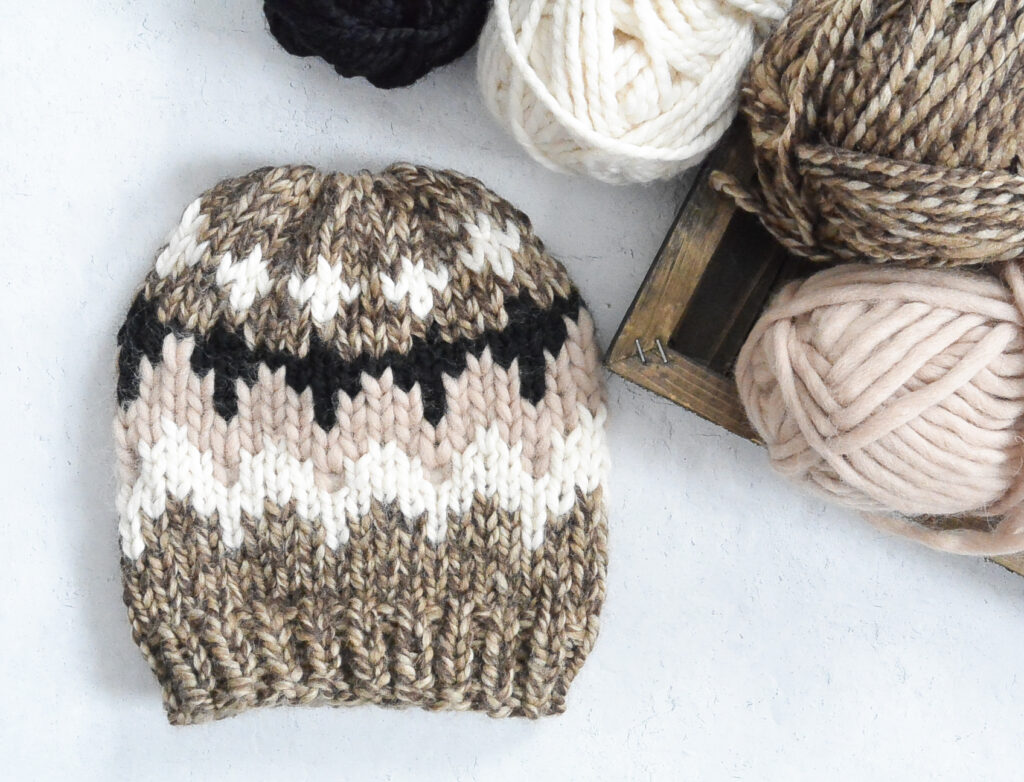 Before I get into the details of the project, first let me share with you some of the many name options you gave me for this beanie. It was really hard to decide and thank you to everyone who helped!
Here are just a sampling of the name ideas you came up with:
Bernie Beanie, Bern Baby Bern, Beanie Sanders, Mr. Sanders Needs A Hat, Billionaire Beanie, Bernie's Beanie, Feel The Bern Beanie, Feel The Beanie, The Bernice Beanie, Bernadette, Bernie The Beanie, Bernie's Bean Cover, Winter In Vermont
Great ideas, right?! 🙂
Most people wanted the Bernie Beanie, but I've been advised that I should pick another name. So, I'm now going with Winter In Vermont!
Alright – Keep these things in mind with this pattern:
You can use any super bulky #6 yarn that you have on hand. You need three shades of brown and a cream color. You can also use two shades of brown, a black and a cream (which I did here). I happened to have each of these yarns on hand, and several of you asked about the colors. All of them are Lion Brand except for the light tan, which is from We Crochet/ Knit Picks. It's gorgeous. I'll link to each one below.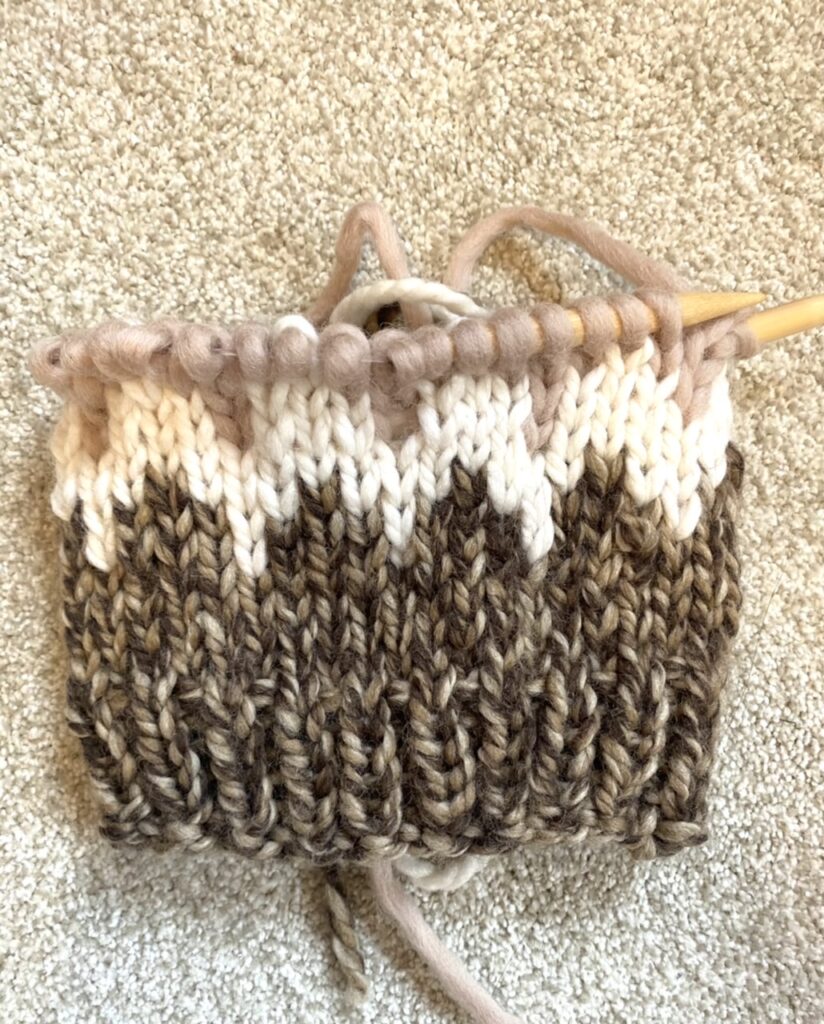 If you've never done color work or knit fair isle, it's so easy in the round like this! Take a read of Tin Can Knit blog post here to have an idea on how it works.
Let's hop to the pattern!
You can see the full, free pattern below, or you can purchase the ad-free printable from Etsy HERE
Again, just a reminder, this is a written pattern and there are no charts. The pattern must be a multiple of 4 to work, so if you want to make it smaller or larger, keep that in mind! You of course could also use a smaller or larger needles size to adjust. Mark your rounds and have fun!
WINTER IN VERMONT
Pattern Description: Inspired by the viral Bernie Sanders mittens worn on inauguration day, this hat is both trendy and adorable! The heartwarming story of how the mittens were made, as well as the super cool stitch pattern that they featured, makes this such a fun little knit. The hat's quick to make on large needles with super bulky yarn. It's a perfect little stash buster, and feel free to use any colors that you like!
Skill Level: Easy +
Materials:
1 Lion Brand Yarn Wool Ease Thick & Quick in Black
1 Lion Brand Yarn Wool Ease Thick & Quick in Fisherman
1 Lion Brand Yarn Wool Ease Thick & Quick in Toffee or Hometown USA in Little Rock Granite (The Toffee that I used is out of stock and possibly discontinued! Ugh! However, you can use any other shade of brown that you like. You could use the color Barley, which I found at Wal Mart. Or you can use the Little Rock Granite Color in Hometown USA from Lion Brand HERE)
1 Knit Picks/WeCrochet Tuff Puff in Snickerdoodle HERE (stunning yarn!)
You may sub any super bulky #6 yarns that you like. You will need 3 shades of brown and a cream color or you may use 2 shades of brown, one black, and one cream color.
US Size 15, 10.0 mm 16" circular knitting needles (US size 17 circular needles – optional)
Scissors
Tapestry Needle
Gauge: Approximately 9 stitches and 14.5 rows in 4" X 4" swatch of stockinette stitch
Size: One women's size fits most – Approximately 9" wide X 9" tall
Abbreviations/Skills:
k – knit
p – purl
sts – stitches
k2tog – knit two together decrease
You should be familiar with colorwork knitting and holding two colors at once.
Notes: This hat is knit in the round and uses stranded colorwork techniques to knit with two colors. You must knit the colorwork loosely and leave generous floats as you carry the colors. If you knit too tightly, your hat could turn out small. If your hat is not large enough, you may choose to knit with the US size 15 needles until you reach the colorwork section where you can then begin to use the US size 17 needles. You can always block the hat to shape and size when finished as well! For best results, you may choose to use the jogless join method with each round.
PATTERN INSTRUCTIONS
With Toffee, cast on 40 stitches, join to knit in the round (mark rounds as needed)
Round 1 *K1, p1; repeat from * around working a 1 X 1 rib
Rounds 2 – 4 Repeat Round 1
Round 5 – 8 Knit each stitch around
Round 9 *Knit 3 brown, k1 Fisherman; repeat from * around.
Round 10 Repeat round 9
Round 11 Knit 1 Fisherman, k1 Toffee, *k3 fisherman, k1 toffee; repeat around to last 2 sts, k2 Fisherman
Round 12 Knit around in Fisherman.
Round 13 *Knit 3 Fisherman, k1 Snickerdoodle; repeat from * around.
Round 14 Repeat round 13
Round 15 Knit 1 Snickerdoodle, k1 Fisherman, *k3 Snickerdoodle, k1 Fisherman; repeat from * around to last 2 sts, k2 Snickerdoodle.
Round 16 Knit around in Snickerdoodle.
Round 17 *Knit 3 Snickerdoodle, k1 Black; repeat from * around.
Round 18 Repeat round 17.
Round 19 Knit 1 Black, k1 Snickerdoodle, *k3 Black, k1 Snickerdoodle; repeat from * to last 2 sts, k2 Black.
Round 20 Knit around in Black.
Round 21 *Knit 3 Toffee, k1 black; repeat from * around.
Round 22 Knit around in Toffee.
Round 23 Repeat round 9.
Round 24 Repeat round 11.
Round 25 Repeat round 9.
Round 26 Knit around in Toffee.
Rounds 27 – 29 Repeat round 26.
Round 30 *K2, k2tog; repeat from * around.
Next, draw a length of yarn through the loops on your needles and tighten to close the top. Tie securely with a knot and weave in ends. Block to shape and size as desired.
Feel free to add a fluffy pom to the top of your Bernie Beanie and enjoy it!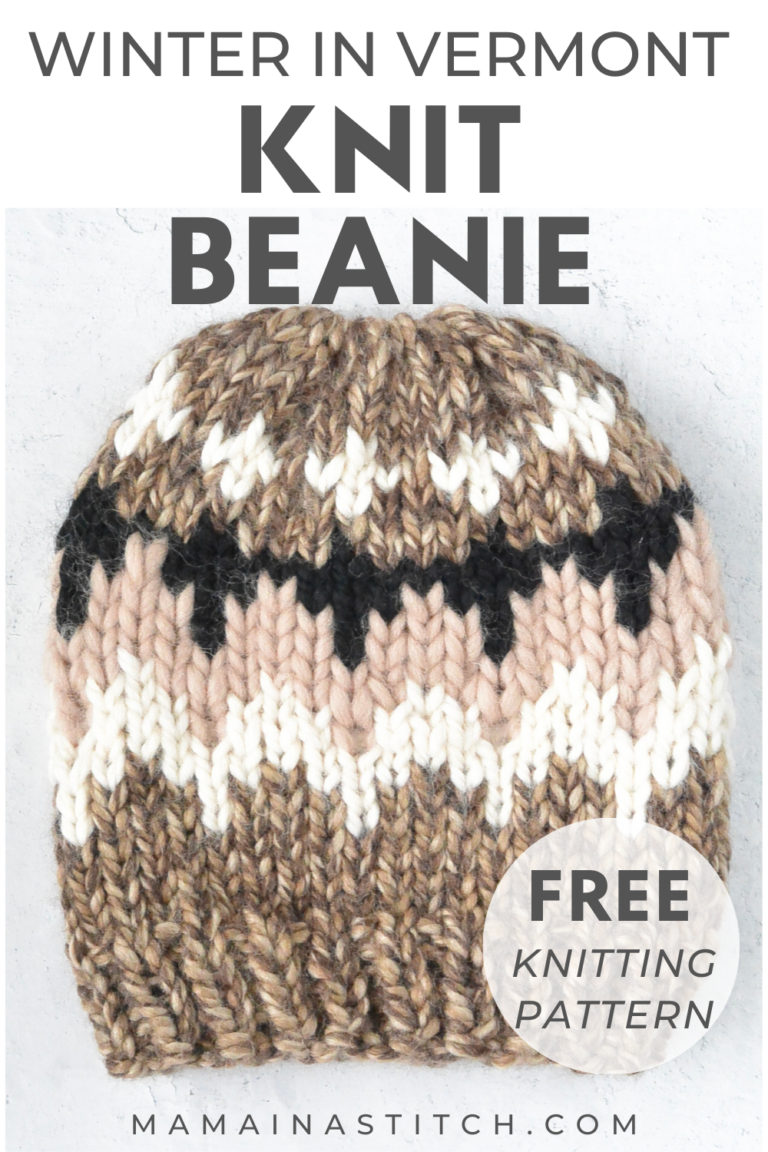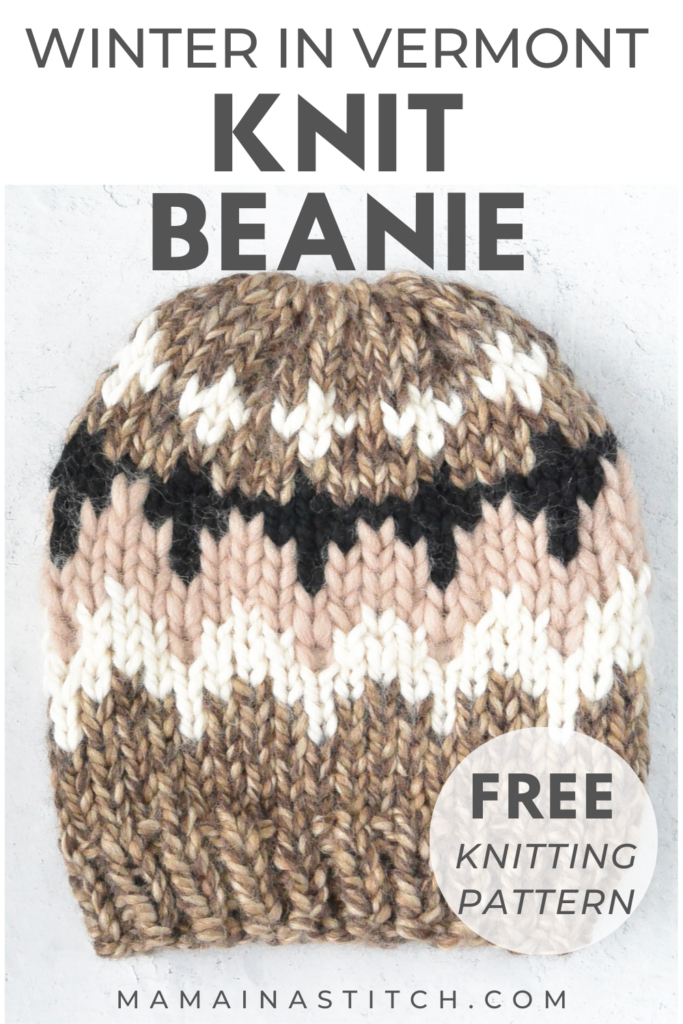 I hope you may have gotten a laugh, or you might enjoy knitting this pattern! If you do, I'd love to hear about it on Instagram or Facebook!
XO
Jessica