Velvet Rabbit Hooded Stole/Cowl Pattern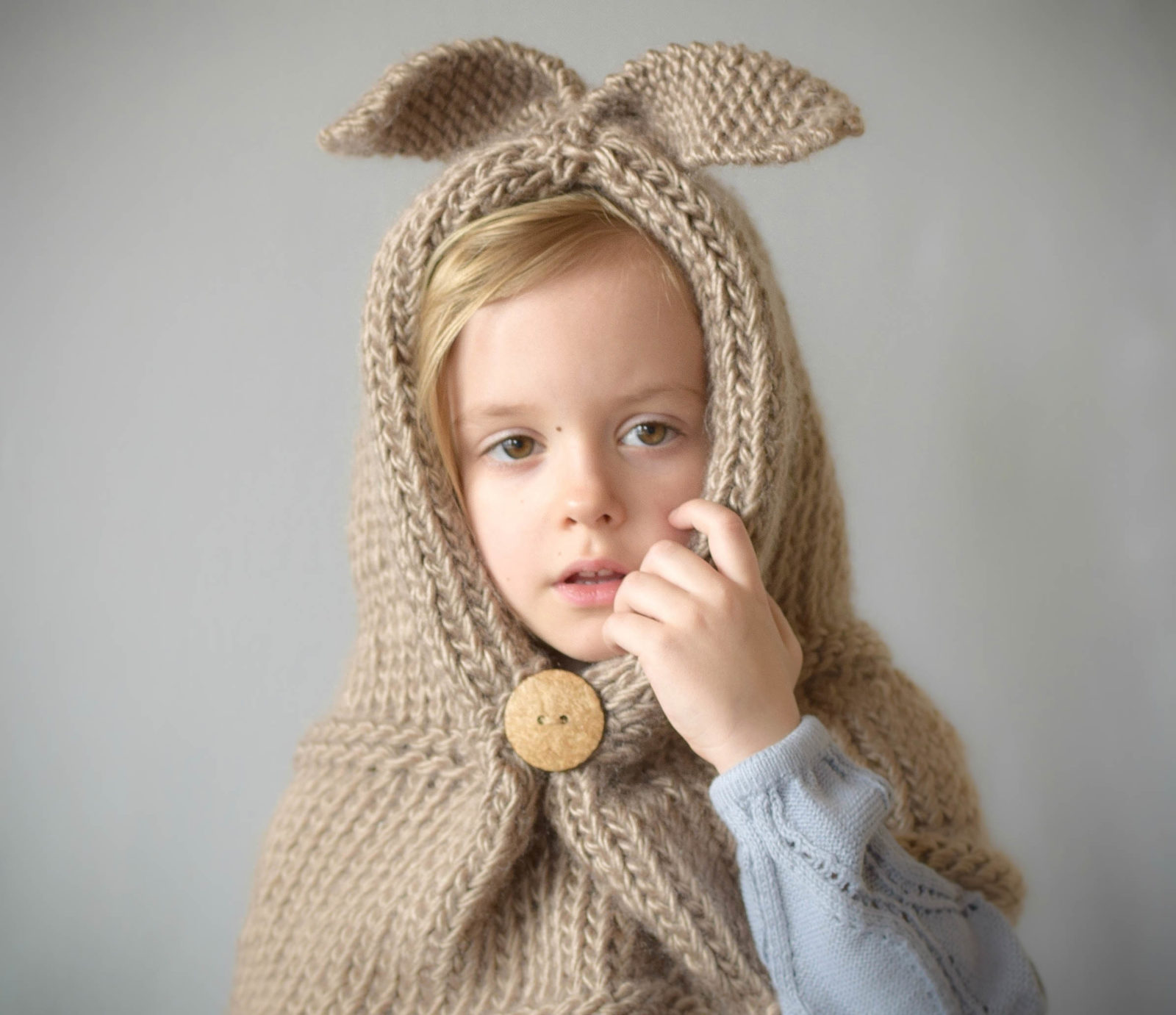 Spring and Easter is about to happen my friends. Last year I made my daughter a bunny hat right around this time (I can't believe it's been a YEAR!). It was so much fun to watch her wear it, so I knew that I had to knit another one. The hat from last year is starting to fit a bit too tightly at this point. Her head has always been in the 90th percentile which made for an extra fun birth. Ha ha! Don't get me started on her giant, fat baby feet that could never fit in any shoes. I'll save that story for a slipper post some day. 😉 Back to the hat. This time I made a bunny hood that's more red riding hood style. This will hopefully keep her neck and head covered up with the high winds that we get around here.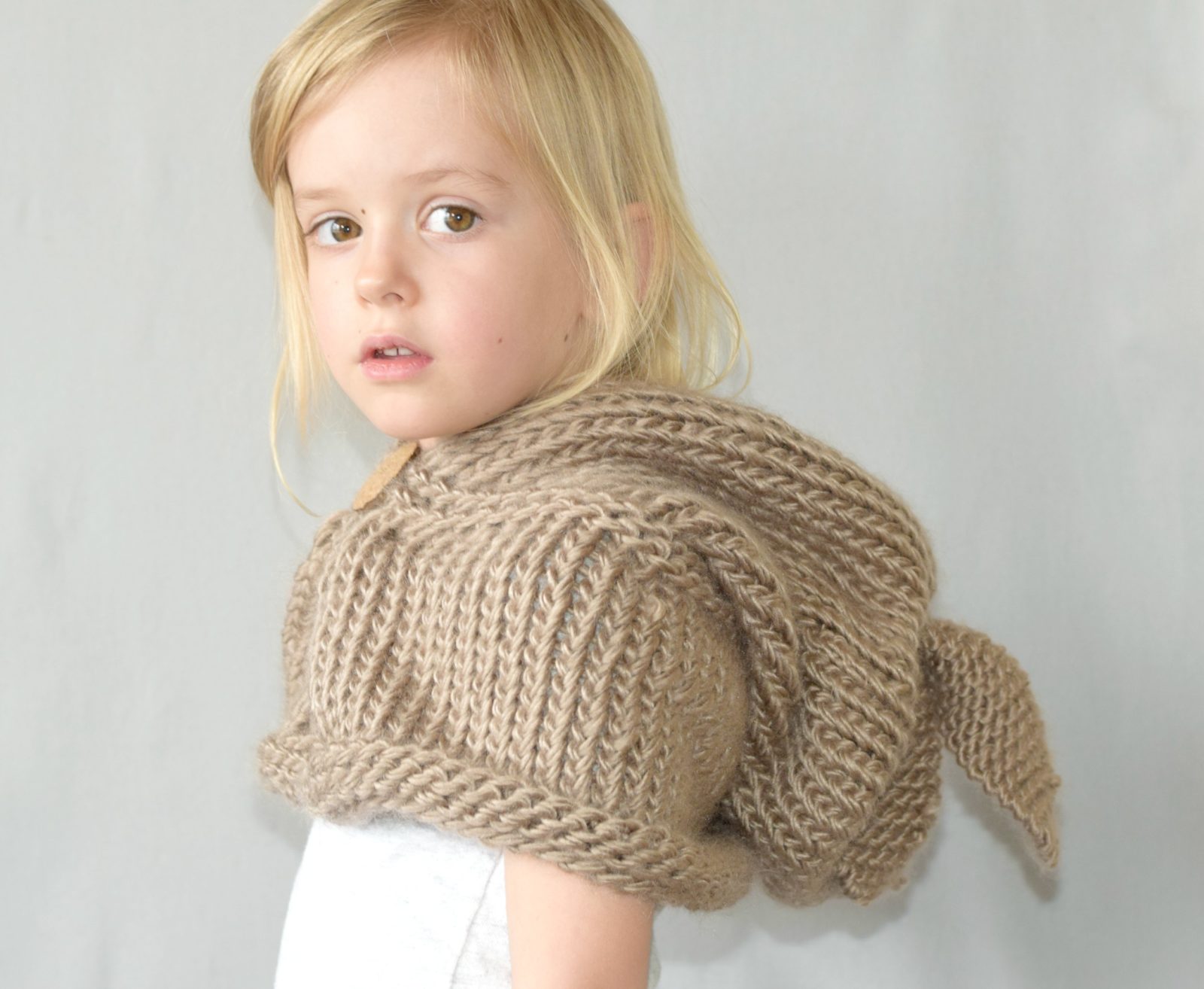 When I saw this yarn (Landscapes from Lion Brand), it reminded me of the color of a velveteen rabbit, hence the name. 😉 Landscapes yarn actually has a wide variety of really nice self striping skeins, but I loved this solid color for this project. The hooded cowl is knit by holding two strands of yarn together for both the cowl/stole and the ears. The ears have a mind of their own in a way, kind of twisting and flopping in interesting ways. I think it adds to the character of the hat. 😉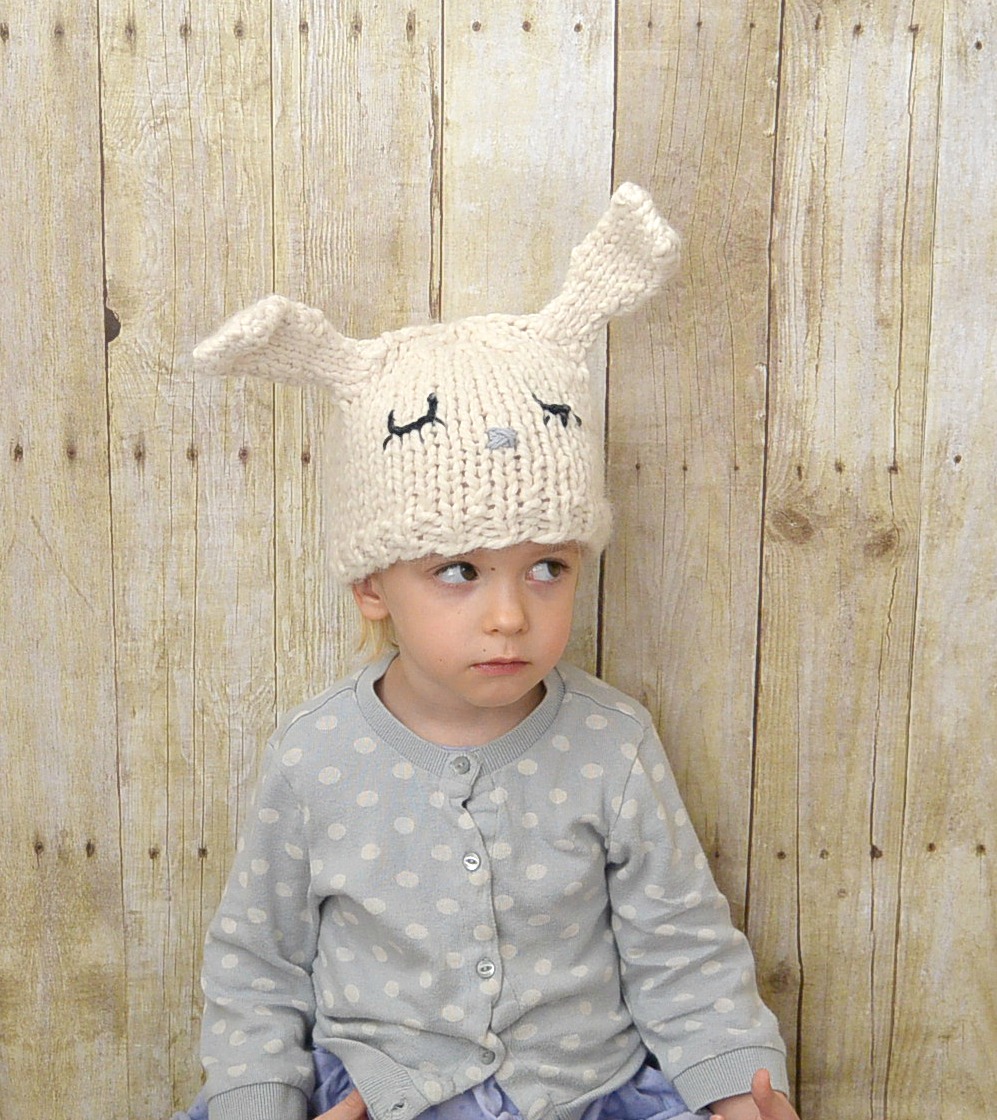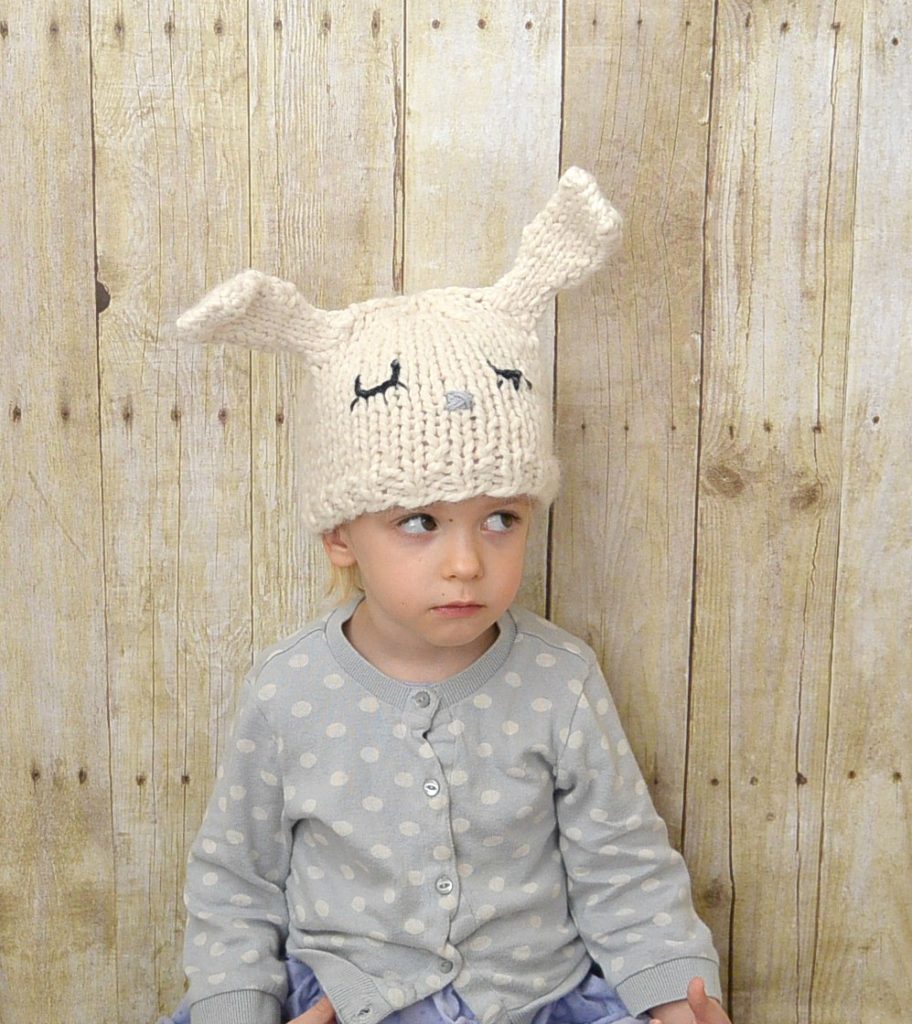 The white bunny hat above fits a toddler, so feel free to click HERE to grab that pattern if you're wanting to make a smaller hat. The one I'm sharing with you today fits a small child.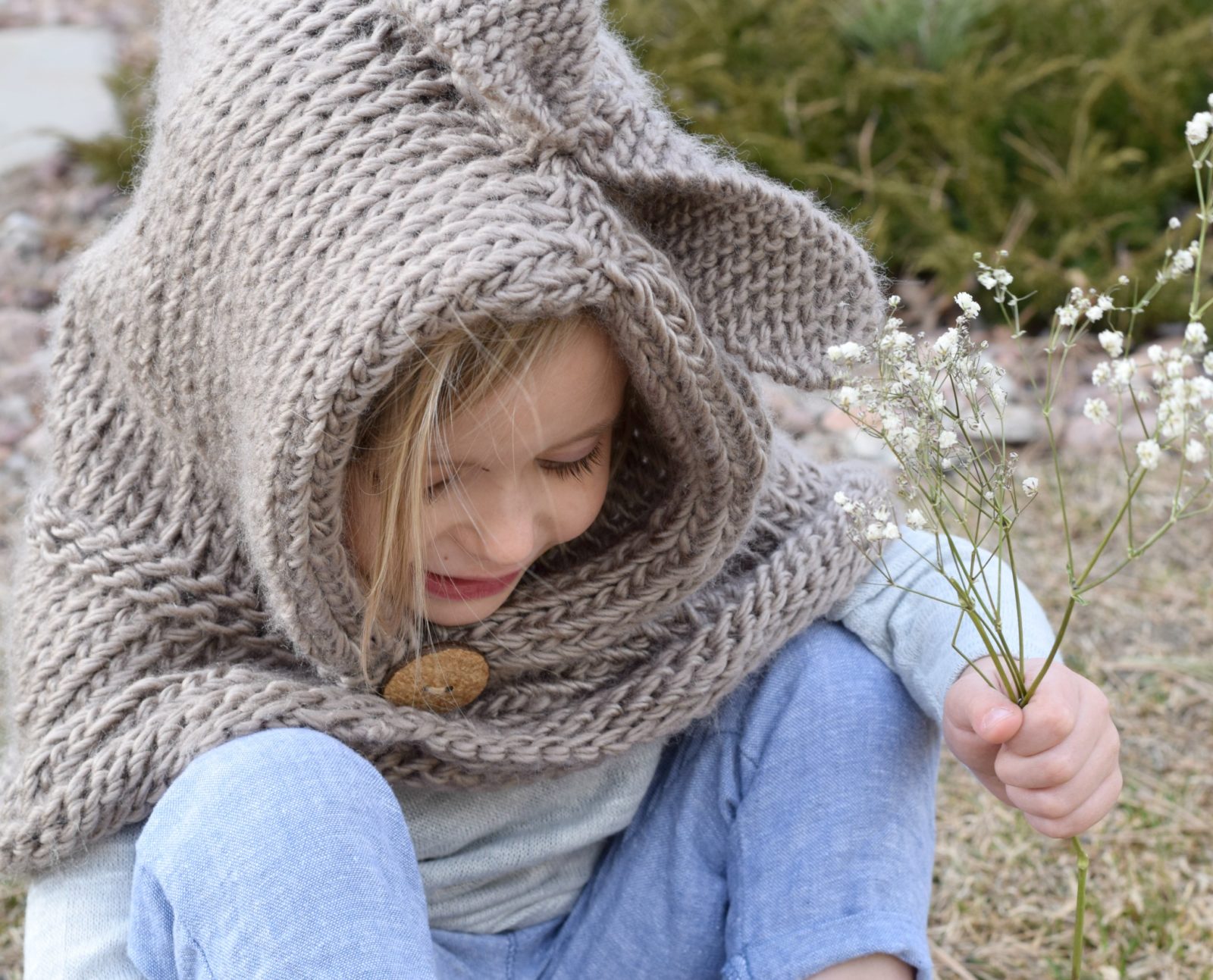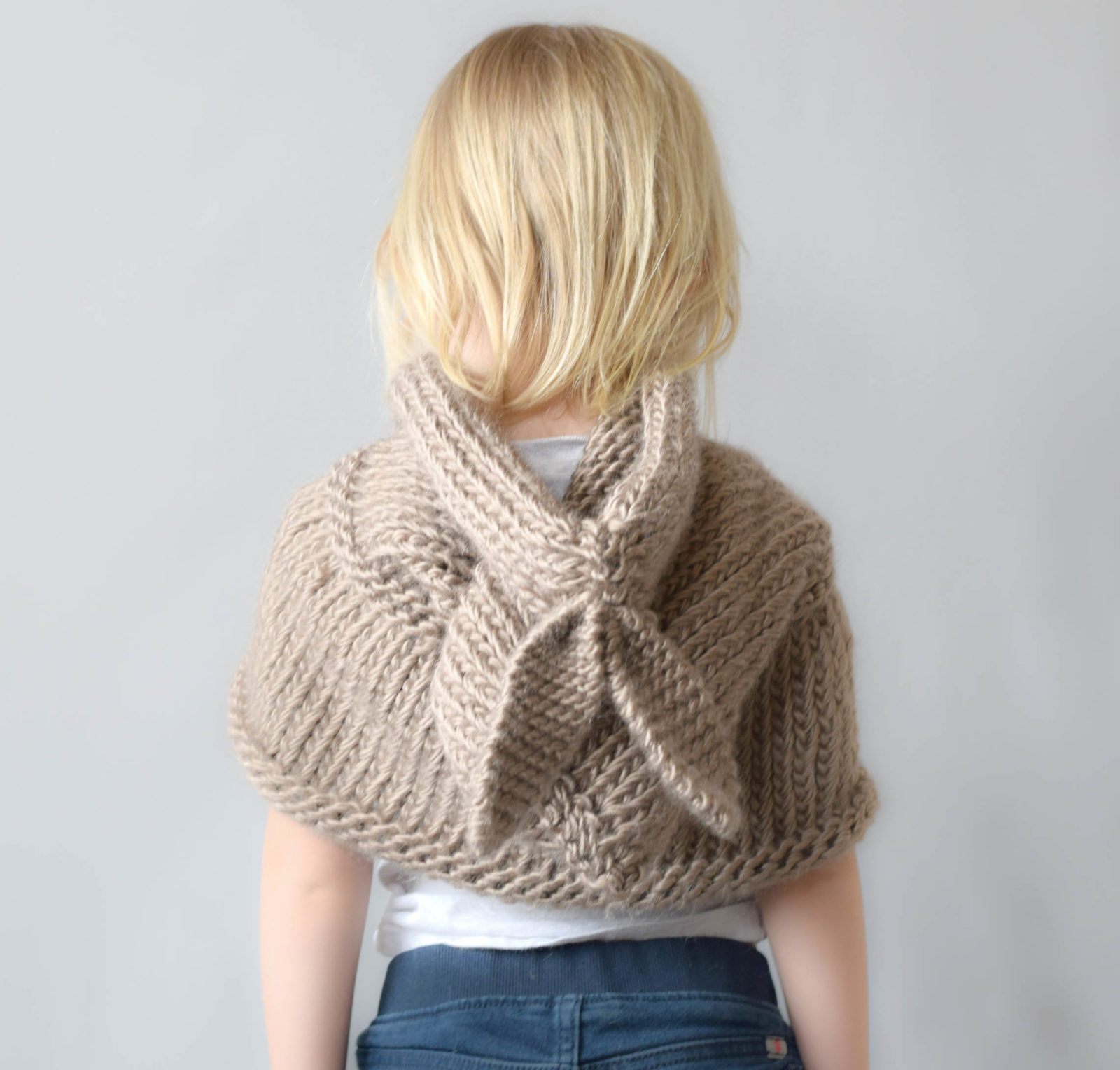 Notes:
In staying with my "keep it simple" theme when I knit and crochet, this hood has a very easy construction. You do need to know how to knit in the round and be comfortable with knit and purl.
There is also very minimal decreasing by knitting two together. Nothing complicated here. 😉
The hood will fit a small child, I'd say from 4 years old to maybe 6 or 7 years old.
It's pretty loose fitting on my four year old so she can grow and still use it
Gauge is approximately 2.5 stitches and 3 rows per inch
You will need:
4 Skeins Lion Brand Landscapes in Taupe or comparable yarn ( It's listed as Medium Worsted Weight yarn, but I think it appears to be almost chunky)
US Size 13 9.0 mm 16″ circular needles
US Size 10 knitting needles (for the ears)
A large button for the front of the hood
Scissors
Tapestry needle to weave in ends and attach years
Pattern:
Holding two strands together, cast on 77 stitches on your circular needles, join to knit in the round (mark the beginning of your round if wanted. I use the tail to be able to see where my round begins)
Purl for approximately 2″ inches ( you are working from the bottom, up. This is the detail at the bottom)
Next – Knit for approximately 5″ inches or 15 rounds
Next – Purl for 2 rounds
Next – you will now knit as if you are knitting flat, working rows back and forth instead of rounds in order to make the opening for the hood. ( You can search YouTube to see how it's done if you're not sure – it's really easy)
Decrease Row:
Knit 5, Knit 2 together across row
Next – Continue to knit for approximately 10″ inches or about 30 rows
Cast off
Assembly:
Turn the hood inside out. Seam the top of the hood together with your preferred method. I did a simple whip stitch, lining up the stitches and grabbing a leg from each stitch, attaching along the length of the hood. Tie off, weave in ends.
Turn hood right side out.
To make the detail at the bottom with the button:
At the hood opening, fold in at the purl ridges on both sides about 2 inches in. Make a few stitches with your tapestry needle and yarn to hold the folds together. You will place the button at the front of the folds.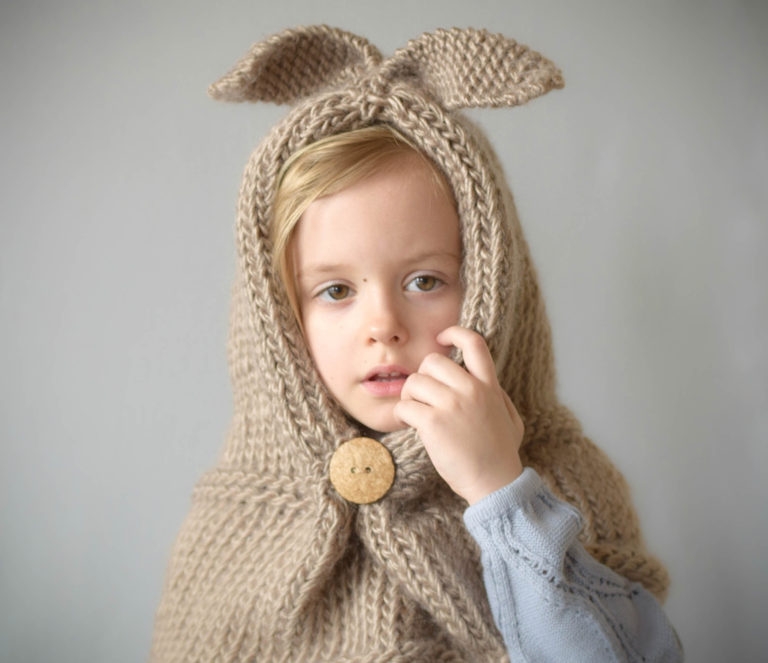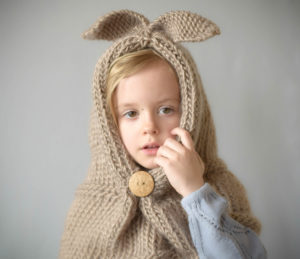 Ears – Make two of these:
With your size 10 Knitting needles, and holding 2 strands of yarn together, cast on 8 stitches
Knit for approximately 4.5″ inches
After knitting for 4.5″, next row- Knit 2 together, knit 4, knit 2 together across row
Next row- knit across row
Next row- Knit 2 together, knit 2, knit 2 together
Next – knit cast off. Tie off and weave in ends.
Attaching ears:
Take each ear, and pinch the bottom, take a small length of yarn and tie this "pinch" together so that it gives more shape to the ear.
Placing ears 2″ inches back from the front of the hood. Hold the ears together and with your tapestry needle and yarn, whip stitch around the the base of the ears working through the fabric of the hood. Once the ears feel firmly attached, tie off and weave in ends.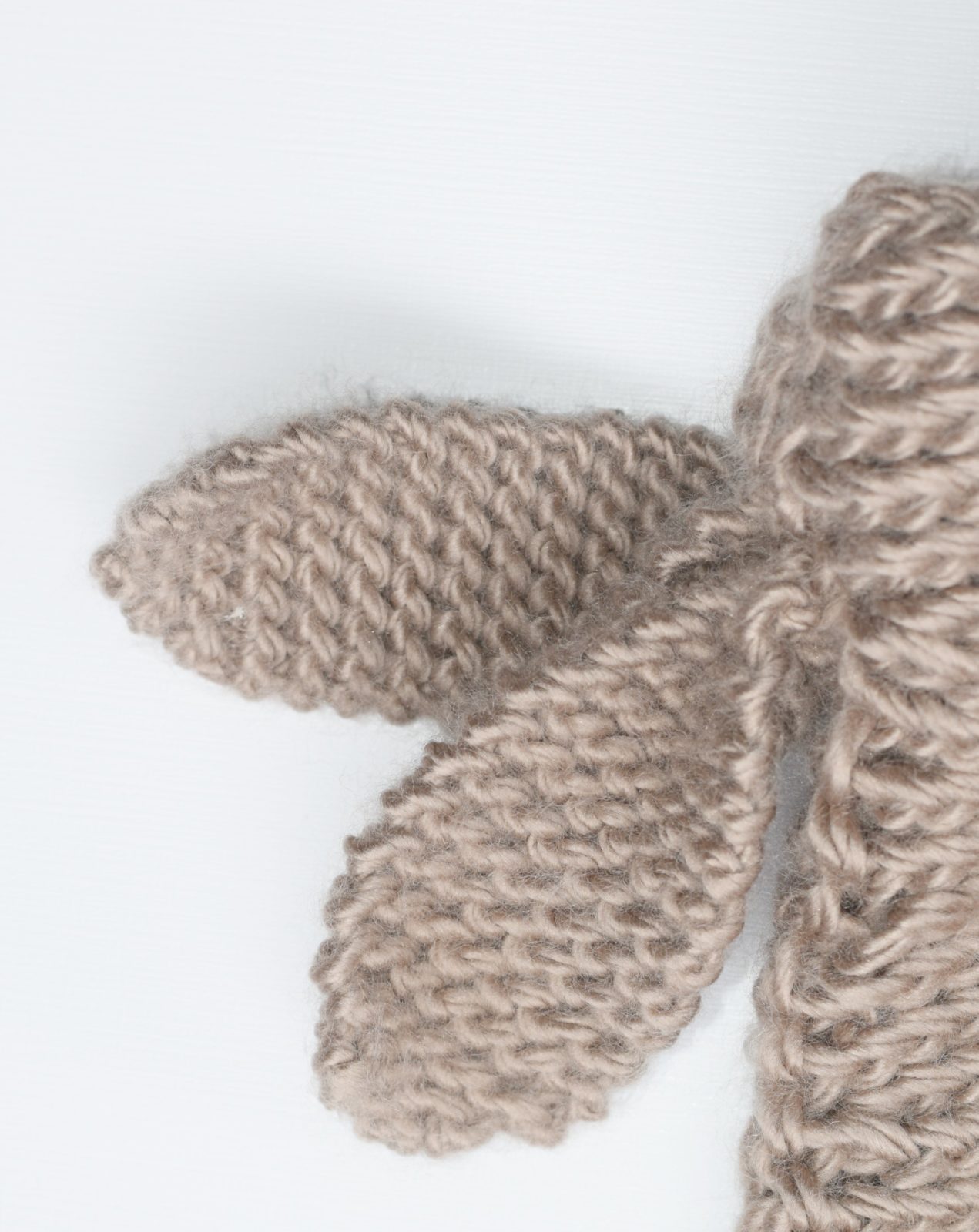 Here's how it looks as it being knit: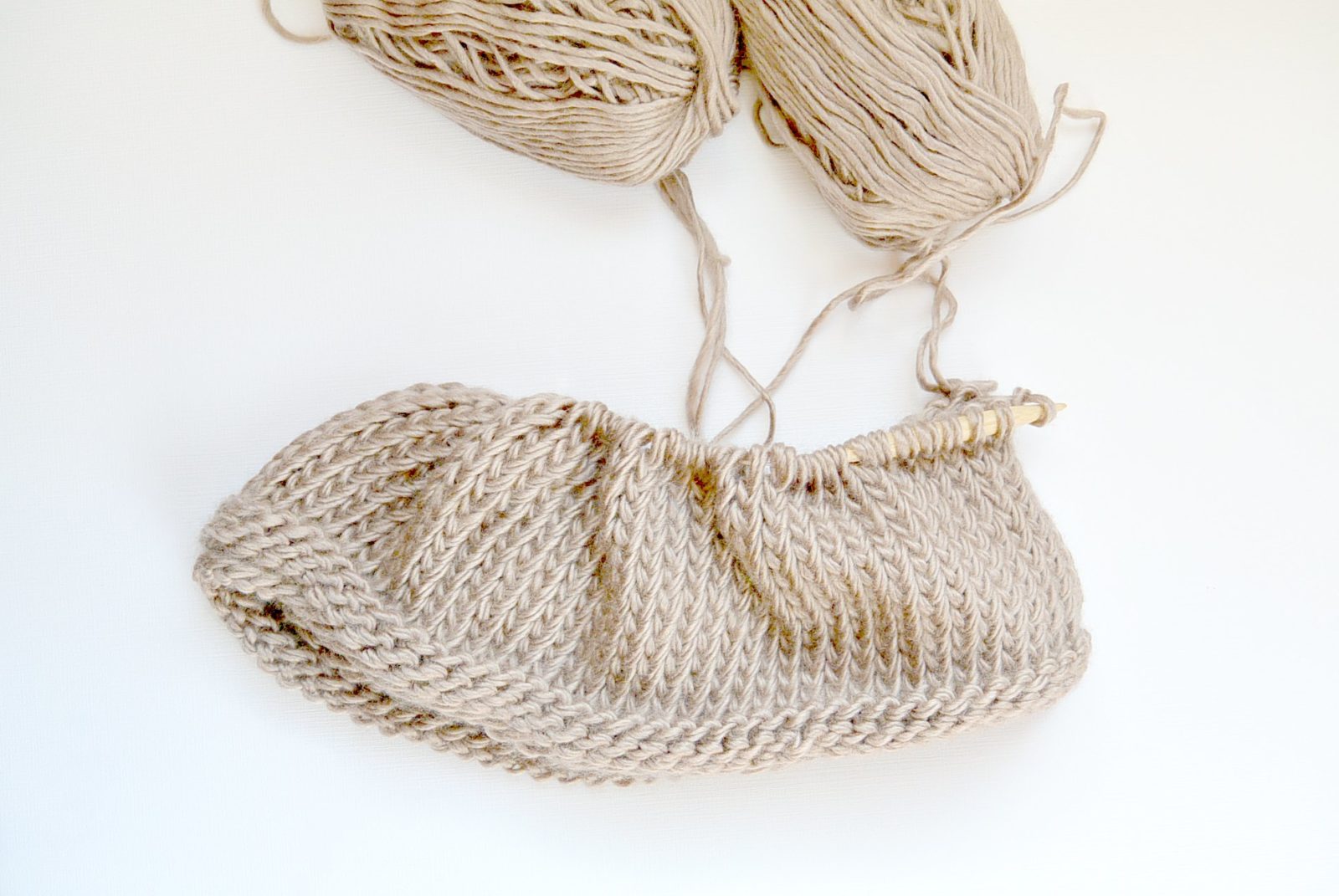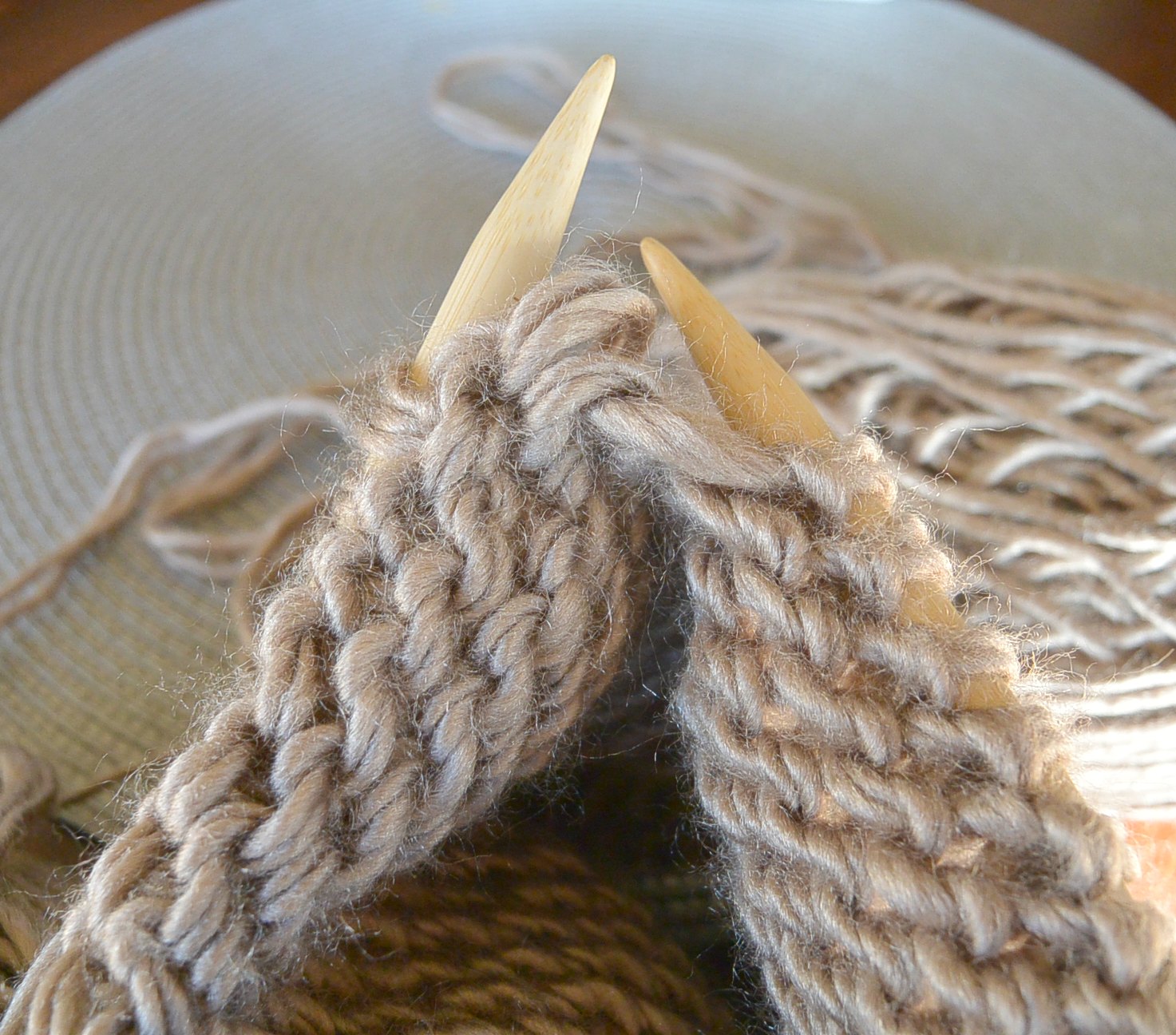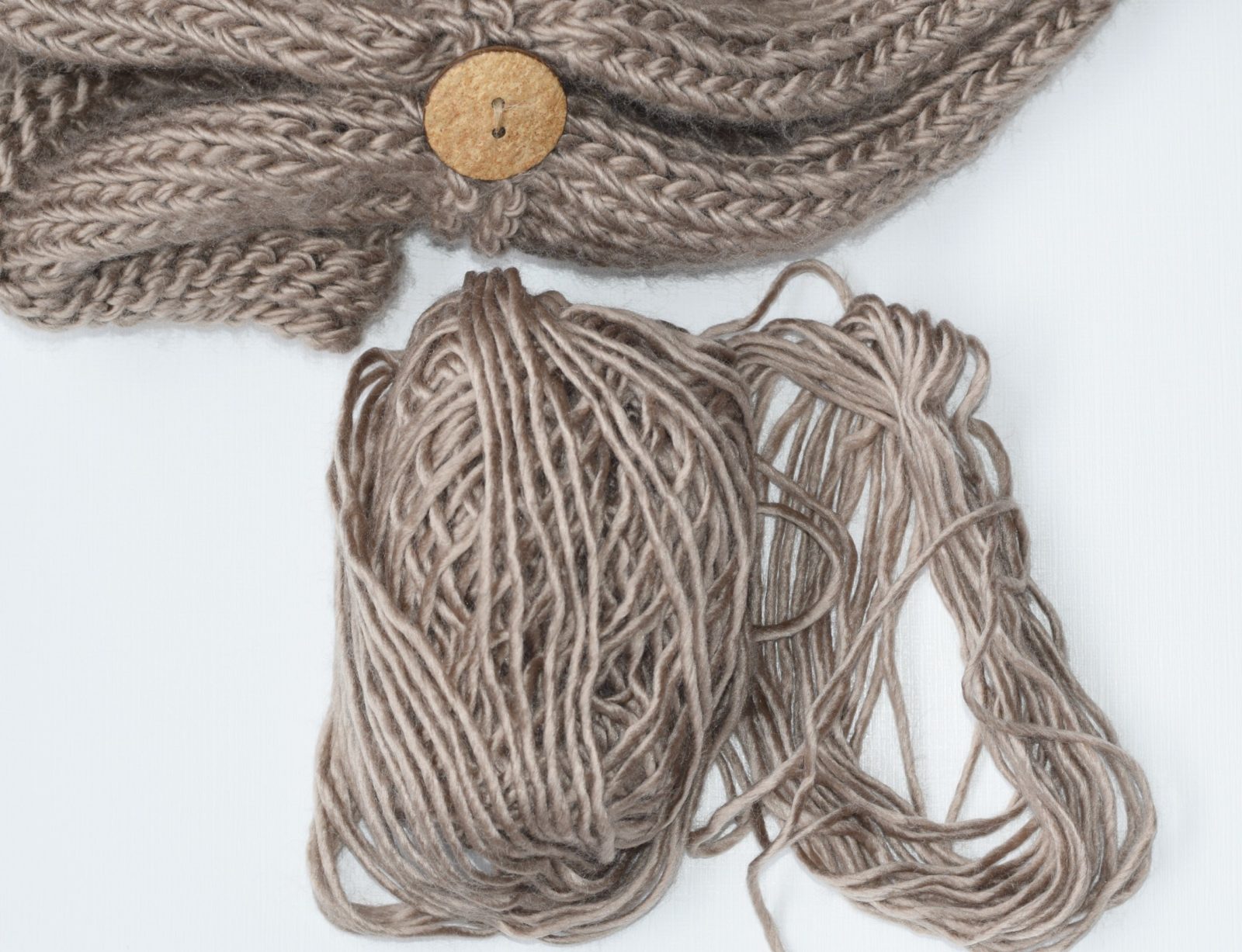 I wish you and yours a happy spring time. We are really enjoying the warm days, though I know we have a lot more snow before summer arrives for good.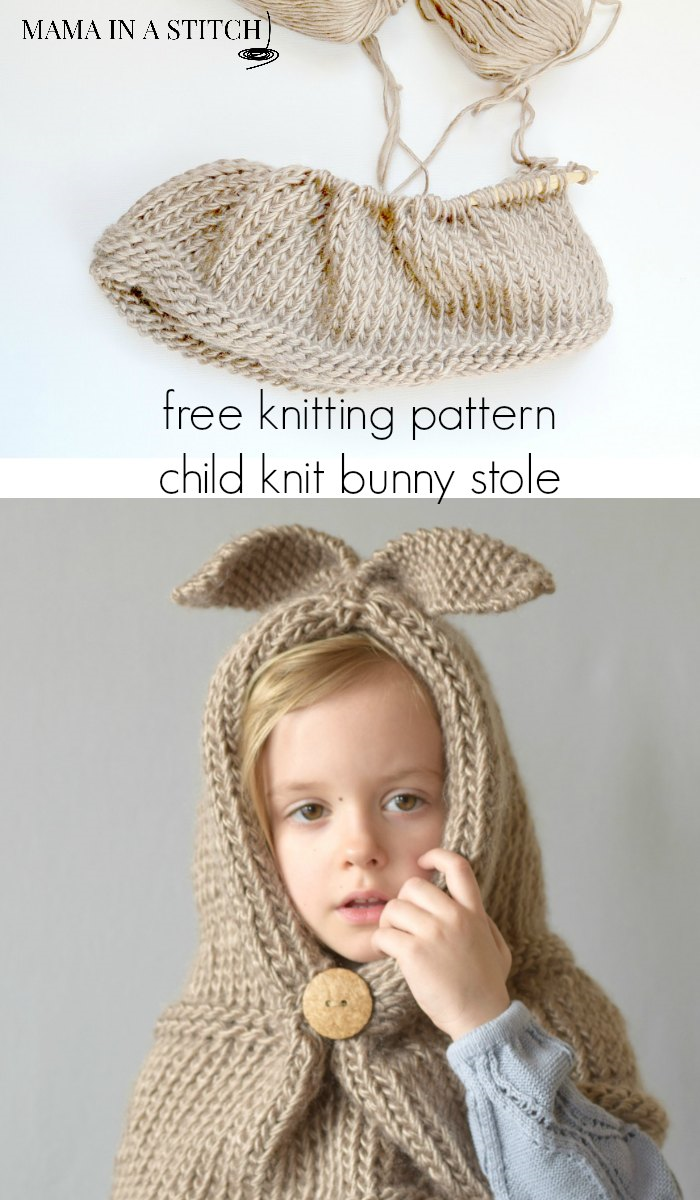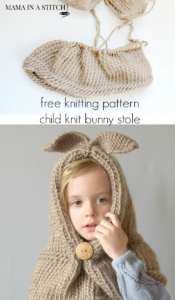 I love seeing you over on my Facebook page, and feel free to subscribe if you'd like to get the blog posts and patterns straight to your inbox.
Can I say "Happy Spring" yet?
Okay, at least have a "hoppy" day! 😉
What do you like to knit or crochet this time of year?
XO
Jessica
[jetpack_subscription_form]
If you liked this, you might also like: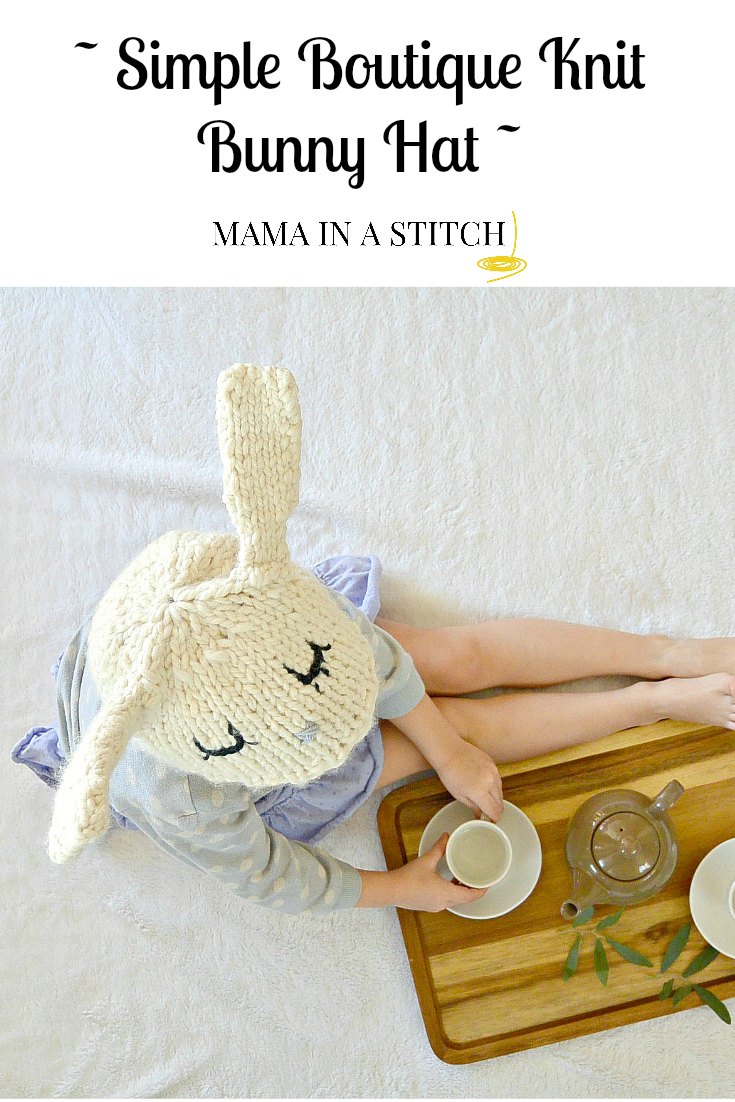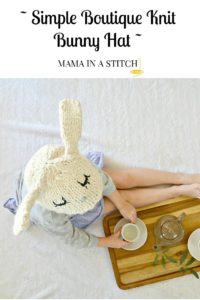 Thank you to Lion Brand Yarn for sponsoring this post. All opinions are my own.