Done In A Day Quick Crochet Blanket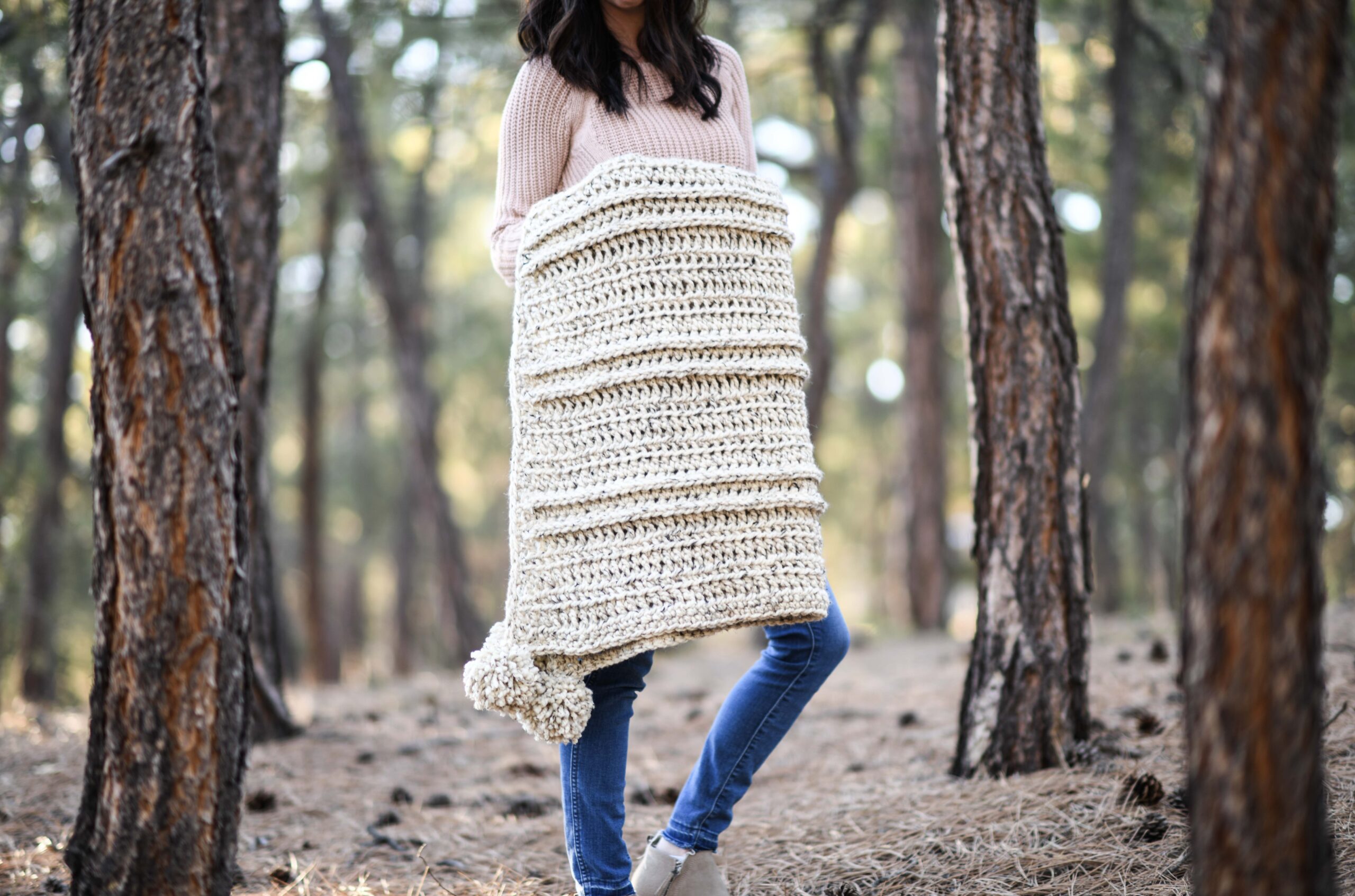 Sometimes you just need an easy, quick crochet blanket that's still pretty and modern. You can make this textured beauty in a day's time, so it's perfect for last minute gift giving! It might be a fast blanket, but quality and good looks weren't sacrificed. Check out how simple it is to crochet for yourself or your friends and family, below. 🙂 You can also find the kit available on the Lion Brand site HERE (available in many color options) or the ad-free, printable on Etsy HERE.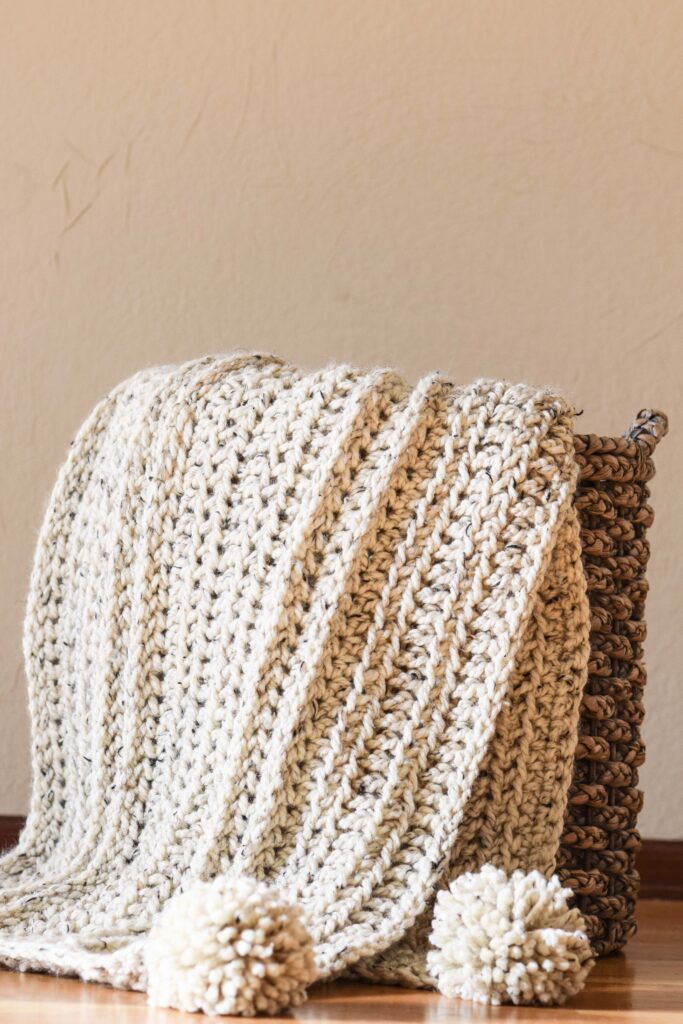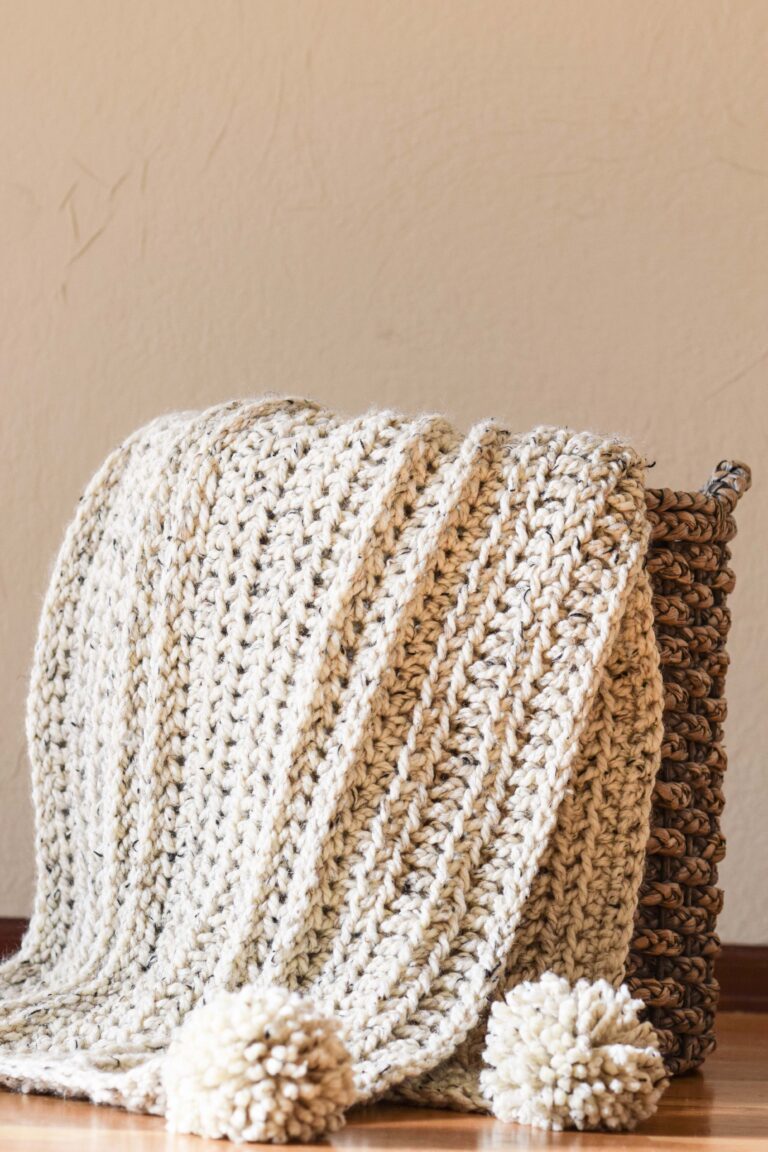 Chunky, knit look blankets are still super trendy and I'm seeing them everywhere, from Crate & Barrel to Pottery Barn and more. I've shared a few knit versions this year (Modern Mountain Throw HERE and Fall Cuddler HERE), so it was time for a crocheted one! This quick crocheted blanket "cuddler" features the look of knit-like braids and a beautiful texture that's created with half double crochet worked through the front loops. The poms add a lot of flair and fun, but you can choose to add fringe instead (or just leave it plain).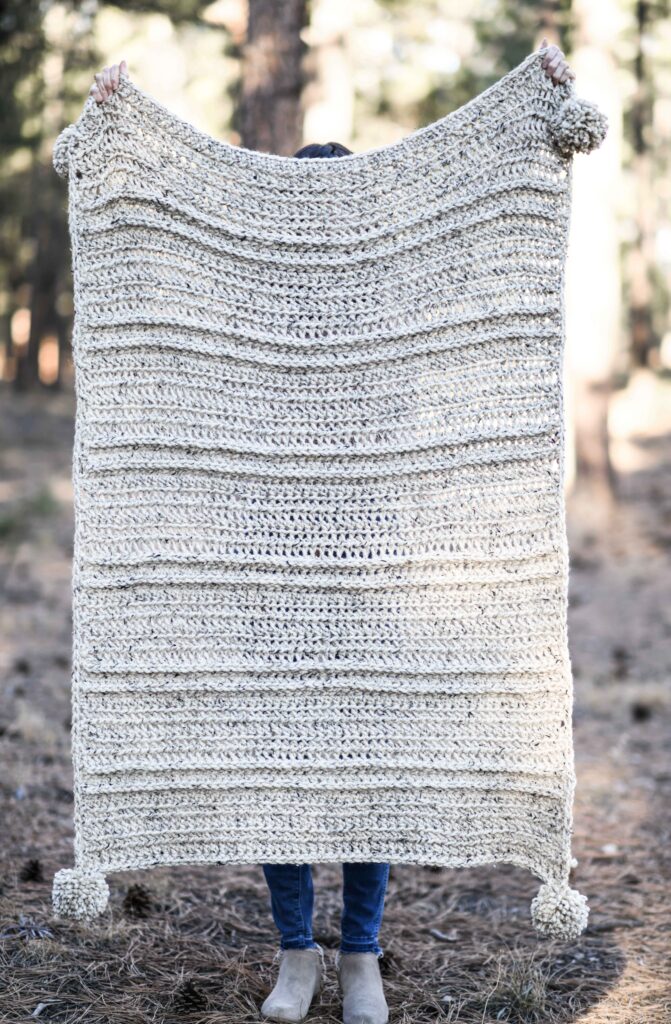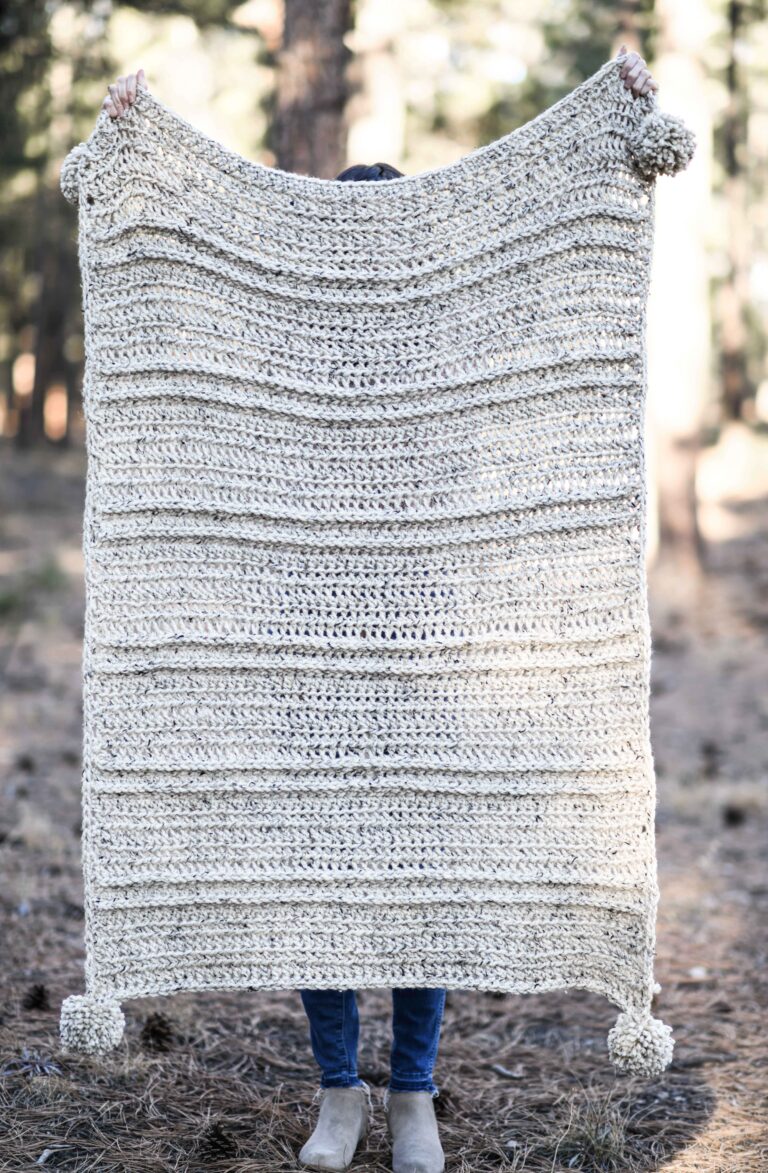 The other great thing about this blanket is that it's simple to adjust the pattern in order to make it any size that you like. I think it makes for a great charity project blanket because it doesn't take too long and doesn't use a ton of yarn. I'm thinking lapghans for nursing homes, baby blankets (use a yarn without wool in this case), and big, glorious throw blankets as well!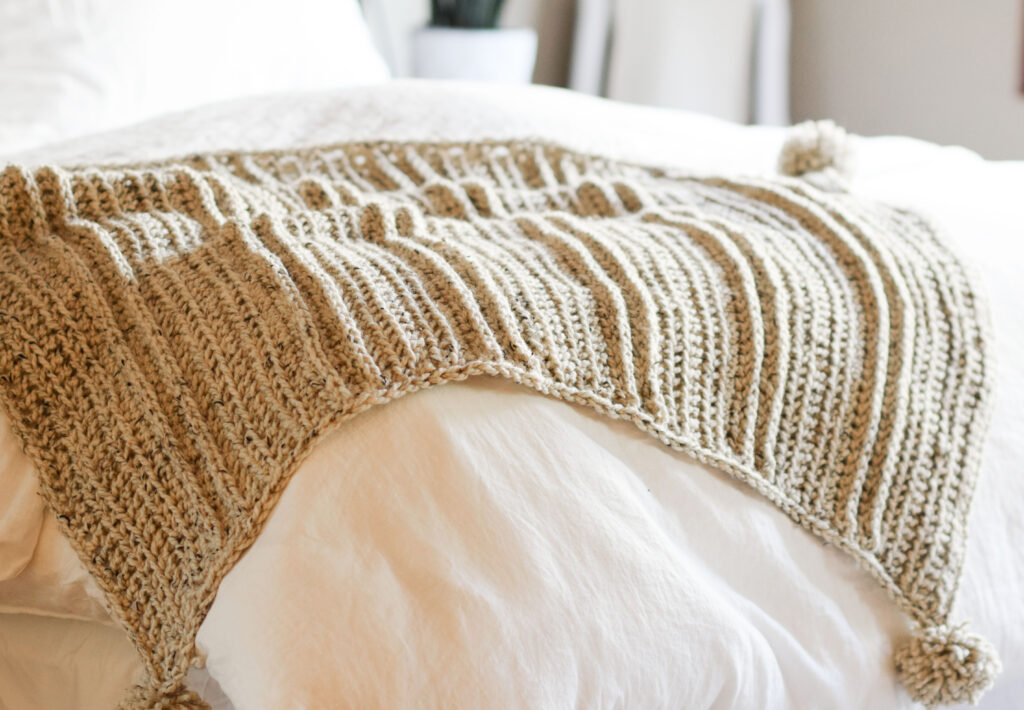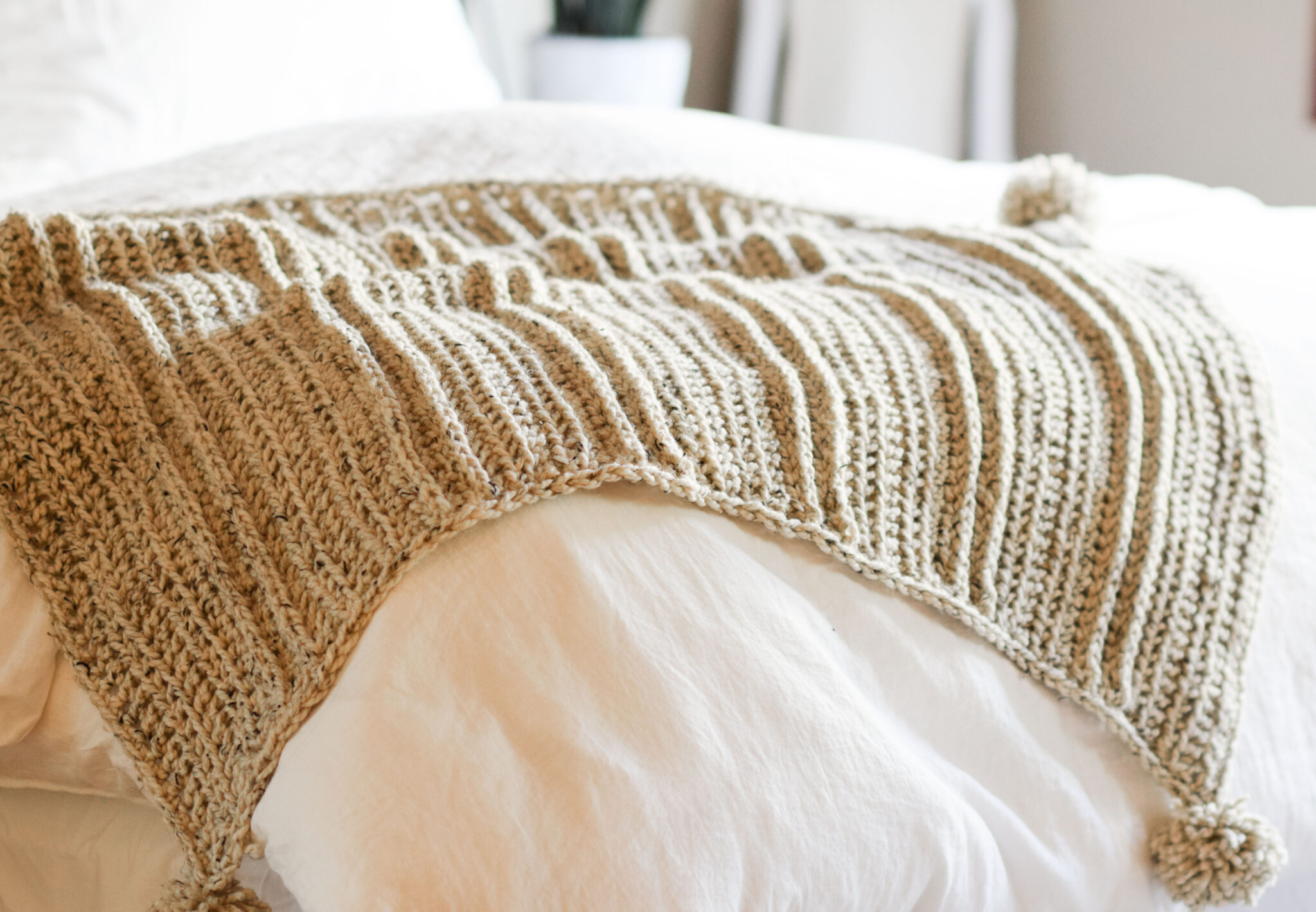 No surprise here – I'm using my all time fave yarn, Lion Brand Wool Ease Thick & Quick. I made this blanket with the color Oatmeal because so many of you raved about the color when I used it for the Fall Cuddler. It's a great, rustic neutral, but you can use any color you like! As long as it's a super bulky #6, you're good to go. I'd love to have this blanket in the Fisherman color too. 🙂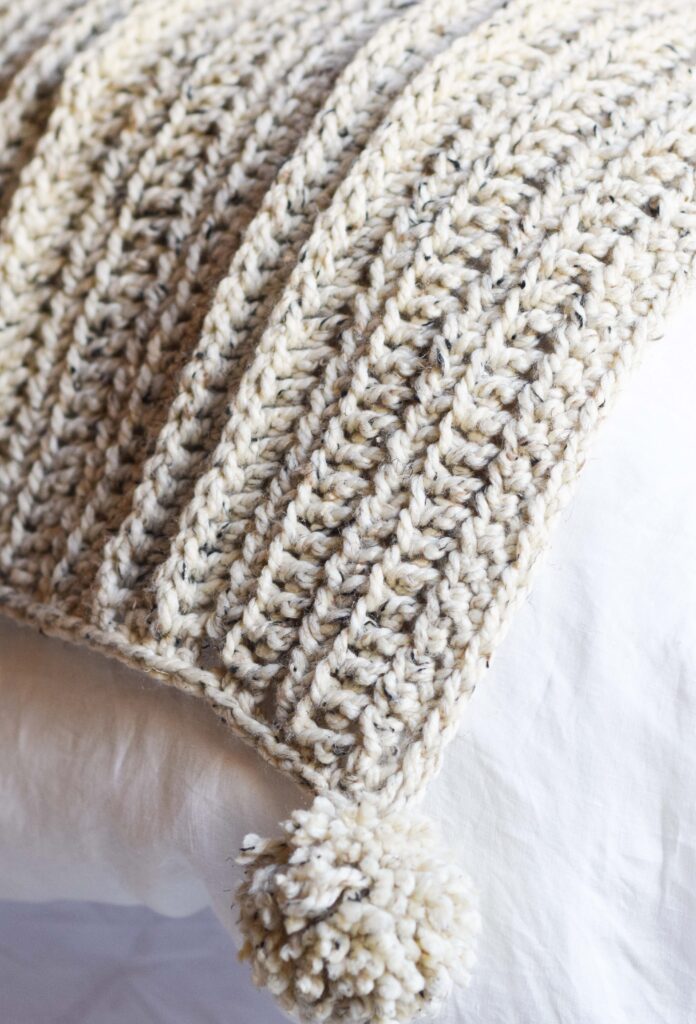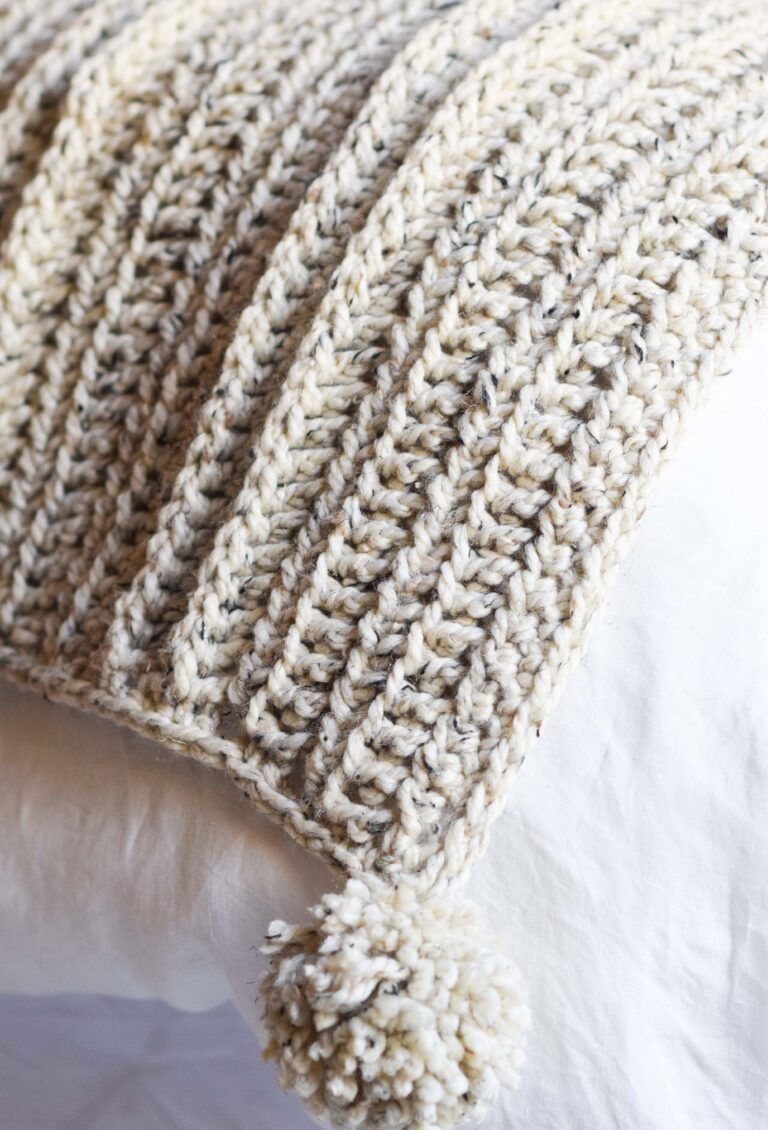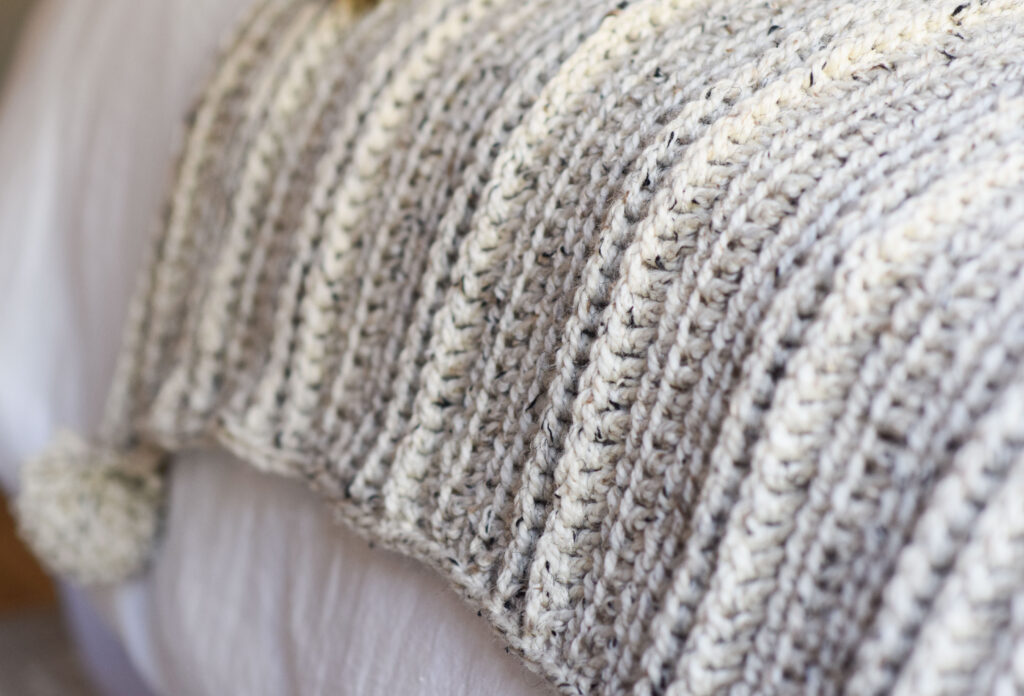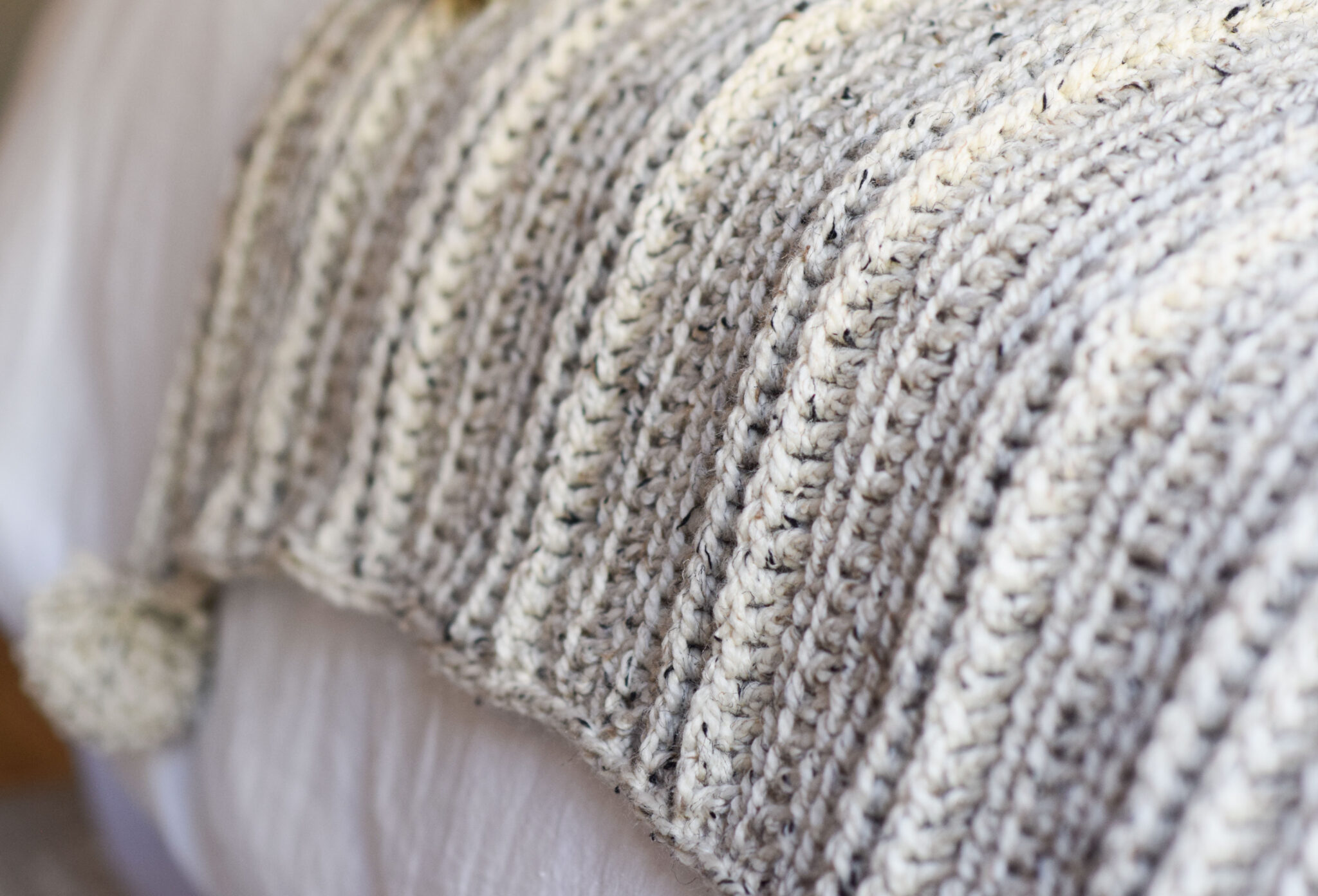 So how do we make this? Let's hop to this quick and easy blanket pattern! (Remember that you can grab the ad-free printable from my Etsy shop HERE)
Done In A Day Cuddler Throw Quick Crochet Pattern
Description:
With it's knit look and braid like stitches, this cuddler blanket is both timeless and right on trend. Using a large hook and super bulky yarn, you'll be cozy both making and using your squishy new blanket. One day is all you'll need to whip it up, and it's easy enough for beginners!
Skill Level:
Easy +
Materials:
US Size P, 15 mm crochet hook or size to obtain appropriate gauge
4 Lion Brand Wool Ease Thick & Quick Bonus Bundle in Oatmeal 340 g/skein (note that I used 4 bonus bundles, which is 8 of the regular skeins if you'd rather use those)
or 8 regular sized skeins of Lion Brand Wool Ease Thick & Quick (Kit with several color options available HERE)
Pattern uses approximately 1345 g
Scissors
Tapestry Needle
Size (approximate):
38" x 46"
Abbreviations & Skills:
ch – Chain(s)
hdc – half double crochet
hdc flo – half double crochet through the front loop only
FP hdc – front post half double crochet
Gauge (approximate):
Just over 6 sts & 4 rows in 4" x 4" of hdc flo
Notes:
This blanket is made with basic crochet stitches. Be sure to check your gauge to ensure your blanket turns out the correct size. You can easily customize the size by starting with a longer or shorter chain (any stitch count will do), and crocheting for more or fewer rows. Keep yarn needs in mind if you adjust the size!
Pattern Instructions
Ch 62
Row 1 Hdc in 3rd ch from hook and in each st across the row. (60)
Row 2 Ch 2, turn, hdc flo in each st across the row.
Rows 3 – 5 Repeat row 2.
Row 6 Ch 2, turn, FP hdc each st across the row.
Row 7 Ch 2, turn, hdc in each st across the row.
Row 8 Ch 2, turn, FP hdc each st across the row.
Row 9 Ch 2, turn, hdc each st across the row.
Next, repeat rows 2 – 9, 5 more times or until piece measures approximately 41".
To finish, repeat rows 2 – 5 for a final time.
Border
Single crochet evenly around the blanket one time. If the edges begin to ruffle, you may be crocheting too many stitches. If the edges shrink or buckle, try to crochet fewer stitches around.
Tie off and weave in ends.
Optional Poms
With remaining yarn, create four large poms. With a length of yarn, tie one pom to each corner of the blanket. Feel free to add fringe or tassels instead of poms! It's your blanket, so feel free to be creative.
Enjoy your new "Done In A Day Cuddler Throw"!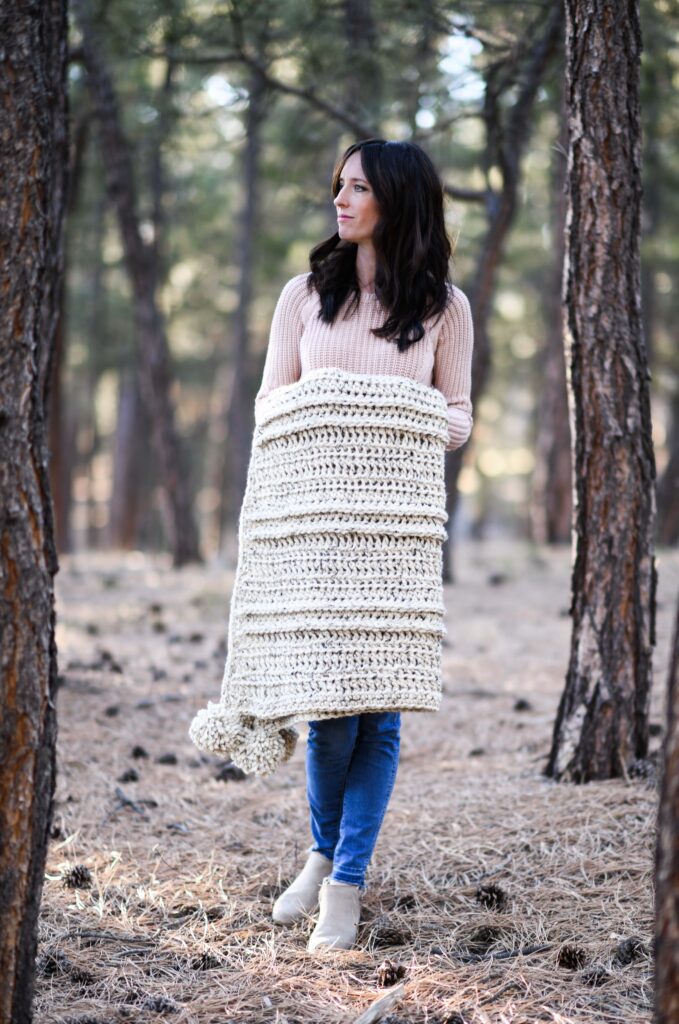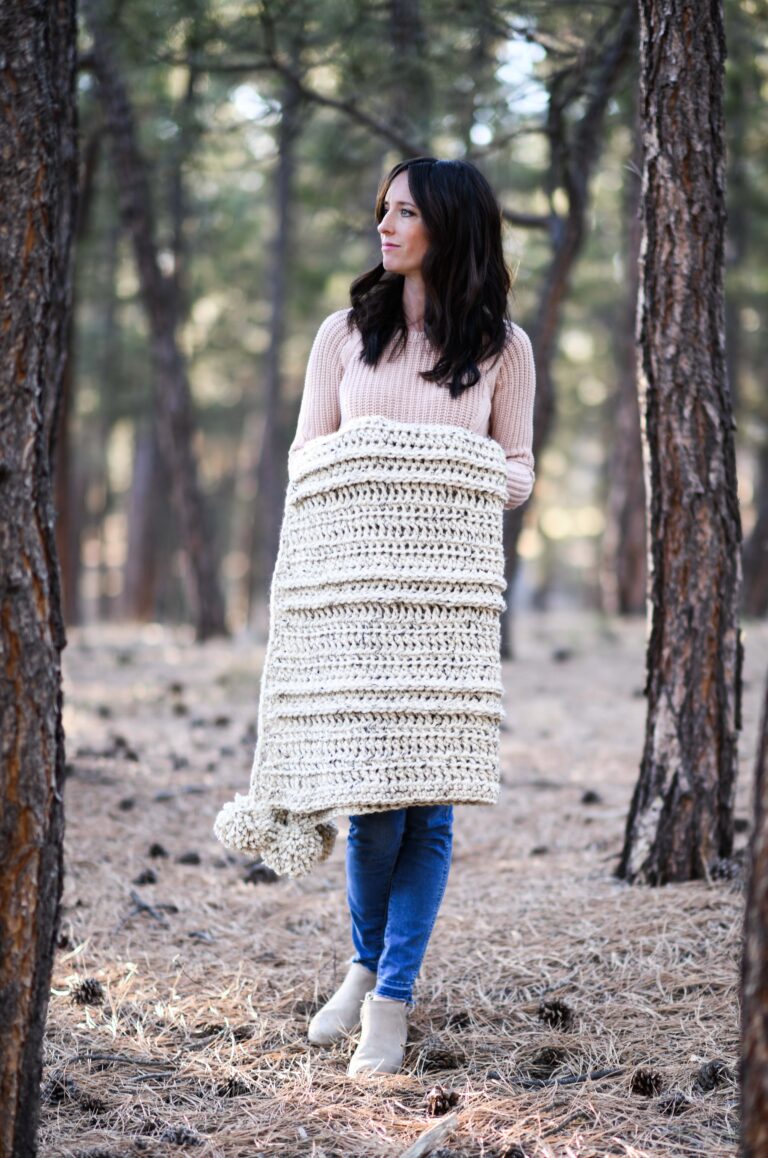 I hope you enjoy this quick, cuddler throw!
If you're looking for other easy crocheted blankets, you might also like my Chunky Icelandic Blanket Pattern or the Go To Blanket Pattern.
I'd love to hear if you make any of my blankets, so feel free to share them on Instagram by tagging me @mamainastitch #mamainastitch.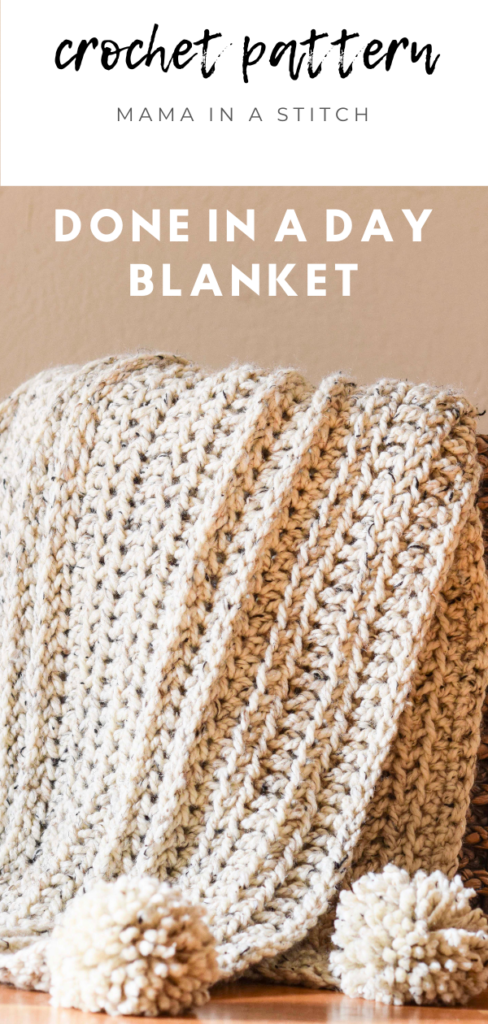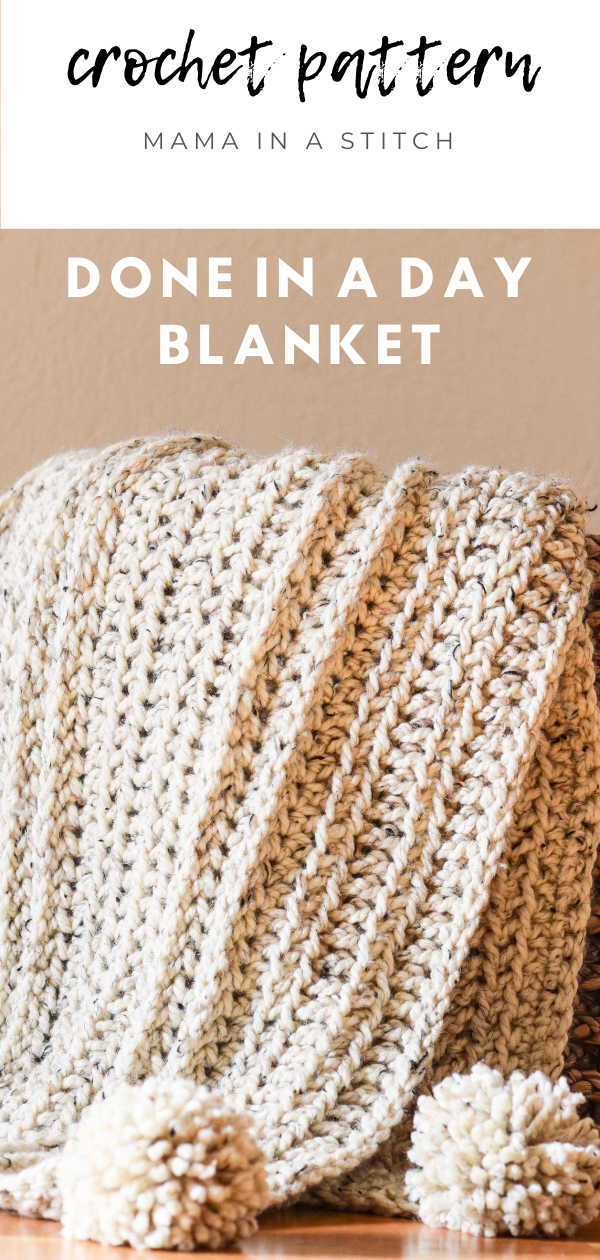 Have a wonderful day my friends!
XO,
Jessica