Modern Mountain Throw Knitting Pattern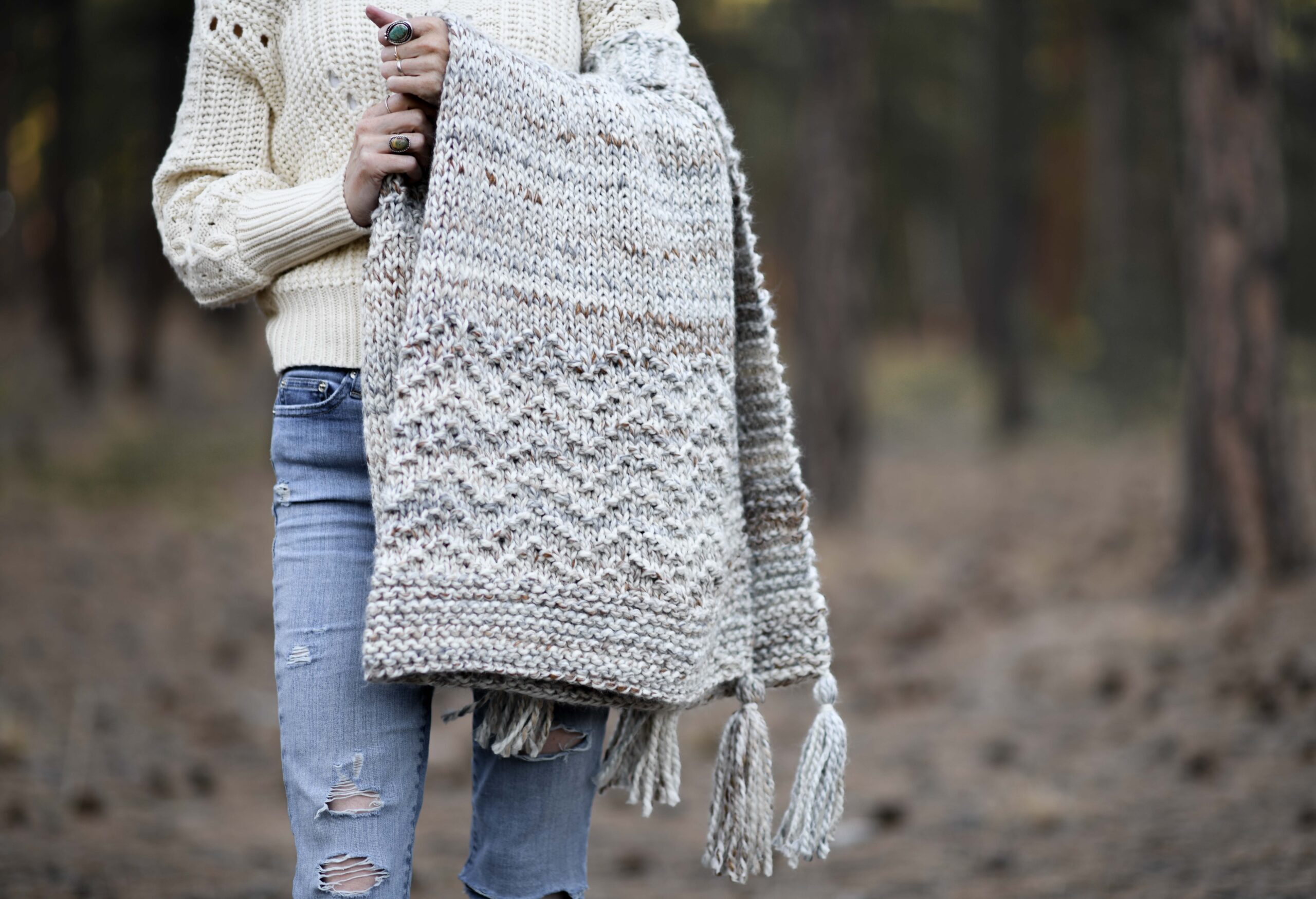 You can see the full, free pattern below or you may choose to purchase the ad-free, printable PDF from Etsy HERE, or the kit from Lion Brand Yarn HERE! Members grab your printable HERE.
This rustic yet modern blanket has been in my head for a long, long time, so it's pretty fun to finally share it! You may have seen a couple of my textured throws (here and here), but this one is the simplest yet. It's very, very easy to create the pretty texture that looks like little "mountains" and it works up quickly on large needles. When I saw this blanket completed, it reminded me of a style you might see from Joanna Gaines!
If you like easy or beginner patterns, this is a great option to consider. I also think this would make an amazing Christmas gift for anyone at any age (well, a baby might not want a wooly throw, but you know what I mean – haha). The lapghan size is awesome for toddlers and happens to be my personal favorite size for easy access on a chair or couch.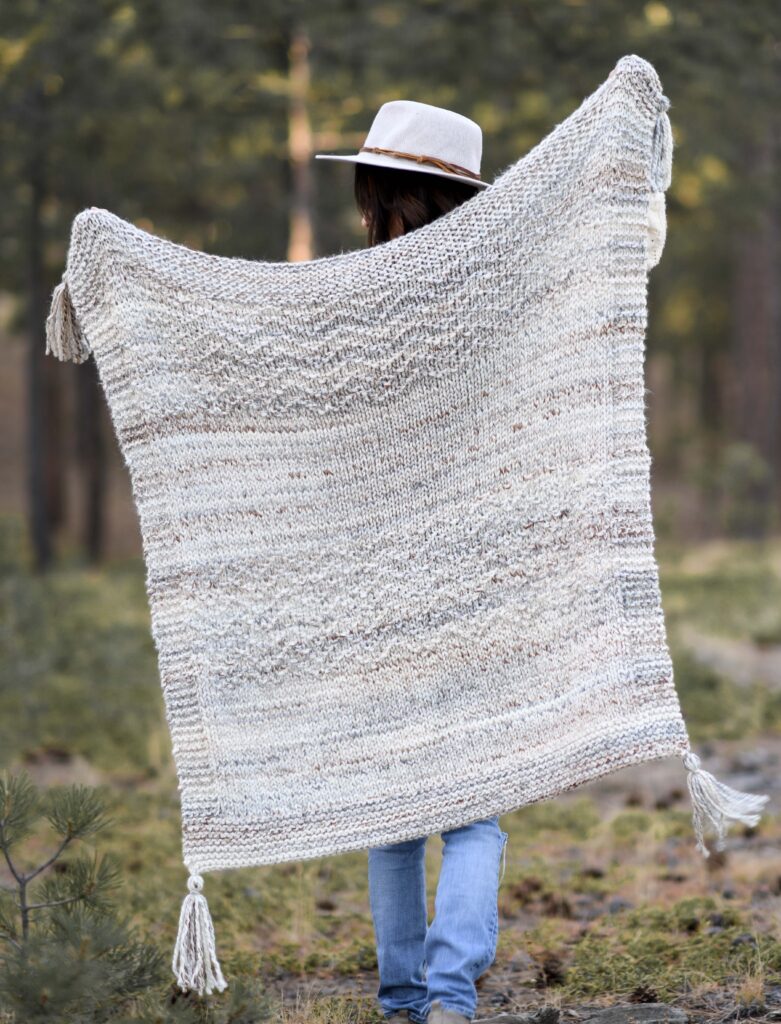 And how about this yarn? It's my go-to, Lion Brand Thick and Quick, but it's the first time I've used this color. Many of you asked about the yarn when I shared my sneak peek on Facebook and Instagram. I've been wanting to use this Fossil color FOREVER. The mix of neutrals are the perfect blend to go with a variety of spaces and decor. It also adds a lot of interest to the blanket but doesn't take away from the pretty texture, don't you think?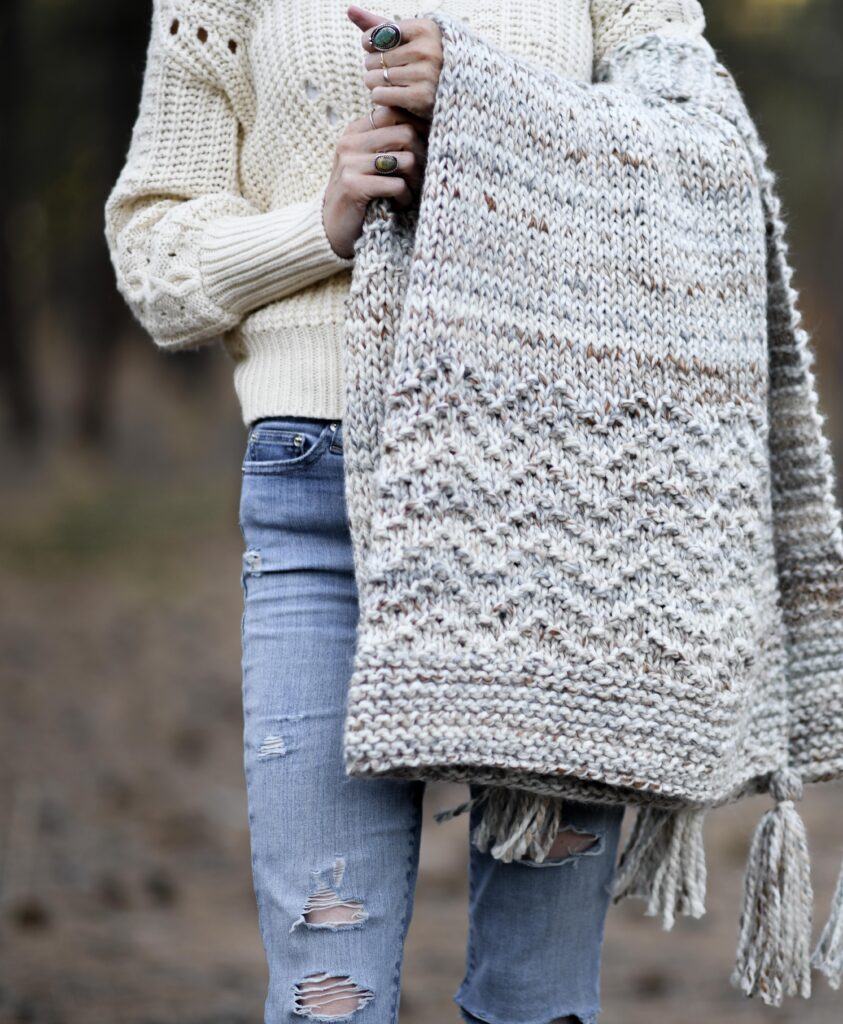 Basically, if you can knit and purl, you can make this blanket. The sections of texture do entail a little bit of counting, but it's verrrrry simple. Let's be honest – I don't love counting. This however, is completely doable! It's also kinda perfect because you work the textured section which is a lot of fun because you see each "mountain" form. Then you get a brain break while working the stockinette. Perfect!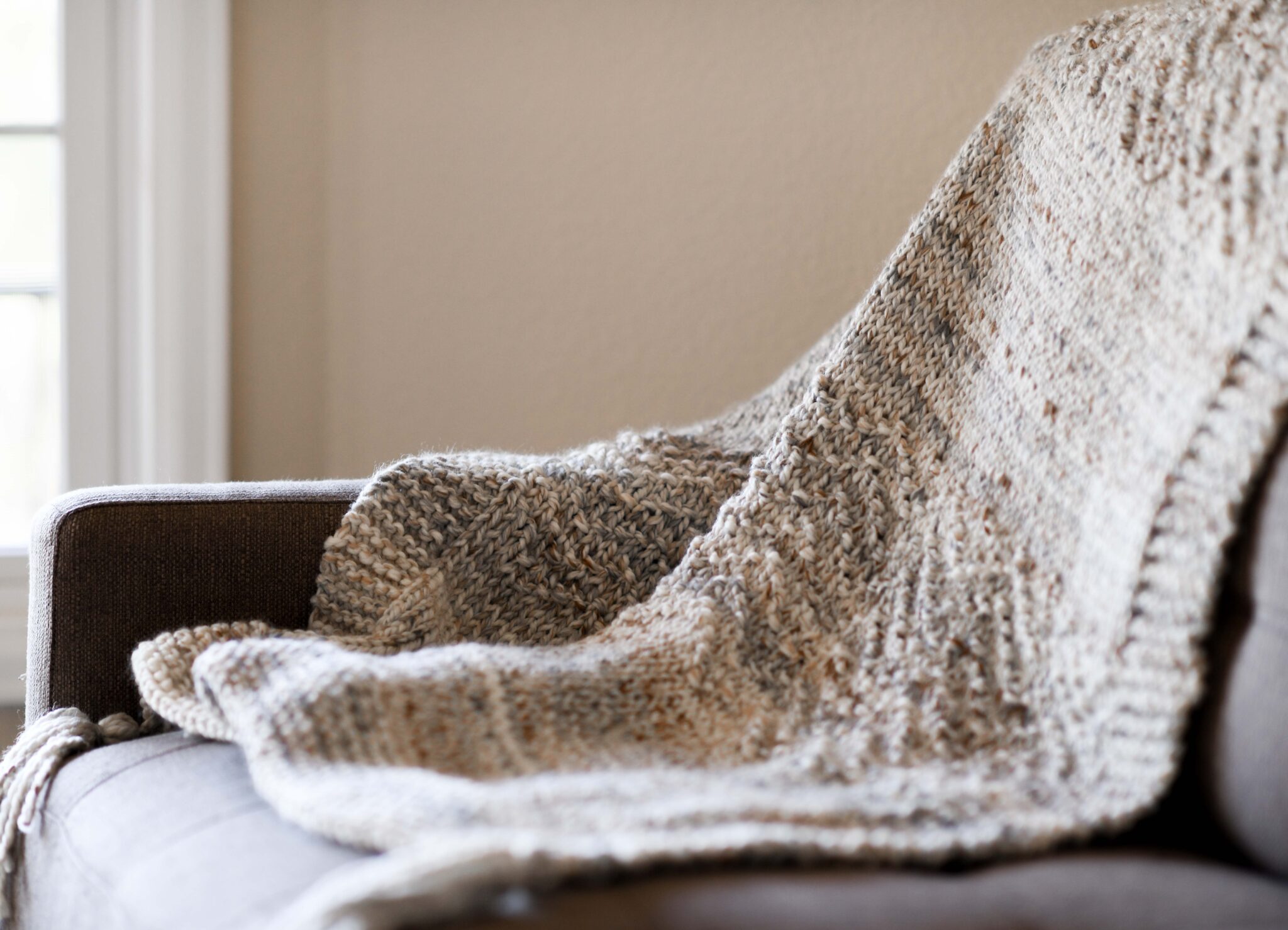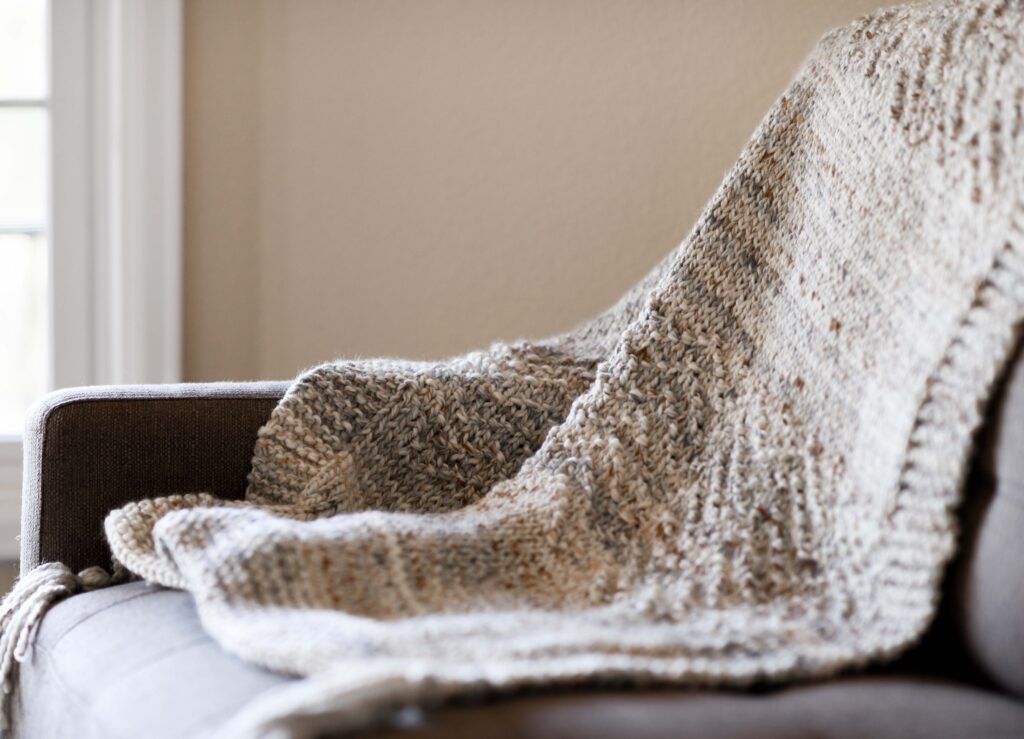 Let's hop to the pattern. 🙂 And do notice that there are TWO size options!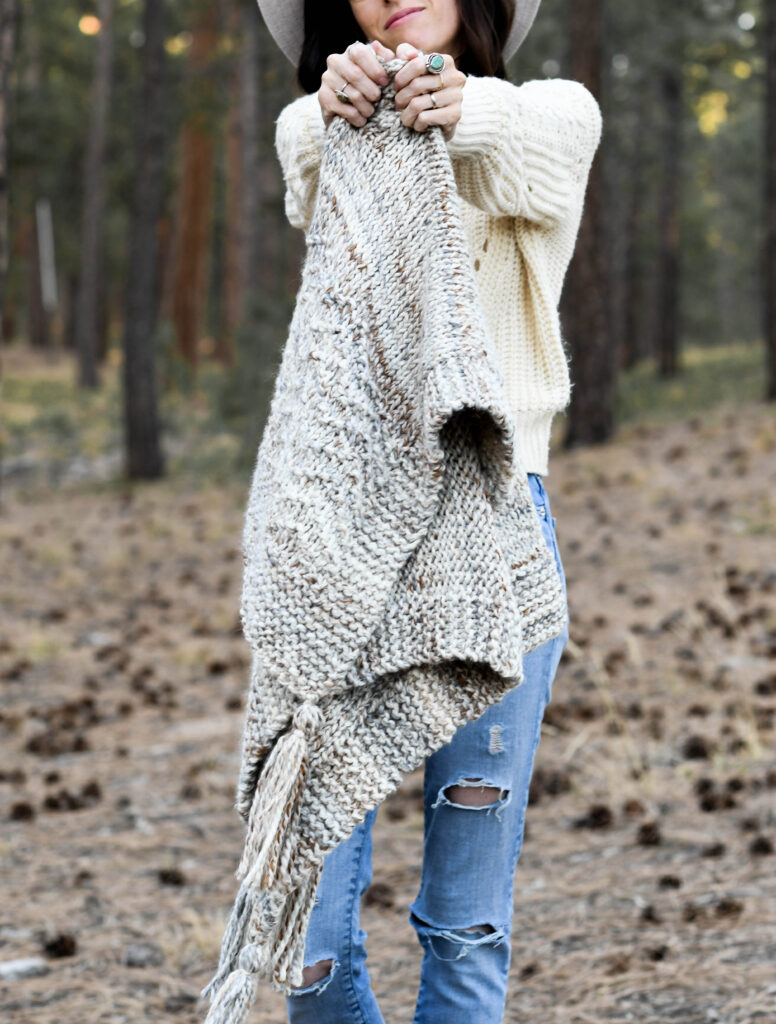 Description:
Cozy up with this gorgeous, squishy throw all winter long. Two modern stitch patterns come together to create a timeless blanket featuring understated texture. The little "mountains" are created with a simple knit and purl variation worked over four rows. This is easy enough for adventurous beginners and it looks amazing in any space! It works up quickly too, with large needles and luxurious chunky yarn.
Materials:
Lapghan Size:
7 skeins of Lion Brand Yarn Wool Ease Thick & Quick in Fossil 140 g/skein (Grab the convenient kit here)
Pattern uses approximately 870 grams
Afghan Size:
11 skeins Lion Brand Yarn Wool Ease Thick & Quick in Fossil 140 g/skein (Grab the convenient kit here)
Pattern uses approximately 1474 grams
US Size 15 (10 mm), 36" circular knitting needles
Scissors
Tapestry needle to weave in ends
Sizes (approximate):
Lapghan: 36.5" X 40"
Afghan: 44" X 56"
Gauge:
9 sts and 13 rows in 4" X 4" of stockinette stitch
Pattern Notes:
This blanket is made with the stockinette stitch as well as a chevron seed stitch pattern. The chevron is worked over a four row repeat. If you would like to adjust the width of the blanket, keep in mind that the center pattern must be a multiple of 8 stitches, excluding the garter stitch edges for the border (6 sts on each side). To adjust the length, simply knit for more or fewer rows while following the stitch pattern. Finish with the Final Garter Edge.
Abbreviations (US) & Skills:
k -knit
p – purl
st – stitch
sts – stitches
Modern Mountain Throw Pattern
For the lapghan size, cast on 84 sts
For the larger afghan size, cast on 100 sts
Stitch count remains the same throughout the pattern
Beginning Garter Edge
Rows 1 – 14 Knit each st across the row.
Chevron Stitch Section
Row 15 k6, *p1, knit 3; repeat from * across the row to the last 6 sts, k6.
Row 16 k6, *k1, p5, k1, p1; repeat from * across the row to the last 6 sts, k6.
Row 17 k6, *k2, p1, k3, p1, k1; repeat from * across the row to the last 6 sts, k6.
Row 18 k6, *p2, k1, p1, k1, p3; repeat from * across the row to the last 6 sts, k6.
Rows 19 – 42 Repeat rows 15-18, in that order, working the chevron stitch pattern.
Stockinette Section
Row 43 Knit each st across the row.
Row 44 Lapghan Size K6, p72, k6. Afghan Size K6, p88, k6.
Rows 45 – 68 Repeat rows 43 – 44, working stockinette stitch.
Next, follow the pattern below according to the size that you're making.
Lapghan Size Blanket
Repeat rows 15 – 68, 1 more time
Afghan Size Blanket
Repeat rows 15 – 68, 2 more times.
Final Garter Edge (both sizes)
Finish the blanket by knitting the last 14 rows in order to match the Beginning Garter Edge.
Cast off and weave in ends. Block to shape and size as desired.
Optional Tassels or Poms:
Add large pom-poms or tassels for a playful, trendy look.
Enjoy your new, cozy blanket!
And that's all there is to it my friends. 🙂
If you're making a blanket as a gift – go you. It's a lot of time and effort to make something this large, but I really think that blankets are one of the most useful and cherished gifts of all. And at least this one isn't made with tiny yarn and needles, right?
I hope you like this Modern Mountain Throw and I'd love to hear if you make one! Just tag me on Instagram @mamainastitch #mamainastitch.
XO,
Jessica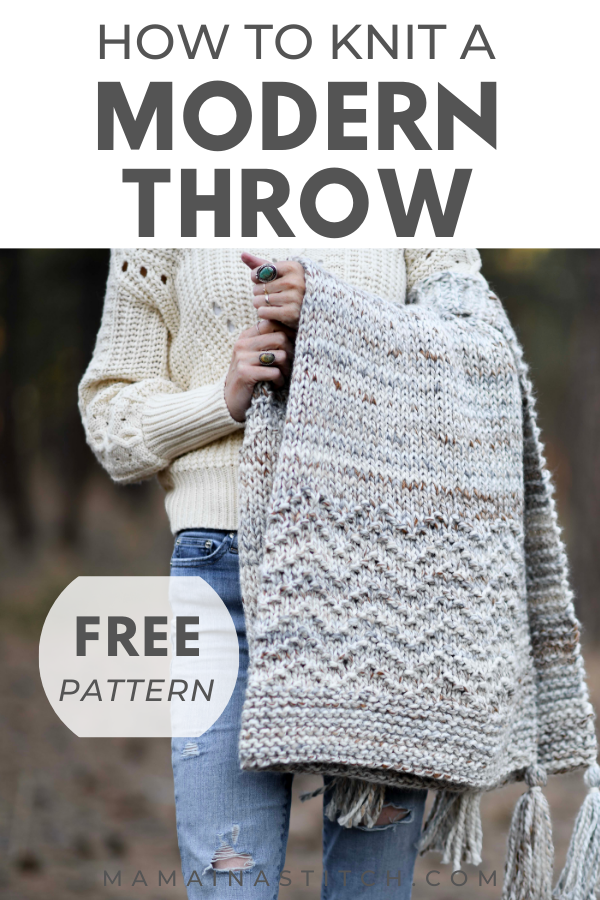 If you liked this, you might also like: