Cozy Glitz – Chunky Knit Infinity Scarf Pattern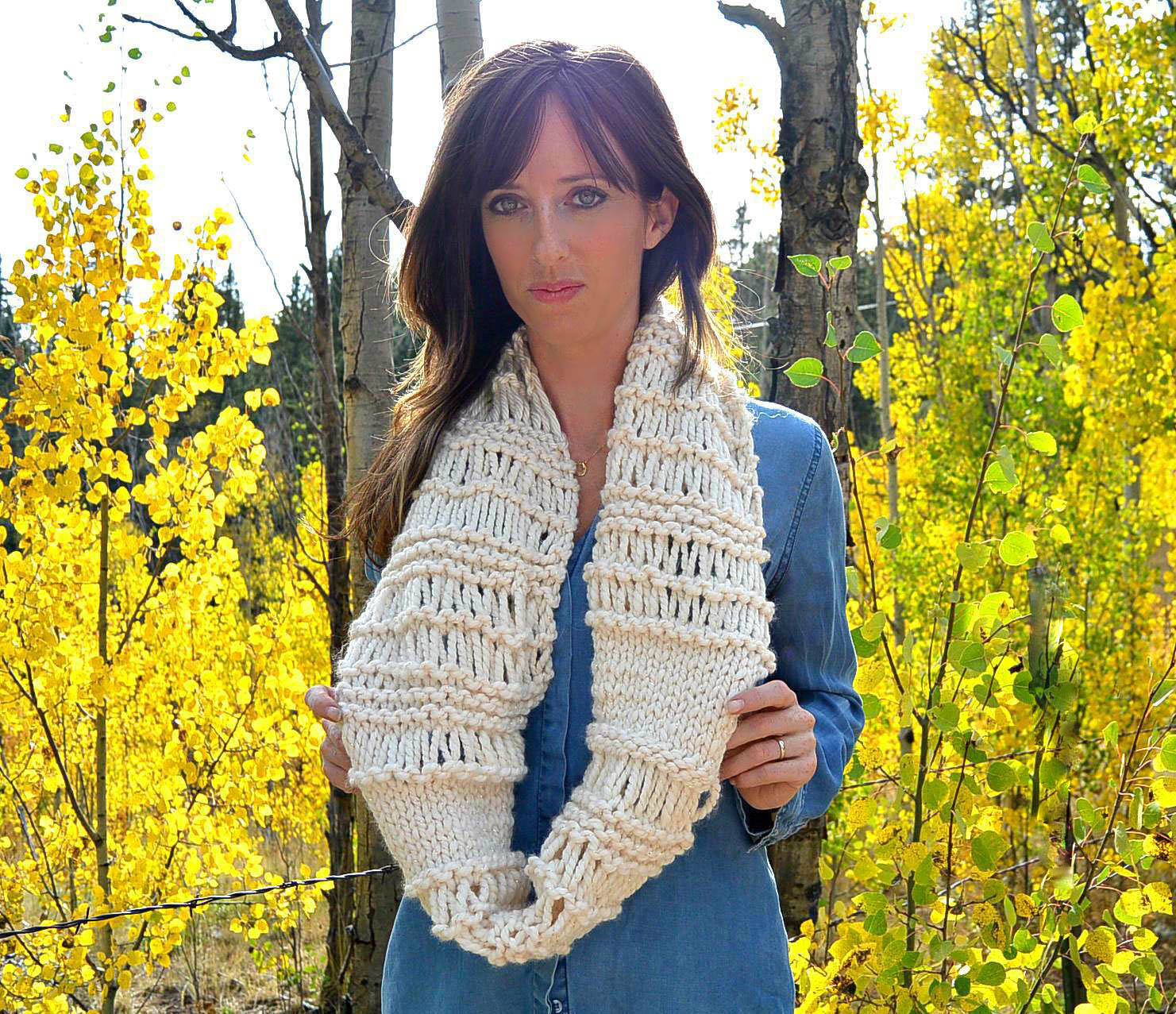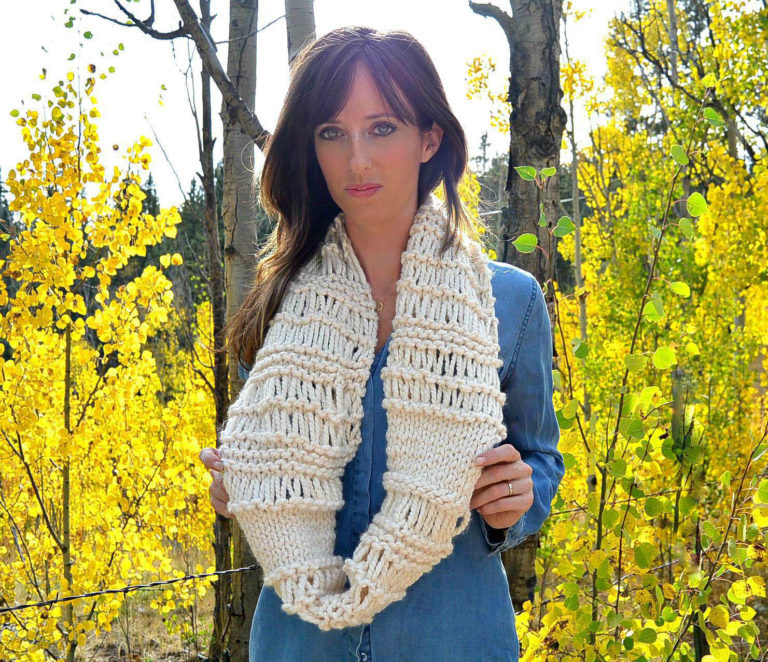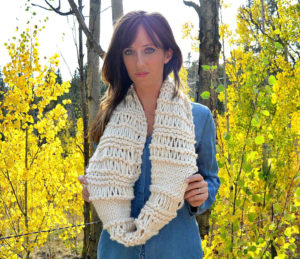 This is one of those yarns that I had to buy even though I wasn't sure what I would make. I'm a sucker for big yarn and when I saw the little bits of gold running through it, I knew I had to do SOMETHING with it! I got to finish it up while visiting my mom in the mountains, and the Aspen trees were at their peak. It was stunning as always, and we had a great day enjoying the spectacular outdoors.
This scarf can be knit in no time on big needles, and using yarn over stitches. If you're a beginner, this is a great stitch to try after you've mastered knit and purl. Head over to YouTube and watch a quick tutorial (that's what I always do!). I also did yarn overs on the Easy Shawl that I made, and included a video if you want to watch that (I am NOT a video person though, so no judging!).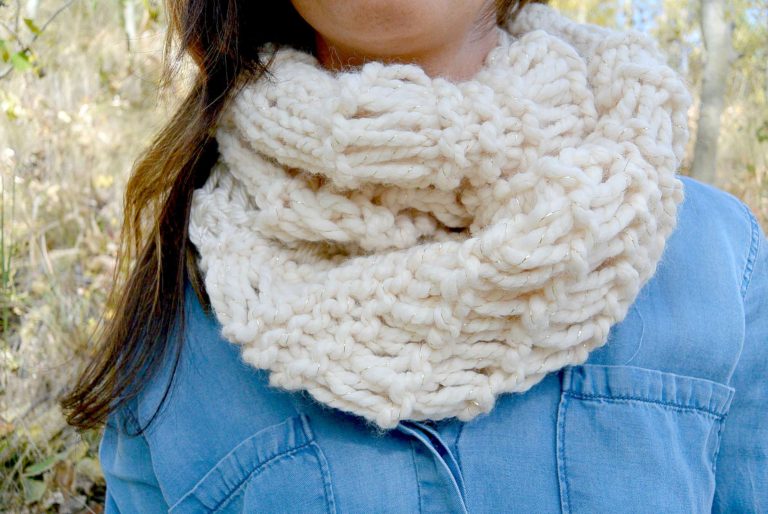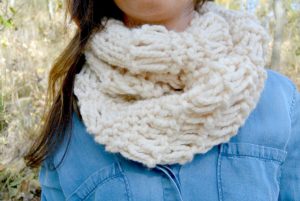 You will need:
US Size 13 Knitting Needles
Scissors
Tapestry Needle to weave in ends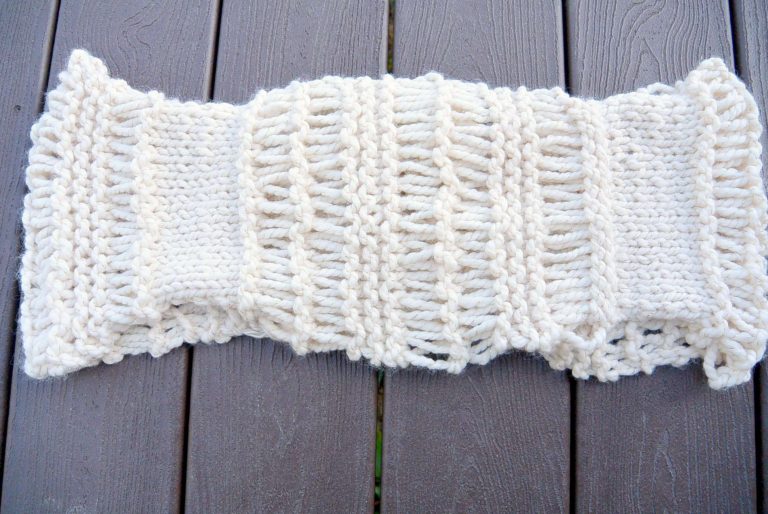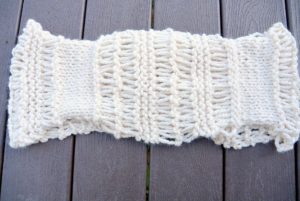 Notes: Literally, this scarf is completely customizable and mistake free. That's right! Have fun with this…..do mostly your favorite stitch, then add in a contrast. Do you like garter stitch? Do mostly garter and add some yarn over rows. It is hippy like in it's nature – be free as you knit this and make it your own.
The truth is, I prefer to say there's no "pattern" for this scarf. It is really just a series of drop stitches, stockinette and garter stitch. The mix and variations make this scarf unique.
Here's the quick, people language, non-pattern language way that I made this:
Cast on 17 stitches
Alternate sections of garter stitch, yarn over rows, and stockinette stitch. If you like things nice and straight, leave the stockinette out and use only garter stitch or seed stitch, in addition to the yarn over rows. The stockinette is skinnier, and does curl in a little bit. I like the look of it, and mostly wear it wrapped twice around my neck. Wearing it this way, one can't even see that the stockinette is skinnier.
If you prefer a pattern, rather than freely going at it – SEE BELOW:
Pattern (feel free to modify in any way :))

:
Cast on 17 stitches
Rows 1-6 Knit (Garter Stitch)
Row 7 *Yarn over two times, knit, yarn over two times, knit. Repeat this pattern across the row.
Row 8 Slide off the yarn overs, and knit each knit stitch*
Row 9 – 12 Repeat the sequence from * to* (You are making a section of drop stitches)
Rows 13-18 Knit (Garter Stitch)
Rows 19-24 Repeat sequence from Row 7 and Row 8 ( Make a section of drop stitches)
After you complete row 24, you will work in stockinette for approximately three inches
(From here you are basically working backwards from what you just did)
Once you complete three inches of stockinette, Repeat the yarn over sequence from rows 7 and 8 three times.
After your section of yarn overs by repeating the sequence from rows 7 and 8 , repeat rows 13 – 18 ( to make a section of garter stitch.)
After your section of garter stitch, repeat the sequence of row 7 and 8 ( drop stitches), 3 times.
After your sequence of drop stitches. make another section of garter stitch by repeating rows 1 – 6.
Now you will repeat from Row 1 until end. Cast off. Seam ends together with preferred method. I just whip stitched mine. ( Mine measures about 46 inches long, but feel free to add/subtract rows to make it longer or shorter)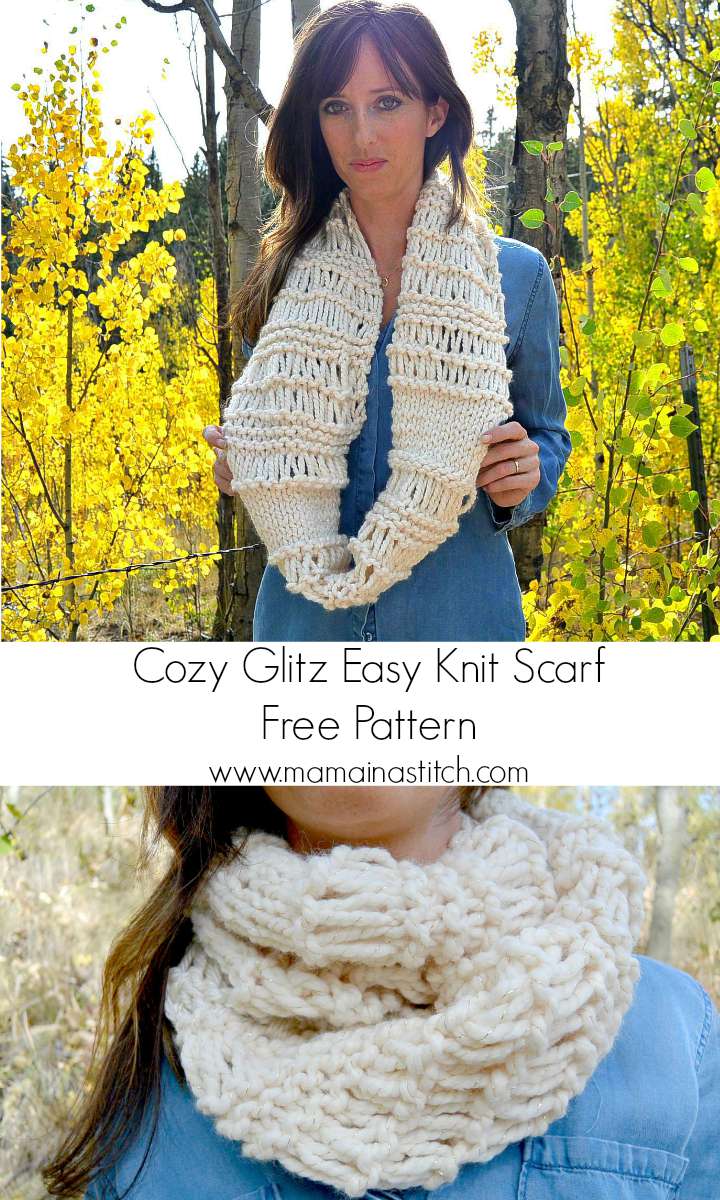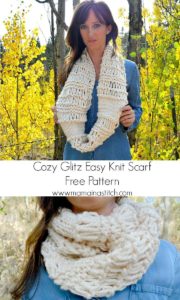 I'm pretty sure that this will be my go to scarf for gifts this year. 😉
If you liked this, you might like: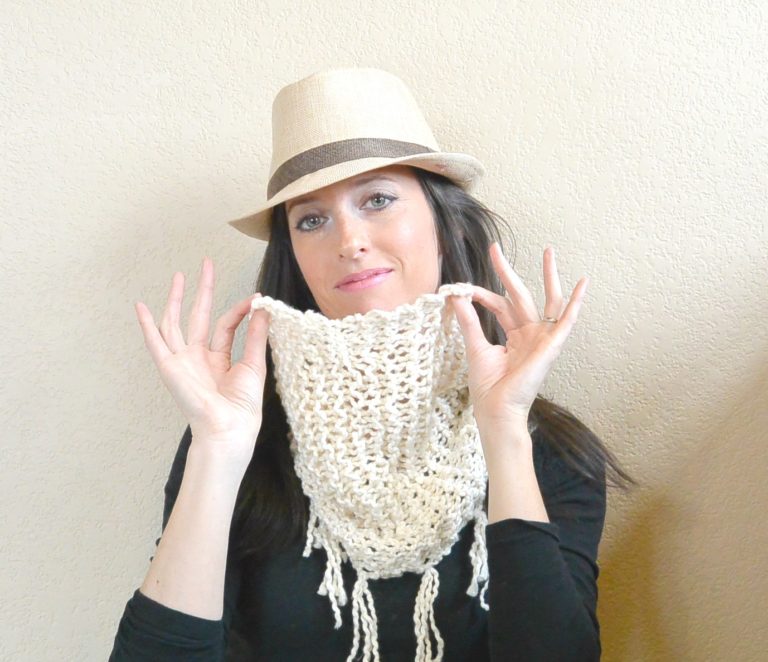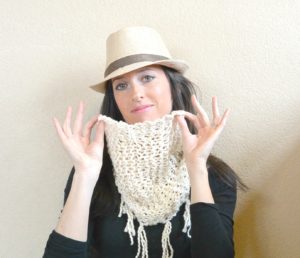 Feel free to subscribe to my newsletter for new patterns!
Let me know if you have any questions. 🙂