Easy Crochet Puffy Hearts Wall Hanging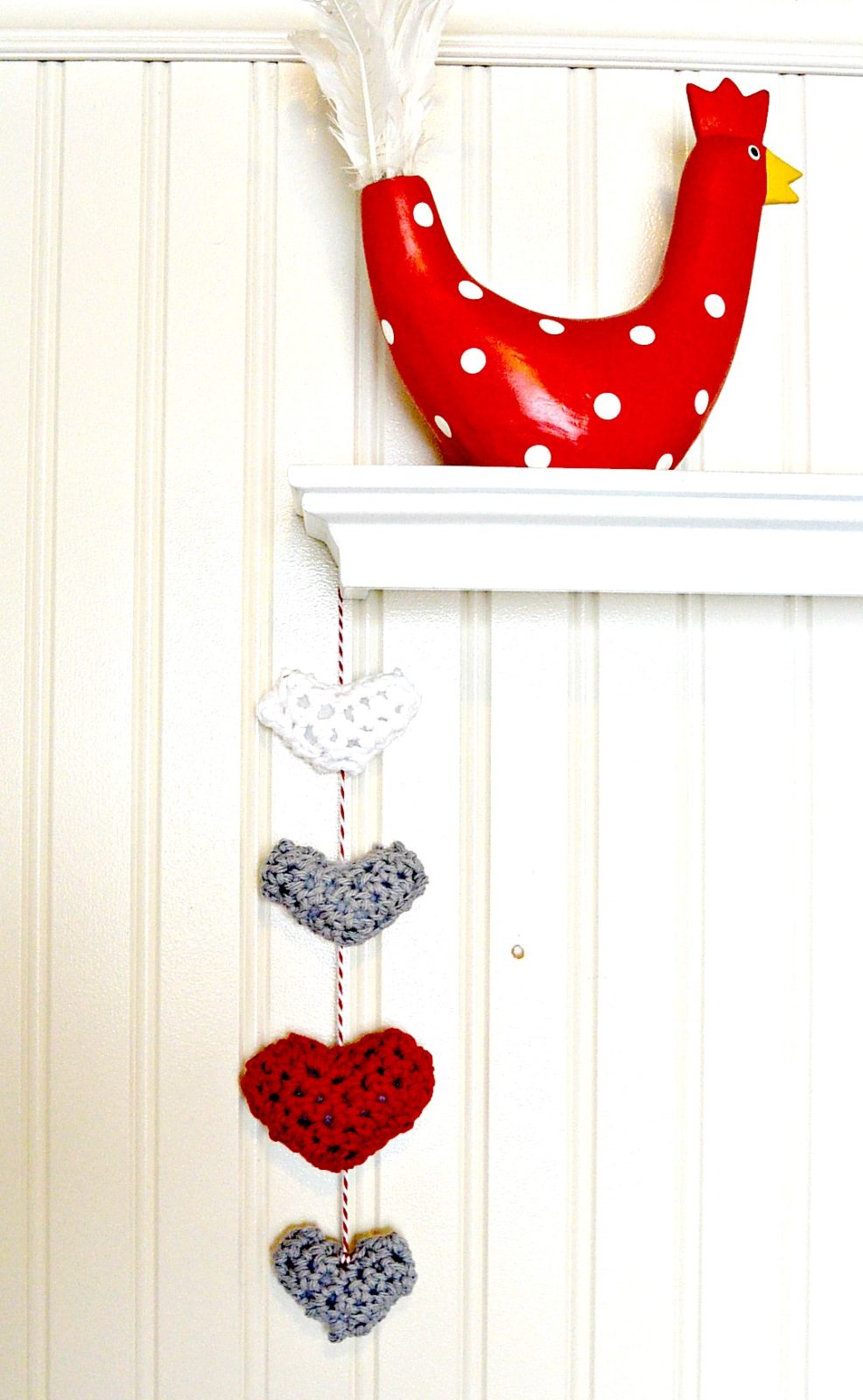 Easy Crochet Puffy Hearts Wall Hanging
Isn't it the perfect, easy little Valentines decoration?
The hen is laying hearts! Not really. I liked it hanging here, but it has ended up on my daughter's bedroom door knob. It's cute there too, I suppose!
This is a super easy heart wall hanging. Easy enough for a second or third project, heart wall hanging. I found the pattern for the hearts (that you will eventually "stuff) on the "Repeat Crafter Me" blog by Sarah. It is by far the easiest and most versatile heart that I have found. The pattern can be found on the link below:
The wall hanging can be tailored to what you like. Use different size yarn or needles and get different sized hearts. Use any color you like. String them onto a line to make a garland!
You will need:
Crochet Hook – Size H (I did three different sized hearts so I used F, G, and H)

Scissors

Yarn (Here I used Worsted Weight Lily Sugar N Cream)

Tapestry Needle to weave in threads and string to hang

Polyester Fill or cotton balls (you could still have a cute mobile by leaving the fill out)
Directions:
Follow the pattern above and create two hearts of the same size, leaving an extra long tail to stitch. (Note: the pattern says to single crochet around the entire heart when complete. You can choose to skip this step. If you do it, just make sure to do it to both hearts)

Hold the two hearts back to back and whip stitch (just stich around the outside to attach the two hearts) with your darning needle to make a kind of heart "pillow case". Leave just enough space to push in the stuffing with your finger. Once filled, stitch the remaining hole closed.

Pull your ends through with the needle and cut to hide the tails.

Once you have as many hearts as you like you can put bakers twine or yarn on your needle to hang the hearts upon. There are many ways you could do this, but the easiest for me was to simply thread them from the top middle, through the bottom. You don't even need to tie them on. They will just stay on the yarn and hang centered.
Whip stitch the two hearts almost closed and then stuff
Finish by stitching it closed, weave in the yarn and cut
I did three sizes of hearts on my mobile, using a size H for the largest, G for the medium sized, F for the smallest. For each I used the same worsted weight yarn in different colors.
Use bakers twine or yarn to hang your hearts. Enjoy!