Manly Man Beginner Knit Cowl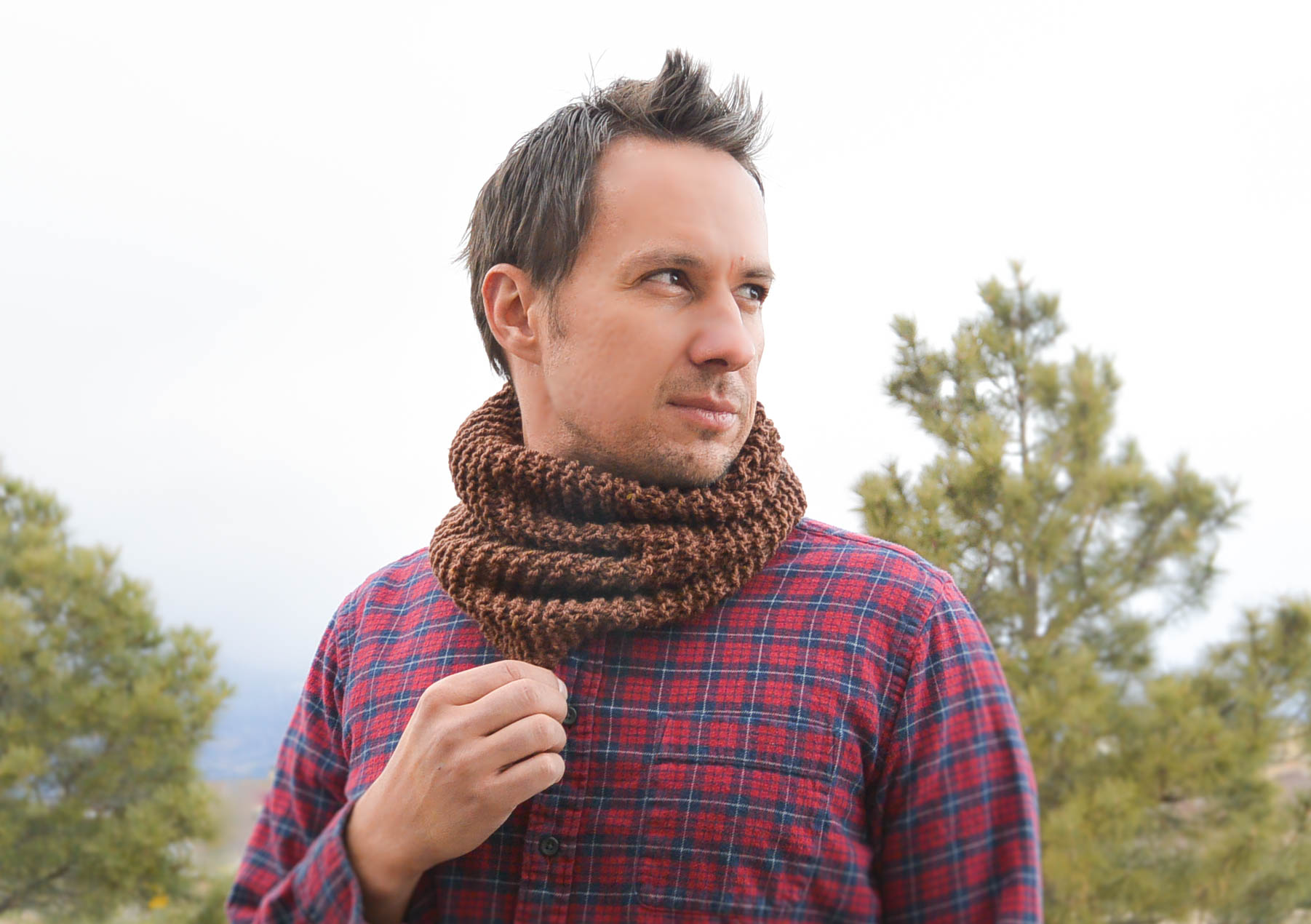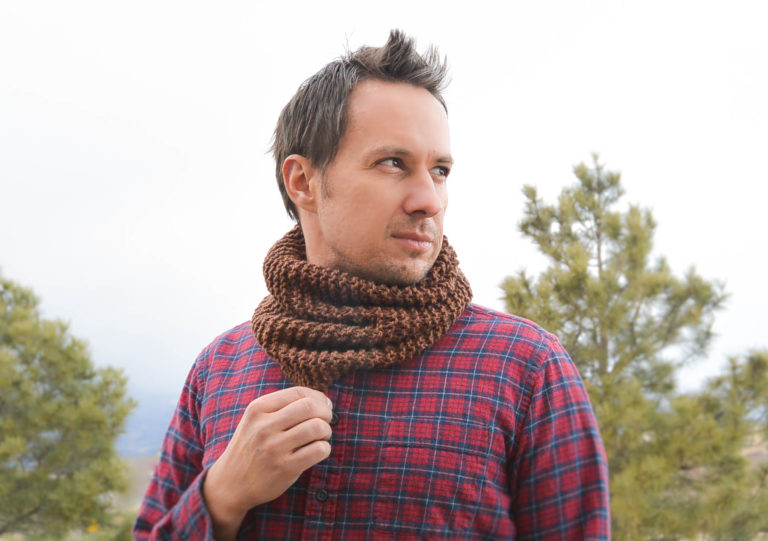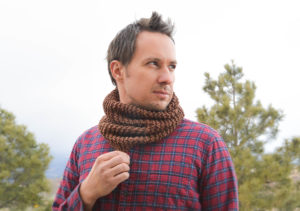 Two good things to know from this blog post:
It's possible to knit for a man. And it's possible that he will actually wear it.
My husband must like me because he posed for these pictures. 😉
Disclaimer: This post doesn't have as many pictures as most of my posts. This is for two reasons. One being that I was knitting this during the late night hours with horrible lighting to take pictures, and two being that my husband gave me a whole ONE MINUTE to take pictures of him. 😉
You can find the easy pattern below, but let me just tell you how the photo shoot conversation went:
Me "Can I take some pictures of you in the cowl?"
Him – Suspicious straight faced stare . Followed by forced reluctant pose, and one minute later – DONE.
Wish all my little photo shoots would go that fast! Maybe the whole idea that men are efficient holds some truth. 😉
You might remember from a few posts back that I made a complete beginner knit cowl pattern because my brother had said he wanted to learn to knit. Well, that project came out super girly and NOT good for my brother to make. It was time to try again and think of something beginner and manly. This is what I came up with! If my husband approves, I can pretty much say that nearly any man will approve (I've got a picky one on my hands friends)
The nice thing about this cowl is that it's tall enough to pull over the face. It might even be useful for some of your crazy motorcycle hubby's or my dad who rides ATV's and sometimes wants to cover his face.
I used large needles, so it is a bit airier and pretty stretchy. It also works up quicker with the larger needles, and for a beginner, I like a bit larger needles.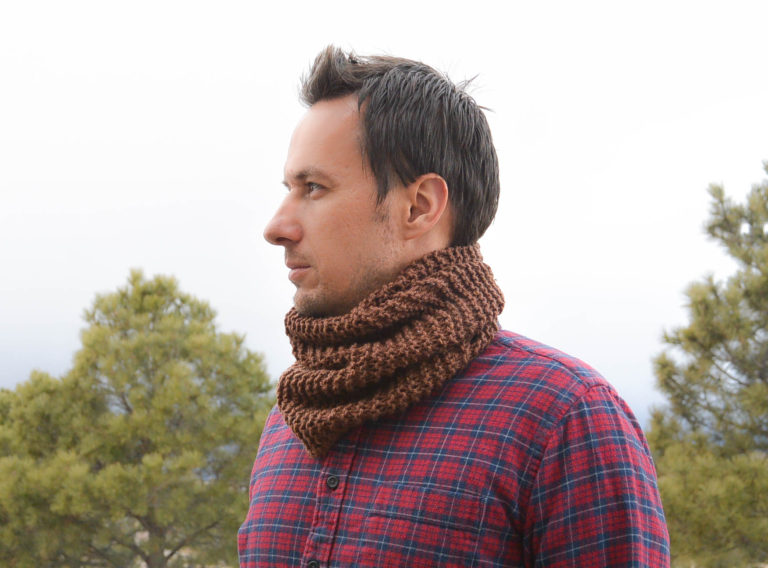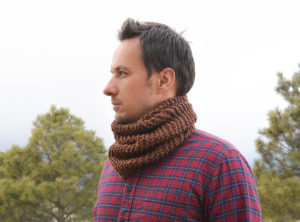 You will need:
US Size 10.5 Knitting Needles
Worsted Weight Yarn – I used Premier Yarns Downton Abbey -Matthew – In Walnut Brown they kindly sent me a sample a while back
Scissors
Tapestry Needle to weave in ends
Notes:
If you are a total beginner, you need to learn how to "cast on" and do the "knit stitch" for this pattern. Head over to YouTube and learn how to do these two things, then come on back and make this MANLY MAN (deep voice) cowl.
Cowl Measures: Approximately 10″ wide, 13.5 " Tall once seamed and finished
Pattern:
Cast on 46 stitches
Row 1 until piece measures approximately 21″ long – Knit each row
(In other words, cast on, and knit every row until you have a long rectangle that is 21 " long)
Cast off, leaving a long tail. (Right now you have a long rectangular piece)
With your long tail and tapestry needle, whip stitch or seam with your preferred method to connect both ends. Tie off, weave in ends.
That's it! I told you it was super easy beginner style. In all honesty, I wanted to keep this one for myself ( and probably will "borrow" it every now and then ).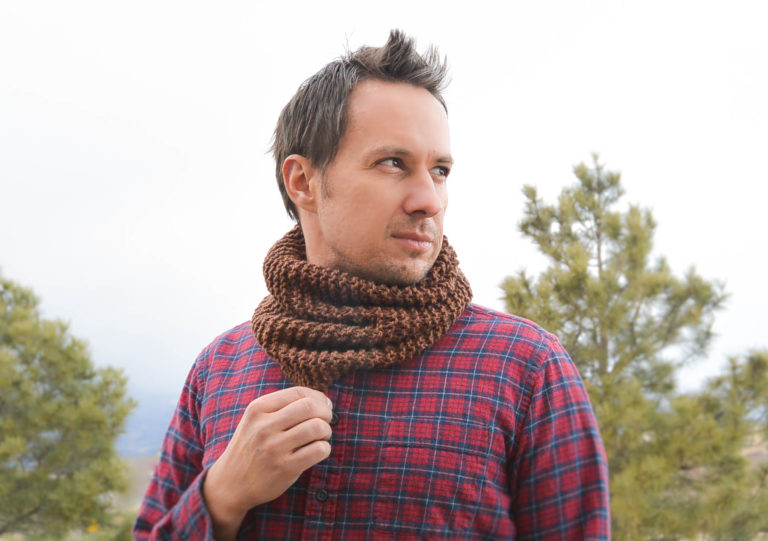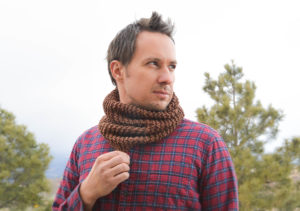 Let me know if you try it out!
What do you think? Have you knit for the men in your life, and if so what have you made?
Be sure to check out all of my other free knitting patterns. 🙂
[jetpack_subscription_form]